A rich molasses-like cake topped with buttery toffee sauce, Sticky Toffee Pudding is quintessentially British and absolutely delicious!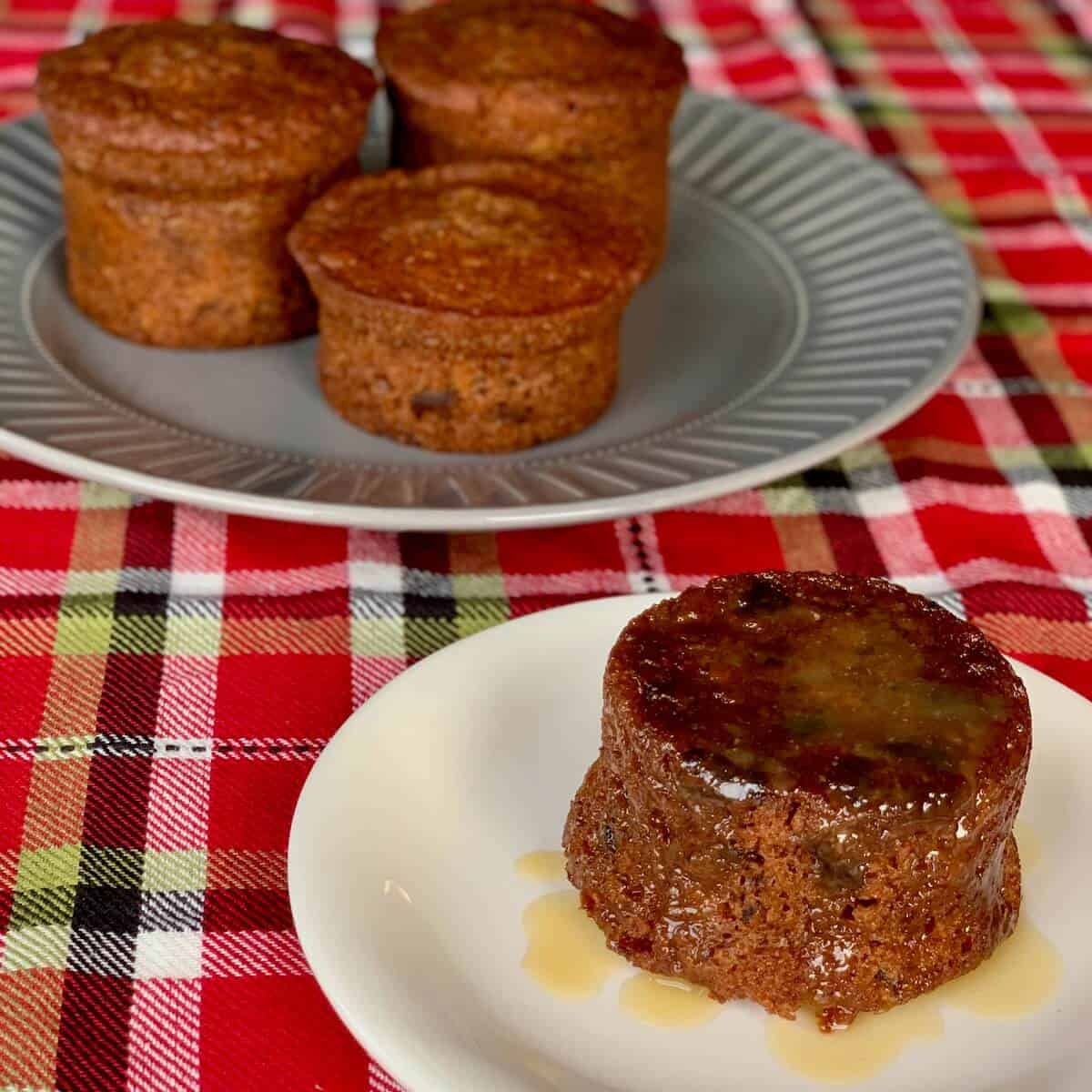 It all started with Harry Potter.
My family was obsessed with the boy wizard...we read the books, listened to the audiobooks in the car, and went to all the movies (then bought them on DVD).
Yes, we were at Barnes & Noble at midnight for the release of books 6 & 7 (dressed up, of course).
And while I wouldn't let my then 9th grade younger daughter go to the midnight screening of Harry Potter and the Half Blood Prince (it was a school night…a decision for which she still is grumbling), I relented the following year when Deathly Hallows, Part 1 came out.
We were always interested in British food (High Tea has been part of our birthday tradition for years), and we loved things like Trifle and Sticky Toffee Pudding.
As a side note, I blame my complete ignorance of the Outlander books on having small children around (and no sleep) when they were first released in 1992, then our Harry Potter addiction completely consumed my reading back then.
Otherwise, I have no excuse as I love historical fiction, romance, and science fiction. Luckily, I eventually found Outlander (the show and the books) and have once again been consumed. I think I'm better for it.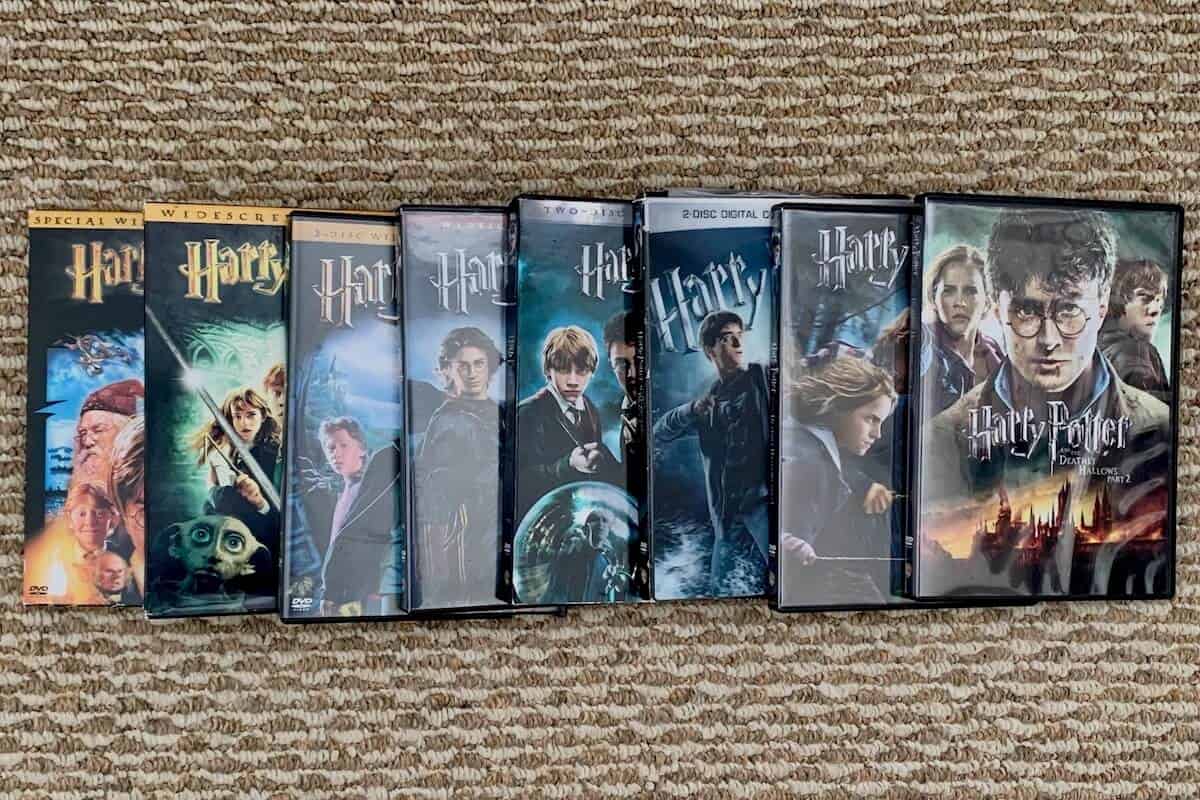 Jump to:
Let's cook Harry-Potter-style
My younger daughter wanted to try and make the famous treacle tart that Harry so loved at Hogwarts. I had never heard of it before, but gamely decided to try.
It seemed that the main ingredient was a British product called Lyle's Golden Syrup.
Hmmmm…living in Southern California at the time, my access to Lyle's was very limited (I actually had no idea where to find it).
We eventually tracked down a can, and made the tart. I seem to recall that we liked it (it was very sweet), but never tried it again because of the hassle of finding the golden syrup.
So when I again found a can of Lyle's Golden Syrup, I decided to make Sticky Toffee Pudding.
What is Sticky Toffee Pudding?
Oh yes, I forgot to explain...to an American, pudding is soft, squishy, extremely yummy creamy custard, with flavors like vanilla, chocolate, butterscotch, etc.
To the British, pudding is a broader term referring to any dessert (although you can have savory puddings as well...think Yorkshire pudding).
Here's how pudding is defined by British Food: A History, "If you are British and trying to explain the word to a foreigner the answer is surprisingly difficult. In America, it is a simple answer: a dessert. ... The true puddings are those that are boiled or steamed. Christmas puddings, suet puddings and sponge puddings fit into this category. In fact, anything boiled or steamed in a basin, cloth or handy piece of intestinal tract is a pudding."
The site goes on that Sticky Toffee Pudding isn't really a true pudding (it's not boiled or steamed), blah, blah, blah…frankly my head started to hurt and really, does it matter?
A pudding that's really a cake
So did I answer the question, what is Sticky Toffee Pudding?
It's a sponge cake made with chopped dates and served warm with toffee sauce (and sometimes vanilla ice cream).
(Why didn't you say so in the first place?)
I asked the members of one of my Outlander Facebook groups if they had a favorite Sticky Toffee Pudding recipe. The popular choice was Lyle's Sticky Toffee Pudding recipe. That's the authentic British version that I've adapted for an American kitchen.
To my American eye, the names of some of the ingredients (black treacle, bicarbonate of soda, stoned dates) seem exotic and precious. Maybe that's just me.
I adapted Lyle's recipe for Sticky Toffee Pudding for an American audience.
(Side note: you can use Lyle's Golden Syrup as you would corn syrup, maple syrup, or honey in recipes, like in Dark Chocolate Hot Fudge.)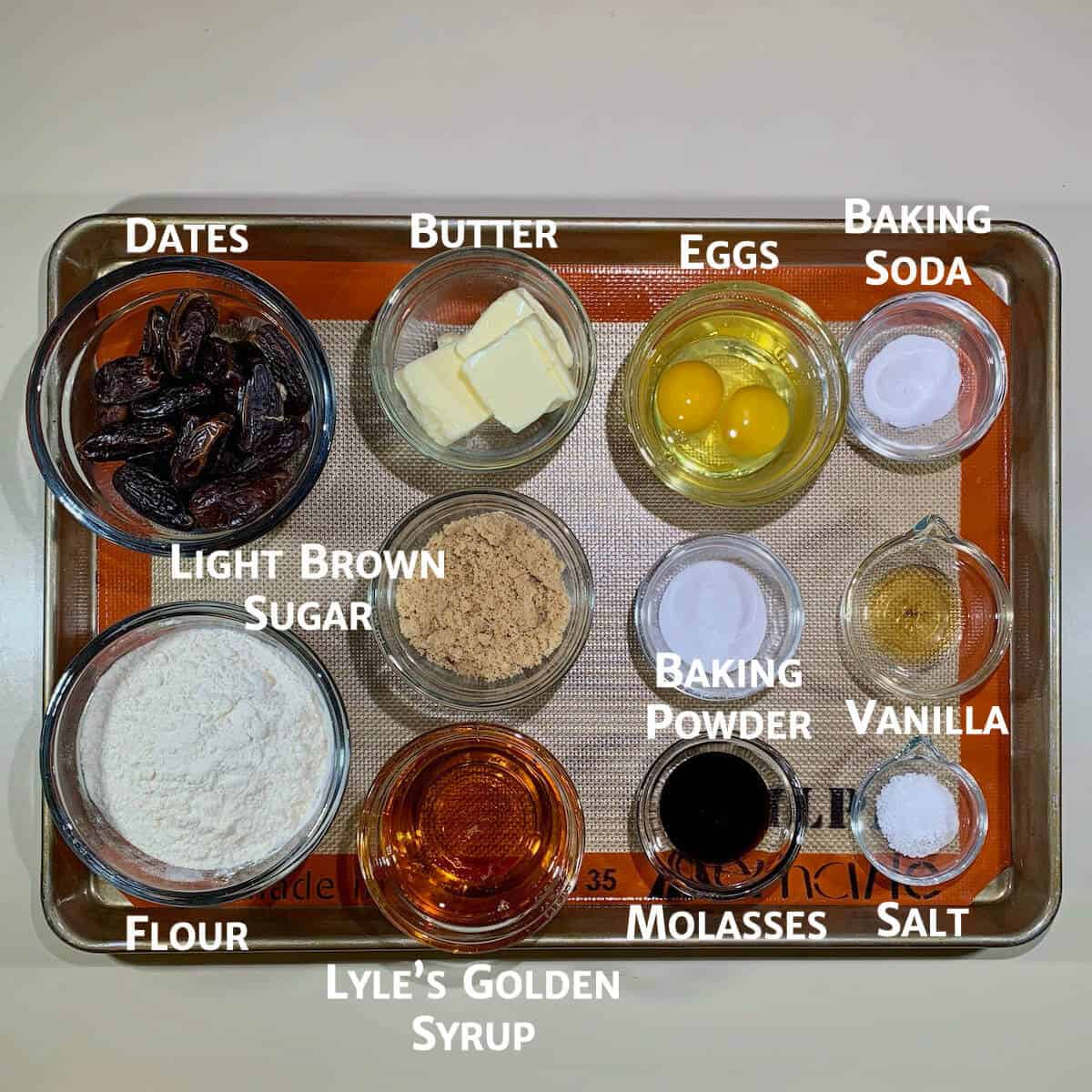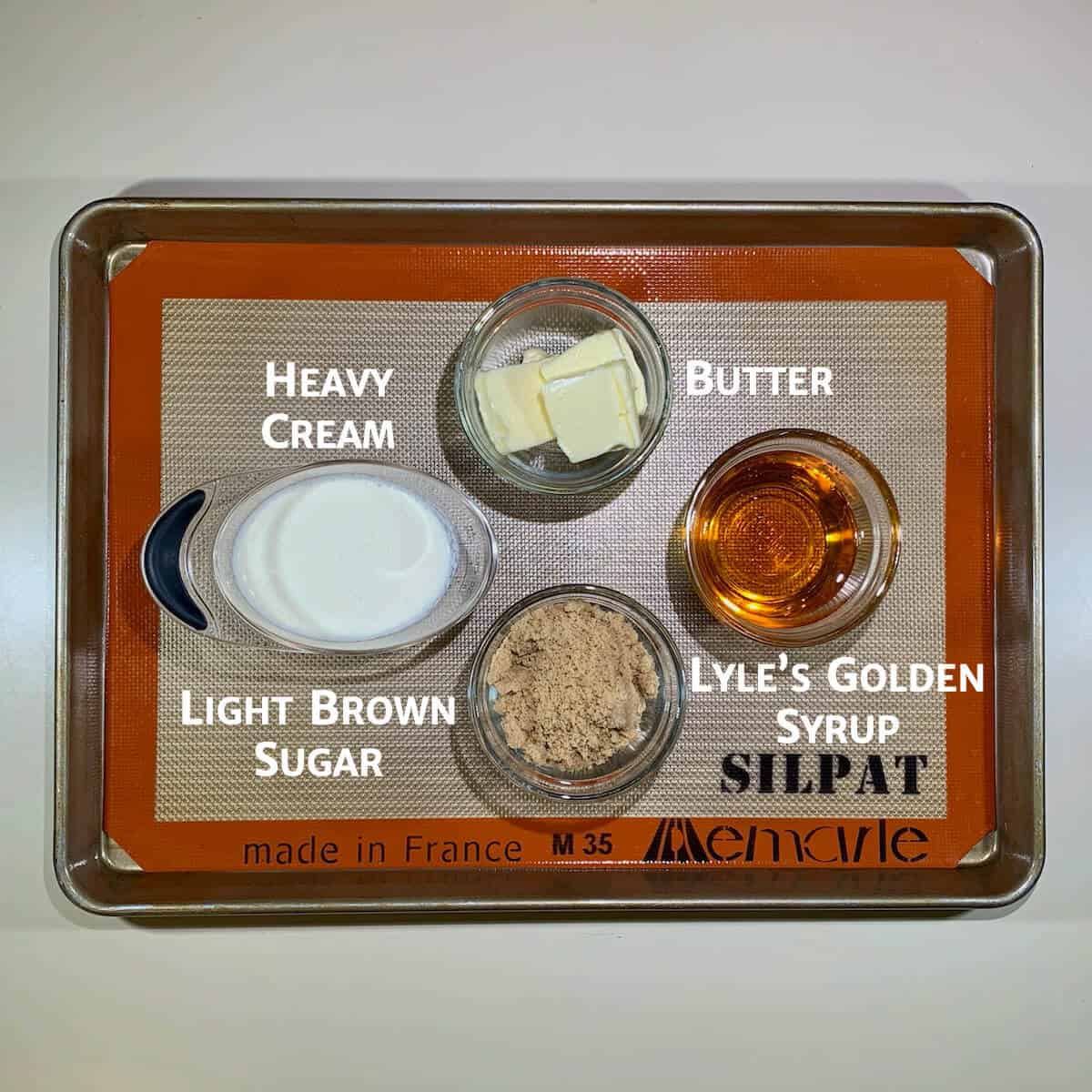 An easy mix and pour recipe
The method for making this recipe differs slightly from that for a normal cake because you need to soften the dates prior to their use.
Other than that, the rest of the method is what you'd expect.
Cream the butter, brown sugar, golden syrup, and molasses. Mix in the eggs and vanilla, and then fold in the flour, baking powder, salt and the dates. Easy peasy.
Creating the toffee sauce is just as simple...throw everything into a pot and heat until the brown sugar is melted. It really doesn't get any easier than that.
Choose what size to make the cakes
I used a combination of 4-oz ramekins and 6-oz ramekins for individual portions and baked them for 30 minutes. Having single serving ramekins helps with portion control. I've even seen recipes where the puddings were baked in a standard muffin pan.
Plus the individual cakes (without the sauce) can be frozen and reheated for later.
For comparison, the original recipe calls for baking one large cake in a 9- x 9-inch baking pan for 50 minutes. Choose what's best for your needs.
One American's opinion of this British pudding
The final product? Absolutely wonderful!
Sticky Toffee Pudding has the deep flavor of a molasses cake or gingerbread, but sweeter. The dates melt into the cake, adding richness without being cloying.
The toffee sauce brings its own unique buttery flavor. It's also yummy poured over ice cream or eaten straight with a spoon (although I will not confirm nor deny having done that).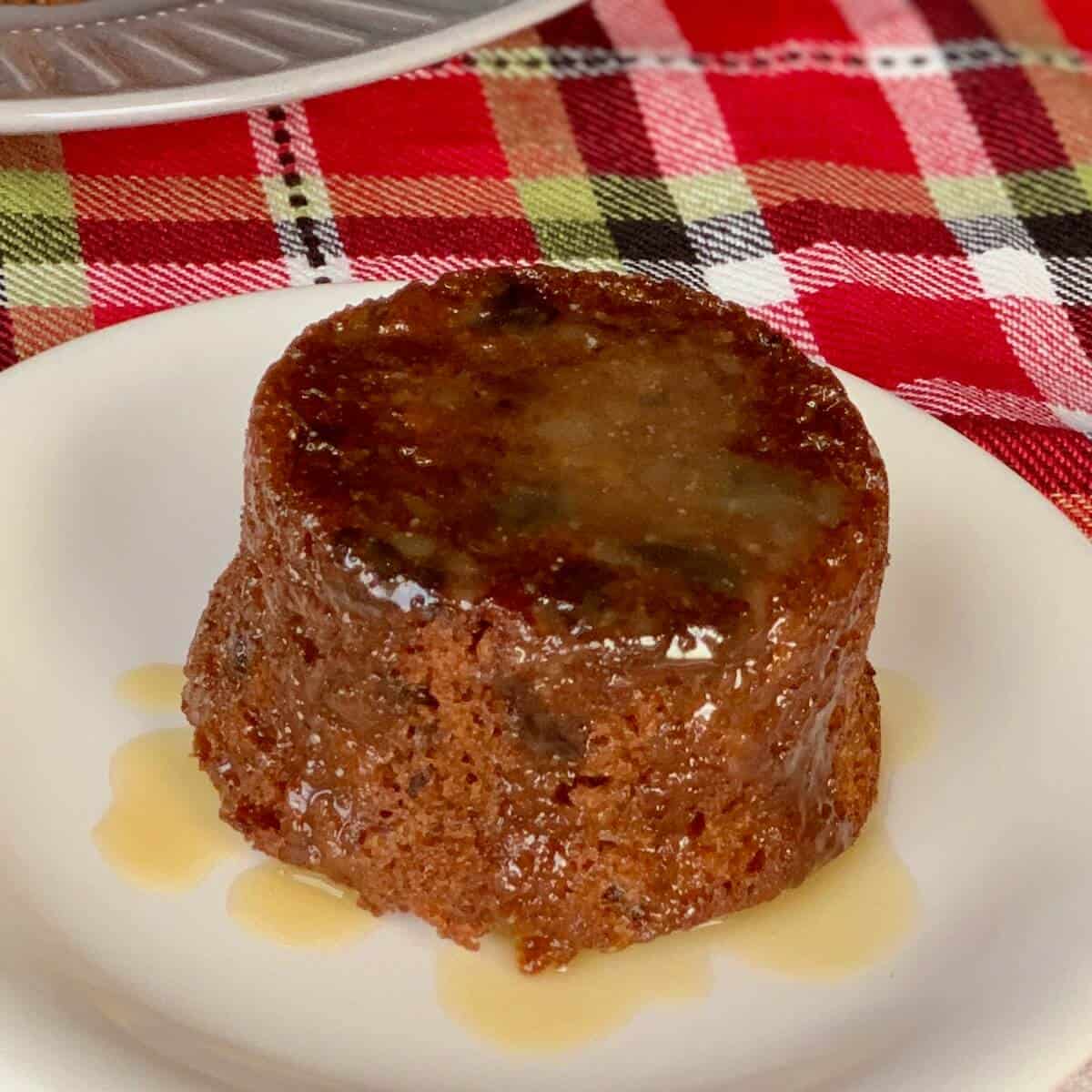 Now that I know where to find Lyle's Golden Syrup, Sticky Toffee Pudding will be on the menu more regularly.
Maybe for a Harry Potter watch party!
Slainté! L'chaim! Cheers!
Tammy
More recipes for British desserts
Do you want to continue with our focus on British desserts? How about holding a High Tea?
Related Recipes
Traditional High Tea (or more technically, Cream Tea) calls for Cream Scones with jam and clotted cream. Here are some ideas to try...
Scone & condiment recipes
Love this recipe? Please leave a 5-star ⭐️ rating in the recipe card below ⬇️ and/or a comment further down the page.
I'd love to hear from you! Stay in touch on Facebook, Instagram, Pinterest, and please tag me using the hashtag #scotchandsconesblog. You can also sign up for my mailing list. I can't wait to see your creations!
Recipe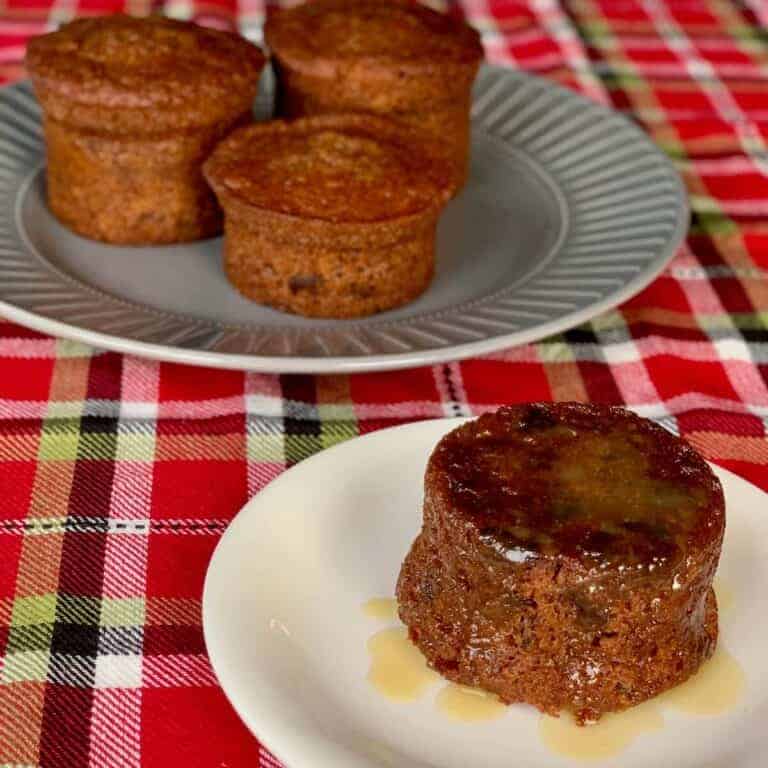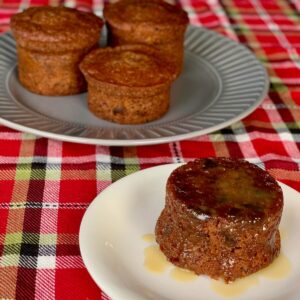 Authentic British Sticky Toffee Pudding
A rich molasses-like cake topped with a buttery toffee sauce, Sticky Toffee Pudding is quintessentially British and absolutely delicious!
Adapted from Lyle's Golden Syrup
Ingredients
For the sponge cake
1¼

cups

dates

,

pitted, roughly chopped

1

cup

water

1

tsp

baking soda

6

Tbsp

unsalted butter

,

at room temperature

6

Tbsp

Lyle's Golden Syrup

¼

cup

light brown sugar

1

Tbsp

molasses

,

unsulfured, not blackstrap

1

tsp

pure vanilla extract

2

large eggs

,

at room temperature

1½

cups

all-purpose flour

2

tsp

baking powder

½

tsp

kosher salt
Instructions
Make the sponge cake: Preheat the oven to 350°F. Spray your preferred combination of 4-oz ramekins and 6-oz ramekins with baking spray (the 6-oz ramekins serve two in our house). Set aside.

Put the dates into a saucepan with the water. Bring to a boil then lower the heat and simmer for 2 minutes. Remove from the heat and stir in the baking soda. The mixture will foam up so be prepared.

In a medium mixing bowl, beat the butter, Lyle's Golden Syrup and brown sugar with the molasses with a hand mixer until soft and creamy, then beat in the vanilla and eggs.

Fold in the flour, baking powder, salt, and dates (with their liquid) and mix well to a soft consistency. Spoon into the prepared ramekins and place them onto a half sheet baking pan.

Bake the cakes on the middle shelf for 30 minutes or until a cake tester poked into one of the ramekins comes out clean.

Remove the baking pan from the oven and place the ramekins onto a wire rack to cool about 15 minutes. Unmold them onto the wire rack to cool to about 5 to 10 minutes more.

Make the toffee sauce: Put all the ingredients for the sauce into a medium-sized non-stick pan and stir together over a low heat until the brown sugar has dissolved.

When the cakes are still warm, pour over the toffee sauce and serve.
Notes
Instead of individual portions, you can make one large cake in a 9- x 9-inch baking pan that's been sprayed with baking spray and lined with parchment paper. Bake the cake for 30 minutes, then l

ightly cover with foil and bake for another 15 to 20 minutes or until a cake tester comes out clean.
The individual puddings (without the sauce) can be frozen and reheated for later.
Nutrition
Serving:
1
serving
Calories:
440
kcal
Carbohydrates:
61
g
Protein:
4
g
Fat:
21
g
Saturated Fat:
13
g
Cholesterol:
91
mg
Sodium:
366
mg
Potassium:
211
mg
Fiber:
2
g
Sugar:
44
g
Vitamin A:
707
IU
Vitamin C:
1
mg
Calcium:
98
mg
Iron:
1
mg