Make rich, flaky homemade cream scones using a simple ratio, no recipe needed! They're customizable & perfect for your High Tea tradition!
Last weekend I went to High Tea with my older daughter at a lovely English tearoom called Fancy That in Walpole, MA. It was the 20th time that we went to tea for her birthday.
The first time we went she was 5 years old. I wanted to have a "Mommy Date" to make her feel special on her special day. Also, I felt she was old enough to really enjoy the experience. That, and I love High Tea and needed an excuse to go myself!
The next year I took her out of Kindergarten early for our date, and our High Tea tradition was born. Later when my younger daughter turned 5, I treated her to the same experience.
Both my girls knew that on their birthday they'd have a special date with Mommy.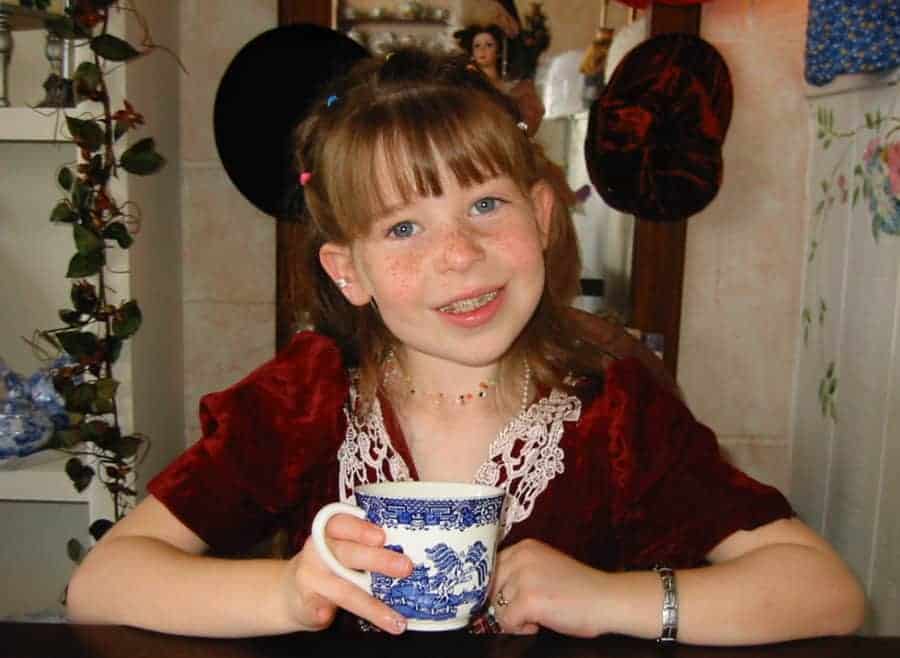 Jump to:
Making cream scones using a ratio
Scones are an integral part of any High Tea experience. Learning how to make scones at home is easier than you think.
I have talked about the baking ratios in Michael Ruhlman's book. Remembering the ratio for a pie crust is as easy as 3-2-1 (3 parts flour, 2 parts fat, and 1 part liquid).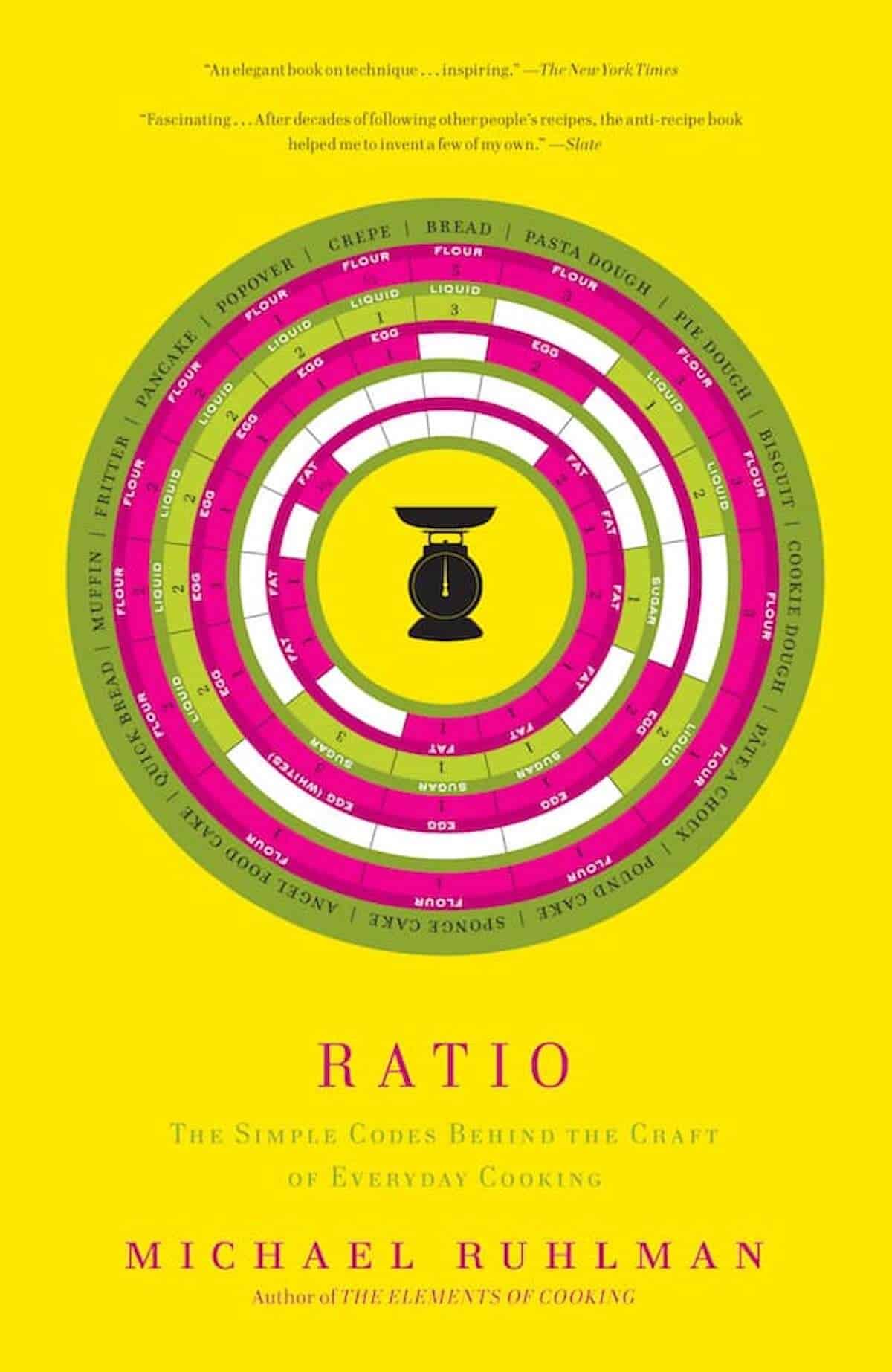 Biscuits fall under a 3-1-2 ratio, 3 parts flour, 1 part fat, and 2 parts liquid. A cream scone is just an enriched biscuit, meaning eggs are added and the liquid is heavy cream. Just count the egg into the measurement of the cream (one egg is about 2 oz).
And just as with making pie crust, it's important to keep everything chilled as you go.
No Recipe Needed
Now that remembering the ratio for homemade scones is easy, no recipe is needed!
The ingredients needed to make homemade scones are flour, butter, sugar, baking powder, salt, heavy cream, and an egg.
The ability to riff on the basic scone recipe is easy, too. The variations are only limited by your imagination (yes, yes, and the ingredients you have...yeesh!). Here I'm including chocolate chips.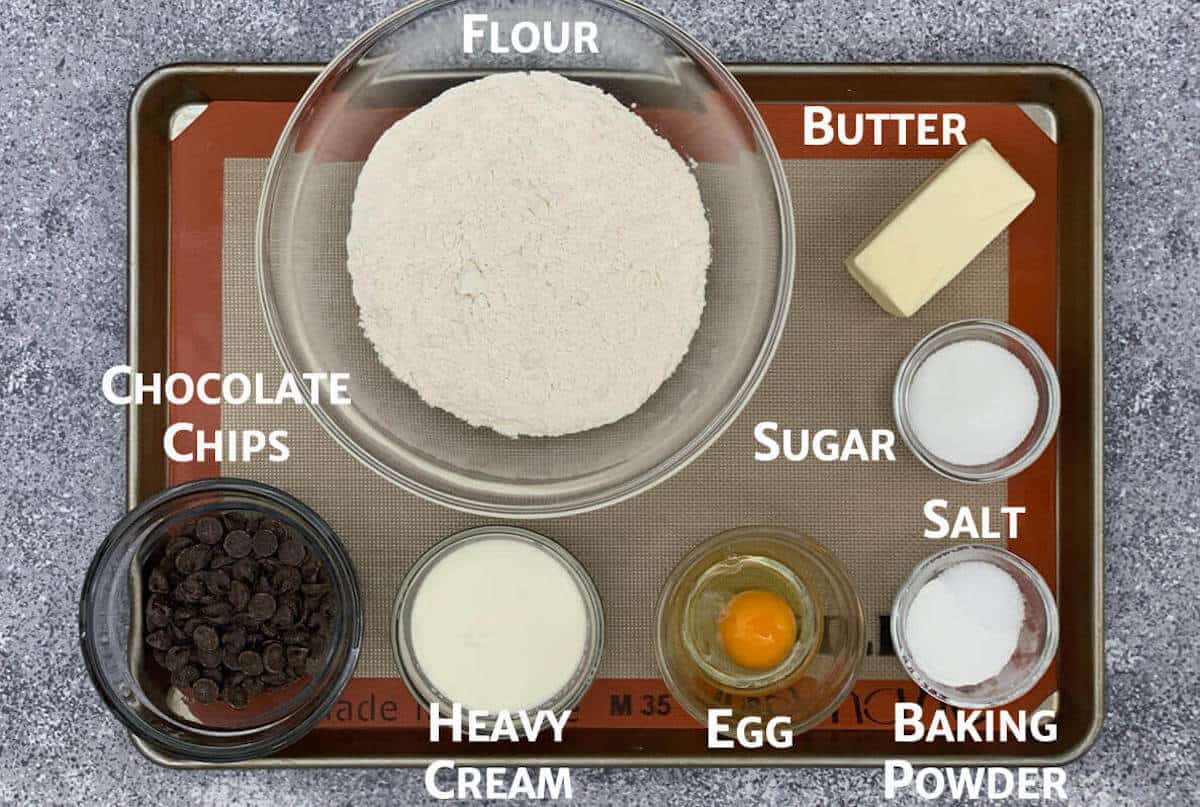 Get creative with your scone recipe
Here's where the fun lies...you can use all sorts of substitutions for the cream. Pumpkin purée, applesauce, egg nog, just to start. Add additional spices to change up the flavor! Drizzle the baked scones with melted chocolate or an icing that complements the flavor profile.
And the mix-ins...well, chocolate chips are practically a must for my family. You can use nuts, fresh or dried fruit, or something else entirely.
Did you know that scones don't have to be sweet? (what?!?) Just omit the sugar and use savory liquids and mix-ins (cheese, bacon, caramelized onions...shall I go on?).
You've got a wonderfully enriched biscuit to serve with dinner.
What goes with cream scones?
Why, homemade lemon curd and clotted cream, of course! I've also seen whipped cream, butter, crème fraîche, and various jams and jellies at our teas, just to name a few. No rules!
Now that you know the ratio, you won't need a recipe for homemade cream scones. Just a little time and imagination.
And If you have the time, inclination, and a local tearoom, create your own High Tea tradition with someone you love. It'll be quite special.
Slainté! L'chaim! Cheers!
Tammy
Related Recipes
Homemade scone recipes are easy to create once you remember the 3-1-2 recipe ratio. The variety comes in when you play with the flavorings. Here are a few ideas to try...
Love this recipe? Please leave a 5-star ⭐️ rating in the recipe card below ⬇️ and/or a comment further down the page.
I'd love to hear from you! Stay in touch on Facebook, Instagram, Pinterest, and please tag me using the hashtag #scotchandsconesblog. You can also sign up for my mailing list. I can't wait to see your creations!
Recipe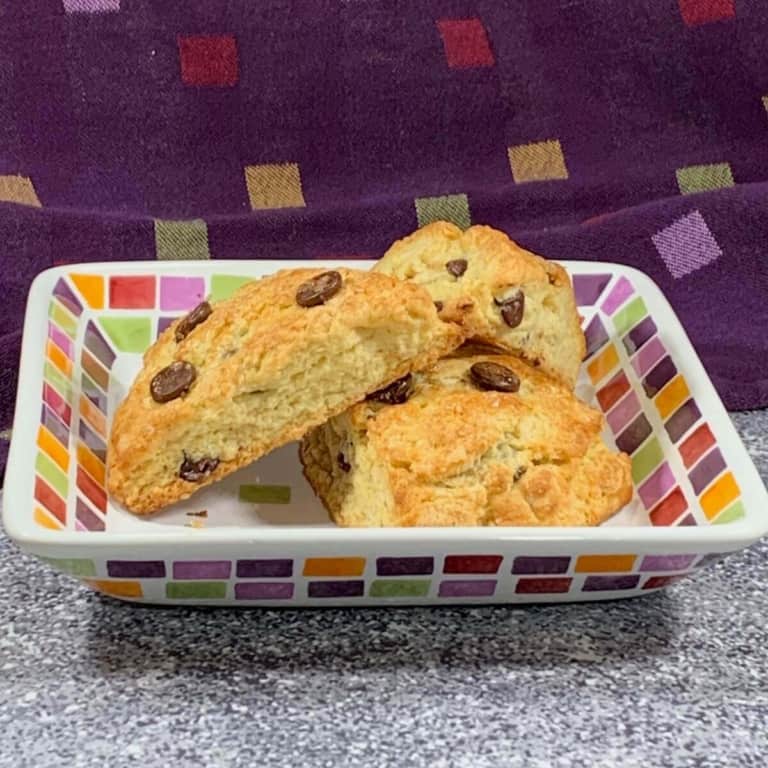 No Recipe Cream Scones
Make rich, flaky homemade cream scones using a simple ratio, no recipe needed! They're customizable & perfect for your High Tea tradition!
Adapted from Ratios 
Ingredients
2

cups

all-purpose flour

2

Tablespoons

granulated sugar

1

Tablespoon

baking powder

1

teaspoon

kosher salt

6

Tablespoons

unsalted butter

,

frozen and grated, see Recipe Notes

½

cup

heavy cream

,

plus extra for brushing on top

1

large egg

,

beaten

mix-ins

,

as desired

coarse sugar,

for sprinkling

icing

,

as desired
Instructions
Preheat the oven to 425°F.

In a large bowl, combine the flour, sugar, baking powder, and salt.

Grate the butter using a box grater and toss it into the flour mixture a little at a time. Once all the butter is grated, use a pastry blender, two forks, or even your hands, to work the butter into the flour until coarse, pea-sized crumbs appear.

Mix the cream and egg together in a small bowl. Slowly add the cream mixture to the flour mixture and mix until the dough just holds together. Here you have to be flexible about the amount of cream to add as the actual amount will depend on the humidity of the day. Squeeze a small amount of dough between your fingers and if it is very crumbly, add more cream, 1 tablespoon at a time (2 tablespoons maximum). If the dough is too wet, you can knead in more flour when you turn out the dough. Remember, do not over mix the dough...you want to keep that butter cold and separate from the flour.

Turn dough out onto a lightly floured surface and push together into a rough ball. Knead a few times to combine (if you're adding any mix-ins to the dough, here's when you'd add them in). Gather the dough, and flatten into a disc or a rectangle about 1-inch high. Use a bench scraper to release the disc from the mat. Cover with plastic wrap, and refrigerate at least 20 minutes or up to overnight.

Once the dough is chilled, cut the disc into wedges or the rectangle into squares using the bench scraper. If cutting the rectangle into squares, trim the outside edges of the dough first so that the scones can rise evenly. Alternatively, use a biscuit cutter to cut out shapes (gather and cut the leftover dough again as needed, but hopefully not more than 2 times).

Place the scones about 2-inches apart on a half baking sheet pan covered in a Silpat silicone mat or parchment paper. Brush the tops of each scone with cream and sprinkle on some coarse sugar.

Bake at 425°F for about 18 to 23 minutes or until golden brown.

Cool on pan for 2 minutes, then move to a cooling rack. Drizzle icing (if using) on top while the scones are cooling. Let the icing set.
Notes
How you cut up your butter isn't as important as keeping it cold. Generally I'll grate frozen butter on a box grater (mostly because I don't have butter defrosted). If you'd rather, cut chilled butter into small ½-inch cubes. Either way will work.
Some scone recipes use more butter than the 3-1-2 ratio. For this recipe, you can add another 2 tablespoons of butter for more richness if you'd like.
You can use a stand mixer fitted with a paddle attachment or a food processor to make the dough...just be mindful not to overwork it.
The yield is generally about 8 scones (that's what I get from a circle cut into wedges, a rectangle, or 3-inch biscuit cutter), but yours may vary.
Your Notes
Nutrition
Serving:
1
scone
Calories:
262
kcal
Carbohydrates:
28
g
Protein:
4
g
Fat:
15
g
Saturated Fat:
9
g
Cholesterol:
64
mg
Sodium:
465
mg
Potassium:
52
mg
Fiber:
1
g
Sugar:
3
g
Vitamin A:
515
IU
Calcium:
108
mg
Iron:
2
mg