Baking desserts, baking bread, and baking with sourdough starter discard. Plus scotch, bourbon, & whiskey tasting notes, and a whole lot more!
Holiday treats for sharing and gifting
Create delicious and festive platters of cookies and candies this holiday season, many of which are great for gift giving! Here are a few ideas to get you started...
See more Christmas and New Year's Eve recipe suggestions ➡️
My Most Popular Recipes & Tasting Notes
These recipes are what my readers are viewing right now...
Find Recipes & Tasting Notes
Find recipes sorted by category like sourdough, cookies & brownies, and breads & rolls; special collections like baking techniques, small servings, and just chocolate; and special diets like dairy-free and gluten-free.
Search for my tasting notes for the scotch, whiskey, and spirits that I've tried. You can search for a specific scotch or whiskey by region, type, learn about the people of whisky, or look for my food and spirit pairings.
Most Recently Published Recipes & Tasting Notes
Check out these are new additions to Scotch & Scones!
Most Recently Updated Recipes & Tasting Notes
These updated recipes and reviews have been tuned up and are new and shiny!
Sweet & Savory Sourdough
When you maintain a sourdough starter, you have a dilemma: what to do with your sourdough starter discard? Many recipes, both sweet and savory, can be adapted to use unfed sourdough starter. Look here for more sweet and savory ways to use your sourdough starter discard.
See more sourdough recipes ➡️
Good news for sourdough bakers! I've published an e-book that allows you to discover a new method to feed your starter with less flour, making your baking both sustainable and scrumptious. Learn how to have the right amount of starter for your favorite sourdough bread recipe, and explore various bread baking pans to level up your baking game. Plus, dive into a bonus recipe for a naturally-leavened sourdough bread using unfed starter that will fit into your busy schedule for fresh bread any time. Head over to my shop and get your copy today!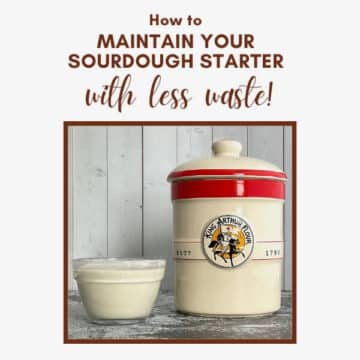 Just Chocolate
Chocolate is one of life's indulgences, and recipes that contain chocolate are a real treat. If you're searching recipes that feature chocolate in cakes, pies, cookies and bars, puddings and custards, ice creams, candies, or breads, you'll find them here. The hardest part will be choosing what to make!
See more chocolate recipes ➡️
Basic Baking Techniques
Here you'll find recipes that are great for learning basic baking techniques. From bread making to custards and dessert sauces, check out these recipes that'll teach you some tricks and tips for better baking.
See more basic baking techniques recipes ➡️