Learn to create a sculpted cake decorated in the shape of a TARDIS from Doctor Who, the long-running BBC TV series. Made with layers of chocolate chip cookie cake, crisped rice treats, and topped with marshmallow fondant, this groom's cake is something special!
Jump to:
Why these instructions work
Sculpting cakes requires more than just baking - it's a real work of art, so planning the design is very important
A TARDIS cake is mostly a tall tower, so the type of materials used must be strong enough to maintain the height and weight
Chocolate Chip Layered Cookie Cake is sturdy and delicious
Crisped Rice Treats (aka rice krispies treats) are used for the majority of the base because they can take the weight of the structure
Tasty Marshmallow Fondant makes the cake easy to decorate
Sculpted cakes are so impressive, aren't they? Shows about turning objects into cakes abound on TV. There are the shows with beautifully-crafted expert creations, Ace of Cakes, and the not-quite-there-but-nice-try endeavors, like Nailed It.
In my family, sculpted cakes are a team effort: I make the interior structures, and my younger daughter shapes and decorates them to create an impressive edible work of art. Sometimes we need an assistant for assembly, but most of the time it's just us.
Case in point: my younger daughter and I made a TARDIS cake as a groom's cake for my older daughter's wedding. It was tall, well crafted, entirely edible (I'll talk about that in a minute), and very well received by the surprised groom.
Questions asked and answered
Before we move any further, here are some questions you might have...
What is a sculpted cake?
Think of them as realistic objects made edible (or mostly edible). Cake is baked and carved into shapes, then covered in fondant (like colored edible clay) and decorated to resemble the objects as closely as possible.
What kind of icing is used for sculpting?
Fondant is the most common icing as it is soft and pliable, and can be molded into many shapes. Marshmallow Fondant is better tasting than just out of the box. Other possible icings can be buttercream and edible paper.
What is a TARDIS?
The TARDIS is an iconic part of the long-running BBC TV show, Doctor Who. The name is an acronym, and it stands for Time And Relative Dimension In Space. The shape is derived from an old-fashioned British police phone booth.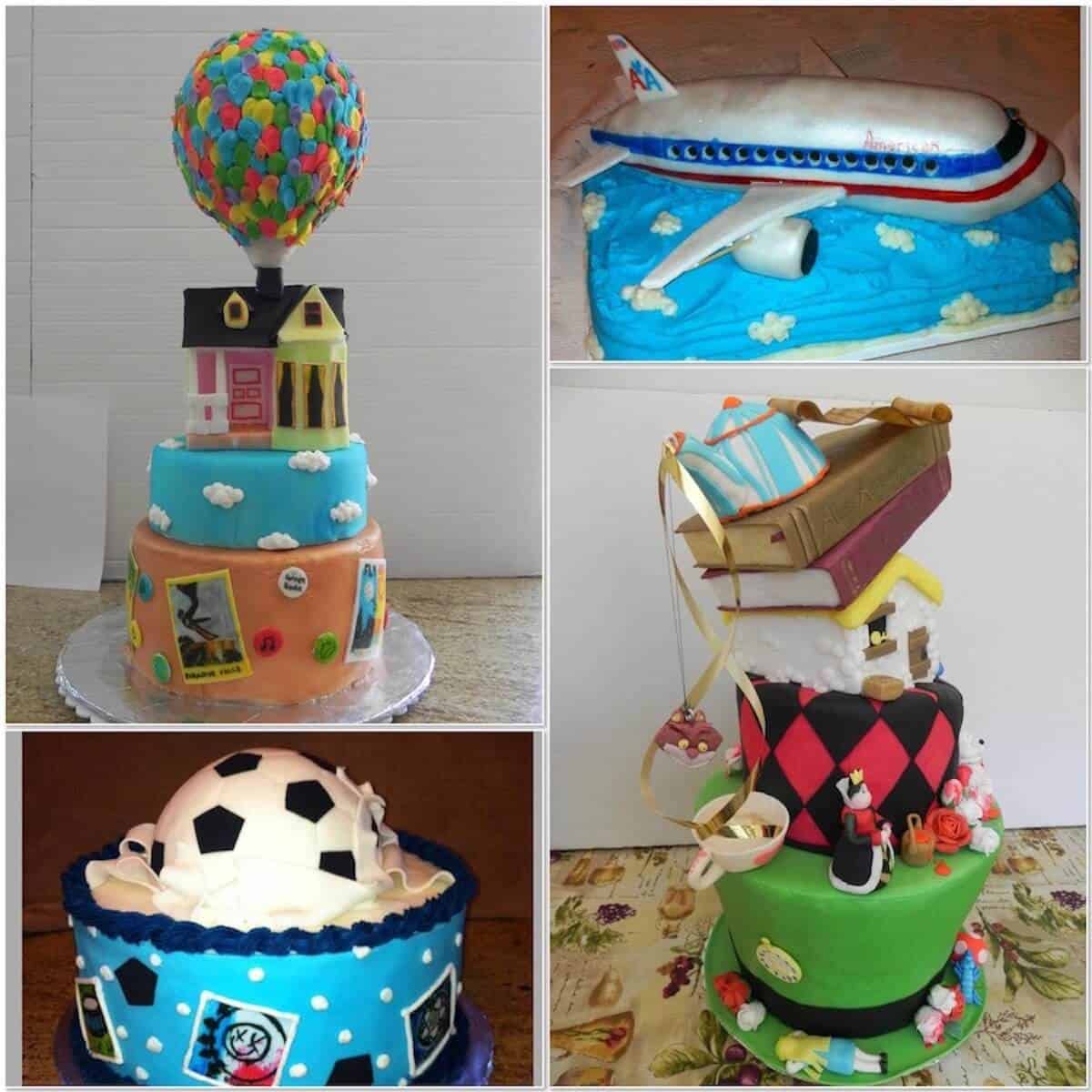 Cake sculpting secrets
When making a sculptured cake, you need an interior structure that's firm enough to be able to stand up in ways other than just in a layer. There are two ways you can go - fully edible or partially edible.
[ ** insert tires screeching sound here ** ] (What do you mean, partially edible?!)
For cake decorating competitions where the cake will be sitting out for a long time (such as with County or State Fairs), frequently styrofoam will be used inside the cake. It's then covered with fondant to serve as the canvas from which to start decorating. Obviously, styrofoam isn't edible, but it is cheap and easy to carve, and doesn't wilt or spoil over the days of competition.
If you watch those baking shows about fancy (and fully edible) cakes, you'll discover that Rice Krispies Treats are frequently used for structure, especially for large cakes. They're cheaper and easier to make than cake layers, plus they're also easy to carve as it won't crumble as a baked sponge cake would.
A groom's cake for a Doctor Who fan
My son-in-law (aka S-I-L) is a huge Doctor Who fan. He collects figures of the various doctors and TARDIS's and displays them in their den. I'm too wrapped up in my own Outlander fandom, (** ahem...figures of my own **) so I'm not going to judge.
Both my daughters and I wanted to surprise him with a special groom's cake that represented a fandom that's important to him, and boy did it work! He was delighted (and touched, I think) that his new family wanted to do something special just for him.
What you need for a sculpted cake
This fully edible groom's TARDIS cake is tall...over 18-inches tall to be exact, with a 9-inch square base. We are feeding a crowd, after all, and a TARDIS isn't short and stout.
The interior structure is made up of several parts:
Element 1: Chocolate Chip Cookie Layer Cake
To create the upper part of the TARDIS, we need a layer cake recipe that's sturdy enough to stand 6-inches tall. This Chocolate Chip Layered Cookie Cake fits the bill nicely! It's fun and flavorful, and can be stacked as high as is needed.
You'll need to quadruple the cookie layer cake recipe to make 6 layers in a 9- x 9-inch baking pan.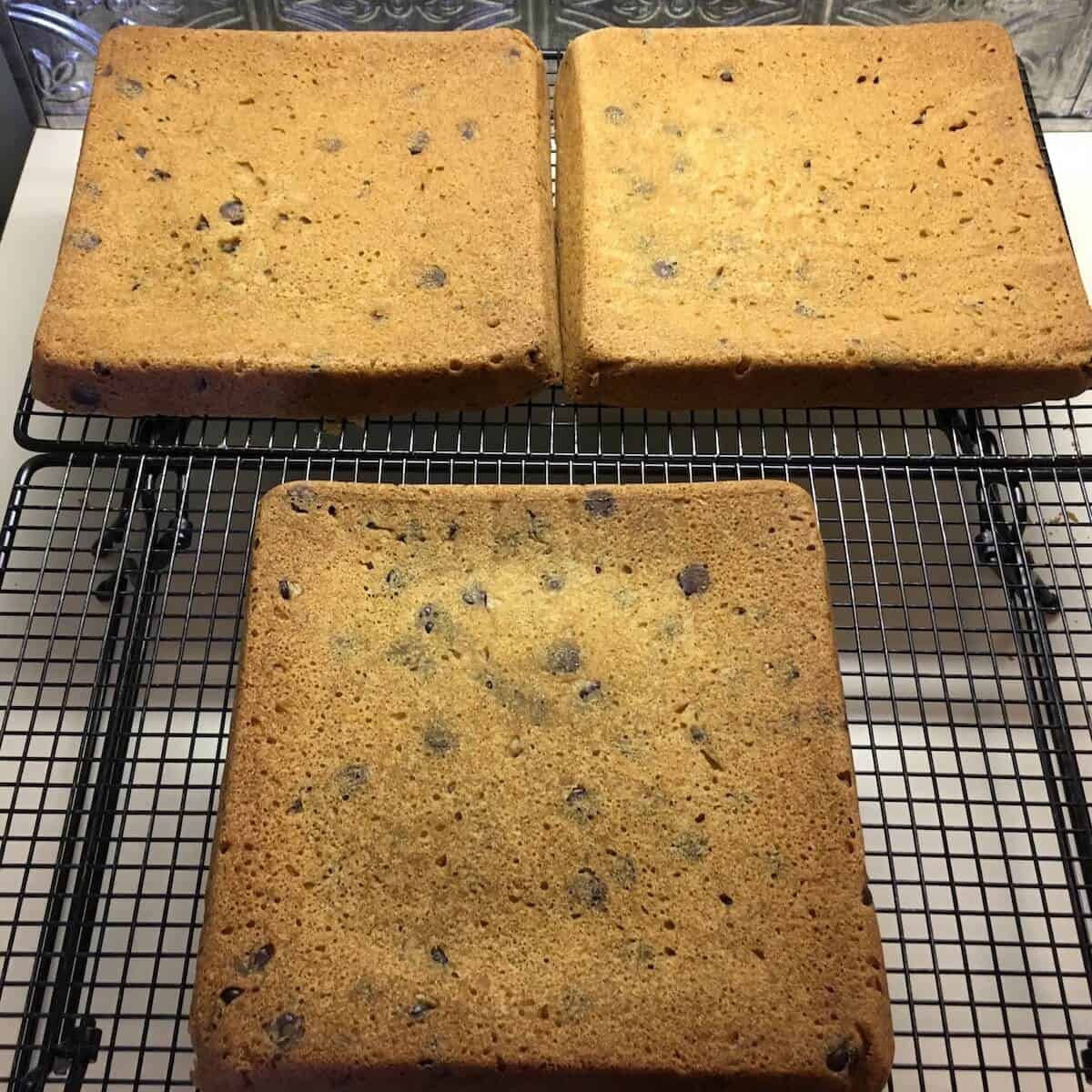 Element 2: Chocolate Buttercream Frosting
Buttercream frosting is used in two ways for this TARDIS cake: as a filling between all the layers, and as a crumb coating after the structure is assembled.
As filling, a thicker frosting acts as glue between the layers and adds some height as well. It also has to be delicious, of course! For our TARDIS cake, we use my easy Chocolate Buttercream Frosting. It complements the chocolate chip cookie cake layers, and is thick enough to hold everything together. You can also use another type and flavor frosting if you prefer, like this vanilla-flavored Italian Meringue Buttercream Frosting.
You'll need at least four batches of the buttercream. Adjust some of the frosting for the crumb coating to a thinner, more easily spreadable consistency for assembly later.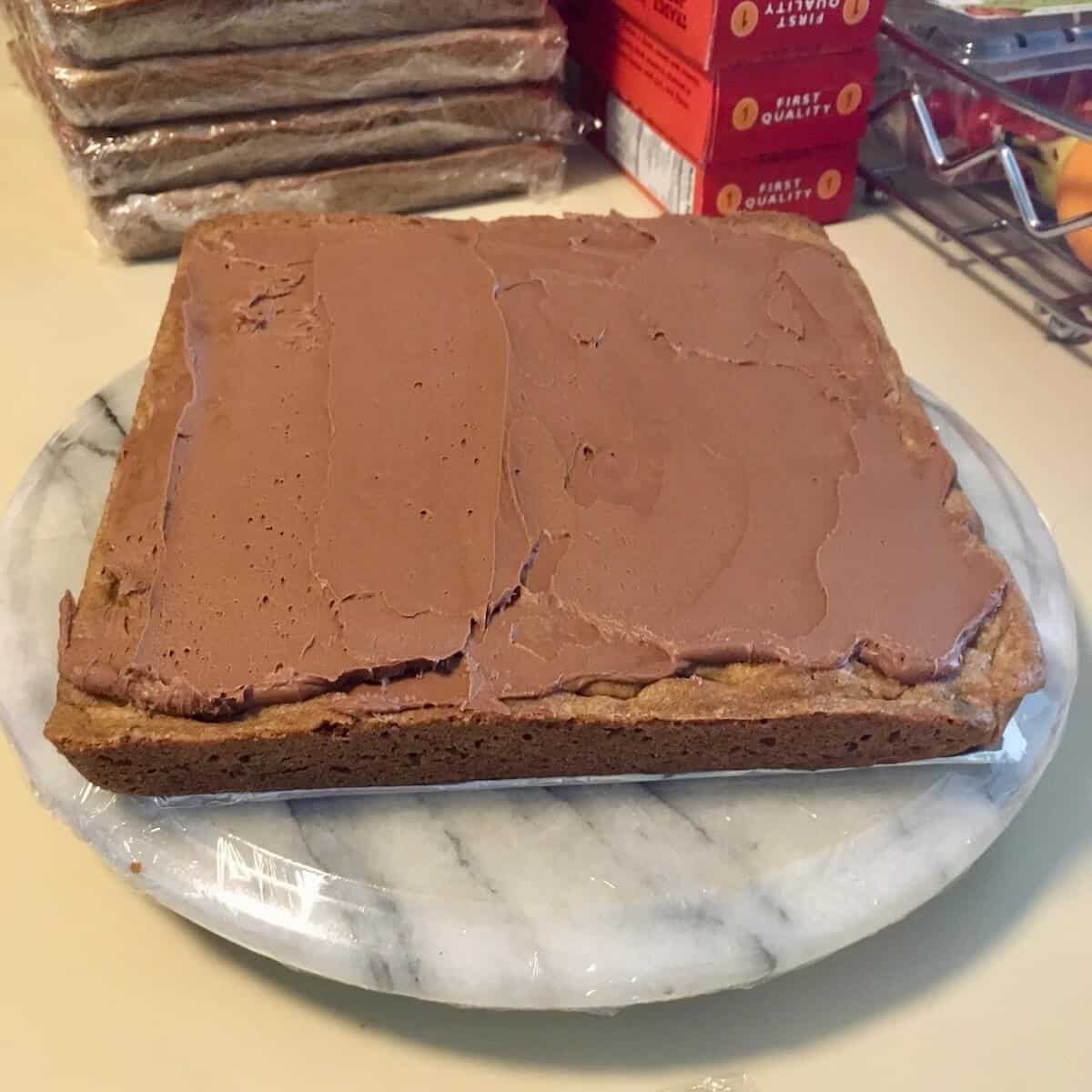 Element 3: Crisped Rice Treats (aka Rice Krispies Treats)
This TARDIS cake is fully edible, so the base for the lower 12-inches of the tower needs to be made from something sturdy. Sculpting with Rice Krispies cereal is the way to go. The crisped rice treat recipe below is firm yet flavorful, and strong enough to hold up the heavy 6-inch tall chocolate chip layered cookie cake portion of the TARDIS.
In order to make a 12-inch tall base, make six batches of the Crisped Rice Treats recipe, with a bit left over to make the pyramid-shaped top. Each batch is pressed into the same 9- x 9-inch baking pan used for the cookie cake.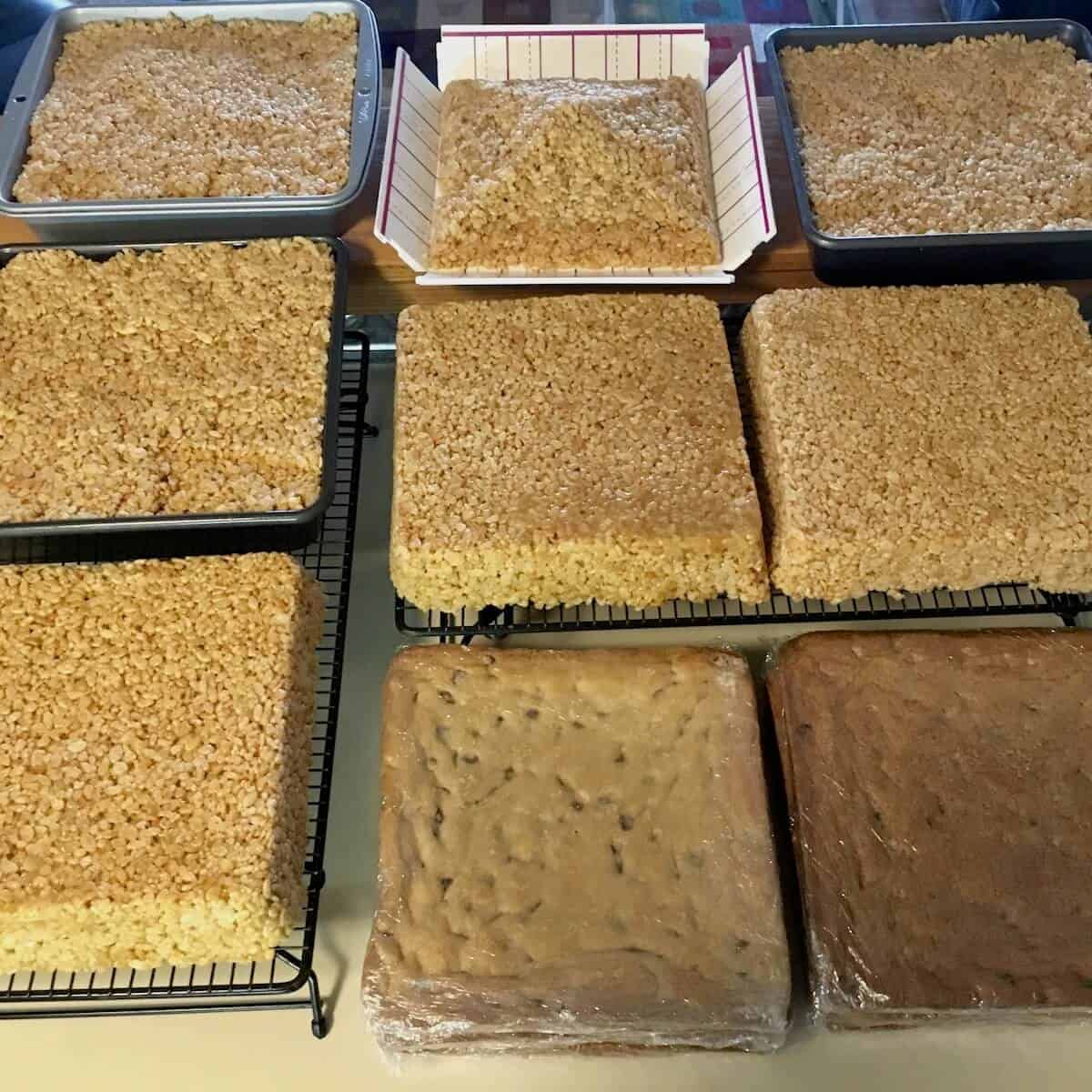 Element 4: Fondant
Fondant can be bought at many markets, kitchen stores, or craft stores in 5-pound boxes, either in white or colored in various shades. For the TARDIS cake, you'll need Royal Blue fondant.
One complaint that I always have with fondant out of the package is that it basically tastes like soft plastic. It's pretty and all, but it truly lacks in the deliciousness department. You can improve the fondant from the box (as well as increase the amount of fondant coverage by 300%) with this marshmallow fondant recipe.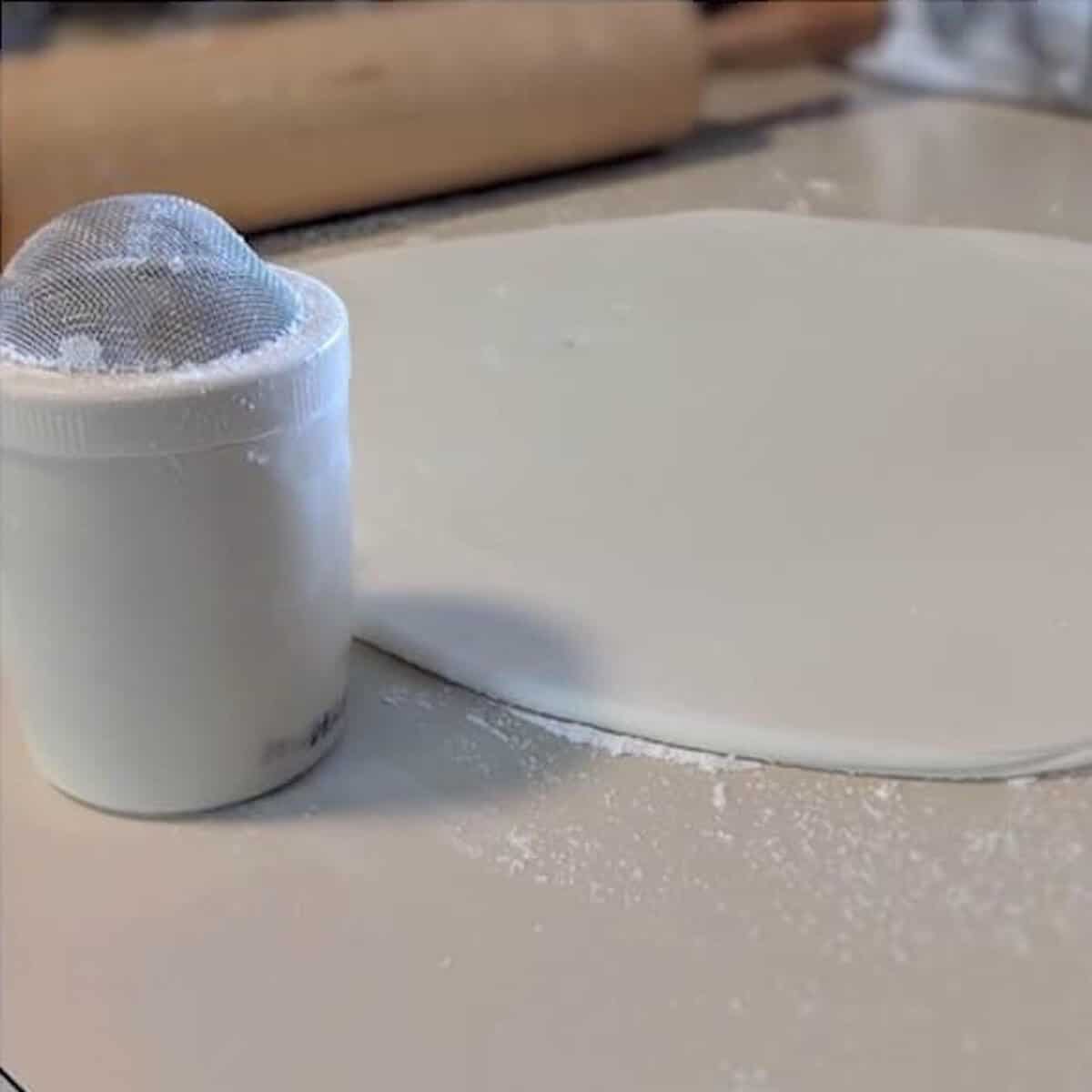 How to make a Doctor Who TARDIS cake
Now that you have all the elements ready, it's time to assemble this Doctor Who cake.
Step 1: Stack the cookie cake layers
Thickly frost each layer of the chocolate chip cookie cake with the chocolate buttercream frosting. Stack them to be about 6-inches tall, then set aside.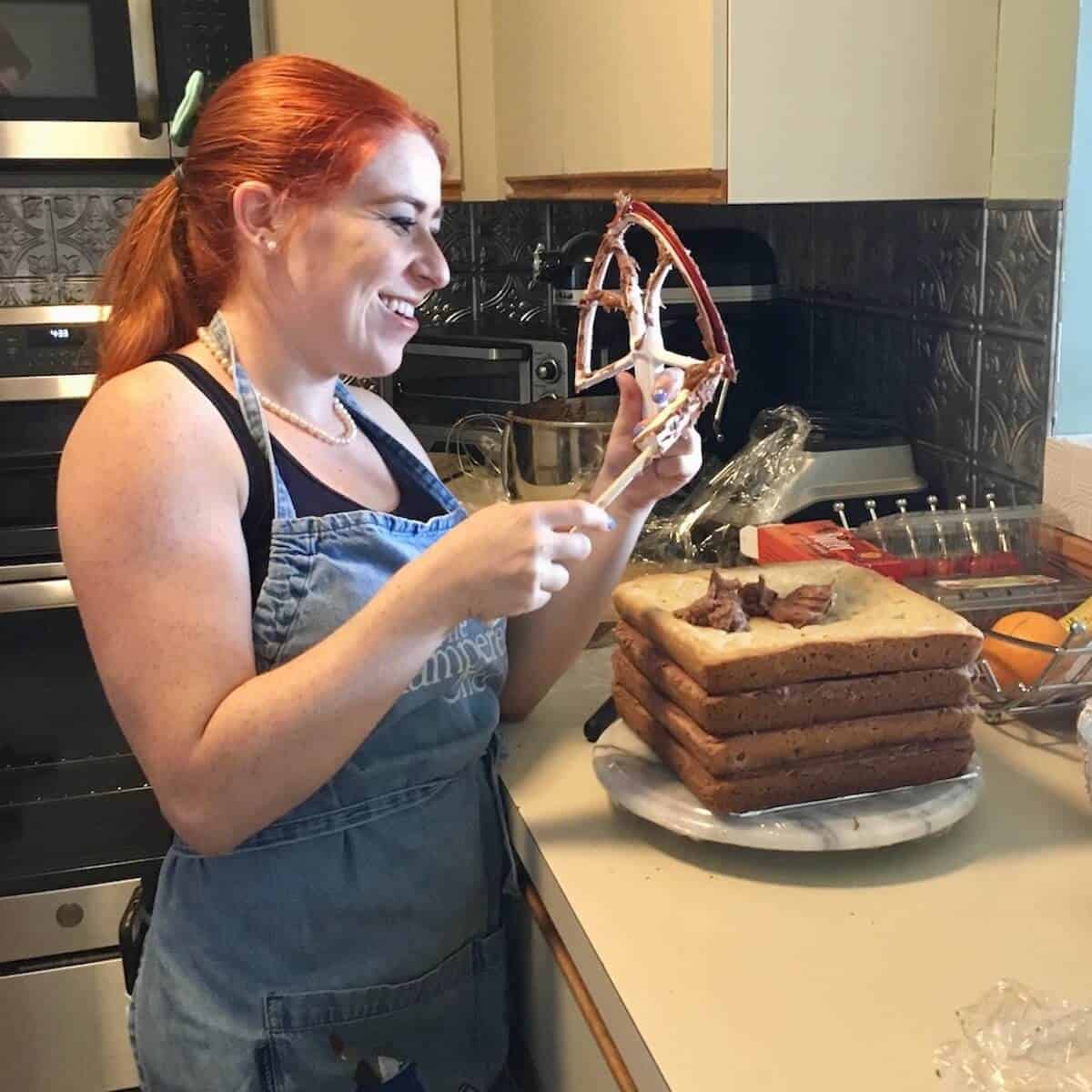 You want enough frosting to keep the tower steady, and to be able to taste it, too!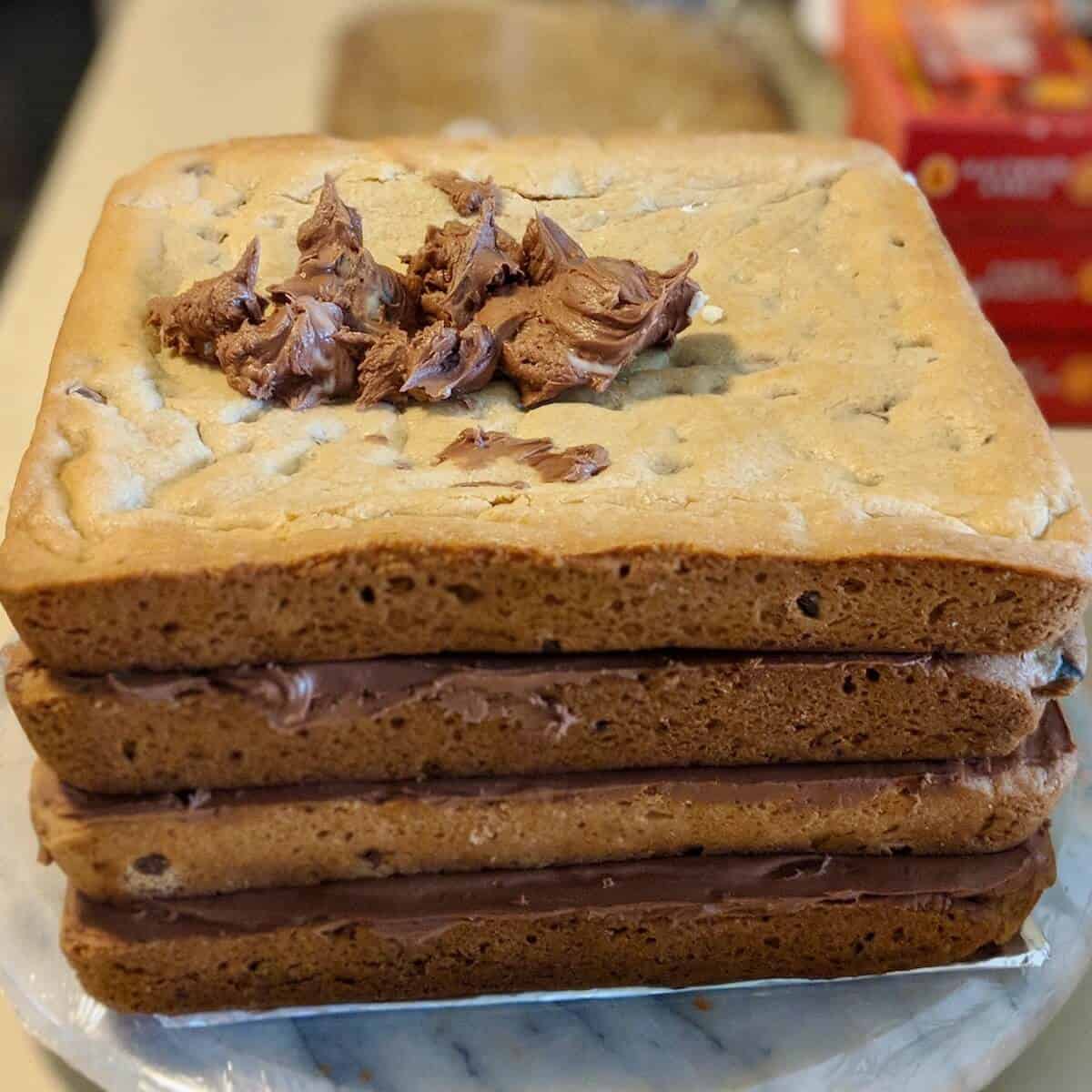 Step 2: Stack the crisped rice treat layers
Just like with the cookie cake part of the tower, stack the crisped rice treats portion of the tower, again frosting the layers together with buttercream. This lower portion should measure about 12-inches tall.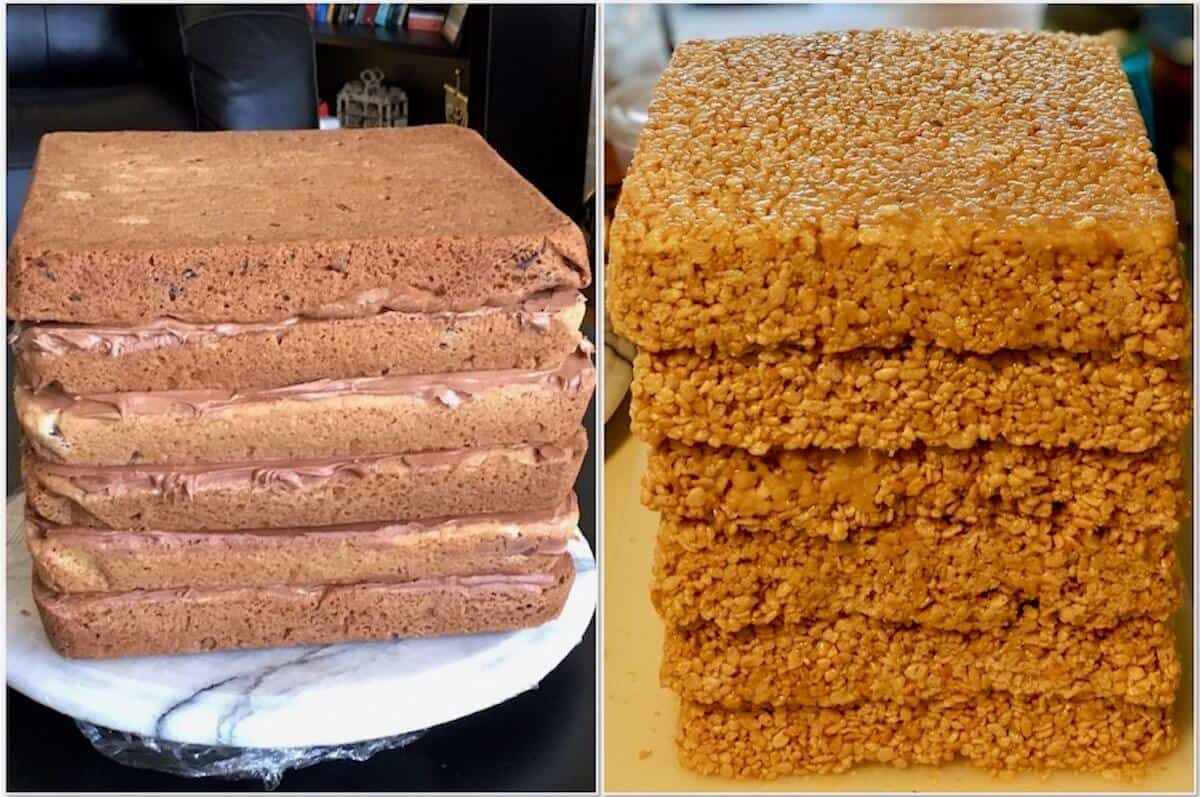 Step 3: Straighten the sides if necessary
Because my 9- x 9-inch baking pan slightly sloped, we needed to trim the sides with an electric knife to even them out (the trimmings are delicious, by the way!).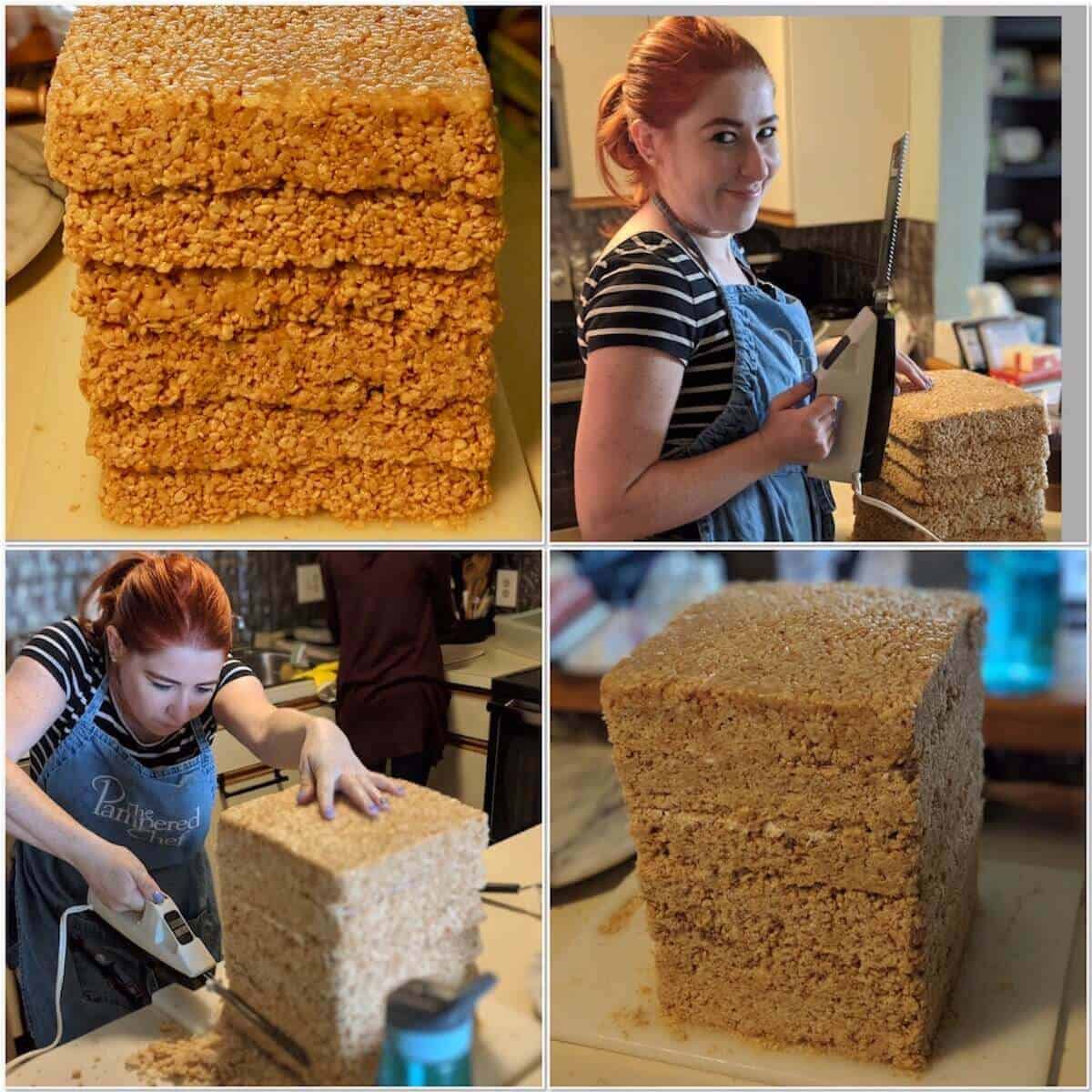 Step 4: Create the tower
If necessary, ask an assistant for help with stacking the two parts of the tower. Here, my daughter's boyfriend helped her with placing the upper cookie cake stack. She had to trim the cookie cake layers to match the base, so be aware that this might be necessary (again...delicious trimmings!).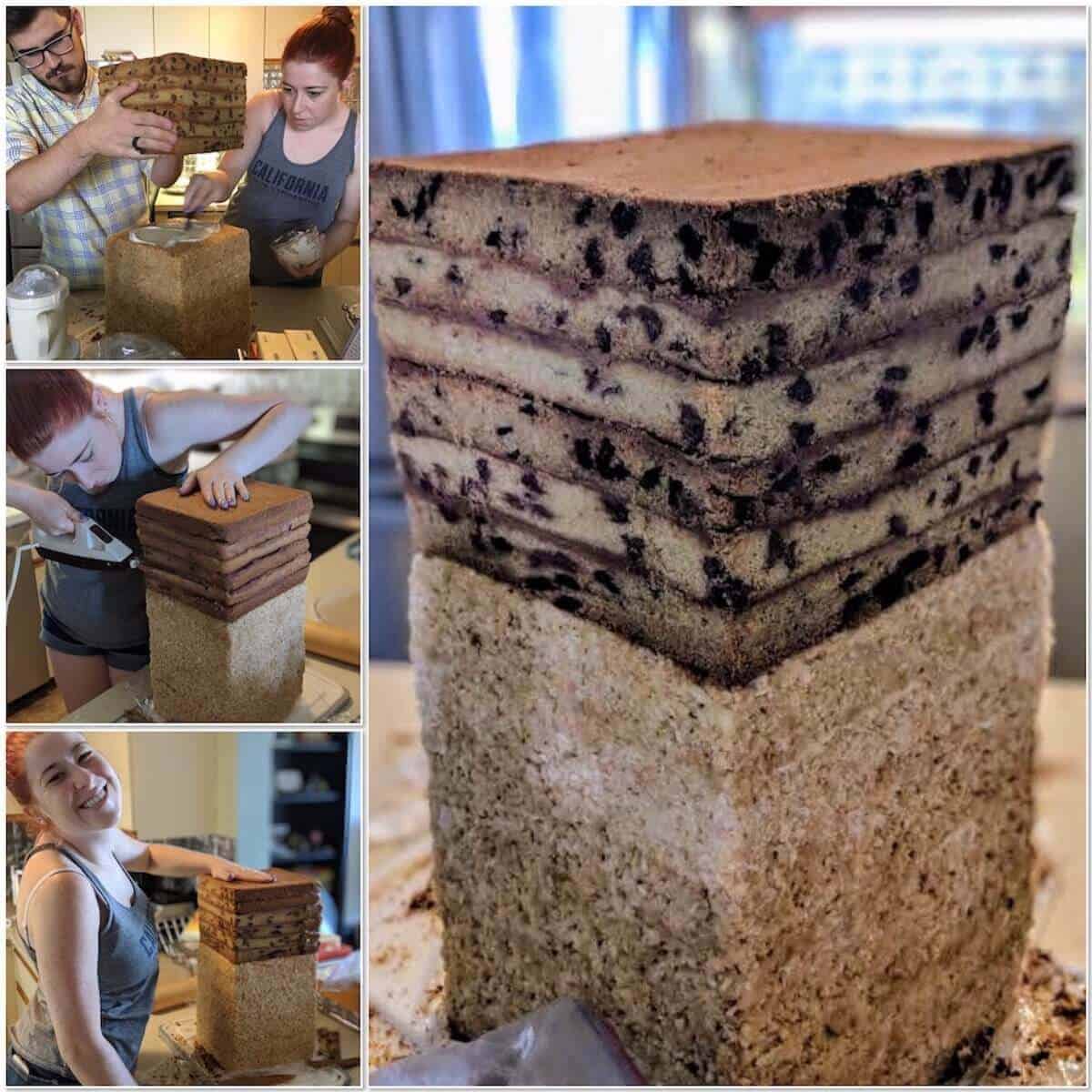 Step 5: Cover the sides with marshmallow fondant
Add a light coating of frosting (called a crumb coat) to the sides of the tower. This helps the rolled-out blue marshmallow fondant stick to the sides of the tower. Apply rolled out sized rectangles of blue fondant to the sides and smooth down as needed.
You can add strips of additional fondant to cover the corner seams and add to the design elements.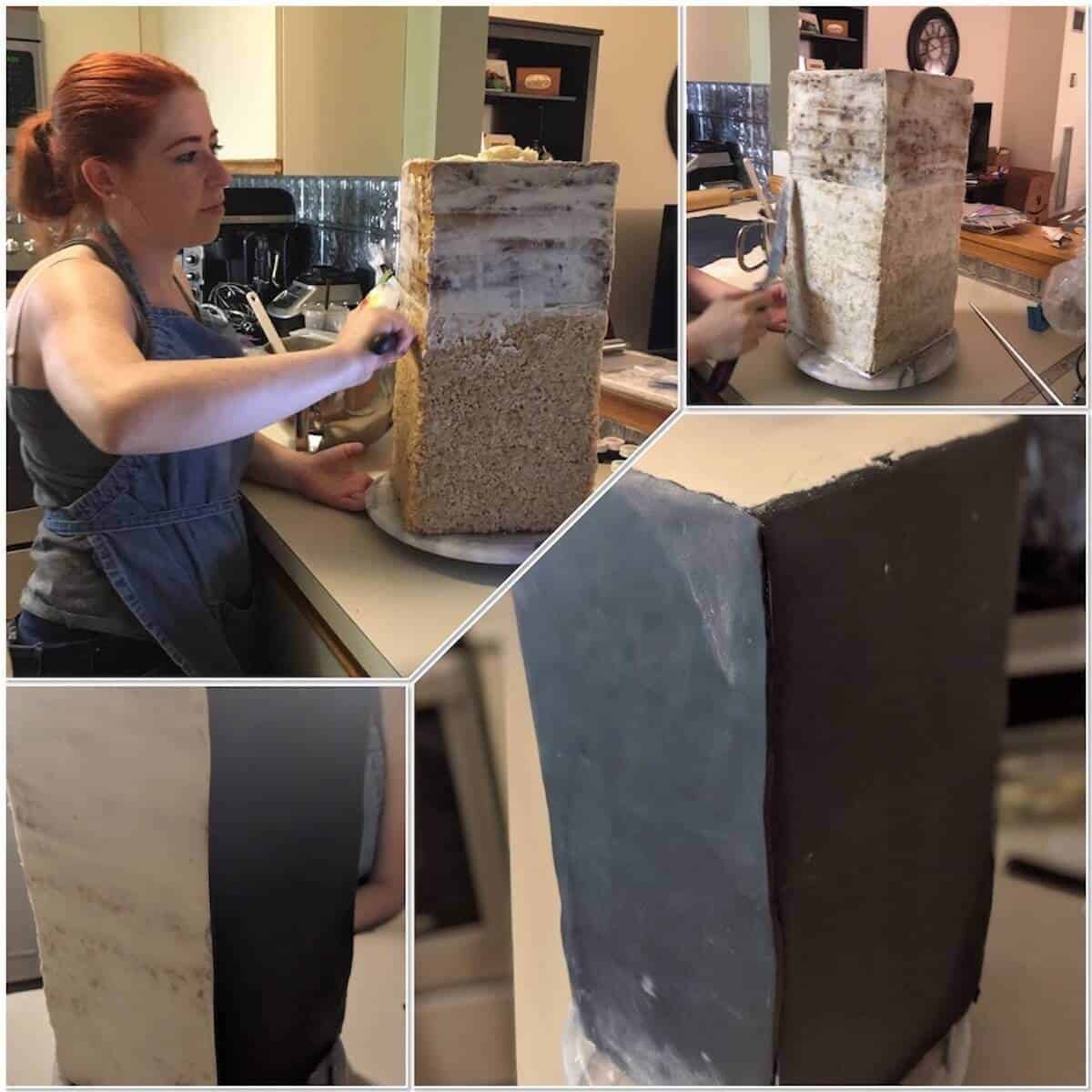 Step 6: Adding decorating details
The final step is adding the decorating details to make a nondescript blue tower turn into the TARDIS. We use white edible paper and edible markers for the fine detail work. The tiny light at the top is the finishing touch!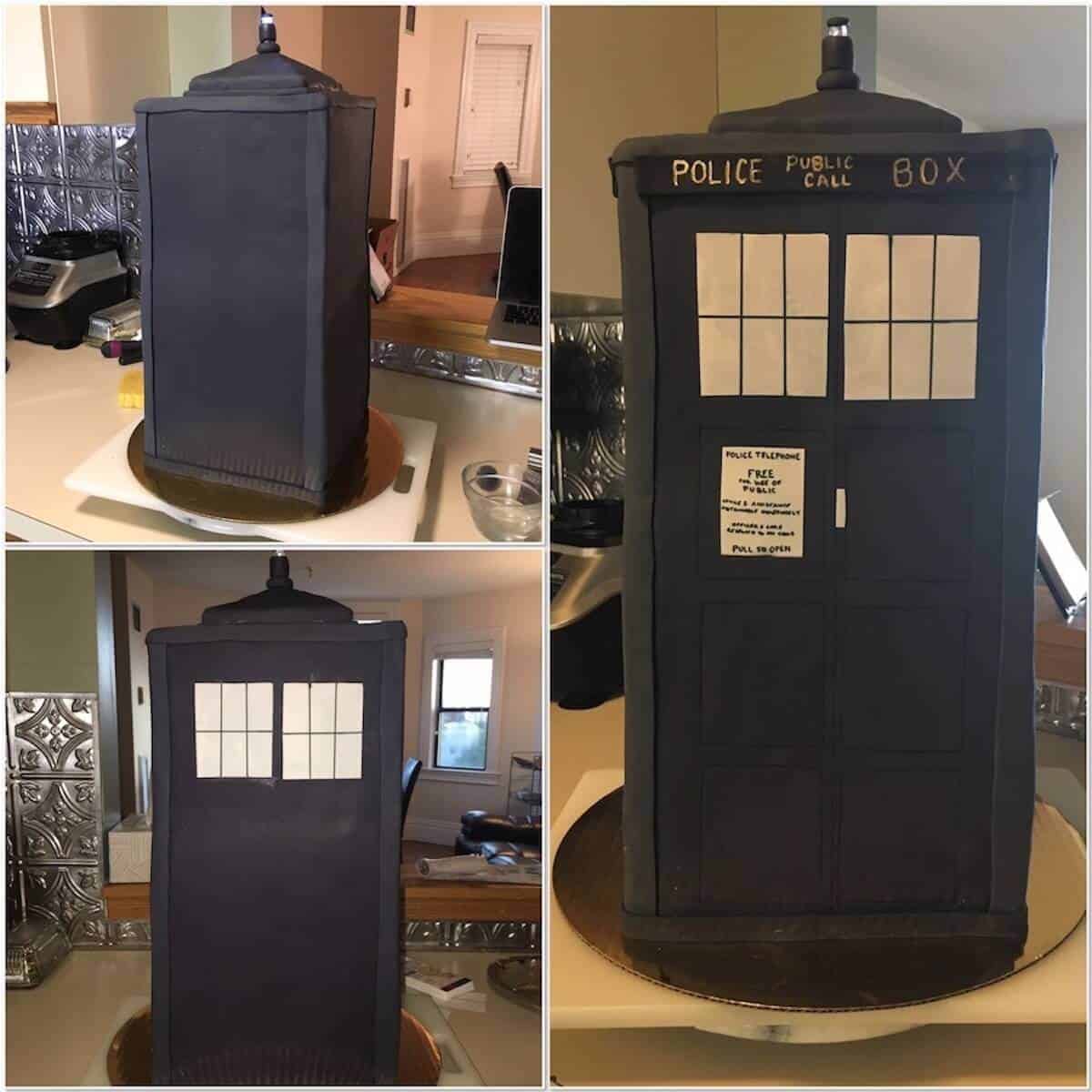 Pro Tip: Make crisped rice treats for snacking
If you're not making a cake that needs to support a lot of weight and want softer, more traditional Crisped Rice Treats, just adapt the recipe below. You'll need half the amount of butter and cereal for the same amount of marshmallows.
For an even more homemade treat, consider making your own marshmallows. You can flavor them as you'd like (maple marshmallows? whiskey marshmallows?). Homemade marshmallows are easy and fun!
(Side note: In case you're wondering, the reason why I'm not calling this recipe "Rice Krispies Treats" is very simple - I would rather use a more generic name than something that's copyrighted. Plus, since these treats are firm, I want to differentiate between the two to avoid confusion.)
Giving the gift and delighting the groom
This enormous TARDIS cake isn't hard to make, just time consuming. All the components not only hold the structure well, they taste great, too. My younger daughter did a fantastic job on constructing and decorating this cake, complete with a little light at the top!
We were so happy to give my S-I-L his special groom's cake. The surprise and delight on his face was exactly the reaction we were hoping for.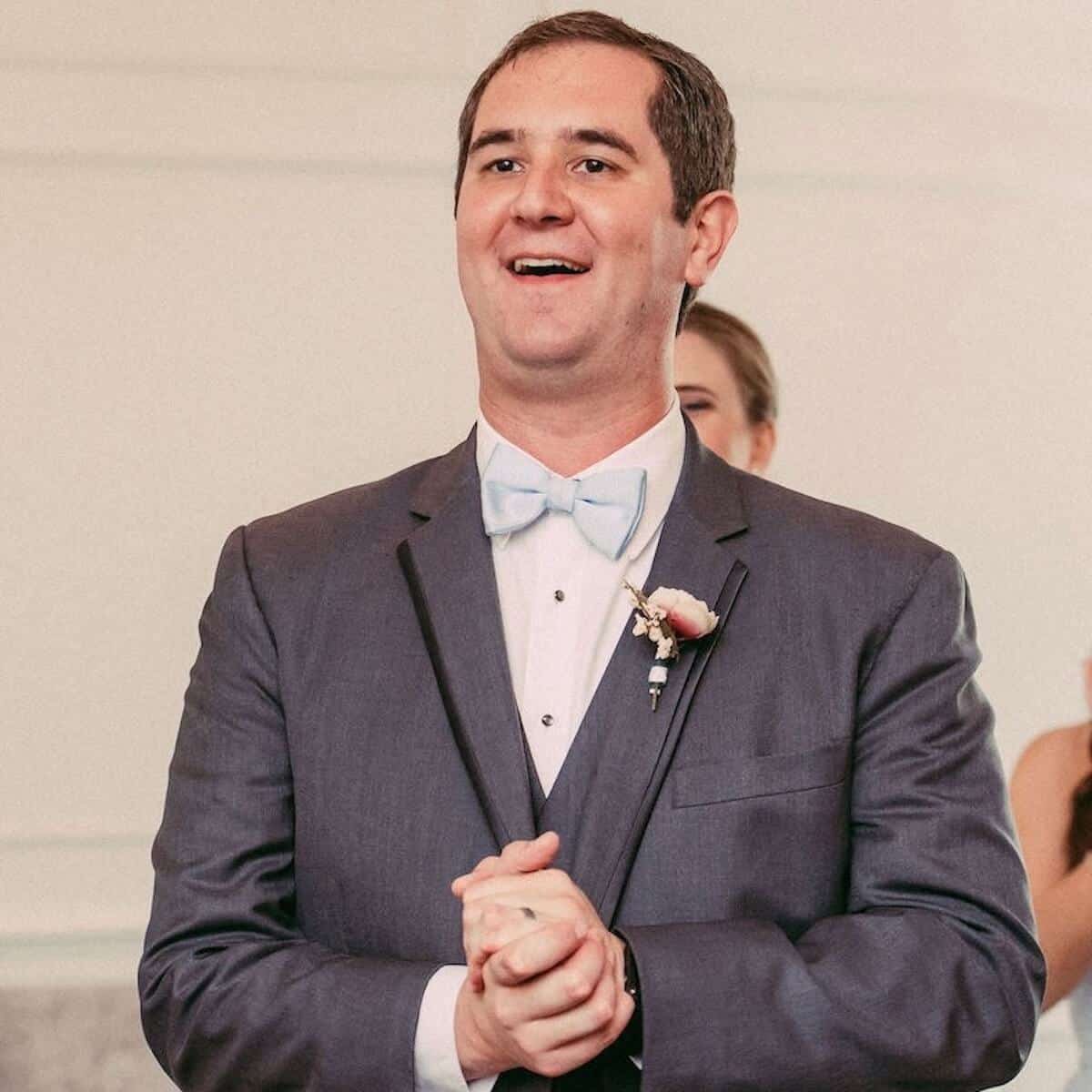 His joy was evident as he inspected his gift. Our 18-inch high TARDIS cake was a huge hit with the groom and the guests!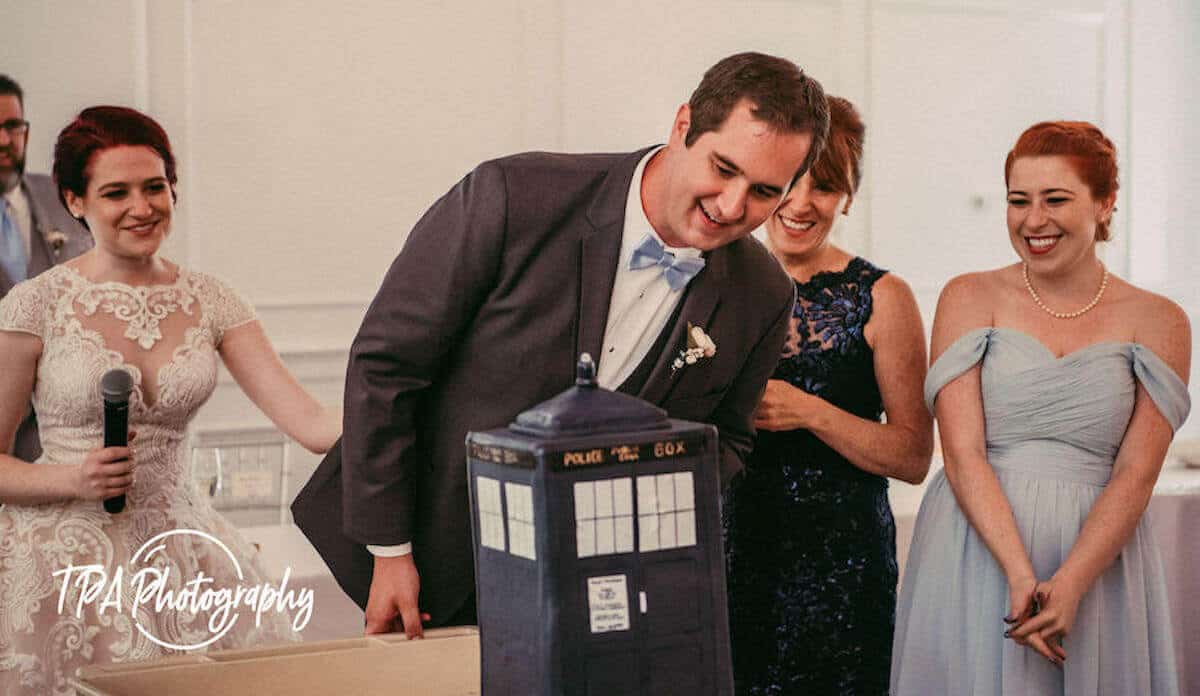 You, too, can make someone's special day even more so with this TARDIS cake. After all, I always say that Food = Love, and preparing a sculpted cake really takes the...uhm...the cake!
Slainté! L'chaim! Cheers!
Tammy
Related Recipes
Celebration cakes can be as impressive as they are delicious. These recipes tell how we made a homemade wedding cake and a sculpted TARDIS Cake using what may be some surprising elements. You can use these ideas for your own sculpted cakes!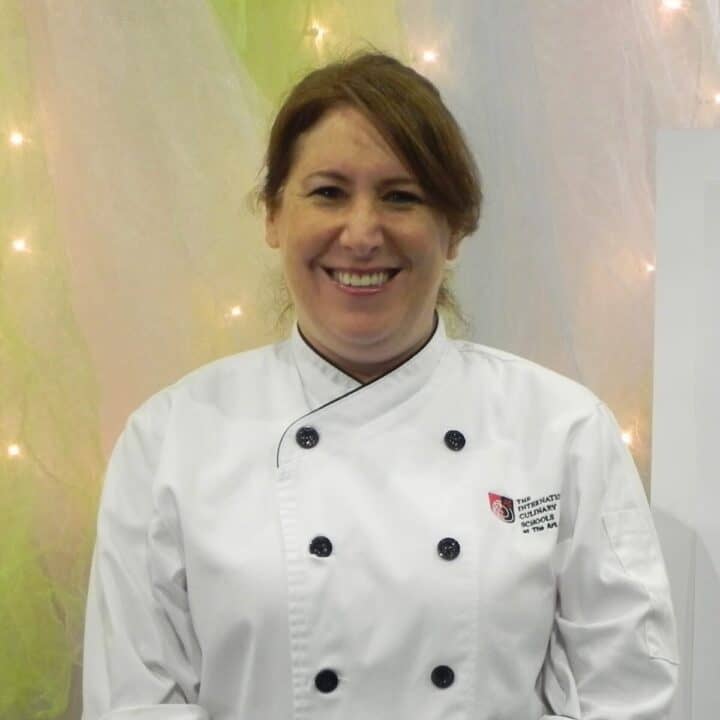 I hope you like this recipe! Do you have any questions I can help with? Let me know! Or, if you made the recipe, I'd love for you to leave a comment and rating. Thanks!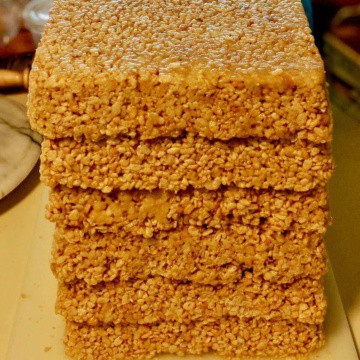 Crisped Rice Treats for Sculpted Cakes
Crisped Rice Treats (aka Rice Krispies treats) are ideal as an interior structure for sculpted cakes. Use as a base for a groom's TARDIS cake!
Ingredients
1

cup

butter

,

salted or unsalted

⅛

teaspoon

kosher salt

,

if using unsalted butter

1

10-ounce bag

marshmallows

,

about 6 cups

1

12-ounce box

crisped rice cereal

,

about 11 cups

chocolate buttercream frosting,

or another flavor, for assembly
Instructions
Line a 9- x 9-inch baking pan with parchment paper or wax paper, allowing paper to overhang the sides (this eases removal of the slab from the pan).

Make the slab: In a large pot, melt the butter over medium-low heat.

When butter is melted, stir in the marshmallows and ⅛ teaspoon salt (if using unsalted butter). Melt and cook, stirring often, until mixture turns pale brown, then stir constantly until lightly browned but not dark, 3 to 5 minutes.

Remove from heat, then add cereal and mix well, preferably with a silicone spoon or a spatula. Scrape the cereal mixture into the prepared pan and press down firmly. If necessary, butter your hands to press mixture flat or use a small piece of plastic wrap.

Let the cereal mixture cool, then remove the slab from the pan.

Assemble the cake: Make as many batches as needed for the sculpted cake. Stack slabs of crisped rice treats, using frosting to hold the layers together. Carve the stack as needed for the sculpted cake design.
Notes
To make softer, more traditional, Crisped Rice Treats, use ½ cup butter (113 grams) and ½ box crisped rice cereal (170 grams). After cooling the treats,

cut the slab into squares or bars as desired.
For an even more homemade treat, consider making your own marshmallows. You can flavor them as you'd like (maple marshmallows? whiskey marshmallows?). Homemade marshmallows are easy and fun!
Your Notes
Nutrition
Serving:
1
9- x 9-inch square
Calories:
1635
kcal
Carbohydrates:
2
g
Protein:
2
g
Fat:
184
g
Saturated Fat:
117
g
Polyunsaturated Fat:
7
g
Monounsaturated Fat:
48
g
Trans Fat:
7
g
Cholesterol:
488
mg
Sodium:
317
mg
Potassium:
56
mg
Fiber:
0.01
g
Sugar:
1
g
Vitamin A:
5673
IU
Calcium:
55
mg
Iron:
0.1
mg