Rich, smooth chocolate frozen custard with a hint of mint punctuated by shards of dark chocolate…that's delicious Chocolate Mint Chip gelato!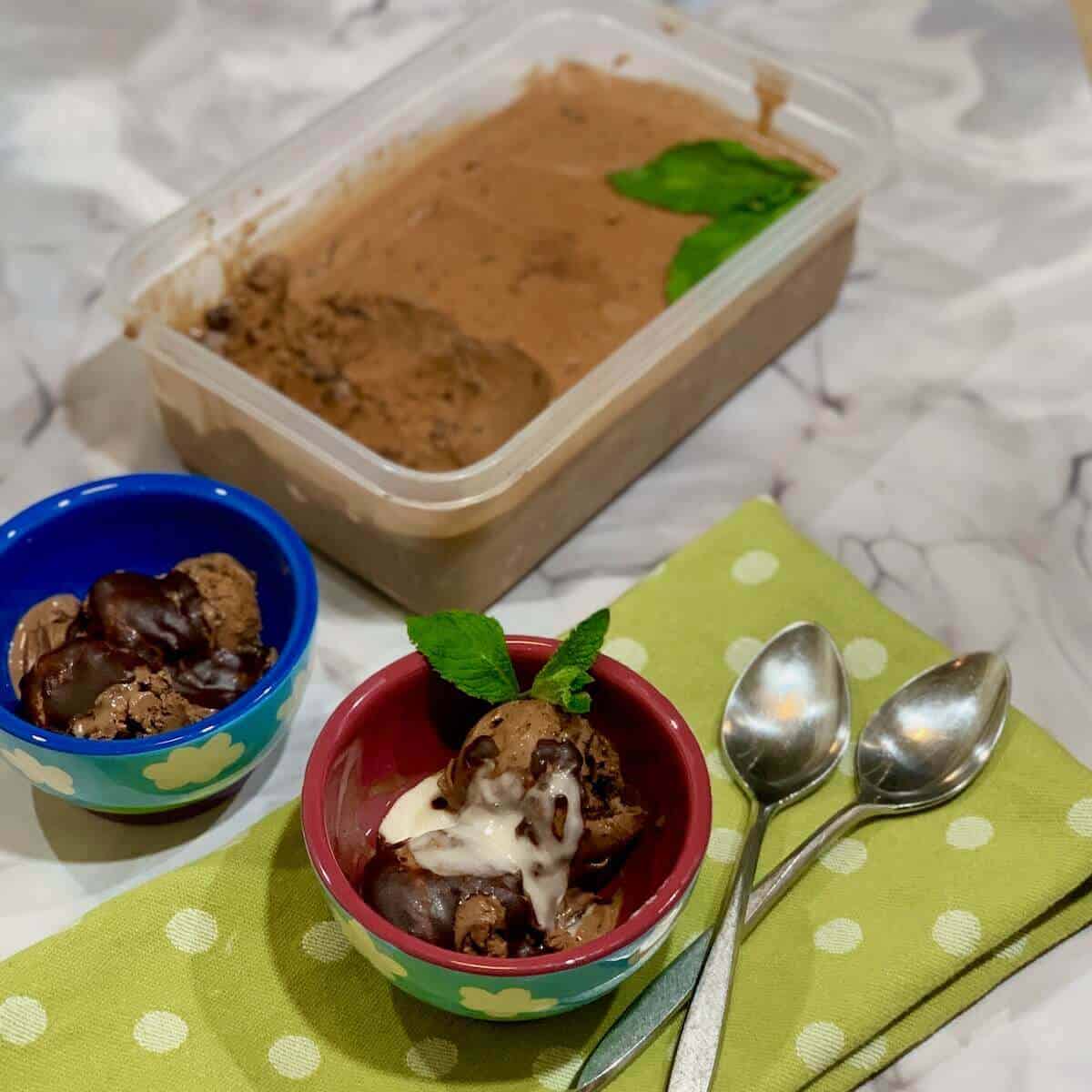 Making homemade ice cream doesn't just have to be relegated to summer. There are so many iconic ice cream flavors for the four seasons, why be limited? For me, Spring is for mint chocolate chip ice cream.
Hold up…make that chocolate mint chip ice cream, using chocolate ice cream as the base. Or perhaps that should be chocolate mint chip frozen custard (the richer cousin to ice cream).
Wait, I've got it…Chocolate Mint Chip gelato. It's got all the flavor and texture of homemade frozen custard with less calories. Score!
Jump to:
Chocolate and mint go together
I like recipes with fresh mint because I can infuse the flavor into certain ingredients. When mint and chocolate are paired, the flavors complement each other so well.
For Mint Chocolate Chunk cookies, mint is steeped in melted butter, bringing that bright mint flavor to the cookie without it tasting plastic-y (as I sometimes find recipes using mint extract do). A humble chocolate chocolate chip cookie gets elevated into something sublime.
In a recipe for homemade ice cream, infusing fresh mint into the milk is a great way to add a hint of mint to the finished product.
[Side note: I've also infused mint into cream to make lovely Mint Chocolate Chunk scones. You can get that recipe if you sign up for my newsletter below. So much minty goodness!]
What's the difference between ice cream and gelato?
Recipes for homemade ice cream are fairly straightforward. At its most basic all you really need is heavy cream and a sweetener (that's the base). After that you flavor your base as you please (vanilla beans, chocolate, mint…) and add mix-ins if you'd like (chocolate chips, nuts, cookie crumbles).
An ice cream custard base (aka frozen custard) is in the same family as pastry cream (a version of Crème Anglaise for you purists). The benefit is that frozen custards are richer in flavor and have more body than regular ice creams. With that added richness comes added calories.
Gelato uses the same frozen custard method, but its base typically has twice as much milk than cream, so it has a lower butterfat content than ice cream. Great flavor, less calories.
What you need
I smooshed together two recipes from Williams-Sonoma Ice Cream cookbook as the basis for this recipe, Mint-Chocolate Chip Ice Cream (pg.18) and Chocolate-Hazelnut Gelato (p. 46). (A book? How very quaint!).
Bittersweet chocolate has deep flavor, and you don't need the extra sugar because the gelato takes care of that already. If that's too intense, use semi-sweet chocolate instead.
Why is Canola oil used? It's to help the melted chocolate freeze into shards as it's added to the churning ice cream. Believe me, it works.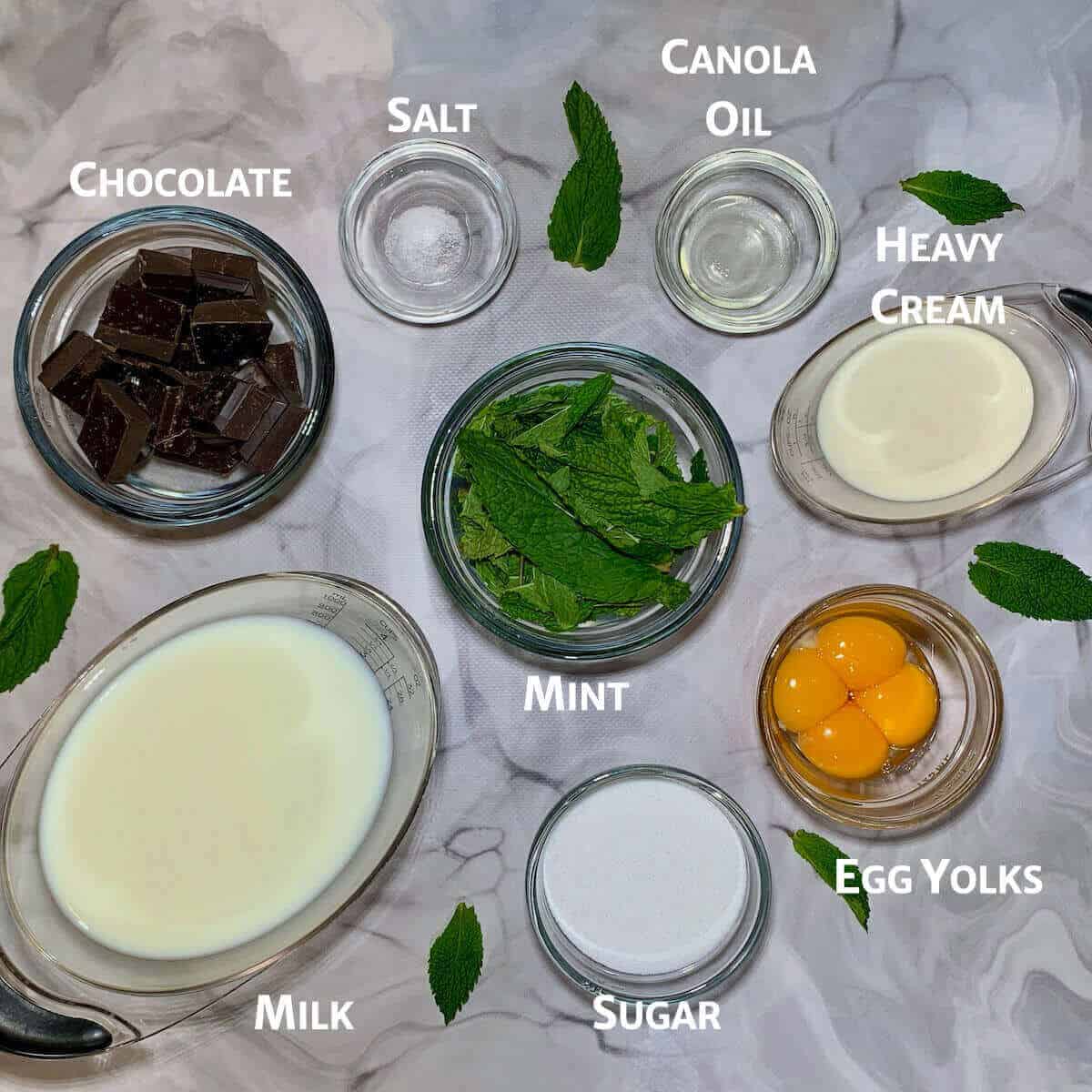 How to make gelato
The process for making homemade gelato is just like that of making ice cream. The difference is that you must chill your base thoroughly before churning it.
Making the custard base is a straightforward process:
Mix egg yolks with sugar
Heat milk until just simmering. Let your flavoring agent (in this case, mint) steep in the warm milk for a bit
Add a small amount of the heated milk into the egg yolks to gently raise their temperature (aka tempering the eggs). No scrambled eggs here!
Cook the milk & egg mixture until it's thickened, but do not boil it (again, no scrambled eggs wanted!)
Strain the thickened custard into a clean bowl, removing the mint (in case, like me, you end up with some scrambled egg in the mix)
Chill the custard in preparation to churn it
Instead of just tossing in chocolate chips towards the end of churning the gelato, drizzle in melted chocolate mixed with a small amount of canola oil. This technique produces slivers and shards of chocolate in the finished product.
Have you tried to eat a frozen chocolate chip? This way is so much better. You're welcome.
Green for mint and green for St. Patrick's Day
This Chocolate Mint Chip gelato has deep chocolate flavor with a hint of mint underneath. The texture is wonderfully rich and satisfying…you won't miss the extra cream.
I made sundaes topping scoops of Chocolate Mint Chip with homemade hot fudge and melted Irish Whiskey Marshmallows. How's that for a way to celebrate St. Patrick's Day!
This recipe for gelato is easy to make and easy to savor. Give yourself the time to treat yourself to chocolatey minty goodness!
Slainté! L'chaim! Cheers!
Tammy
p.s. to my parents…Happy 60th Anniversary! You're a continent away, so I'll celebrate with you in spirit and send love and kisses through the clouds. <3 XOXO
Related Recipes
Love mint? These recipes feature the bright flavor of fresh mint. Enjoy!
Love this recipe? Please leave a 5-star ⭐️ rating in the recipe card below ⬇️ and/or a comment further down the page.
I'd love to hear from you! Stay in touch on Facebook, Instagram, Pinterest, and please tag me using the hashtag #scotchandsconesblog. You can also sign up for my mailing list. I can't wait to see your creations!
Recipe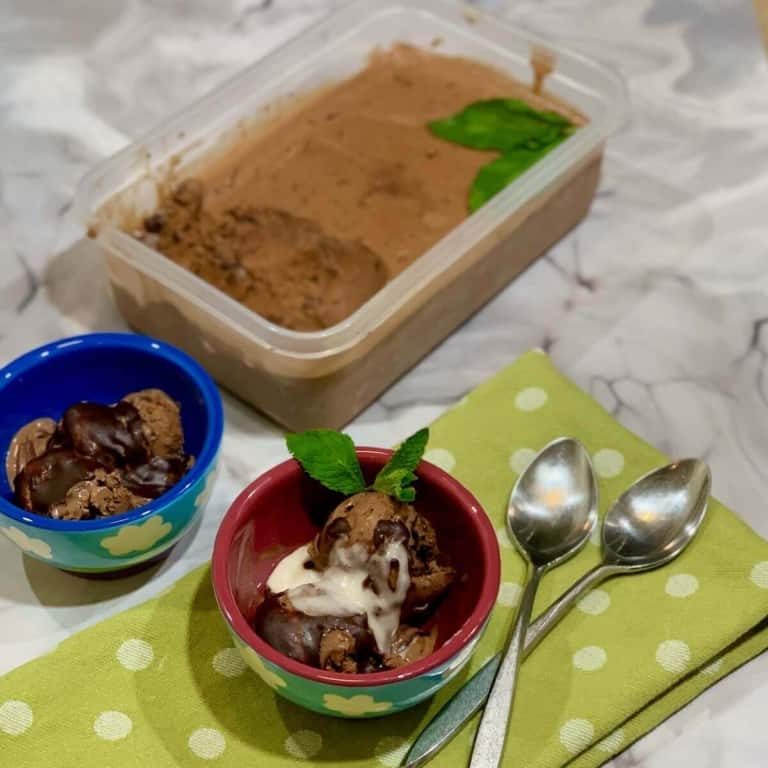 Chocolate Mint Chip Gelato
Rich, smooth chocolate frozen custard with a hint of mint punctuated by shards of dark chocolate…that's delicious Chocolate Mint Chip gelato!
Adapted from Williams-Sonoma Ice Cream cookbook
Ingredients
3

cups

milk

,

see Recipe Notes

1

cup

fresh mint

4

large egg yolks

,

at room temperature

½

cup

heavy cream

½

cup

granulated sugar + 2 tablespoon

⅛

teaspoon

kosher salt

1⅓

cups

dark chocolate,

chopped, divided

2

teaspoons

canola oil
Instructions
Chop the chocolate using a serrated knife. Put ¾ cup (140g) of chopped chocolate in a large heatproof bowl, and set aside. The rest you'll use for the chocolate drizzle later.

Combine the milk and mint in a saucepan. Heat over medium heat until small bubbles form and it starts to steam, about 6 to 7 minutes. Remove from heat and let it steep 20 minutes.

Meanwhile, in a medium bowl, combine the egg yolks, heavy cream, sugar, and salt. Whisk until smooth and the sugar is dissolved.

Temper the egg mixture by slowly adding ½ cup of the warm milk to the egg mixture while continuously whisking. Add another ½ cup of milk and whisk again.

Pour the warmed egg mixture back into the saucepan with the remaining milk. Bring to a simmer over medium heat. Cook until thickened, stirring constantly, about 4 to 6 minutes. It should coat the back of the spoon and leave a trail when you draw your finger through it, but custard should not boil.

Add the hot custard into the bowl with the chopped chocolate. Cover and let sit for 2 minutes, then stir until smooth.

Strain the custard through a fine mesh strainer into a clean bowl, pressing on the mint. Put the chocolate custard bowl in a larger bowl filled with an ice bath (half ice/half water). Stir the custard occasionally until it's cooled to room temperature. Place a piece of plastic wrap on the surface of the custard and refrigerate until chilled, at least 3 hours or overnight.

About 30 minutes before freezing the ice cream, melt the remaining chocolate in the microwave about 1 to 2 minutes, stirring after 30 second increments. Add the canola oil and stir again. Let it cool to room temperature.

Pour the custard into an ice cream maker and freeze per the manufacturer's instructions. When it's almost done and has the consistency of whipped cream, pour in the melted chocolate with the machine running. Churn until all the melted chocolate has been added and mixed into the ice cream. Alternatively, stop the machine, pour a little chocolate in, and restart churning. Repeat until all the melted chocolate has been added.

Transfer the ice cream to a freezer-safe container and smooth over using a small offset spatula. Freeze for 2 to 4 hours to allow ice cream to firm up. Serve and enjoy!
Notes
I use 1% milk, but you can  use whatever you have on hand.
For me, dark chocolate is 72% cocoa...bittersweet chocolate has deep flavor, and you don't need the extra sugar because the gelato takes care of that already. If that's too intense, use semi-sweet chocolate instead.
I use a KitchenAid Ice Cream Maker Attachment to churn my ice cream. It's actually my older daughter's, a wedding gift she received. She's generously letting me use it on a long-term loan. I also like this ice cream maker (I had one for many years before moving to Boston).
Nutrition
Serving:
1
serving
Calories:
373
kcal
Carbohydrates:
32
g
Protein:
7
g
Fat:
24
g
Saturated Fat:
13
g
Cholesterol:
128
mg
Sodium:
93
mg
Potassium:
382
mg
Fiber:
4
g
Sugar:
24
g
Vitamin A:
747
IU
Vitamin C:
2
mg
Calcium:
160
mg
Iron:
4
mg