Dark chocolate mint ice cream with a marshmallow swirl & chocolate cookie crumbs…Chocolate Mint Marshmallow Ice Cream hits all the right notes!
Inspired to improve
My younger daughter had some of Ben & Jerry's Minter Wonderland Ice Cream, and decided to make it better.
That B&J flavor consisted of Mint Chocolate Ice Cream with marshmallow and chocolate cookie swirls. Except the Mint Chocolate Ice Cream wasn't minty enough for her. And the cookie crumbs weren't chocolatey enough.
She knew we could do better.
Jump to:
Why make frozen custard?
Homemade ice cream is incredibly easy to make. At its most basic all you really need is heavy cream and a sweetener (that's the base). After that you flavor your base as you please (vanilla beans, chocolate, mint…) and add mix-ins if you'd like (chocolate chips, nuts, cookie crumbles).
Then churn the base in an ice cream maker, and freeze until it hardens (called ripening). Easy peasy.
An ice cream custard base (aka frozen custard) is in the same family as pastry cream (a version of Crème Anglaise for you purists). The benefit is that frozen custards are richer in flavor and have more body than regular ice creams.
And that is worth the extra few steps, I assure you.
Gather the components
We started by infusing the cream with mint then making a frozen custard with the minty cream (ala Chocolate Mint Chip Gelato).
While the mint was steeping, we made Marshmallow Creme and Chocolate Cookie Crumbs. (Yes, store-bought is ok, too).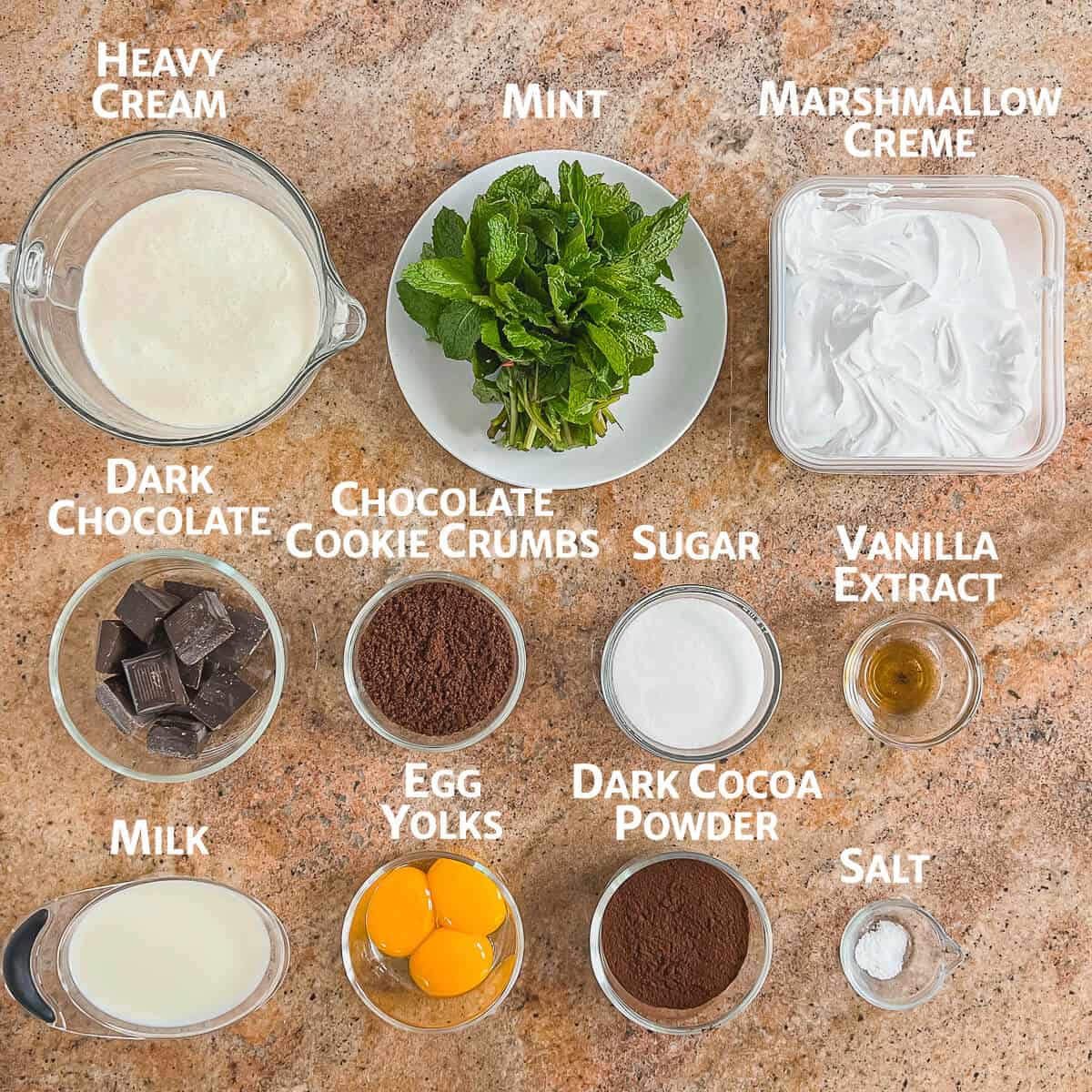 How to make ice cream from custard
The process for making homemade ice cream from a custard base is quite simple. Just be sure to chill the base thoroughly before churning it.
Making the custard base is a straightforward process:
Mix egg yolks with sugar
Heat milk/cream until just simmering
Add a small amount of the heated cream into the egg yolks to gently raise their temperature (aka tempering the eggs). No scrambled eggs here!
Cook the milk & egg mixture until it's thickened, but do not boil it (again, no scrambled eggs wanted!)
Strain the thickened custard into a clean bowl (in case, like me, you end up with some scrambled egg in the mix)
Chill the custard in preparation to churn it
You'll want to chill your cooked base well (usually overnight) before churning it in your ice cream maker. My ice cream maker is an attachment to my KitchenAid Stand Mixer. If that's not available, this Cuisinart does a great job also.
Homemade is better
Our Chocolate Mint Marshmallow Ice Cream has a deep chocolate flavor with minty undertones. The marshmallow creme is chewy, and the cookie crumbs add a chocolatey crunch.
Overall, a flavor and texture tour-de-force.
Another benefit to making Chocolate Mint Marshmallow Ice Cream rather than buying its counterpart is that ours doesn't contain all the emulsifiers and stabilizers and the like. That in itself makes it better.
I'm glad my daughter inspired us to make this recipe, and even tracked down the marshmallow creme recipe for me. It was a fun experience, and delicious, too!
Slainté! L'chaim! Cheers!
Tammy
Related Recipes
Custards come in many forms, but the method is similar across the board. Luckily, the technique is easy to master, and you'll be able to make a whole range of treats!
Love this recipe? Please leave a 5-star ⭐️ rating in the recipe card below ⬇️ and/or a comment further down the page.
I'd love to hear from you! Stay in touch on Facebook, Instagram, Pinterest, and please tag me using the hashtag #scotchandsconesblog. You can also sign up for my mailing list. I can't wait to see your creations!
Recipe
Chocolate Mint Marshmallow Ice Cream
Dark chocolate mint ice cream with a marshmallow swirl & chocolate cookie crumbs...Chocolate Mint Marshmallow Ice Cream hits all the right notes!Adapted from OC Jewish Life Magazine August 2013 edition, Bittersweet Chocolate Ice Cream
Ingredients
For the ice cream
2

cups

heavy cream

1

bunch

fresh mint

,

see Recipe Notes

1

cup

milk

3

large egg yolks

,

at room temperature

⅔

cup

granulated sugar

¼

tsp

kosher salt

⅔

cup

dark chocolate,

chopped

1

tsp

pure vanilla extract
For the marshmallow creme
For the chocolate cookie crumbs
Instructions
Make the mint chocolate custard: Wash and chop mint leaves then place them in a bowl with heavy cream. Allow to steep in the refrigerator for 4 to 8 hours, preferably overnight. For a speedier process, heat the cream and mint in a medium saucepan until small bubbles appear (don't let the mixture boil). Remove from heat and allow the cream to sit for 30 minutes.

After steeping, strain out the mint leaves with a fine mesh strainer, pressing the liquid through the leaves to extract all the mint flavor. If steeping overnight, strain into a medium saucepan. Otherwise, strain into a bowl and then return the cream to the saucepan.

Add the milk, sugar, cocoa powder, and salt. Cook over medium heat until the sugar dissolves and the mixture is steaming with small bubbles forming, abut 6 to 8 minutes.

Whisk the egg yolks in a medium bowl. When the cream mixture is ready, gradually ladle in about ½ cup to the egg yolks, whisking constantly, in order to raise the temperature of the yolks. Repeat with another ½ cup of the mixture. Keep an eye on the cream mixture if it's still heating. You don't want it to burn while you're tempering the egg yolks. If necessary, turn down the heat.

Return the yolk mixture into the saucepan with the rest of the cocoa, reduce heat to medium-low, and cook, stirring constantly, until the custard thickens enough to coat the back of a spoon, about 5 to 10 minutes. Don't let the mixture boil so the egg doesn't curdle.

Remove the saucepan from the heat and strain into a clean bowl through the fine mesh strainer. Add the chopped chocolate and stir until melted, then add the vanilla extract.

Let the custard cool to room temperature, then place in the refrigerator to chill until very cold, at least 6 hours or overnight.

Finish the ice cream: Stir the chilled custard well. Transfer to an ice cream maker and freeze according to the manufacturer's instructions. Once the ice cream begins to thicken but is still soft (after about 15 to 20 minutes), fold 1½ cups of the marshmallow spread and crushed cookies into the ice cream, leaving discernible streaks throughout. The ice cream will be soft.

Place the ice cream in an airtight container, smooth with a small offset spatula, and freeze for at least 4 hours.

Serve with extra sprinkles of the chocolate cookie crumbs and enjoy!
Nutrition
Serving:
1
serving
Calories:
595
kcal
Carbohydrates:
75
g
Protein:
7
g
Fat:
33
g
Saturated Fat:
19
g
Cholesterol:
160
mg
Sodium:
167
mg
Potassium:
295
mg
Fiber:
3
g
Sugar:
67
g
Vitamin A:
1069
IU
Vitamin C:
1
mg
Calcium:
101
mg
Iron:
2
mg