Chocolate Chip Cream Scones are a simple pleasure, rich & flaky with just the right amount of sweetness. Perfect for breakfast or High Tea!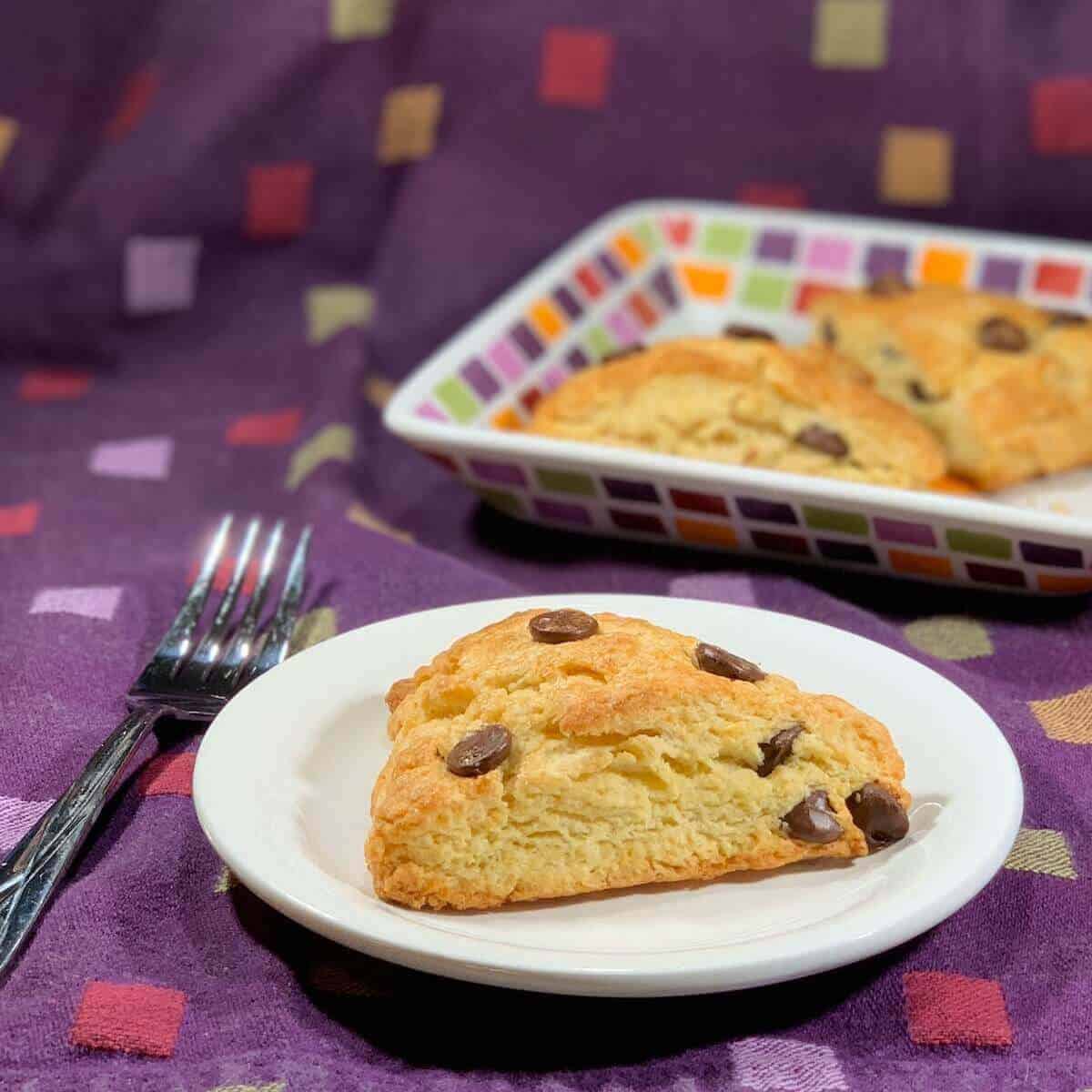 I was supposed to go visit my younger daughter this week to celebrate her birthday. One activity that was definitely on the agenda was to have our traditional birthday High Tea.
The best laid plans... ** SIGH **
So instead of moping about (well, maybe in addition to moping about), I set to work baking her favorite scones, Chocolate Chip Cream Scones, and mailed them to her along with some other homemade treats.
My idea? To have a virtual High Tea!
Jump to:
High Tea at a distance
Virtual High Tea, you ask? Well, with us it's not unprecedented.
When this daughter was away at college on one side of the Rockies, and I was on the other, I couldn't be with her on her birthday. Instead, I baked some scones and mailed them to her along with her favorite tea blend and a china teacup.
We had a High Tea over the phone. It wasn't quite the same thing, but it worked for us.
I made Chocolate Chip Cream Scones then also. Flaky, slightly crunchy, and not overly sweet, these homemade scones are just a simple pleasure.
What you need
Chocolate Chip Cream scones are just a variation of my homemade Cream Scones recipe. Here are the ingredients...
Flour: The basic building block to any baked good, flour provides the structure
Baking powder: This chemical leavening agent helps keep the scone from becoming too dense
Salt: Used for balancing the sweetness and to keep the scone from tasting flat
Sugar: The sweetness has to come from somewhere!
Butter: Adds richness and contributes to the flakiness, like in pie dough
Heavy cream: The liquid used to bind the ingredients, also adds its own flavor and richness
An egg: Like cream and flour, eggs add structure and richness
Chocolate Chips: One of our favorite mix-ins, chocolate chips add another layer of sweetness. It rounds out the flavor of the scone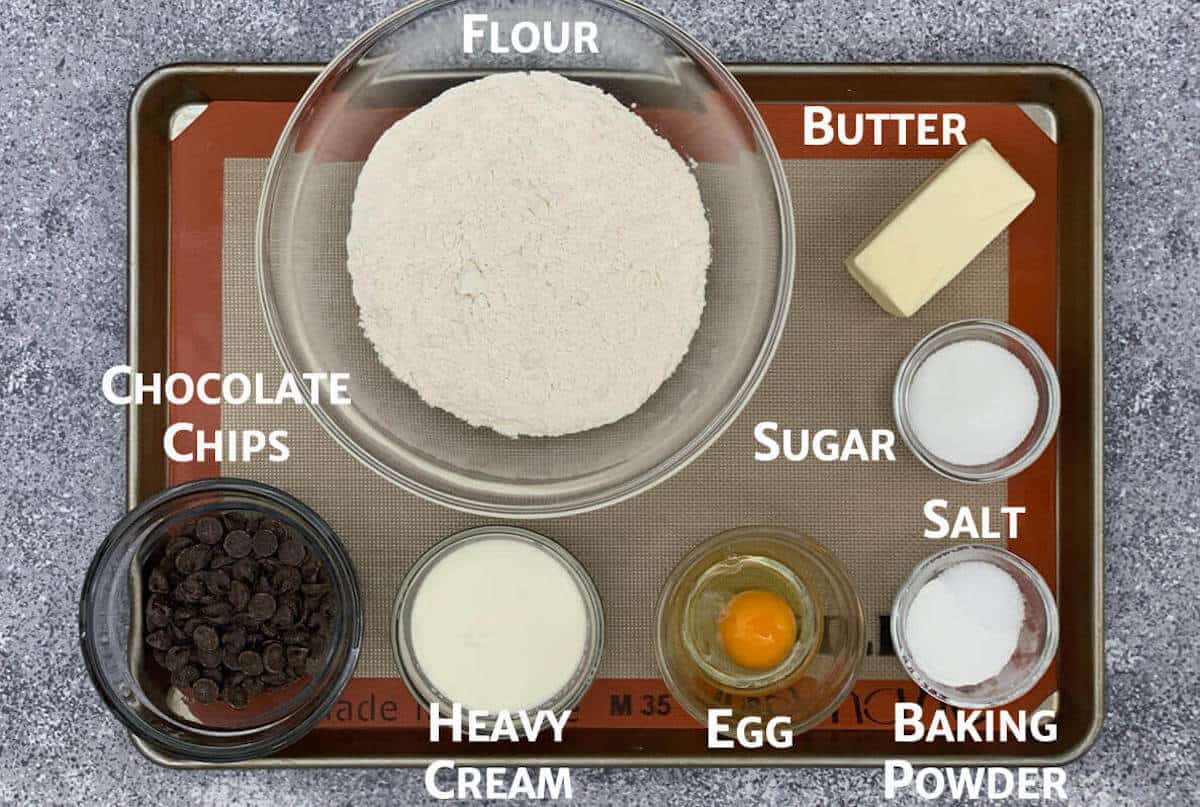 How to make cream scones
As with biscuits, start by mixing your dry ingredients together, then cutting in grated cold butter. After that you add your cream and egg, then mix until just combined.
Next, turn the dough out onto a mat and knead in the chocolate chips. Try not to overwork the dough so it doesn't get too warm.
After chilling the dough, cut into wedges. You can add some chocolate chips to the top for a better appearance.
The last step is to put the wedges on a half sheet baking pan lined with a Silpat silicone mat or parchment paper. Brush the top of the scones with some cream and sprinkle coarse sugar for some extra sparkle and crunch, then bake until the scones are a beautiful golden brown.
Yummm...
All the ingredients play a role
I mentioned I was moping when I was baking these scones. I had to make them twice.
Because I was upset, I didn't read the recipe closely enough the first time. And even though I've made biscuits and scones many, many times, it's still easy to overlook things. In this case, I forgot the baking powder.
As I was putting my scones in the oven, I couldn't remember what made the scones rise. Wasn't I supposed to use baking powder? (Spoiler alert: yes)
Live and learn. And pay attention.
How to make a virtual High Tea
I'm not going to get into the definitions of High Tea vs. Low Tea. I'll let the good people at Plymouth Tea explain the difference. Suffice it to say that for us High Tea is defined as scones with jam and clotted cream, fun finger sandwiches, and yummy desserts.
This daughter isn't a fan of finger sandwiches (I usually eat hers)...she's more into the desserts.
So in my care package I sent my homemade scones, along with some Two-Bite Lemon Tarts made with a shortcrust pastry and the Irish Whiskey marshmallows I had in the freezer. She already had the tea and the teacup.
All we needed to do next was start a FaceTime chat.
We sipped our tea, ate our scones, lemon tarts, and Irish whiskey marshmallows. We talked, joked, and laughed. In other words, all the things we always do for our High Tea date.
Maybe I wasn't able to be geographically close to my daughter for her birthday this time, but that didn't matter. Having High Tea is my pretense, but spending time with her is the real goal.
Love isn't about locality, thank goodness.
Slainté! L'chaim! Cheers!
Tammy
Recipes for scones
Homemade scone recipes are easy to create once you remember the 3-1-2 recipe ratio. The variety comes in when you play with the flavorings. Here are a few ideas to try...
Recipe
Chocolate Chip Cream Scones
Chocolate Chip Cream Scones are a simple pleasure, rich & flaky with just the right amount of sweetness. Perfect for breakfast or High Tea!
Adapted from Ratios 
Ingredients
2

cups

all-purpose flour

2

Tbsp

granulated sugar

1

Tbsp

baking powder

1

tsp

kosher salt

6

Tbsp

unsalted butter

,

frozen and grated, see Recipe Notes

½

cup

heavy cream

,

plus extra for brushing on top

1

large egg

,

beaten

½

cup

chocolate chips

coarse sugar,

for sprinkling
Instructions
Preheat the oven to 425°F.

In a large bowl, combine the flour, sugar, baking powder, and salt.

Grate the butter using a box grater and toss it into the flour mixture a little at a time. Once all the butter is grated, use a pastry blender, two forks, or even your hands, to work the butter into the flour until coarse, pea-sized crumbs appear.

Mix the cream and egg together in a small bowl. Slowly add the cream mixture to the flour mixture and mix until the dough just holds together. Here you have to be flexible about the amount of cream to add as the actual amount will depend on the humidity of the day. Squeeze a small amount of dough between your fingers and if it is very crumbly, add more cream, 1 tablespoon at a time (2 tablespoons maximum). If the dough is too wet, you can knead in more flour when you turn out the dough. Remember, do not over mix the dough...you want to keep that butter cold and separate from the flour.

Turn dough out onto a lightly floured surface and push together into a rough ball. Sprinkle some of the chocolate chips on the dough, then fold it in half to seal them in. Repeat a couple more times, reserving some of the chocolate chips to press into the surface of the scones before baking.

Gather the dough, and flatten into a disc or a rectangle about 1-inch high. Use a bench scraper to release the disc from the mat. Cover with plastic wrap, and refrigerate at least 20 minutes or up to overnight.

Once the dough is chilled, cut the disc into wedges or the rectangle into squares using the bench scraper. If cutting the rectangle into squares, trim the outside edges of the dough first so that the scones can rise evenly. Alternatively, use a 3-inch round cookie cutter to cut out circles (gather and cut the leftover dough again as needed, but hopefully not more than 2 times).

Place the scones about 2-inches apart on a half baking sheet pan covered in a Silpat silicone mat or parchment paper. Press in the reserved chocolate chips on the tops of the scones. Brush the tops of each scone with cream and sprinkle on some coarse sugar.

Bake at 425°F for about 18 to 23 minutes or until golden brown.

Cool on pan for 2 minutes, then move to a cooling rack.
Notes
How you cut up your butter isn't as important as keeping it cold. Generally I'll grate frozen butter on a box grater (mostly because I don't have butter defrosted). If you'd rather, cut chilled butter into small ½-inch cubes. Either way will work.
Some scone recipes use more butter than the 3-1-2 ratio. For this recipe, you can add another 2 tablespoons of butter for more richness if you'd like.
To alter the flavor your scones, you can add 2 teaspoons of vanilla or ¼ teaspoon of vanilla and 1 teaspoon of almond or peppermint extract with the wet ingredients. Be creative!
You can use a stand mixer fitted with a paddle attachment or a food processor to make the dough...just be mindful not to overwork it.
The yield is generally about 8 scones (that's what I get from a circle cut into wedges, a rectangle, or with a 3-inch round cookie cutter), but yours may vary.
Nutrition
Serving:
1
scone
Calories:
262
kcal
Carbohydrates:
28
g
Protein:
4
g
Fat:
15
g
Saturated Fat:
9
g
Cholesterol:
64
mg
Sodium:
465
mg
Potassium:
52
mg
Fiber:
1
g
Sugar:
3
g
Vitamin A:
515
IU
Calcium:
108
mg
Iron:
2
mg