These sweet, flaky, easy to make Strawberry & Blueberry Shortcakes are loaded with fresh berries and are topped with whipped cream and strawberry syrup. They're a delicious patriotic dessert!
Why this recipe works
Shortcake biscuits are easy to make
You can control the amount of sugar in the shortcakes and the syrup
The shortcakes and syrup can be made ahead. Assemble and serve when you're ready!
Strawberry Shortcake is a quintessential summer dessert.
Light and bright, with the tart sweetness of fresh berries contrasting with the flaky, buttery goodness that the shortcake brings.
But why limit ourselves to just using strawberries here?
Add in blueberries to make a colorful red, white, and blue dessert perfect for your July 4th table...Strawberry & Blueberry Shortcake, anyone? It's a patriotic dessert if there ever was one!
Jump to:
What you need
You can think of a homemade shortcake as a cross between a biscuit and a scone, so a recipe for shortcake will look very familiar. Like biscuits, shortcakes have a recipe ratio of 3-1-2 flour-liquid-fat. The list of ingredients in a shortcake biscuits recipe from scratch will look familiar.
The liquid used in a shortcake recipe is milk or cream to tenderize and add richness like with a scone. And while these shortcakes are sweetened like scones, but not enriched with egg, they're more flaky.
So the perfect shortcake will be sweet, flaky, and buttery. Perfect for soaking up those strawberry & blueberry juices!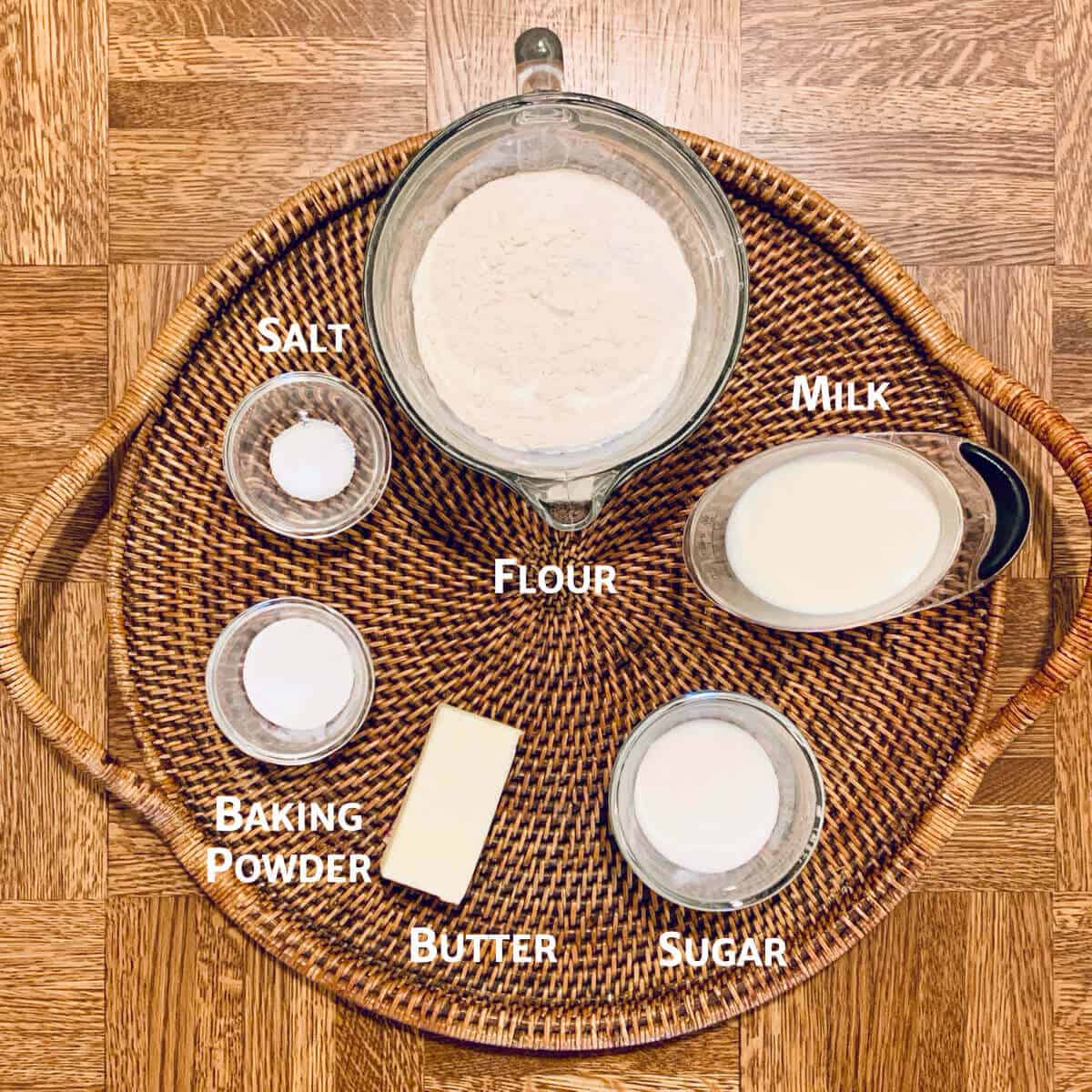 How to make shortcake from scratch
The method for making homemade shortcake biscuits is the same as regular homemade biscuits then.
(no surprise there)
Step 1: Combine the dry biscuit ingredients
Combine the flour, sugar, baking powder, and salt in a large bowl (photo 1, upper).
Step 2: Add in the butter
How you cut up your butter isn't as important as keeping it cold. That's so that the butter stays a bit solid as it mixes with the flour which produces that lovely flakiness.
Generally I'll grate frozen butter on a box grater (mostly because I don't have butter defrosted) and toss it in a little at a time. If you'd rather, cut the chilled butter into small ½-inch cubes. Either way will work.
However you cut it, toss the butter into the flour mixture, a little at a time. Use a pastry blender to further coat the butter with flour until you have a mixture resembling coarse crumbs (photo 1, lower).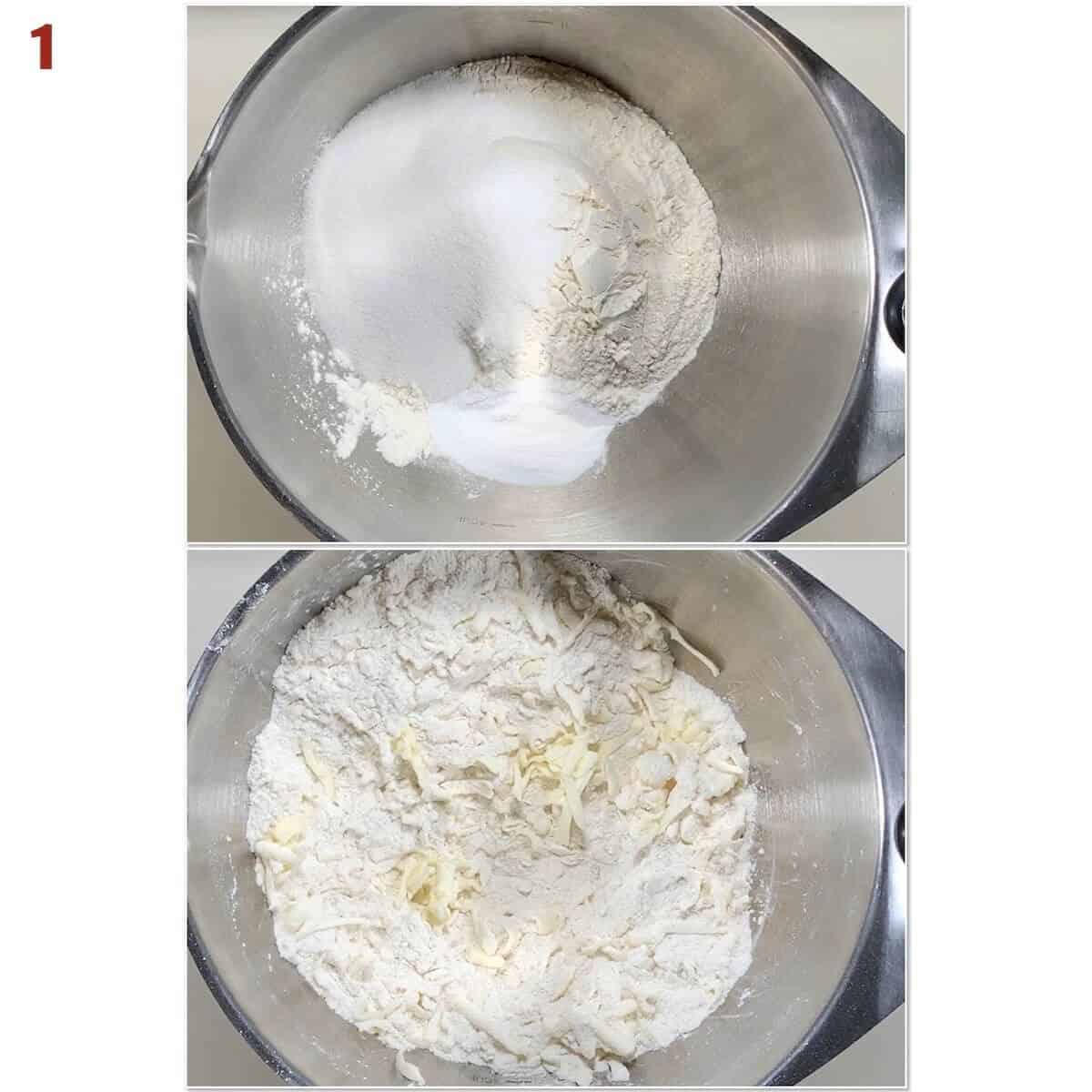 Step 3: Add in the milk
Add the milk and mix until the dough is just coming together. You don't want the dough to be too wet, so hold back a bit of the milk and see how the dough feels before adding more (photo 2).
Pat the dough out into a disk about 8-inches across and chill for 30 minutes before cutting it out. This makes sure that butter stays cold and firm.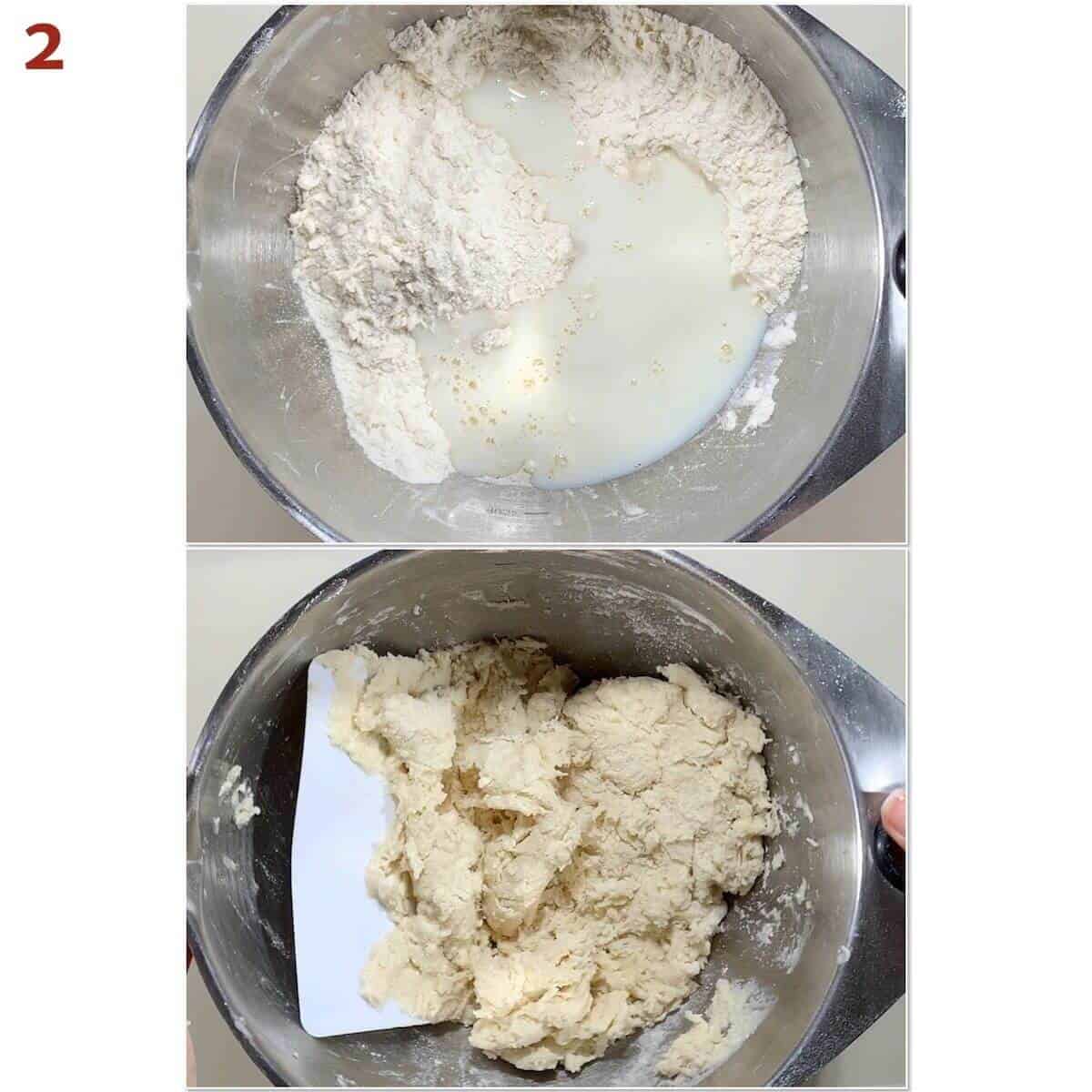 Step 4: Cut out the dough disks
Cut out circles with a 3-inch round cookie cutter from the chilled dough. You can make the shortcakes bigger if you'd like, but I find that this is a good size (photo 3).
Reroll the dough and continue to cut out circles as best you can. Remember to work quickly so the dough stays cold.
Step 5: Bake the shortcakes
Brush the tops with some milk to add a little bit of shine, then into the oven they go (photo 4).
Step 6: Assemble the dessert
When it's time for dessert, split the shortcakes horizontally. Put some blueberries and sliced strawberries on the bottom half. Top with the other half, and add a dollop of whipped cream.
If you want to go an extra step and make strawberry syrup (see the Pro Tip below), drizzle some of that yummy strawberry syrup on the berries and on top of the whipped cream. Or better yet, put out separate bowls of berries, whipped cream, strawberry syrup, and sliced shortcakes and let everyone assemble their own. Win!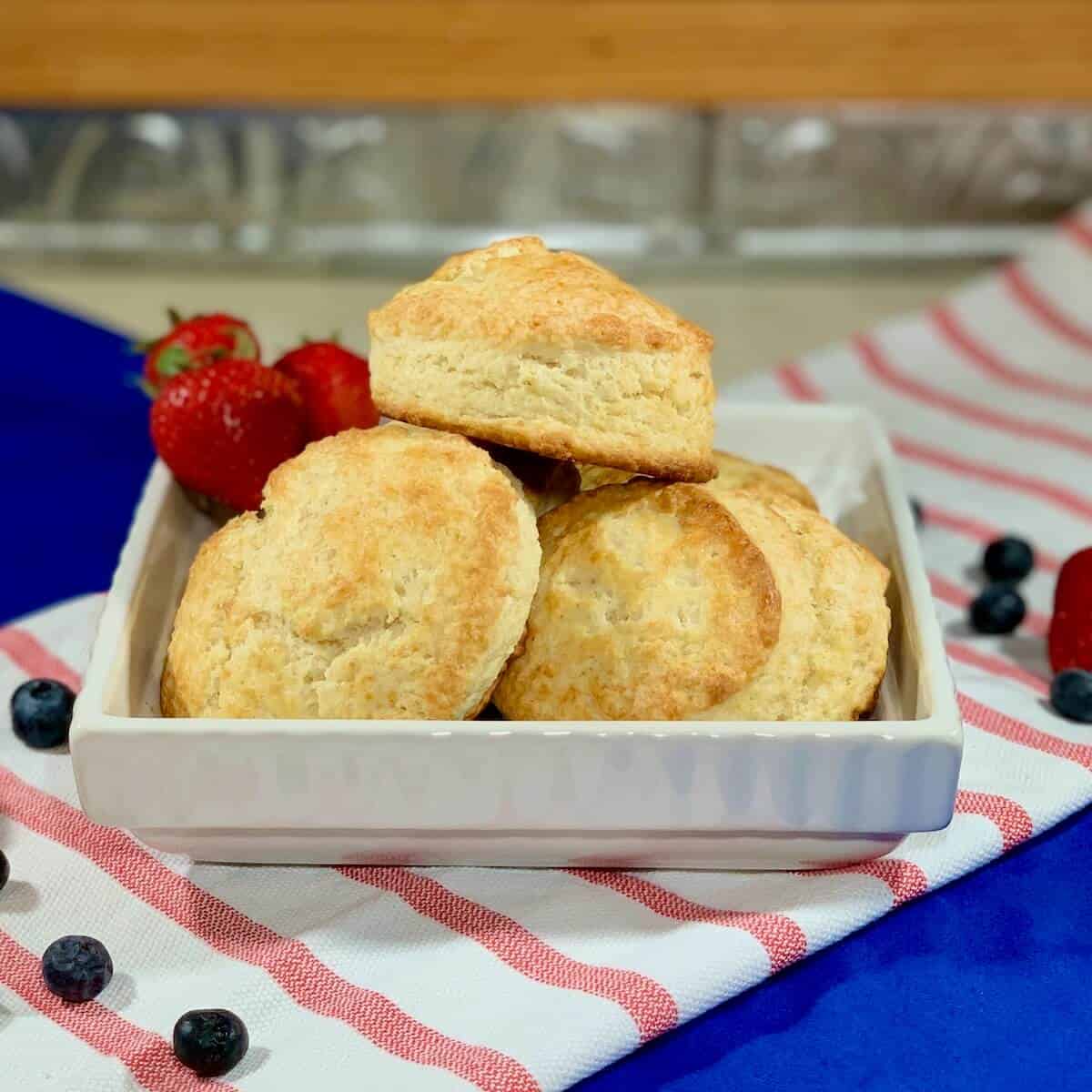 Questions asked and answered
Here are some questions you might have...
Is shortcake the same as shortbread?
Traditional shortbread is a cookie made with flour, butter, and sugar that doesn't use any leavening. The water in the butter evaporates as it bakes and keeps the shortbread from going too flat. The butterfat keeps the gluten in the flour "short" so the shortbread stays soft. Also, the three ingredients are fully mixed, so you don't have the layering you see in shortcake biscuits.
Can I make the shortcakes ahead of time
You can bake the shortcakes and make the strawberry syrup in the cool of the morning (or the night before). Store the shortcakes in an airtight container and the syrup in the refrigerator until you're ready to serve dessert. It's best to assemble the dessert when it's time to serve. How's that for summertime convenience!
Can I make gluten-free strawberry shortcakes?
Generally speaking, you can substitute a gluten-free flour blend for the flour in this recipe. Alternatively, you can make Eton Mess, a dessert that substitutes crunchy homemade meringue cookies for the shortcake. All the flavor, none of the gluten!
Pro Tip: Make strawberry syrup
Traditional Strawberry Shortcake recipes just call for shortcake, berries, and whipped cream. I like to take my recipe for Strawberry & Blueberry Shortcake one step further by making an easy strawberry-flavored sauce. And it's simple.
Simple syrup, that is!
Just heat equal parts sugar and water in a saucepan until the sugar is dissolved, then let it cool to room temperature.
Add some sliced strawberries to the syrup. They'll start to macerate (that is, break down), releasing their juices and flavoring the syrup. Mashing the strawberries will further flavor the strawberry syrup.
Fresh, easy, and fun!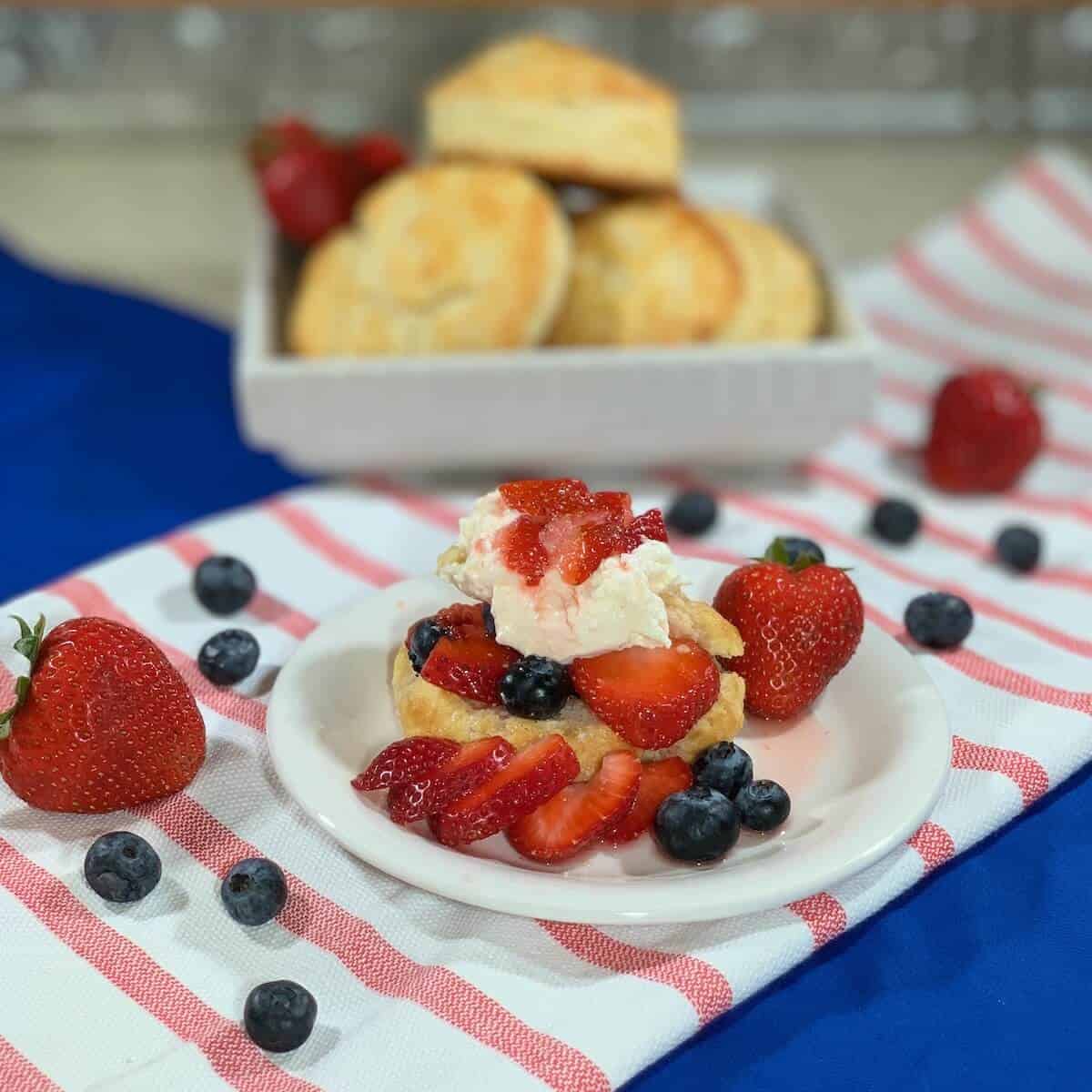 A fun and festive dessert
These red, white, and blue strawberry shortcakes are so delicious and are perfect as an Independence Day dessert. For any other time of year, you can use any juicy fruit to fill the shortcake...blackberries, peaches, mangos are but a few suggestions. Let your taste buds go wild!
Easy and fun, I hope you'll add this Strawberry & Blueberry Shortcake recipe to your list of summer desserts!
Slainté! L'chaim! Cheers!
Tammy
Related Recipes
Homemade biscuit & scone recipes are easy to create once you remember the 3-1-2 recipe ratio.
But the real beauty of biscuits and scones are their endless variations. They can be savory or sweet, and customized with different flours, liquids, and mix-ins, and can even incorporate sourdough starter discard.
The variety comes in when you play with the flavorings. Here are a few ideas to try...
Love this recipe? Please leave a 5-star ⭐️ rating in the recipe card below ⬇️ and/or a comment further down the page.
I'd love to hear from you! Stay in touch on Facebook, Instagram, Pinterest, and please tag me using the hashtag #scotchandsconesblog. You can also sign up for my mailing list. I can't wait to see your creations!
Recipe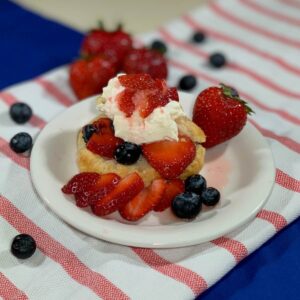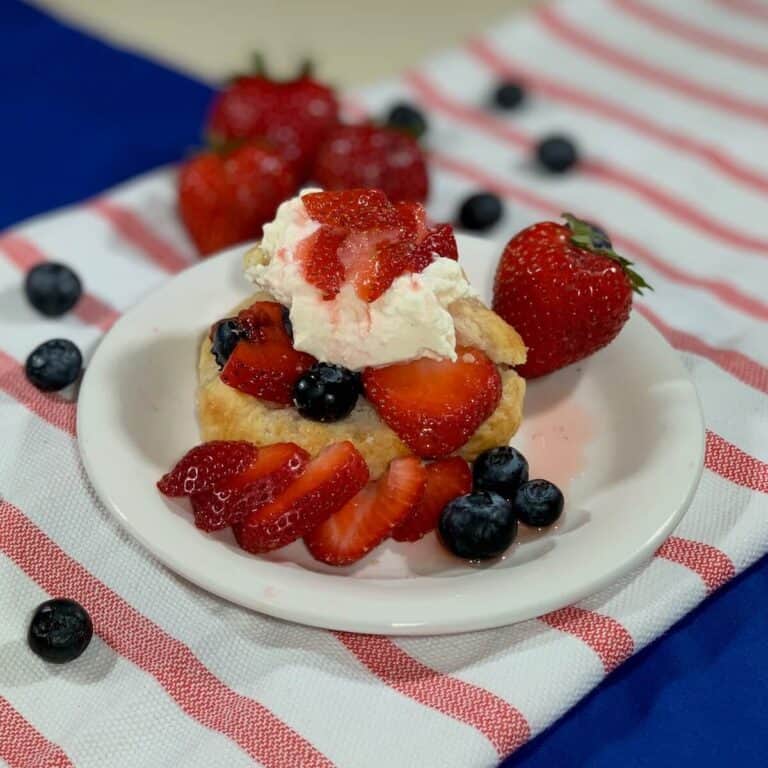 Easy Strawberry & Blueberry Shortcakes
Sweet, flaky shortcakes filled with fresh berries and topped with whipped cream and strawberry simple syrup. As patriotic as it is delicious!
Ingredients
For the shortcakes
2

cups

all-purpose flour

¼

cup

granulated sugar

,

or to taste

1

Tablespoon

baking powder

½

teaspoon

kosher salt

½

cup

unsalted butter

,

frozen & grated, see Recipe Notes

¾

cup

milk

,

see Recipe Notes
For the filling & strawberry syrup
3

cups

strawberries

,

sliced, divided

1

cup

blueberries

½

cup

granulated sugar

,

or to taste

whipped cream

,

for garnish
Instructions
Make the shortcakes: Preheat the oven to 425°F.

In a large bowl, combine the flour, sugar, baking powder, and salt.

Grate the butter using a box grater and toss it into the flour mixture a little at a time. Once all the butter is grated, use a pastry blender, two forks, or even your hands, to work the butter into the flour until coarse, pea-sized crumbs appear.

Add the milk to the flour mixture (reserving about a tablespoon to brush on later). Mix until the dough just holds together. Here you have to be flexible about the amount of milk to add as the actual amount will depend on the humidity of the day. Squeeze a small amount of dough between your fingers and if it is very crumbly, add more milk, 1 tablespoon at a time (2 tablespoons maximum). If the dough is too wet, you can knead in more flour when you turn out the dough. Remember, do not over mix the dough...you want to keep that butter cold and separate from the flour.

Turn dough out onto a lightly floured surface and push together into a rough ball. Gather the dough, and flatten into a disk 1-inch high and 6-inches in diameter. Use a bench scraper to release the disk from the mat. Cover with plastic wrap, and refrigerate at least 30 minutes or up to overnight.

Once the dough is chilled, unwrap and press it out into a disk 8-inches in diameter. Use a 3-inch round cookie cutter to cut out circles, gathering and cutting the leftover dough again as needed. You'll get about 6 shortcakes with maybe a little blob of dough left over.

Place the shortcakes about 2 inches apart on a half baking sheet pan covered in a Silpat silicone mat or parchment paper. Brush the tops of each scone with the reserved milk before baking.

Bake at 425°F for about 18 to 23 minutes or until golden brown.

Cool on pan for 2 minutes, then move to a cooling rack.

Make the strawberry syrup: In a medium saucepan over medium-hight heat, combine the ½ cup sugar with ½ cup water. Bring to a boil, insuring that the sugar is fully dissolved. Remove from heat and cool to room temperature.

Take 1 cup of the sliced strawberries and add to the simple syrup. Allow to sit for about 10 minutes, then gently mash the strawberries to further infuse the syrup.

Assemble the shortcakes: When ready to serve, slice the shortcakes horizontally and place the bottom half on a plate. Add some of the blueberries and remaining sliced strawberries. Drizzle a small amount of the syrup over the berries, then top with the other half of the shortcake. Top with a dollop of whipped cream, then spoon more of the syrup over the top. Serve and enjoy!
Notes
How you cut up your butter isn't as important as keeping it cold. Generally I'll grate frozen butter on a box grater (mostly because I don't have butter defrosted). If you'd rather, cut chilled butter into small ½-inch cubes. Either way will work.
Try and hold back about 1 tablespoon of milk when you're adding it to the flour and butter mixture. That way you can add more if the dough is too dry, and you'll have some to brush on top before baking.
Shortcakes are a cross between a biscuit and a scone. The recipe ratio is the same 3-1-2 flour-butter-liquid, but there is an extra 2 ounces (57 grams) of butter in this recipe for added richness.
Your Notes
Nutrition
Serving:
1
shortcake
Calories:
440
kcal