Scottish shortbread cookies are so easy to make, using just three basic ingredients. There are many variations of these classic butter cookies, and they can also be used as a crust for pies and bars. Make a batch today!
[August, 2019: I've reworked the recipe and updated this post with all new pictures. Enjoy!]
Why this recipe works
Only three ingredients needed
Rich, buttery flavor and a soft, tender texture
A versatile cookie that can also be a base for bar cookies and slab pies
What comes to mind when you think about shortbread cookies?
For me, shortbread is so associated with Scotland, red tartan boxes automatically come to mind. Walkers Shortbread is the gold standard of commercially made Scottish shortbread, and they even did a tie-in with Outlander.
And while Walkers is a very good product, homemade shortbread cookies are actually incredibly easy to make, using only three ingredients!
Well, maybe four...I'll get to that in a few minutes.
Jump to: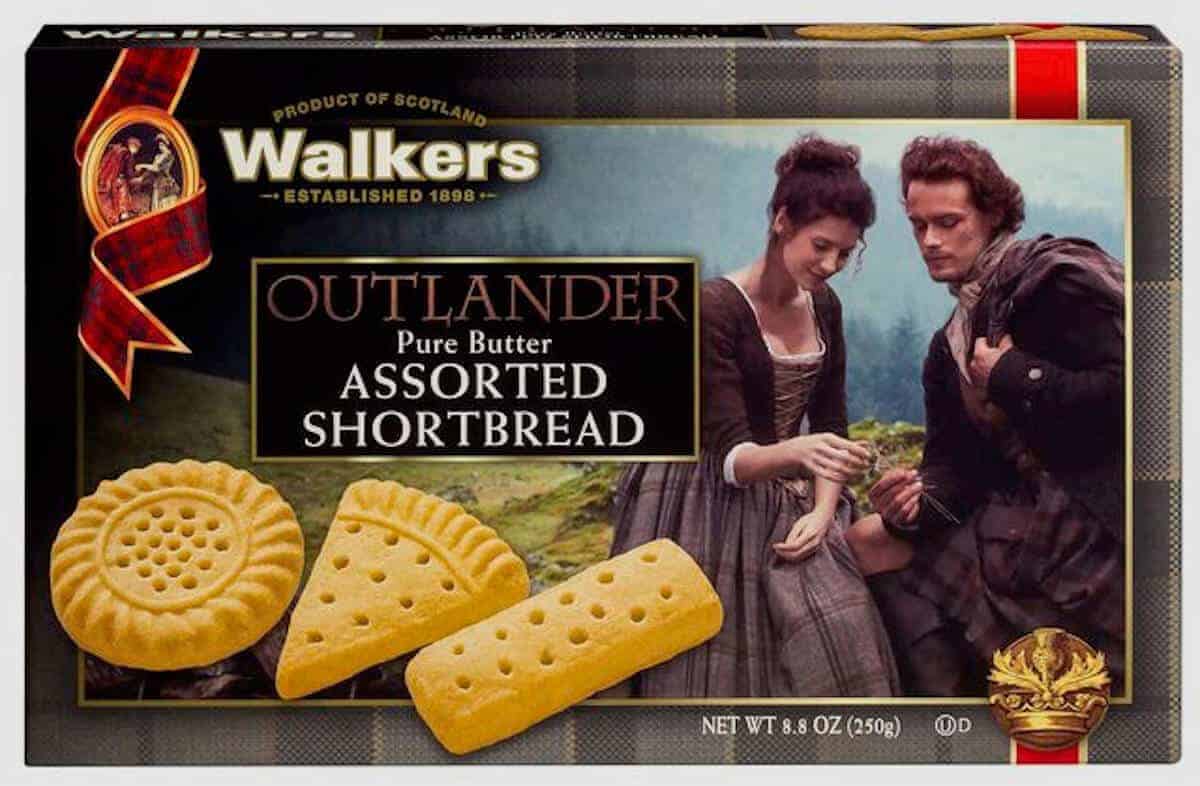 What you need
I've written a separate post about why is shortbread called shortbread and a bit of its history. In that post there's made mention of two interesting trivia tidbits: the recipe ratio of 3-2-1 flour-butter-sugar, and something about altering the structure using other ingredients.
Shall we dive in a bit deeper, then?
Flour, butter, and sugar
There are many different versions of the flour-fat-sugar amounts in shortbread recipes, and how soft, sweet, or buttery the results are varies considerably.
Interesting, considering that you'd think only having three ingredients wouldn't leave much wriggle room. Does my recipe follow the 3-2-1 flour-butter-sugar shortbread ratio? The answer is…almost. My recipe is 18-16-7 and the ratio would have it as 18-12-6. So I have slightly more sugar (2 tablespoons), and about ¼ cup more butter.
No wonder my shortbread is buttery goodness!
The type of butter matters
I keep saying there are only three ingredients in a Scottish shortbread recipe, and that's true, up to a point.
There's an assumption that you'll be using salted butter. If you're using unsalted butter you have to...say it with me now...add salt.
Why does the recipe assume salted butter is being used?
Remember that the original recipe was first written in the early 18th century, and presumably made even before that. Salt was used to keep butter fresher longer without the need for refrigeration.
Nowadays, most bakers use unsalted butter so we can control the amount of salt in the dish. Use either kind of butter you'd like, but add salt if needed. So there are three (and possibly four) ingredients in a traditional shortbread recipe.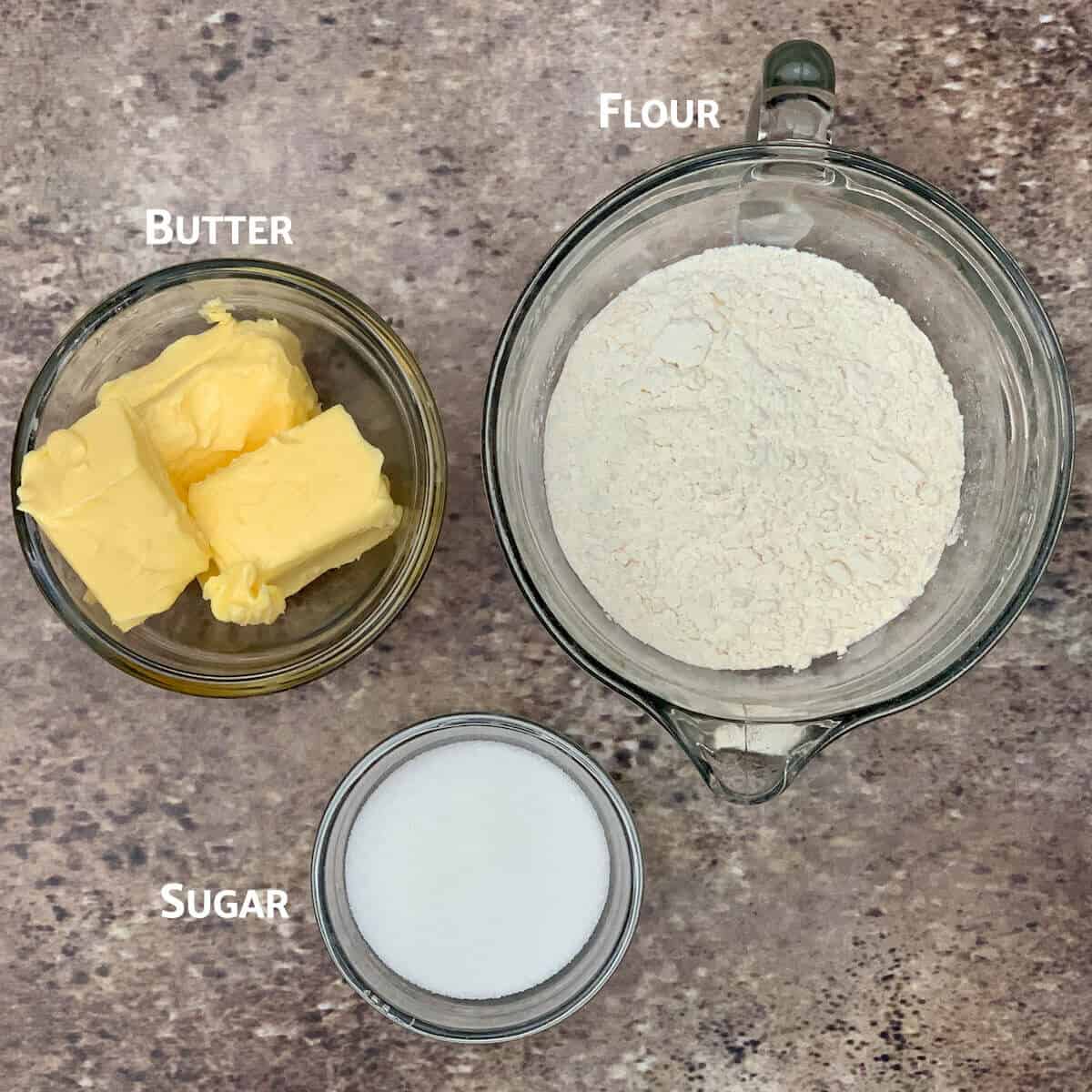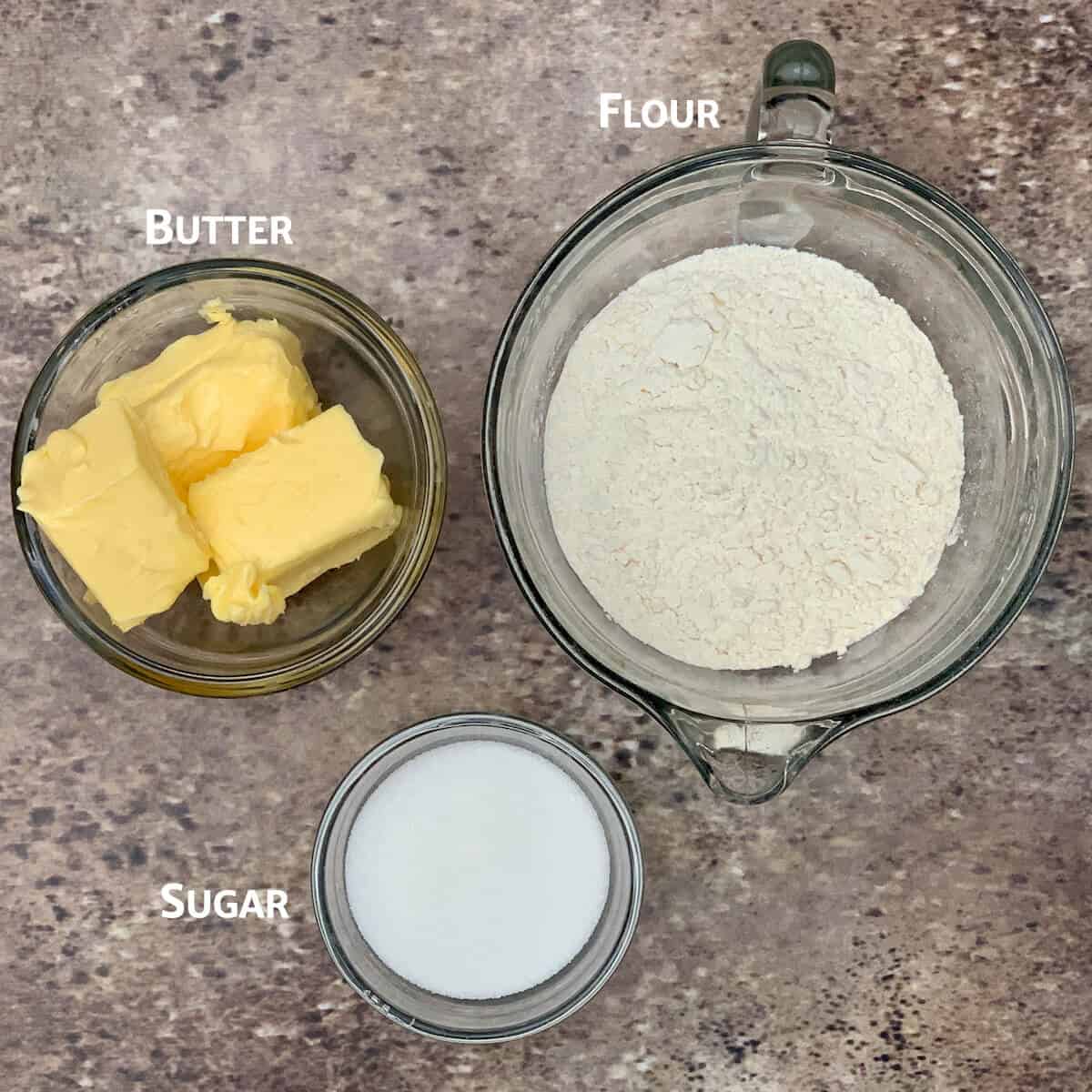 How to make Scottish shortbread
Step 1: Make the shortbread dough
There are two different ways to make the shortbread dough.
One technique mixes the flour and sugar together, then cuts in the butter, like if you were making scones (before adding cream, that is).
The other creams the butter and sugar together (photo 1), then adds in the flour (photo 2).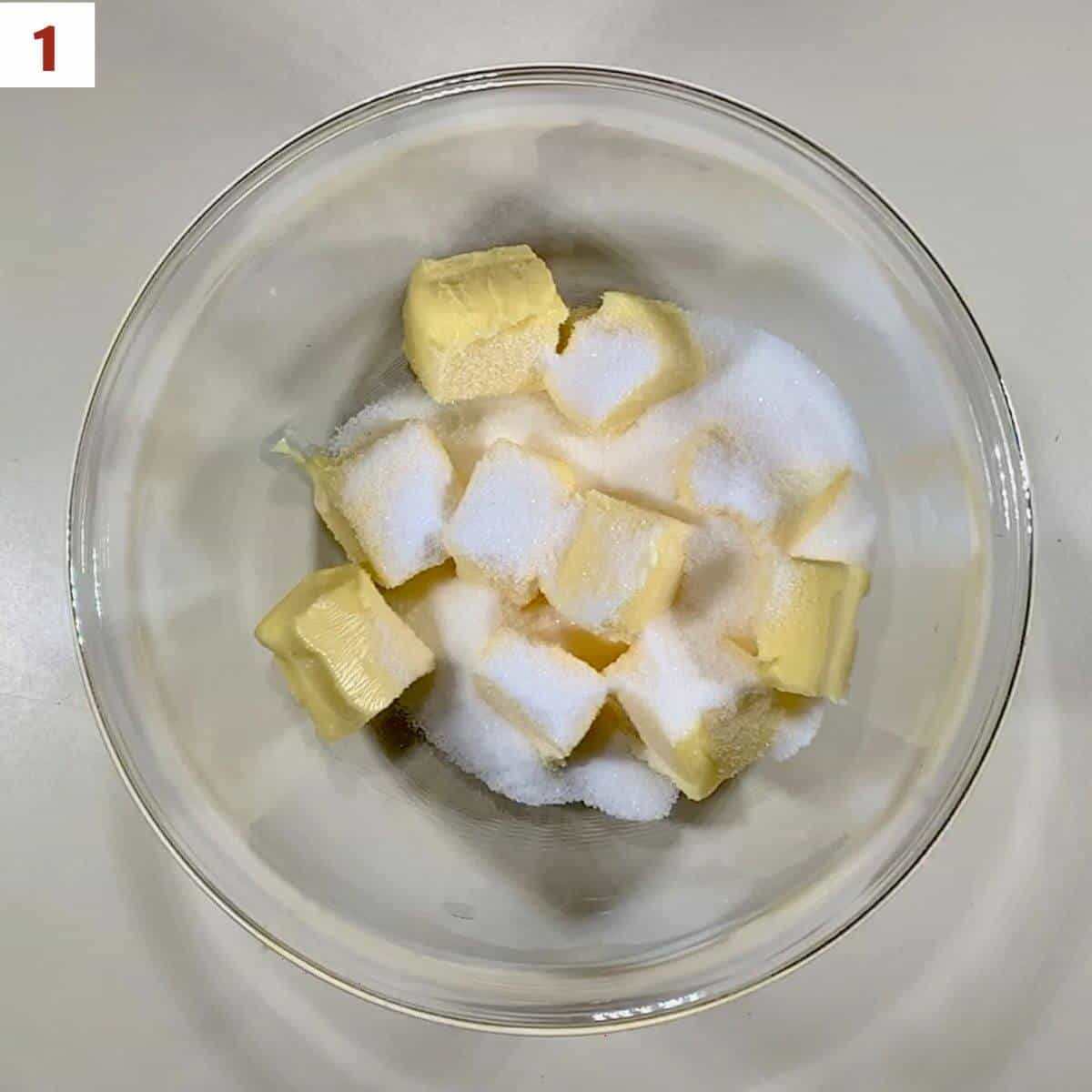 I like the latter method more for the simple reason that it's less work by hand. Let the mixer to the job!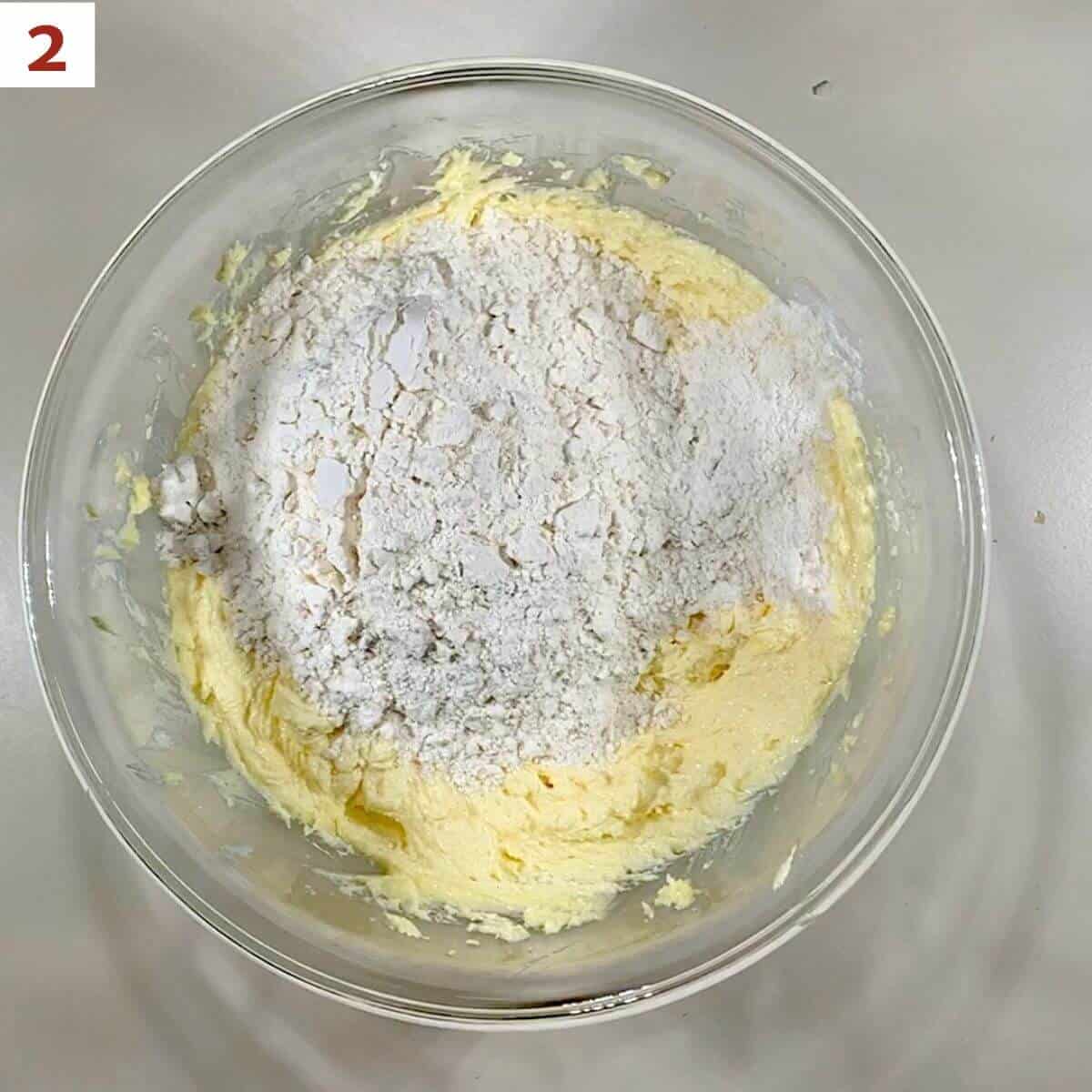 Step 2: Transfer dough to pan
Press the dough in a 9- x 9-inch baking pan, smoothing it out as evenly as possible, then pick the dough with a fork (photo 3).
I cover my dough with plastic wrap and start by using my hands, then use a pie pan roller to get the dough as even as possible.
Chilling the dough while the oven preheats gives the butter time to firm up so the resulting shortbread is nice and tender.
If you prefer a thicker and softer shortbread, bake the dough in an 8- x 8-inch baking pan. You can also be double the recipe and bake it in a 9- x 13-inch baking pan for 30 to 35 minutes.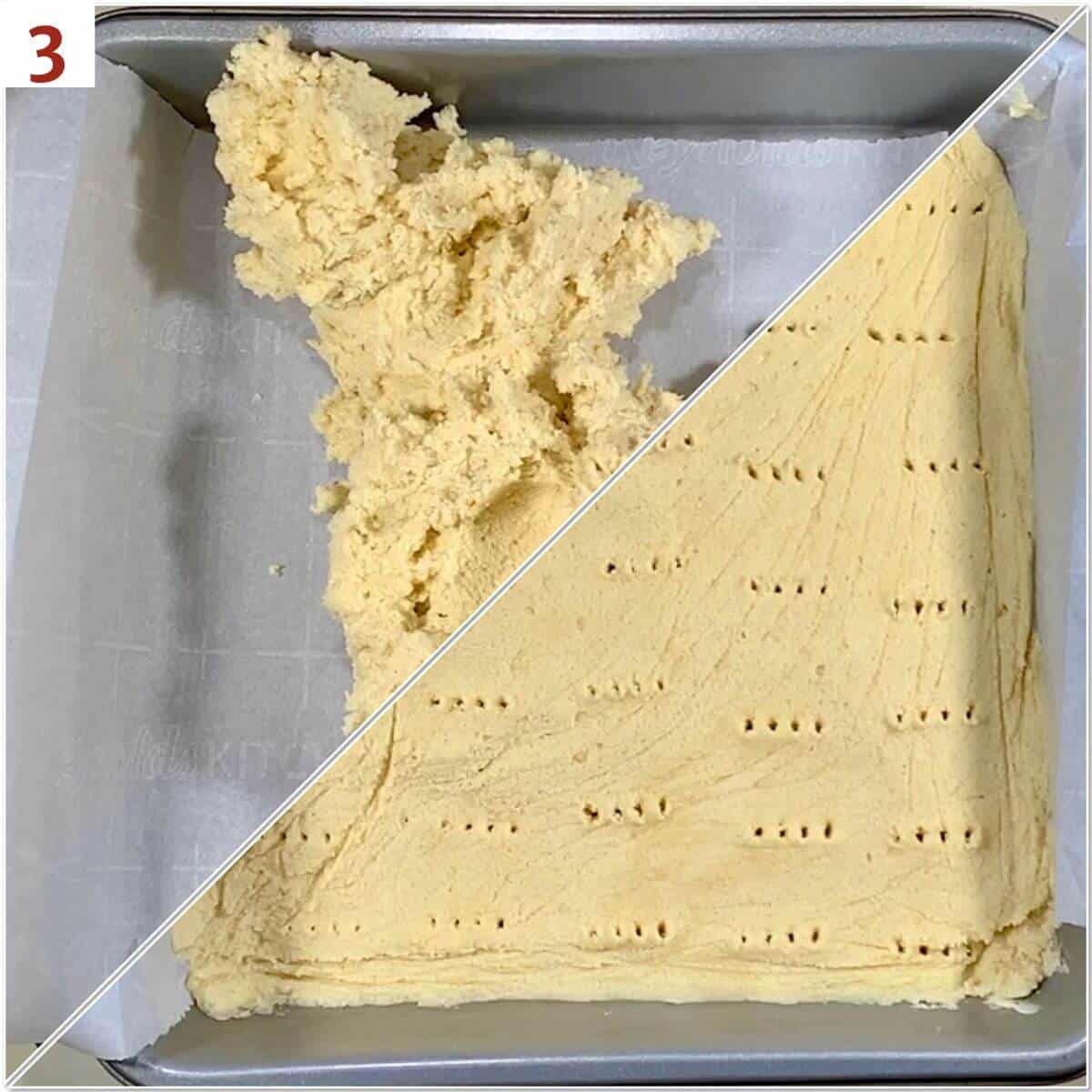 Step 4: Bake, then portion
The shortbread bakes 25 to 30 minutes. It's best to cut the shortbread into squares or bars when it first comes out of the oven. The dough will be soft and forgiving (photo 4).
If you wait until the shortbread cools before you cut it, you'll have a lot of crumbs to contend with.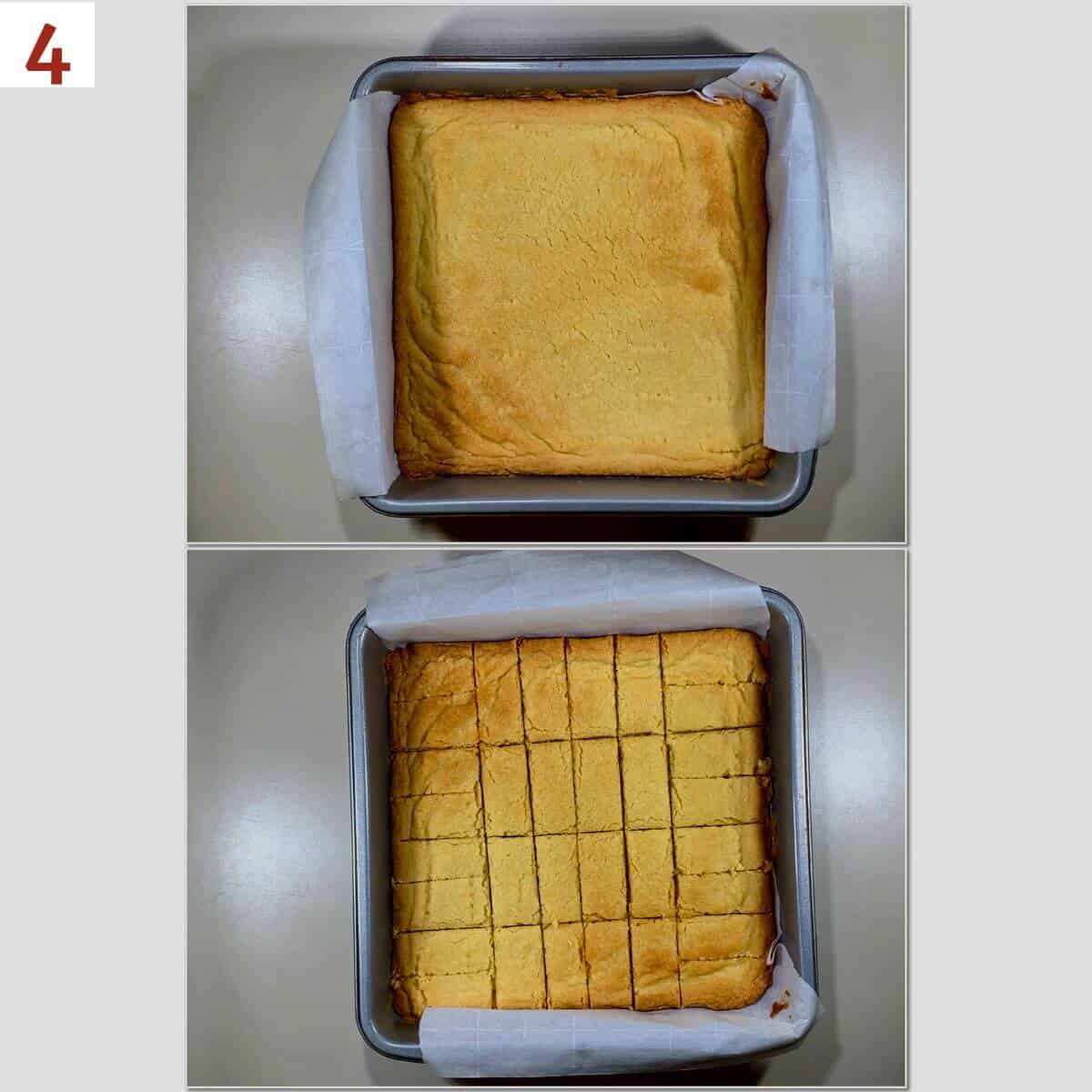 Questions asked and answered
Here are some questions you might have...
Why do some recipes use cornstarch in shortbread dough?
Some recipes add cornstarch to the dough, which helps to make the gluten in the flour "shorter." Other recipes call for powdered sugar (which contains cornstarch) for the same reason. However, butter also can shorten the gluten, and since my recipe has a higher butter ratio to flour than most, there's no need for cornstarch here.
How is shortbread different from other cookies?
The main difference is that shortbread doesn't use leavening, like baking powder or baking soda. It relies on the high butter content to keep the cookie soft by shortening the gluten in the dough.
Why do you poke holes in shortbread before baking?
You poke holes in shortbread for the same reason as docking a pie crust. There's a lot of butter in the dough, and as it bakes it releases steam. Since you want the cookies to be nice and flat, poking holes allows the steam to escape so the shortbread bakes up flat and even.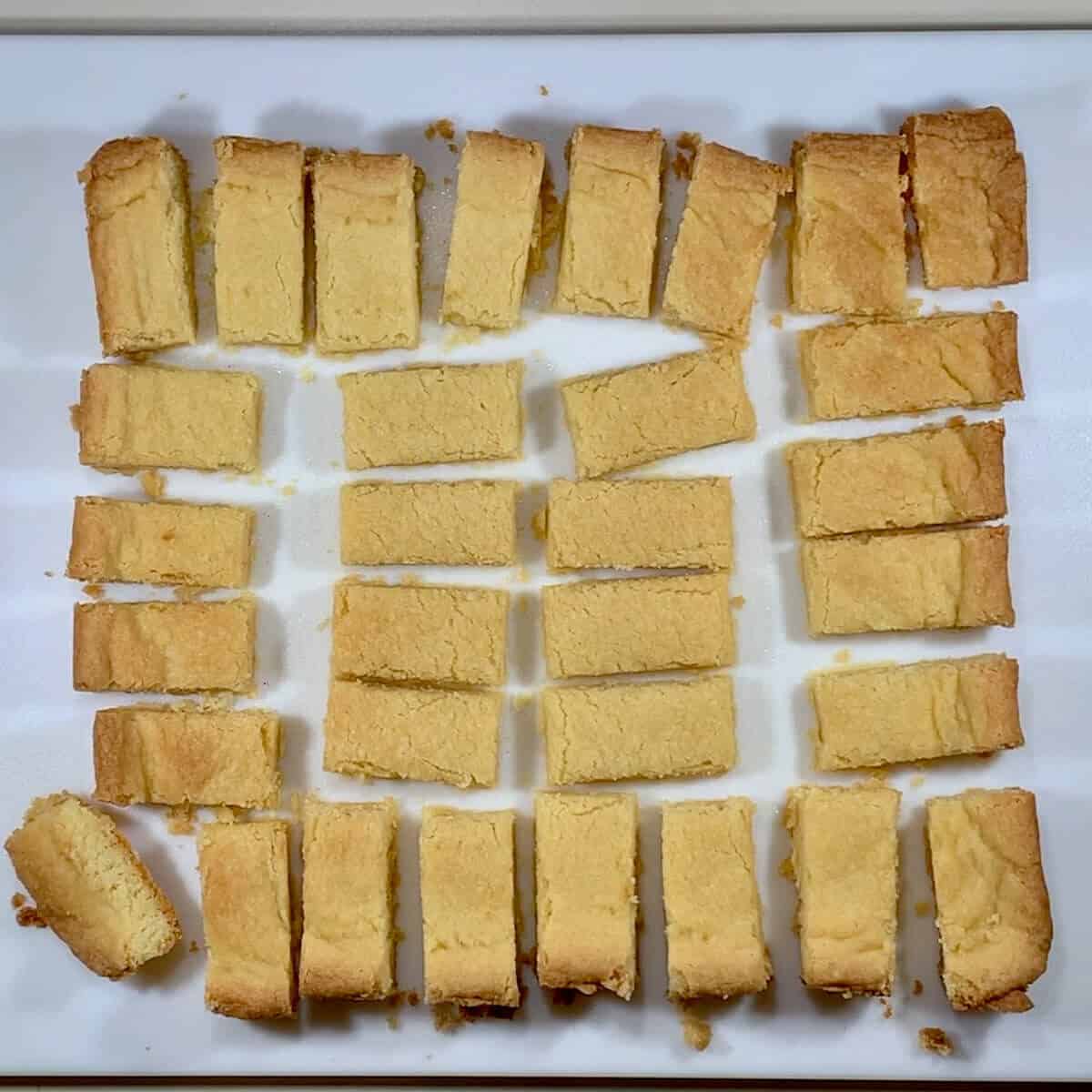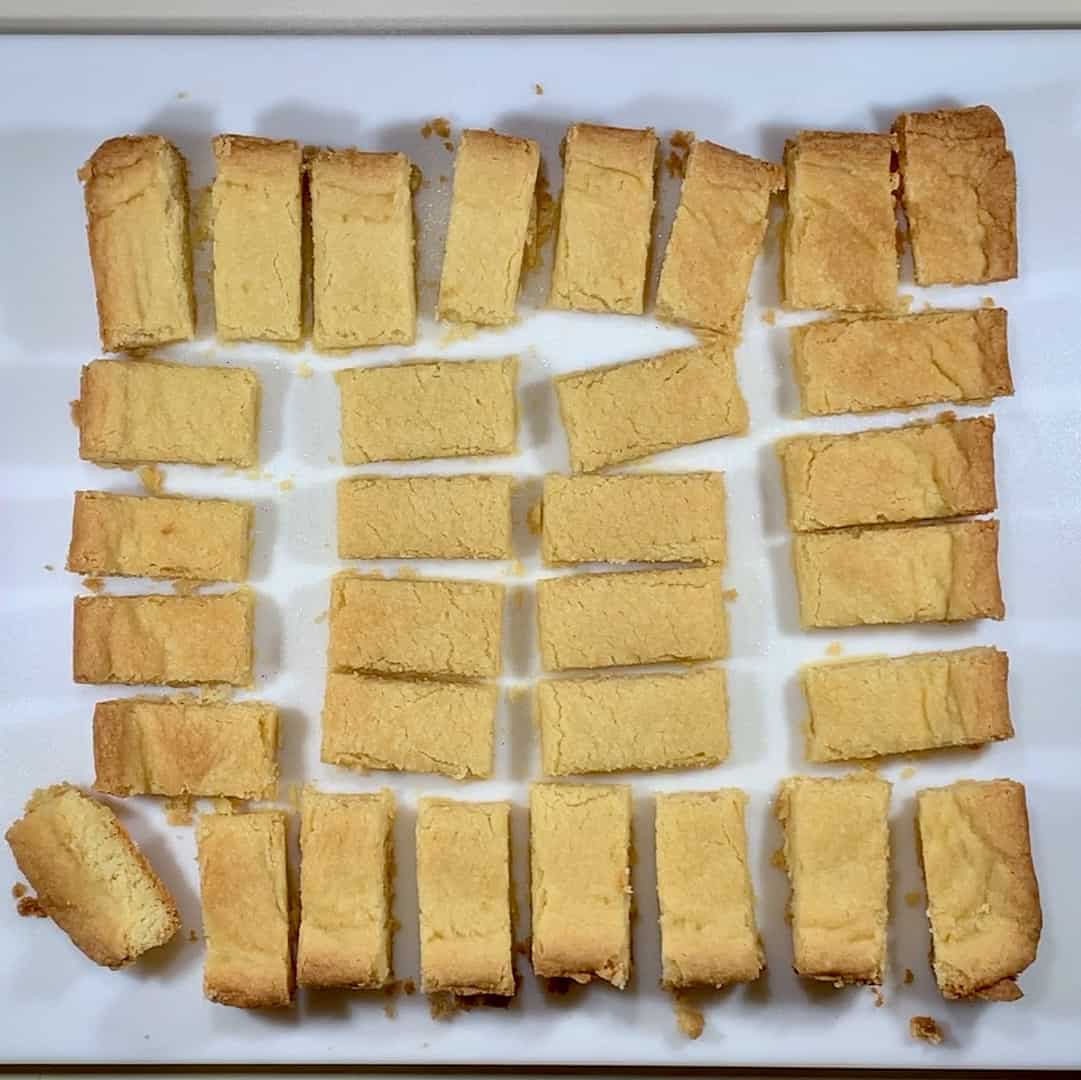 Pro Tip: The many uses of shortbread cookies
Shortbread is a very versatile cookie. It's like the vanilla ice cream of the cookie world. Make a plain dough, or flavor it with different add-ins like lemon zest, almond extract, or essence of lavender. Maybe substitute brown sugar for the white sugar for a richer flavor.
I've even made savory shortbread with garlic powder and parmesan cheese (yes, I omitted the sugar).
Shortbread is also commonly used as a base for pies and bars. You don't think about it, it's just there. Think lemon bars (or maybe Mint Lemon Lime bars?). Most pies that use a pastry crust can also be turned into pie bars (aka slab pies). Pecan bars and Brown Sugar Pie bars come to mind.
Think of the possibilities!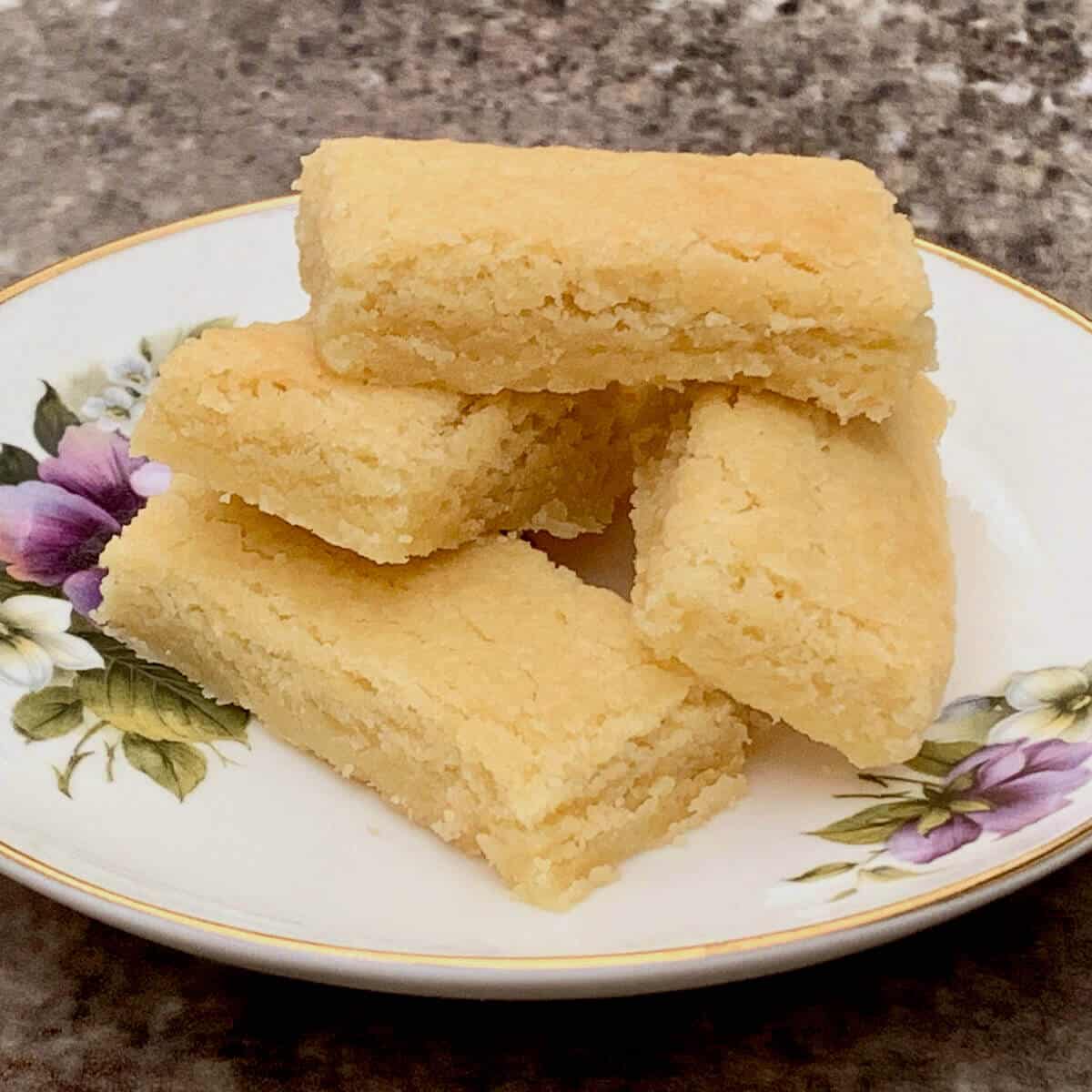 Whenever I have a craving for a cookie that doesn't take too much effort, I make a batch of classic shortbread. They're easy, tasty, and really fun to play with variations.
These traditional Scottish shortbread cookies might have short in its name, but it's big in flavor!
Slainté! L'chaim! Cheers!
Tammy
Related Recipes
Shortbread isn't just for eating out of hand (although that's a big plus!). It's also used as a base for cookie and pie bars. Quick and easy!
Love this recipe? Please leave a 5-star ⭐️ rating in the recipe card below ⬇️ and/or a comment further down the page.
I'd love to hear from you! Stay in touch on Facebook, Instagram, Pinterest, and please tag me using the hashtag #scotchandsconesblog. You can also sign up for my mailing list. I can't wait to see your creations!
Recipe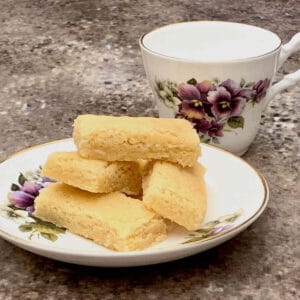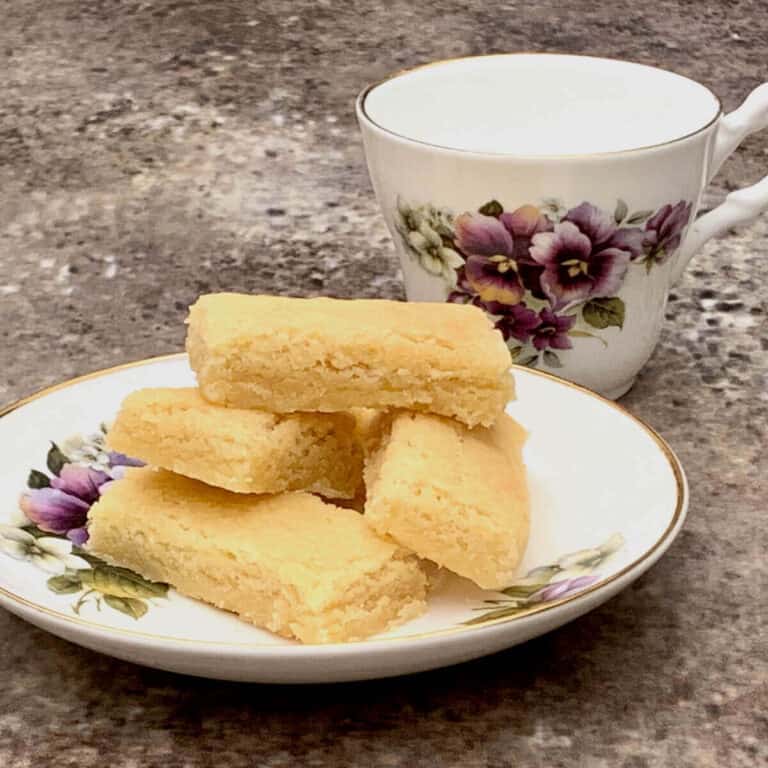 Traditional Scottish Shortbread Cookies
Scottish shortbread cookies are so easy to make, using just three basic ingredients. There are many variations of these classic butter cookies, and they can also be used as a crust for pies and bars. Make a batch today!
Adapted from Taste of Home
Ingredients  
1

cup

butter

,

salted or unsalted, softened

½

cup

granulated sugar

2

cups

all-purpose flour

½

teaspoon

kosher salt

,

if using unsalted butter
Instructions 
Preheat the oven to

350

°F

. Line a 9- x 9-inch baking pan with parchment paper, leaving an overhang on two sides. Set aside.

In the bowl of a stand mixer (or just a large bowl if using a hand mixer), beat the butter and sugar until smooth.

Add the flour (and salt, if needed), and mix until a smooth dough forms.

Pat the dough into the prepared baking pan. Using plastic wrap and a pie pan roller helps get everything even without making too much of a mess. Pierce the dough with a fork, then chill for 20 to 30 minutes, or until the dough is firm.

Bake the shortbread for 25 to 30 minutes or until lightly browned. Remove from the oven to a wire rack.

Cut the shortbread into 1- x 2-inch bars while it's still warm in the pan. Cool the pan on a wire rack for 15 minutes.

Carefully remove the shortbread from the pan using the parchment paper overhang to the wire rack. Cool completely & enjoy!
Notes
You can use either unsalted or salted butter for shortbread. If you do use unsalted butter, add ½ teaspoon of salt in with the flour.
If you prefer a thicker and softer shortbread, bake the dough in an 8- x 8-inch baking pan. You can also be double the recipe and bake it in a 9- x 13-inch baking pan for 30 to 35 minutes.
Your Notes
Nutrition
Serving:
1
piece
Calories:
45
kcal
Carbohydrates:
9
g
Protein:
1
g
Fat:
1
g
Saturated Fat:
1
g
Cholesterol:
1
mg
Sodium:
44
mg
Potassium:
18
mg
Fiber:
1
g
Sugar:
4
g
Vitamin A:
12
IU
Calcium:
10
mg
Iron:
1
mg