Scottish Bannocks (aka Scottish Oatcakes) are great for breakfast or as a snack. Make it traditionally or use your sourdough starter discard in the dough!
What are Scottish Bannocks?
Scottish Bannocks. Before discovering the Outlander series on STARZ, I had never heard of them; they're mentioned many times in the Outlander books.
Jump to:
Bannocks, a History
Bannocks are a type of unleavened oat-based flatbread, cooked on a griddle (girdle, in Scotland) or baked in the oven. They are said to have originated in Scotland, but the First Nations in Canada also lay claim to them, the main difference being the type of grain flour used (wheat or corn).
Even Native Americans have their version of unleavened bread, Indian Fry bread, that's deep fried rather than baked. It's interesting to me how many cultures have the same type of bread, just different based on the grains used at hand.
I grew up eating pita and tortillas; later I discovered naan, roti, lavash and the like; and my girls baked Indian Fry bread at school. These are all examples of regional native flat breads that developed separately but with a common purpose.
What you'll need
The ingredients aren't fancy, as one would expect:
Oatmeal: As these are oatcakes, you'd expect this. However, there is a difference in the definition of oatmeal based on the side of the Pond you're on (see What is Oatmeal below)
All-purpose flour: Needed to help keep the bannock from being too crumbly
Baking powder: This chemical leavening agent helps the bannock from being too dense
Salt: Added for flavor
Butter: Added for richness and moisture
Water: The butter alone doesn't add enough liquid, so water is required
Sourdough Starter Discard: You can use your unfed sourdough starter for bannocks. Just replace some of the flour and water with the starter (see the Recipe Notes for details)
Recipe for Scottish Bannocks
I've seen many different recipes for traditional Scottish bannocks, including several that Theresa Carle-Sanders' Outlander Kitchen website and cookbook. The one that I bake is from a lady in Scotland who shared it on an Outlander Facebook group.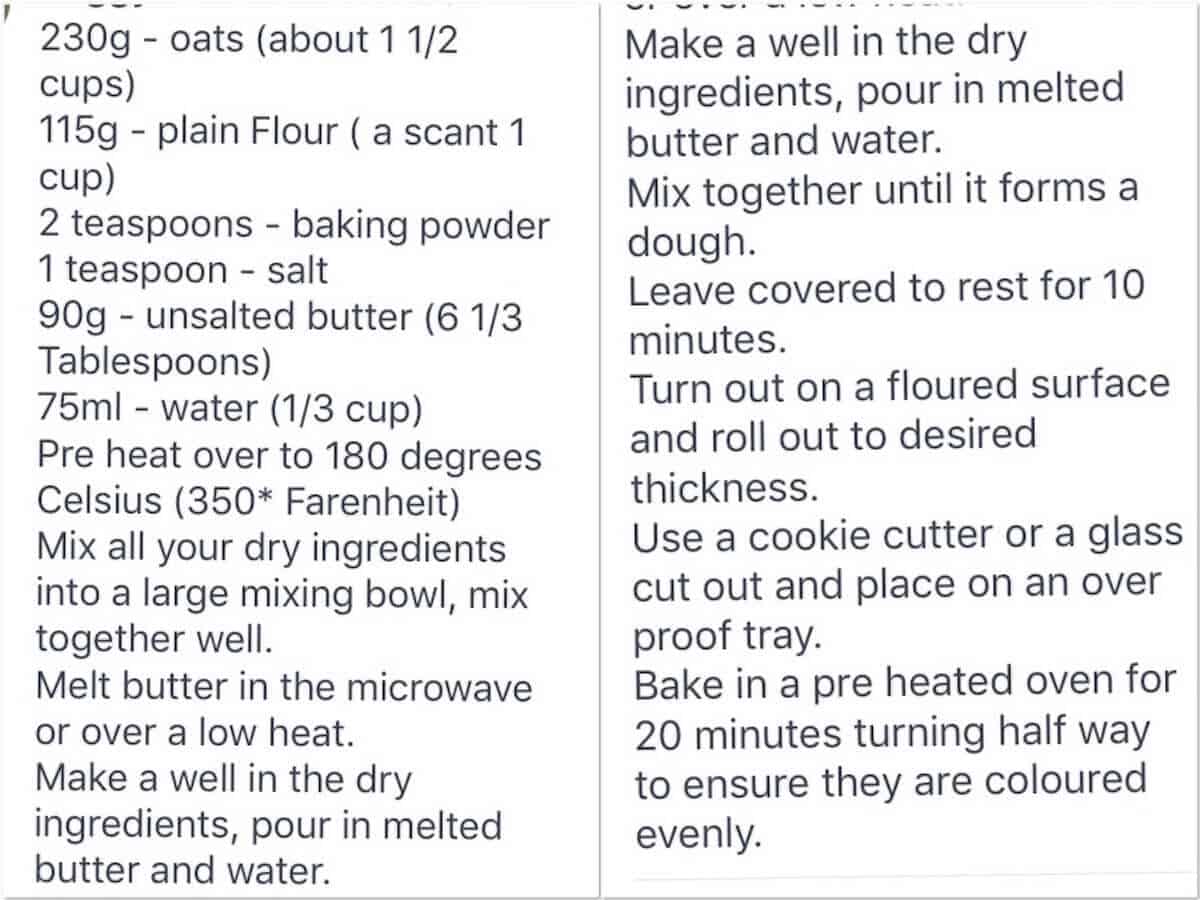 I love how the Europeans use weight measurements instead of pesky volume measurements...no need to convert anything (well, except for temperatures because I'm still an American and we use Fahrenheit instead of Celsius in our ovens).
Here's how bannocks look when made by someone who knows what they're doing.
Sourdough Bannocks using sourdough starter discard
So could I leave well enough alone? Well, you don't know me that well yet, so I'll forgive you for not immediately answering in a loud, confident voice, "No!"
I started playing.
First, I tried the recipe using whole wheat flour (you know, to up the fiber a bit). The dough ended up needing about ¼ cup more water, but otherwise it was fine.
Another thing you don't yet know about me is that I bake sourdough bread using a natural starter (i.e. naturally leavened without commercial yeast...that's another example of how I replace the commercial stuff with homemade stuff when I can).
Every week I've got about a cup of sourdough starter discard that I need to use (I won't...I can't...just throw it away). I'm always looking for ways to use that unfed sourdough starter. Using it in Scottish Bannocks seemed like a good place to try.
Can I still call them Scottish bannocks if I make them with unfed sourdough starter? I want to be culturally sensitive here. Hopefully some nice Scot will write to me and tell me it's ok and not to overthink things too much (and maybe send me a picture of a puppy...I love puppies).
How thick should bannocks be rolled?
There was a lot of discussion on that Outlander Facebook thread about how thick to roll out the bannocks. Some people said they should be thin and crispy, others thicker and chewier. I settled on rolling out the dough to about ¼-inches, mainly because I'm not that great at rolling out dough.
Also, I don't like rolling and re-rolling dough to cut out rounds, so I go for rectangles instead. It's easier for me and there's no waste.
What is Oatmeal?
Updated in Jan 2019...speaking of Outlander and how to make bannocks, I wrote a blog post for Outlander Cast about using an 18th century vs. modern bannock recipe.
Suffice to say I learned a thing...or two...or three, especially about the language barriers between the US & UK. It's worth a quick read (and a laugh).
Spoiler Alert: oats in the US and UK are not the same thing. Oatmeal in the UK is what we call oat flour in the US. So using rolled oats (what we call oatmeal in the US), makes the bannock much chewier. Use oat flour for a crisper bannock.
Make Bannocks traditionally or use sourdough starter discard
Both versions of the bannocks are wonderful. They're great topped with butter, jam, or both because they can go sweet or savory.
I tend to eat them for breakfast with eggs, but they're also nice for an afternoon snack (I usually keep a few on the counter in a sealed container and freeze the rest...they defrost and reheat well). 
Discovering Outlander has led me down many paths, and the culinary dishes I encounter because of it are so fun. I love making Scottish Bannocks now...I wonder what else is out there to discover?
Slainté! L'chaim! Cheers!
Tammy
Related Recipes
When you maintain a sourdough starter, you have a dilemma. What do you do with your unfed sourdough starter discard? I've got lots of suggestions for sweet and savory ways to use your fed sourdough starter and the sourdough starter discard.
And if you sign up to receive my weekly featured recipe email, I'll send you the recipe for Extra-Tangy Sourdough Bread. Just click the subscribe button below. Enjoy!
Love this recipe? Please leave a 5-star ⭐️ rating in the recipe card below ⬇️ and/or a comment further down the page.
I'd love to hear from you! Stay in touch on Facebook, Instagram, Pinterest, and please tag me using the hashtag #scotchandsconesblog. You can also sign up for my mailing list. I can't wait to see your creations!
Recipe
Scottish Bannocks
Scottish Bannocks (aka Scottish Oatcakes) are great for breakfast or as a snack. Make it traditionally or use your sourdough starter discard in the dough!
Ingredients  
1½

cups

rolled oats

,

see Recipe Notes

1

cup

all-purpose flour,

see Recipe Notes for Sourdough Bannocks

2

teaspoons

baking powder

1

teaspoon

kosher salt

,

see Recipe Notes for Sourdough Bannocks

6

tablespoons

butter

,

melted

⅓

cup

water

,

see Recipe Notes for Sourdough Bannocks
Instructions 
In a large mixing bowl, combine the oatmeal, flour, baking powder, and salt.

Make a well in the dry ingredients, then pour in melted butter and water. Mix until it forms a dough.

Cover the bowl and let the dough rest for 10 minutes.

Turn out the dough onto a floured surface and roll out to desired thickness, between ⅛ to ¼-inches.

For round bannocks: using a 3-inch round cookie cutter or a glass, cut out rounds.

For rectangular bannocks: Roll out the dough to an 8- x 10-inch rectangle (cut into 16 pieces), or an 8- x 9-inch rectangle (cut into 12 pieces).

Place the cut dough pieces on the prepared baking pan. Bake 10 minutes, rotate, then bake 10 to 13 minutes more.

Remove to wire rack to cool. Enjoy with butter, jam, or whatever toppings you'd like!
Notes
I learned later on that the term "oatmeal" in the UK is actually what we call "oat flour" in the US, not the rolled oats that I used...the things you learn (no wonder my bannocks were so chewy). You can use oat flour instead of the rolled oats for a crispier bannock.
To make Sourdough Bannocks using sourdough starter discard, reduce the flour to ⅓ cup (45g), the salt to ½ teaspoon, and add in ⅔ cup unfed sourdough starter (150g). Omit the water entirely. Make the dough as directed, adding the sourdough starter with the melted butter.
Your Notes
Nutrition
Serving:
1
piece
Calories:
61
kcal
Carbohydrates:
12
g
Protein:
2
g
Fat:
1
g
Saturated Fat:
1
g
Cholesterol:
1
mg
Sodium:
213
mg
Potassium:
43
mg
Fiber:
1
g
Sugar:
1
g
Vitamin A:
9
IU
Calcium:
45
mg
Iron:
1
mg