Marshmallow Fondant definately is an improvement on boxed fondant, both in taste and useability. We upgraded our DIY Wedding Cake with this incredible fondant hack!
** NEWS FLASH!! **
We interrupt this regularly scheduled blog post to bring you the news that my beautiful older daughter and her loving (and tall) fiancé were married this past Sunday, on what was my husband's and my 34th wedding anniversary! It was a wonderful day, filled with family and friends from far and near, and there were smiles and tears and laughter and love.
But why do I bring it up here on a baking blog (other than the fact that I'm a proud mama)? Because as a Mama-baker with a very talented younger daughter, you can correctly guess that our kitchen didn't remain quiet in the days leading up to the wedding.
We created two Do-It-Yourself (or DIY) wedding cakes (the main cake and a surprise groom's cake), plus several desserts for a pre-wedding Happy Hour for our out-of-town guests. Actually, let me correct that…we had three cakes at the wedding because my girls created a surprise anniversary cake for my husband and I also!
Because I have so many different experiences to share with you, I've decided to devote a few posts showing you what we made and how we made it.
The first stop…How to make a tasty & pliable marshmallow fondant for a three-tier DIY wedding cake.
Jump to:
Step 1: have an award-winning cake decorator in the house
I've mentioned before how talented my younger daughter is at cake decorating, and it's not just me that says it (although as her mama I'm her biggest cheerleader). In Middle and High School, she entered our local County Fair's cake decorating competition several years in a row, and always won First Place and even Best in Show.
Over the years she has made custom birthday cakes, graduation cakes, and baby shower cakes, as well as her fantasy cakes for the competitions. We're a great team, she and I…I'd bake the cakes and she'd decorate them. Fun times.
(Side Note: You can head to her Sweetheart Cakes and Treats page on Facebook to see more of her creations…it's ok, I'll wait…I still have some kitchen cleanup to do...back with me? Great!)
The secret to competition cakes
One secret to competing in cake decorating contests is that the cakes themselves aren't cakes...they're actually made of Styrofoam.
Yup, you read that right – the cakes themselves aren't edible.
But it makes sense. Those cakes have to sit out for days without wilting or spoiling, so the idea is to cover Styrofoam with fondant and then have at it with the designs. And since those cakes won't be eaten, the quality (read: taste) of the fondant isn't as important as the decorations themselves.
(I think I know where this is heading…)
When my older daughter got engaged, my younger daughter and I knew that we were going to have a DIY wedding cake. She designed a lovely 3-tier cake with a simple, yet elegant theme of watercolors and fresh flowers. I wanted that cake to be a recipe that the bride loved, namely Kahlua Cake.
We also made a strategic decision: only the top tier would be edible.
The lower two tiers would be Styrofoam like her competition cakes. This simplified the baking (and the cost) tremendously, especially since we had the groom's cake to make as well. And only a week to bake and decorate everything.
I live in a small apartment without the walk-in refrigerator/freezer that commercial bakeries have…don't judge.
Let's make the fondant edible!
One complaint that I always have with fondant is that it basically tastes like soft plastic. It's pretty and all, but it truly lacks in the deliciousness department.
Well, my daughter solved this problem by finding a fondant hack (let's call it a hybrid of homemade and ready-made fondant) on Liz Marek's SugarGeekShow.com for LMF Fondant (LMF = Liz Marek's Fondant).
And boy was it an improvement! This marshmallow fondant was smooth and pliable (even more than the Wilton fondant out of the box), was easier to roll out, and most importantly, it tasted great.
The recipe also had another plus…because you're mixing the boxed fondant with marshmallows, it stretched the amount of fondant coverage by 300%, and that really brought down the overall cost. Win!
I'll encourage those interested in the how's and why's of this marshmallow fondant to head over to Liz's website where there's detailed explanations.
(Side Note: Longtime readers know of my aversion to processed foods, and vegetable shortening definitely falls into that category. However, I relaxed my rules in this case…I really wanted this DIY wedding cake to taste great!)
Thoughts from the expert
Since I was the baker and not the decorator, I asked my younger daughter for her thoughts on using this marshmallow fondant. Her advice:
Don't frost beneath the fondant too thickly (called crumb coating) as it makes the sides too soft
Definitely chill the cake before and after crumb coating the sides before the fondant goes on.
She ended up using more powdered sugar than the recipe called for, especially at the end during kneading (it was really humid that day, and this factor depends on climate). She still got some of "elephant skin" and tears, but shortening mostly fixed these problems.
Next time I'll show you what went into making the incredible groom's cake…a TARDIS from Dr. Who. Stay tuned! In the meantime, I'm going back to toasting the happy couple (and cleaning the kitchen!).
Slainté! L'chaim! Cheers!
Tammy
Related Recipes
This series of posts showed how we made our DIY Wedding Cake and our sculpted TARDIS Cake. You can use these ideas for your own sculpted cakes!
Love this recipe? Please leave a 5-star ⭐️ rating in the recipe card below ⬇️ and/or a comment further down the page.
I'd love to hear from you! Stay in touch on Facebook, Instagram, Pinterest, and please tag me using the hashtag #scotchandsconesblog. You can also sign up for my mailing list. I can't wait to see your creations!
Recipe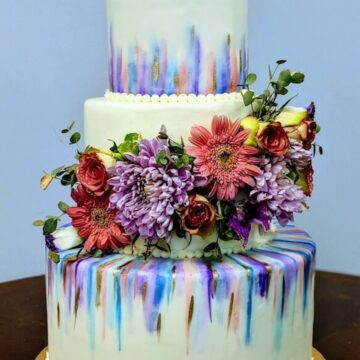 Marshmallow Fondant
Marshmallow Fondant definitely is an improvement on boxed fondant, both in taste and usability. Upgrade your cakes with this incredible fondant hack!
Adapted from SugarGeekShow.com
Ingredients
8

cups

powdered sugar

,

sifted (32 oz, 907g)

1

pound

marshmallows

1¼

pounds

Wilton boxed fondant,

or equivalent

2

Tablespoons

water

,

warm, see Recipe Notes

½

cup 

vegetable shortening

,

(3¼ oz, 92g)
Instructions
Sift the powdered sugar and set aside in a large bowl. Place vegetable shortening in a stand mixer bowl.

Heat marshmallows in the microwave on high (or on stove top) in in 30 second increments until melted. Stir with spoon. Marshmallows should be ooey-gooey and ready to be added to the mixer bowl.

Pour the water on top of the marshmallows to get them to release from the sides of the bowl. Pour into bowl with vegetable shortening.

Turn stand mixer on lowest setting with dough hook attachment. Add in half of the sifted powdered sugar, a measuring cup at a time, and let mix for 2 minutes (it will be really rough looking at first). Don't stop mixing until it's sticking to the sides of the bowl and looks smooth. Add in another cup of powdered sugar. Pull fondant off the dough hook attachment by putting vegetable shortening on your fingers and pulling it off the hook. Take the soft mixture out of the bowl and put it into the large bowl with the rest of the powdered sugar.

Add color as desired. For dark colors especially, add the color during the mixing process or you could get a sticky mess.

Warm the Wilton fondant in the microwave for 40 seconds and add to the large bowl with the powdered sugar and marshmallow mix. Knead until powdered sugar, marshmallows and Wilton fondant is mostly incorporated. You may not use all of the powdered sugar depending on your climate and that is completely fine.

Pull fondant like taffy until it is stretchy and smooth. If there are still rough spots or it's tearing, put everything back in the microwave for 30 to 40 seconds to make it really hot and pull like taffy with shortening on your hands until it pulls without breaking.

To use again, reheat and knead the fondant well until stretchy before each use.
Notes
For coloring fondant with dark colors, use 1 tablespoon warm water and 1 tablespoon food color gel.
Store in a ziplock bag at room temperature. Fondant will keep for months in a ziplock bag.
Your Notes
Nutrition
Serving:
1
oz
Calories:
130
kcal
Carbohydrates:
28
g
Protein:
1
g
Fat:
2
g
Saturated Fat:
1
g
Sodium:
6
mg
Fiber:
1
g
Sugar:
26
g
Calcium:
1
mg
Iron:
1
mg