Combining sourdough tanginess & bagel chewiness, these sourdough bagels are a step above & a great way to use sourdough starter discard!
So, I hadn't used my sourdough starter discard for two weeks.
I didn't feel like making pizza dough or focaccia…you know, my go-to recipes. But it was a bitter cold day and I wanted to bake something (my oven is a very effective heater in our small apartment).
Then I came across Sally's Baking Addiction's recipe for homemade bagels, and the wheels started turning.
How about I substitute in my unfed sourdough starter for some of the flour and water and make Sourdough Bagels?
Challenge accepted!
Thinking up creative ways to use sourdough starter discard can be fun, like Sourdough Pretzels or Sourdough Gingerbread, and when inspiration hits, experimentation follows.
However, there's some work to be done.
(Wait, there's math?)
No worries, grasshopper!
Jump to:
Alter a recipe to sourdough
The trick for adapting a recipe to used sourdough is to weigh the amount of sourdough starter discard you have using a kitchen scale, then divide it by half.
The result is the amount by weight of flour and water you need to remove from the recipe.
(Side Note: this calculation is based on a sourdough starter that's 50/50 flour and water. If your sourdough starter has a different makeup, use your ratio to figure out how much flour and water you'll be replacing.)
For example, for Sourdough Bagels the original bagel recipe called for 4 cups of flour and 1½ cups of water (that's 17 oz of flour and 12 fluid oz, respectively).
Since I had 2 weeks' worth of sourdough starter discard (14 oz), I needed to remove 7 oz each of flour and water from the recipe.
I appreciate it when a recipe writer provides the ingredient amounts in weight measurements, not just volume. It makes things so much easier. If not, I do the conversions for myself (and for you, of course).
Does your brain hurt? I'm sorry. Here, have a sourdough bagel.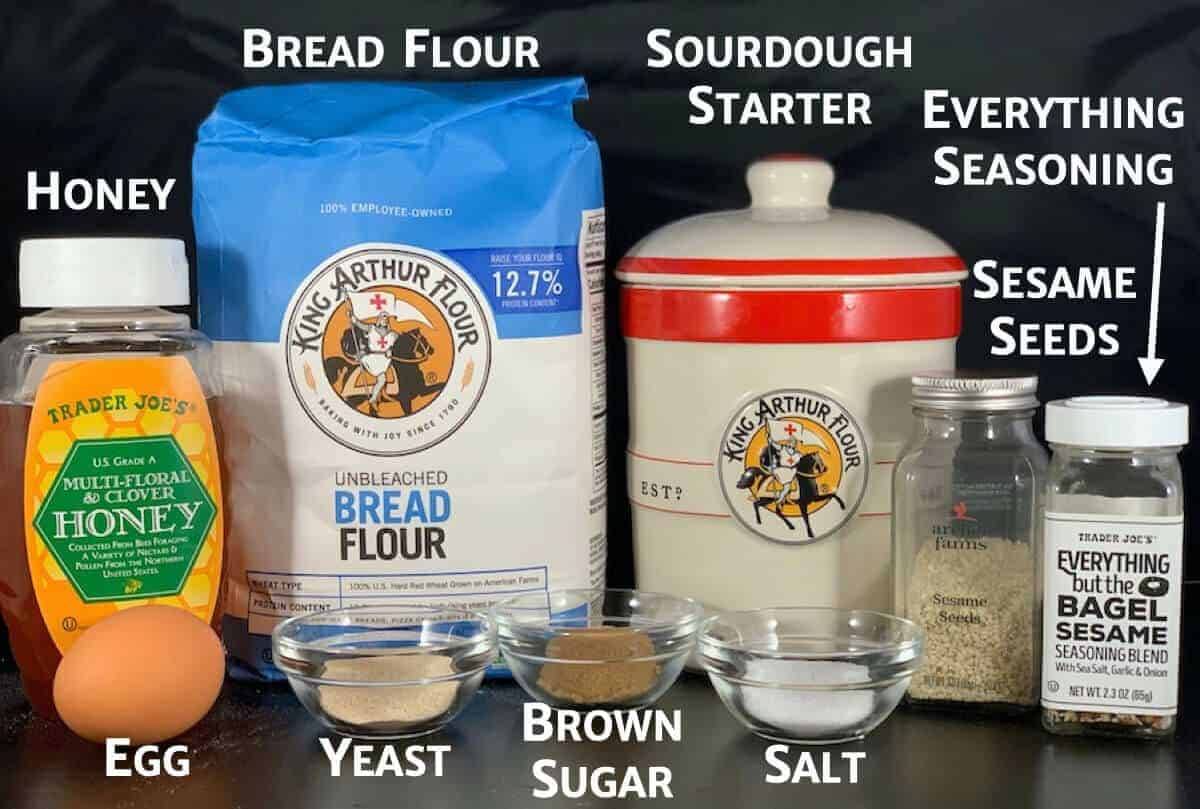 How to make Sourdough Bagels at home
After making the necessary ingredient substitutions, the rest of a sourdough bagel recipe, as they say, is history.
Ok, that's not what they say.
After making the bagel dough and letting it rise, portion it into eight wedges and shape each into a disk. Poke your finger into the center, then widen the hole to about 1- to 2-inches in diameter .
It's a similar process to making Jerusalem Bagels, just not with such a big hole.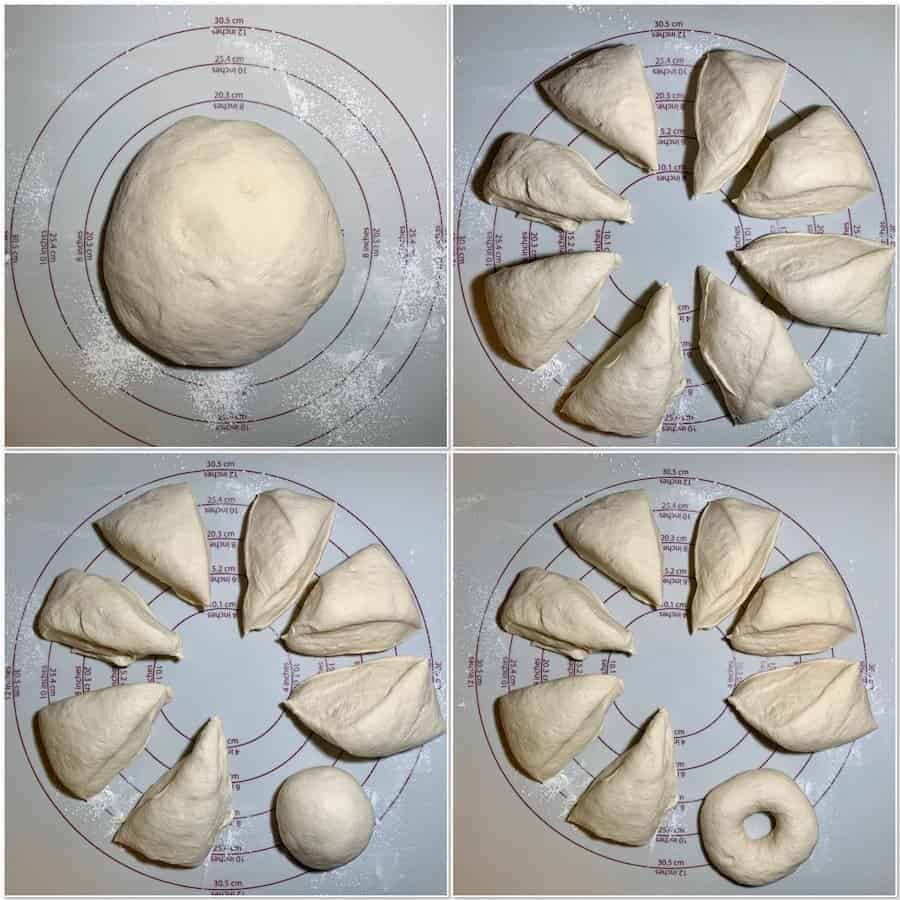 Boil the shaped bagels in a bath of water and honey. This step pre-cooks the dough, giving the bagel it's characteristic chewiness.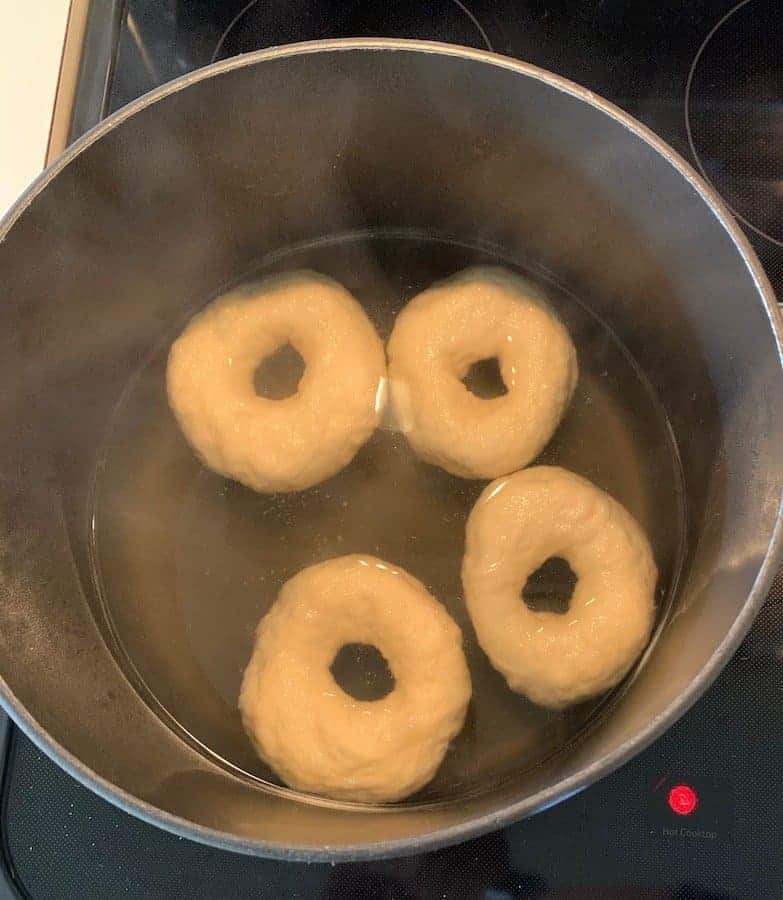 If desired, roll the boiled bagels in toppings before baking.
Make a variety of bagel flavors
You don't just have to make plain Sourdough Bagels. Here are some ideas for different bagel flavors to get you started:
Everything Bagels: Use a pre-made Everything bagel topping or Mix 2 tablespoons poppy seeds, 2 tablespoons sesame seeds, 1 tablespoon dried minced onion, 1 tablespoon dried garlic flakes, and 1 tablespoon coarse salt all in a bowl (from Homemade Everything Bagels)
Sesame Seed Bagels: Use ⅓ cup sesame seeds. After brushing with egg wash in step 9, top with or dunk each bagel into topping. Use more as needed
Poppy Seed Bagels: Use ⅓ cup poppy seeds. After brushing with egg wash in step 9, top with or dunk each bagel into topping. Use more as needed
Salt Bagels: Use ⅓ cup coarse salt. After brushing with egg wash in step 9, top with or dunk each bagel into topping. These are pretty salty, so feel free to go lighter on the salt
Cheese Bagels (Asiago, Cheddar, etc): Add ½ cup of shredded cheese to the dough when you add the flour. After brushing with egg wash in step 9, sprinkle with extra cheese
These Sourdough Bagels have a wonderful sourdough tang from the sourdough starter discard, yet still retains that bagel chewiness.
Also, my apartment smells like a bagel shop when I make them. That alone is worth it!
You can toast your bagels with a shmear of cream cheese (my way) or eat them warm and whole (my husband's way). Or another way entirely.
However you enjoy your sourdough bagels, try making them yourself!
Slainté! L'chaim! Cheers!
Tammy
Related Recipes
When you maintain a sourdough starter, you have a dilemma. What do you do with your unfed sourdough starter discard? I've got lots of suggestions for sweet and savory ways to use your fed sourdough starter and the sourdough starter discard. Here are a few samples...
Love this recipe? Please leave a 5-star ⭐️ rating in the recipe card below ⬇️ and/or a comment further down the page.
I'd love to hear from you! Stay in touch on Facebook, Instagram, Pinterest, and please tag me using the hashtag #scotchandsconesblog. You can also sign up for my mailing list. I can't wait to see your creations!
Recipe
The Best Homemade Sourdough Bagels
Combining sourdough tanginess & bagel chewiness, these sourdough bagels are a step above & a great way to use sourdough starter discard!
Adapted from Sally's Baking Addiction
Ingredients
For the Dough
3

cups

bread flour

,

or more as needed, see Recipe Notes

1

cup

sourdough starter discard

,

unfed, at room temperature, see Recipe Notes

1

tablespoon

brown sugar

,

packed, either light or dark

2¾

teaspoons

yeast,

instant or rapid rise, see Recipe Notes

2

teaspoons

kosher salt

¾ to 1

cup

water

,

warmed between 100°F to 110°F, see Recipe Notes

1

large egg white

,

beaten with 1 tablespoon water, for egg wash

Everything bagel topping,

or other toppings as desired (optional)
For the Water Bath
2

quarts

water

¼

cup

honey
Instructions
Use a kitchen scale to measure out your ingredients. That way you will get consistent results. Otherwise, use the "spoon & level" technique to measure your flour by spooning flour into your measuring cup and leveling it off with a knife. Don't scoop flour or pack it into the measuring cup or you'll end up using too much flour. See the Recipe Notes if you're using Active Dry yeast for an alternate way to start the dough.

Pour in ¾ cup (170g) of warm water. Beat the mixer on low speed for 2 minutes, then knead for 4 to 5 minutes. Add in additional flour or water in one tablespoon increments to get the dough to the right texture.

Lightly grease a large bowl with oil. Place the dough in the bowl, turning it to coat all sides. Cover the bowl with a clean kitchen towel.  Allow the dough to rise at room temperature for 60 to 90 minutes or until double in size (the inside the oven with just the light on works well).

Line two half sheet baking pans with a Silpat Silicone mat or parchment paper.

Shape the Bagels: Punch down the dough to release any air bubbles. Divide the dough into 8 equal pieces, then shape each piece into a ball. Press your index finger through the center of each ball to make a hole about 1½ to 2 inches in diameter. Loosely cover the shaped bagels with a kitchen towel and rest for a few minutes as you prepare the water bath.

Prepare the Water Bath: Fill a 4 to 8 qt stock pot with 2 quarts of water and whisk in the honey. Bring water to a boil, then reduce heat to medium-high. Drop the bagels in, 2 to 4 at a time, making sure they have enough room to float around. Cook the bagels for 1 minute on each side (2 minutes per side if you want a chewier bagel). Remove from pot and drain slightly. When cool enough to handle, gently reshape into bagel shape if needed.

Using a pastry brush, brush the egg wash on top and around the sides of each bagel. Dip in toppings, if desired. Place 4 bagels onto each lined baking pan.

Bake the Bagels: Bake for 20 to 25 minutes, rotating the pan halfway through. You want the bagels to be a dark golden brown. Remove from the oven and allow bagels to cool on the baking sheets for 20 minutes, then transfer to a wire rack to cool completely.

Cover leftover bagels tightly and store at room temperature for a few days or in the refrigerator for up to 1 week.
Notes
Using fed sourdough starter can give you a better rise (depending on how vigorous your starter is), but using unfed sourdough starter discard works just fine. If you do use fed starter (and it's active and bubbly), you can omit the yeast, but the rising times can be longer.
If you use Active Dry yeast, then you might want to sprinkle yeast on to the warmed water with a teaspoon of sugar and allow it to sit for a few minutes before proceeding with the recipe. Letting it foam "proves" the yeast is active and ready to go to work.
The amount of flour or water in your dough will depend on the humidity of your kitchen and the hydration of your starter. As you mix your dough, you might need to add more flour or water in one tablespoon increments to get the dough to the right consistency.
The water temperature should be warm to the touch. Too warm, and you kill the yeast.
Overnight Preparation: Prepare the dough through step 3, allowing the dough to rise overnight in the refrigerator. The slow rise gives the bagels wonderful flavor! In the morning, continue with step 4. I don't recommend shaping the bagels the night before as they may puff up too much overnight.
Freezing: Freeze baked bagels for up to 3 months. Thaw overnight in the refrigerator or at room temperature, then warm to your liking. You can also freeze the bagel dough. After punching down the dough in step 5, wrap the dough tightly in plastic wrap, then a layer of aluminum foil. Freeze for up to 3 months. Thaw overnight in the refrigerator, then punch the dough down again to release any air bubbles. Continue with the rest of step 5.
Bread Flour: Bagels require a high protein flour, so use bread flour if you can. You can make whole wheat bagels by replacing half of the bread flour with whole wheat flour.
Bagel Varieties: The toppings are added after the egg wash in step 8. Dip the bagels into your desired toppings, then shake off excess.
The ingredient amounts are for using 1 week's worth (227g) of Sourdough Starter Discard. If you're going to use more or less starter, adjust the flour and water measurements accordingly (generally, starter is equal parts flour and water by weight). Either way, you might need to add more flour to get right dough consistency (flour is well hydrated).
Don't skip the water bath and egg wash. Both provide an extra chewy and golden brown crust.
Nutrition
Serving:
1
bagel
Calories:
210
kcal
Carbohydrates:
42
g
Protein:
7
g
Fat:
1
g
Saturated Fat:
1
g
Sodium:
591
mg
Potassium:
66
mg
Fiber:
2
g
Sugar:
2
g
Calcium:
7
mg
Iron:
1
mg