This flavorful, easy to make sourdough focaccia bread is at home at a casual supper or an elegant meal, and is a perfect way to use your weekly sourdough starter discard!
Isn't it wonderful when one recipe can yield so many different variations? This easy sourdough bread recipe is made using my weekly sourdough starter discard.
Actually, when I'm at a creative loss for uses for my unfed starter discard, this is my go-to bread recipe I use to make pizza, naan, ciabatta, stromboli, or just plain loaves or buns.
Even though I do use commercial yeast in the dough, the sourdough starter discard still lends its tangy flavor adding more depth to the item. Yummm….
Jump to:
Focus on focaccia
Hailing from Italy, focaccia is a flat oven-baked bread similar in style to pizza, but generally shaped and topped differently.
Focaccia bread can be made thick enough to slice in half for a sandwich or thin to just be a vehicle for its toppings (like a bread-based tart). I generally make my homemade focaccia in between those two extremes, but it's really dependent on the amount of dough and the size of the pan.
Adapt a recipe to use sourdough starter
My basic bread dough recipe comes from Michael Ruhlman's Ratios…it's an easy-to-remember ratio of 5 parts flour to 3 parts water (by weight), with some salt and yeast added.
I've previously discussed how I adapt recipes to incorporate my weekly starter discard when I made sourdough pretzels and bagels, but here's a quick refresher: using a kitchen scale, weigh the amount of your starter, then divide that weight in half (assuming your starter has a 50/50 ratio of flour to water).
Those are the amounts of flour and water you remove from any given recipe's amounts (by weight, of course…see why a kitchen scale comes in handy?). After that little substitution, you can proceed with making the recipe for focaccia bread per usual.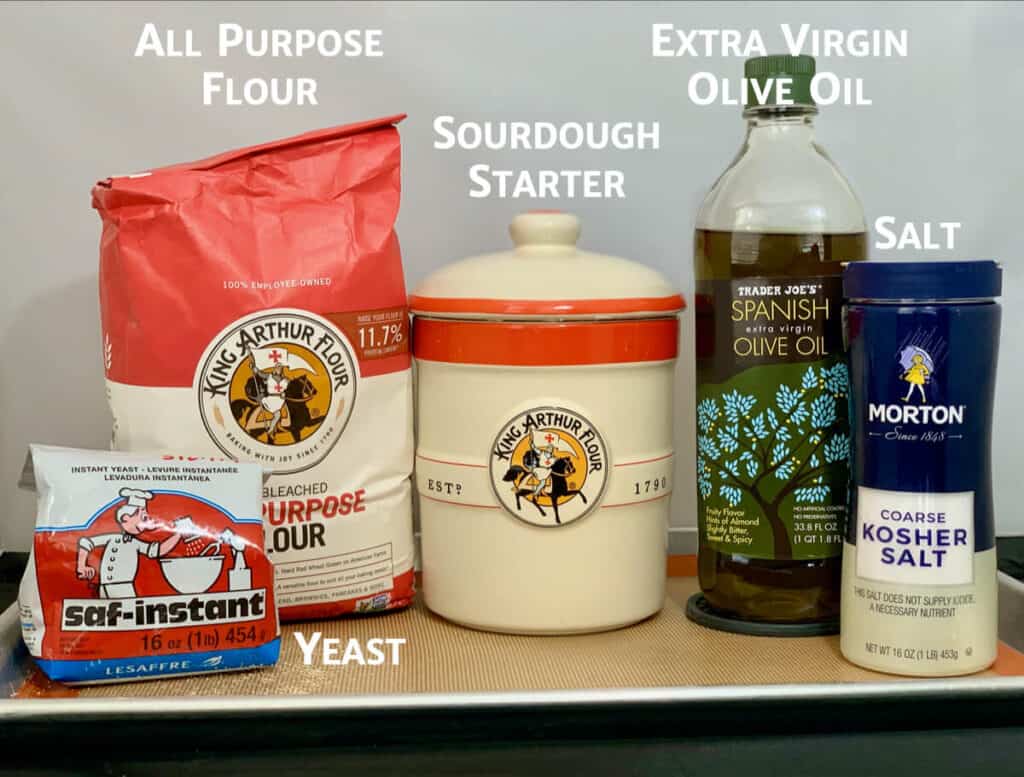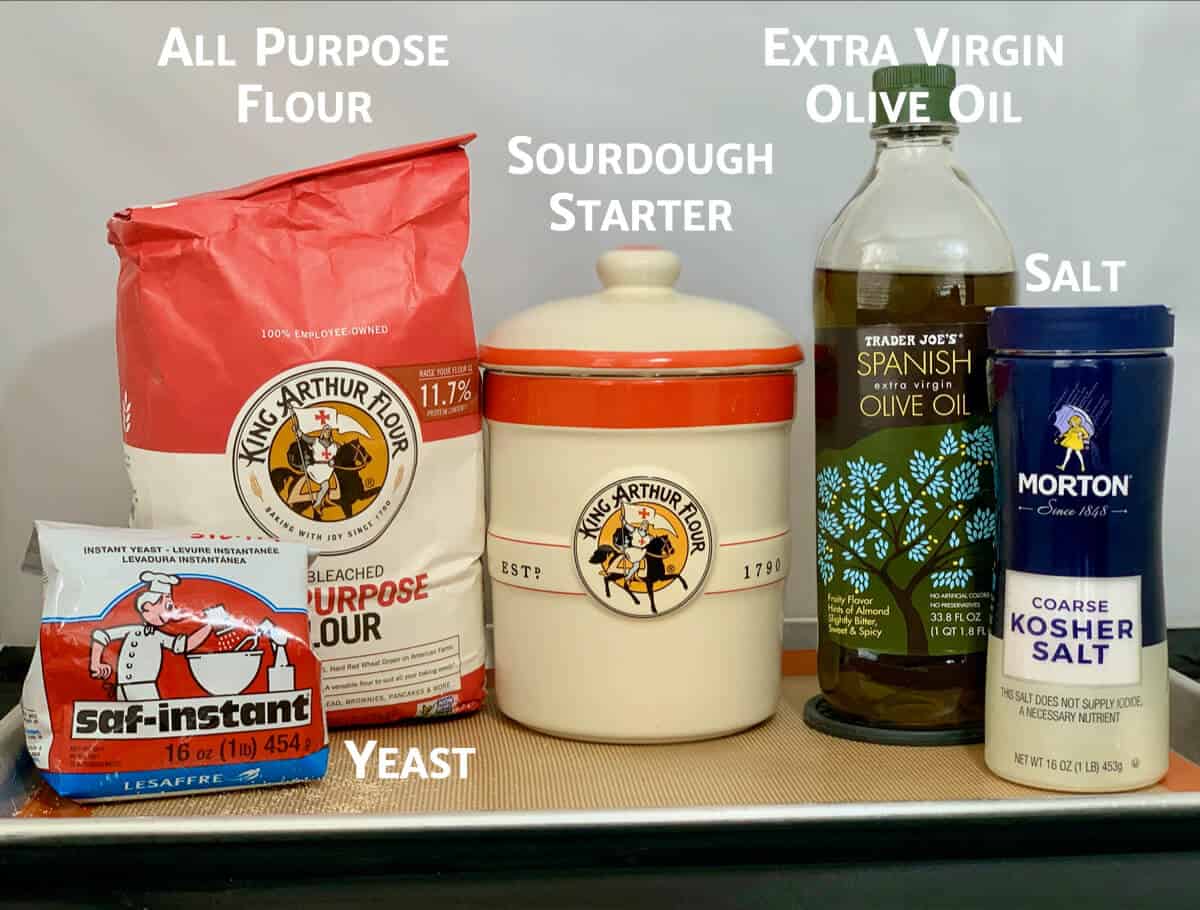 Toppings for focaccia bread at its basic are olive oil and a sprinkling of coarse salt. From there, imagination comes in handy.
I like to make sourdough focaccia bread with rosemary by chopping it up with the salt. Some other ideas could be other chopped fresh herbs (thyme and oregano come to mind), roasted and chopped onion or garlic, drained and chopped sun-dried tomatoes, chopped olives, chopped…uhm...I could go on but you get the idea.
If you start adding meats or cheeses, then this to me becomes a pizza, and that's a whole other ball o'...uhm...dough.
Make a basic bread dough
Making focaccia dough is no different than any other type of bread dough.
Start by kneading all the ingredients into a soft, smooth, elastic dough.
I let the dough rise for 3 hours in a warm place, usually my KitchenAid Precise Heat Mixing Bowl set to 80°F. Alternatively, the oven with just the light on works well.
If you want to develop the sourdough flavor even more, you can put it in the refrigerator after this first rise for up to 3 days. Let it come to room temperature for about a ½ hour before shaping.
How thick do you want your bread
We haven't really talked about the type of baking pan to use. I use a well-seasoned medium baking stone (about 8- x 12-inches) and I push the dough out to the edges.
The amount of dough from the recipe below produces a focaccia that's about 1 ½ inches high. You can vary that thickness by varying the amount of dough you make and the size of the pan you use.
When you're ready to shape the risen and rested dough, spray your pan with olive oil and press the dough out into the size and thickness you want. Remember that the dough will rise a bit in the oven.
Let the dough rest again, then poke the dimples, add olive oil and sprinkle the toppings, and into the oven it goes!
By the way, according to Seasoned Advice, those dimples are there to catch some of the olive oil, improving the crust's taste and texture. I'm not going to argue!
Focaccia is versatile
The wonderful thing about sourdough focaccia bread with rosemary is that it can go from a week-night supper to an elegant dinner party with ease. We even used it as a dipper for cheese fondue!
However you use it, I hope you'll come to keep this sourdough focaccia bread recipe in your back pocket for those times you want a use for your sourdough starter discard. You'll be amazed at what you can make!
Slainté! L'chaim! Cheers!
Tammy
Related Recipes
When you maintain a sourdough starter, you have a dilemma. What do you do with your unfed sourdough starter discard? I've got lots of suggestions for sweet and savory ways to use your fed sourdough starter and the sourdough starter discard. Here are a few samples...
Love this recipe? Please leave a 5-star ⭐️ rating in the recipe card below ⬇️ and/or a comment further down the page.
I'd love to hear from you! Stay in touch on Facebook, Instagram, Pinterest, and please tag me using the hashtag #scotchandsconesblog. You can also sign up for my mailing list. I can't wait to see your creations!
Recipe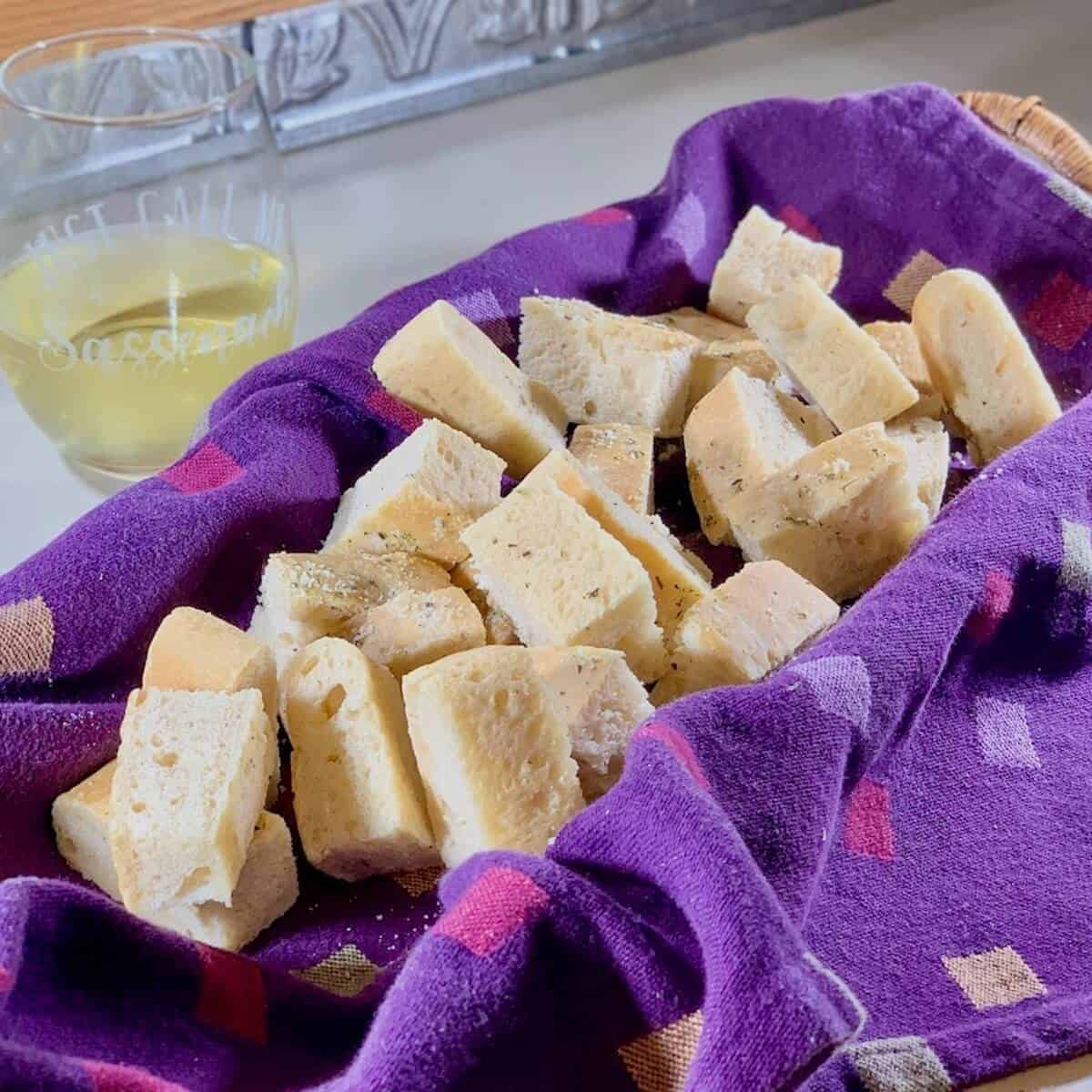 Sourdough Focaccia Bread with Rosemary
This flavorful, easy to make focaccia bread is at home at a casual supper or an elegant meal, and is a perfect way to use your weekly sourdough starter discard!


Ingredients
For the dough
1

cup

sourdough starter discard

,

unfed, at room temperature, see Recipe Notes

2¾

cups

all purpose flour

,

or more as needed

1

teaspoon

kosher salt

1

teaspoon

yeast,

instant or rapid rise, see Recipe Notes

½ to ⅔

cup

water

,

warmed between 100°F to 110°F, see Recipe Notes

1

Tablespoon

extra virgin olive oil
For the toppings
1

Tablespoon

fresh rosemary

,

finely chopped

1

teaspoon

kosher salt

,

or amount desired

extra virgin olive oil

,

as needed
Instructions
Measure the sourdough starter discard into the bowl of a stand mixer using a kitchen scale. Divide the measured amount in half…that is the amount of flour and water you already are using (that is, if your sourdough starter is 50/50 flour to water, like mine).

Measure in enough additional flour to the bowl so that the total amount (including the amount from the starter) is 15 oz (425g). See the Recipe Notes below if you don't have a kitchen scale handy. Add the salt and yeast.

Like with the flour, pour in enough warm water so the total amount is 8 oz (227g) (see the Recipe Notes about adding in the water). Finally add the 1 tablespoon extra virgin olive oil.

Have the dough combine on low speed for about a minute, then turn up the speed slightly and knead until the dough is smooth, about 5 minutes.

Shape the dough into a ball and place in a greased bowl. Cover and put in a warm place to rest until doubled (about 3 hours). The oven with just the light on works well.

If you're baking on the same day, proceed to the next step. Otherwise, refrigerate the dough, tightly covered in the bowl, until you're ready to bake (up to 3 days). Allow the dough to come to room temperature before continuing.

Finely chop the fresh rosemary with the salt, or prepare the toppings of your choice. See recipe notes for some other topping suggestions.

Lightly brush a medium baking stone with olive oil. Press the dough out into a rectangle. Cover with lightly greased plastic wrap and let rise in a warm place for 45 minutes. Towards the end of the rising time, heat the oven to 400°F.

Brush more olive oil on the top of the dough. Dimple the dough using 2 fingers, then sprinkle on your toppings.

Bake the focaccia for 25 to 30 minutes or until golden brown.

Remove the focaccia from the oven and transfer to a cooling rack. Allow to cool completely before slicing. Serve with olive oil for dipping if desired and enjoy!
Notes
Using fed sourdough starter can give you a better rise (depending on how vigorous your starter is), but using unfed sourdough starter discard works just fine. If you do use fed starter (and it's active and bubbly), you can omit the yeast, but the rising times can be longer.
If you use Active Dry yeast, then you might want to sprinkle yeast on to the warmed water with a teaspoon of sugar and allow it to sit for a few minutes before proceeding with the recipe. Letting it foam "proves" the yeast is active and ready to go to work.
If you don't have a kitchen scale, and you have 1 cup of sourdough starter, add in 2¾ cups flour and ½ cup water to start the dough.
I start with the lesser amount of water to account for the humidity of the day. If the dough is too dry, add in 1 tablespoon water as needed until the dough is the right consistency.
You can refrigerate the dough after the first rise in Step 5 overnight (up to 3 days) to develop more flavor. When you're ready to proceed, allow the dough to come to room temperature for an hour or two continuing on to Step 6.
Vary the toppings as desired…try roasted onions or garlic, sun-dried tomatoes, or olives. Just make sure you chop them into ¼-inch or smaller pieces (to ease in distribution and biting).
If you don't have access to a baking stone, a quarter sheet or half sheet baking pan will be fine. Just shape the dough as thin or thick as you'd like.
Your Notes
Nutrition
Serving:
1
piece
Calories:
67
kcal
Carbohydrates:
13
g
Protein:
2
g
Fat:
1
g
Saturated Fat:
1
g
Sodium:
195
mg
Potassium:
17
mg
Fiber:
1
g
Sugar:
1
g
Vitamin A:
2
IU
Calcium:
2
mg
Iron:
1
mg