My time- (and kid-) tested recipe for the best homemade challah is a favorite in my family, and a great way to teach science and math in the kitchen!
When it comes to baking, especially baking with kids, making bread is an ideal platform from which to ask questions. There is so much to see and do, so many ways to teach and learn!
Baking bread, science, and math
When I would help my preschool students make challah (egg bread) every Friday, we would talk about "waking up and feeding the yeasties" while preparing the dough. I'd talk about how yeast is actually a living organism that makes the bread rise.
I'd ask them questions like "how many 1/4 cups of water would go into 1 cup of water?" instilling in them the thought that math is something we use every day.
Learning to be careful when measuring out the ingredients taught them patience and control, as did stirring the ingredients carefully and watching how the dough takes shape in the bowl.
There's no end to the learning that can go on in the kitchen!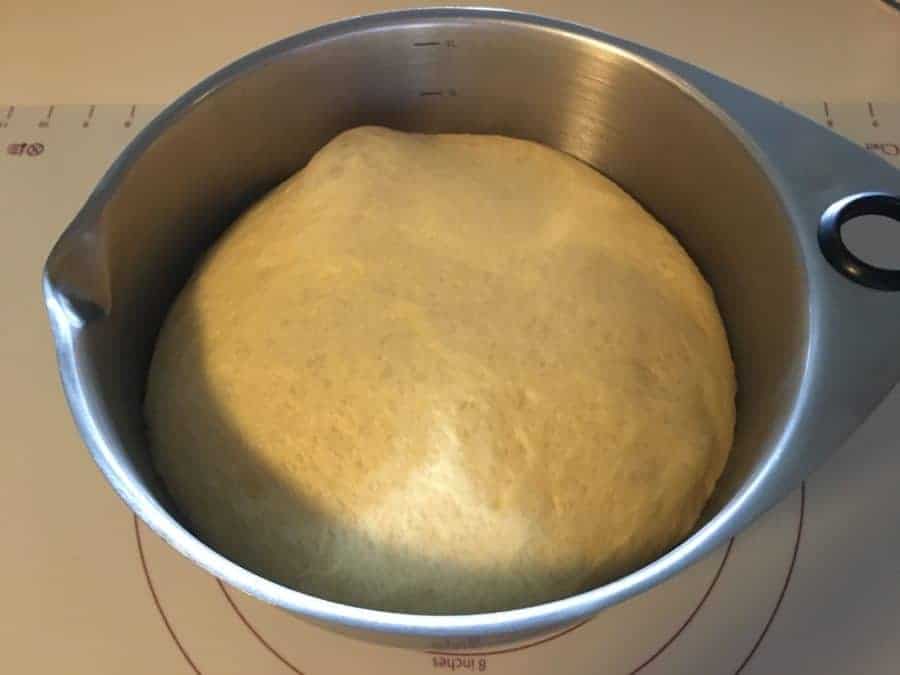 A time-tested, family-loved Challah recipe
I've made challah bread for many years, for many occasions, in a variety of shapes.
I've added chocolate chips or raisins to the dough, and have varied the toppings from the traditional sesame or poppy seeds to cinnamon sugar (the kids generally like that one!).
What follows is my time- (and kid-) tested recipe for making homemade challah. It's been called the Best Homemade Challah Ever. I won't argue with that!
What you need
As with most bread recipes, you don't need a lot of ingredients. The main difference is that challah dough is enriched with eggs.
Flour: Flour is the all important ingredients for bread (next to yeast, course). It provides the carbs for the yeast to feast on
Sugar: A little sweetness adds depth
Yeast: Make sure your yeast is fresh and active, otherwise you'll end up with a doorstop
Salt: Keeps the bread from tasting flat
Eggs: Adds richness and structure to the dough
Canola oil: Adds moisture without affecting the bread's flavor
Water: A basic ingredient that adds moisture to the bread
Toppings: Cinnamon sugar, sesame seeds, poppy seeds are all great choices
Challah can come in different shapes
Baking bread is a tactical, hands-on experience. Those 3- and 4-year olds loved the feel of mashing and smashing the dough into whatever shape they chose.
Traditionally, challah is braided. I have detailed instructions for how to shape challah for 3-, 4-, and 6-strand oblong braids and a 4-strand round challah.
Some of the preschoolers allowed me to teach them how to braid a 3-strand loaf, pretty enough for any bakery. Then we would brush their creation with egg wash and, for those that wanted, sprinkle a little cinnamon sugar on top.
A 3-strand braid is easiest, but you can find round challahs or other fancy shapes. I even have a very professional looking 6-strand braid (you can modify the 6-strand to a 4-strand using the same technique). It's not hard...have at it!
Yes, baking challah bread is a fun, educational experience.
Having a recipe for the best challah takes that rewarding experience up a notch. You'll have fun making it, and certainly enjoy eating it!
Nom, nom, nom...
Slainté! L'chaim! Cheers!
Tammy
Recipes for shaped bread
I love to bake shaped bread, especially using sourdough discard. Here are some shaped bread recipes to try.
And, if you sign up for my weekly notification (in the sidebar of this page), I'll send you a link for my Extra-tangy Sourdough Bread recipe! Such tangy goodness...I can't even.
📖 Recipe
The Best Homemade Challah
My time- (and kid-) tested recipe for the best homemade challah is a favorite in my family, and a great way to teach science and math in the kitchen!
Ingredients
Dough
3½

cups

bread flour or all purpose flour

,

plus more as needed (15 oz, 425g)

¼

cup

granulated sugar

,

(1-3/4 oz, 50g)

2

tsp

yeast

,

(1/4 oz, 9g)

1½

tsp

kosher salt

,

(1/3 oz, 9g)

2

large eggs

⅓

cup

canola oil

,

see Recipe notes (2-1/4 oz, 60g)

½-⅔

cup

water

,

warmed to 105-110ºF, see Recipe Notes (5 oz, 141g)
Toppings
1

large egg

,

for egg wash

cinnamon sugar, sesame seeds, poppy seeds

,

as desired
Procedure
Mix all the ingredients into the bowl of a stand mixer fitted with a dough hook or in a bread machine set to the manual cycle. Knead the dough for about 5 minutes (see Recipe Notes for manual kneading).

Place the dough in a covered, oiled bowl and let it rise 4 hours in a warm place (such as in the oven, turned off but with the light on) until it doubles in bulk. You can also let it rise in the refrigerator overnight. Let the dough come to room temperature if refrigerated (about an hour) before proceeding with the shaping.

Shape the dough however you'd like. Braiding is traditional...3-, 4-, and 6-strand braids are what you'll usually find, and sometimes you'll see round braided loaves (especially for Rosh Hashanah, the Jewish New Year).

Let the shaped dough rise for 45 minutes in a warm place (like that light-warmed oven). Towards the end of the rising time, preheat the oven to 350ºF. If you're letting your dough rise in the oven, remove it while the oven is heating.

Make the egg wash by combining 1 egg with 1 Tbsp of water in a small bowl, stirring well. Brush the dough all over the exposed surface with the egg wash, then sprinkle on any desired toppings, such as cinnamon sugar, sesame seeds, or poppy seeds.

Bake the dough for 25-35 minutes, rotating the pan front to back halfway through the baking time. When the loaf is golden brown and it sounds hollow when tapped on the bottom, remove it from the oven.

Remove the finished loaf from the baking sheet and cool on a wire rack. slice (or tear), serve, and enjoy!
Recipe Notes
Any vegetable oil can be substituted for the canola oil, or even melted butter if you don't mind it containing dairy. You could use olive oil if you had to, but that might affect the flavor a bit.
The amount of water will depend on the humidity of the day you're baking. Start with the lesser amount and add 1 Tbsp as needed if the dough looks dry.
If you don't have a stand mixer or bread machine, mix the ingredients in a large bowl using a wooden spoon until it's too stiff to stir, then turn out onto a floured surface and continue kneading until a smooth dough forms. Knead about 5 minutes more. If the dough seems too wet, add more flour, 1 Tbsp at a time, until the dough is slightly tacky.
Shaping challah: I have detailed instructions for how to shape challah for 3-, 4-, and 6-strand oblong braids and a 4-strand round challah. It's not hard...have at it!
Nutrition Facts
The Best Homemade Challah
Amount Per Serving (1 slice)
Calories 150
* Percent daily values are based on a 2,000 cal per day diet.
Did you make this recipe?
Please share your pictures with the world...mention @scotch_scones and tag #scotchandsconesblog on Instagram, Pinterest, or Twitter. I can't wait to see your creations!