This flavorful, easy to make pizza dough has a lovely tang from sourdough starter discard. It's so much better than store bought pizza dough!
Pizza Night is an event in our house.
With so many of my family members having...ahem...specific food preferences, making a pizza becomes a game of sections.
No tomato sauce here, no olives there, and definitely no fresh basil over there, Pizza Night is indeed quite individualistic.
One thing we all agree upon is the pizza dough. It's got to be soft, chewy, and flavorful. Me being me, it's going to be homemade pizza dough.
In other words, it's got to be Sourdough Pizza Dough.
Jump to:
Pizza dough is easier than you think
I try very hard not to waste my weekly unfed sourdough starter. So substituting sourdough starter discard in recipes is something I do frequently, for both sweet and savory items.
Sourdough discard pizza dough is not unlike my Sourdough Focaccia. In fact, they are the same dough. It's just how the dough is shaped, finished, and baked that's different.
And like with the focaccia, the pizza toppings are completely customizable to your tastes.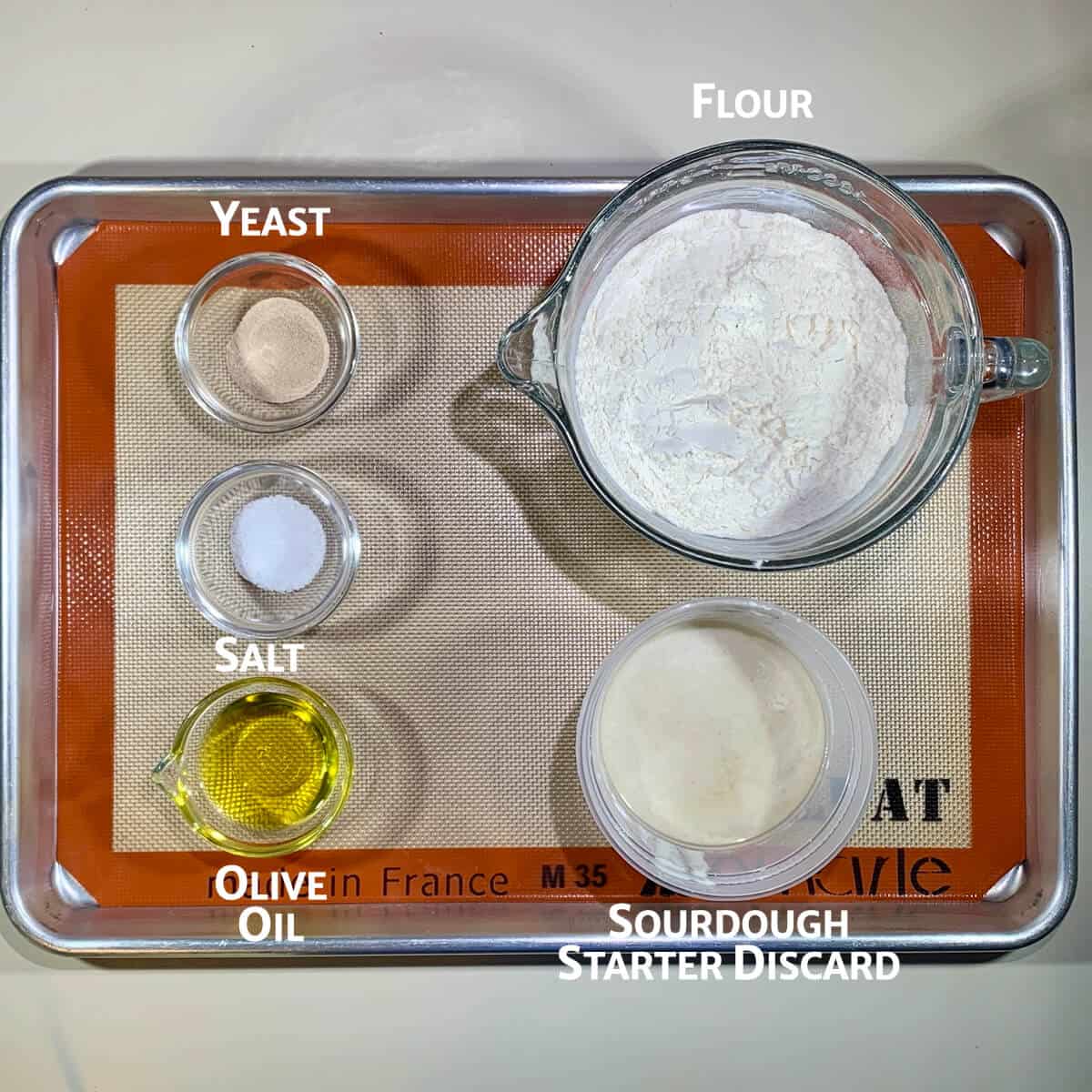 Making pizza dough takes very little effort
Making a sourdough pizza dough recipe involves very little hands on work.
All it takes is about 5 minutes to measure out your ingredients and another 5 to 10 to knead. That's all the prep work you have to do.
It's that simple.
After the dough is kneaded, it has to rest for the first rise. I use my KitchenAid Precise Heat Mixing Bowl to proof all my bread dough, but any warm, draft-free environment will work. An oven with just the light turned on is fine.
After the dough has doubled in size, it's ready to be shaped into pizza. You can either do that now, or you can put the dough in an oiled bowl in the refrigerator for up to 3 days.
The benefit of that cold rise is that the sourdough flavor really has a chance to develop that characteristic tang. So you can make your pizza dough in advance if you wish.
Ready to make a pizza
Once you have your sourdough pizza dough rested, it's time for shaping and toppings. Room temperature dough is easier to press out than cold, so let it sit out on the counter to warm if it's been in the refrigerator.
Let your oven preheat while you shape the dough. I put my large round pizza stone in the oven and let it heat along with the oven. That helps to give the base a chance to warm quickly, so you don't get a soggy crust.
Put the dough on a piece of parchment paper and start pressing it out with your hands into however large a circle you want. You can go thick or thin, your choice. I usually finish the circle with a pie pan roller to make sure it's even.
By the way, that whole tossing the dough in the air business? Yeah, I don't do that. I've watch that I Love Lucy episode too many times to risk dropping the dough.
You're welcome to try, though
As I said in the beginning, pizza toppings are so personal.
In this instance I'm making a white pizza with garlic powder, a spritz of olive oil, fresh mozzerella cheese, and cooked slices of Beyond Sausage. I top everything with a generous amount of shredded cheese.
I like to fold over the edge and crimp it down. It keeps any of the toppings from leaking out, and we like the thick crust to gnaw on. We call them pizza bones.
We're a funny bunch.
The only tricky step is when you transfer the pizza to the oven. I use cake lifters under the parchment paper, and carefully slide it onto the hot pizza stone. If you have a pizza peel, all the better.
Using pizza dough beyond pizza
You can use this sourdough pizza dough recipe for more than just pizza.
(Wait, what?!)
Besides pizza and a aforementioned focaccia, use this pizza dough recipe to make calzones or stromboli (essentially, stuffed pizzas). The method is the same, just the shaping is different.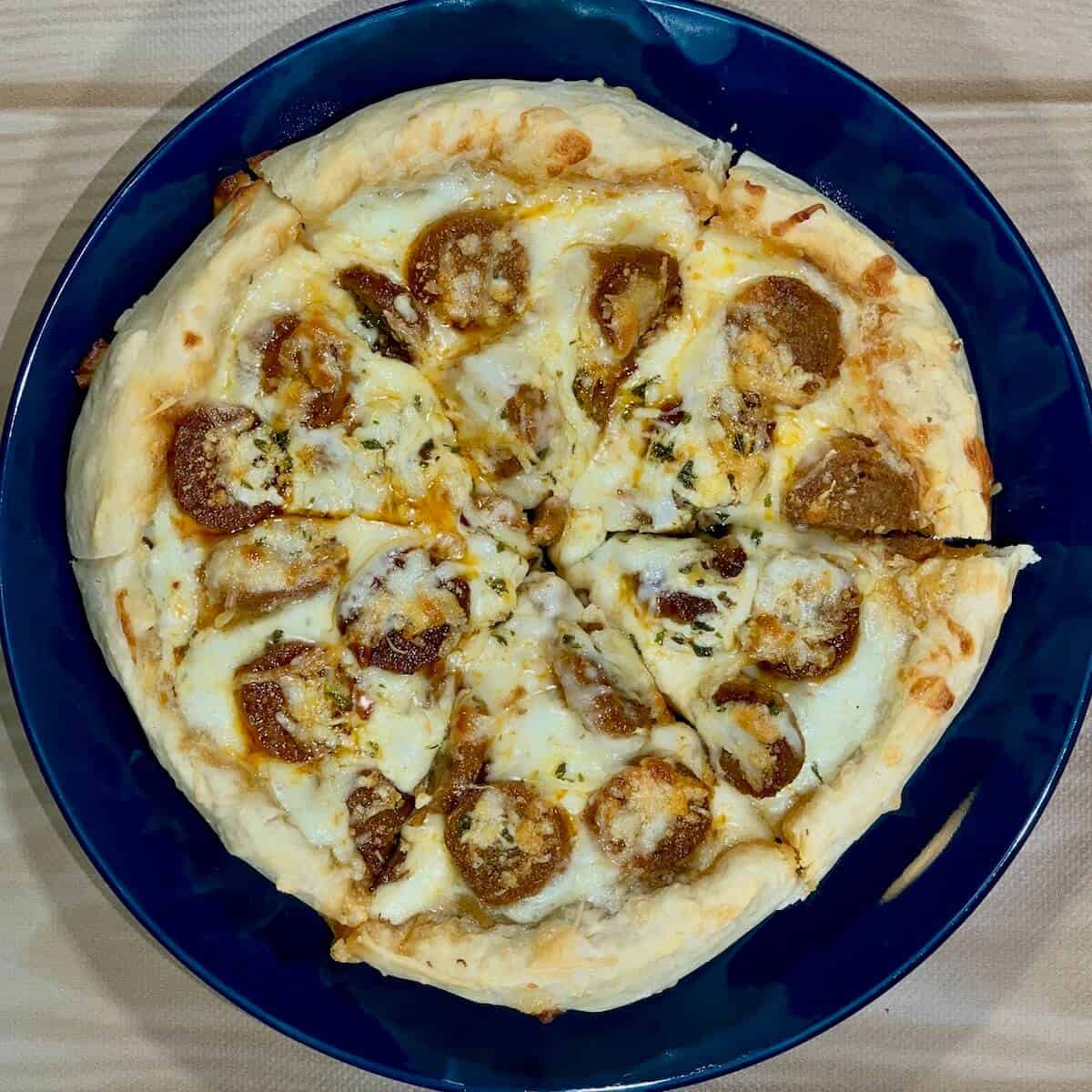 This sourdough pizza crust has a nice chewy texture, though not hard to tear with your teeth. And the flavor? A nice slight tang that supports, but doesn't detract from, the toppings.
Making sourdough pizza dough is my favorite way of using my weekly sourdough starter discard. It's fast, it's easy, and I can make the dough for later in the week.
The crust makes the pizza, and sourdough pizza dough makes a tangy crust you'll love. So skip the store bought stuff and make your own dough. It will be so much better, trust me.
Let Pizza Night begin!
Slainté! L'chaim! Cheers!
Tammy
Related Recipes
When you maintain a sourdough starter, you have a dilemma. What do you do with your unfed sourdough starter discard? I've got lots of suggestions for sweet and savory ways to use your fed sourdough starter and the sourdough starter discard. Here are a few samples...
Love this recipe? Please leave a 5-star ⭐️ rating in the recipe card below ⬇️ and/or a comment further down the page.
I'd love to hear from you! Stay in touch on Facebook, Instagram, Pinterest, and please tag me using the hashtag #scotchandsconesblog. You can also sign up for my mailing list. I can't wait to see your creations!
Recipe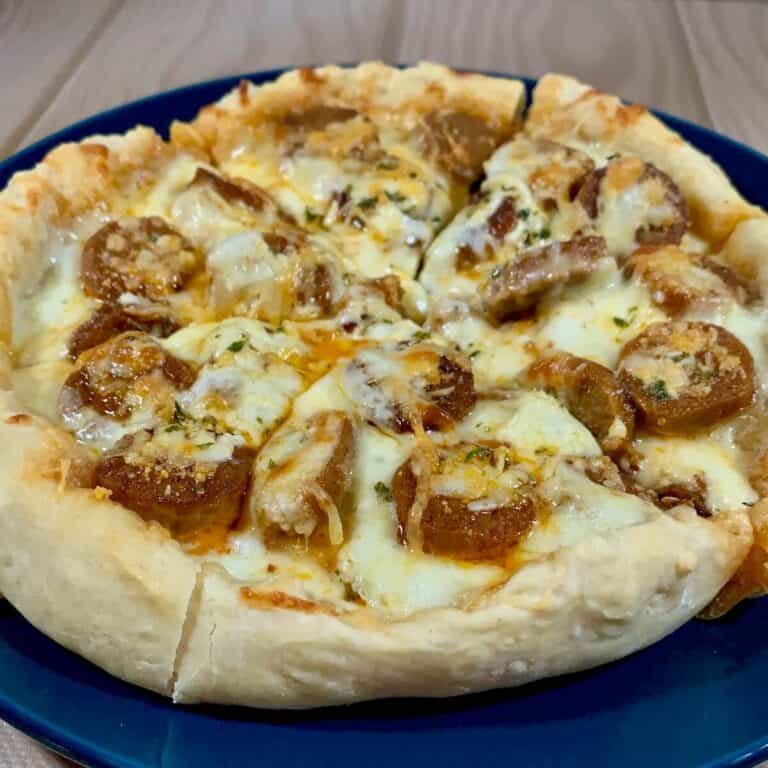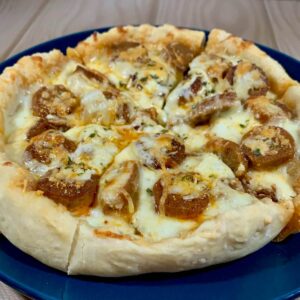 Tangy Sourdough Pizza Dough
This flavorful, easy to make pizza dough has a lovely tang from sourdough starter discard. It's so much better than store bought pizza dough!
Equipment
large round pizza stone

parchment paper

pizza cutter
Ingredients
1

cup

sourdough starter discard

,

unfed, at room temperature, see Recipe Notes

2¾

cups

all purpose flour

,

or more as needed

1

teaspoon

kosher salt

1

teaspoon

yeast,

instant or rapid rise, see Recipe Notes

½ to ⅔

cup

water

,

warmed between 100°F to 110°F, see Recipe Notes

1

Tablespoon

extra virgin olive oil

pizza toppings

,

as desired
Instructions
Make the dough: Measure the sourdough starter discard into the bowl of a stand mixer using a kitchen scale. Divide the measured amount in half…that is the amount of flour and water you already are using (that is, if your sourdough starter is 50/50 flour to water, like mine).

Measure in enough additional flour to the bowl so that the total amount (including the amount from the starter) is 15 oz (425g). See the Recipe Notes below if you don't have a kitchen scale handy. Add the salt and yeast.

Like with the flour, pour in enough warm water so the total amount is 8 oz (227g). See the Recipe Notes about adding in the water. Finally add the 1 tablespoon extra virgin olive oil.

Have the dough combine on low speed ("sift" on the KitchenAid mixer) for about a minute, then turn up the speed slightly (to "2") and knead until the dough is smooth, about 5 minutes.

Shape the dough into a ball and place in a greased bowl. Cover and put in a warm place to rest until doubled (about 3 hours). The oven with just the light on works well.

Make the pizza: Preheat the oven to 425°F. Place the baking stone in the oven and allow to heat. For best results, let the stone heat for an additional 10 to 15 minutes after the oven says it's ready just to insure there are no hot spots.

While the oven is heating, start to prepare the pizza. Lightly knead the dough on a piece of parchment paper, then start pressing out into a circle with your hands (you can use a pie pan roller to help). The size of the pizza will depend on how thick you like the pizza crust. I generally press it out to about ¼-inch thick.

Top the pizza as desired. For a finished edge, fold the crust over about 1-inch and crimp it down.

Using cake lifters or a pizza peel, carefully transfer the pizza to the hot baking stone.

Bake the pizza for 10 to 12 minutes or until the crust is light golden brown and the toppings are heated through.

Remove the pizza from the oven and transfer to a cutting board. Allow to cool for a couple of minutes, then use a pizza cutter to slice into eight slices. Serve immediately and enjoy!
Notes
Using fed sourdough starter can give you a better rise (depending on how vigorous your starter is), but using unfed sourdough starter discard works just fine. If you do use fed starter (and it's active and bubbly), you can omit the yeast, but the rising times can be longer.
If you use Active Dry yeast, then you might want to sprinkle yeast on to the warmed water with a teaspoon of sugar and allow it to sit for a few minutes before proceeding with the recipe. Letting it foam "proves" the yeast is active and ready to go to work.
If you don't have a kitchen scale, and you have 1 cup of sourdough starter, add in 2¾ cups flour and ½ cup water to start the dough.
I start with the lesser amount of water to account for the humidity of the day. If the dough is too dry, add in 1 tablespoon water as needed until the dough is the right consistency.
You can refrigerate the dough after the first rise in Step 5 overnight (up to 3 days) to develop more flavor. When you're ready to proceed, allow the dough to come to room temperature for an hour or two continuing on to Step 6.
If you don't have access to a baking stone, a quarter sheet or half sheet baking pan will be fine. Just shape the dough as thin or thick as you'd like. I'd still recommend allowing the pan to preheat while you prepare the pizza.
Pizza toppings are so varied, and they don't have to be the usual tomato sauce & cheese. Go with whatever suits you best!
Nutrition
Serving:
1
piece
Calories:
205
kcal
Carbohydrates:
39
g
Protein:
6
g
Fat:
2
g
Saturated Fat:
1
g
Sodium:
294
mg
Potassium:
60
mg
Fiber:
2
g
Sugar:
1
g
Calcium:
6
mg
Iron:
2
mg