A hearty brown bread sweetened with molasses, Colonial Bread is easy to make and is great for sandwiches or toast. Make a loaf today!
This post came about through a misunderstanding on my part.
I was leafing through my old recipe files looking for inspiration, and I came across a 3 x 5 index card for something called Colonial Bread.
Since I write a column on 18th & 20th century historical baking for OutlanderCast.com called How they made it, I thought I had found a recipe for bread baked in Colonial times.
Well, I was wrong.
Jump to:
A Southern bread staple
Looking at the recipe card I had uncovered, there's little evidence to show its origins, just a list of ingredients.
Considering this recipe contains molasses and cornmeal, two staples of baking in 1700s, I can be forgiven for thinking this recipe would be a modern version of a historical recipe.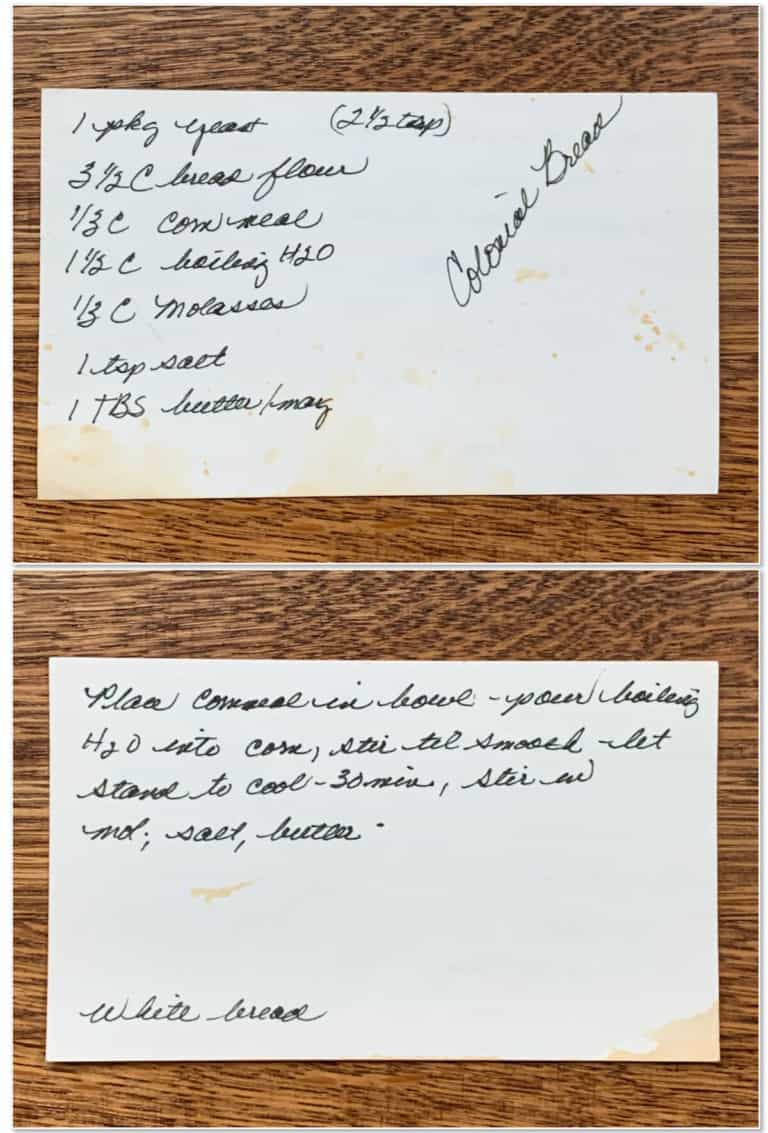 I searched the internet to see the history of Colonial Bread, and found the exact recipe on Savory Online. That should have been a tip off, but I just thought it had been a popular recipe.
Turns out, Colonial Bread was a beloved bakery brand that started in Oklahoma in the late 1920's, and quickly became a Southern staple for the rest of the 20th century. The company changed hands many times, but finally closed its doors in 2017.
Well, consider me educated.
Brown bread by any other name
You might call this a brown bread recipe because of it's...uhm...color.
Most of the time, brown bread refers to breads containing whole wheat flour. Here in New England, the name implies bread made with molasses.
Boy, I'm getting all kinds of educated today!
Cornmeal and butter are included along with flour, water, yeast, and salt.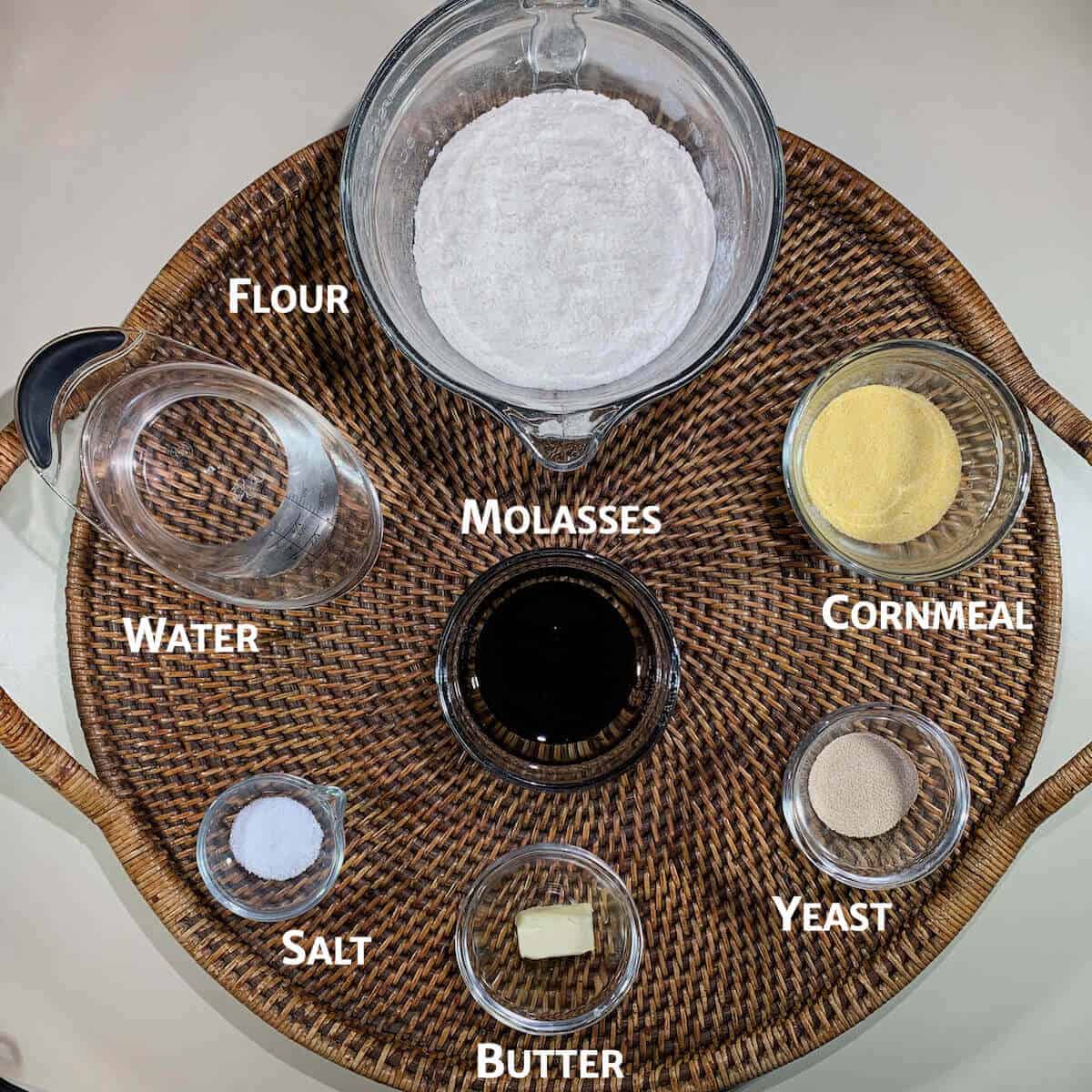 Baking with cornmeal and molasses
The inclusion of cornmeal and molasses adds a couple of extra steps to what is otherwise an easy brown bread recipe.
Mix cornmeal with boiling water to soften it up just a tad. Next, stir in the molasses, butter, and salt to ensure they're melted and uniform.
Allow this mixture to cool to between 100 to 110°F before adding the flour and yeast.
You don't want to kill off the yeast before it has done its job.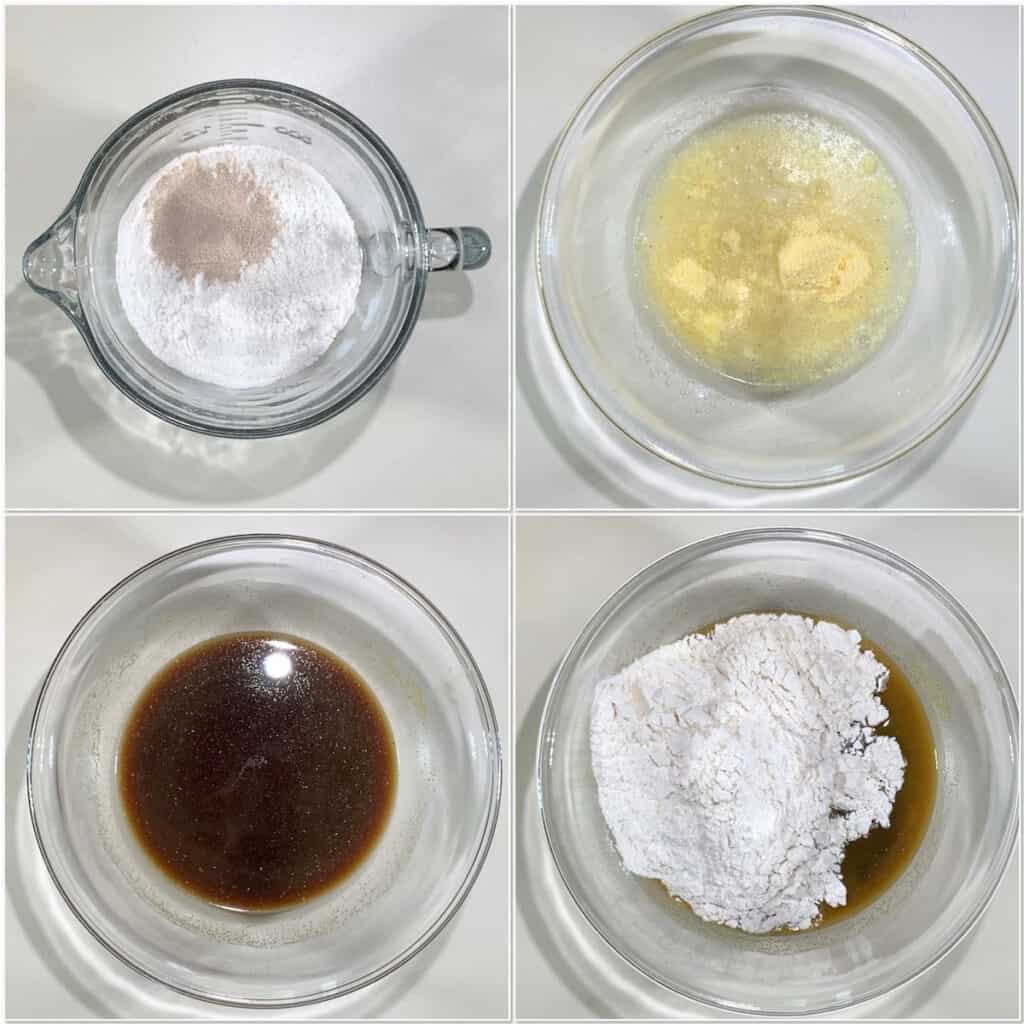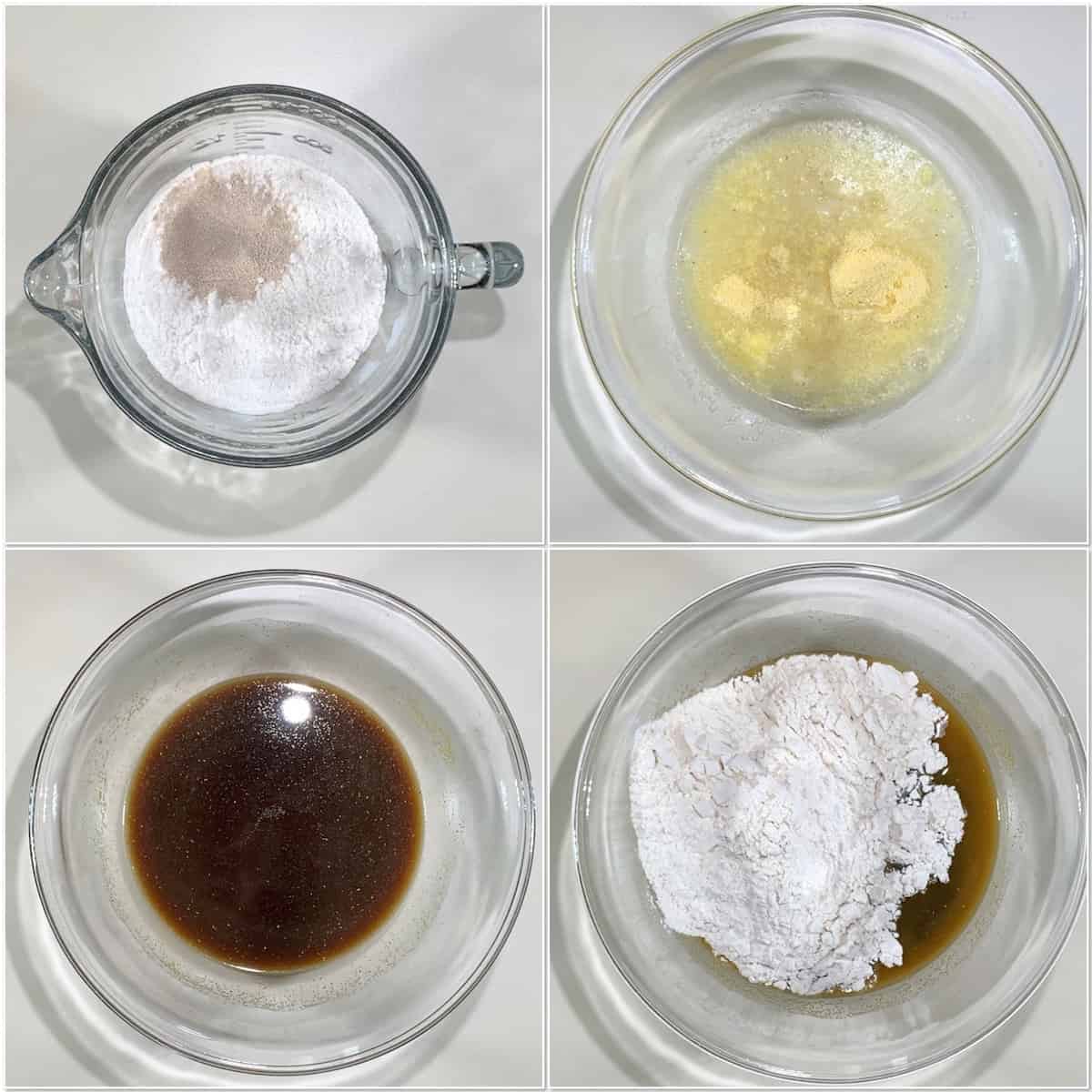 After mixing the dough in the bowl to create a shaggy dough, turn it out onto a floured surface. Knead in additional flour in 1 tablespoon increments until the dough is smooth and elastic.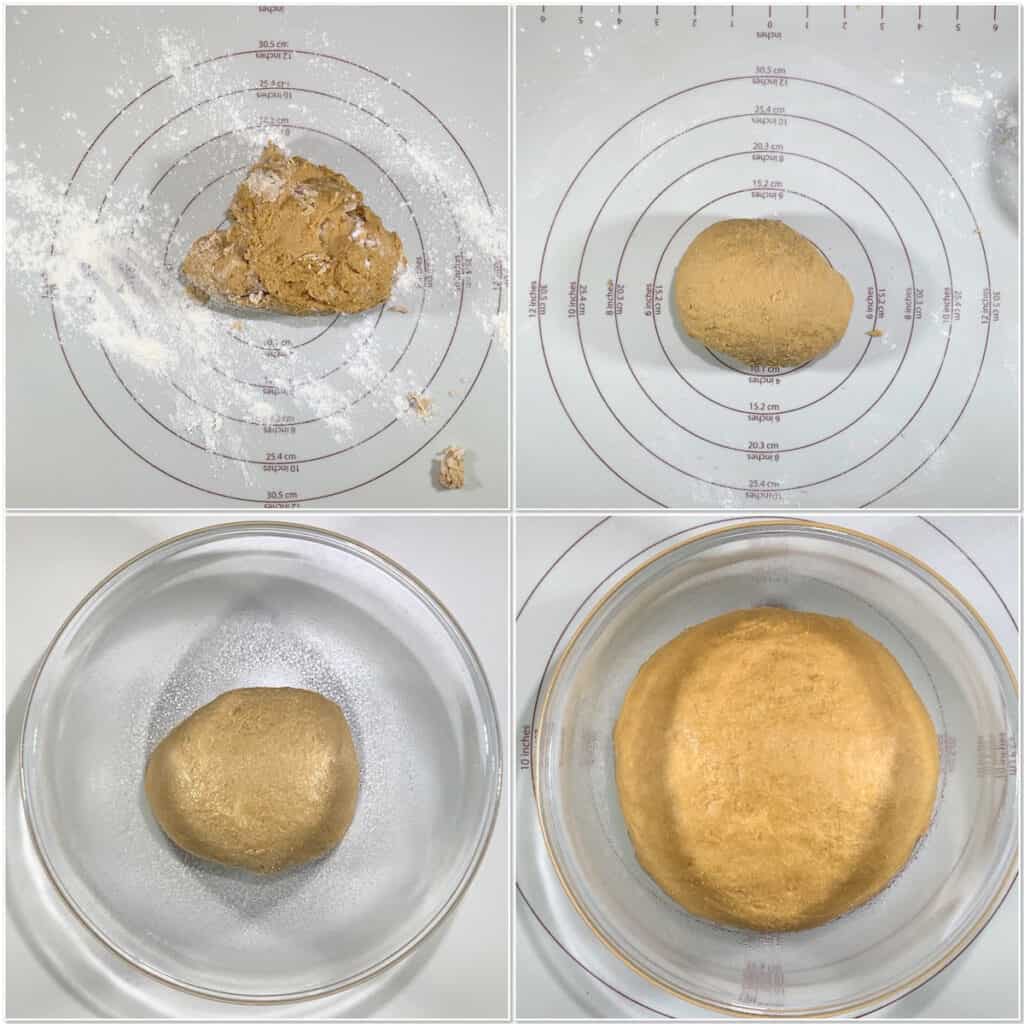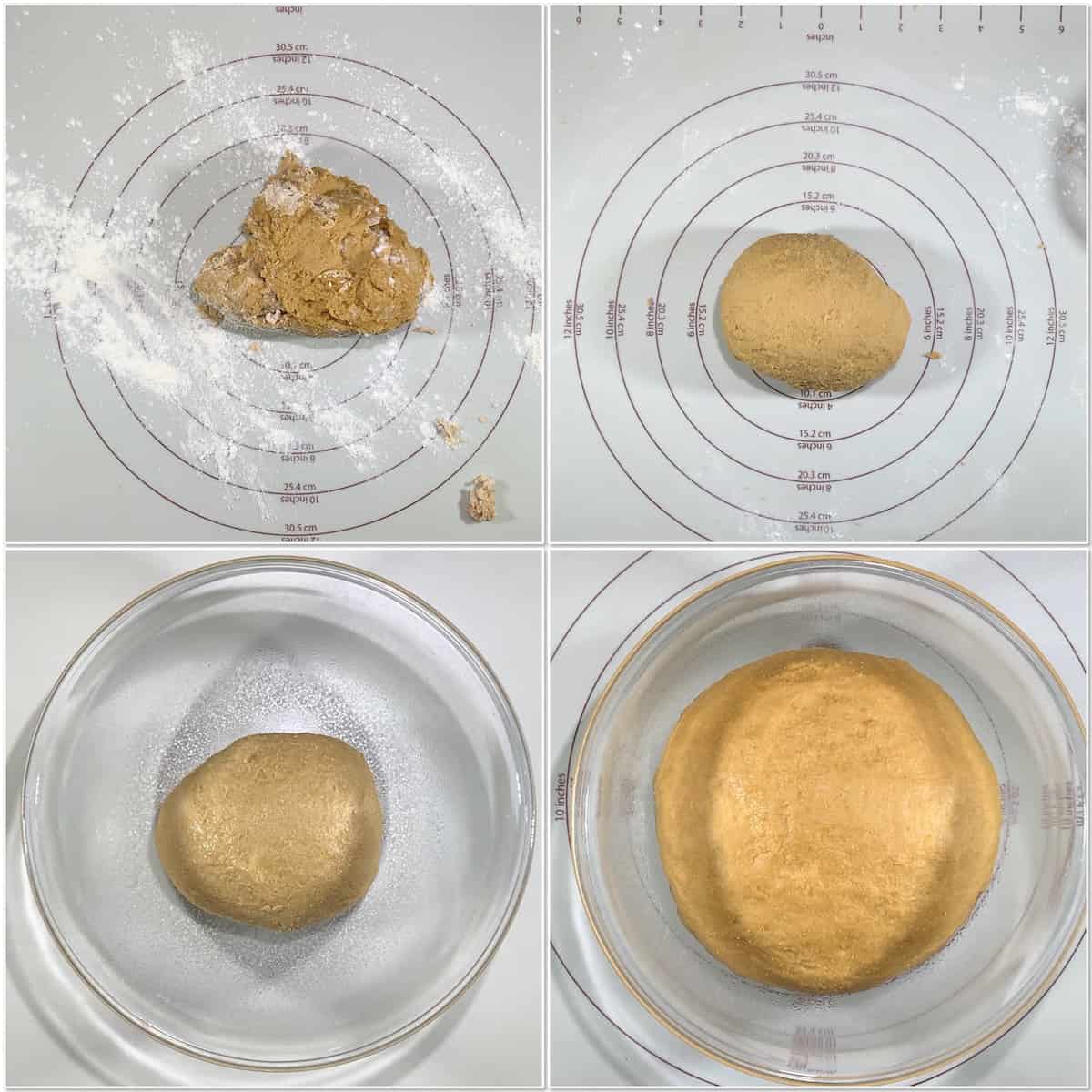 Different bread shaping techniques
Techniques for shaping bread dough into a loaf are many and varied. From shaping a babka to braiding challah, fancy loaves are fun to make.
But what about shaping a simple loaf of bread?
The idea is to create a tight outer shell that the yeast can push against so the bread rises. The denser the dough, the harder the yeast has to work.
Ciabatta dough is nice and soft, so large air bubbles form. A dense whole wheat bread puts the yeast through its paces, and the structure is tighter.
Colonial Bread is made with bread flour which creates a strong gluten network. Plus, molasses provides a lot of sugar for the yeast to convert to carbon dioxide, making those important air bubbles.
I found this technique on King Arthur Baking's Bread 101 shaping video. This is different from the way I shaped my Multigrain Sourdough Sandwich Bread recipe.
Pat the dough into a rough oval. Fold the top third down and seal it by pressing with the heel of your hand. Turn the dough around and repeat the process. Next, fold the dough over and seal the bottom, again pressing with your hand.
Place the dough, seal side down, into a standard loaf pan sprayed with canola oil spray.
With a flattened hand, press down on top of the dough. This will evenly distribute the dough in the pan so when it rises it will have a nice, smooth shape.
Because this brown bread recipe makes a small loaf, it may not fill the pan completely, nor will it rise over the top of the pan.
You can double all the ingredients to make a fuller, taller bread loaf.
Warm homemade bread anytime
Having never tasted the original Colonial Bread, I can't comment on how closely this recipe comes. However, I can tell you that it's easy and delicious!
The molasses not only colors the bread, but also adds a level of sweetness that's pleasant, not cloying.
The cornmeal adds a hint of crunch (but just a hint!) that adds some complexity to the bread's texture.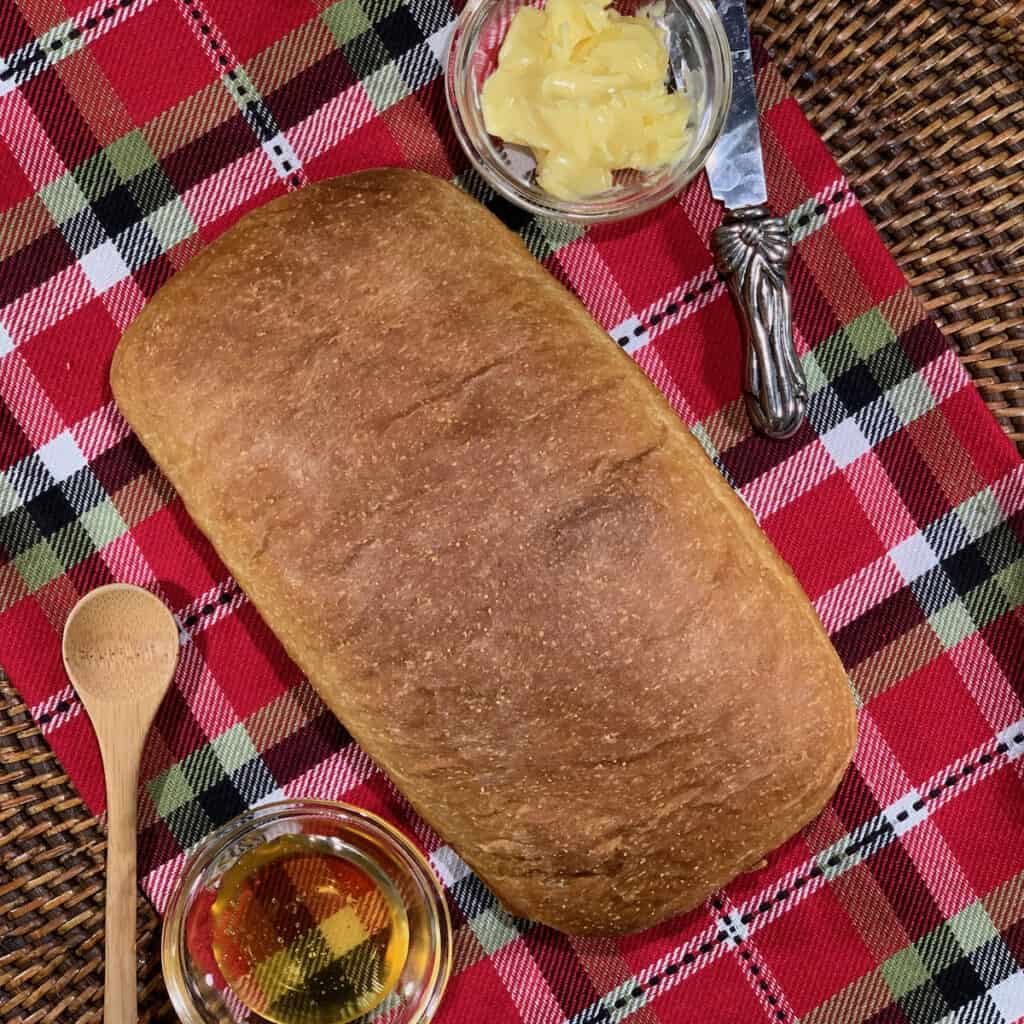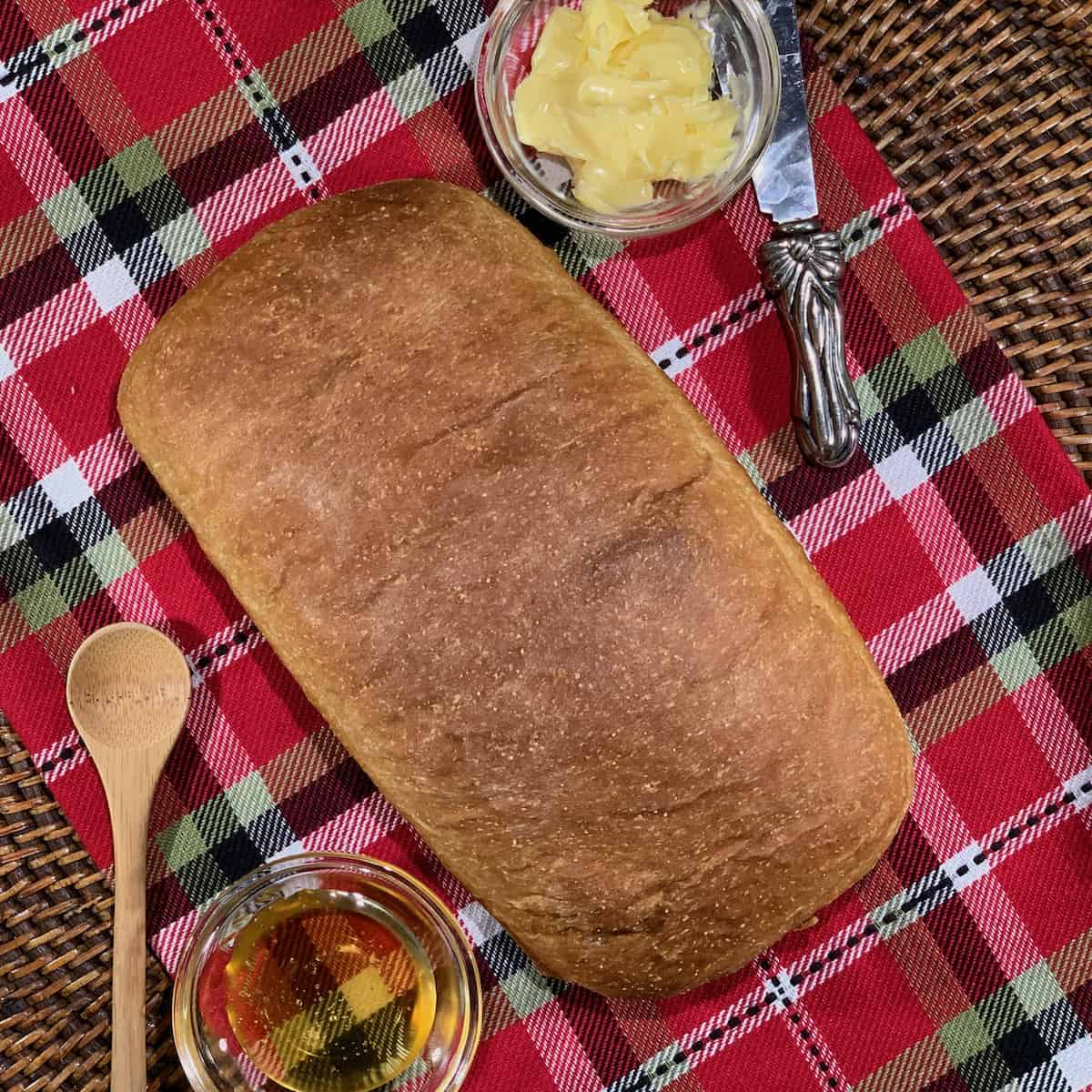 Toasted and spread with salted butter and a touch of honey, this bread makes a wonderful breakfast or afternoon snack.
It's also great for sandwiches, like turkey or peanut butter and jelly.
Having a warm loaf of homemade brown bread is easy and so rewarding.
It'll become a tradition, to be sure!
Slainté! L'chaim! Cheers!
Tammy
Related Recipes
I love to bake shaped bread, especially using sourdough starter discard. Here are some shaped bread recipes to try...
Love this recipe? Please leave a 5-star ⭐️ rating in the recipe card below ⬇️ and/or a comment further down the page.
I'd love to hear from you! Stay in touch on Facebook, Instagram, Pinterest, and please tag me using the hashtag #scotchandsconesblog. You can also sign up for my mailing list. I can't wait to see your creations!
Recipe
Colonial Bread (easy brown bread)
A hearty brown bread sweetened with molasses, Colonial Bread is easy to make and is great for sandwiches or toast. Make a loaf today!
Adapted from Savory Online
Ingredients
1¾

cups

bread flour

,

plus more for kneading

1½

teaspoons

yeast,

instant or Active Dry

3

Tablespoons

cornmeal

¾

cup

water

,

boiling

3

Tablespoons

molasses

1½

teaspoons

unsalted butter

,

at room temperature

½

teaspoon

kosher salt
Instructions
In a small bowl, whisk the flour and yeast together.

In a medium bowl, place cornmeal into a bowl and carefully pour in boiling water, stirring to make sure mixture is smooth. Stir in the molasses, butter, and salt. Let the mixture cool down until it's between 100 to 110°F. This shouldn't take long.

Add the flour mixture to the bowl. Stir with a wooden spoon until the mixture forms a shaggy dough. Transfer to a lightly floured surface and knead until the dough is elastic and no longer sticky, adding more flour as needed.

Transfer the dough to a bowl lightly sprayed with canola oil spray, cover, and place in a warm place to rise, about 60 to 90 minutes.

Place the dough on a lightly floured surface and lightly knead for a few minutes.

To shape into a loaf, pat the dough into a rough oval slightly less than the length of the loaf pan. Fold the top third over (like a letter), and use the heel of your hand to seal the seam. Turn the dough around and repeat with the other side. Fold the dough in half, and press the seam again, pressing it down onto the work surface.

Spray a standard loaf pan with canola oil spray, then transfer the dough to the pan. With a flattened hand, press down on top of the dough. This will evenly distribute the dough in the pan so when it rises it will have a nice, smooth shape.

Cover the pan, and place back in warm place until it rises again, about 30 to 45 minutes. You'll know if it's been proofed enough if the dough has mounded.

While the dough is rising, preheat the oven to 350ºF. Adjust the rack so the bread will bake in the center of the oven.

Uncover the dough and bake for about 30 to 35 minutes or until it's brown. The bread will sound hollow when tapped on the bottom, and should read at least 190ºF at its center when checked with a digital thermometer.

Turn the bread out onto a cooling rack and allow to cool to room temperature, about 30 minutes. Slice and enjoy!
Notes
If the bread has risen too much in the pan, it will deflate while baking. To combat this over-proofing, take the bread out, reshape, and allow to rise again keeping watch this time. 
Don't wait to pre-heat the oven after the dough has risen because waiting for the oven to warm can cause the dough to over-proof.
A 350ºF oven will give this bread a softer crust. If you want a firmer crust, bake at 375ºF and check after 35 minutes to see if it's done.
Your Notes
Nutrition
Serving:
1
slice
Calories:
72
kcal
Carbohydrates:
14
g
Protein:
2
g
Fat:
1
g
Saturated Fat:
1
g
Cholesterol:
1
mg
Sodium:
75
mg
Potassium:
78
mg
Fiber:
1
g
Sugar:
3
g
Vitamin A:
12
IU
Calcium:
10
mg
Iron:
1
mg