Homemade sourdough pretzels are easy, & are soft & chewy with just a hint of sourdough tang. It's a great way to use unfed sourdough starter!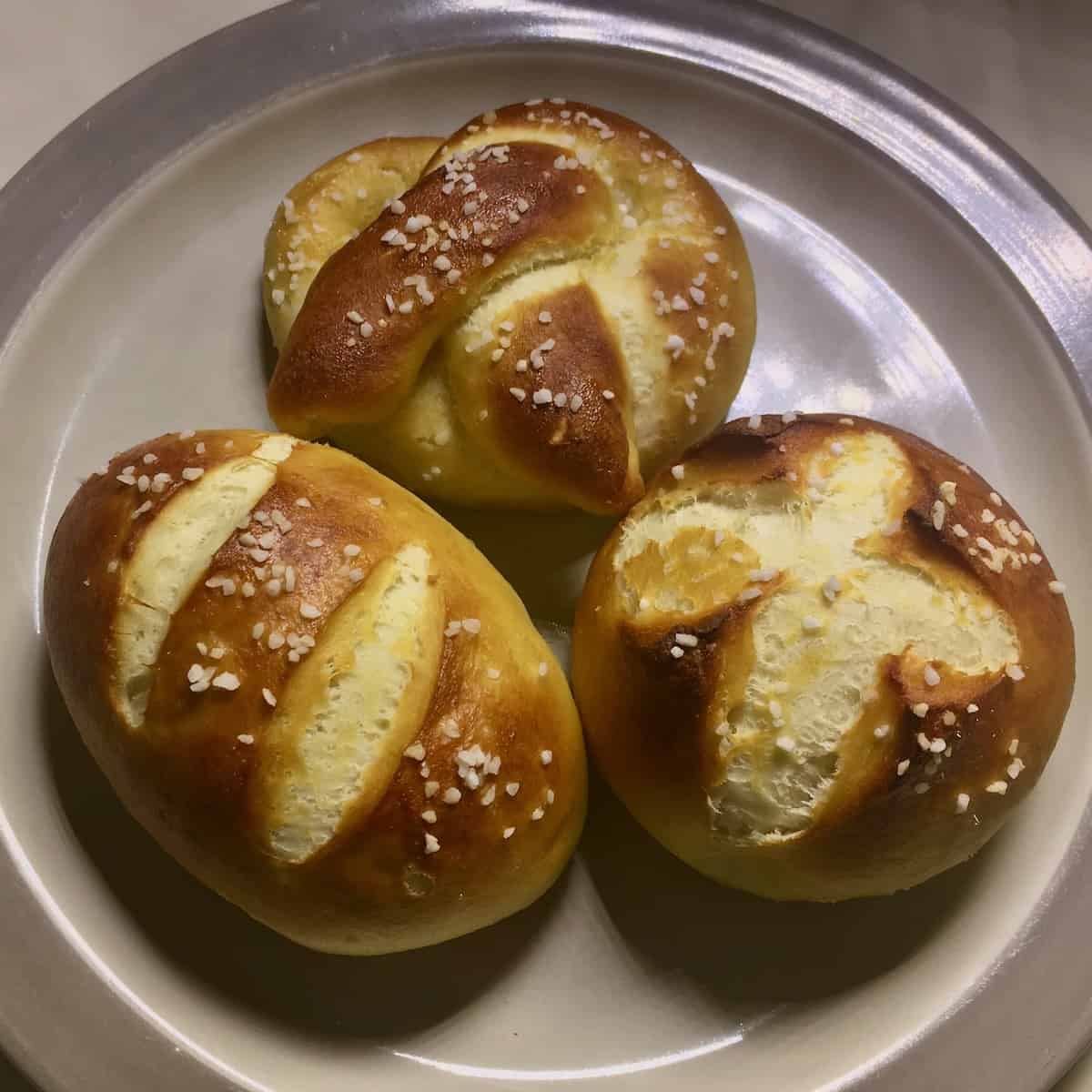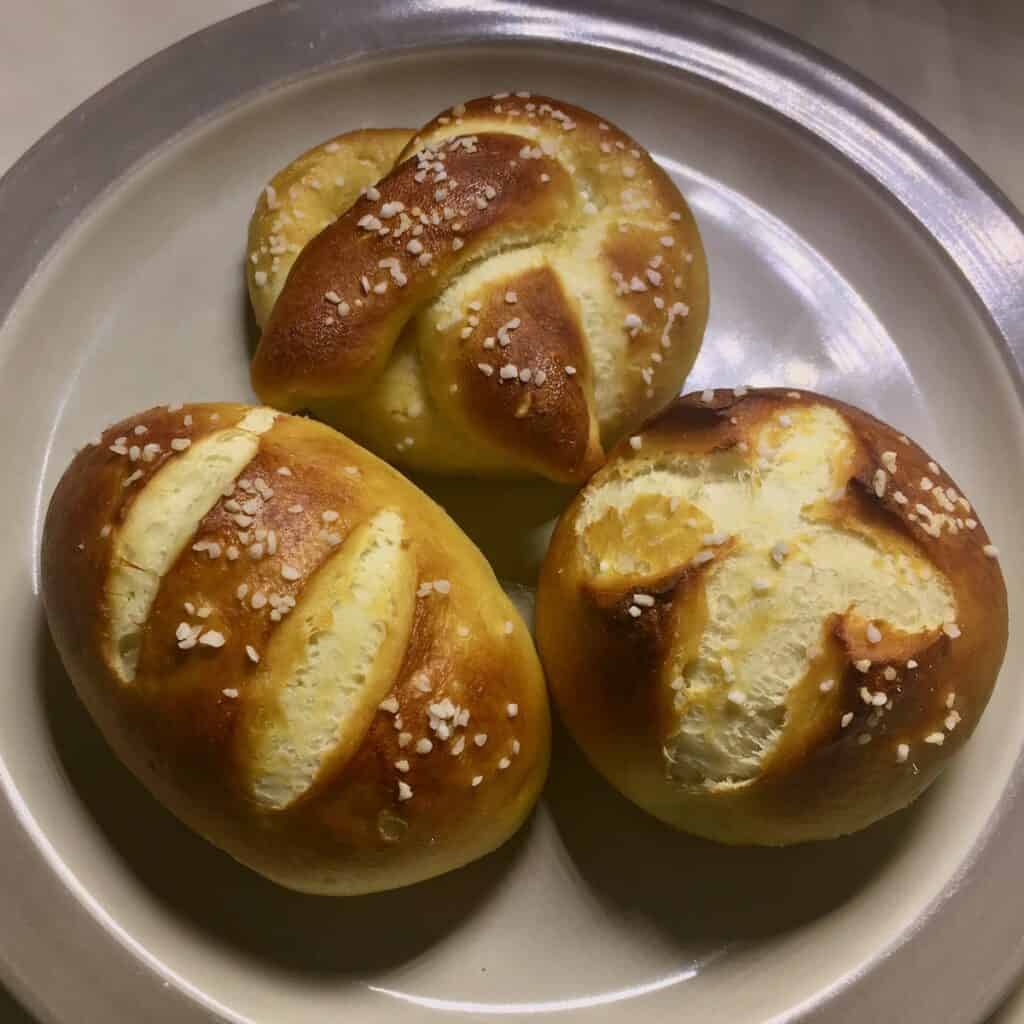 Baking with sourdough starter
In my never-ending quest to make my family's diet less about commercial processed foods and more about wholesome ingredients, I make sourdough bread, without commercial yeast.
Yup, you read that right.
I received the sourdough starter (descended from a batch more than a century old) for Mother's Day, 2016, and after trial (and lots of errors), I'm now pretty good at making an Extra-Tangy Sourdough Bread. There's a catch, though...
Sourdough starter is basically flour and water and a colony of wild yeast that needs to be fed, nurtured, cuddled, sung lullabies…you know, babied (ok maybe not quite that last bit...much).
To feed sourdough starter, each week you first have to take out some (known as unfed sourdough starter or discard) before adding more flour and water to the crock.
If you don't discard some, you'll eventually have "the starter that ate Cincinnati" as the crock overflows (especially if, like me, you don't bake bread every day).
I hate to waste anything, so I have to figure out how to use that unfed sourdough starter every week.
[Side note: if you're interested in how sourdough starter turns into sourdough bread, sign up for my newsletter below and I'll send you the recipe. It's ok, I'll wait for you...(humming quietly, if a bit off-key)...]
Jump to:
Finding ways to use sourdough starter discard
Great, you're back! So, back to the sourdough starter discard.
If I take out a cup of unfed starter each week, that's 8 oz of sourdough discard, or 4 oz of flour and 4 oz of water. All I have to do is find a recipe that uses at least that much flour and water, replace those amounts in the recipe, and bake it.
Savory uses are obvious like rosemary focaccia, bannocks, bagels, English muffins, and dinner rolls. There are sweet uses, too...spice bread, coffee cake, and gingerbread cake.
If the dominant flavor is strong enough, the mild sourness is covered up.
How to make sourdough pretzels
One day I was at home with my starter (we're very close), and I came across a recipe for homemade Sourdough Pretzels on King Arthur Flour. Since it called for unfed starter discard, I knew I had to try it.
I adapted the recipe for what ingredients I had on hand and some differences in method. Homemade pretzels, fresh, warm from the oven…mmmmmm…(wiping away drool)…away we go!
The first step is to make the bread dough. Just mix all the ingredients together and knead until you get a smooth, elastic, and slightly sticky dough.
Shaping pretzels
You can shape your pretzels any way you'd like.
You can go for a pretzel knot, pretzel braided (like challah), or even make sourdough pretzel sandwich rolls or sourdough pretzel hamburger buns (using about 2-½ to 3-½ oz or 70 to 100g of dough). Get creative!
Then there's the traditional twist-and-flip pretzel shape. Just roll into a snake, loop the ends around each other twice, and flip the ends over. Ta-da!
Finish with a garnish
Brushing pretzels with butter is optional, but who are we kidding...of course I finished my pretzels with butter!
Sprinkling on coarse salt is also optional. For twisted pretzels, I do use salt, but not so much with sandwich rolls.
Homemade sourdough pretzels are mind-blowingly good...chewy on the outside, soft on the inside, with just of hint of sourness to add interest. Served with a little brown mustard on the side, these bits of pretzel goodness are the perfect afternoon snack.
Amid all the choices I have for using my weekly sourdough starter discard, sourdough pretzels is one that is definitely repeated!
Slainté! L'chaim! Cheers!
Tammy
Recipes using sourdough starter discard
When you maintain a sourdough starter, you have a dilemma. What do you do with your unfed sourdough starter discard? I've got lots of suggestions for sweet and savory ways to use your fed sourdough starter and the sourdough starter discard. Here are a few samples...
Sourdough Starter Maintenance
Here's all you need to know about feeding your sourdough starter. Whether you're new to sourdough or just need a refresher, this is the place to start!
Recipe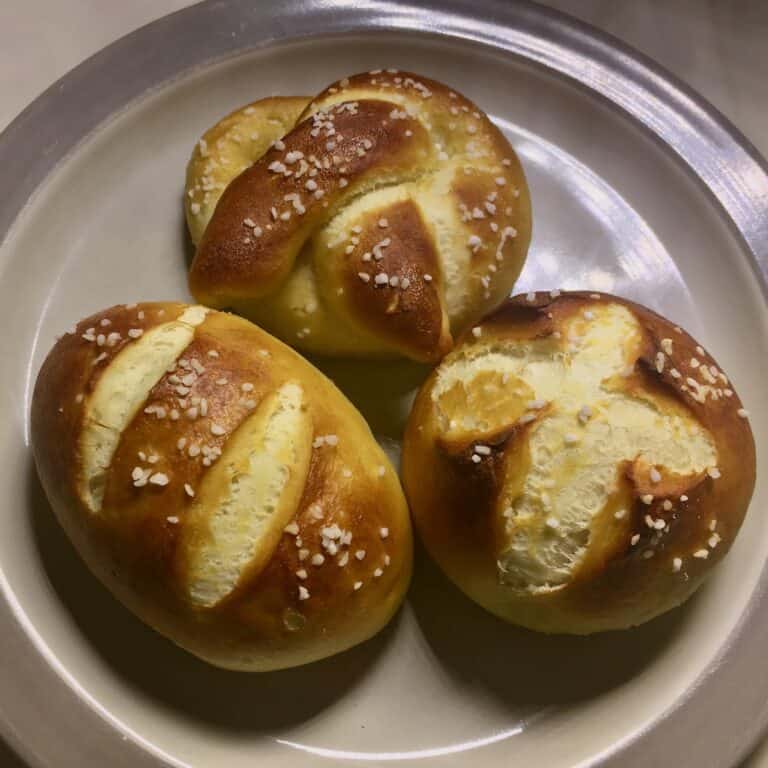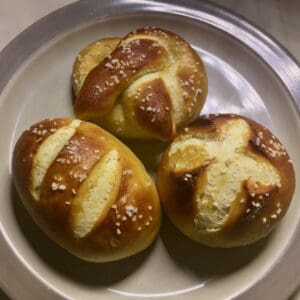 The Best Homemade Sourdough Pretzels
Homemade sourdough pretzels are easy to make...soft and chewy with just a hint of sourdough tang. Shape them into the traditional twists, or as hamburger buns & sandwich rolls. They're a great way to use unfed sourdough starter!
Adapted from King Arthur Flour
Ingredients
For the dough
3

cups

all-purpose flour

,

or more as needed, see Recipe Notes

1

cup

sourdough starter discard

,

unfed, at room temperature, see Recipe Notes

¾

cup

water

,

warmed between 100°F to 110°F, see Recipe Notes

¼

cup

nonfat dry milk

,

see Recipe Notes

1

Tbsp

granulated sugar

,

or brown sugar

1

Tbsp

unsalted butter

,

melted and cooled, or vegetable oil

2

tsp 

yeast,

instant or rapid rise, see Recipe Notes

1

tsp

kosher salt
For the water bath
9

cups

water

¼

cup

baking soda
For the toppings
1

large egg white

,

plus 1 Tbsp water, for egg wash (optional)

pretzel salt

,

or coarse Kosher salt (optional)

2

Tbsp

unsalted butter

,

melted, optional

prepared mustard

,

brown or yellow, for dipping (optional)
Instructions
Make the dough: Using a stand mixer fitted with a dough hook attachment (or a bread machine on the Manual setting), mix and knead the dough ingredients to make a cohesive, fairly smooth dough. It should be slightly sticky. Add in additional flour or water in one tablespoon increments to get the dough to the right texture.

Cover the dough and let it rest for 45 minutes (it won't rise much). Towards the end of the rising time, preheat the oven to 400°F.

Turn the dough out onto a lightly greased work surface, fold it over a few times to gently deflate it.

For a traditional pretzel shape: Divide the dough into 10 to 12 pieces, each weighing about 2½ to 3½ oz (70 to 100g). Roll each piece of dough into an 18-inch rope. Loop the ends around each other twice, then flip the ends over.

For hamburger buns: Divide the dough into 8 to 10 pieces, each weighing about 3 to 3½ oz (85 to 100g). Roll each piece of dough into a ball, then flatten each ball into a disk about 3- to 3½-inches in diameter.

For sandrich rolls: Divide the dough into 6 to 8 pieces, each weighing about 3½ to 4½ oz (100 to 135g). Roll each piece of dough into a ball, then flatten, fold, and roll each ball into a log.

Boil the pretzels: Dissolve the baking soda in the water and bring to a boil. Boil the pretzels in the baking soda bath for 20 to 30 seconds per side, drain them on a paper towel, and put them on a half sheet baking pan lined with a Silpat silicone mat or parchment paper.

Optional egg wash and topping: Before baking, brush the boiled pretzels with an egg white mixed with 1 tablespoon of water to give them a glossy shine. Sprinkle them with salt, if desired.

Bake the pretzels for 12 to 15 minutes (20 minutes for hamburger buns or sandwich rolls), until they're a light golden brown. Note: This is correct; there's no need to let the shaped pretzels rise before baking.

Remove the pretzels from the oven, and brush with melted butter (optional, but who am I trying to kid…of course I brushed the freshly baked pretzels with melted butter!).

Serve with brown or yellow mustard for dipping (if desired), or use for your favorite burguer or sandwich. Enjoy!
Notes
Using fed sourdough starter can give you a better rise (depending on how vigorous your starter is), but using unfed sourdough starter discard works just fine. If you do use fed starter (and it's active and bubbly), you can omit the yeast, but the rising times can be longer.
If you use Active Dry yeast, then you might want to sprinkle yeast on to the warmed water with a teaspoon of sugar and allow it to sit for a few minutes before proceeding with the recipe. Letting it foam "proves" the yeast is active and ready to go to work.
The amount of flour or water in your dough will depend on the humidity of your kitchen and the hydration of your starter. As you mix your dough, you might need to add more flour or water in one tablespoon increments to get the dough to the right consistency.
Instead of nonfat dry milk, you can substitute ¾ cup (6 oz, 170g) of fresh milk, scalded and cooled, and omit the water.
Nutrition
Serving:
1
pretzel
Calories:
159
kcal
Carbohydrates:
31
g
Protein:
5
g
Fat:
1
g
Saturated Fat:
1
g
Cholesterol:
3
mg
Sodium:
214
mg
Potassium:
93
mg
Fiber:
1
g
Sugar:
2
g
Vitamin A:
88
IU
Vitamin C:
1
mg
Calcium:
38
mg
Iron:
1
mg