Sourdough Gingerbread is a rich cake reminiscent of days gone by. Plus, no one will guess you used sourdough starter discard (unless you tell them!)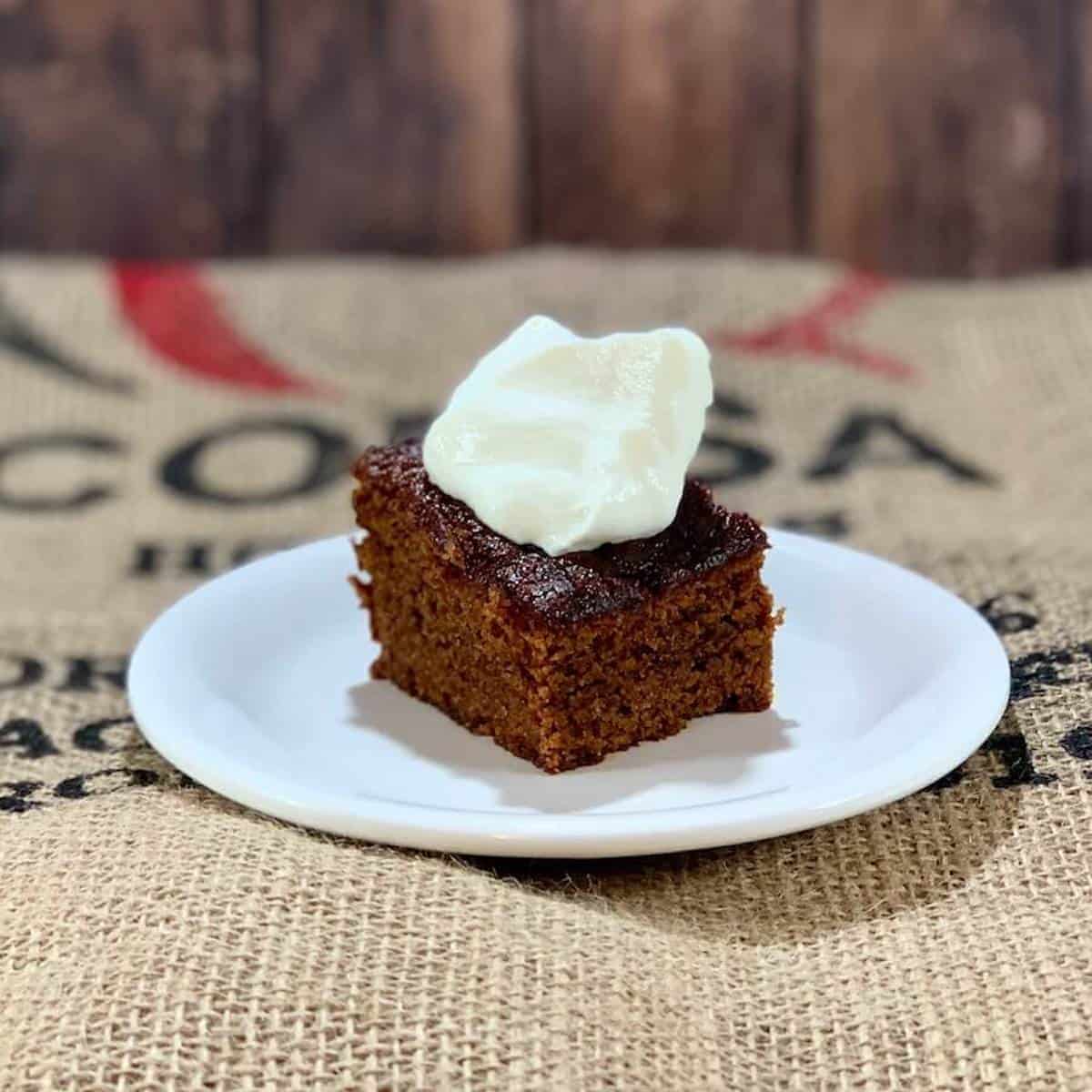 Rich gingerbread with a secret
I've been trying for years to recreate old fashioned gingerbread that mimics one I had many years ago, and I think I've finally got it. Even better, in my never-ending search for recipes in which to use my sourdough starter discard, it can be used in this recipe without detection.
Yup, I now make Sourdough Gingerbread.
(Wait, what?)
Jump to:
Sourdough items can be sweet
You know I've used my weekly sourdough starter in bagels, pretzels, and English muffins, but what about sweets items? Well, as long as the baked good you're making has a strong enough flavor, unfed sourdough starter can be substituted into a sweet recipe successfully.
While I wouldn't use sourdough starter discard in vanilla cupcakes, I've used it to make Sourdough Pumpkin Cake, Sourdough Spice Cake, Sourdough Crumb Cake, and Sourdough Chocolate Cake. Imagine the possibilities!
How to adapt a recipe for sourdough starter discard
My discard has a 50/50 ratio of flour to water. So, to substitute in 1 cup (8 oz, 227g) of starter (a convenient amount as that's my weekly discard), I remove 1 cup (4 oz, 113g) of flour and ½ cup (4 oz, 113g) water from the recipe amounts.
There is a slight tang, but again, for strongly flavored items it's not a problem.
I adapted this Sourdough Gingerbread recipe from Epicurious' Old-Fashioned Gingerbread with Molasses Whipped Cream. This recipe, like most quick breads, comes together quickly and can be made in different forms...as a cake, loaf, or even muffins.
What you need
The major flavor in gingerbread is...molasses.
Ha, I bet you thought I was going to say ginger! Well, you're not wrong. Ginger and other baking spices are present and help to give gingerbread its distinctive flavor.
Like with Molasses cookies or Shoofly Pie, it's the molasses that provides its big flavor to this quick bread recipe. Use a mild-flavored (light), not blackstrap variety . The flavor is bold enough.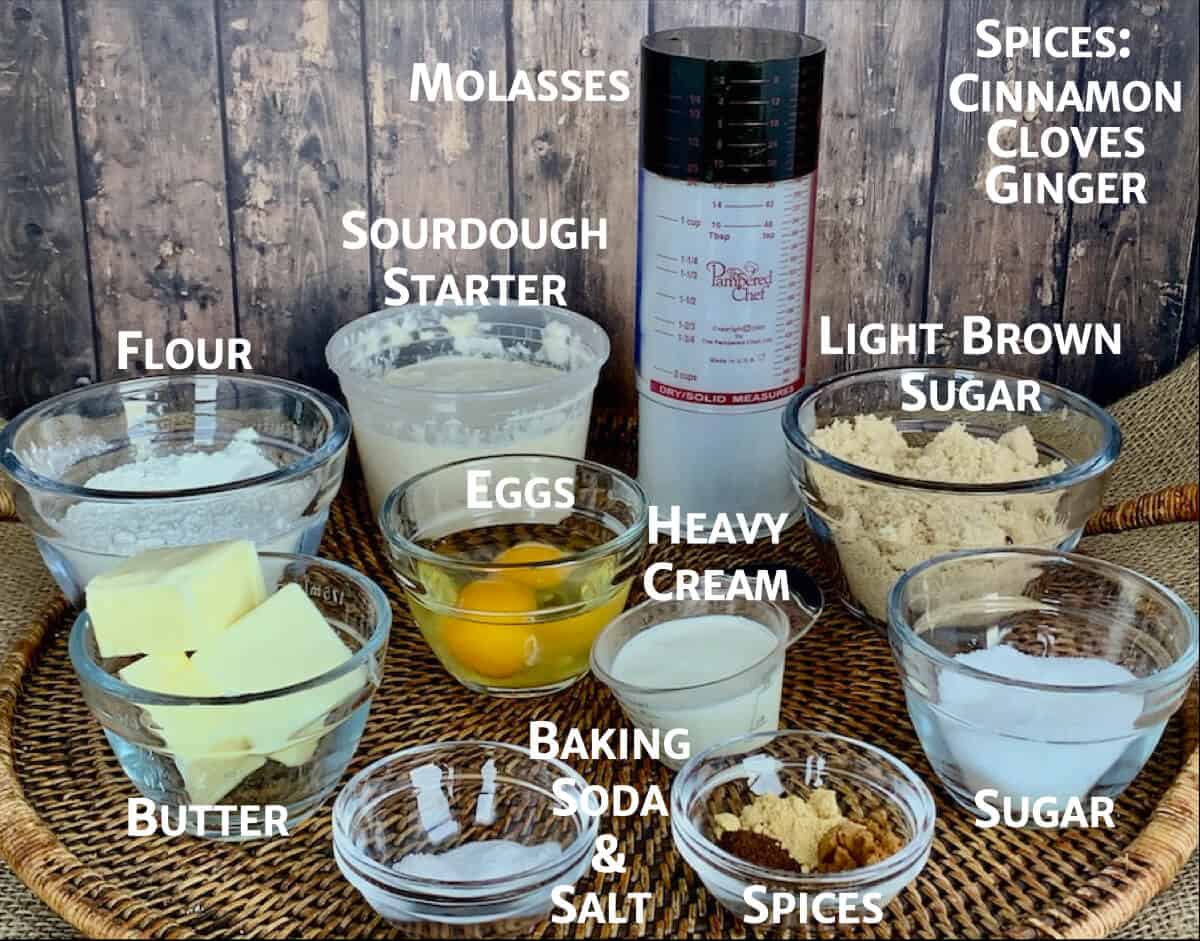 Helpful recipe tips
It's important that you use a proper sized pan for this gingerbread recipe as it will overflow if you're not careful. You can use a 9- x 9-inch baking pan or 2 standard loaf pans, but don't use smaller pans.
If you're concerned about overflow, place the pans on a half-sheet baking pan before placing in the oven.
One complaint I had (like other commenters on Epicurious' original recipe) is that the gingerbread sank in the middle. I did some research and found that maybe that gingerbread recipe called for too much baking soda.
According to Tasting Spoons, "to keep [the] gingerbread recipe from sinking in the middle, [add] the baking soda with the wet ingredients and [mix] the batter to strengthen the flour. [This gives the] gingerbread a more sturdy texture while maintaining its moistness."
I reduced the baking soda to ½ teaspoon and added it in with the sourdough starter discard, and that really helped to solve the problem. Please let me know how it goes for you.
Sourdough Gingerbread is yummy on its own, but add lightly sweetened whipped cream or vanilla ice cream and you've really got a scrumptious dessert.
Actually, it's good for anytime of day...breakfast, brunch, or afternoon snack. It's up to you whether to add the whipped cream.
Gingerbread with a secret...I won't tell if you won't!
Slainté! L'chaim! Cheers!
Tammy
Recipes using sourdough starter discard
When you maintain a sourdough starter, you have a dilemma. What do you do with your unfed sourdough starter discard? I've got lots of suggestions for sweet and savory ways to use your fed sourdough starter and the sourdough starter discard. Here are a few samples...
And, if you sign up for my mailing list, I'll send you a link for my Extra-Tangy Sourdough Bread recipe! Such tangy goodness...I can't even.
📖 Recipe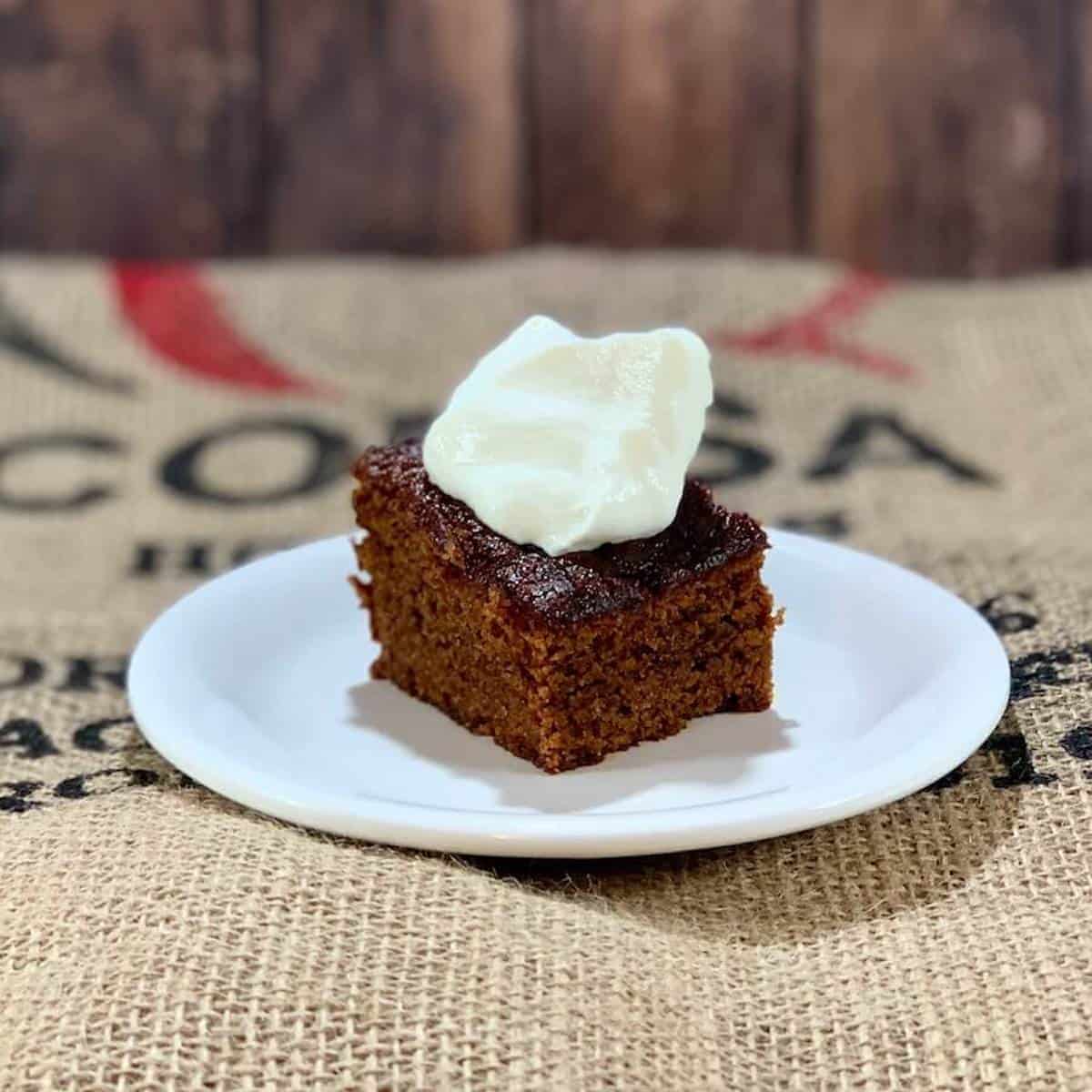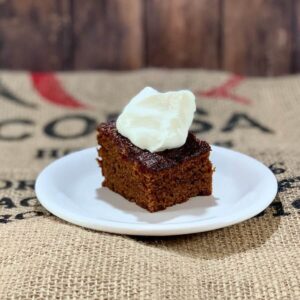 Old Fashioned Sourdough Gingerbread
A rich, moist gingerbread reminiscent of days gone by. No one will guess you used sourdough starter discard (unless you tell them!)
Adapted from Epicurious
Ingredients
¾

cup

light brown sugar

¼

cup

granulated sugar

½

cup

unsalted butter

,

at room temperature

¾

cup

molasses

,

mild-flavored (light), not blackstrap

2

large eggs

1

cup

sourdough starter discard

,

room temperature

½

tsp

baking soda

,

see Recipe Notes

1

cup

all-purpose flour

2

tsp

ground cinnamon

1½

tsp

ground ginger

½

tsp

ground cloves

½

tsp

kosher salt

¼

cup

heavy cream

¼

cup

water

,

boiling
Instructions
Using a stand mixer fitted with a paddle attachment (or hand mixer), beat the brown sugar, granulated sugar, and butter in large bowl until smooth, about 2 to 3 minutes. Beat in the molasses, then eggs 1 at a time, scraping down sides of bowl as needed. Add the sourdough starter and baking soda and blend on low speed until just combined.

In a small bowl, whisk together flour, cinnamon, ginger, cloves, and salt. Add to wet ingredients and mix on low speed until just combined. Beat in the cream, then the boiling water. Transfer the batter to the prepared pan.

Bake the cake until tester inserted into center comes out clean, about 40 to 50 minutes.

Cool the cake in pan for 15 minutes, then turn out onto a rack and cool completely.

Serve with whipped cream or vanilla ice cream. Enjoy!
Notes
Make sure to use the proper size pan (a 9- x 9-inch baking pan) or the batter will overflow. If you're worried, put the cake on a half-sheet baking pan, then place in the oven.
This recipe can make two large loaves in a standard loaf pan just bake the loaves for closer to an hour. The batter will reach about halfway up the pans. I use two pans so that I don't run the risk of overflowing a single loaf pan.
To prevent the cake from sinking and strengthen the flour, add the baking soda to the wet ingredients and mix the batter well before adding the dry ingredients.
Nutrition
Serving:
1
piece
Calories:
213
kcal
Carbohydrates:
35
g
Protein:
2
g
Fat:
8
g
Saturated Fat:
5
g
Cholesterol:
41
mg
Sodium:
132
mg
Potassium:
266
mg
Fiber:
1
g
Sugar:
25
g
Vitamin A:
262
IU
Calcium:
53
mg
Iron:
1
mg