A "dry" version of this traditionally Pennsylvania Dutch treat, Shoofly Pie is not too sweet, not too firm, and has just the right amount of molasses flavor in every slice!
Let me begin by saying I take requests.
If a family member or friend asks me to make something special for them, I'm happy to oblige. And when the item is something I've never tried (or even heard of, for that matter), all the better. I get my horizons expanded while making someone happy.
Case in point…my son-in-law's friend mentioned that he hadn't had Shoofly Pie (aka Molasses Pie) in some time, so my older daughter piped up and said I could make one for him. I'd never had Shoofly Pie before. It being pie (one of my favorite desserts), I was eager to try one. On to the internet I went!
Jump to:
What is Shoofly Pie?
The Pennsylvania Dutch developed Shoofly Pie in the 1880s as a hand-held breakfast to be served alongside black coffee. It's a molasses-based pie that's tempered with brown sugar and finished with a crumb topping. Those facts aren't in dispute, at least according to Wikipedia.
However, in looking over several recipes (and the comments within), I found that people had very strong opinions on how this pie should be made, and everyone's grandmother made the best one.
Although to be honest, even though my grandmother never made Shoofly Pie, I'm sure if she did, hers would top all others (just sayin').
Wet-Bottom or Dry-Bottom?
The main point of contention is whether Shoofly Pie should have a dry-bottom or a wet-bottom (feel free insert appropriate baby-bottom joke here).
For the dry bottom version, this molasses pie is baked until the filling is mostly set so it has a more cake-like consistency. The wet bottom version has a cake-like texture near the top where its mixed with the crumb topping, but has a gooier consistency nearer the bottom…think Butterscotch Pie or Pecan Pie without the pecans.
The main difference in achieving the two types seemed to be the amount of flour and brown sugar used and the length of time the pie was baked.
In the end, I settled on Land O Lakes' Favorite Shoofly Pie…it seemed to be right in the middle of all the variations.
Which fat do you use in your recipe?
There was a lot of discussion about whether butter, lard, or shortening should be used in the pie (as well as the crust).
Well, shortening is processed (something I avoid, as long-time readers know), and I don't eat lard, so I went with butter. You can choose for yourself.
I also went with my tried-and true pie crust recipe...yes, I play favorites. (so long as you're open about it)
How to make Shoofly Pie
Start with a single pie crust. You can use a store-bought 9-inch pie crust, but I prefer to make it myself, using my all butter pie crust recipe. It's tried and true.
The filling is straightforward...Just mix the molasses with boiling water and baking soda. Make a flour/brown sugar crumb mixture. Reserve some for the topping, then add the wet ingredients to the remaining crumb.
Fill the chilled pie shell, top with the crumb mixture you set aside, and bake.
Easy, peasy!
Make a mini Shoofly Pie
Since I was making this Shoofly Pie recipe for my son-in-law's friend, I adapted the recipe for Shoofly Pie to make a mini version for my family. I just cut the filling ingredients in half and shortened the baking time to about 20 minutes.
How else was I going to try some?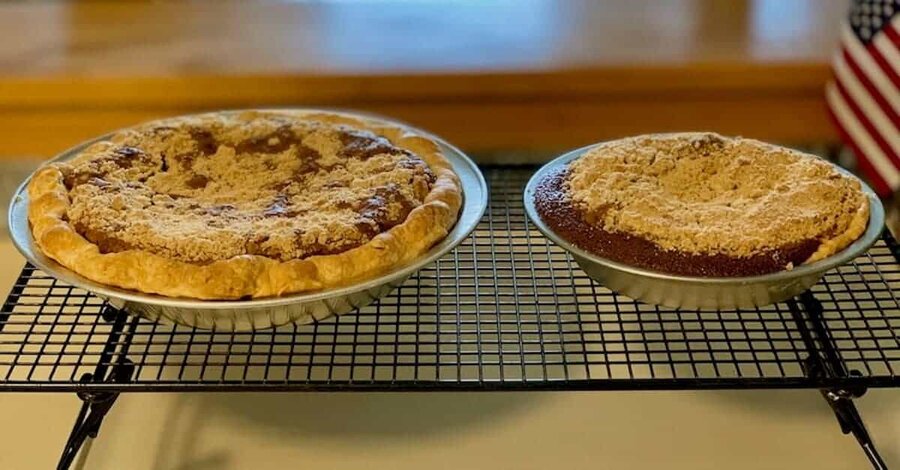 Having never had Shoofly Pie before, I wasn't sure how it would (or even should) taste. My mini Molasses Pie version was probably more on the "wet-bottom" side (the larger one was more dry, I was told), but it was luscious.
I loved the hearty molasses flavor and the crumbly topping...this pie was not too sweet, not too firm, and totally delicious.
Another pie for Thanksgiving (or anytime)
Shoofly Pie is a great addition to the usual assortment of pies at a Thanksgiving dinner...I'm planning on making one (why not?).
Who knows, maybe someday my grandkids will come and ask me to make them my "famous" Shoofly Pie, and they'll brag to their friends how it's the best.
After all, I take requests!
Slainté! L'chaim! Cheers!
Tammy
More recipes for pie
Shoofly Pie
A "dry" version of this traditionally Pennsylvania Dutch treat, Shoofly Pie is not too sweet, not too firm, and has just the right amount of delicious molasses flavor in every slice!
Adapted from Land O'Lakes
Ingredients
For the filling
3/4

cup

boiling water

1

tsp

baking soda

3/4

cup

molasses

,

mild or dark corn syrup (9 oz, 255g)

1

cup

all-purpose flour

,

(4-1/4 oz 120g)

2/3

cup

brown sugar

,

dark, firmly packed (5 oz, 140g)

2

Tbsp

butter

,

unsalted, cold (1 oz, 30g)

1

large egg

,

beaten

1

tsp

vanilla extract
Procedure
Prepare the filling: Combine the boiling water and baking soda in a small bowl. Stir in the molasses, then set aside.

Combine the flour and brown sugar in a medium bowl (crush any brown sugar "rocks" if you have them). Cut the butter into the flour mixture using a pastry cutter until mixture resembles coarse crumbs. Reserve 1/2 cup (2.4 oz, 67g) crumbs for topping.

Pour the molasses mixture, egg, and vanilla into the remaining crumb mixture. Whisk well.

Pour the batter into the prepared crust, then sprinkle the reserved crumb mixture over the top.

Bake for 10 minutes, then reduce oven temperature to 350°F and bake another 35-40 minutes or until filling is set.

Remove from oven to a cooling rack. Cool for 30 minutes.

Serve warm with whipped cream, if desired. Enjoy!
Video
Recipe Notes
My pie crust is based on the 3-2-1 ratio of flour/fat/water (by weight), so for a single pie crust that would be 9 oz flour, 6 oz fat (butter for me), and 3 oz ice water. I also throw in 1 Tbsp of apple cider vinegar to help tenderize the crust. The complete recipe can be found here.
To make a mini version using a 6-inch pie pan, and use half the filling ingredients. You can leave the egg whole (or just weight it and take out half).
This pie will stay fresh at room temperature for up to 5 days.
Nutrition Facts
Shoofly Pie
Amount Per Serving (1 slice)
Calories 325
* Percent daily values are based on a 2,000 cal per day diet.
Did you make this recipe?
Please share your pictures with the world...mention @scotch_scones and tag #scotchandsconesblog on Instagram, Pinterest, or Twitter. I can't wait to see your creations!