Moroccan Beef Pie is a delicious and comforting dinner for a chilly evening. It's a family favorite of ours, and hopefully will be one of yours as well!
Food Hugs
Recently my family has had a few setbacks, both physically and financially. Being supportive can take on many forms, but as a mom who believes food = love, I immediately jump to what can I make that will bring comfort.
One of my family's favorite dinners is Moroccan Beef Pie. For me, it's like delivering a group food hug to my family, and boy have we all needed one lately.
I discovered this recipe card in a grocery store display in front of the Pillsbury refrigerated pie crusts many years ago. I thought it looked easy enough, so after purchasing all the ingredients (the refrigerated pie crust, hash browns, beef broth, etc), I went home and made it.
It was an immediate hit, and as our family grew, Moroccan Beef Pie became a frequently requested item. Anytime I asked my husband or my girls what they wanted as a special dinner, this was it. Isn't that a definition of comfort food?
Jump to:
How to make a pie more homemade
Longtime readers know of my desire to replace processed foods with homemade items wherever I can, and after I went to culinary school I really upped that effort.
My Moroccan Beef Pie is now made with homemade all-butter pie crusts using the 3-2-1 ratio for pie crust for a double crust pie (i.e. 12 oz flour, 8 oz butter, and 4 oz ice water). Homemade beef stock replaced the canned beef broth. I still use store-bought hash browns, but I've made sure there aren't any ingredients that don't belong.
Let's not get carried away, shall we?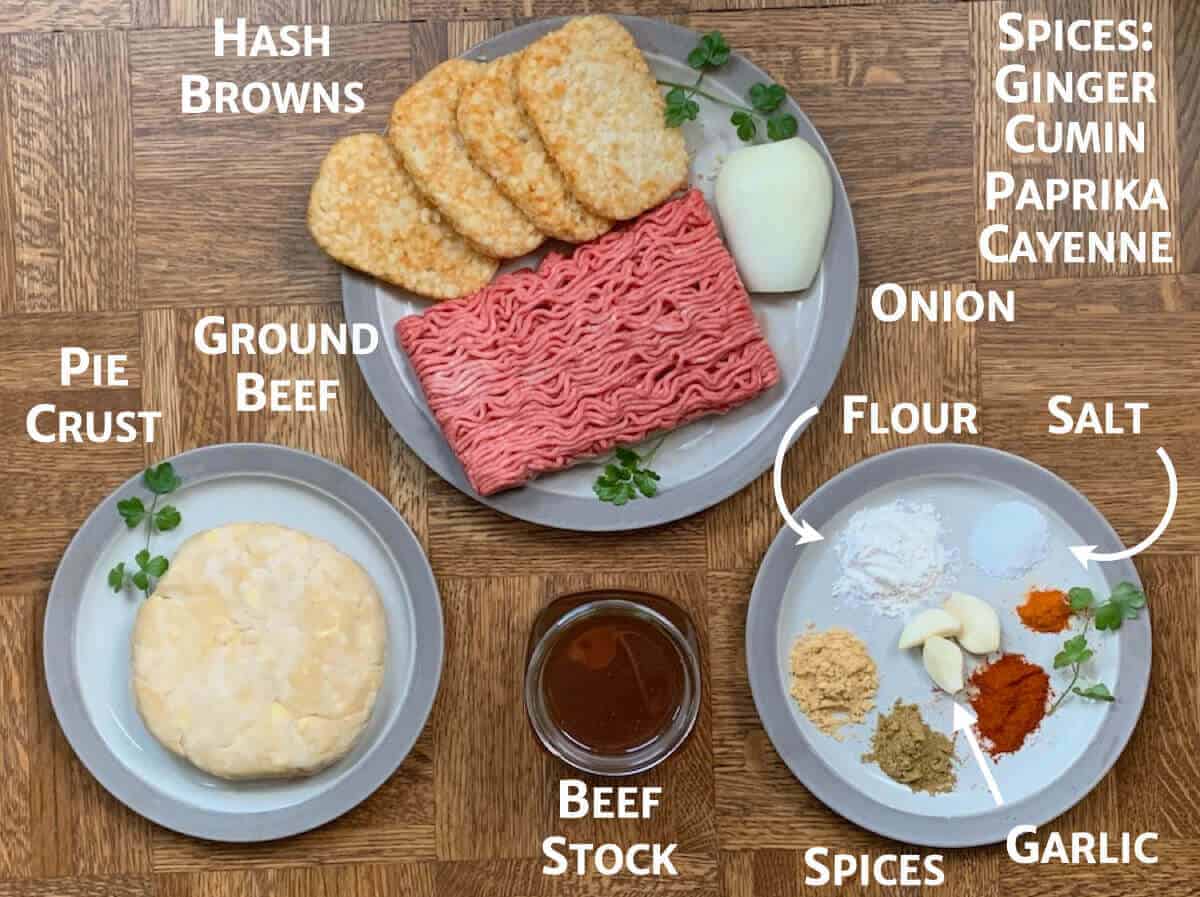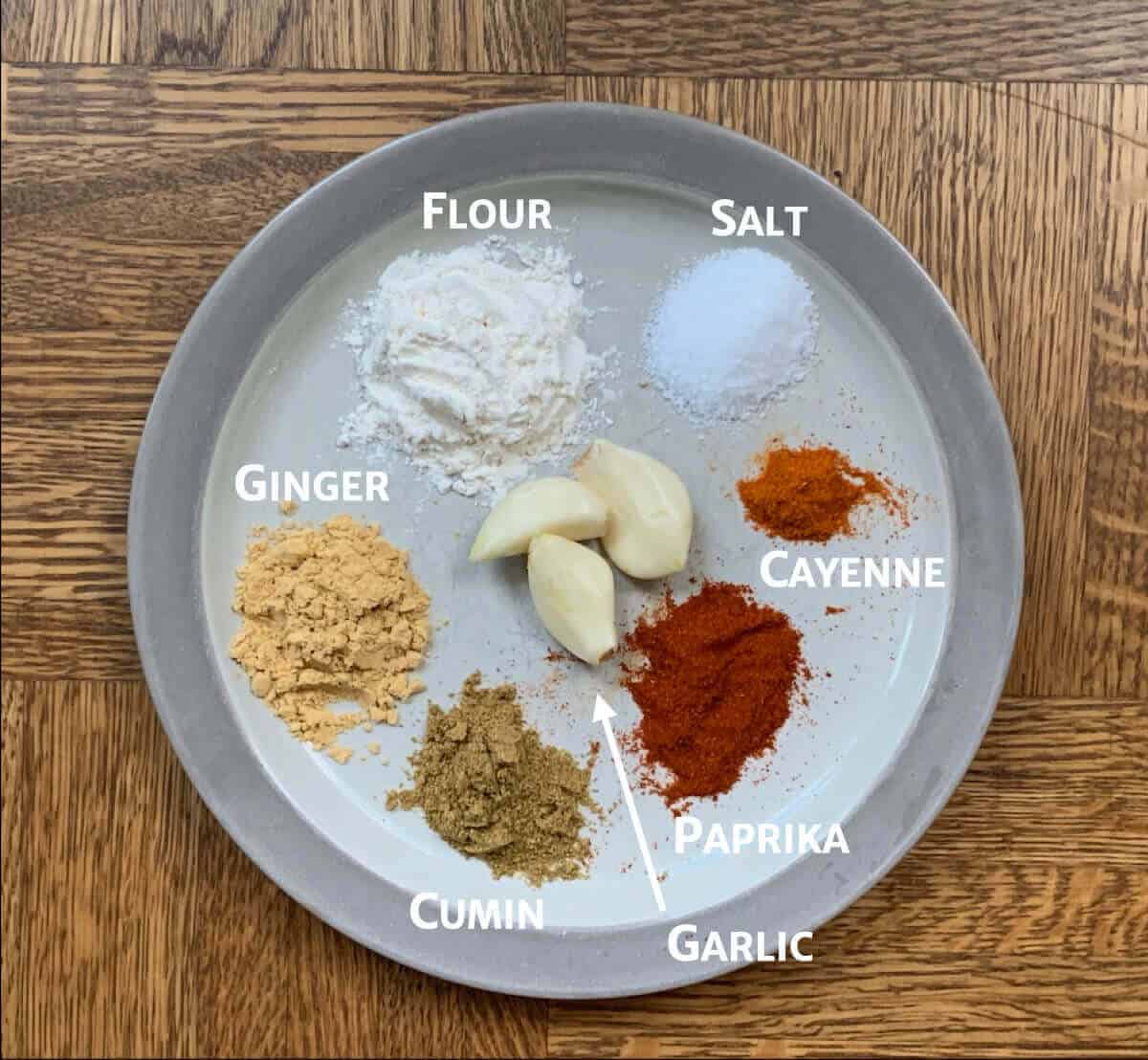 How to make Moroccan Beef Pie
Making the pie filling is pretty straightforward, just brown the onions, garlic, and beef, then add hash browns, spices, and stock. Easy Peasy.
I do have a nifty way of draining the pan of fat. I shove the filling to one side and tilt the pan the other way. I then use a few paper towels to sop up the extra fat and liquid that drains down. Just use tongs to move the paper towels to the trash...remember that liquid is still hot!
You might notice that I don't have parsley and cilantro in the mixture, or sesame seeds on top. That's because I have a picky eater in the family. I can assure you it's tasty this way or as the recipe is written.
The hardest part of making pie is serving it
As good as I am at cooking, there is still one aspect that I haven't been able to master...getting out that first slice of pie from the pan without leaving half of it behind. I still don't know how to get a piece that's picture perfect (pssst...here's a secret...that slice in the picture above is the second piece!).
If someone has a foolproof way of getting out that first slice, please let me know!
We'll get better soon
Moroccan Beef Pie is a comforting and filling dinner for what ails 'ya. The best part is that we share it as a family, and really it's that coming together that makes the difference. We're there for one another, supporting each person, comforting as we can.
For us this pie is the catalyst, a food hug to say it'll be all right. Group hug!!
Slainté! L'chaim! Cheers!
Tammy
Recipes for pie
Pies can be sweet or savory, and there are so many fillings from which to choose. From fruits to nuts and custards, there's bound to be a pie that catches your fancy! Here are a few choices to try.
Recipes for pie crust & more
Need a base for a recipe? No problem! Here are recipes for a basic pie crust, graham cracker crusts, and a shortcrust pastry. Plus how to make a lattice pie crust!
Recipe
Moroccan Beef Pie
This flavorful meat pie is comforting on a chilly evening. It's a family favorite of ours, and soon will be of yours as well!
Adapted from Pillsbury Spicy Moroccan Beef Pie, copyright 1992
Ingredients
Filling
1

Tbsp

ghee (clarified butter) or canola oil

1

cup

onions

,

chopped, about ½ a medium onion

½

tsp

kosher salt

3

cloves

garlic cloves

,

minced, see Recipe Notes

1

lb

ground beef

2

cups

hash browns

,

or 4 patties, defrosted

½

cup

fresh parsley

,

chopped, see Recipe Notes

¼

cup

fresh cilantro

,

chopped, see Recipe Notes

1

cup

beef stock

,

preferably homemade, or low-sodium beef broth
Spice Mix
1

Tbsp

all-purpose flour

1½

tsp

ground ginger

1

tsp

cumin

1

tsp

paprika

½

tsp

kosher salt

¼

tsp

cayenne pepper
Topping
1

Tbsp

mayonnaise

2

Tbsp

sesame seeds

,

optional

sour cream
Instructions
Prepare a pie crust for a double crust pie. Ease one crust into a 9-inch pie pan and chill while you make the filling.

Preheat the oven to 400°F. Whisk the ingredients for the spice mixture together in a small bowl.

In a large skillet, heat the ghee on medium-high heat. Add the onions, sprinkled with ½ tsp salt, and sweat them until they start to soften, about 2 to 3 minutes. Toss in the garlic and cook 1 minute more until fragrant. Add the ground beef to the onion minute and cook until brown, about 10 minutes. Drain the mixture well.

Place the hash browns in the pan, chopping them up with your spoon if they're in a patty form. Cook the mixture 5 minutes, stirring occasionally.

Stir in the parsley, cilantro, and the spice mixture until well blended. Gradually pour in the beef stock. Lower the heat and simmer the filling an additional 5 minutes or until it starts to look a little dry, stirring occasionally.

Remove the pan from the heat and allow the mixture cool for about 5 minutes.

Spoon the filling into the pie crust-lined pan. Top with the second crust, trim and seal the edges. Cut silts in several places to allow for steam to escape. Crust mayonnaise over the top crust and sprinkle with sesame seeds, if using.

Bake on lower rack for 40 to 50 minutes or until the crust is dark golden brown (shield the edges if they're browning too quickly).

Let pie stand for 5 minutes before serving.

Serve with sour cream if desired, and enjoy!
Notes
This pie is great with my homemade pie crust using the double crust pie recipe ratio. A store-bought double crust pie crust works well also.
The parsley and/or cilantro can be omitted if your family doesn't like either or both of them.
You can substitute ¼ teaspoon garlic powder for the minced garlic. The same is true for the parsley and cilantro…substitute 2½ tablespoon dry parsley and 1 teaspoon dry cilantro. Add these substitutions into the spice mixture.
I use paper towels to drain the fat away. Just push the filling to one side and tilt the pan so you can mop up the liquid with several paper towels. Use tongs to remove the soaked towels to the trash.
The filling can be made ahead up until step 6. Allow to cool to room temperature, then store, covered up to 3 days in the refrigerator. Alternatively, you can assemble the whole pie, making sure filling comes to room temperature before adding the top crust. Refrigerate (wrapped) until ready to bake later. Allow the chilled pie to sit on the counter while the oven is pre-heating.
Nutrition
Serving:
1
slice
Calories:
437
kcal
Carbohydrates:
51
g
Protein:
18
g
Fat:
18
g
Saturated Fat:
7
g
Cholesterol:
49
mg
Sodium:
739
mg
Potassium:
519
mg
Fiber:
3
g
Sugar:
6
g
Vitamin A:
444
IU
Vitamin C:
12
mg
Calcium:
94
mg
Iron:
4
mg