Dark Chocolate Whisky Fudge is candy with a kick...it's smooth and creamy, yet allows the whisky flavor to shine. A perfect pairing of whisky & chocolate!

Way back in the Long Ago of my blog (aka about a year and a half), I attempted to make Whiskey Fudge, and failed miserably. (Actually, while the whiskey fudge itself failed, it made an incredible frosting for boozy brownies. Win!)
What I had tried to do is adapt a basic chocolate fudge recipe to have whiskey in it instead of vanilla extract. Why didn't I just find an already-tried-and-true recipe? Honestly, I don't know...I was too busy trying to find a fudge recipe that didn't use sweetened condensed milk, and I thought I could make it work. Go figure.
Fast forward to now, when I was asked to pair a dessert for the North Shore Whisky Club's Drams for Fams fundraiser tasting event. And not just any tasting, mind you…it was for a Kavalan and Nikka whisky lineup. I wanted to feature Kavalan Distillery Select in the dessert, so I decided to make Dark Chocolate Whisky Fudge, a whisky fudge 2.0, as it were.
[Side note: Check out my tasting notes for the Kavalan Distillery Select and the rest of my tasting notes from this event here]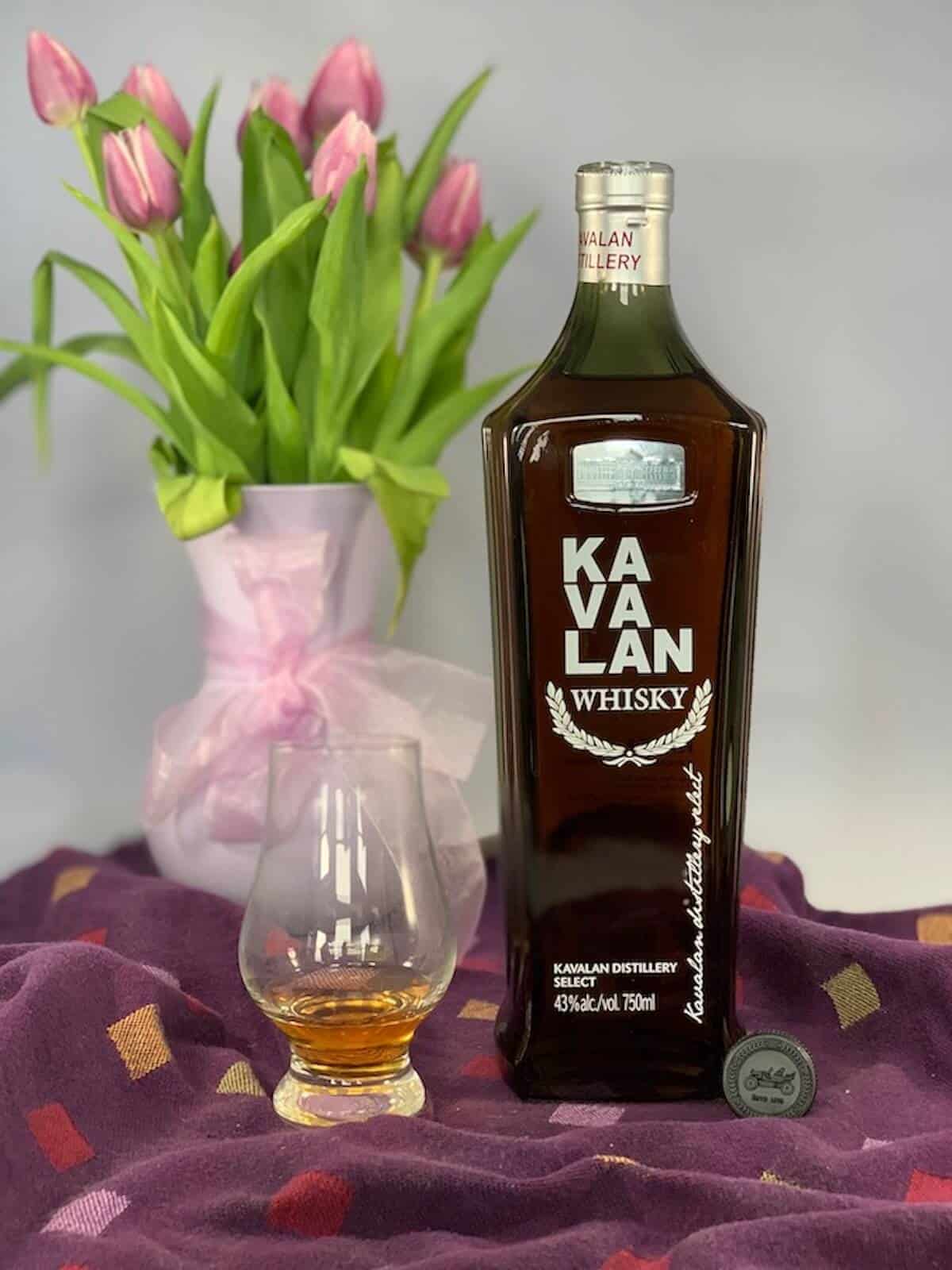 Jump to:
Finding a Dark Chocolate Whisky Fudge recipe
Searching around Pinterest (where else?), I came across Kitchen Enchanted's Chocolate Whiskey Fudge.
This fudge recipe was much easier than the version I tried last time because…wait for it…there was no cooking the mixture to softball stage! There was practically no cooking involved at all really, save for melting the dark chocolate in the microwave.
Just mix whisky into powdered sugar, add melted dark chocolate (with a bit of butter), and stir, stir, stir…voilà, Dark Chocolate Whisky Fudge!
This chocolate whisky fudge packs a punch
Oh, did I mention this recipe has 1 cup of whisky in it? And it doesn't get cooked out?
This is not a fudge for the faint of heart…you're going to taste the whisky, and feel it, too! (Well, I did say I wanted to feature the Kavalan.)
By the way, did you catch the change in spelling? That's because Kitchen Enchanted's recipe used Irish whiskey (Jameson's, to be precise) as her spirit, while I chose the Kavalan.
The beauty of this recipe is that you can use whatever whisk(e)y or bourbon you want…just make sure it's good quality (now is not the time for cheap spirits).
How to make Dark Chocolate Whisky Fudge
The process is fairly quick, but it will take some arm muscles mixing the melted chocolate into the whisky mixture. Just think of me as your fitness coach (Left arm, 3 turns of the spoon, Right arm, 3 turns...)...you're welcome.
I think the hardest part of the whole process is cutting the fudge into even pieces. No matter how hard I try, some pieces are usually larger than the others. At least I get to munch on the trimmings...
Smooth & creamy, definitely boozy, Whisky Fudge
This Dark Chocolate Whisky Fudge had a smooth and creamy texture, silky soft with a spicy kick from the Kavalan. It couldn't have been easier to make (well, except for the stirring part…I got a workout there!).
I got to use booze in my baking (yes, I know this isn't baking, but I like the alliteration), and most importantly, it worked.
Chocolate and whisky, together at last, in delectable fudge…yummmmm.
Slainté! L'chaim! Cheers!
Tammy
Recipes using dark chocolate
Remember, even though these recipes use dark chocolate, you can generally substitute the chocolate type of your choice. Go ahead and use your favorites!
📖 Recipe
Dark Chocolate Whisky Fudge
Dark Chocolate Whisky Fudge is candy with a kick...it's smooth and creamy, yet allows the whisky flavor to shine. A perfect pairing of whisky & chocolate!
Adapted from Kitchen Enchanted
Ingredients
2

lbs

powdered sugar

,

unsifted (32oz, 907g)

1

cup

whisky

,

see Recipe Notes (8 oz, 226g)

2

cups

dark chocolate

,

chopped, see Recipe Notes (12 oz, 340g)

2

Tbsp

butter

,

salted or unsalted

1

cup

pecans or walnuts

,

finely chopped, optional (4 oz, 113g)
Instructions
In a large bowl, stir together the powdered sugar and whisky with a wooden spoon (you'll need its sturdiness later). Set aside.

Melt the dark chocolate with the butter in a microwave-safe bowl on HIGH for about 1-1/2 to 2 minutes, stirring after each 30 second intervals. Alternatively, in a small saucepan, heat chocolate and butter on medium-low heat until they're melted, stirring frequently to keep the mixture from burning.

When the chocolate mixture has melted completely, pour it into the whisky mixture and stir vigorously until completely incorporated. It will take some arm work…the mixture gets pretty thick. Stir in nuts, if using (again, this might be a challenge).

Working quickly, pour fudge into the prepared pan and smooth to the edges by covering the surface with plastic wrap and press the fudge with your hands or a pie pan roller.

Let the fudge sit at room temperature until hard enough to cut, about 15 to 20 minutes, or you can speed up the process by putting the pan in the refrigerator and checking the fudge's consistency every 15 minutes or so.

Once the fudge has set, immediately cut it into 1-x 2-inch pieces. Don't let it sit too long before cutting as it gets hard.

Store in an airtight container at room temperature, separating layers of fudge with waxed paper so that they don't stick together.
Notes
Use a good quality whiskey…it will be tasted! I used Kavalan Distillery Select, but any good quality whisk(e)y or bourbon will do.
While you're at it, use a good quality of dark chocolate also…it's going to make or break the fudge's texture and underlying taste. I used a 72% dark chocolate, but you can used whatever type of chocolate you'd like, really.
Nutrition
Serving:
1
piece
Calories:
95
kcal