Rich & decadent, Port Wine Chocolate Cake has deep chocolate flavor and a hint of berries. Topped with Port Wine Ganache, it's extraordinary!
[Side Note: a version of this post first appeared on my OutlanderCast column, February 12, 2020]
If you love chocolate...you'll love this cake. I mean really love this cake.
You can find any number of rich dark chocolate cake recipes, and most are accentuated with coffee to deepen the chocolate flavor. Red Wine Chocolate Cake is also popular, replacing the coffee with wine.
I've upped the ante with Port Wine Chocolate Cake. And it's frosted with Port Wine Ganache. It's truly for chocolate lovers.
Jump to:
Baking with wine
Red wine and chocolate are a great pairing – many times cocoa has fruit undertones that can be paired with different wine flavor profiles. Dark chocolate goes especially well with the plum, blackberries and black cherry notes in wine.
Port wine, red wine fortified with brandy, accentuates the chocolate while adding hints of red berries in the background.
For this cake, I've added port wine instead of red wine, to both the cake batter and the chocolate ganache, taking the cake to a whole other level.
The alcohol from the port wine is baked out of the cake itself. The cake is very moist and fudgy, and you can notice a hint of berries underneath all the chocolate goodness. The port wine chocolate ganache underscores the full intensity of the port wine and chocolate together.
I looked over many recipes for red wine chocolate cakes, and they were all similar. My Port Wine Chocolate Cake recipe is adapted from The Brownie Bites' Red Wine Chocolate Cake for Two, which in turn had adapted the recipe for Red Wine Chocolate Cake from Life, Love, and Sugar. It's nice to see a cake's pedigree.
Can I use semi-sweet chocolate in my cake?
I like the deep flavor that dark chocolate brings to a cake, but feel free to use regular cocoa powder in the cake and semi-sweet chocolate for the ganache. The flavor might be a bit less intense, but I won't judge.
Making the batter itself follows the normal procedure. Mix the dry ingredients, then add the wet ingredients in order being careful not to overmix everything.
I love to use my Bake-Even strips when I bake cakes. They insulate the outside part of the cake pan, allowing the center of the batter to bake…well…evenly with the outer edges. What you get is a flat-topped layer cake that then doesn't have to be trimmed. One less thing for me to mess up.
Here's one of the layers before and after baking. See how even it looks? There's no cracked domed on top.
Sizing the cake to fit your needs
I made a mini cake this time (which is what you see pictured). It is a two-layer, 6-inch cake made in two 6-inch round cake pans. This cake is very rich, and a little goes a long way.
I adapted the recipe to the smaller pans by dividing the ingredients I've given in my recipe below in half. It's a perfect size for small gatherings!
If you divide the recipe in fourths, you can make a single-layer 6-inch cake.
A full-sized cake can be made in three 8-inch round cake pans or two 9-inch round cake pans. You can even make a sheet cake in a 9- x 13-inch baking pan if you don't want to deal with layers.
Another fun use is to make mini 3-inch snack cakes. I found these adorable heart-shaped cake pans, and made 10 using half the recipe. They were perfect to ship to my far-away family for Valentine's Day.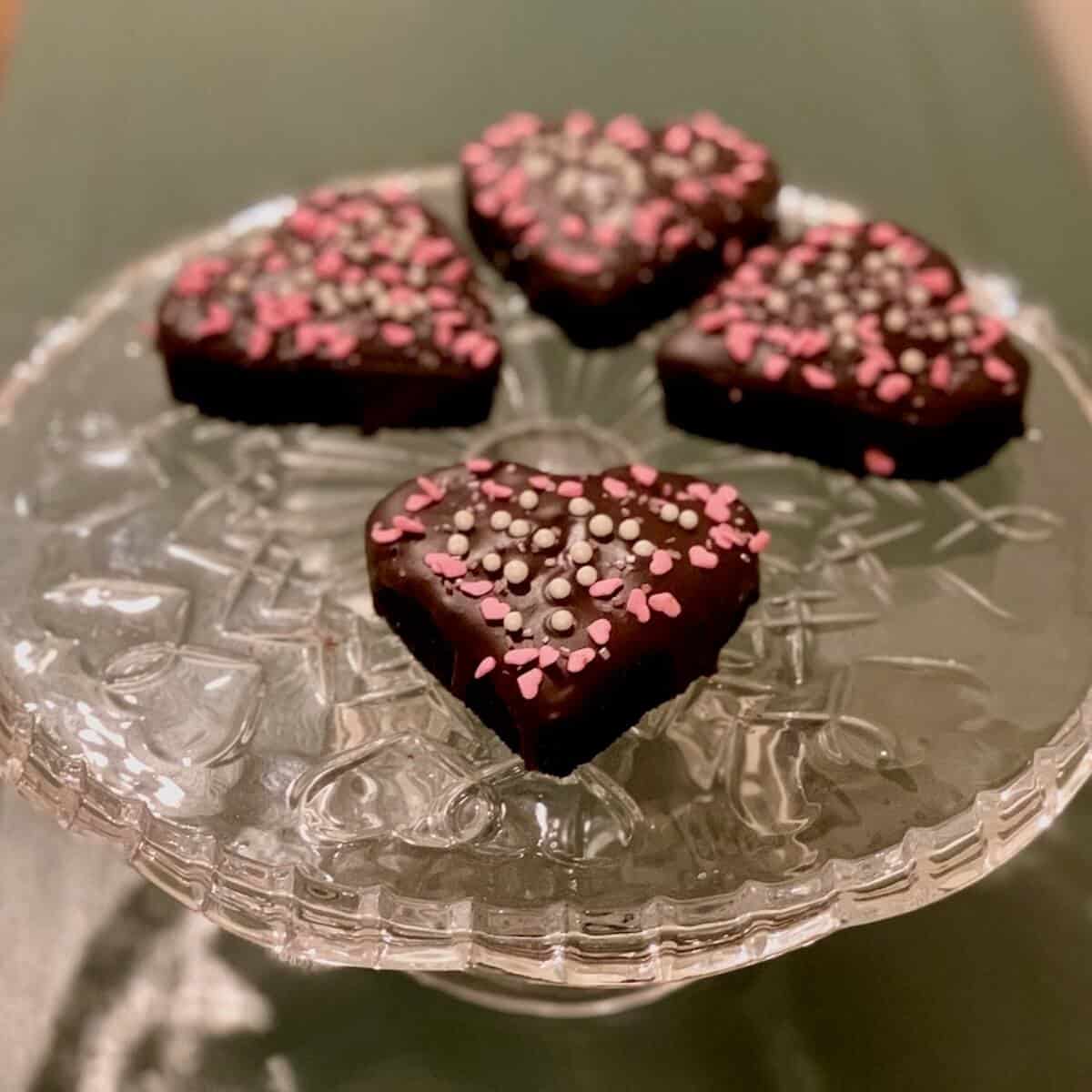 Enhance your cake with a ganache frosting
Just to refresh your memory, a basic chocolate ganache recipe is quite simple with just two ingredients, heavy cream and chopped chocolate.
Warm the cream (and in this case, the port wine), then add the chopped chocolate and allow to melt before mixing everything smooth. It couldn't be much easier.
Like with Port Wine Chocolate Cake, the addition of the port wine to the ganache just enhances the berry undertones of the chocolate without really calling attention to itself. However, here the alcohol isn't cooked out, so there is a kick to it.
This cake is for adults…be warned.
Have extra chocolate ganache? Make chocolate truffles!
Depending on what size cake you make, you might end up with extra chocolate ganache. You could grab a spoon and dig in, or you can take this opportunity to make port wine truffles. You won't believe how easy it is and how yummy they taste!
All you have to do is scoop the extra ganache into little mounds onto a parchment- or wax paper-lined baking pan (a small cookie scoop works well here), refrigerate them, then roll them with your hands into spheres.
Here are more detailed instructions for truffles should you need them.
This extraordinary Port Wine Chocolate Cake is perfect for extra-special celebrations.
And for all you chocolate lovers!
Slainté! L'chaim! Cheers!
Tammy
Related Recipes
When you pair cake and frosting, the results are magical. Try these fun ideas for cake!
Love this recipe? Please leave a 5-star ⭐️ rating in the recipe card below ⬇️ and/or a comment further down the page.
I'd love to hear from you! Stay in touch on Facebook, Instagram, Pinterest, and please tag me using the hashtag #scotchandsconesblog. You can also sign up for my mailing list. I can't wait to see your creations!
Recipe
Port Wine Chocolate Cake
Rich, fudgy, & decadent, Port Wine Chocolate Cake has deep chocolate flavor and a hint of berries. Topped with Port Wine Ganache, it's extraordinary!
Adapted from Brownie Bites
Ingredients
For the cake
2

cups

all-purpose flour

2

cups

granulated sugar

2

teaspoons

baking soda

1

teaspoon

baking powder

1

teaspoon

kosher salt

2

large eggs

,

at room temperature

2

Tablespoons

sweet cream buttermilk powder,

or 1 cup buttermilk, warmed, see Recipe Notes

1

cup

water

,

hot, omit if using buttermilk, see Recipe Notes

½

cup

vegetable oil

2

teaspoons

pure vanilla extract

1

cup

port wine

,

at room temperature
For the ganache
¾

cup

heavy cream

¾

cup

port wine

2⅔

cups

dark chocolate,

finely chopped
Instructions
Make the cake: Prepare three 8-inch round cake pans by spraying them with baking spray, then lining them with parchment paper circles. Spray the parchment paper circles.

Soak the Bake-Even strips (if using) in cold water for 5 minutes. Press out the excess water (do not wring), and wrap them snugly around the cake pans.

In a small bowl, whisk together the buttermilk powder and hot water. You can skip this step if you're using warmed buttermilk (see Recipe Notes).

In the bowl of a stand mixer fitted with a paddle attachment (or using a hand mixer and a large bowl), stir together the flour, sugar, dark chocolate cocoa powder, baking soda, baking powder, and salt.

Add the eggs, buttermilk, vegetable oil and vanilla to the dry ingredients and mix well.

Slowly add the port wine. Mix gently, being careful not to overmix the batter.

Divide the batter evenly between the cakes pans, and tap out the pans on the counter to release any trapped air bubbles. Bake for 30 to 33 minutes, or until a cake tester comes out with a few crumbs. The cake is fudgy, so be careful not to overbake the cakes. Every oven heats differently, so start checking your cakes at the 25 minute mark.

Remove the cakes from the oven and allow to cool for about 10 minutes, then remove to cooling racks to cool completely. If you're not using Bake-Even strips, level the cakes before stacking.

Make the ganache: In a small saucepan over medium-low heat, add the heavy cream and port wine, stir together, and heat until steaming and bubbles begin to form.

Remove from heat, add the chopped chocolate, and cover for two minutes.

Open the lid and whisk the mixture until it's totally smooth. Set aside for about 30 minutes to cool. You want the ganache to be thicker and easily spreadable, but not too thin.

Assemble the cake: Using the cake lifters, place one layer on the cake stand. Be careful because the layers can be delicate. Pour some of the ganache onto the center of the cake and use a small offset spatula to gently push the ganache off of the side so that it drizzles down the sides of the cake.

Stack another layer on top and frost with ganache. Repeat with the third layer. If desired, frost the sides of the cake with ganache.

Decorate the cake as desired. You can whip some of the ganache and pipe roses on top, or use sprinkles and cocoa nibs to decorate. Any leftover ganache can be scooped into balls and made into truffles...use those to decorate the cake.

Chill the cake to firm up the ganache before slicing. Serve and enjoy!
Notes
Cake pan alternatives: you can adjust this recipe to make the size cake you'd like as follows:
For a single layer mini cake: divide the ingredients by 4 (use a whole egg). Bake in a 6-inch round cake pan for 25 to 28 minutes.
For a two layer mini cake: divide the ingredients by 2. Bake in two 6-inch round cake pans for 25 to 28 minutes.
For a two layer cake: Bake the full recipe in two 9-inch round cake pans for 30 to 32 minutes.
For a sheet cake: Bake the full recipe in a 9- x 13-inch baking pan for 30 to 32 minutes.
For mini heart cakes: divide the ingredients by 2. Scoop ¼ cup batter using a large cookie scoop into the wells of two mini heart baking pans using a large cookie scoop. Bake for 18 to 20 minutes.
I use dried buttermilk powder mixed with hot water, but you can substitute regular buttermilk (omit the hot water)
Using hot liquid helps the cocoa powder "bloom," i.e. get fully hydrated as it mixes into the batter. If you're using regular buttermilk, heat it gently until it's steaming with small bubbles. Don't let it boil.
Using the Bake-Even strips helps keep the cakes level as they bake. If you prefer not to use them, level the cakes after they've cooled before stacking.
Nutrition
Serving:
1
slice
Calories:
489
kcal
Carbohydrates:
57
g
Protein:
6
g
Fat:
25
g
Saturated Fat:
16
g
Cholesterol:
37
mg
Sodium:
360
mg
Potassium:
340
mg
Fiber:
5
g
Sugar:
35
g
Vitamin A:
205
IU
Vitamin C:
1
mg
Calcium:
68
mg
Iron:
5
mg