Helping others with a Drams for Fams whisky fundraiser harnesses the camaraderie of whisky to help the local community fight hunger while offering a wonderful Nikka & Kavalan tasting lineup!
Whisky tastings are fun, I'll admit. Good friends, good whisky, good times. And sometimes whisky tastings can be harnessed for the greater good.
Back in 2016, the Edmonton Scotch Club (in Edmonton, Alberta) hosted a whisky tasting to raise funds for their local food bank, then challenged other whisky clubs to do the same…a Drams for Fams whisky fundraiser, as it were.
Now there are 12 locations across North America hosting tasting events raising money for their local communities, and over $50,000 has been raised so far.
Drams for Fans whisky fundraising
Here in Boston, the North Shore Whisky Club recently hosted their second annual Drams for Fams whisky fundraiser to benefit the Greater Boston Food Bank. Their goal is to continue having the event each year, and to exceed the previous year's donation (and I believe they did this year!).
Laura Kanzler of Hotaling & Company presented a spirited class (see what I did there? I crack myself up) about the history of whisky in Japan and whiskey production in Taiwan while featuring a wonderful lineup of Nikka Japanese whisky (and a gin) and Kavalan Taiwanese whisky.
I've tried Japanese whisky only a couple of times, but I'm sure glad it was in the lineup today!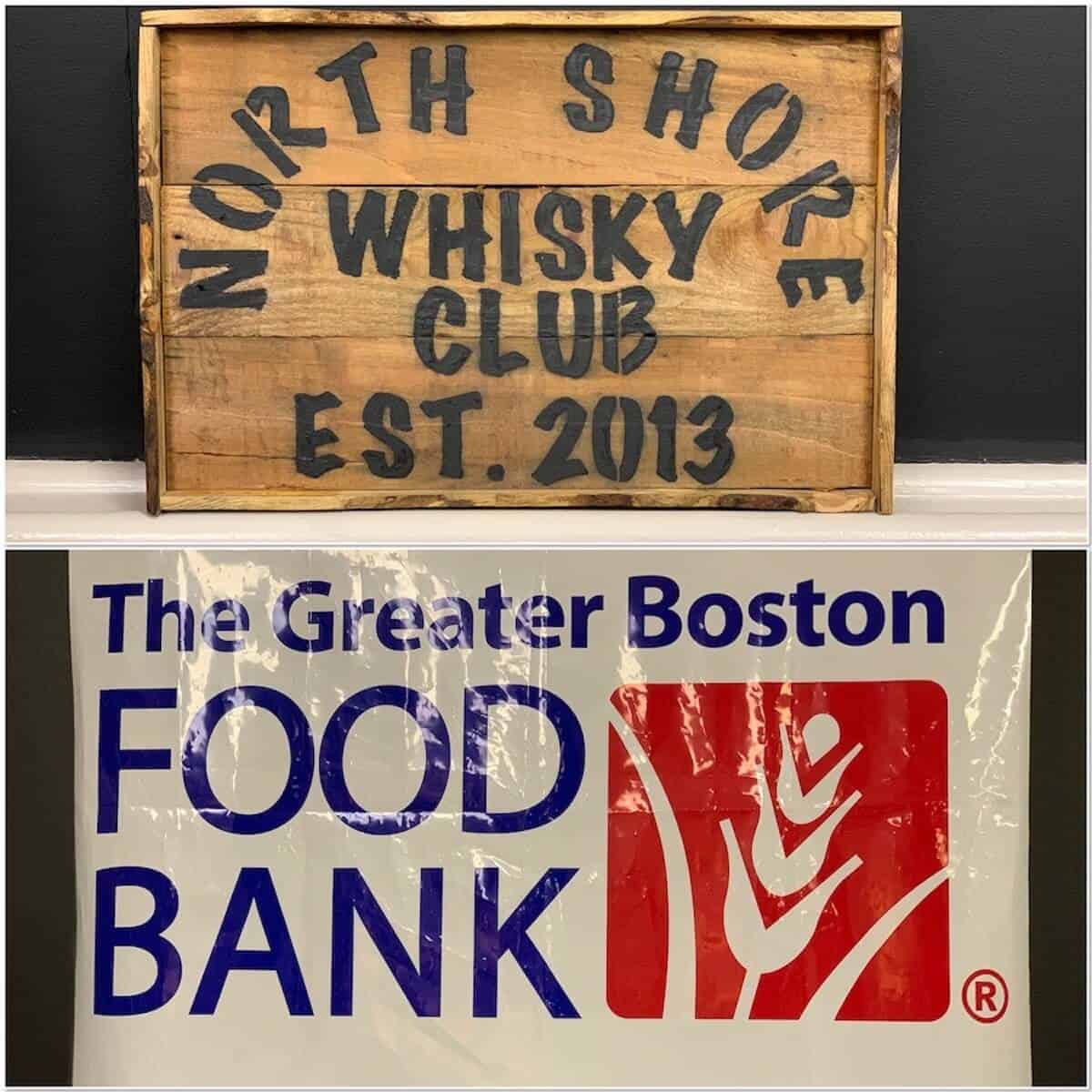 Drams for Fams Whisky Tasting featuring Nikka & Kavalan
Hosted by the North Shore Whisky Club, presented by Laura Kanzler, May 17, 2019
Nikka Coffey Gin
47%ABV
Tasting Notes
Nose: green bushes, juniper, Meyer lemon

Taste: Meyer lemon, juniper, black pepper, eucalyptus, oily mouth feel

Finish: ends in black pepper and light eucalyptus

Comments: the juniper is secondary to the lemon and eucalyptus
Nikka Coffey Grain
45%ABV
Tasting Notes
Nose: vanilla, toffee, oatmeal

Taste: soft entry, toffee, then brown sugar and white pepper rise

Finish: white pepper with some light menthol

Comments: vanilla and brown sugar oatmeal in a glass, drinkable and pleasant
Nikka from the Barrel
51.4%ABV
Represents all the parts of Nikka from all over Japan
Tasting Notes
Nose: butterscotch and caramel sauce, cedar, cinnamon stick, brown sugar candy

Taste: medium body, toffee, basil, light smoke, baking spices and white pepper

Finish: long finish with baking spices and white pepper

Comments: approachable with a higher hit, sherry adds so many flavors underneath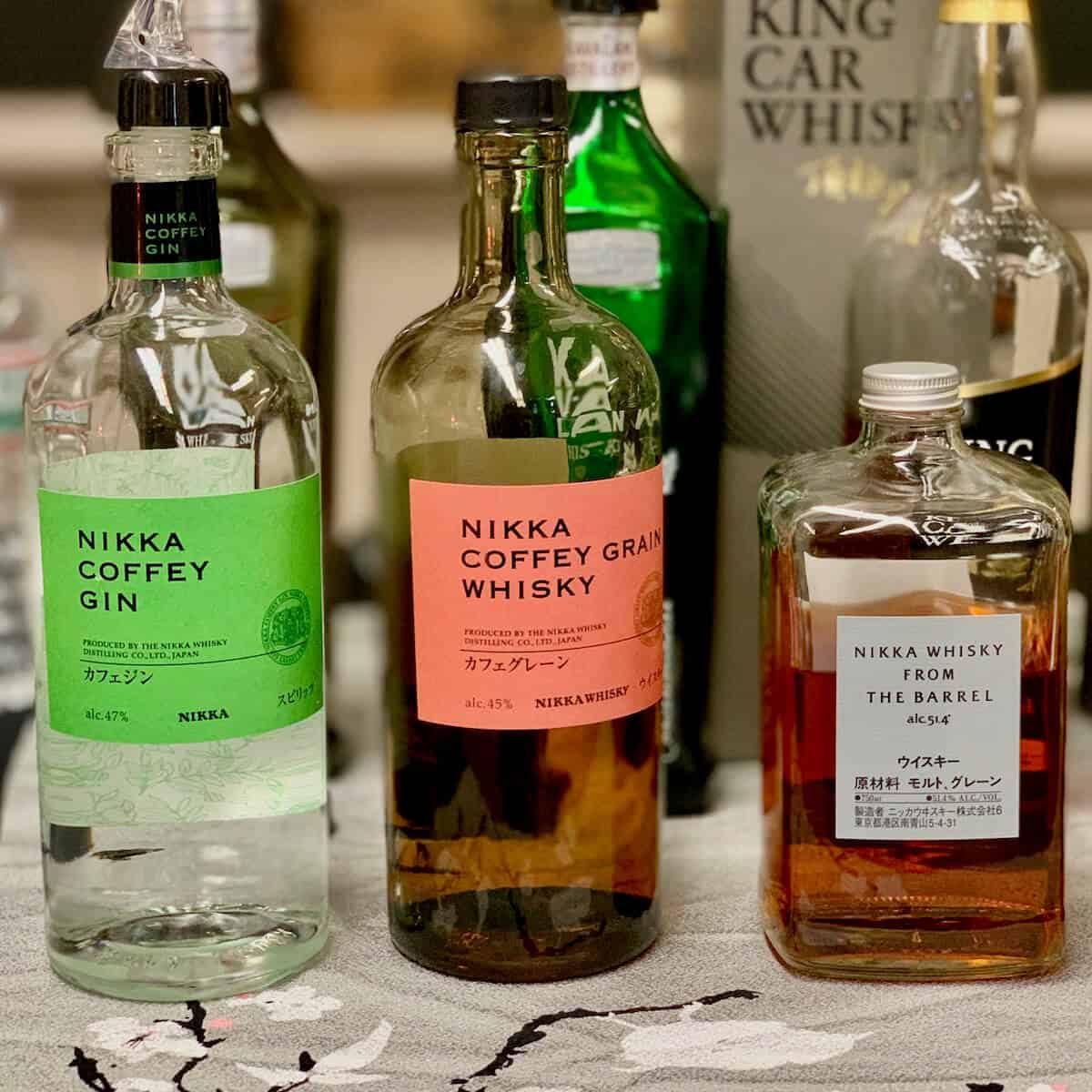 Nikka Miyagikyo
Tasting Notes
Nose: floral and fruity, roses

Taste: plums, pears with cinnamon, oak, thyme, caramel, thick and oily, creamy body

Finish: lingers on cloves and thyme, sweet honey syrup

Comments: lots of flavor from the plums and cinnamon
Nikka Yoichi
45%ABV
Tasting Notes
Nose: green herbs, hay, honey

Taste: hay, honey, caramel, white pepper, ash, medium body

Finish: smoke slowly enters and lingers long with menthol and light honey

Comments: soft smoke slowly enters after initial honey...very sneaky...just knocks on the door after all the clean flavors are at the party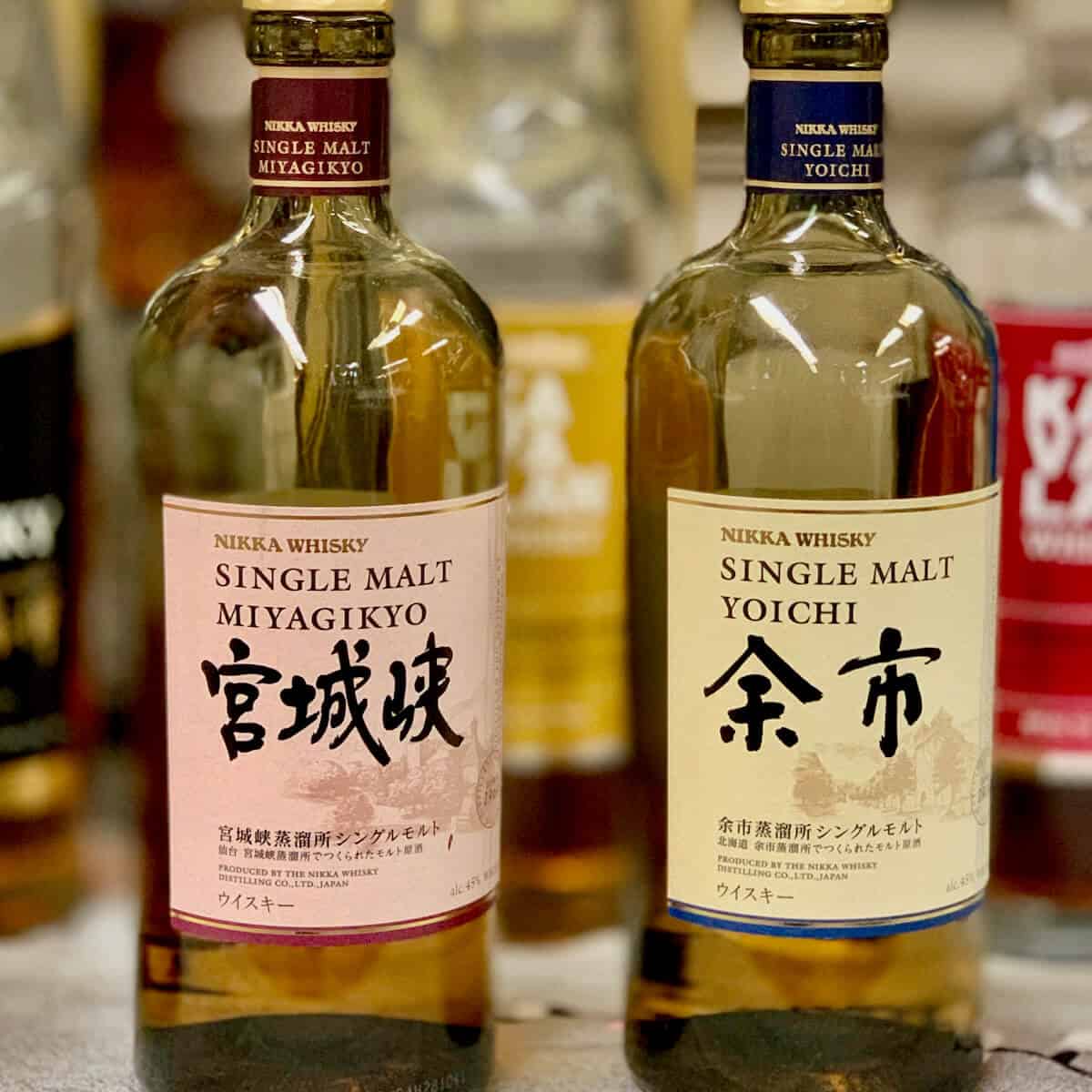 Kavalan Distillery Select
Tasting Notes
Nose: chocolate, black coffee, charred oak, hint of vanilla

Taste: chocolate, smoke, leather, slightly buttery, black pepper

Finish: finish long and dry, leather, tobacco, hint of sea salt

Comments: dark flavors complement each other, the slight tanginess adds complexity; good choice for fudge
Kavalan Concertmaster
43%ABV
Tasting Notes
Nose: coffee, caramel

Taste: plums, toffee, cloves

Finish: coffee and baking spices

Comments: like a cinnamon caramel spiked coffee
Kavalan King Car Conductor
46%ABV
Tasting Notes
Nose: deep fruit, brown sugar syrup

Taste: honey, then sharp baking spices, higher hit of white pepper

Finish: baking spices linger with prunes stewed in brown sugar

Comments: bourbon influence is strong in this one, more like sherried bourbon
Kavalan Ex-Bourbon Oak
46%ABV
Tasting Notes
Nose: hay, stone fruit

Taste: honey, apricot, pears, mango, cinnamon

Finish: strong fruit finish with cinnamon and cloves

Comments: a jam filled cinnamon roll in a glass
Kavalan Sherry Oak
46%ABV
Tasting Notes
Nose: deeply cooked fruit, creamy oak wood, raisins

Taste: rum, raisins, gingerbread

Finish: finishes with coffee and rum raisins

Comments: rum fruitcake, deeply flavored
Kavalan Vinho Barrique Cask Strength
57.8%ABV
Aged in CA red and white wine barrels, an extra special pour
Tasting Notes
Nose: molasses, raisins, dark rum

Taste: strong entry, raisins, tannic, gingerbread, medium body

Finish: raisins, dry and astringent, ginger and cinnamon lingers long and rich

Comments: deep and rich; an after-drink drink...excellent way to end of the night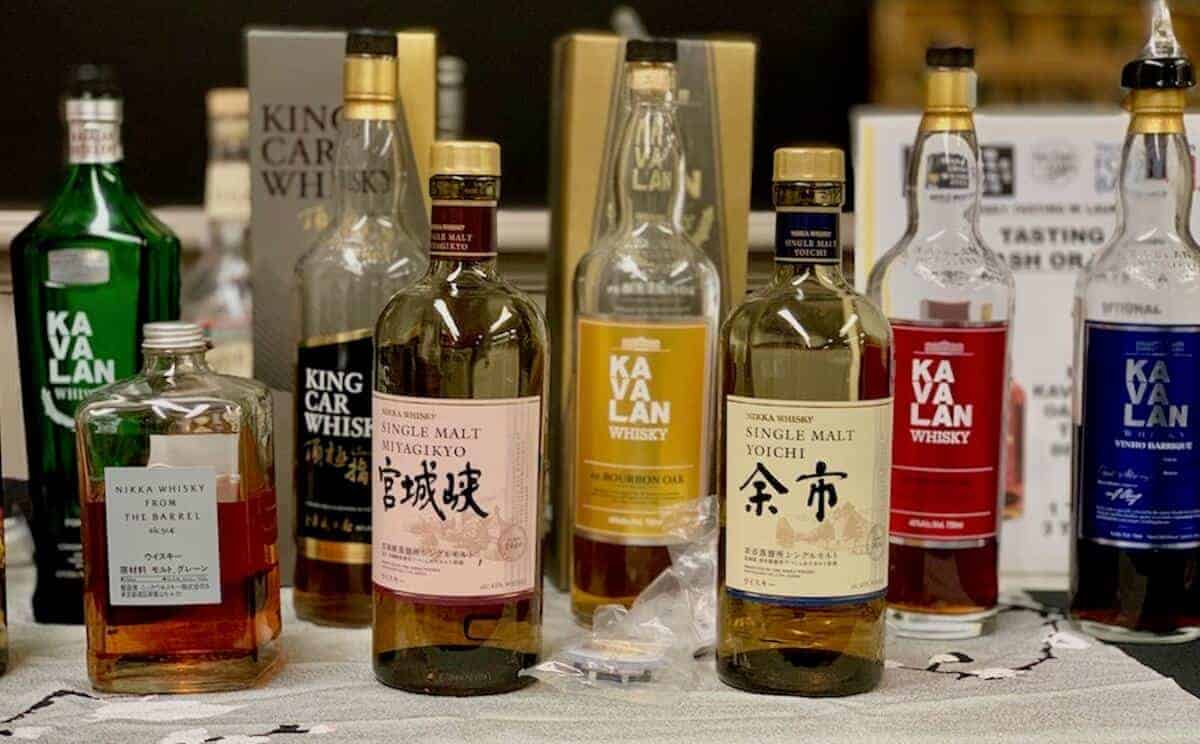 Pairing Fudge with Whiskey
In addition to attending the tasting, I got to pair a dessert as well.
I paired Dark Chocolate Whiskey Fudge with the Kavalan Distillery Select to serve as dessert for the evening, and everyone was pleased.
Good times.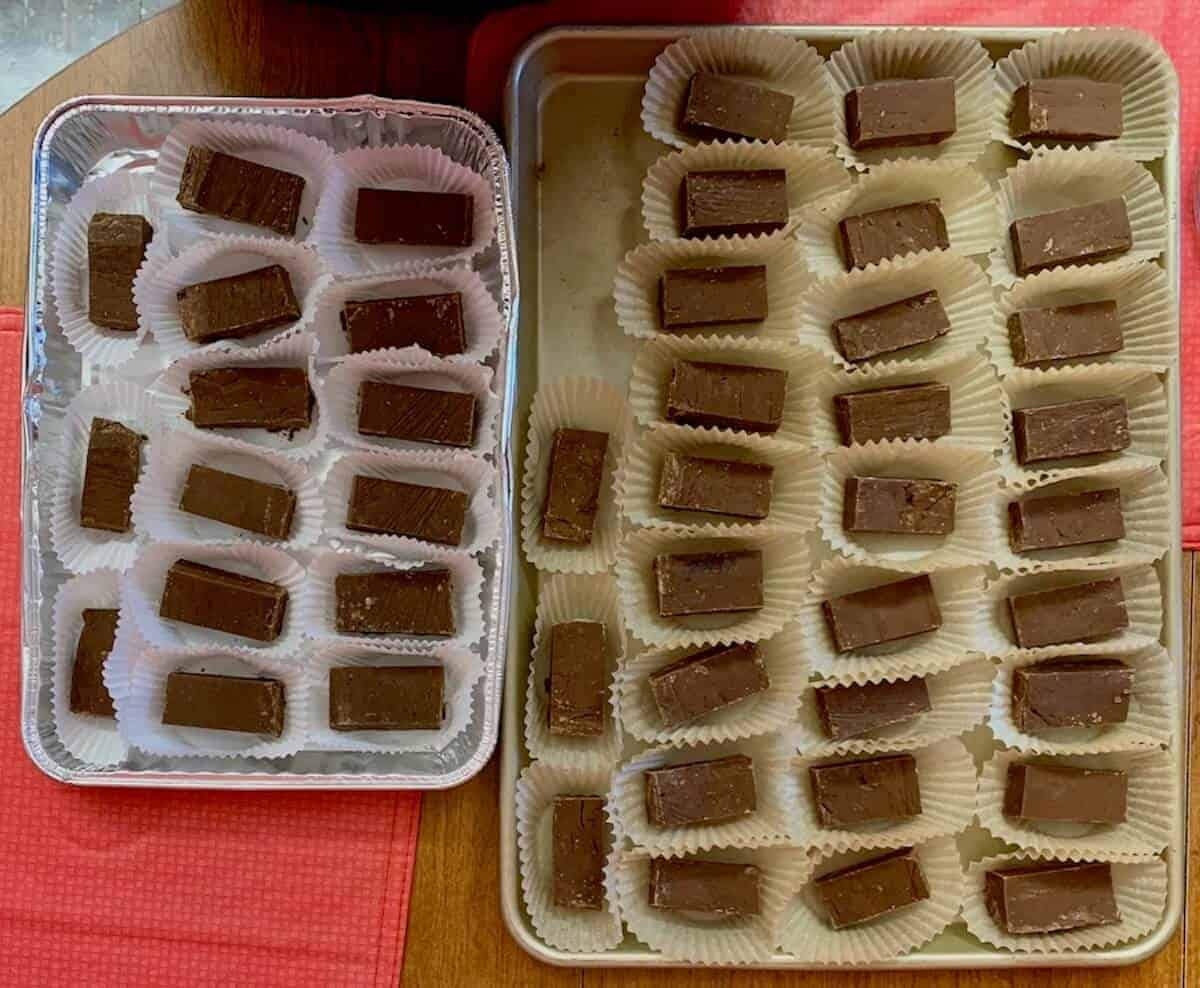 Final thoughts
Being able to share good whisky with good friends is wonderful, and helping to fight hunger in the community is even better.
Want to attend a Drams for Fans whisky fundraiser?
If you'd like more information about a Drams for Fams whisky fundraiser, head t o their website.Better yet, seek out these events in your neighborhood (they're usually held in April or May), or encourage your local whisky club to join the movement.
Let's harness the power of whisky camaraderie for the greater good!
Slainté! L'chaim! Cheers!
Tammy