The entire lineup of Kaiyo Japanese Whisky is aged in Mizunara Oak casks and aged at sea. This gives each expression a rich wood & marine flavor profile.
Asian whisky brands are becoming increasingly popular, Nikka whisky and Kavalan whiskey being two examples. Hence, new brands are looking for ways to stand out in the crowd.
For Kaiyo whisky, that means aging their entire lineup in Mizunara Oak casks. These are expensive casks to produce, since the tree has to be at least 200 years old has not curved in shape.
There are other hindrances as well, but the benefit are that this type of cask imparts a strong sweet and spicy woodiness to the whisky. When allowed to age, the strong wood influence is mellowed somewhat, imparting its luxurious quality to the whisky.
Aging whisky at sea
Kaiyo means "ocean" in Japanese. There's a reason they've added that name...
Another element to Kaiyo Japanese whisky is that it's taken aboard ships to age at sea for about three months. The jostling from the waves, along with air pressure and temperature variations, insure that each drop of whisky comes into contact with the Mizunara Oak.
You can believe that this Japanese whisky lineup shines, as all the positive awards and ratings they've received will attest.
Kaiyo Whisky flavor profile
In general, the Mizunara Oak lends notes of tropical fruits and sandalwood to the whisky. Other distilleries use Mizunara Oak to finish their whisky, like Chevas Regal.
Add in some other types of preparations and finishes (peat or Madiera, anyone?), and now you've got a whole other spectrum of flavors to play with.
The chart below displays the broad range of flavors you can find from Kaiyo's lineup.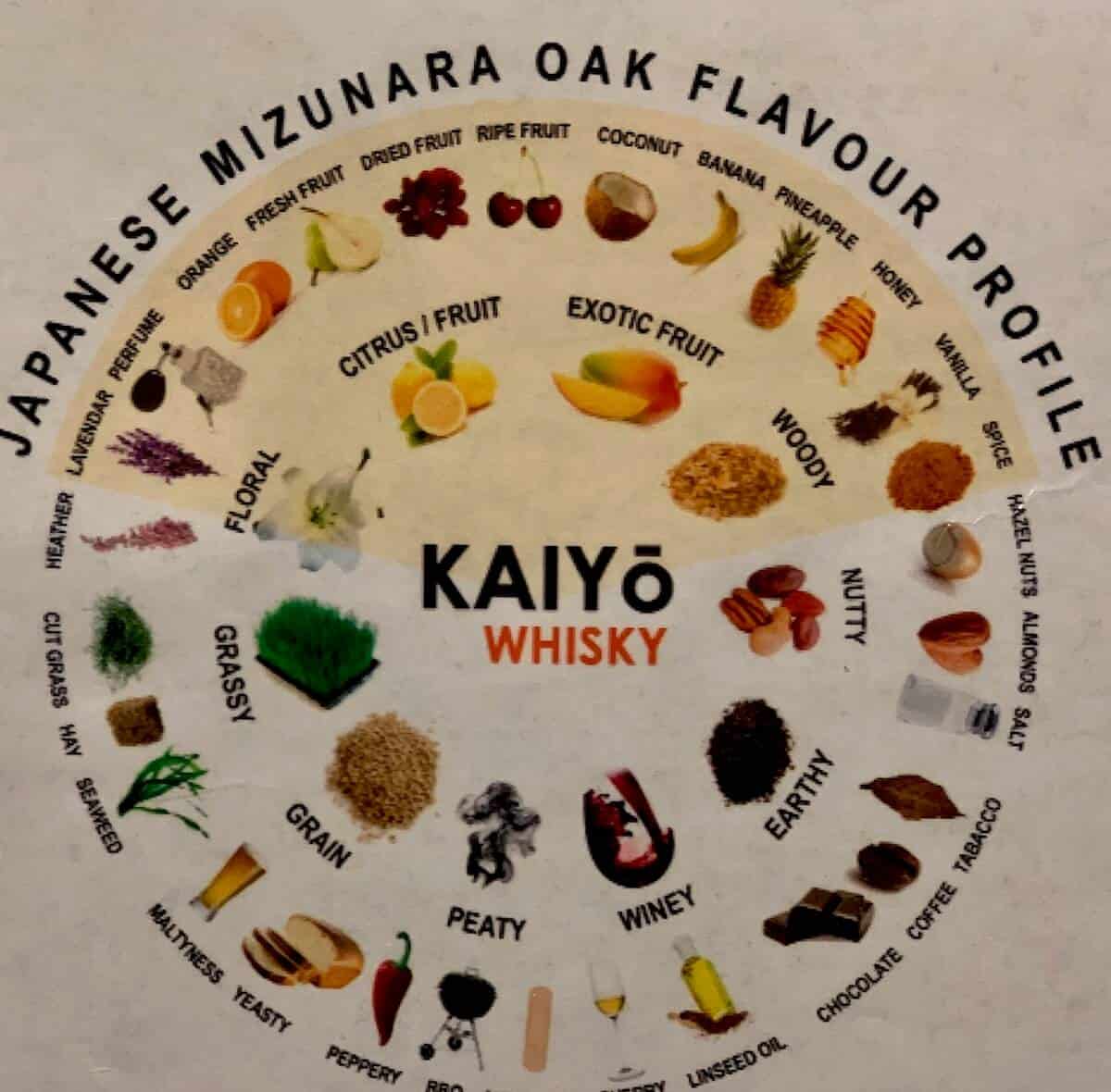 Kaiyo Japanese Whisky Review
At Gordon's DTX, presented by Jay Cole, February 12, 2020
Kaiyo Whisky - The Signature
43%ABV
NAS (8-10yrs), 100% malted barley
Tasting Notes
Nose: strong sawdust, mango, pineapple underneath, ocean breezes

Taste: thick body, sandalwood and orchard fruit, vanilla

Finish: baking spices rise up

Comments: thick and fruity
Kaiyo Whisky - The Cask Strength
Tasting Notes
Nose: sandalwood, red berries, grilled pineapple, salty air

Taste: thick body, red currants, cedar, cloves, caramel hard candy

Finish: lingers on the wood notes

Comments: doesn't drink like cask strength...approachable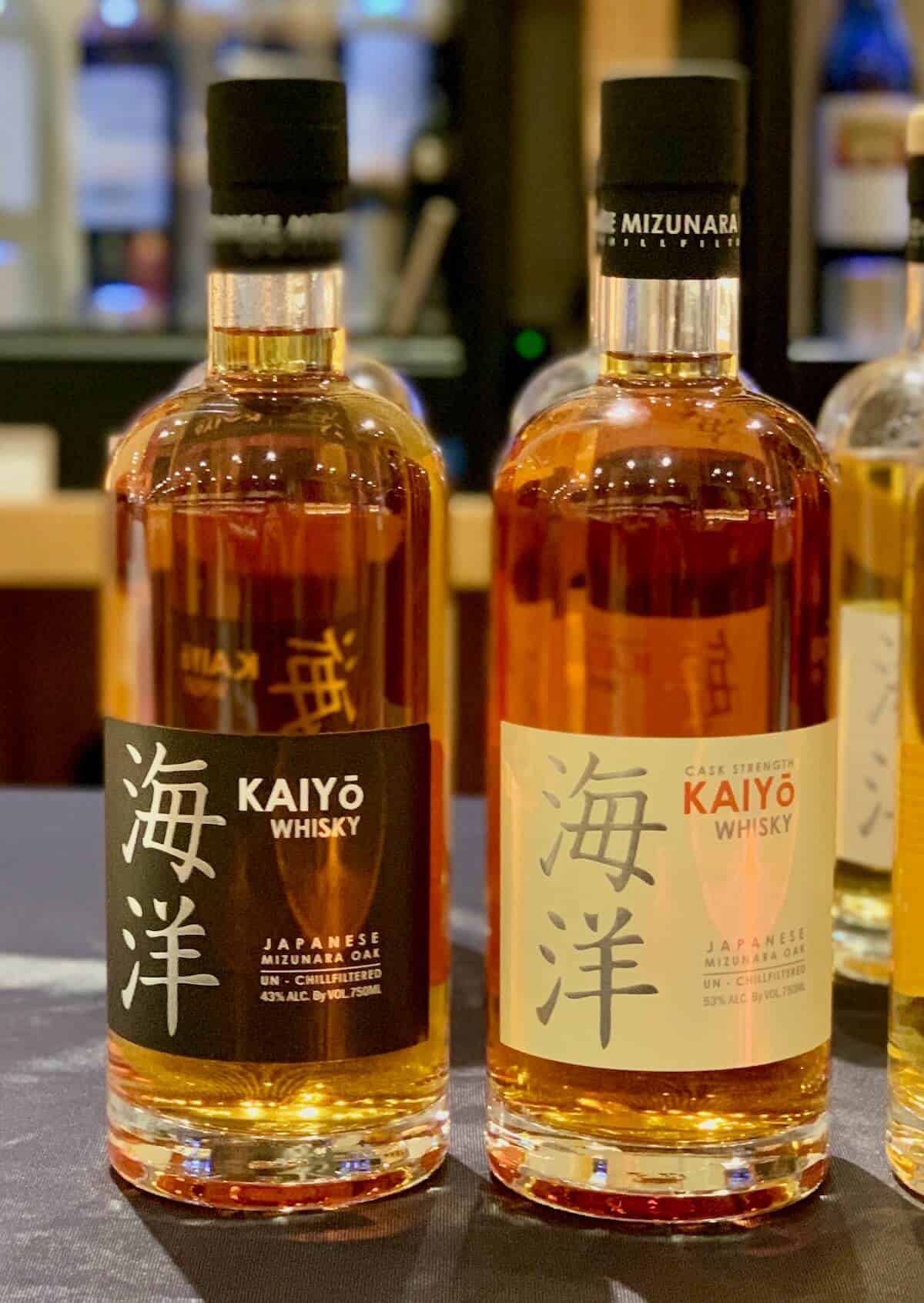 Kaiyo Whisky - The Single 7yr
Tasting Notes
Nose: freshly sawed pine, bananas, popcorn

Taste: medium body, all wood, grilled pineapple

Finish: sawed pines notes come back and hang on with honey syrup

Comments: strong, sweet flavors, the wood notes add depth
Kaiyo Whisky - The Peated
46%ABV
100% peated malted barley from Islay, 35ppm
Tasting Notes
Nose: peat under cedar, bbq sauce

Taste: medium body, light ocean peat smoke dominates, sawdust underneath with ripe pears

Finish: cold campfire ash hangs on

Comments: the peat dominates all else, but the other flavors do peek out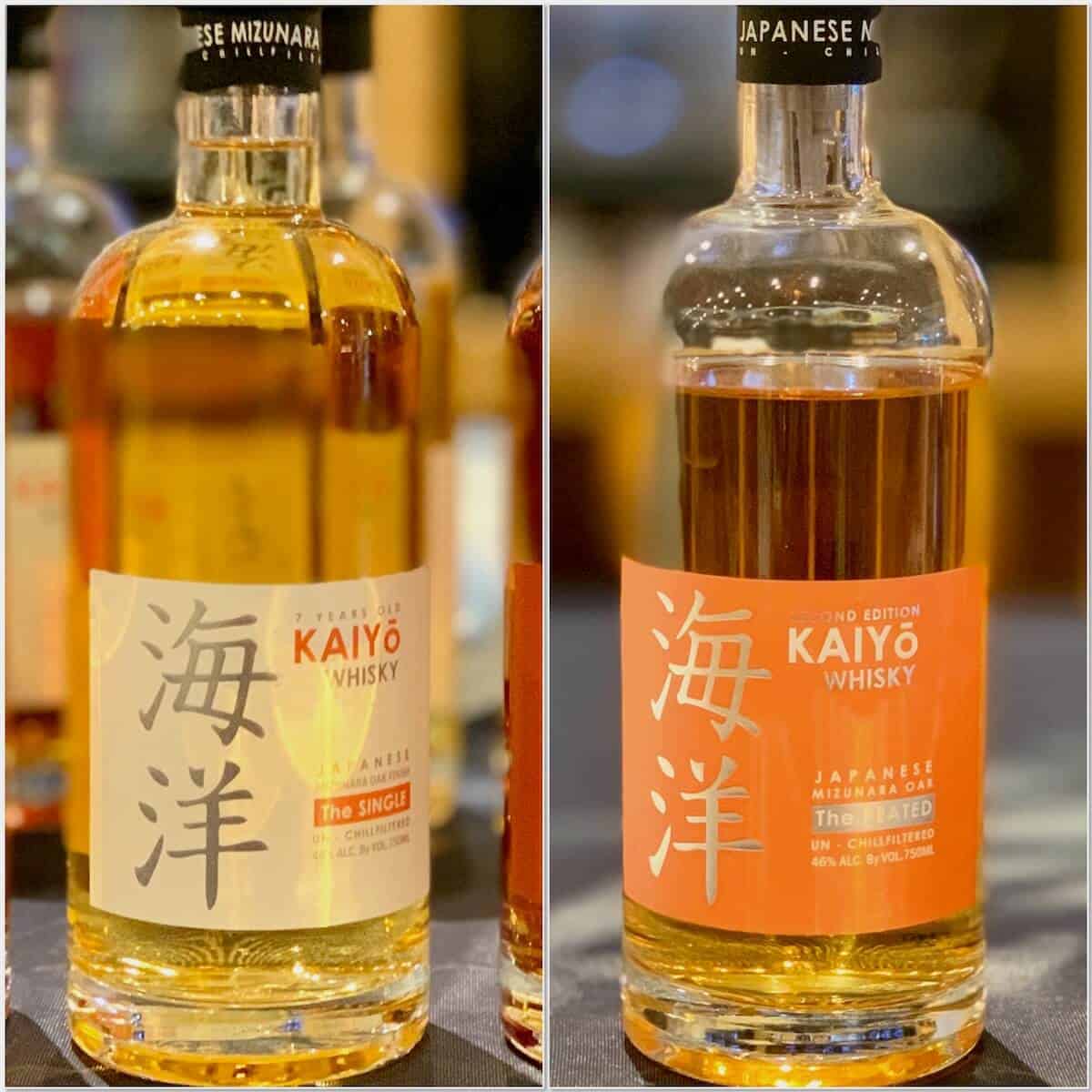 All these expressions from Kaiyo Whisky have a lot going for them, and it's hard to choose which one is the best. Why don't you grab a bottle and be the judge!
Slainté! L'chaim! Cheers!
Tammy