Kavalan's distillers don't shy away from Taiwan's hot, humid climate. Instead they turn it into an asset that gives Kavalan Whisky its big, bold taste. Ian Chang, Kavalan's Master Blender, led our tasting seminar.
Go big or go home…what does that phrase mean to you?
It's often heard in ads about sports drinks or pickup trucks, something about determination and grit. For me, it implies plotting a course of action, then having the tenacity to bear it out even if there are challenges that seem daunting.
In other words, try and dare to fail.
When applied to whisky, to me it's not being timid about going after the big flavors. Big, bold Kavalan whisky doesn't shy away from its environment.
It embraces the warm and wet climate of Taiwan and forces its whisky to be excellent.
Kavalan's pride of place
I had the pleasure of attending a whisky tasting seminar at Gordon's Main Street (in Waltham, MA) hosted by Ian Chang, Kavalan's Master Blender.
He led us through a lineup of Kavalan's main expressions as well as higher-end pours including Gordon's Single Cask.
Ian's soft-spoken delivery didn't mask his obvious pride and devotion to these products and to Kavalan itself. It was a master class about whisky distilling in Taiwan, its history, and how Kavalan whisky has adapted the distilling process to take advantage of the microclimate.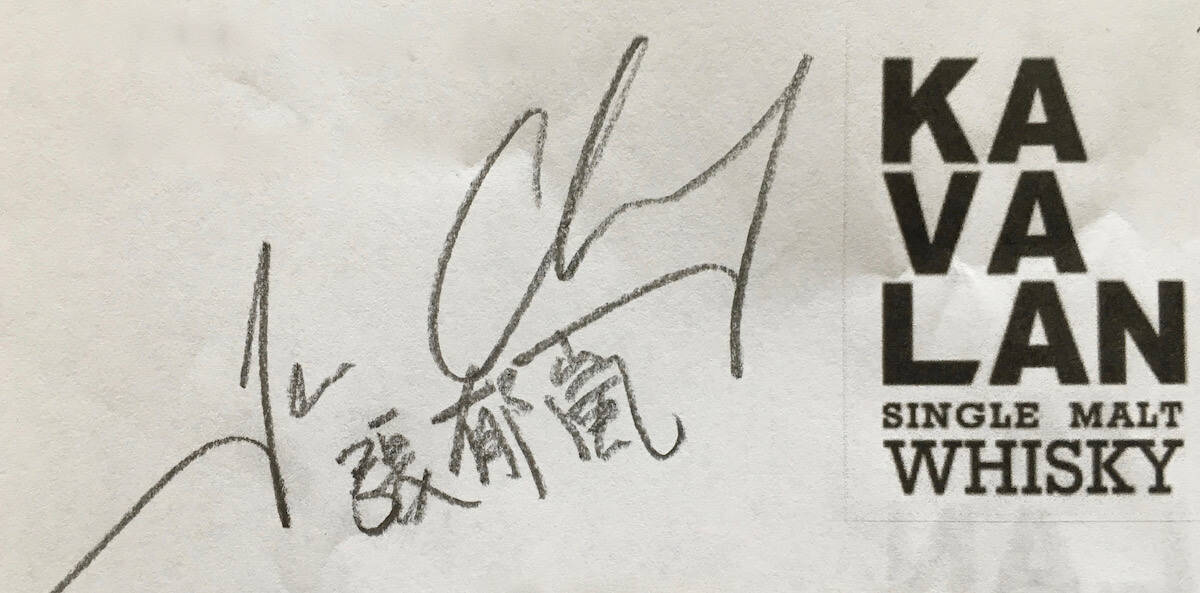 Paying attention to detail
In a nutshell, Kavalan pays attention to very small details every step of the way.
The ratio of grain sizes when milling and precise vat temperatures during fermentation are looked at closely. Also, they taste the wine from the casks they plan to reuse for maturation their new make spirit.
Even the location of the casks within the maturation warehouse is strictly monitored to ensure a specific maturation rate.
As a multistory building in a very hot and humid climate, Kavalan uses different sizes of casks on different floors – small 200L casks are on the bottom floor where the temperature is about 80°F in the summer, and the casks get larger as you climb the floors so the large sherry casks (500L) are on the top floor where it's 107°F.
The spirit in larger casks matures at the same rate as the smaller casks due to this temperature difference, so after 4 to 5 years all the product on the different floors will be almost even in terms of maturity.
Paying attention pays off
So what does all this attention to detail get you?
Big, bold, viscous, oily...all words used to describe the fruity and floral nature of all Kavalan's expressions. No shrinking violets, these. Each one makes you stand up and take notice.
Full disclosure, I've tried and posted my reviews of four of these pours already (Classic, Concertmaster, Ex-Bourbon, and Sherry Oak), and once again my impressions were different this time. This are my original and revised tasting notes for those expressions.
Okay, enough with the small talk…let's go taste whisky!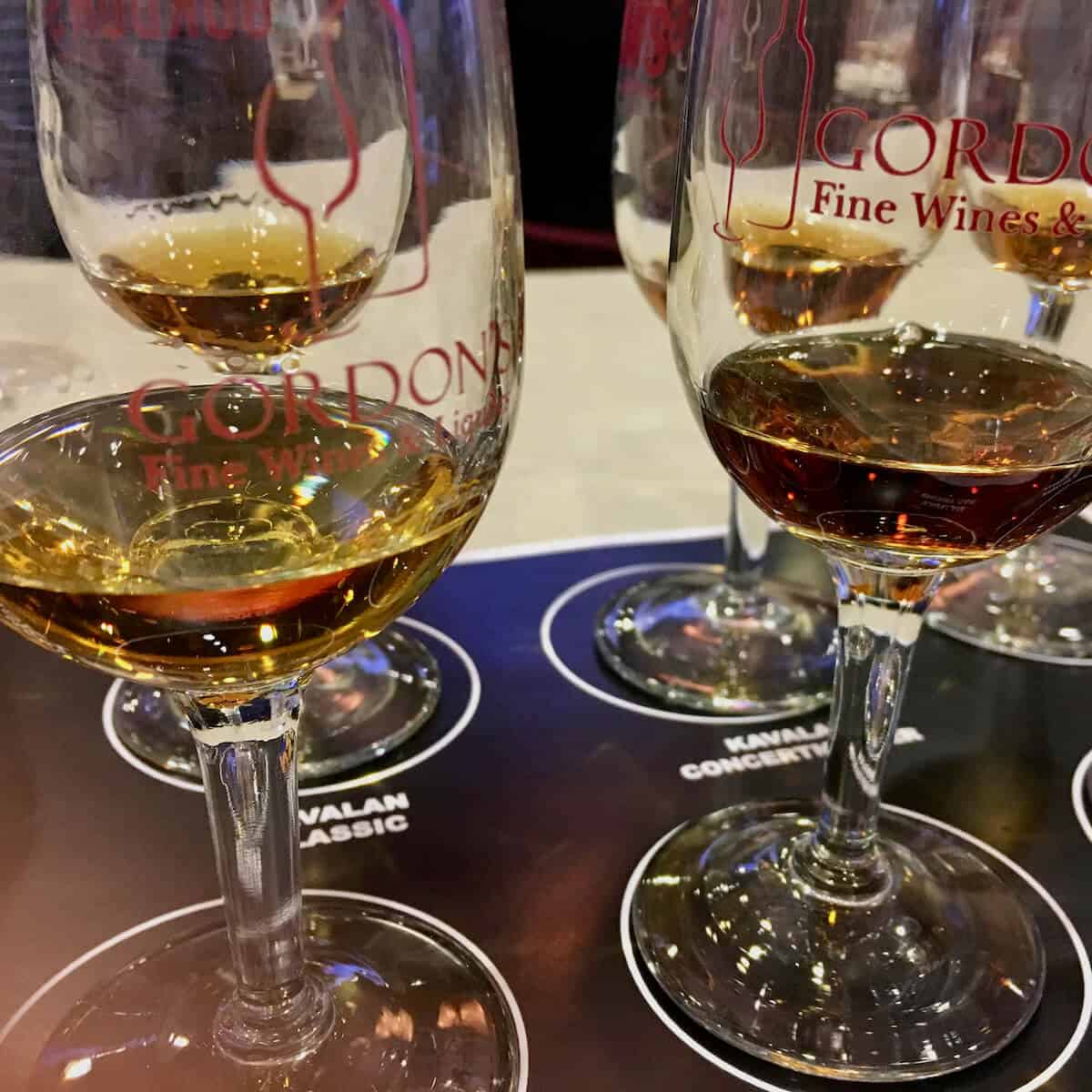 Kavalan Taiwanese Whisky Seminar
At Gordons Main Street, presented by Master Blender Ian Chang, April 24, 2018
Kavalan Classic
43% ABV
Tasting Notes
Nose: vanilla, caramel, tart green apple, tropical fruit, banana

Taste: thick, creamy, vanilla cream, tropical fruits, warm spices, cooked fruit

Finish: warm spice rises, well blended, cinnamon lingers

Comments: fragrant and fruity, thick and chewy, pleasant burn at the end
Kavalan Concertmaster
Tasting Notes
Nose: minty, muted nose, raisins and plums, hints of banana

Taste: thick body, raisins, black currents, baked gingerbread

Finish: cinnamon, ginger finish, lingers long and strong

Comments: rich and fruity, sweet and spicy
Kavalan King Car Conductor
46% ABV
similar style to Classic
Tasting Notes
Nose: caramel, vanilla, cooked fruit, tropical fruit, banana, pineapple

Taste: thick, spice hits quickly, very sweet, almost evergreen, very fruit and spicy

Finish: fades quickly from evergreen to warmth

Comments: really commands attention while drinking
Kavalan Ex-Bourbon Oak
46% ABV
Tasting Notes
Nose: cinnamon, cloves, vanilla, brown sugar, plums

Taste: medium body, gingerbread, burn rises quickly, caramel, cloves

Finish: fades to soft muted cloves and nutmeg

Comments: burns more but is mellow, flavor intensifies as you drink
Kavalan Sherry Oak
Tasting Notes
Nose: rich fruit, intense nose, raisins, coffee caramel

Taste: very thick, dark coffee, raisins, caramel, molasses cake

Finish: fades to rich raisins, soft baking spices

Comments: sweet, sherry bomb, can almost chew it
Kavalan Ex-Bourbon Gordon's Single Cask
Tasting Notes
Nose: classic bourbon nose, caramel, cinnamon, toffee

Taste: medium body, spicy, maple candy, evergreen

Finish: white pepper fades to gingerbread and warm baking spices

Comments: more bourbon-like, less body but cleaner flavor
Kavalan Pedro Ximenez Sherry Cask
Tasting Notes
Nose: clover, vanilla, cotton candy, caramel, light raisins, dark chocolate

Taste: very thick, high spice menthol, prunes, sharp edges

Finish: fades to menthol and black pepper, cloves

Comments: thick and fragrant, sweet, a dessert whisky, hits hard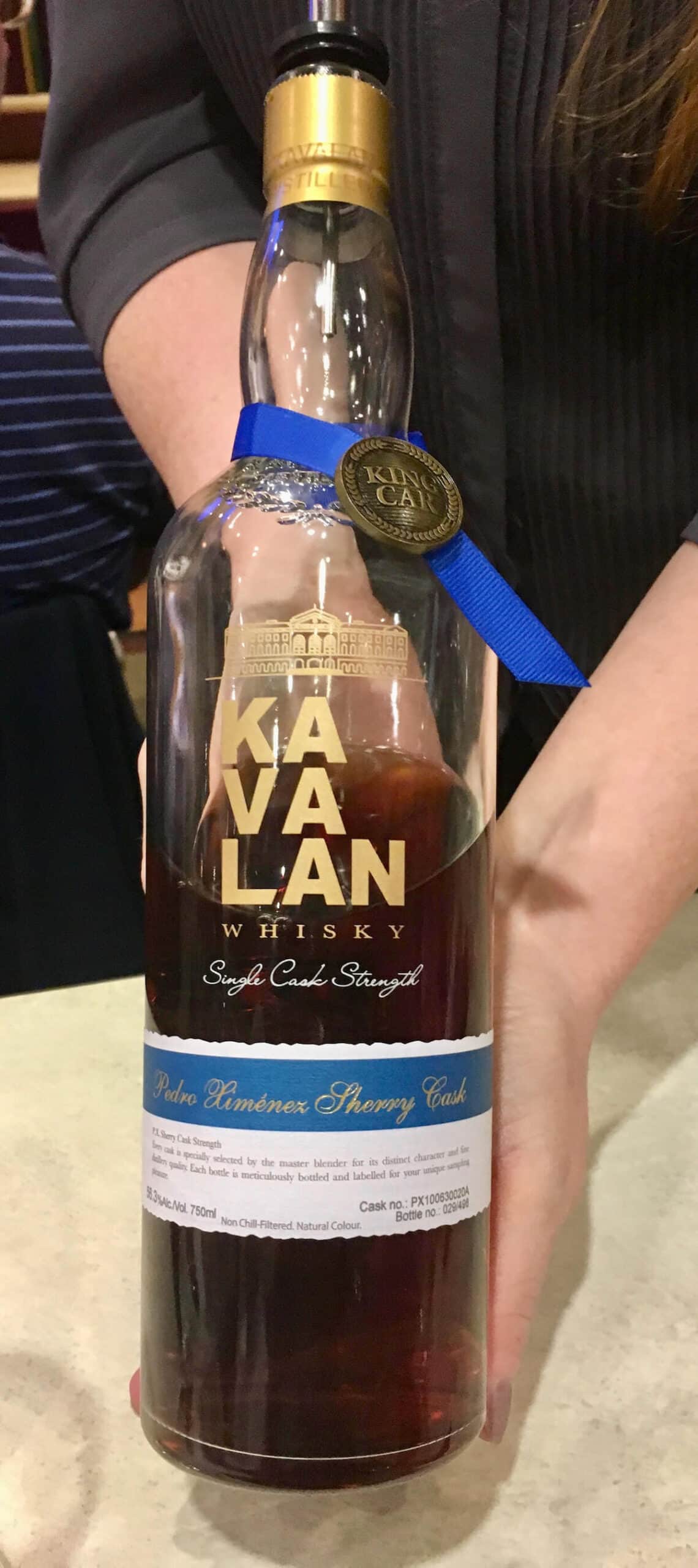 Final thoughts
Many times in my life I do try and dare to fail (note the existence of this website!). After all, what is failure but a way to learn how not to do something?
Go big or go home…bold Kavalan whisky is definitely not going home.
Slainté! L'chaim! Cheers!
Tammy