Distillers use exotic cask finishes to age their expressions, resulting in new flavor profiles. Explore this interesting scotch lineup and choose a dram, then challenge yourself to pair those flavors with food in creative ways.
The wonderful thing about whisk(e)y in general, and scotch in particular, is the great variety that can be achieved by in what (and how long) the distillate is aged.
I've already written about how the scotch industry reuses casks. Indeed, much of what I've tasted in my experience so far are drams that have been aged in sherry casks and a few in port casks.
Given the popularity of these finishes, you would expect that the supply of available casks is competitive. Some producers are turning to other types of casks as a substitute, with the result being surprising and delightful.
Cask influence on a particular spirit varies greatly based on the wood and what was in the cask before.
And I've come to learn that choosing exotic cask finishes and food pairings with whisky both are arts requiring a skilled palate.
Fancy scotch finishes
Holly Seidewand, Gordon's new Whiskey Specialist, recently presented a wonderful and highly informative scotch tasting seminar called Exotic Cask Finishes.
I was lucky enough not only to attend, but I was able to stretch my culinary wings a bit and provide a food pairing for one of the samples, the Glenmorangie Bacalta, a first for me! I'll talk more about the pairing in a bit (ok, now don't forget!), but let's get back to the finishes.
One small note…because I was also prepping and serving my pairings, my attention was distracted somewhat and my tasting notes aren't as detailed as I would like. I have added some more notes after the fact.
Exotic Cask Finishes Scotch Seminar
Presented by Holly Seidewand at Gordon's Fine Wines and Liquors, Main Street location, Waltham, MA, April 20, 2017
Glen Moray 10 Year Chardonnay Cask
Tasting Notes
Nose: vanilla, peach, grapes; with water, mineral forward

Taste: minerals, pine, oily, medium body; with water, fruitier, green grapes

Finish: fades to fruit & pepper; with water still spicy

Comments: Speyside, matured entirely in a chardonnay cask so you get the buttery, green fruit taste
Tomatin 14 Year Port Cask
Tasting Notes
Nose: vanilla

Taste: strong port, sweet

Finish: cherry finish

Comments: Wonderful!! My favorite of the lot. The port cask isn't as exotic as the others, but it gives a sweet red fruit note
Glenmorangie Bacalta Madeira Cask
Tasting Notes
Nose: Light citrus, evergreen

Taste: smooth entrance, thick, pine, sweet

Finish: green finish

Comments: This one I've tasted before and loved. Madeira gives a sweet, cooked fruit element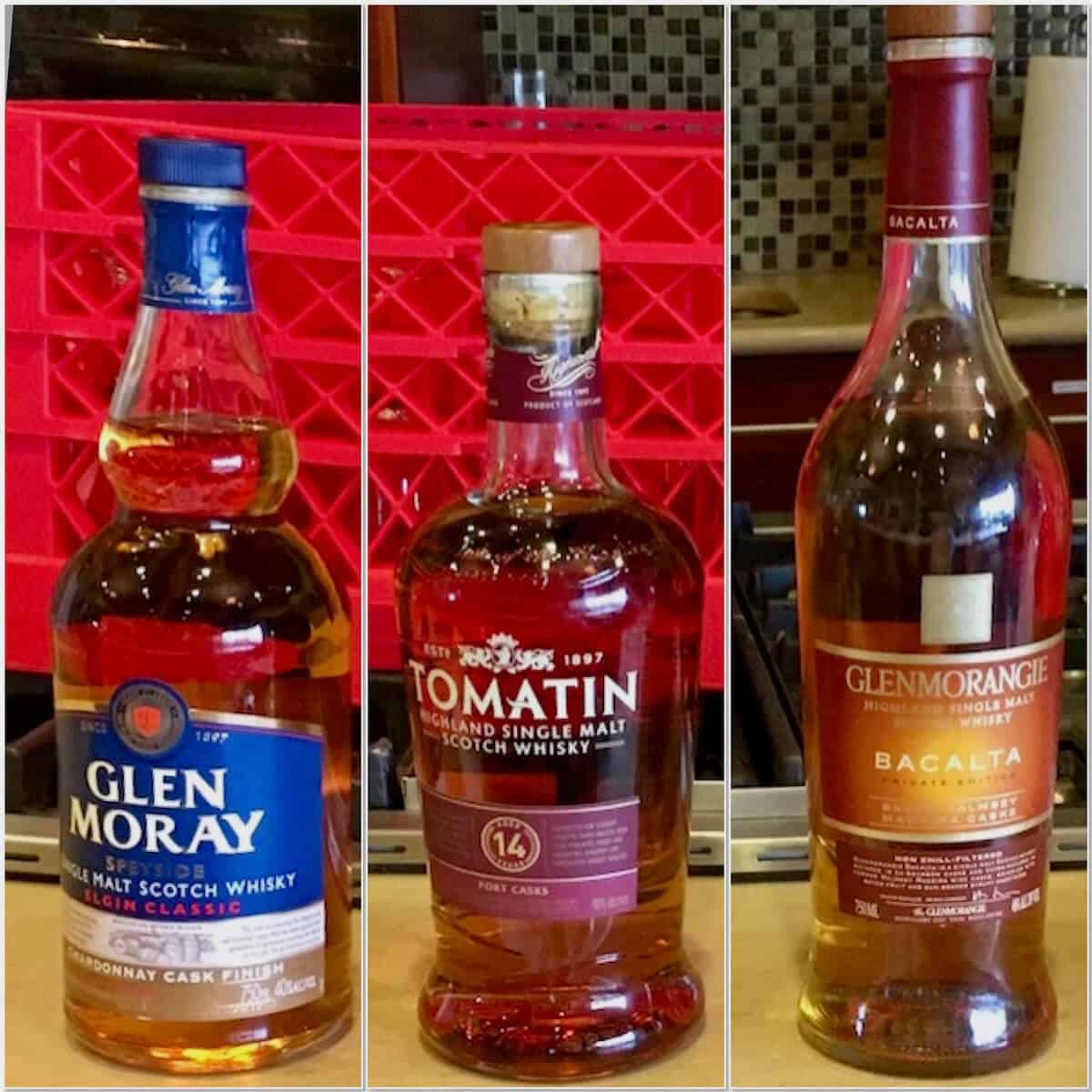 Kilchoman Sauternes Cask
Tasting Notes
Nose: sautéed mushroom in butter, a bonfire on the beach

Taste: a campfire on the tongue, ashy, smoke doesn't hit but slides in, major body, soft, not peppery

Finish: eases off the tongue

Comments: Fab! A nice pour for a summer evening. 5 years only in Sauternes wine, a sweet, minerally white wine. Good balance with the smoke
Gordon & MacPhail Sassicaia Cask Caol Ila
45%ABV, Islay; pronounced "Ko Eela"
Tasting Notes
Nose: caramel, smoke slightly; with water, get sweet fruit

Taste: orange peel, easy smoke; with water, sweeter, fruit comes out, still has peat

Finish: no real finish, puff of smoke; with water pepper rises finish lasts more

Comments: Sassicaia is a Bordeaux-style dry red wine
Glenfiddich 12yr IPA (Mystery Pour)
Tasting Notes
Nose: sweet ripe peaches,

Taste: sweet, oily, thick body, pear

Finish: lasts, mint at the end

Comments: Very good. Finished in IPA 3 mo, gives a floral "hoppy" notes to the aroma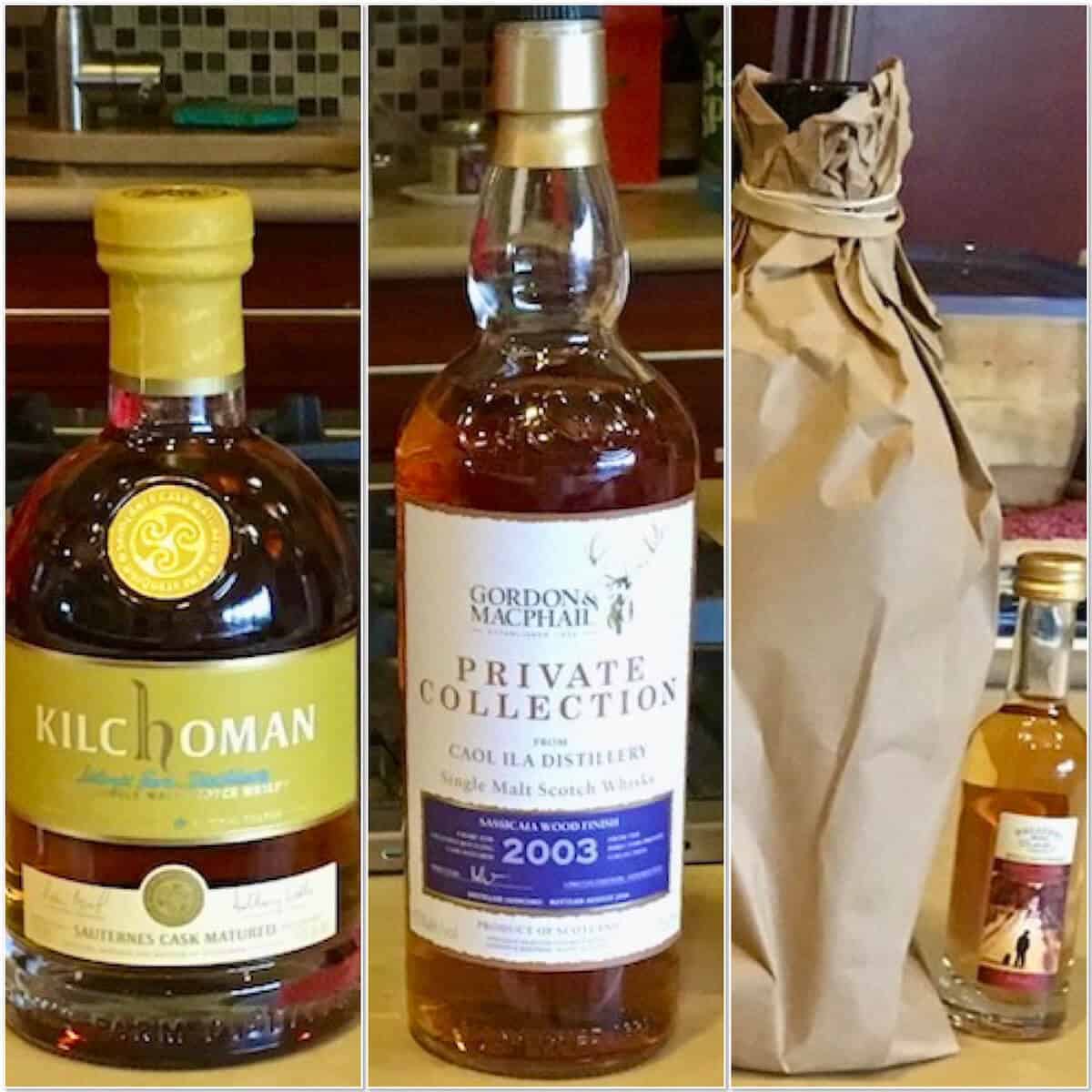 Pairing food with scotch
As with everything to do with tastings, pairing a food with a particular expression is going to be highly subjective.
You can try to complement a flavor note or contrast it, going sweet or savory in the process. I had tried the Glenmorangie Bacalta before and had an idea of its flavors on my palate. In fact, the notes I gave above are from that previous tasting (again, I was busy serving so I didn't get to try it at the seminar).
I chose to play up the apricot and menthol elements of the pour. I presented apricot tartlets featuring a homemade shortcrust pastry filled with organic apricot jam, playing up the fruity notes of the expression.
For the "green" taste, I served rosemary sourdough focaccia with a drizzle of sweet balsamic glaze. These contrasting flavors mimicked the Bacalta itself.
Everyone seemed to enjoy the snacks and several people commented favorably as to the pairing choices.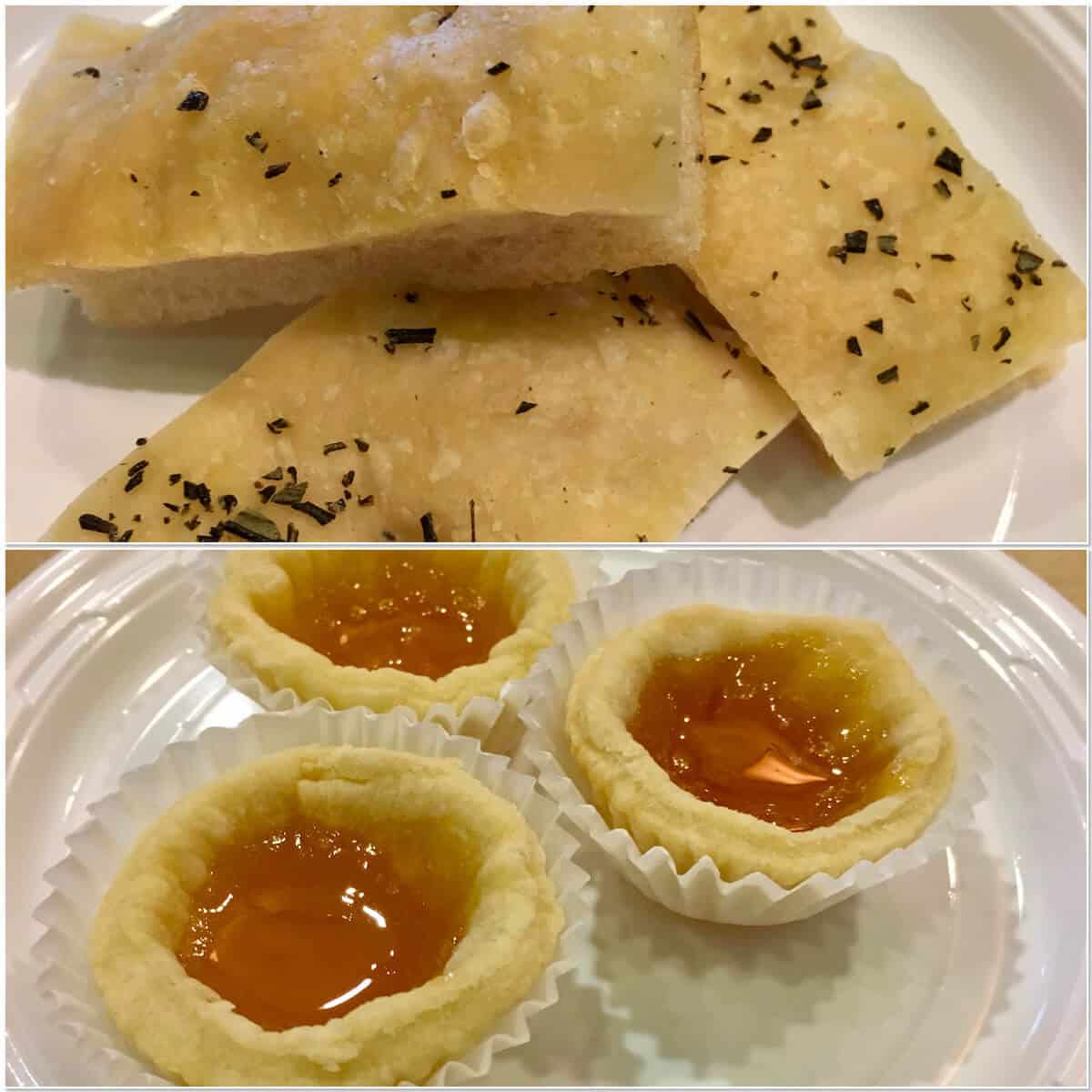 Final Thoughts
I loved the thought process involved in coming up with the food pairing ideas.
There's that aspect of creatively using my own experiences with both food and scotch to decide what to suggest, as well as learning from others about their relationship to that particular dram.
I hope you'll go off the beaten path and try some of these more exotically finished whiskies. They really start to give scotch a wider spectrum of flavors available.
Now to just think up a snack to have with them. Hmmm...
Slainté! L'chaim! Cheers!
Tammy