Recycling casks from other spirits to age scotch is not only environmentally friendly, it makes great whisky as well! The Balvenie Single Match Scotch lineup is a great example.
I'll admit it...I'm a tree hugger
Well, not literally. Trees are scratchy and can have ants and bugs on them (ewww!), or worse, spiders (shudder).
No, I'm in favor of trees in a natural setting, forests, woods, glens, glades...you get the idea. I love being in a natural woodland setting, preferably with the sound of running water nearby.
Growing up in the suburbs of Los Angeles, the trees there were planted for the housing subdivisions, so there aren't many real forests.
When I moved to New England, one of the things that drew me in were all the woods nestled in with the cities and towns. The trees were preserved and the houses went up around them (what a novel idea!).
And don't get me started on New England in the fall...WOW! New England's woodlands take my breath away.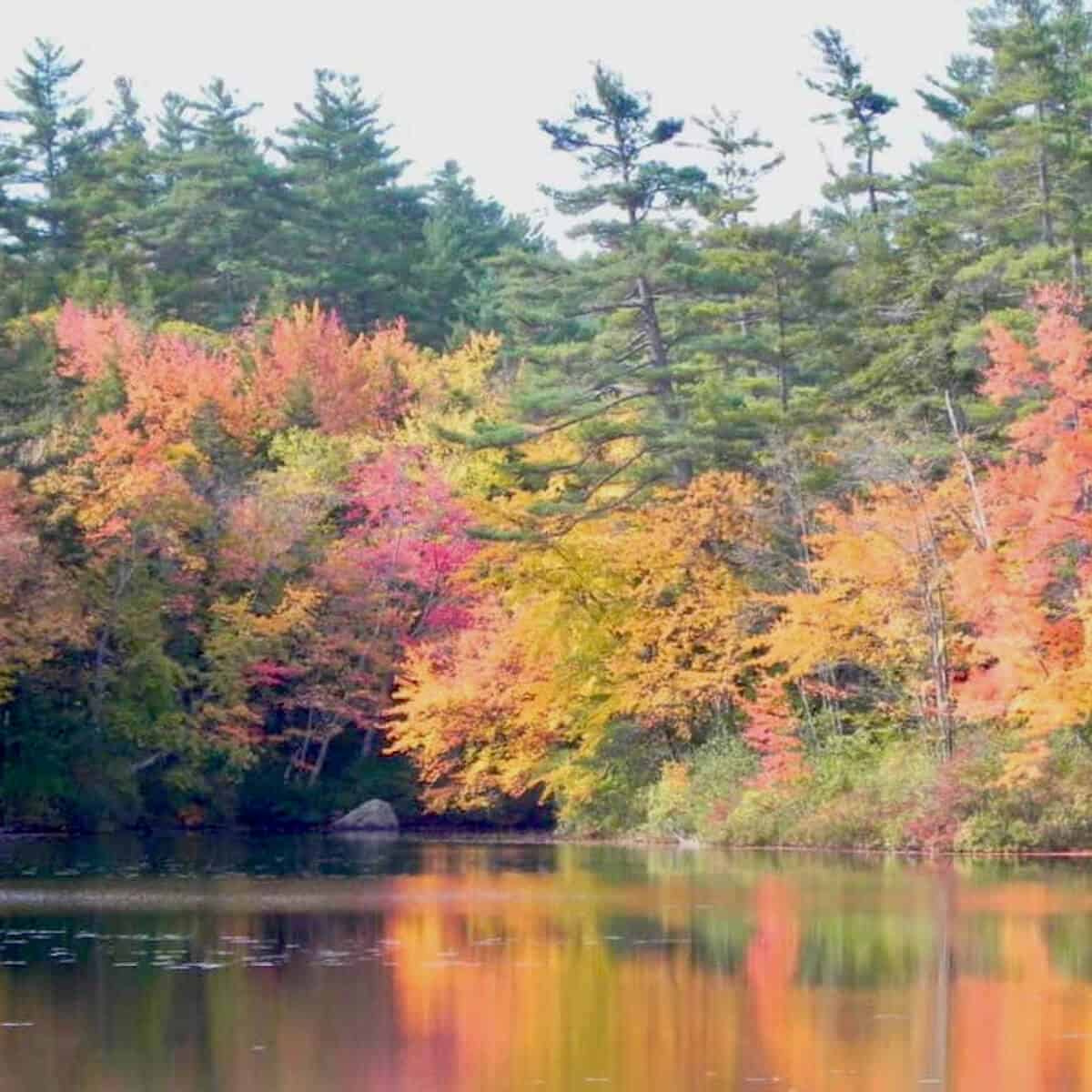 I'm also frugal by nature (as an Outlander "Honorary Scot" I wear that badge proudly).
I don't like to see anything wasted, especially something like tree products because trees take so long to grow back. I like it when I can reduce the use of or reuse items, especially paper.
So you understand how I can appreciate recycling casks for aging scotch.
Recycling wood for scotch
After the grain mash is distilled, the spirit is aged in wood casks. That's where a great deal of the flavor of the whisky is created. The type of wood the cask is made of and what was in the cask before the whisky was aged in it lends its distinctive characteristics to the spirit during the aging process.
By hand-selecting the casks for aging, a Master Distiller can produce a desired whisky taste. It's magic again, folks.
[Nerd Alert...lots of exposition about casks ahead. Proceed at your own risk, or just skip down to the tasting notes. We'll meet up with you later.]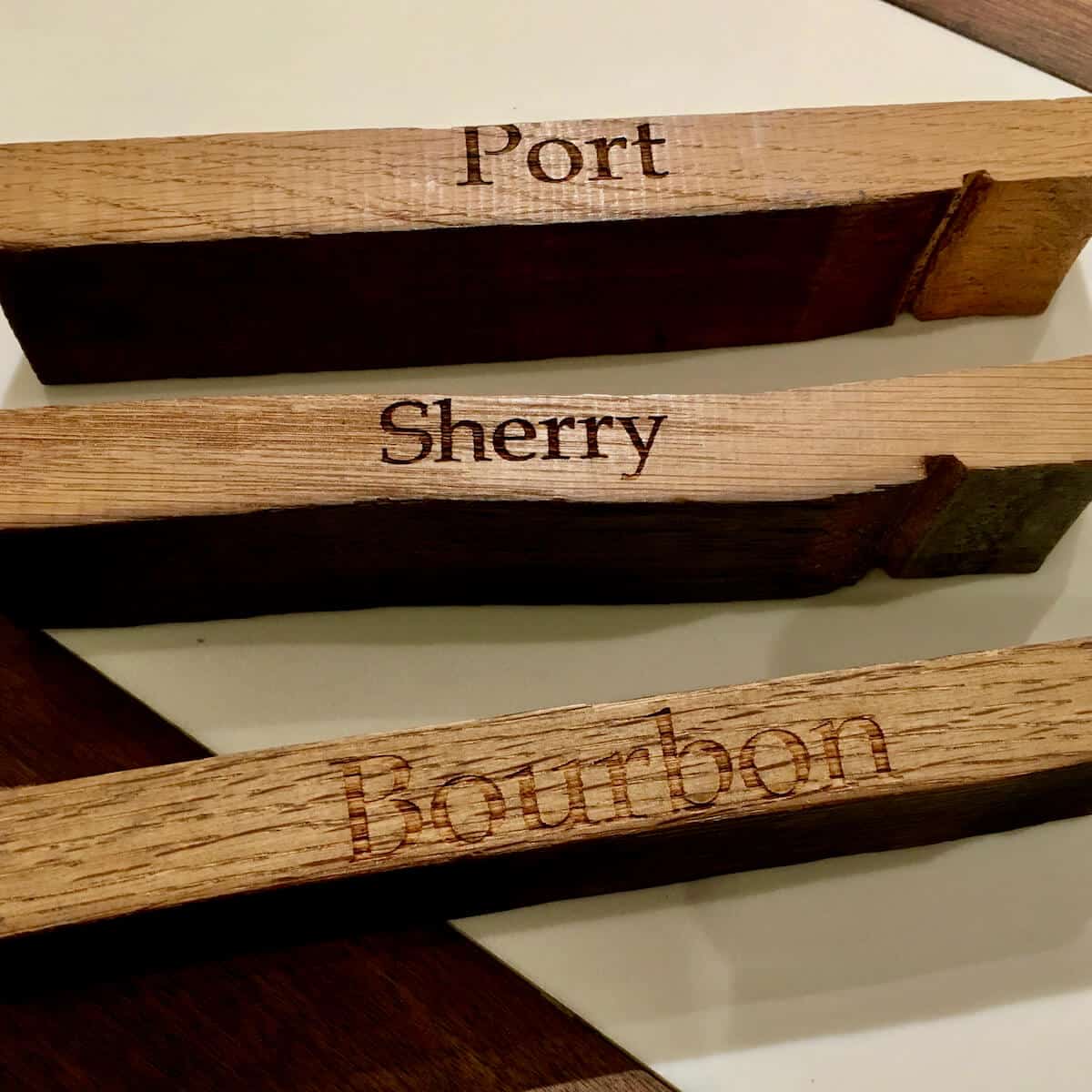 Cask influence on aging scotch
(Ok, they've gone ahead, so tell us, tell us, more about casks!)
Of course, how can I refuse such enthusiasm for knowledge?
I'm going to speak generally now, as each individual expression of scotch will have its own distinct aging process (time, type of cask, etc.). Many whiskies start aging in oak casks. Quoted from The Bourbon Review:
"Whiskey barrels made from oak have three broad effects on the spirit:
As an additive – It adds to the taste and aroma of the spirit by providing desirable elements from the cask. For example: vanillin, Oak lactone (coconut, bourbon character), toastiness, wood sugars and color.
As an agent that removes undesirable elements from new make spirit. For example: sulphur compounds and immaturity.
Oak barrels also interact with the spirit. It adds extractive wood elements from the cask and converts them to organoleptically desirable elements."
Whew, oak adds a lot of character!
[Side note: "organoleptically" = characteristics that release to the senses (I had to look it up. The things you learn)].
One can write a dissertation on how all the aspects of oak affect the spirit (it's growth rate, how the wood is seasoned, how the barrels are aged), and The Bourbon Review does a good job of presenting this information.
From there, the diversity of whisky really takes off. The whisky can be aged a second time (or more) in casks recycled from the production of bourbon, port, rum, or sherry, just to name a few.
Anyone ever heard of oloroso, fino, or amontillado sherry? I hadn't before I started research for this post.
The secondary aging of the whisky in casks formerly used by other spirits adds another layer of complexity to the various expressions, e.g., sweetness, deeper colors, and even making the whisky more full-bodied.
Winning at trivia
Before we move on, here's a few more tidbits from The Bourbon Review that you can use to amaze your friends or win the pub's trivia contest:
The wide-spread use of bourbon whiskey barrels is a fairly recent occurrence, aa result of the difficulty in sourcing sherry casks during the Spanish civil war in the late 1930's.
Currently anywhere from 300,000 to 400,000 bourbon casks are acquired for use in the maturation of Scotch whisky. In contrast to only about 18,000 sherry casks are used.
Contrary to popular belief, very few whiskies are aged exclusively in bourbon barrels. Most ex-bourbon aged single malts are vatted with a (varying) percentage of whiskey which was aged in ex-sherry barrels.
It's the little things, Gentle Reader, that bring the spice to life.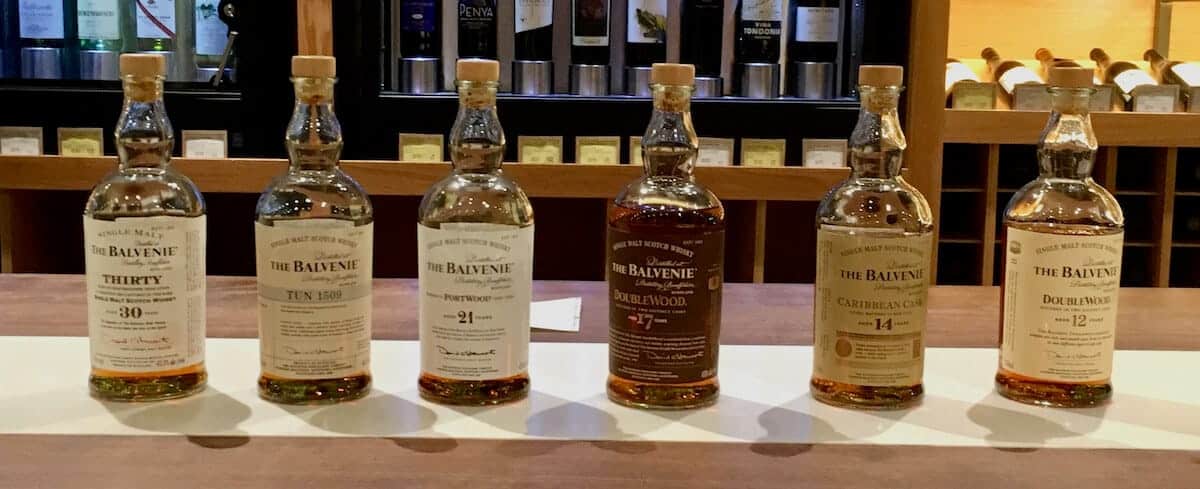 The Balvenie Distillery
[For those that skipped ahead, nice to see you again. For those of you who stuck with me, I applaud your determination and quest for knowledge.]
The Balvenie distillery is located in Speyside next to its parent company Glenfiddich and home to also Kinnive whisky, in the most condensed areas for whisky making in all of Scotland.
The typical character and style of Speyside scotch include the flavors of apple, vanilla, oak, malt, nutmeg, and dried fruit.
The Balvenie is famous for their flagship whisky, the DoubleWood 12 year, and many of their offerings are distinctive by the choice of the recycled casks used for aging.Indeed, the names of their expressions give it away.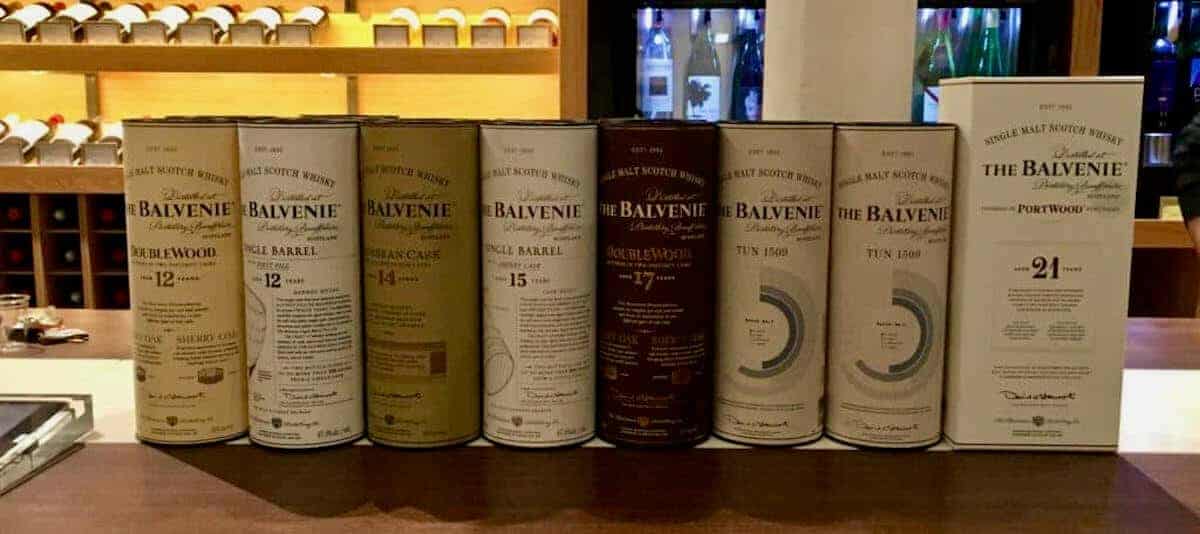 The Balvenie Single Malt Scotch Wood Cask Finishes
at Gordon's DTX, February 15, 2017
The Balvenie DoubleWood 12yr
40%ABV
Tasting Notes
Nose: toffee, little smoke, deep aroma

Taste: flowers, honey, vanilla, toasted coconut, some spice

Finish: long sweet finish, tapers off

Comments: easy to drink, accessible and very good!
The Balvenie Caribbean Cask 14yr
43%ABV
Tasting Notes
Nose: vanilla, mango

Taste: spice (cinnamon), even flavor, caramel, rum notes, accessible

Finish: fades fast
The Balvenie DoubleWood 17yr
43%ABV
Tasting Notes
Nose: cinnamon, vanilla

Taste: high spice, pepper, wood

Finish: fades peppery, lingers

Comments: nice to sip
The Balvenie Single Barrel 12yr
47.8%ABV
Tasting Notes
Nose: apricot, vanilla, toast

Taste: spice rises up in the nose quickly, pepper

Finish: long pepper finish, flavor lasts

Comments: nicely approachable
The Balvenie Portwood 21yr
47.6%ABV
Tasting Notes
Nose: easy fruit, honey, peach

Taste: immediately spice, cream, smoke

Finish: smoke, long finish

Comments: I liked it a lot
The Balvenie TUN 1509 Batch 3 Cask Strength
52.2%ABV
Tasting Notes
Nose: vanilla strong, floral, sweet

Taste: up the nose, hard time teasing out flavors, complex

Finish: intermediate finish, water helped to even it out
The Balvenie 30yr
Tasting Notes
Nose: sweet, pineapple, tropical

Taste: pineapples, smoky,

Finish: smoke lingers, lasts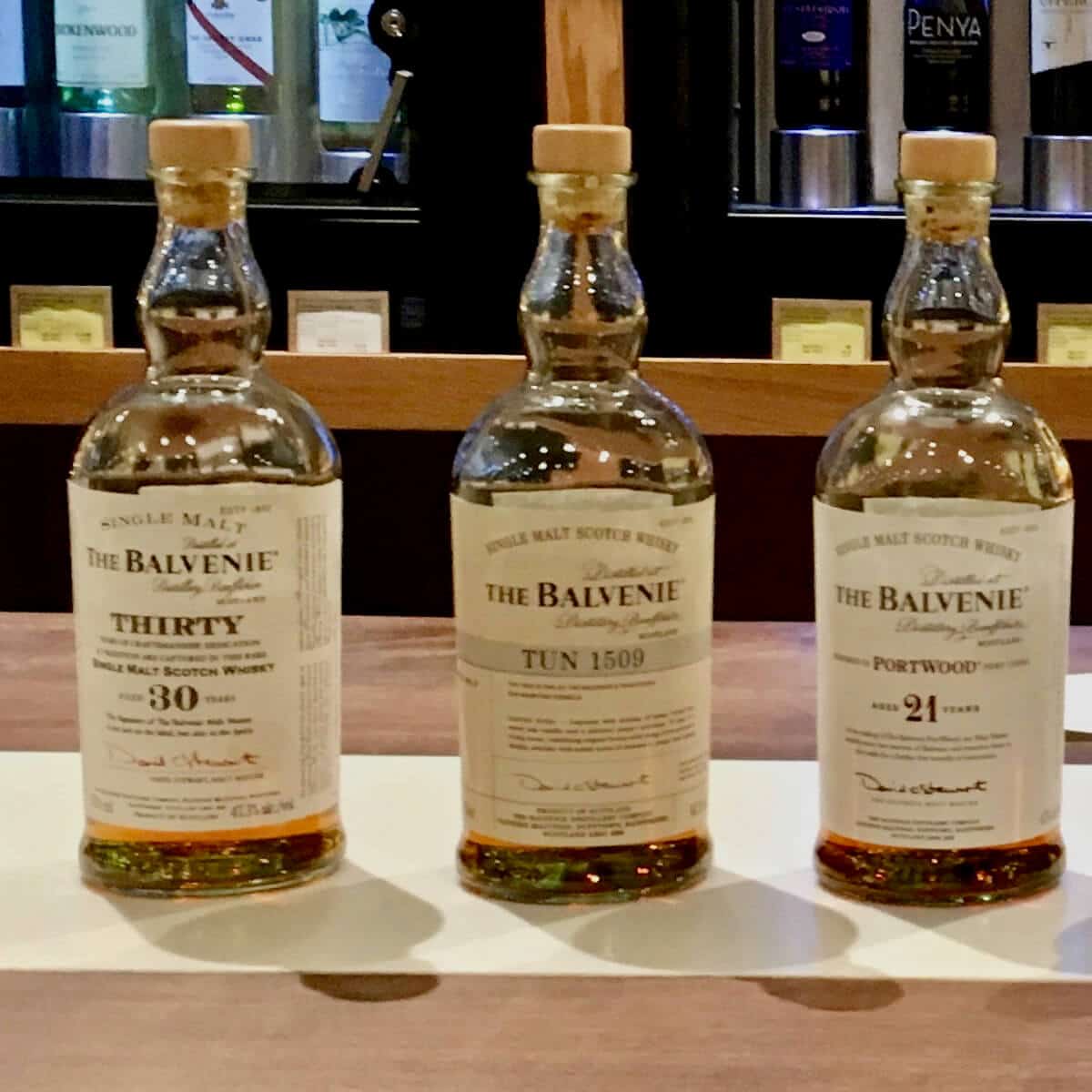 Final thoughts
It's interesting to me that because I tried the lineup at one time, the effect of the different woods was quite apparent.
Each expression was so different, which, of course is the point of the whole idea. But being able to compare and contrast them all together really brought this effect home to me, and now I have one more tool to add to my tasting toolkit.
Recycling casks for scotch aging may be environmentally friendly, and it produces great whisky as well!
Slainté! L'chaim! Cheers!
Tammy