The Whiskymakers at Compass Box blend scotch with specific intent. Taking good wood casks and marrying whisky from all over Scotland, They produce expressions that are more than the sum of their parts.
I like learning. There…I said it, loud and proud. Whether it's towards a degree (and not to brag, I have several), or just a new cooking technique, I just love to learn new things.
When I can combine my love of learning with something I'm passionate about (like baking and whisky), I'm especially gratified.
That's why I was so happy to go to the Compass Box Scotch Whiskymaker's Whisky School.
Let me explain…
Learning about scotch
When I research a particular lineup for a review post, I generally head to the company's website and poke around to see if there's something to learn there.
Usually I see information about the distillery's history and philosophy about what makes their products unique, along with details for their individual expressions.
Sometimes the distillery goes into more depth about their process, and my favorite sites are the ones that go into depth about the entire whisky-making process.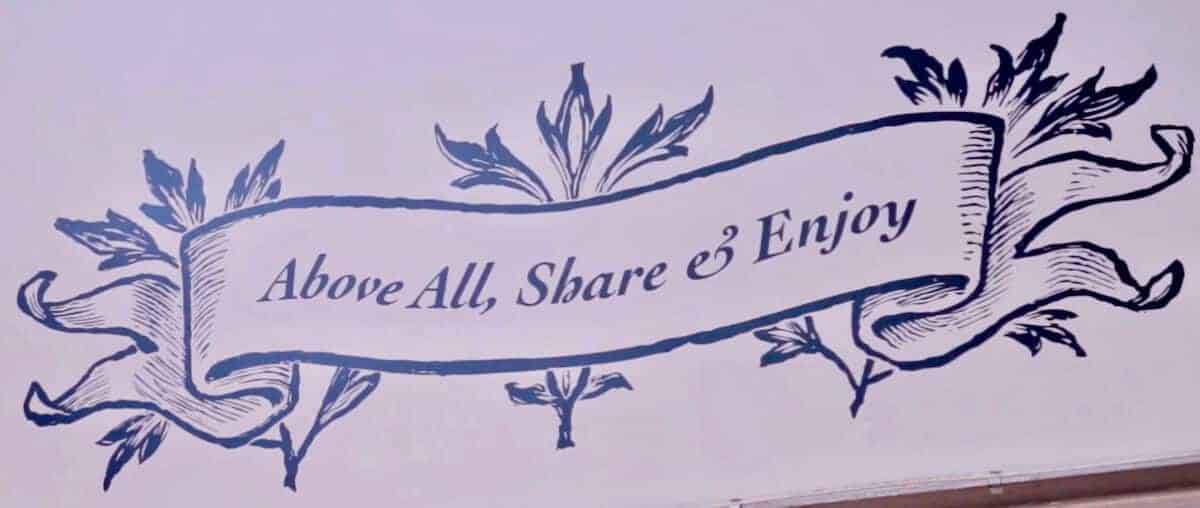 When I visited the Compass Box website, they had a series of videos where their founder and whiskymaker, John Glaser, explained about blending scotch whisky, the importance of wood and cask selection, and how they come up with the different expressions of Compass Box blended scotch.
These short yet informative videos do a great job of explaining what is blended scotch and how it's a unique category of whisky unto itself. Here's a brief summary of what I learned…
The importance of good wood…70% of flavor comes from the cask, so the types and styles of those casks are paramount to flavor
Marrying different types of scotch together is more than just mixing them. It's blending with specific intent, then putting the mixture back into wood casks to allow the flavors to rest and mature before bottling
You can use whatever types of scotch that you want to create the new expression, single malt whisky or grain whisky, peated or unpeated, etc. The idea is to enhance the blend by targeting the characteristics you want to feature from each component regardless of what those components are and/or where they are from
There's a lot more to the videos, and I encourage you to take a few minutes and take them in.
Okay, class dismissed…let's get to the tasting!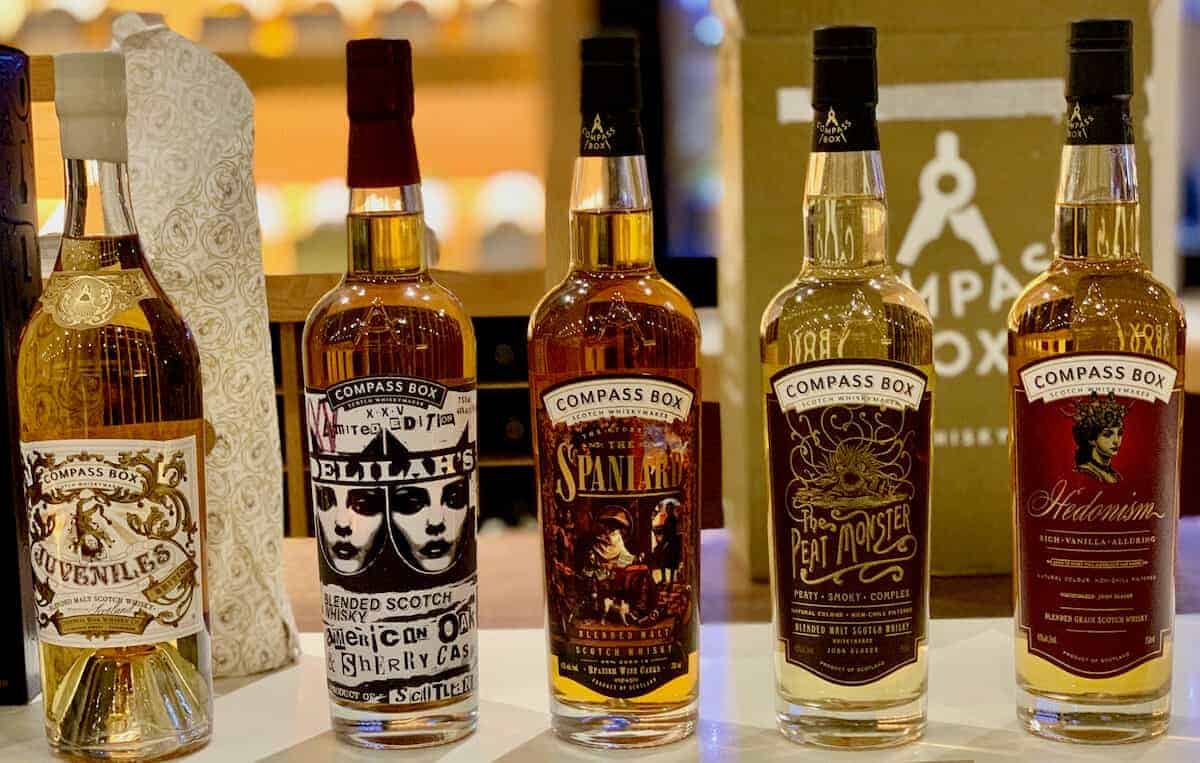 Compass Box Whiskymaker's Blended Scotch Lineup Tasting
At Gordon's DTX, January 16, 2019
Compass Box - Hedonism
43%ABV
All grain (no single malt), ex-bourbon cask, average age 17-23yr
Tasting Notes
Nose: vanilla, light nose, cream

Taste: thick body, creamy, vanilla toffee, light baking spices

Finish: light cinnamon, very light white pepper

Comments: sweet, flavor lingers
Compass Box - The Spaniard
43%ABV
48% sherry, 25% red wine, French and American Oak
Tasting Notes
Nose: herbs, berry fruits, greenery

Taste: lightly smoky, plums, cereal grains, caramel, cream

Finish: cream and plums, cherries

Comments: fruit forward in nose and taste, really lovely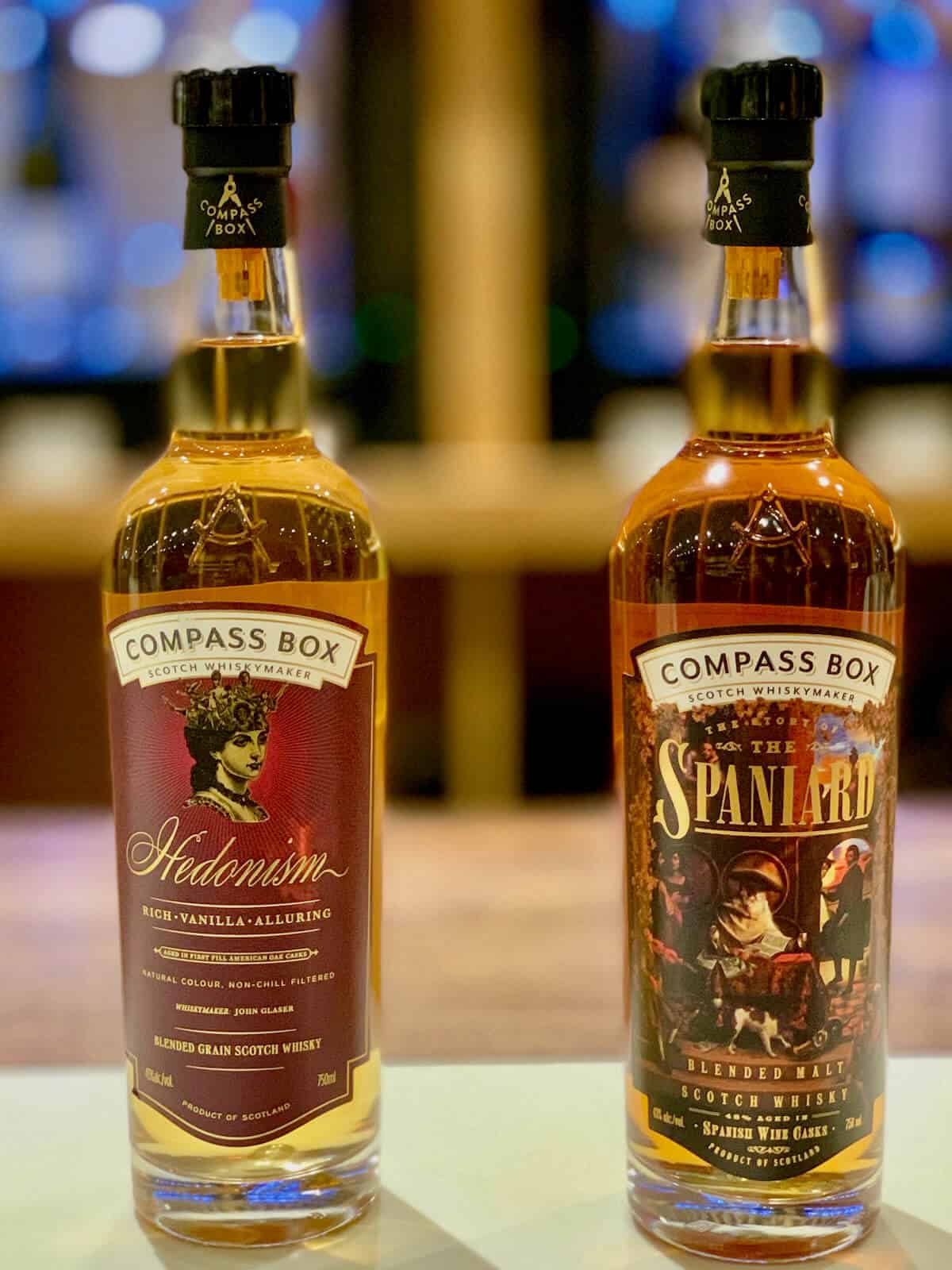 Compass Box - Juveniles
46%ABV
⅓ each BenRomach, Clynelish, Strathmill (Highland Single Malts)
Tasting Notes
Nose: heathery smoky, clover, cereal, hay

Taste: med body, cereal, hay, clover, light campfire smoke

Finish: grain, almost pine

Comments: clean, light ash, uncomplicated
Compass Box - Delilah's XXV
46%ABV
Limited edition, Oloroso sherry, started with previous batch
Tasting Notes
Nose: hay, vanilla toffee, oatmeal

Taste: light berry fruit

Finish: fades to hay, cereal

Comments: nose eventually matches taste, confusing at first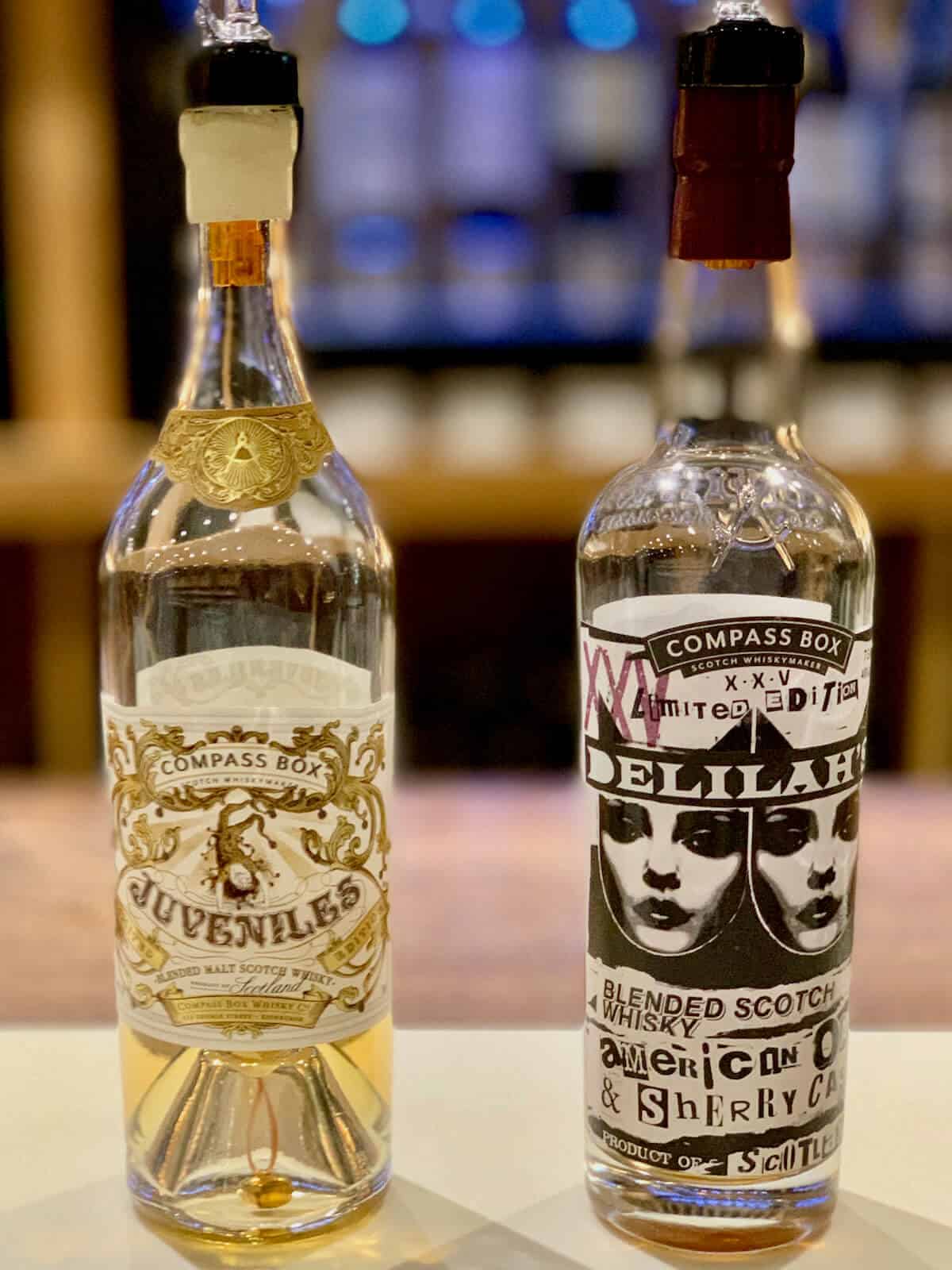 Compass Box - Peat Monster
46%ABV
Tasting Notes
Nose: iodine smoke, beach breezes, light oak

Taste: bright beach campfire, vanilla fudge, oak shavings, thick body

Finish: oak and smoke

Comments: nice peat flavor
Compass Box - Flaming Heart
48.9%ABV
Tasting Notes
Nose: plums, leather, cinnamon light citrus

Taste: beach smoke rises, baking spices, ripe plums

Finish: ripe plums, ash, ocean air

Comments: it's got a lot going on, layered, interesting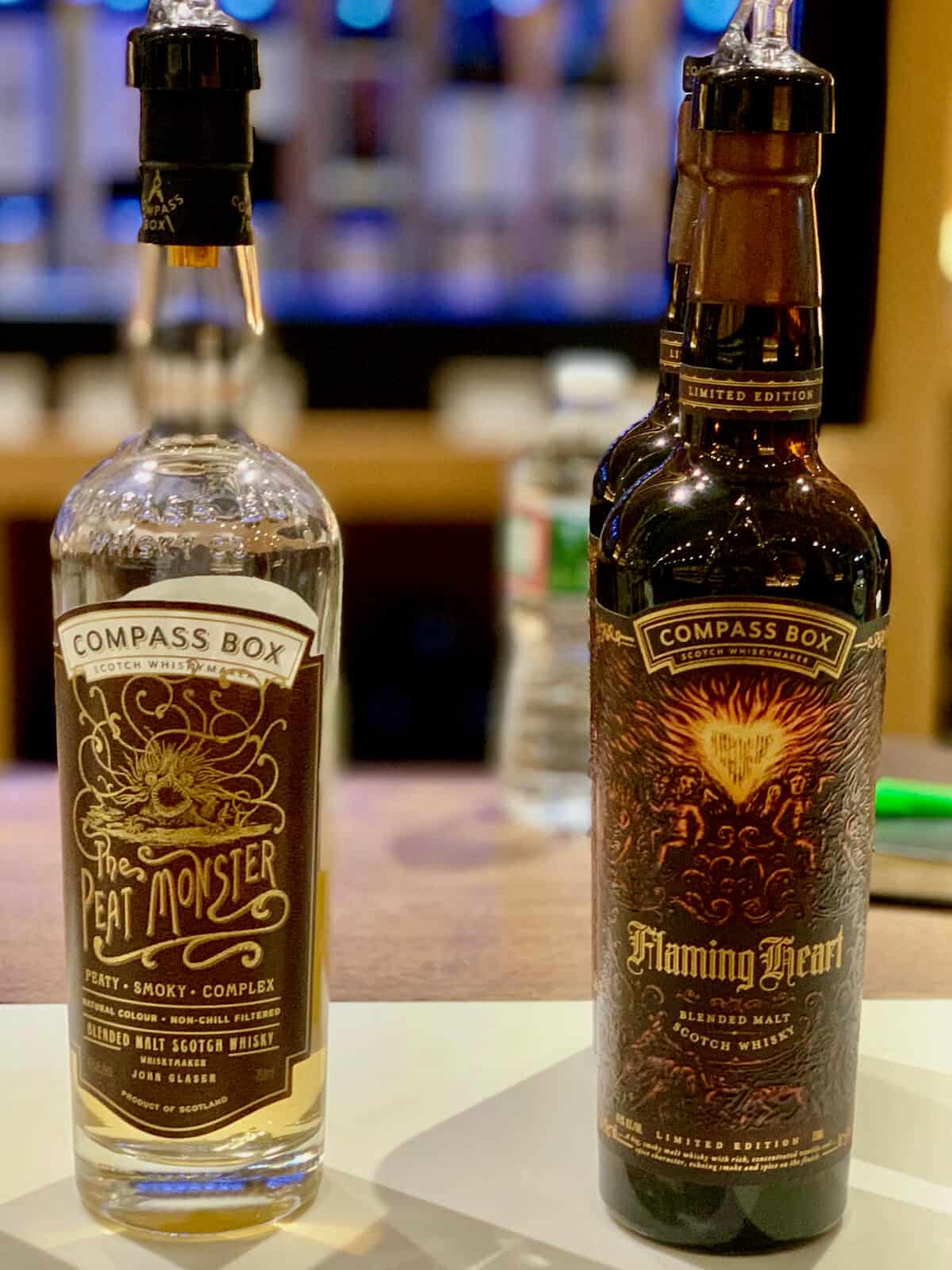 Final thoughts
My favorite takeaway from researching this lineup of Compass Box blended scotch was that there is no one way to enjoy whisky. Whether you take it neat, with water, with ice, in cocktails, with food, is totally up to you.
Just like how everyone's palate is unique, how you like to drink scotch is right for you, end of story.
I've been schooled, now so have you!
Slainté! L'chaim! Cheers!
Tammy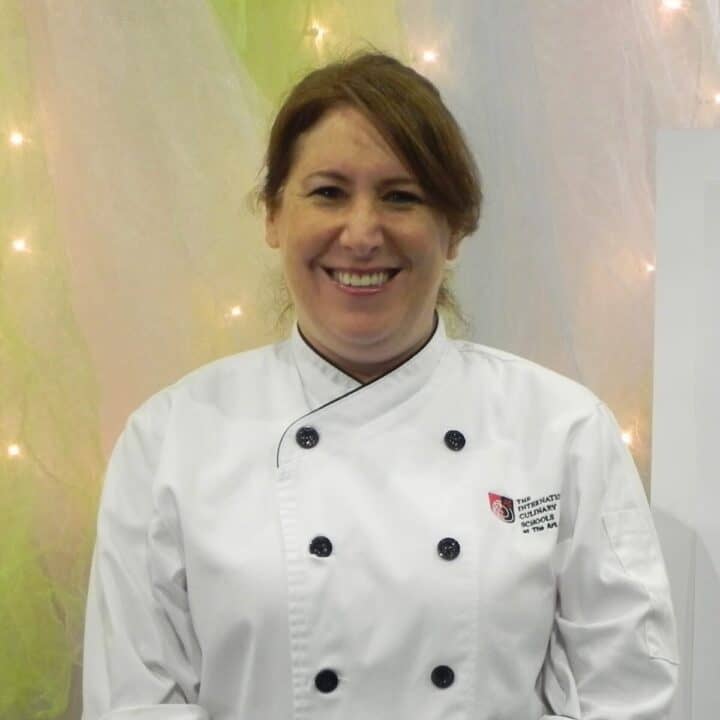 I hope you like this review! If you tried the expressions or have a question, I'd love for you to leave a comment below. Thanks!