Tasting a self-selected WhistlePig Rye Whiskey Comparisons lineup consisting of their Straight 10yr vs. 15yr and Farmstock Rye Crop No. 002 & No. 003

Vermont's WhistlePig Rye Whiskey Distillery started with the help of the late Master Distiller Dave Pickerell. They based their products on a stock of found 10-year-old blended Canadian Whiskey.
Since then their lineup has grown from that initial 10yr Straight Rye Whiskey by experimenting with different cask finishes and blends.
Farm to Bottle
Now WhistlePig is moving towards their 100% "Triple Terroir" philosophy. That's whiskey distilled from locally grown grain, proofed with water from the farm, and aged in casks made from their Estate-grown Vermont White Oak.
Called their Farmstock Rye Crop, the plan is to continually increase the percentage of their homemade whiskey in the expressions and reduce the need for other outside blends.
Tasting the whiskey
Unfortunately, the distillery itself isn't open to the public, but there is a lovely tasting room in Waterbury (just down the road from Ben & Jerry's). They have free tastings where you can choose four samples from the six they have on offer, although there is a small charge for a sample of their premium whiskeys.
I decided on a comparison lineup showing the difference in Straight Rye Whiskey's aging and the difference in the Farmstock's blends. Josh Thomas, our guide in the tasting room, gave a wealth of information about each pour, and the room was comfortable and nicely appointed with WhistlePig products.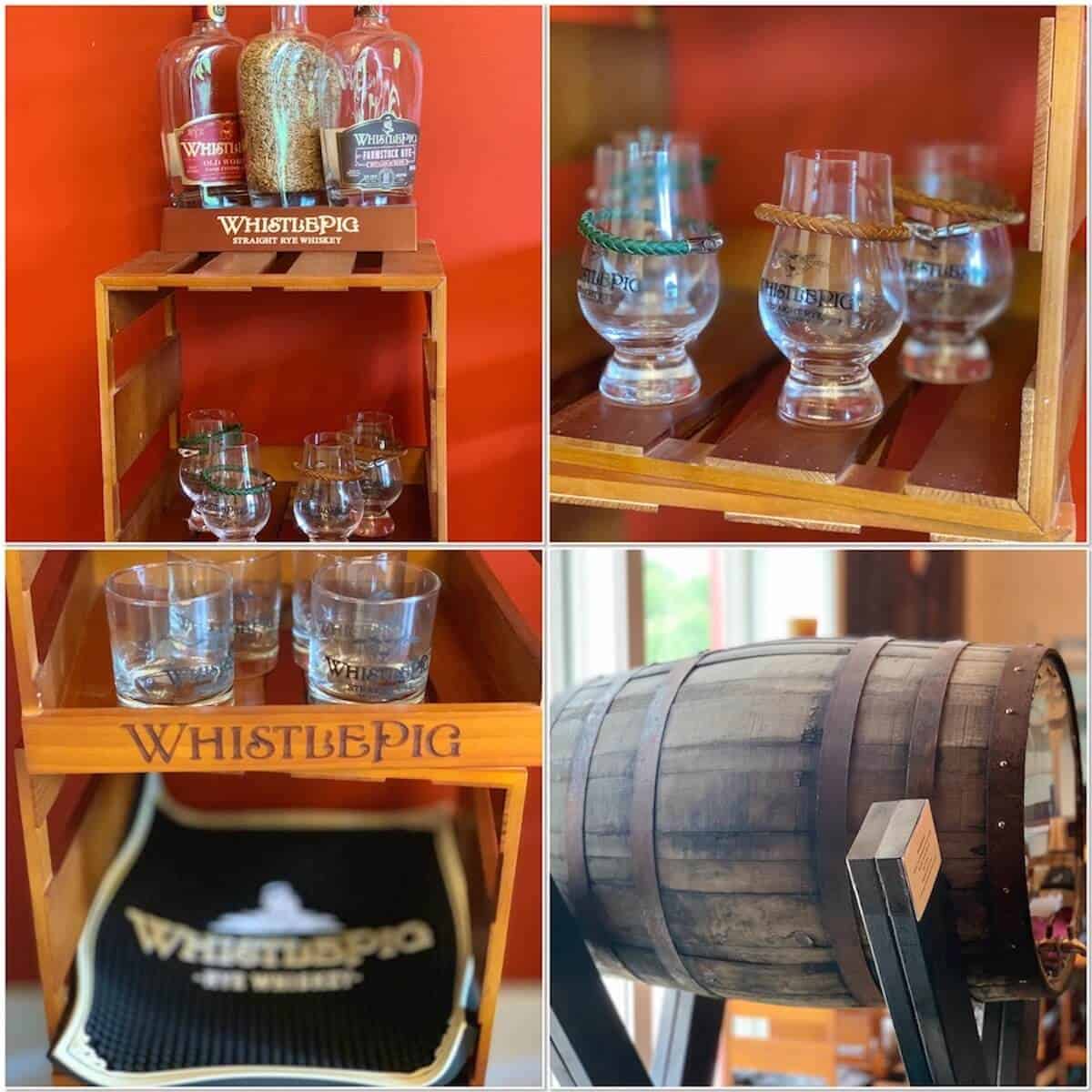 Let's get to it, then!
WhistlePig Rye Whiskey Comparisons
At the WhistlePig Rye Tasting Room, July 21, 2019
WhistlePig 10yr
50%ABV, Canadian whiskey aged in New American Oak with a bourbon barrel finish

Tasting Notes
Nose: corn, oatmeal, clover honey, ferns, light caraway

Taste: immediate rye, oatmeal, white pepper, corn sugar

Finish: fades slowly to caraway, honey, brown sugar

Comments: sweet and spicy, not aggressive, flavorful
WhistlePig 15yr
46%ABV, Straight Rye 10 yr, aged an additional 5 yrs in Estate Vermont Oak
Tasting Notes
Nose: soft caraway, sweet green peas, clover honey, leathery

Taste: soft entry, allspice and white pepper rises, leather in the background

Finish: lingers on the spicy allspice, then fades to soft rye, dill pickles

Comments: gentled from the 10yr, more leather and green notes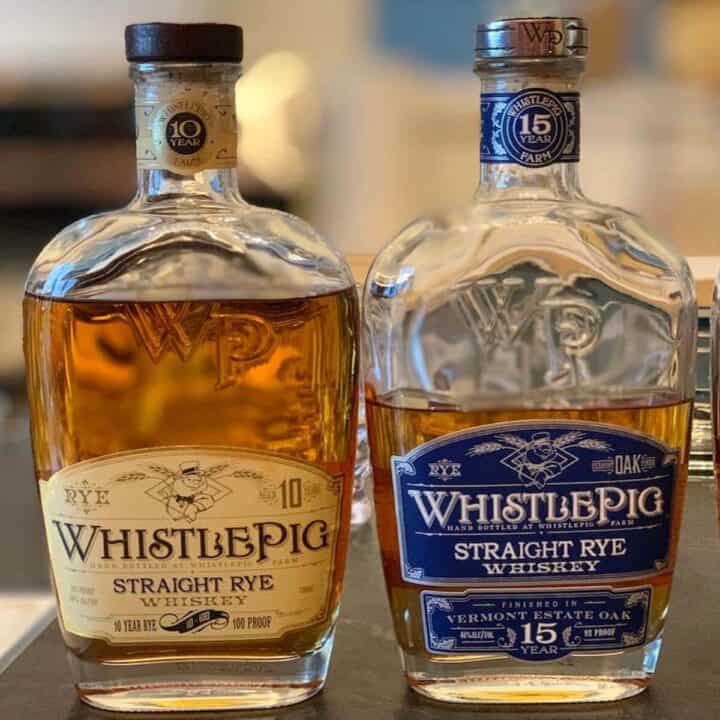 WhistlePig Farmstock Rye Crop No. 002
43%ABV, blended with 32% 2yr whiskey, made from the WhistlePig farm's rye, water, and wood, 46% 6yr MGP Rye, and 23% 10yr Canadian whiskey

Tasting Notes
Nose: hay, leather, musty, library bookshelves

Taste: cinnamon, quickly turns to caraway, dust

Finish: lingers long with rye spice and dust

Comments: really interesting balance between rye whisky and aged bourbon flavors, not a strong rye
WhistlePig Farmstock Rye Crop No. 003
43%ABV, majorityof the blend (51%) is from the Triple Terroir whiskey
Tasting Notes
Nose: lemongrass, granola, cedar wood

Taste: soft hay to start, caraway and green grass rises with white pepper, falls, then allspice rises

Finish: lingers on the caraway and allspice

Comments: really a lot happening, a sine wave of flavors that rise and fall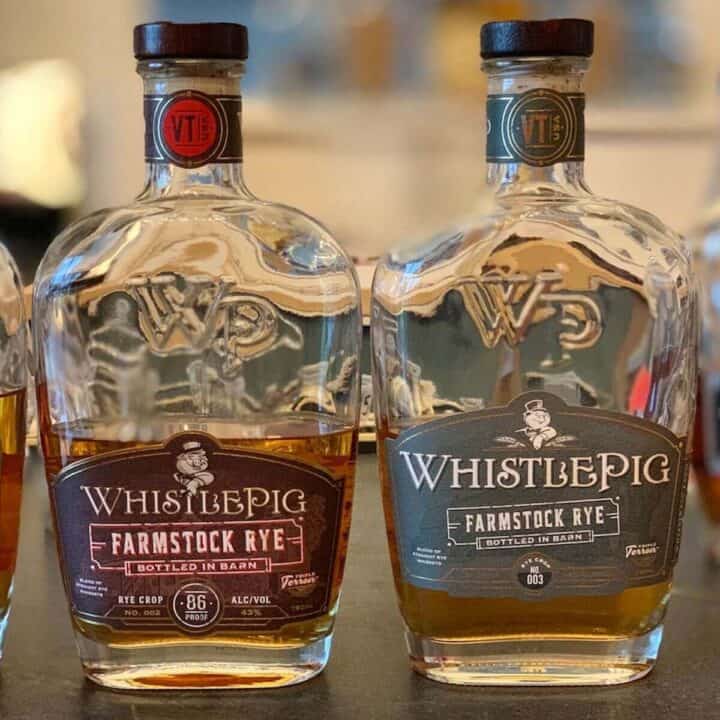 Always a good sip
WhistlePig Rye Whiskey continues to impress me every time I try it, from the original WhistlePig 10 yr to Gordon's WhistlePig Single Barrel Rye Select 10 yr.
Being able to select my own WhistlePig Rye Whiskey comparisons, in its home state, added to the fun this tasting.
It's definately worth the trip!
Slainté! L'chaim! Cheers!
Tammy