Smugglers' Notch Distillery's whiskey lineup has something for just about any whiskey lover…wheat, rye, and straight bourbon whiskey.
My recent trip to Vermont was short (just overnight), but I managed to sample whiskey at two different tasting rooms over those two days…WhistlePig Rye Whiskey and Smugglers' Notch Distillery.
These tasting rooms are in Waterbury, VT (just down the street from Ben & Jerry's, as I mentioned before), at the foot of the mountains leading to the famed ski resorts of Stowe and Smugglers' Notch.
Opened in 2010 by a father & son team, Smugglers' Notch's name comes from the historical route used first in the early 19th century (and later during Prohibition) to smuggle illegal and/or embargoed goods between Canada and the US. Had there been more time (and the weather cooperated, which it hadn't), I would have loved to explore the regions' trails and caves.
However, this isn't a travel blog, so let's stick to whiskey (hear, hear!).
Smuggler's Notch Distillery
Like the Hidden Marsh Distillery, Smugglers' Notch Distillery produces a wide array of spirits including vodka, gin, and rum, but it was the whiskey that I was interested in.
There are several styles in the lineup: wheated whiskey, rye, and straight bourbon whiskey, all proofed with Vermont spring water.
Also, all the spirits are made, barrel aged, blended, and bottled on site, and in a unique Vermont twist, they even tie the state's maple syrup tradition into a special bottling.

Smugglers' Notch Distillery Whiskey Tasting
At Smuggler's Notch Distillery Barrel House Tasting Room, July 22, 2019
Smugglers' Notch Litigation Wheat Whiskey
46%ABV, 95% wheat, 5% malted, barley; being discontinued
Tasting Notes
Nose: caramel, honey, soft nutmeg

Taste: caramel, dark brown sugar, vanilla fudge

Finish: sweet vanilla fudge and cinnamon fade slowly and pleasantly

Comments: a good hit of sweetness balanced by light baking spices; quite good
Smugglers' Notch Rye Whiskey
45%ABV, 95% rye, 5% malted, barley
Tasting Notes
Nose: light dill pickles, peaches, vanilla, pineapple hides in the background

Taste: tamed rye started with a nutty sweetness, orchard berries kicked in with cinnamon and cloves

Finish: the cloves and berries linger long and strong

Comments: well tamed rye...sweet with a spicy undertone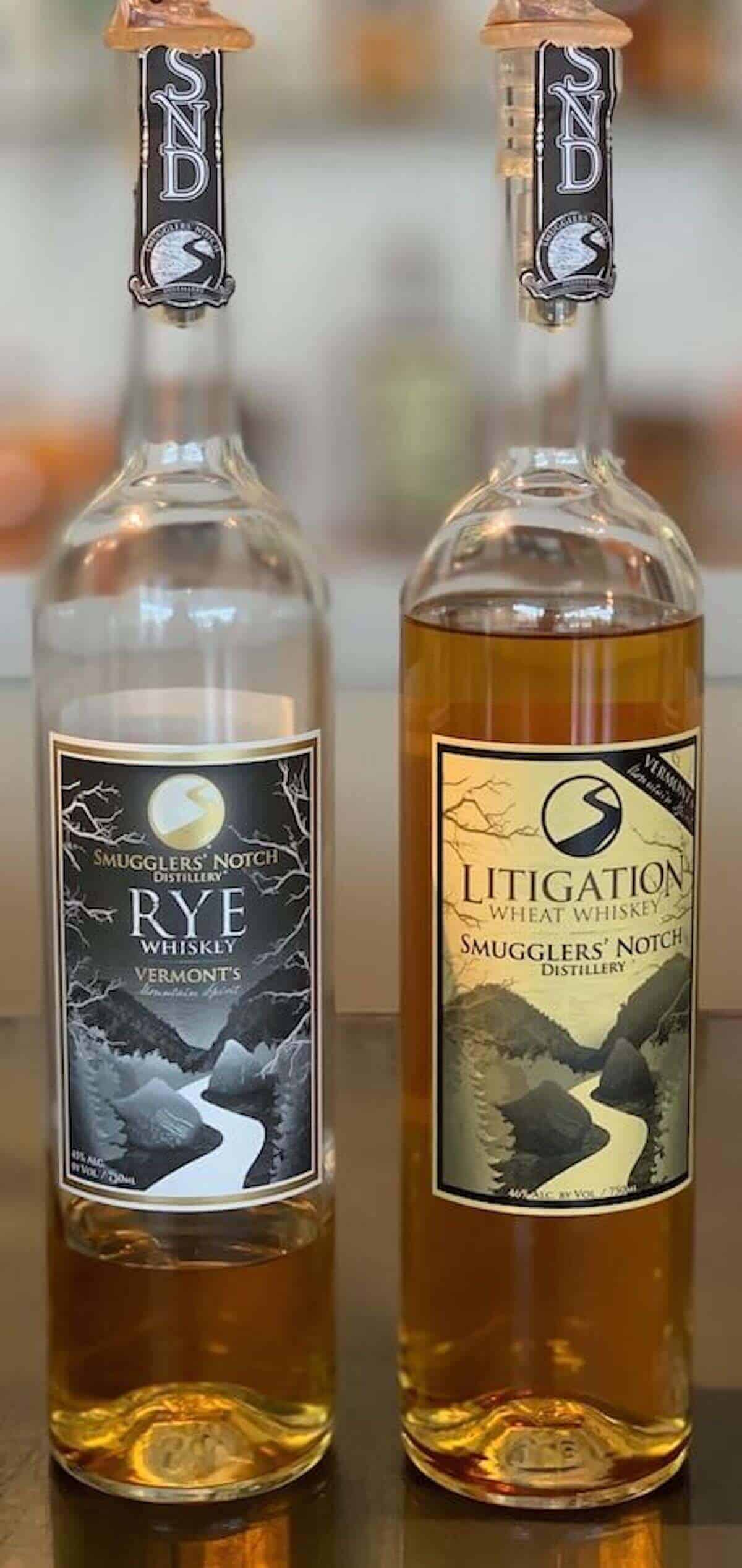 Smugglers' Notch Straight Bourbon Whiskey
45%ABV, corn, rye, and malted barley
Tasting Notes
Nose: caramel corn, vanilla, white chocolate

Taste: soft vanilla, cinnamon and nutmeg rises slowly

Finish: the soft baking spices fades slowly with white chocolate and brown sugar

Comments: not aggressive at all, very approachable
Smuggler's Notch Maple Bourbon Whiskey
45%ABV, Straight bourbon infused with maple flavor from a bourbon-barrel aged maple syrup
Tasting Notes
Nose: very light nose, bourbon nose subdued, hard to detect, faint caramel corn nose

Taste: bourbon flavors tamped down, some baking spices rise up with caramel corn, very faint maple

Finish: sweet flavors linger with baking spices underneath

Comments: the bourbon is muted, and the maple is very light; water, released more maple flavor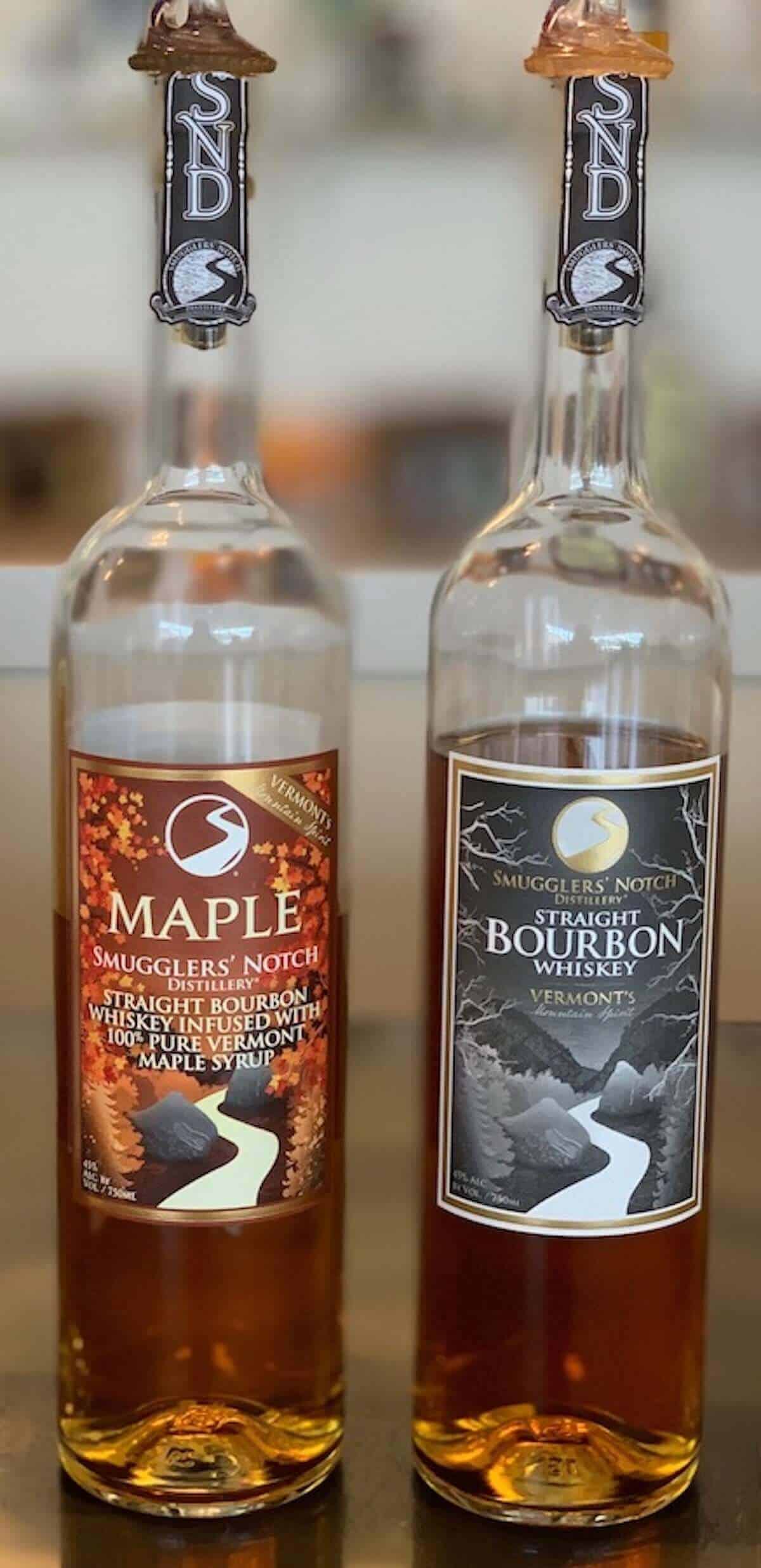 Getting to Maple
Just as I was leaving the tasting room, I was introduced to Jeremy Elliott, one of the founders of Smugglers' Notch (the "son" in the father/son team). He graciously answered my questions regarding how the Maple Bourbon Whiskey was made…one of their ex-bourbon barrels was filled with their organic maple syrup which then sat for 6-12 months.
After the barrel was emptied of the syrup, it was filled the same day with Straight Bourbon Whiskey then aged for up to 2 years. The whole idea was to round out the Straight Bourbon Whiskey with a hint of maple.
Nicely done.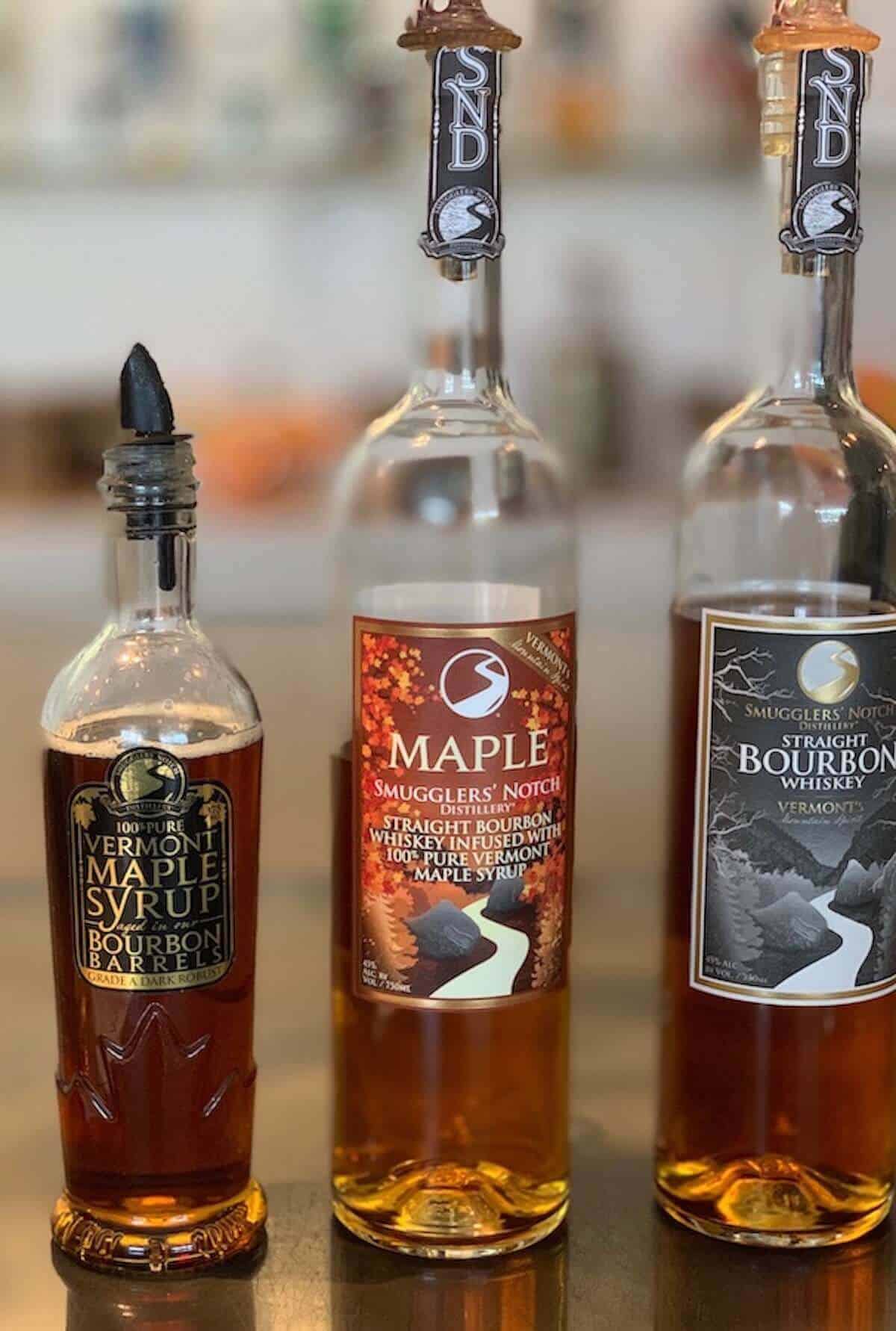 Smugglers' Notch Distillery whiskey is well-worth seeking out. I'll look for it locally of course, but there's always the possibility of heading back to Vermont…after all, those mountains are calling!
Slainté! L'chaim! Cheers!
Tammy