Dewar & Sons' Fine Scotch Whisky Emporium single malt scotch lineup features a tasty array of expressions from the Highlands and Speyside. Definitely worth sipping!
This blog is my labor of love.
I love to taste whisky (thanks, Outlander!) and bake, and I've discovered that I love to share my experiences with you.
This is how I pursue my passion for whisky and baking.
My friend, Holly Seidenwand, decided to follow her passion for whisky back in 2016. She left her safe job in San Francisco to travel the world for a year learning all she could about the world of whisky, and documented her travels on her blog, Her Whisky Love.
I met Holly when she became the Whisky Specialist at Gordon's DTX early in 2017, and she became a friend and mentor. Holly let me try my first scotch and snack pairings at her tasting panels, and she was always generous with her time and knowledge.
Holly stole away from us here in Boston for a wonderful opportunity. She joined Bacardi as the US brand ambassador for the John Dewar & Sons Fine Scotch Whisky Emporium, a range of single malt scotch of Scotland. The lineup that Holly represents is incredible, and she once again was generous, providing me with samples for a tasting review. A
nd boy, are they good!
[Side note: To learn more about Holly and her passion for whisky, check out her interview with Mark Gillespie from September, 2018 on his WhiskyCast podcast, Ep 728, then hurry back!]
Let's talk whisky
Here are a few factoids I found regarding the Fine Scotch Whisky Emporium lineup…
A Highland distillery, Aberfeldy whisky lies at the heart of the Dewar's blended whisky
Craigellachie expressions, from Speyside are known for their "meaty" character as well as their spicy sweetness
This is the first release of an Aultmore bottling in some time
The Highland's Royal Brackla distillery was the first Scottish distillery to receive "royal" status in 1833; most of their production goes into making Dewer's blends
Deveron is made at the Macduff distillery in the Highlands
Holly also provided me a couple of tidbits about her new portfolio…
Every whisky in the portfolio is aged in a combination of ex-bourbon and oloroso sherry casks.
Craigellachie tastes so robust because of two reasons: they burn oil under their maltings (the last distillery in Scotland to do this) and they still use worm tubs for condensing from a vapor back to a liquid. A few other distilleries that still use worm tubs are Springbank and Knockdhu
Enough of the facts…let's get to the tasting!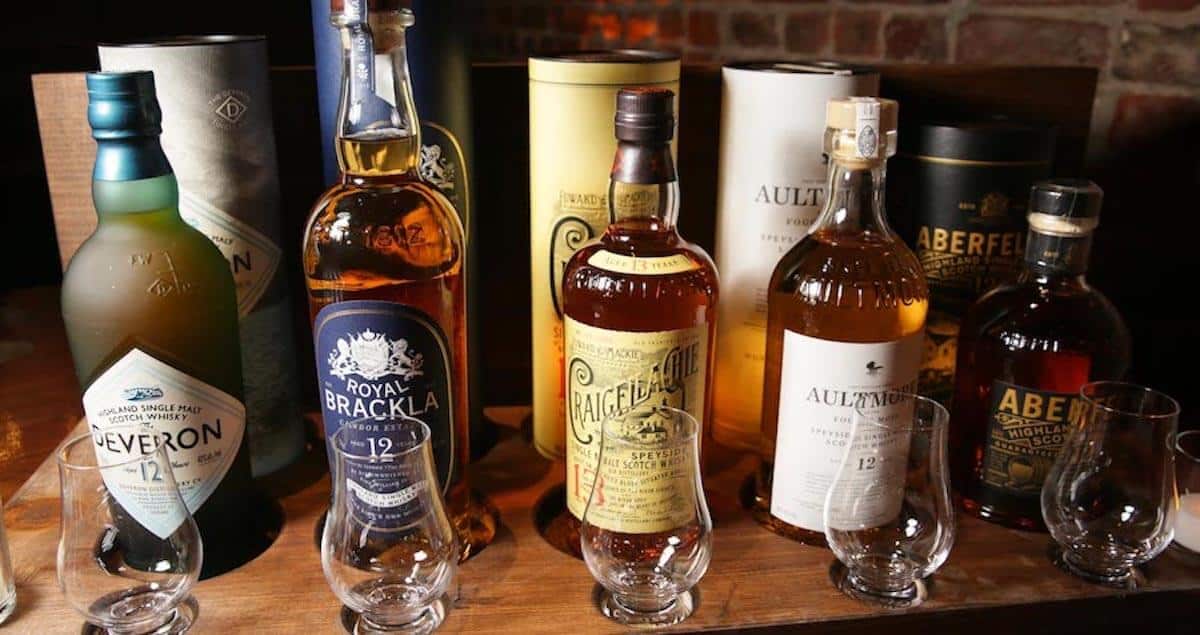 John Dewar & Sons Fine Single Malt Emporium tasting
From Holly Seidenwand, Brand Ambassador for John Dewar & Sons, December 8, 2018
Aberfeldy 12yr
40%ABV
Tasting Notes
Nose: light nose, brown sugar, hay, very light orange

Taste: medium body, oranges, milk chocolate, white pepper hits, cinnamon red hots, cardamom

Finish: lingers on cinnamon, cardamom, tangy citrus

Comments: really interesting…orange flavored chocolate notes create an intriguing flavor profile
Craigellachie 13yr
46%ABV
Tasting Notes
Nose: light honey, cut grass, peppermint, lemon peel

Taste: light body, hay, ginger, mint, hint of cloves and black pepper

Finish: fades to butterscotch mixed with mint

Comments: drinks like a spice cake…all sweetness and spiciness
Aultmore 12yr
46%ABV
Tasting Notes
Nose: savory, doughnuts, churros

Taste: herbal, pine, rock candy and white pepper

Finish: fades to notes of basil and honey with touches of mint

Comments: so many interesting flavors…sweet yet savory; a bit of water emphasizes the green qualities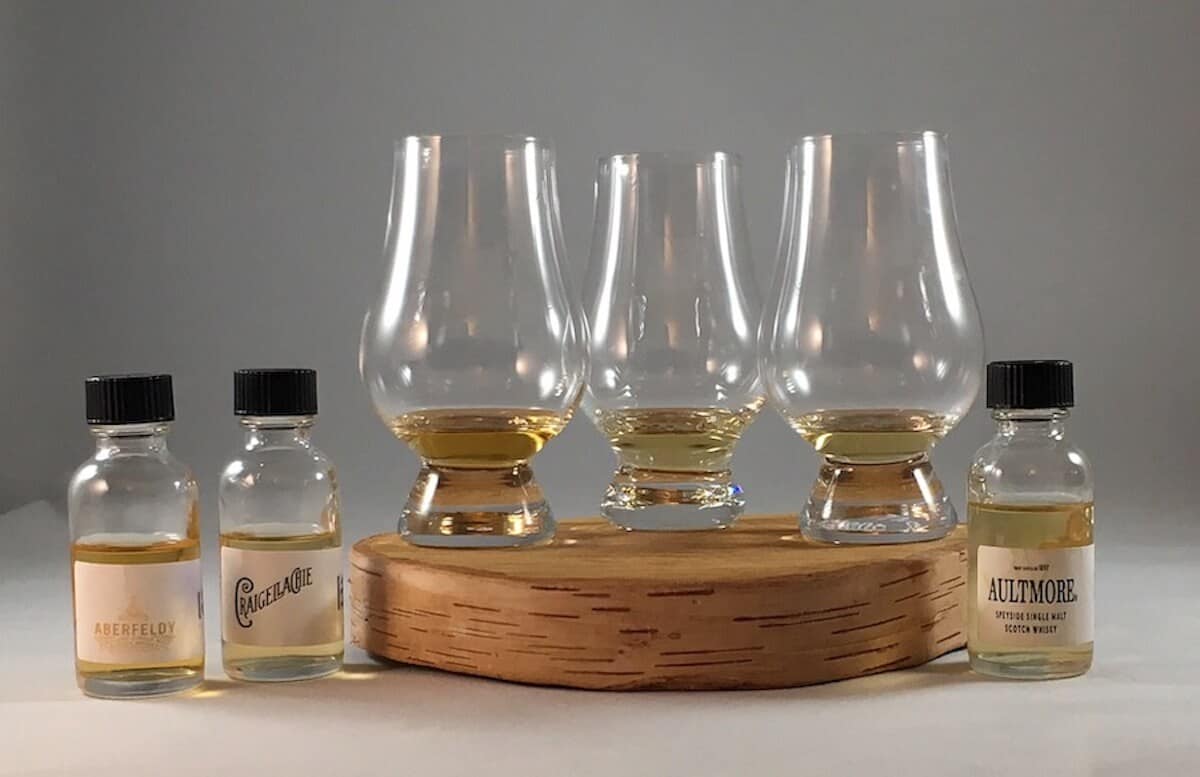 Royal Brackla 12yr
40%ABV
Tasting Notes
Nose: clover, mango, rum cake, nutmeg, gingerbread

Taste: medium body, chewy, brown buttercream, nutmeg, rum cake, gingerbread

Finish: lingers on brown butter and ginger

Comments: lots of dark, sweet notes here…has a lot of character
Deveron 12yr
Tasting Notes
Nose: toasted wheat, ginger, hint of caramel candy, very light basil

Taste: light body, honey and herbs, cinnamon rises

Finish: lingers on peppermint candy and eucalyptus

Comments: A definite herbal quality balanced by brown sugar sweetness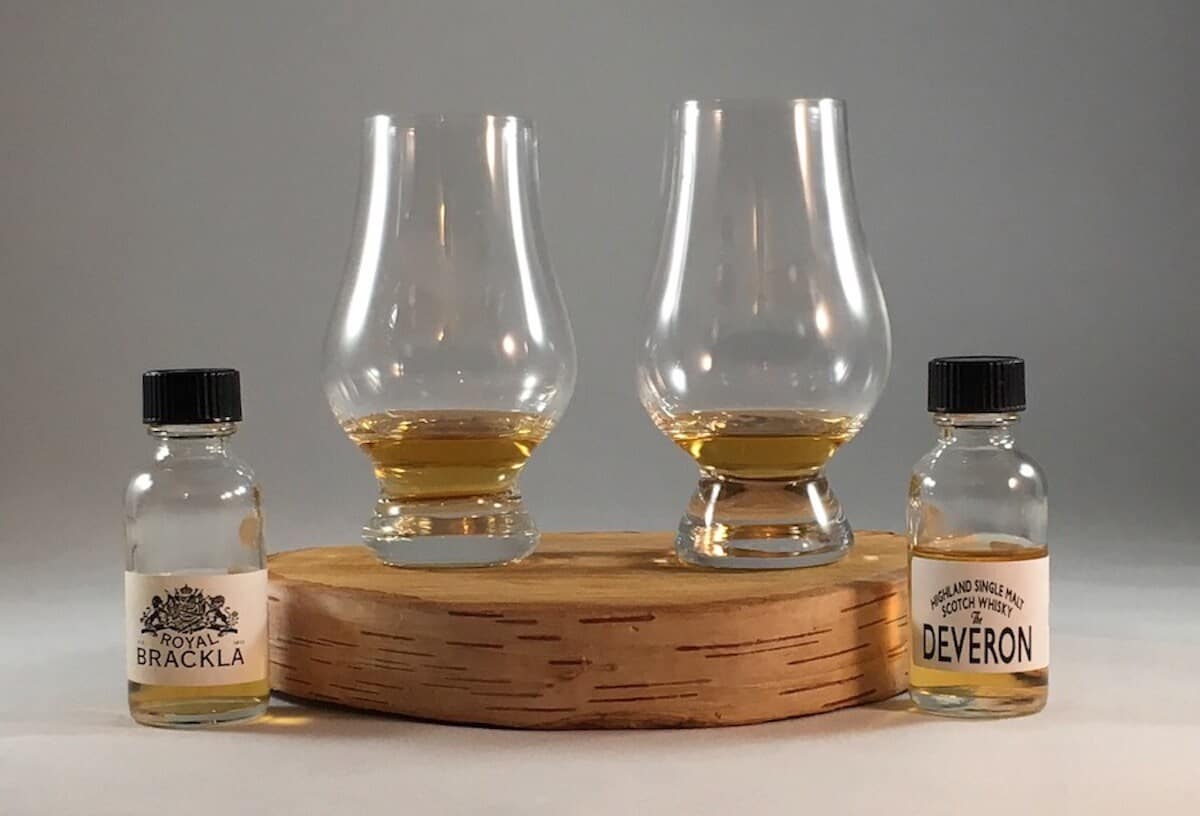 Final thoughts
These scotch drams are not your run-of-the-mill flavors…layered and textured, they all have lots of flavors to explore.
Thanks so much to Holly for sending me her lineup to review, and for all the help she's given me. Even though we in Boston miss her at our Whisky Wednesdays, I know my entire WW crew wishes her all the best as she continues to pursue her passion for whisky.
Hopefully she'll come back to Boston soon for a tasting…I'm sure everyone will be happy to see her, and happy to taste the fine scotches she'll bring!
Slainté! L'chaim! Cheers!
Tammy