Nanaimo bars are a no-bake layered cookie bar treat with a chocolate base, a thick white buttercream center, and a blanket of chocolate on top. Incredible!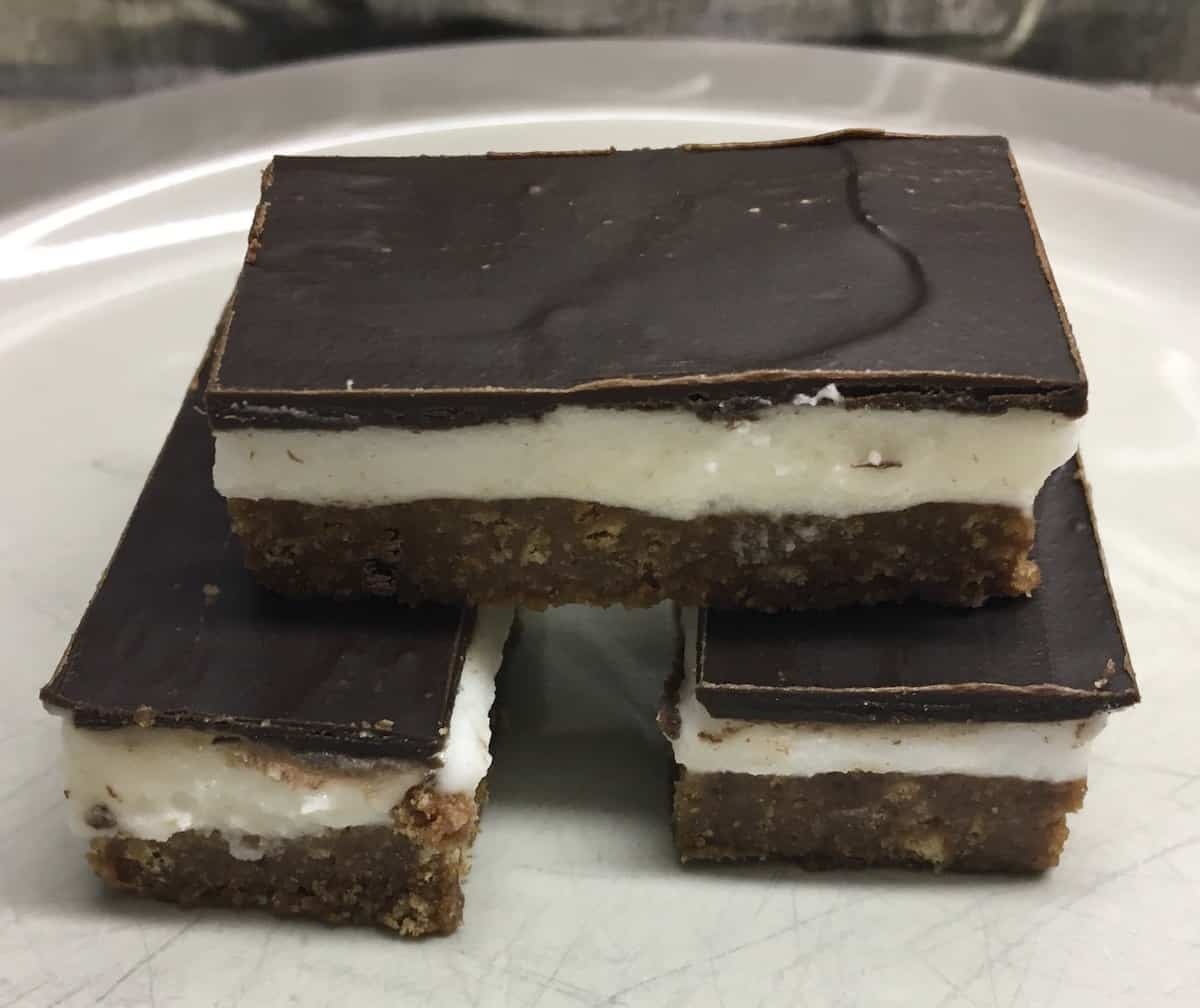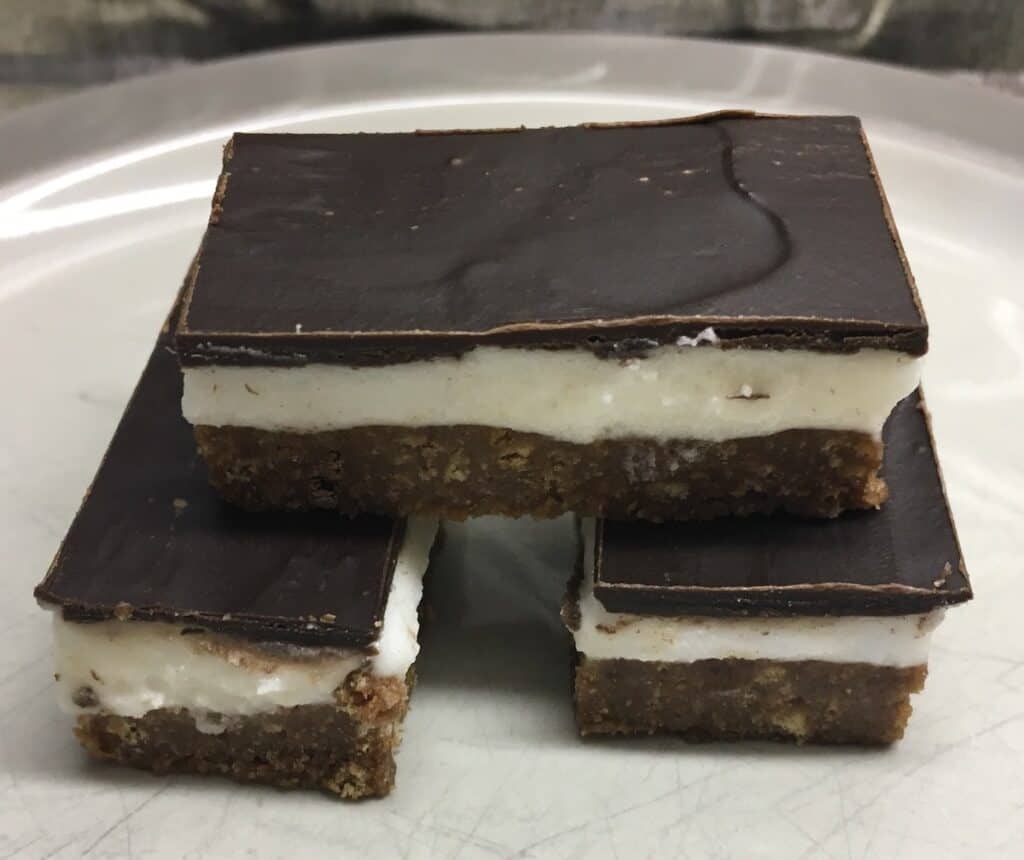 Hey Canada, why have you been holding out on me?
I mean, yes, growing up in Southern California I didn't have much contact with your delectable treats (maple syrup being the exception), but my husband lived in Vancouver for a short time when he was a boy, and he neglected to tell me about them.
It took a slip of the tongue from a Whisky Wednesday friend to break the silence (it was at the end of the tasting, so don't blame him).
Now I know, and I'm going to share your secret with the world…Nanaimo Bars exist, and they're incredible!
What are these underrepresented (at least in the US) delicacies, you ask? They're a no-bake layered cookie bar with a chocolate graham cracker & coconut base, a thick white buttercream frosting filling, and topped with melted chocolate (like a variation on Millionaire's Shortbread).
Keith Corbett, my WW friend who hails from Toronto, let slip that he missed the Nanaimo Bars that his college roommate used to make (they would pair them with brandy). I once visited Nanaimo, a ski resort outside of Vancouver, but that's really irrelevant to these bars. Keith offered to send me his roommate's recipe, and once he did I headed off to find out more.
I learned that these bars are a particular Christmastime treat in Canada, although since they're a no-bake treat I wouldn't be surprised if they were made year-round.
Jump to:
Adapting the recipe for Nanaimo Bars
I found a recipe for The Best Nanaimo Bars on Bake. Eat. Repeat. which basically resembled the recipe Keith sent me (when doubled).
However, I adapted the recipe to suit my tastes. I'm not a fan of coconut, so I just left it out of the base (that sound you hear is a collective gasp from north of the border).
I did find this note in the comments section of the base recipe: "Regarding the Coconut: Crisped rice would be an okay substitution, but I don't think it could be called a Nanaimo bar then, the coconut is a pretty integral flavour in them! But it would be tasty I'm sure! To make them coconut free though, I might be more inclined to just increase the graham crumbs, then the texture would still be the same, although the flavour would be different."
I guess I'm not the only one who's thought about leaving out the coconut. Hopefully Canada will just collectively shake their heads at us, sigh deeply, and move on.
The filling also called for something called custard powder, which turned out to be Canadian for cornstarch flavored with vanilla powder (maybe that's how Canada kept us Americans in the dark about Nanaimo Bars? One never knows…). I used plain cornstarch and added vanilla extract to keep the filling flavor profile as close as possible to the original.
The steps to making Nanaimo Bars are similar to making Double Chocolate Peppermint Brownies. You make the base, spread on the filling, then top with a blanket of chocolate. These are no-bake cookie bars, meaning you chill the bars with each layer. No oven-heated kitchen needed!
Some helpful tricks to making Nanaimo Bars
I learned a thing or to when I made the Nanaimo Bar recipe (not having a local Canadian to ask). Here are my tips and tricks:
I lined my pan with foil to make removing the bars easier, but then the foil stuck to the bottom of the bars as I cut them. A better choice would be to remove the foil first or use parchment paper instead.
Having the butter softened made making the base and filling much easier to make
I think the filling would benefit from being flavored with mint so it's not quite so sweet (especially since the coconut flavor isn't there). Can they really be called Nanaimo Bars then? A rose is a rose, and all that.
The bars cut cleanly, and I firmed up the filling by freezing the bars before serving them.
Where did I serve them? Why, at Whisky Wednesday, of course!
I made sure Keith would be there, and he (and the rest of the WW crew) loved them. Keith even commented that these bars may be even better paired with the single malt scotches we were tasting than with the Courvoisier VSOP from his college days. Whew!
Canada, your secret is out, but I, for one, am grateful. To Canada from Boston, with love!
Slainté! L'chaim! Cheers!
Tammy
Recipes for bar cookies, brownies, and pie bars (aka slab pies)
Bar cookies, brownies, and pie bars (aka slab pies) all are recipes that make a lot with little effort (and no individual portioning). Here are a few ideas for these yummy treats!
Recipe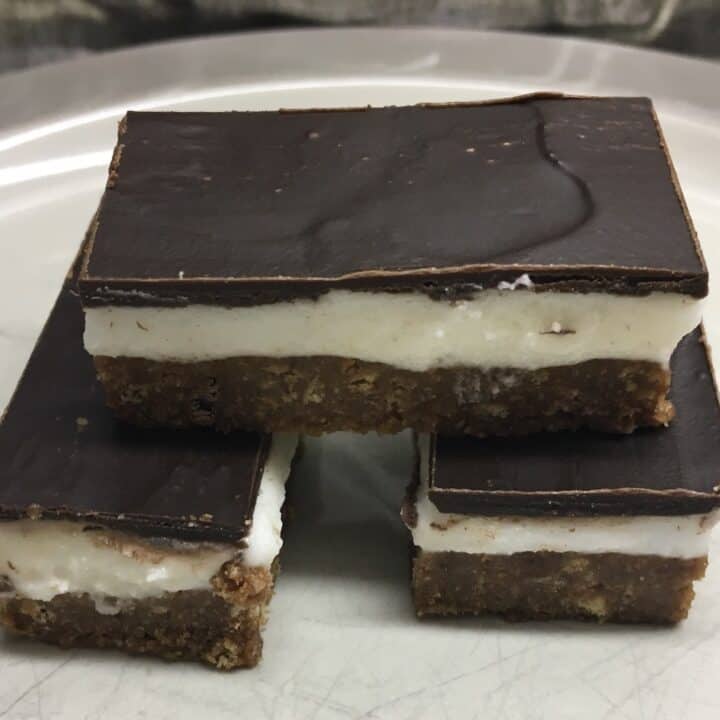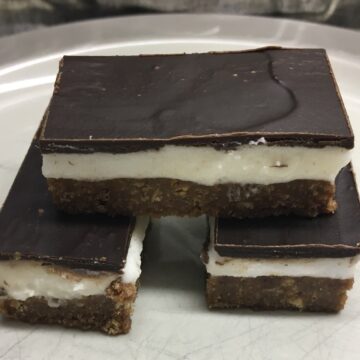 Nanaimo bars
Nanaimo bars are a no-bake layered cookie bar treat...this adaptation has a chocolate base, a thick white buttercream center, and a blanket of chocolate on top. Incredible!
Adapted from Bake. Eat. Repeat
Ingredients
For the base
⅓

cup

chocolate chips

2

cups

graham cracker crumbs

1

cup

unsweetened shredded coconut

,

see Recipe Notes

½

cup

unsalted butter

,

softened

¼

cup

large egg whites

,

or one large egg

2

Tbsp

granulated sugar

1

tsp

pure vanilla extract
For the filling
½

cup

unsalted butter

,

softened

4

Tbsp

cornstarch

,

or custard powder, if available

4

cups

powdered sugar

6

Tbsp

milk

1

Tbsp

pure vanilla extract
For the topping
⅔

cup

chocolate chips

4

Tbsp

unsalted butter
Instructions
For the base: In a medium microwave-safe bowl, heat the chocolate chips in the microwave for 2 to 3 minutes at 50% power, stirring every 30 seconds, until almost melted. Give it another stir until it's completely melted.

For the filling: In a large bowl, use a hand mixer to cream the butter. In a small bowl, mix the cornstarch, vanilla, and milk, then add to the creamed butter, beating well. Finally, beat in the powdered sugar until smooth.

Using a small offset spatula, spread the filling evenly over the chilled base. Chill for another 15 to 20 minutes.

For the topping: In a microwave safe bowl, place the 4 ounces chocolate chips and the butter and heat at 50% power for 2 to 3 minutes, stirring every 30 seconds until the chocolate is almost melted. Continue stirring until the chocolate is completely melted.

Using the small offset spatula again, spread the melted chocolate evenly over the chilled custard layer. Chill for at least 2 hours (or even overnight) to make sure the chocolate is set.

When the bars are completely firm, loosen the sides with a knife (or something that won't harm your pan), then lift out of the pan carefully and set on a cutting board. Let sit for 10 minutes.

Slowly, cut the bars into 1- x 2-inch rectangles using a sharp knife. For clean cuts, dip the knife in hot water and wipe off after each cut.

Serve and enjoy (thanking Canada in the process).
Notes
If desired, omit the shredded coconut and add an additional ½ cup (57g) of graham cracker crumbs. It's a matter of personal preference, of course.
Store covered in the refrigerator for a week, or freeze in an airtight container for up to 3 months.
Nutrition
Serving:
1
bar
Calories:
116
kcal
Carbohydrates:
14
g
Protein:
1
g
Fat:
6
g
Saturated Fat:
4
g
Cholesterol:
13
mg
Sodium:
28
mg
Potassium:
21
mg
Fiber:
1
g
Sugar:
11
g
Vitamin A:
151
IU
Vitamin C:
1
mg
Calcium:
7
mg
Iron:
1
mg