A treat for maple lovers, Maple Walnut Bourbon Blondies double up on maple syrup, add a splash of bourbon, and amp up the flavor on a classic favorite!
Some syrup walked into a bar
I remember making blondies many years ago, and they were…uhm…good. My major takeaway was that they seemed to be a pale version of a brownie, like blondies were brownies without the cocoa powder. Blondies needed some added oomph to make up for that lack of chocolate (read: flavor). Then I found Maple Walnut Bourbon Blondies, where maple syrup and a splash of bourbon really upped the flavor and turned something good into something great.
Go dark and aged
Maple Syrup is a great flavor on its own, but when baking it's best to use a robust (think: dark) grade of syrup in order for the flavor to shine over the other ingredients. In addition, now there's maple syrup that's been aged in ex-bourbon barrels. Remember the Maple Bourbon Whiskey from Smugglers' Notch Distillery? First, they aged a bourbon in oak barrels, then aged maple syrup in those barrels, and finally they aged the previous bourbon in the maple-infused ex-bourbon barrels (whoa, that's a lot of aging!). Aging maple syrup gives it a slight spiciness from the bourbon and a touch of vanilla from the oak barrels themselves. The effect is subtle and interesting.
I love the combination of maple syrup and nuts (pssst…Maple Walnut Scones, anyone?). I also love maple syrup and bourbon and nuts (Maple Bourbon Pecan Pie is a Fall classic). When I stumbled across a recipe from the New York Times online cooking section for Maple-Walnut Blondies, I decided it was time to give blondies another try. For my version, I used bourbon-barrel aged maple syrup to insure big flavor (no bland blondies wanted!), and doubled the amount of bourbon (me being me, after all).
Toasting and glazing the walnuts adds to the maple-forward flavor while taming the bitterness that walnuts can sometimes have. Don't skip this step!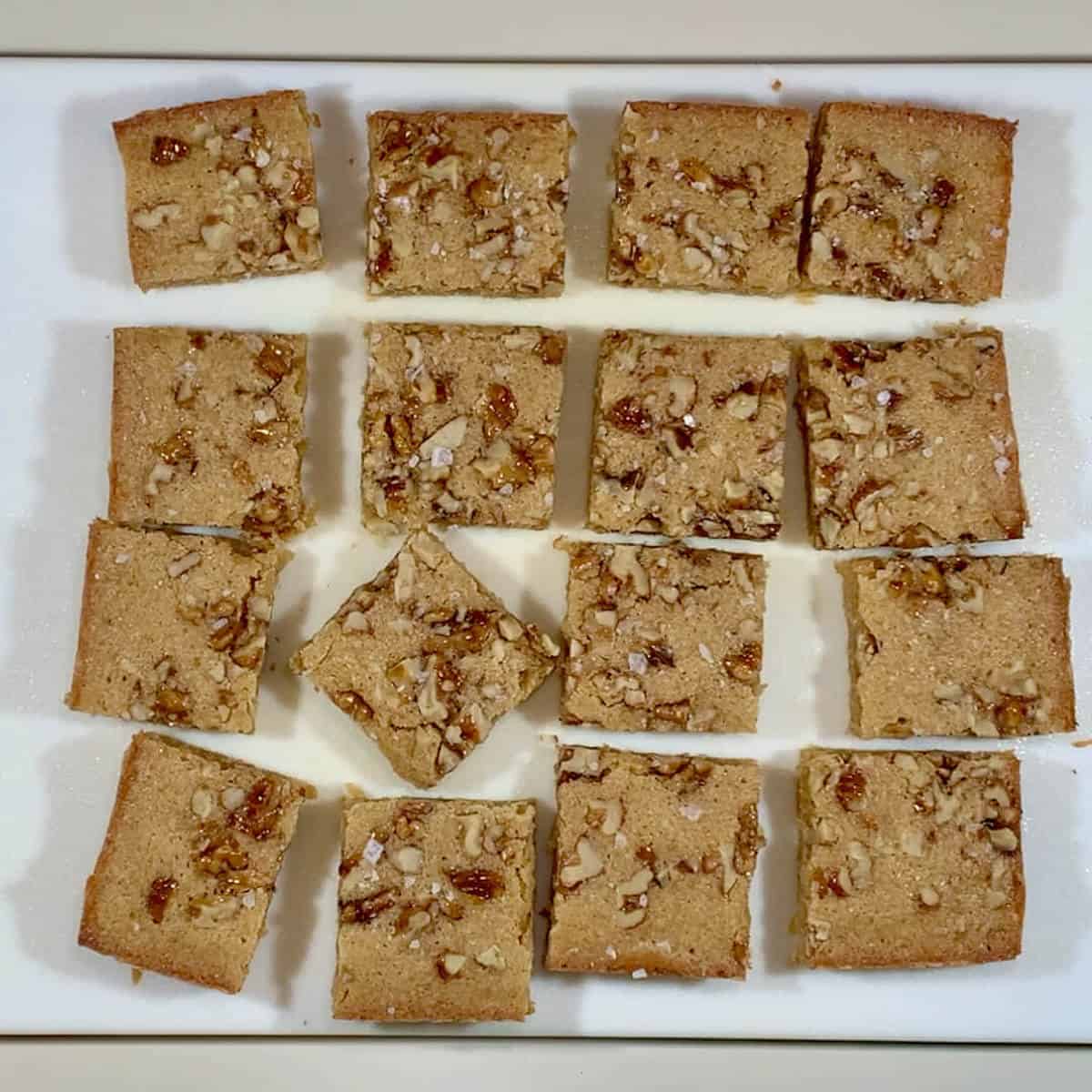 Review it to appreciate it
Like when tasting whisky, Maple Walnut Bourbon Blondies require attention to the details. Pleasantly soft and chewy, these blondies deliver strong maple and walnut flavor, with delicate hints of brown sugar caramel and bourbon spiciness, finishing up with a hit of sea salt.
(Are you giving tasting notes for a blondie? Really?)
Yes, I am, because I can now appreciate this dessert for what it is…not a bland brownie, but a richly flavored treat in itself. Pair it with a sip of bourbon, and…uhm…need I say it?
Slainté! L'chaim! Cheers!
Tammy
Maple Walnut Bourbon Blondies
A treat for maple lovers, these chewy blondies double up on maple syrup and add a splash of bourbon to balance the sweetness. It's a new take on a classic favorite!
Adapted from New York Times Cooking
Special Equipment
parchment paper

pizza cutter
Ingredients
For the batter
1/2

cup

unsalted butter (4 oz, 114g)

,

melted

3/4

cup

light brown sugar (6 oz 165g

,

lightly packed

2

Tbsp

maple syrup

1

large egg

2

tsp

vanilla extract

2

tsp

bourbon

,

optional

1

cup

all-purpose flour (4-1/4 oz 120g)

1/2

tsp

kosher salt

1/4

tsp

baking powder

1/8

tsp

nutmeg

Sea salt flakes

,

for sprinkling (optional)
For the maple walnuts
½

cup

walnuts (2 oz 50g)

1

Tbsp

maple syrup

1/8

tsp

kosher salt
Procedure
Heat the oven to 350°F. Grease an 8- x 8-inch baking pan with cooking spray and line with parchment paper, leaving overhang on two sides.

Make the maple walnuts: In a small sauté pan, heat the walnuts, 1 tablespoon maple syrup, and a pinch of salt over medium heat. Cook, tossing often, until the nuts are lightly toasted and the bottom of the pan looks dry, about 4 to 5 minutes. Transfer the walnuts to a cutting board to cool, roughly chop, and set aside.

Make the batter: In a large bowl, combine the melted butter, brown sugar, 2 tablespoons maple syrup, egg, vanilla, and bourbon (if using) and whisk until the batter is smooth. Add the flour, salt, baking powder, and nutmeg, and stir until everything is just combined.

Transfer the batter to the prepared pan and smooth with a small offset spatula. Sprinkle the walnuts evenly over the top of the batter.

Bake for 21 to 23 minutes, or until the bars are just starting to brown at the edges. They should seem slightly underbaked and will firm up as they cool.

Sprinkle the blondies lightly with sea salt flakes if you want, then allow to cool to room temperature in the pan. When the blondies are them completely cool, remove from the pan using the parchment paper and cut into squares.

You can serve the blondies at room temperature or chilled. Enjoy!
Recipe Notes
Use a robust (dark) grade of maple syrup as it's more flavorful. I used maple syrup that was aged in bourbon barrels to intensify the bourbon influence.
I like the spicy flavor of adding bourbon to the batter, but you can leave it out if you want.
Make sure to underbake these blondies slightly by taking them out just before they're fully baked. That will insure a chewy product. You can even refrigerate the blondies for optimal chewiness, and they're especially good straight from the fridge.
Nutrition Facts
Maple Walnut Bourbon Blondies
Amount Per Serving
Calories 145
* Percent daily values are based on a 2,000 cal per day diet.
Did you make this recipe?
Please share your pictures with the world...mention @scotch_scones and tag #scotchandsconesblog on Instagram, Pinterest, or Twitter. I can't wait to see your creations!