Graham cracker pie crusts are classic & cookie crusts are fun. Both are quick & can be baked or chilled. An easy crust for your next pie!
Well, that's the way the cookie crumbles
What is this…a statement of hopelessness? Futility? Nay, gentle reader, I say nay! This is a statement of hopefulness, of goodness and light, because now we have a way to make a wonderful pie crust.
And we get to beat the hell out of cookies and/or graham crackers in the process!
Jump to:
Make a quick pie crust
Making a classic graham cracker crust definitely is easier than a standard pastry pie crust.
For one, there are only three ingredients, where a pastry pie crust has five.
Plus, there's no rolling out dough, and you can choose whether to bake it or chill it to get the crust ready to fill.
Just crush up graham crackers into fine crumbs, either in the food processor (or in a bag with a mallet if you've had an especially hard day).
Add sugar and melted butter to bind it all together. The food processor makes quick work of this step.
Finally, press the mixture firmly into a 9-inch pie pan or 9-inch round springform pan.
In this example, I'm making a graham cracker crust for White Wine Cheesecake.
I use a pastry dough tart tamper to press the mixture into the pan. A flat-bottomed glass or measuring cup can be used also.
The cookie chooses the pie
You don't have to just use graham crackers for pie crust...cookie crumbs also make an excellent base.
The neat thing about cookie crusts is that the cookies are pre-sweetened bits of food hugs. They can be chosen to complement or contrast with the filling.
You can also adjust the amount of sugar you add based on how sweet the cookies are already.
In the past, I've pulverized sandwich cookies with their filling, which reduced the amount of sugar and butter required to hold the crust together.
Of course, a graham cracker crust goes with most anything, as do crusts made with vanilla or chocolate wafers (especially pudding-type pies).
But how about a pretzel crust for an ice-cream Mud Pie? Gingersnap crust for a Pumpkin Pie? Saltine crust with Butterscotch pudding? You get the idea.
Should I bake or chill the pie crust?
Whether or not to bake or chill depends on the base you use.
In general, graham cracker crusts can go either way, depending on the filling you'll be using. The same holds true with a cookie pie crust.
If you'll be baking the pie (like with a cheesecake), then blind-baking the crust is fine.
For a chilled pie filling (like the Chocolate Cream Pie pictured below), then chilling the crust makes sense. You don't have to wait for the crust to cool before filling it.
And no-bake crust means no heating the kitchen, especially on a hot summer's day. Win!
Making graham cracker crusts are also a great way to use up graham crackers or cookies that are going (or have gone) stale, so you don't have to waste them. Use your imagination!
So go ahead and make a cookie crumble. You'll be glad you did!
Meanwhile, that last sliver of Chocolate Cream Pie beckons. Yummmm…..
Slainté! L'chaim! Cheers!
Tammy
Related Recipes
Pies and tarts can be sweet or savory, and there are so many fillings from which to choose. From fruits to nuts and custards, there's bound to be a pie or tart that catches your fancy! Here are a few choices to try.
Love this recipe? Please leave a 5-star ⭐️ rating in the recipe card below ⬇️ and/or a comment further down the page.
I'd love to hear from you! Stay in touch on Facebook, Instagram, Pinterest, and please tag me using the hashtag #scotchandsconesblog. You can also sign up for my mailing list. I can't wait to see your creations!
Recipe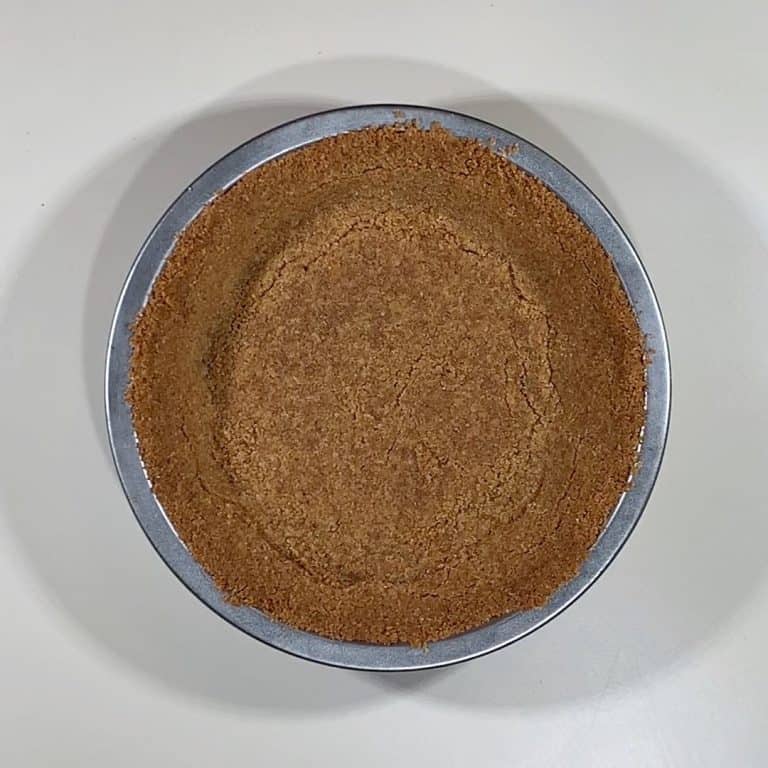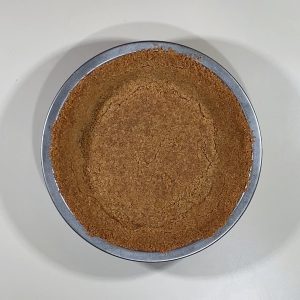 Classic Graham Cracker Pie Crust
Graham cracker pie crusts are classic & cookie crusts are fun. Both are quick & can be baked or chilled. An easy crust for your next pie!
Adapted from King Arthur Flour
Ingredients
1½

cups

graham cracker crumbs

,

about 10 full sheet graham crackers, see Recipe Notes for other cookie crust variations

¼

cup

granulated sugar

,

see Recipe Notes

5

Tbsp

butter

,

melted
Instructions
Using a food processor, pulse the graham crackers into crumbs. Add the sugar, pulse again, then pour in the melted butter and pulse until just combined (the mixture will be sandy).

If you're using a 9-inch non-deep dish pan, you'll likely have ¼ to ½ cup of extra crumb mixture. This can become a garnish for the pie, if you like.

To blind-bake the crust, place it in a preheated 375°F oven for 15 minutes, just until set and you smell the graham crackers toasting. Remove the pan from the oven, cool on a rack, and finish with the filling of your choice.

For a no-bake crust, just chill the pan in the freezer for 15 to 20 minutes to set the melted butter after pressing it into the pan. Finish with the filling of your choice.
Notes
Variations
If you want to make a cookie crust, substitute your cookie of choice and adjust the amount of sugar to taste based on how sweet the cookie is:
Chocolate cookie crust: Replace the graham crackers with 2 cups (170g) of chocolate cookie crumbs
Vanilla wafer crust: Replace the graham crackers with 2 cups (170g) of vanilla wafer cookie crumbs 
Gingersnap crust: Replace the graham crackers with 2 cups (170g) of crushed gingersnaps
Handy Conversion Guide
10 graham cracker sheets will yield 1¾ cups
40 chocolate wafer cookies (255g) will yield 2 cups
71 vanilla wafer crackers (250g) will yield 2 cups of crumbs
43 gingersnaps (304g) will yield 2 cups of crumbs.
Nutrition
Serving:
1
slice
Calories:
65
kcal
Carbohydrates:
12
g
Protein:
1
g
Fat:
1
g
Saturated Fat:
1
g
Cholesterol:
1
mg
Sodium:
76
mg
Potassium:
27
mg
Fiber:
1
g
Sugar:
7
g
Vitamin A:
10
IU
Calcium:
15
mg
Iron:
1
mg