With Bruichladdich's unpeated & peated lineup, from their namesake line to Port Charlotte Heavily Peated & Octomore Edition series, there's a dram for every palate!
Back in August I was treated to lunch and a scotch tasting with Jason Cousins, Bruichladdich's New England Brand Development Manager.
He filled me in about Bruichladdich's Bere Barley 2010 and The Organic 2010 unpeated expressions, and expressions from Port Charlotte's Heavily Peated 10 and MRC:01 2010.
We prepped our palates with a sip of Bruichladdich's Classic Laddie unpeated scotch, then stepped through this wonderful lineup. Jason gave me interesting facts about each offering and patiently answered all my questions.
These drams paired beautifully with our seared tuna salad entrées and chocolate mousse and apple crumble desserts. Yes, two desserts...I'm livin' the high life!
Enough about lunch, let's get to the tasting!
Bruichladdich's unpeated & peated lineup
At Eastern Standard, Boston, hosted by Jason Cousins, August 7, 2019
Bruichladdich Classic Scottish Barley
50%ABV
Tasting Notes
Nose: barley, light ocean breezes, moss

Taste: soft entry, cereal, oatmeal, light brown sugar,

Finish: fades to baking spices and light brown sugar

Comments: very clean and pure, lots of grains and an easy sweetness
Bruidladdich Bere Barley 2010
50%ABV
A barley variety from a single Orkney estate; a 6-row barley that grows fast but with less yield, and has more protein & less starch in it, 8 yr ex-bourbon cask
Tasting Notes
Nose: pineapple, peaches, floral, aromatic, vanilla and honey underneath

Taste: medium body, wehat, then cloves and allspice

Finish: allspice fades to peach butter and leather

Comments: fruit pulp emphasis with baking spices thrown in for good measure. Beautiful sip...needs to be savored
Bruichladdich The Organic 2010
50%ABV
Single estate organic barley, Mid Coul, near Inverness, 8 yr ex-bourbon cask, entire process organic, matured on Islay
Tasting Notes
Nose: deeper, more robust barley aroma, date syrup, white chocolate

Taste: soft to spicy, vanilla fudge, honey syrup, rises to white pepper, reasted cereal, thick body

Comments: deep flavors of toast well balanced with orchard fruit sweetness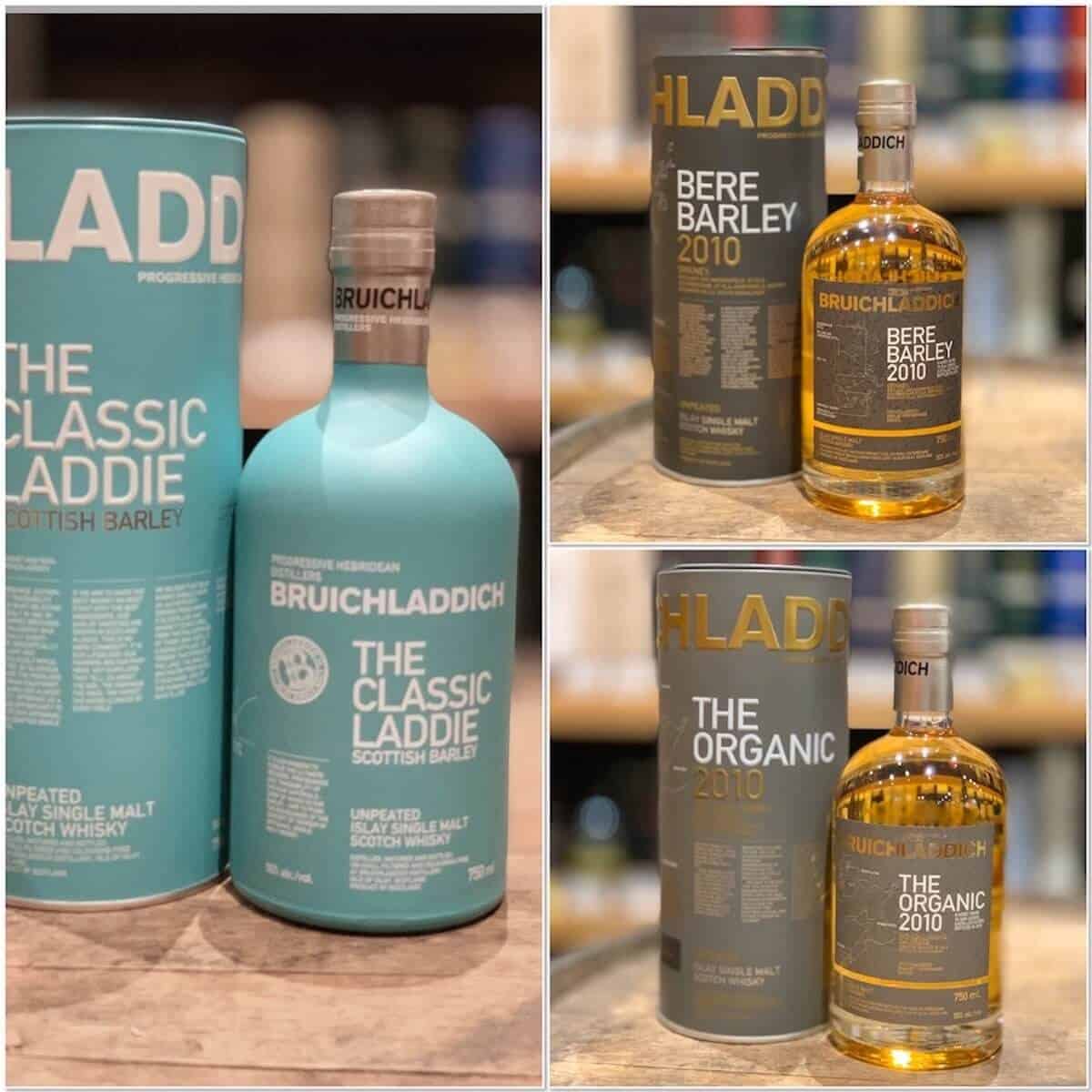 Bruichladdich Port Charlotte 10 yr
50%ABV, 40ppm
Uses Highland peat to get a Speyside type of flavor; blended from 65% first-fill American whiskey casks, 10% second-fill American whiskey casks, and 25% second-fill French wine casks
Tasting Notes
Nose: flower and forest smoke, vanilla

Taste: ash starts, pine, then orchard fruits take over

Finish: orchard fruits linger with cold campfire ash

Comments: gentle nose, not aggresive, fruity and ashy, dichotemy between Islay name and forest flavor
Bruichladdich Port Charlotte MRC:01 2010 Cask Strength
59.2%ABV, 40ppm
100% malted barley fromn Invernesshire; aged 6 yrs in American oak and 1 yr in Boardeaux wine cask
Tasting Notes
Nose: barley first, cooked plums next, fruit leather, very light ash

Taste: light hot charcoal, blak pepper, allspice, cloves, not as much fruit

Finish: cloves linger, soft ash beneath

Comments: definately can tell this is cask strength, goes great with chocolate!; with water more pine and pineapple on nose, still have ash on the palate that fades to foresty ash, peaches, and an herbal note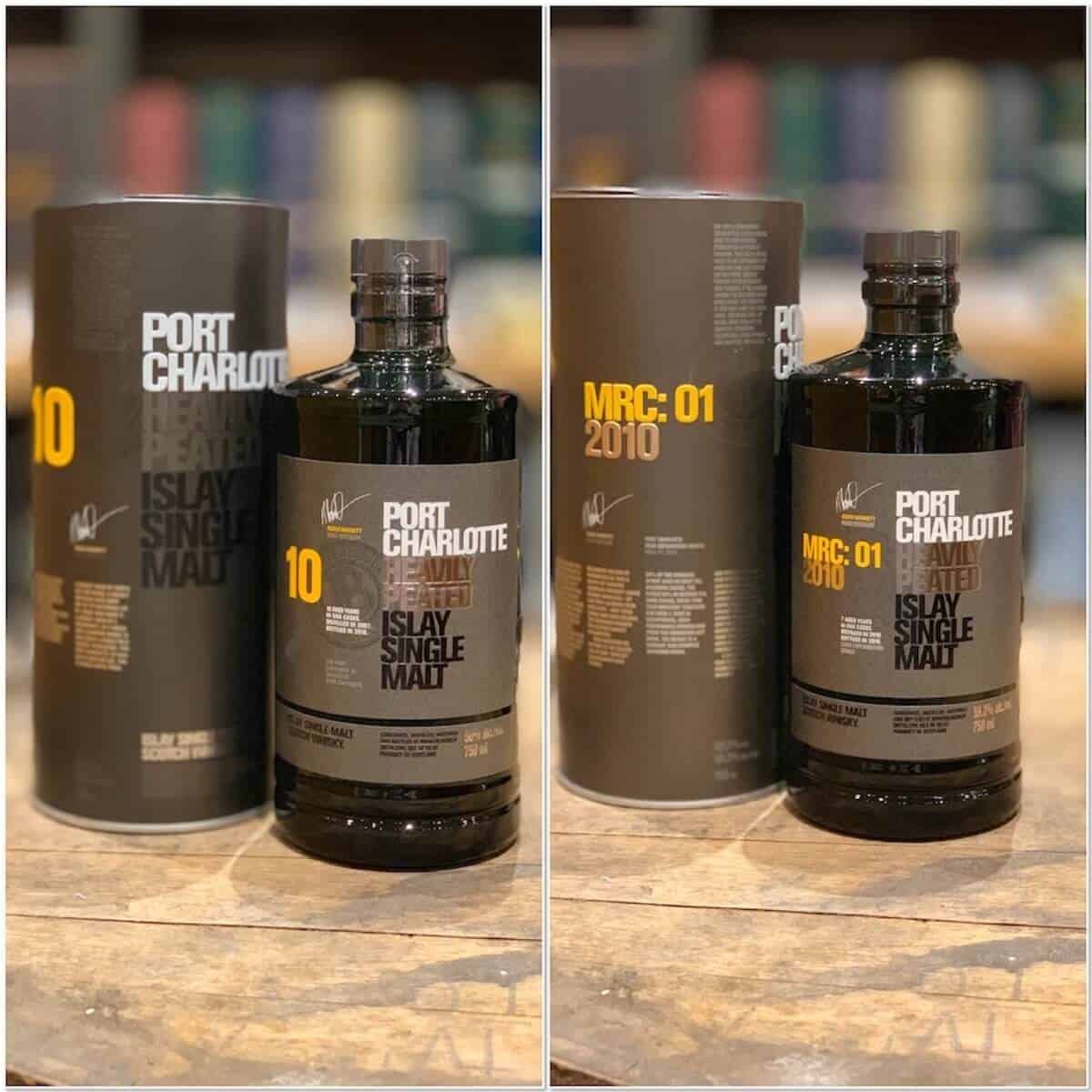 And then there's Octomore...
Jason later invited me to a masterclass led by none other than Adam Hannett, Bruichladdich's Head Distiller. A personable fellow just to chat with, Adam educated us with his deep knowledge about the ins and outs of making what is, in essence, a craft scotch.
In fact, the Bruichladdich Bere Barley and Organic expressions fall into that category as well.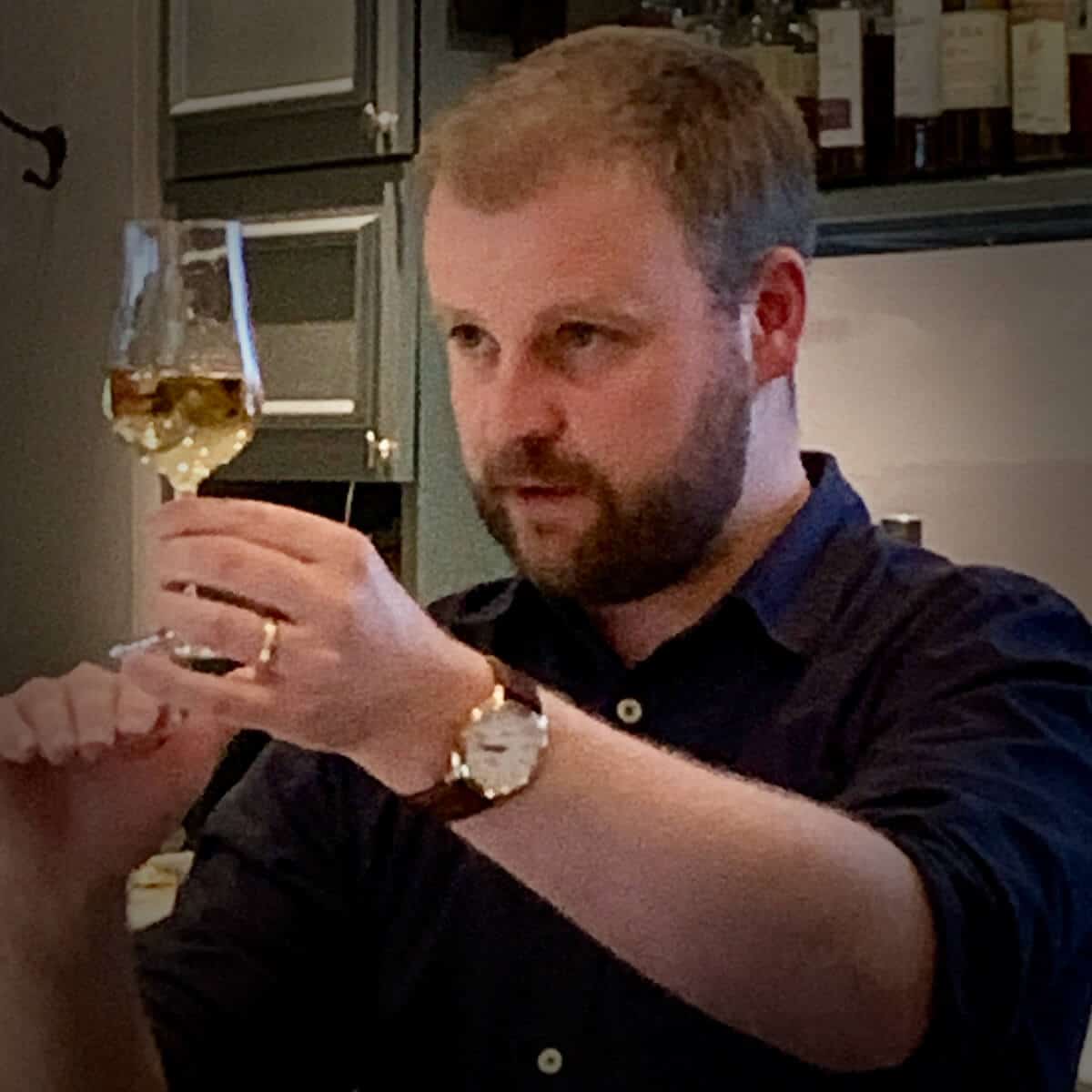 The Octomore Edition series is based on a specific goal in mind for each expression based on the type of barley and the type of cask used.
A numbering system is employed as a guide so the consumer can know what is the emphasis of a particular bottle (see photo below). Because growing conditions change from year to year, each year's expressions have a unique flavor profile.
The way Adam presented each whisky emphasized how the plan was to make a scotch singular unto itself, using vintage stills and small batch techniques.
And boy, did they succeed!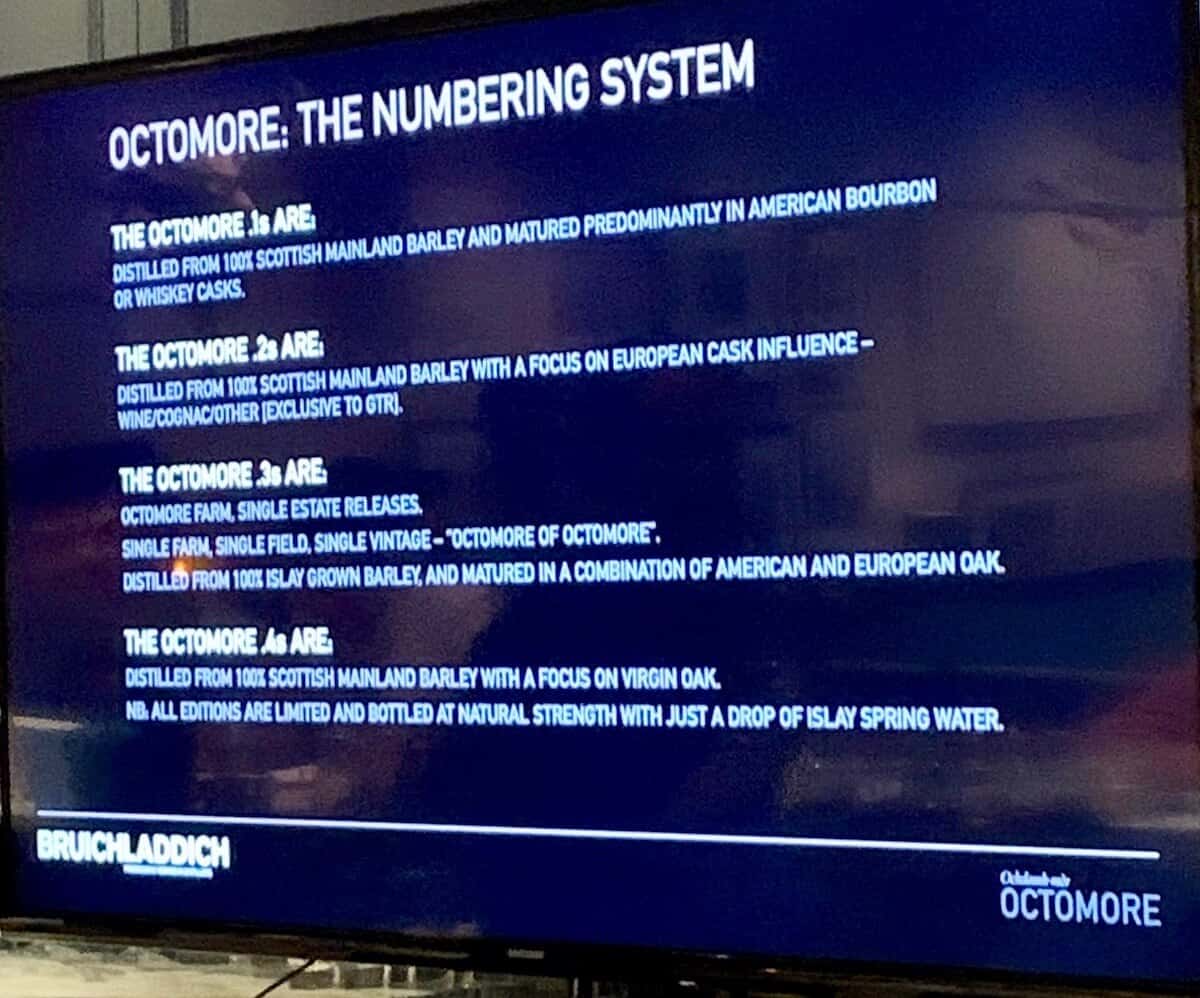 Octomore Edition Series
At The Hawthorne, Boston, hosted by Jason Cousins, presented by Adam Hannett (Bruichladdich Head Distiller), October 2, 2019
Bruichladdich Octomore Edition 10.1
59.8%ABV, 107ppm
Aged 5 yrs
Tasting Notes
Nose: honey, hay, barley, vanilla fudge, orchard fruits, citrus, smoke underneath

Taste: smoke hits, white pepper, honey, light peaches, candied lemon peel, oily body

Finish: fades to ash, wheat, subtle sweetness, candied lemon peel lingers

Comments: the smoke hits hard but very pleasantly, doesn't burn so much as smolder with honey & candied fruit; well balanced between smoke, vanilla, & candied fruit
Bruichladdich Octomore Edition 10.3
61.3%ABV, 114ppm
Islay barley from 1 harvest, similar to 10.1, looking for the terroir of the scotch, Aged 6yrs
Tasting Notes
Nose: peaches, clover honey, heather, no smoke just fruit

Taste: chewy, peaches, thick honey, a little savory with bbq sauces then smoke decides to show up

Finish: smoke rises at the middle to the end, mingling with that bbq sauce quality

Comments: think smoky peach bbq sauce on ribs; the smoke is complimented by the peaches, phenomenal! A wonderful representation of Islay, so drinkable
Bruichladdich Octomore Edition 10.4
63.5%ABV, 88ppm
Aged 3 yrs in a heavily toasted French Virgin Oak cask
Tasting Notes
Nose: honey, oak tannins, cooked fruit, salty, deep caramel almost burnt

Taste: oily sweetness, then thick smoke & prunes, salty sweet

Finish: smoke & astringent fruits linger long and strong

Comments: almost like it's from a sherry cask, high-alcohol almost balances the stong virgin oak influences; sea breezes on the tongue but not iodine, crusty salt & cooked prunes; drying in the mouth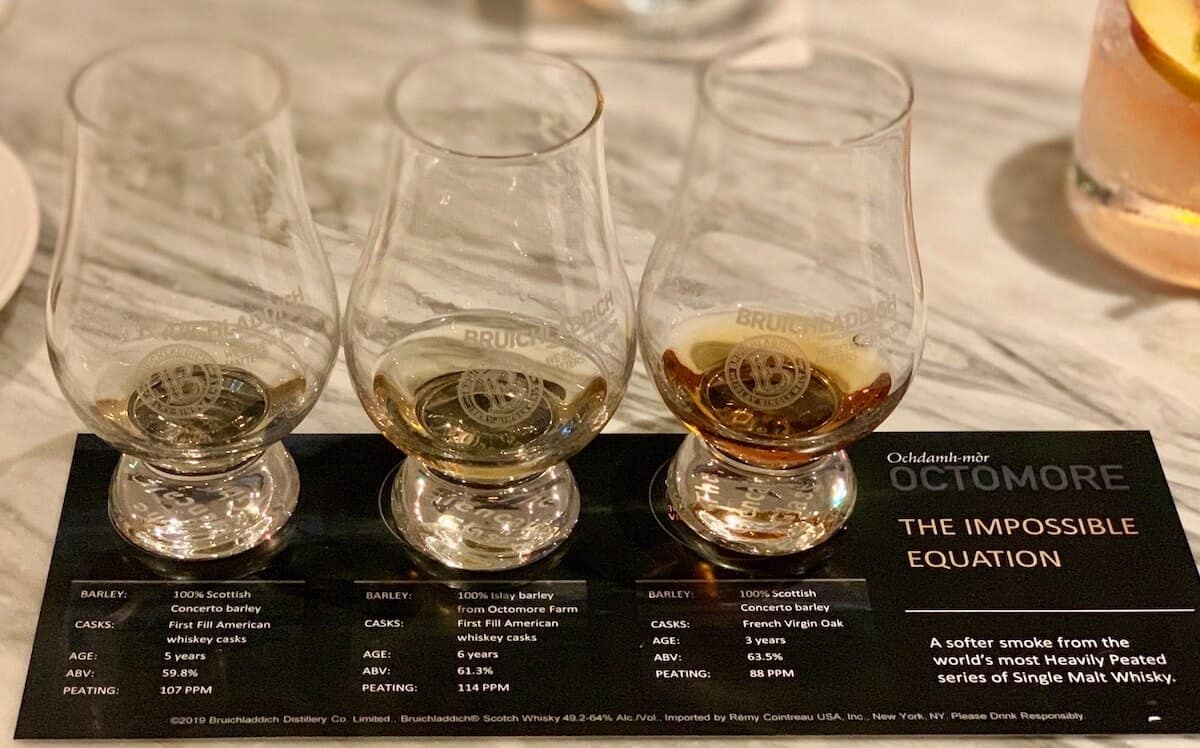 Mentioning Octomore either elicits cheers or groans from people. Their lineup bills itself as the world's most heavily peated single malt scotch. That label can be daunting, but even within Octomore Edition series there is variance and subtlety.
All their peated scotch are eminently drinkable. This Octomore Edition lineup is truly worth seeking out.
Something for every palate
Many thanks go to Jason for including me in these two tasting events. I enjoyed this deep dive into Bruichladdich's unpeated & peated lineup very much.
And just as when I got to attend a tasting with Kavalan Master Blender, Ian Chang, hearing Adam's talk about the making of Octomore Edition series was fun and informative.
Bruichladdich's handcrafted expressions, whether unpeated or peated, certainly fit my palate, and hopefully yours as well!
Slainté! L'chaim! Cheers!
Tammy