I went to my annual scotch tasting at the New Hampshire Highland Games and Festival expecting a normal Laphroaig & Bowmore tasting lineup. Instead we learned about the Great Islay Swim!
I went to the New Hampshire Highland Games & Festival this past weekend, the fourth time I've gone.
It was there that I first tasted scotch at the Laphroaig tasting with Simon Brooking, and that little sip led me down a winding path to here.
Not your normal scotch tasting
Over the years I've gone to many tastings, led by Simon and others, and they've all generally followed the same format: talk a little about the distillery, then talk about each spirit in turn as you taste your way down the lineup.
That's what I was expecting last Saturday as I took my seat and waited for Simon to begin with his usual enthusiasm, but that's not the way the tasting went. Instead, we were introduced to Justin Fornal the lights dimmed, and we were shown the a documentary about the Great Islay Swim.
Then the chills began…
(Wait, what is the Great Islay Swim, and who's Justin Fornal?)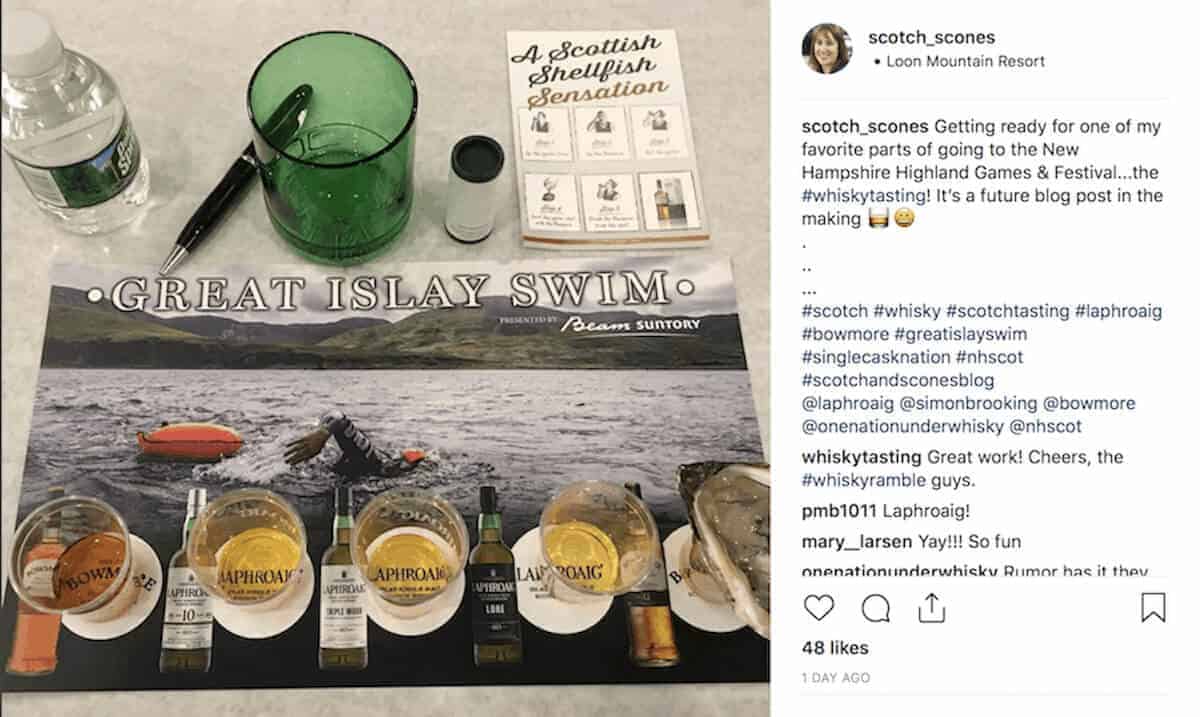 The Great Islay Swim
Justin Fornal is a crazy…er…intrepid explorer, adventurer, and author.
He is a member of the Explorer's Club and his website features his many expeditions. Justin was the catalyst for the Great Islay Swim, an 8-day water born trek around the island of Islay, Scotland.
Joined by Chad Anderson (CEO of Space Angels and a fellow member of the Explorer's Club), and Johnnie Mundell (Brand Ambassador for Beam Suntory), the trio braved the chilly waters, jellyfish, and the Corryvrecken whirlpool July 23-29, 2017 in an attempt to be the first to circumnavigate Islay by sea.
They succeeded. And that's not all…
Justin needed a sponsor, and he found the perfect pair in Joshua Hatton and Jason Johnstone-Yellin of Single Cask Nation. Together they hatched a plan…the swimmers stopped at each of the 8 distilleries on Islay who added their scotch to a cask that Justin towed while he swam.
That cask created 100 bottles of scotch whisky for sale, with all proceeds going to benefit the Royal National Lifeboat Institution (RNLI), a volunteer organization that provides sea search and rescue support, flood rescue response, and water safety education all around the UK and Ireland.
You can purchase a bottle of the Great Islay Swim "Explorer's Cask" Quarter Cask from Single Cask Nation (while supplies last).
Not your normal scotch review post
Normally this is where I'd give you my tasting notes from the lineup, but this time the whisky really was secondary to the presentation itself (and I've tried them all before). Just for completeness, here's what we tasted (the reviews I've published before are linked)
Laphroaig & Bowmore Whisky Tasting featuring the Great Islay Swim
At the New Hampshire Highland Games and Festival, September 22, 2018
Bowmore 15 year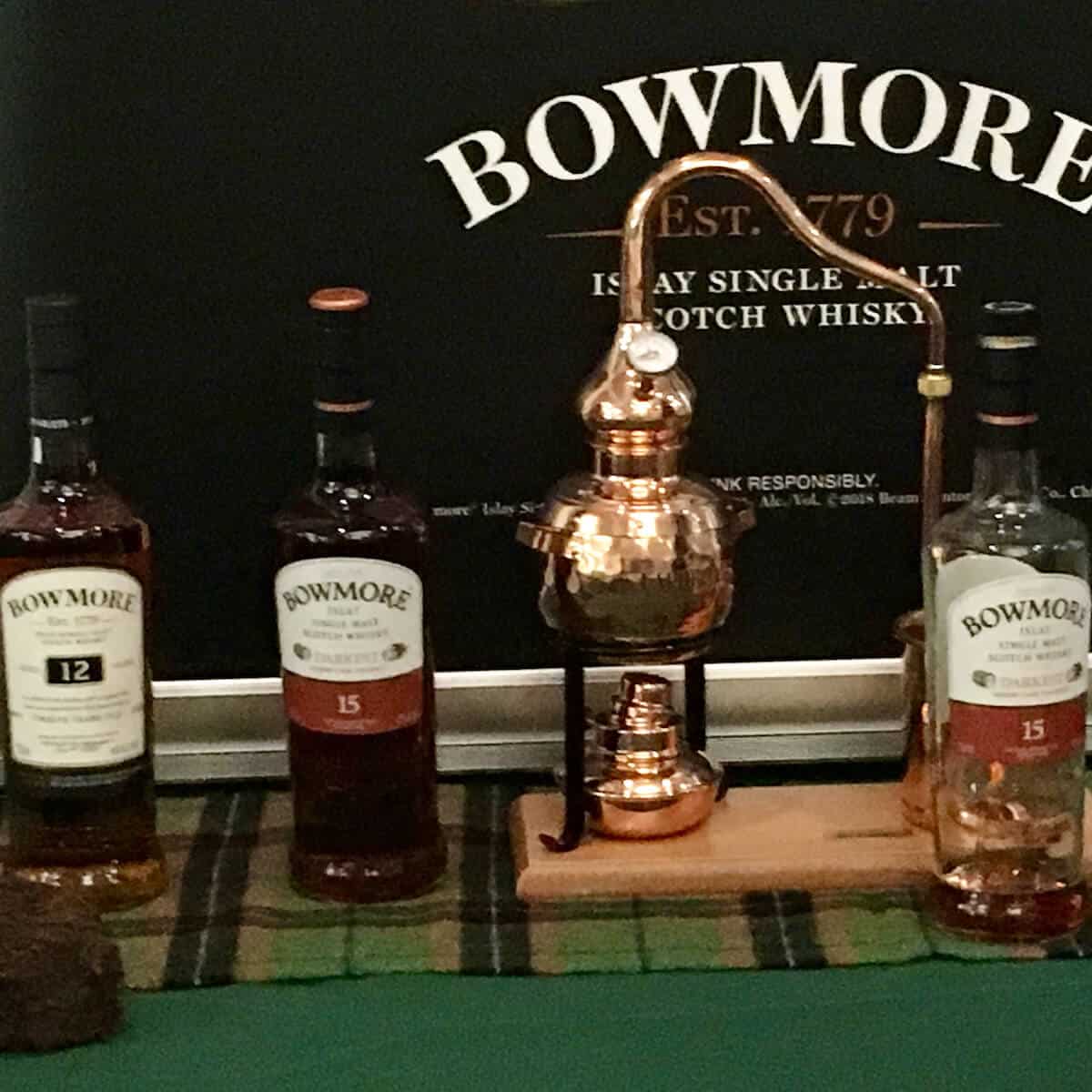 Laphroaig 10 Cask Strength
Laphroaig Triple Wood
Laphroaig Lore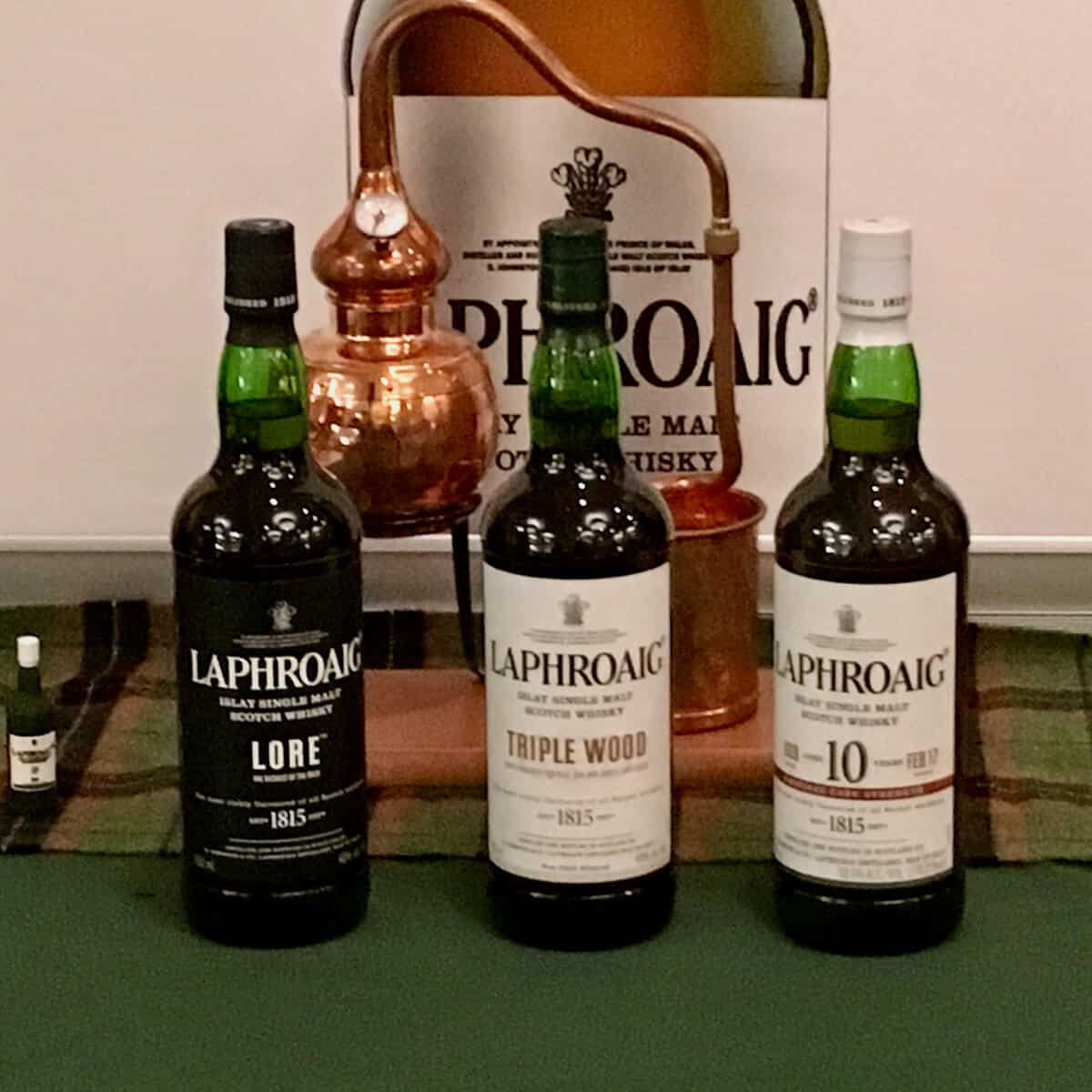 What was different
I mentioned at the start that this tasting didn't follow the normal format. Instead we watched some of the documentary, then it paused for Simon to give a toast relating some aspect of the scotch to what we were seeing. The movie restarted until the next pause, and on and on until it was finished.
I'm no movie reviewer, but I can say that the documentary was very well done, with interviews and video from the swim itself.
Two thumbs (and Glen Cairn glasses) up!
If you want to hear more about the Great Islay Swim, Joshua and Jason talked about it on their One Nation Under Whisky podcast twice, in Season 1 Episode 12: WHO in their right mind would try to swim around Islay?! and in Season 2 Episode 11: Live Podcast@ Whisky Jewbilee NYC with the Great Islay Swimmers and Simon Brooking.
Always funny and informative, both these podcasts are worth your listening time.
Final thoughts
Being the fangirl that I am, I asked Simon and Justin to autograph the tasting mat, and I got to speak to Justin for a couple of minutes.
I told him how awe-inspiring this feat was, it was his response (and what he signed) that struck me, "Use your power to do great things."
Awe-inspiring, indeed.
Slainté! L'chaim! Cheers!
Tammy
p.s. Special thanks go to Rob McCarron of Southern Glazer's Wine & Spirits of New Hampshire for helping me attend the tasting. I owe you some scones!