Using worm tubs, a time-tested way to condense spirit vapor during distillation, gives AnCnoc Highland Single Malt its distinctive flavor.
When you think about how scotch is made, the process is pretty straightforward: make beer, distill it to a spirit, then age it.
Of course, there is much more to it than that, and that's where the diversity lies. So many parts of the process are variables, from the ingredients that go into the mash or the number of times a spirit is distilled, to the types of casks used for aging and the environment of the warehouse.
One aspect I haven't really explored is the system for cooling the spirit vapor after distillation (boy, that sounds spooky, doesn't it!). That's where worm tubs come in, and where AnCnoc Highland Single Malt scotch makes its distinction from other scotch expressions.
[Side note: no worms were harmed in the writing of this post]
AnCnoc, the name
First, let's get the name right. AnCnoc is pronounced "a-nock" and means "the hill." That pronunciation wasn't immediately obvious to me, but then I don't speak Gaelic. The name was changed from Knockdu in 1994 to avoid confusion with another local brand.
The AnCnoc Highland Single Malt distillery is located in the village of Knock in Aberdeenshire, and opened for production in 1894 (time plays a part in our story).
(So, what about those worms?)
It's all about the cooling
As I said above, during distillation the alcohol vapor must be converted back to liquid, so a cooling system needed to be used.
Distillers historically achieved this by coiling the pipe running off the top of the still and submerging it in water so the liquid could be collected (and redistilled if desired). Since copper was an easy metal to mold, that was the metal of choice, even though it was probably more expensive.
Also, controlling the temperature of the water was more difficult with a worm tub. Who wants to continually re-fill a barrel? So eventually a system of temperature-controlled shell-and-tube condensers was developed, becoming the standard for modern distilleries.
AnCnoc Highland Single Malt is made using their original style copper pot stills and worm tubs from 100 years ago, something rarely done today.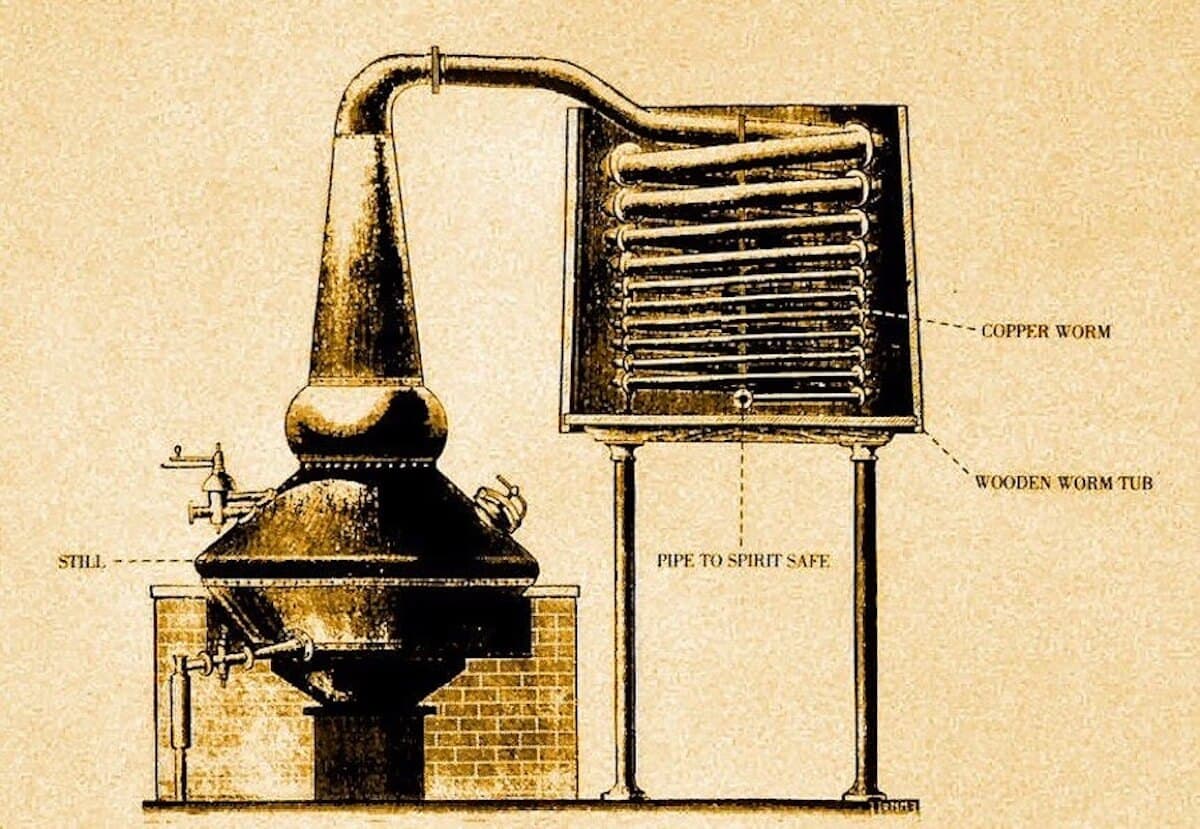 One by-product of using worm tubs was that copper sulfates in the pipes lent a distinctive taste to the scotch since it wasn't removed during the distillation process. The lack of temperature control also affected the new make spirit.
All this meant that AnCnoc's expressions had unique characteristics not usually found in those from larger facilities. Using worm tubs today is a nod to the history of scotch making, and AnCnoc is proud of that fact.
Ok enough about worms, tubs, and history…let's taste some whisky!
AnCnoc Highland Single Malt Tasting
At Gordon's DTX, January 23, 2019
anCnoc 12yr
43%ABV
Colored and chill filtered, Aged 90% in ex-bourbon casks, 10% sherry casks
Tasting Notes
Nose: lemon curd, malty, pine forest, dried hay

Taste: lemon zest, pine, med body, barley, pine menthol

Finish: licorice at the end

Comments: bright and flavorful, so easy to drink
anCnoc 18yr
46%ABV
Non-chill filtered, not colored, Aged 70% ex-bourbon casks, 30% sherry casks
Tasting Notes
Nose: orange juice, stewed fruit underneath, lightly minty pine needles

Taste: thick, oily, creamy, lemon zest, baking spices of cloves and allspice, ginger, white pepper

Finish: the ginger and spices lingers, then joined by menthol warmth

Comments: very fruit forward nose, spicier in the mouth, more complex layers, Nicely balanced between citrus and sherry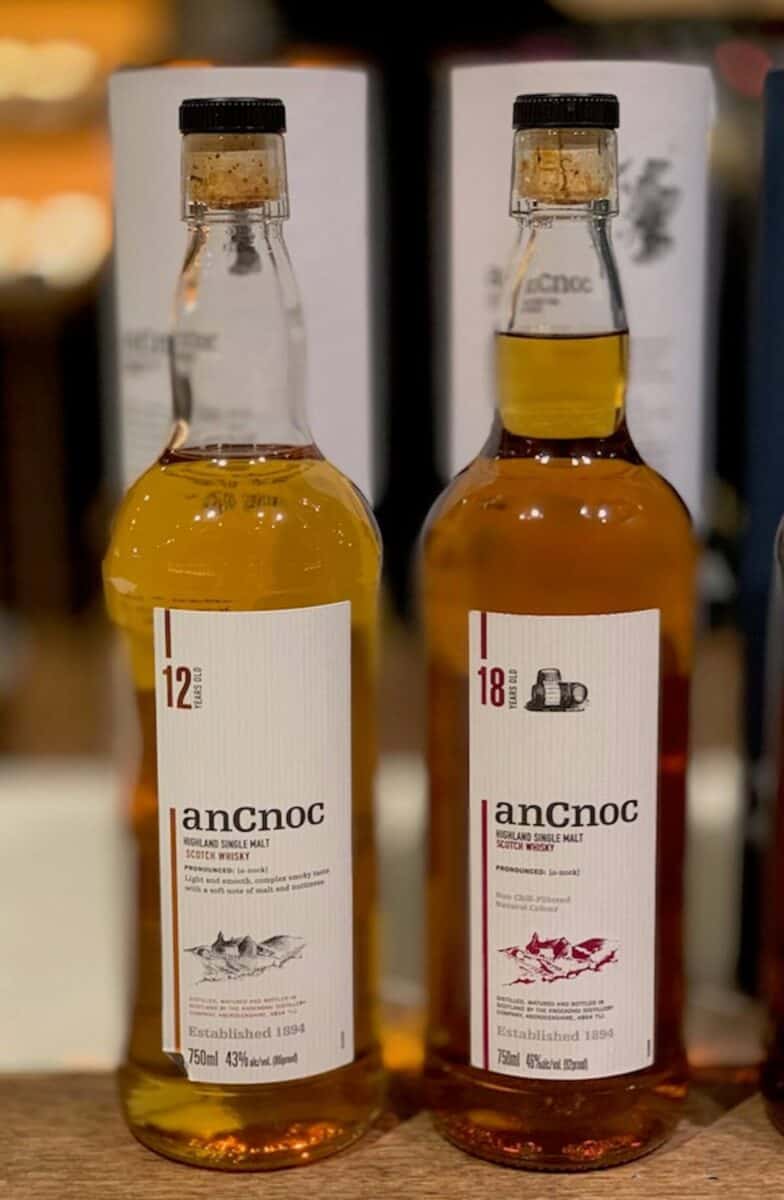 anCnoc 24yr
46%ABV
Tasting Notes
Nose: plums, raisins, hint of orange peel, citrus, pine needles tiptoe in the background

Taste: med body, cooked fruit and cloves, soft pepper, toffee

Finish: vanilla toffee with gingerbread

Comments: lots of deep cooked fruits layered with honey and ginger
anCnoc Cutter
Tasting Notes
Nose: heather peat smoke, clover, earthy

Taste: light body, smoke and ash hits, lightly lemon underneath

Finish: eucalyptus lasts

Comments: the peat really adds so much flavor, fruity flavors really are balanced, really like this one
anCnoc Rascan
Tasting Notes
Nose: earthy peat, pine, light whiff of lemon, hay

Taste: med oily body, lemon zest, eucalyptus, forest smoke

Finish: that lingering smoke lightly evaporates, leaving a whiff of pine in its wake

Comments: citrus comes through over the peat, not ashy, balanced and flavorful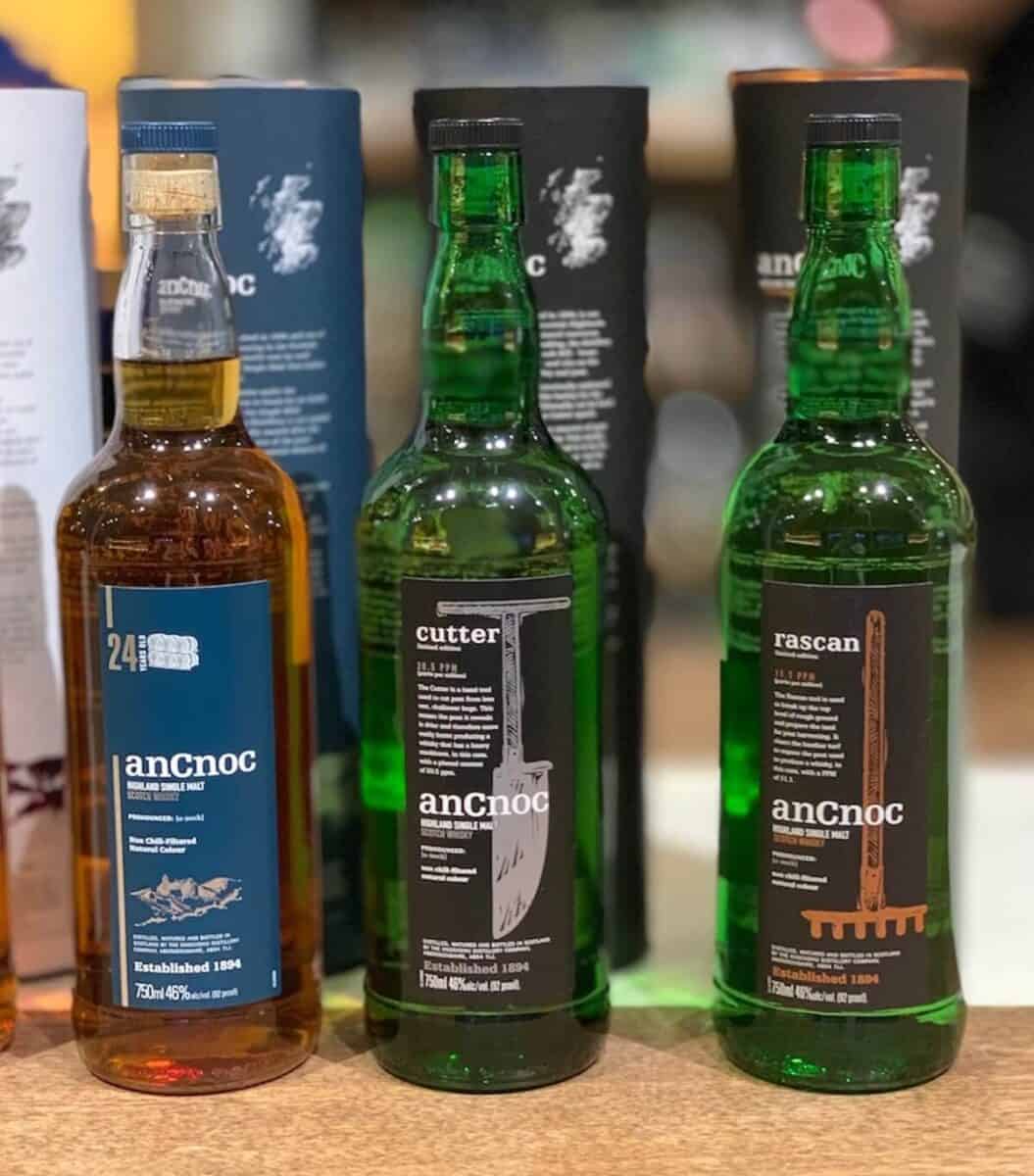 Final thoughts
AnCnoc Highland Single Malt is a bigger, heavier style of whisky because of their production process, but it's wonderful all the same. The combination of their worm tubs and the bourbon cask aging produce expressions that have many layers to uncover and explore.
More distilleries are starting to incorporate worm tubs into their production for some of their expressions, just underlining the desirability of the process that makes AnCnoc's lineup unique.
Here's to history (and worms)!
Slainté! L'chaim! Cheers!
Tammy