This independent bottler Exclusive Malts whisky lineup featured a wide array of flavors from distillers all around Scotland. It also provided an opportunity to talk with Joshua Hatton.
I had the pleasure of attending the Exclusive Malts whisky tasting hosted by the North Shore Whisky Club and presented by Joshua Hatton.
I've been to his tastings before, and have benefitted from his generosity with his time and advice. For instance, he introduced me to the good folks at ImpEx Beverages and Westland.
When Joshua leads a tasting, I know I'm going to learn a lot. And lucky for me, he allowed me a few moments to ask some questions beyond the lineup.
An interview with Joshua Hatton from Single Cask Nation
I asked Joshua why he emphasized his Jewish heritage in his business. He said he and his partners wanted the Jewish community to know that their company, Single Cask Nation, was looking out for them.
After all, of the three partners, two are Jewish and the third has a Jewish wife, so it was a natural fit.
In fact, they started the Whisky Jewbilee because the WhiskyFest New York (a large festival with upwards of 2000 people with about 40% of them observant Jews) moved the day of the festival from mid-week to Friday. That's the Sabbath, when observant Jews wouldn't be able to go.
Also, at the Jewbilee, the food is Kosher and bourbon barrel aged whisky is prominent because it can be Kosher. Sherry cask aging isn't necessarily kosher due to the fact that the wine used to make the sherry may not be Kosher. Thus, Jews who keep the Kosher dietary laws can fully enjoy themselves at the gathering without worry.
It's about being inclusive.
How to develop a whisky palate
I also asked Joshua how he developed his descriptors when he's tasting whisky.
If you listen to the One Nation Under Whisky podcast, he and his partner, Jason Johnstone-Yellin, produce (and I highly recommend you do!), you'll notice his almost encyclopedic memory of every spirit he's tasted. He can describe them to you in amazing detail.
Joshua said he's always been fascinated by how things smell, and how the aroma can change when different ingredients are combined. He even claims that when going to a restaurant or a grocery store, he'll pick up his plate or a grocery item up and just smell it!
It might look odd, but I think it's a smart way to catalog different aromas in your memory.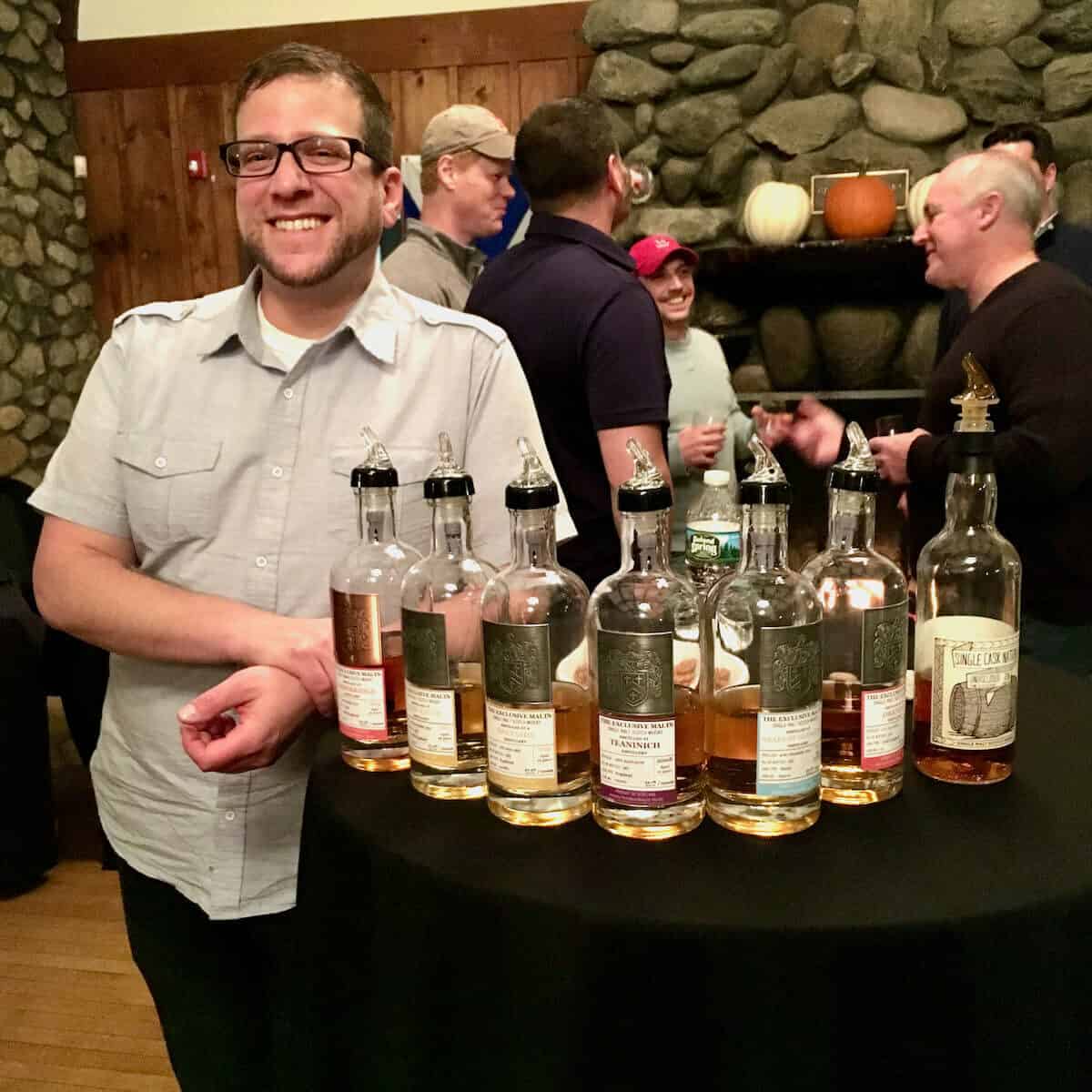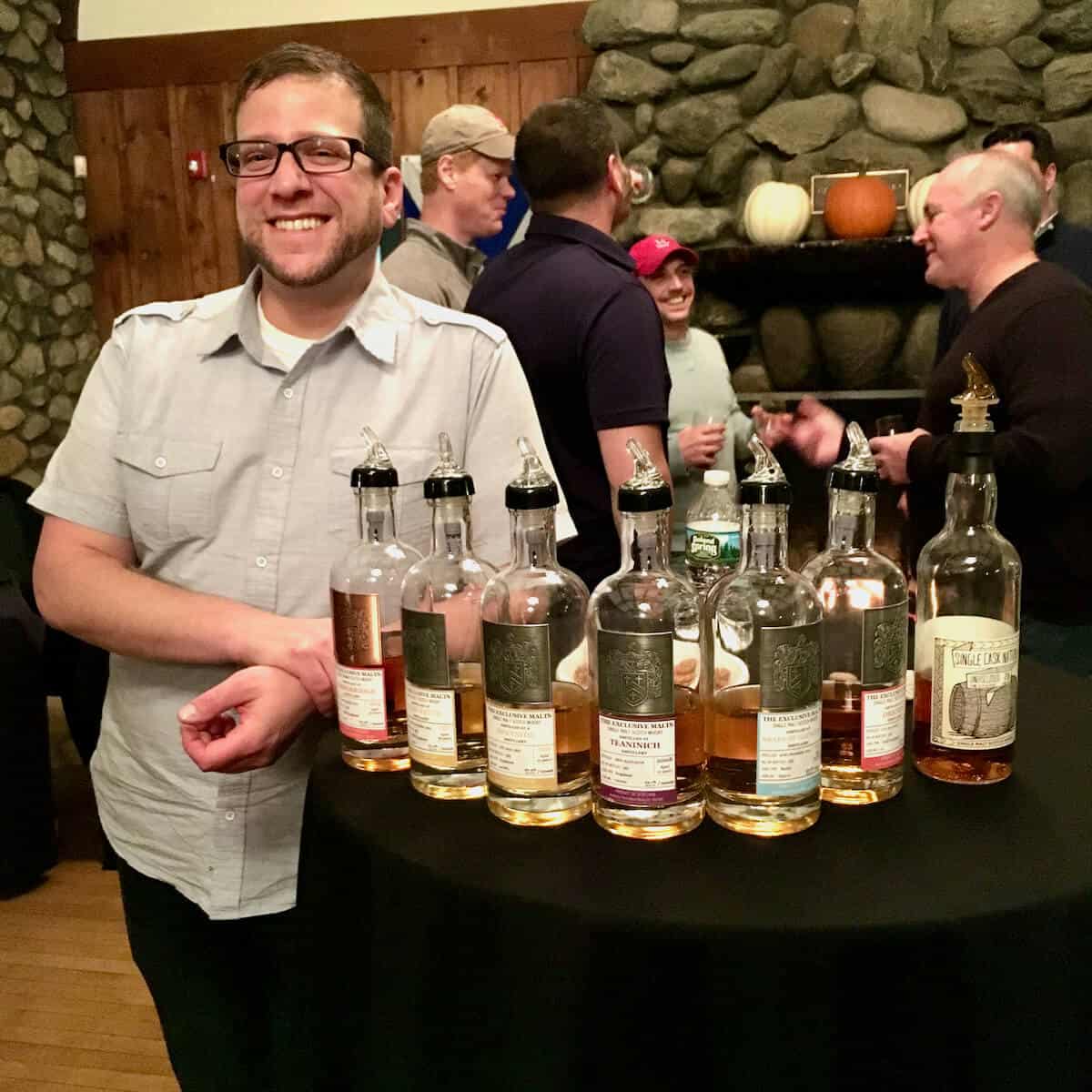 What's up with Independent Bottlers, anyway?
During the tasting, Joshua explained how independent bottling works.
In a nutshell, these companies (like Exclusive Malts and Single Cask Nation) buy a cask from a distillery that fall outside their normal flavor profiles. That's why even if you see a particular distillery name on the bottle that you recognize, that whisky might not taste like what you'd expect from that distiller.
Independent bottlers buy the outliers, as it were.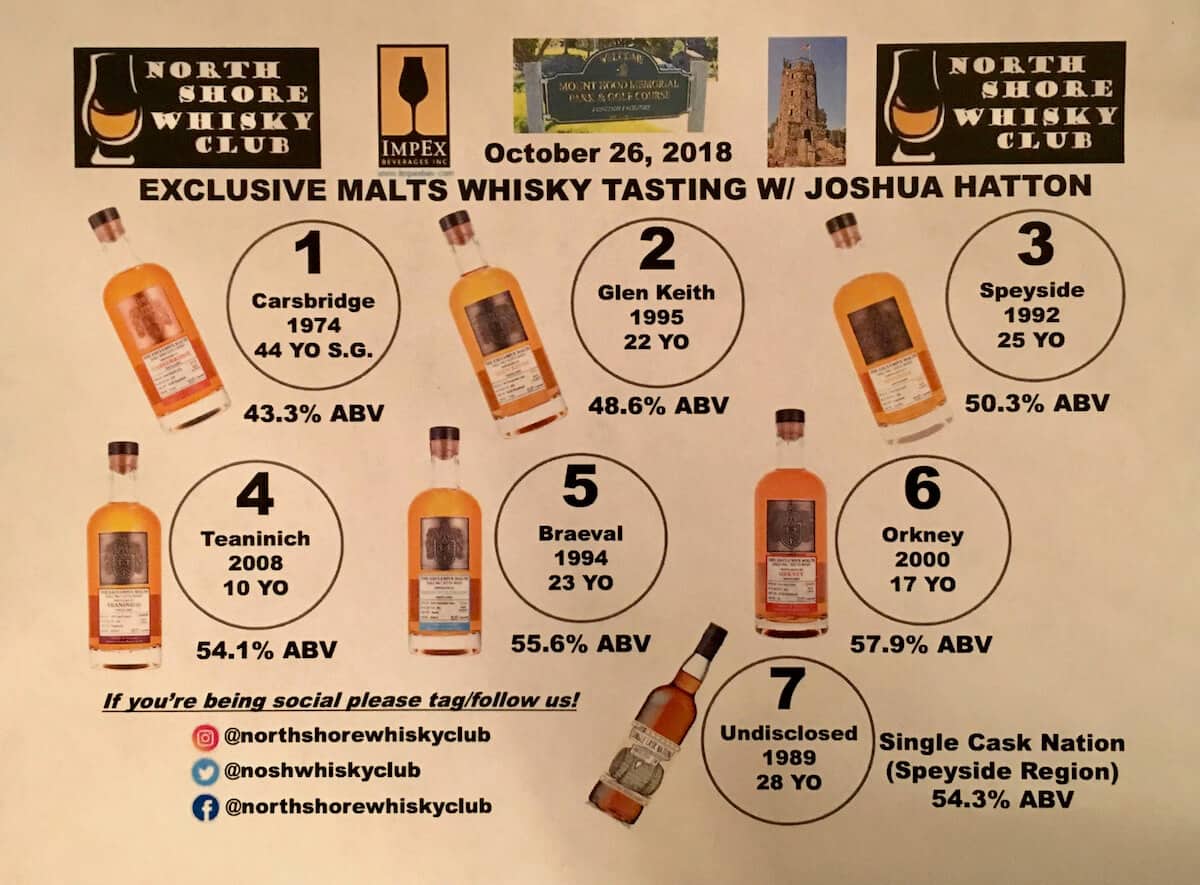 Exclusive Malts Whisky Tasting
Hosted by the North Shore Whisky Club, presented by Joshua Hatton, October 26, 2018
Carsebridge 44yr
42.3%ABV
Single grain, shuttered distillery, bottles in 1974, corn distillate, made like bourbon but put in old oak barrels
Tasting Notes
Nose: floral, heather, honey, caramel fudge, light cream

Taste: thick, butter, pecan pralines, sharp white pepper, hay, musty

Finish: cream brûlée, brown sugar

Comments: creamy flavors on top of brown sugar
Glen Keith 22yr
47.9%ABV
Goes into Chivas, only bottled by independent bottlers
Tasting Notes
Nose: green pine, vanilla, hay, pineapple

Taste: thick & chewy, pineapple, a little smoky, almond extract, cream peeks out

Finish: doesn't linger except for fruit

Comments: the fruits dominate, but it's tempered by cream and almonds
Speyside 25yr
50%ABV
Not the distillery, but the region
Tasting Notes
Nose: tropical fruit, hay, heather

Taste: med body, grassy, brown sugar syrup,

Finish: fades to fresh cut grass and vanilla glaze

Comments: very rare, so sweet, but tamed with fresh grass notes, summer sunshine in a grassy field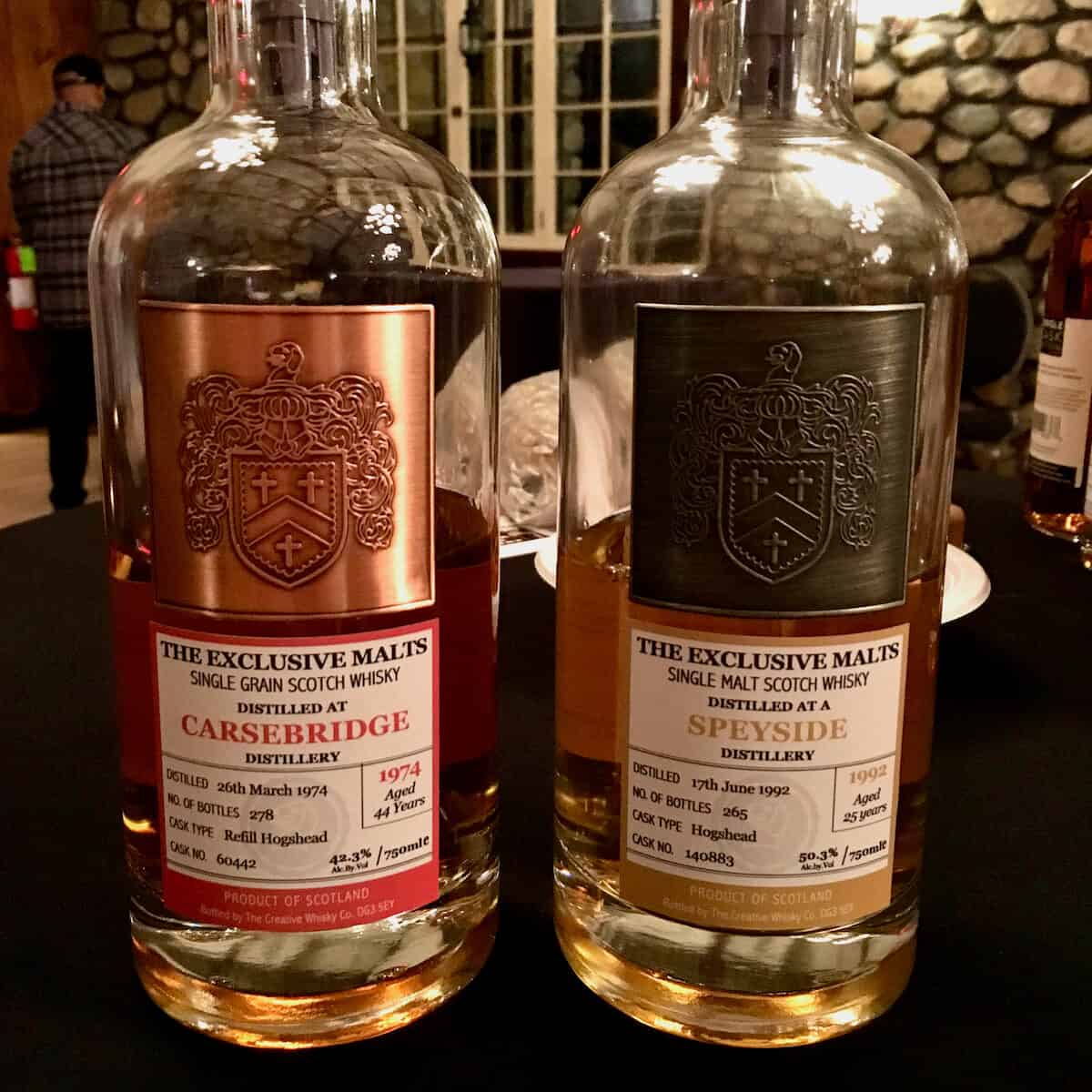 Teaninich 10yr
54.1%ABV
Tasting Notes
Nose: anise, ash, pine, vanilla, musty, caramel underneath

Taste: thin body, smoke, ash, caramel, high black pepper

Finish: pepper continues w/ the mustiness, fades slowly to moss

Comments: strong nose & big flavor, lots of layers: water takes the pepper off the nose & enhances the smokiness with a thicker body
Braeval 23yr
55.4%ABV
The name comes from the braes of glenlivet (Braes=hill); Speyside used to be the region of Glenlivet
Tasting Notes
Nose: light nose, easy green grass, slightly dusty, lemon oils

Taste: oily, thick body, lemon pepper, herbs

Finish: peppermint & lemon zest

Comments: it's hot to sip, herbal and oily
Orkney 17yr
57.9%ABV
Tasting Notes
Nose: raisins, light beachy campfire

Taste: oily, ocean bonfire , caramel rises, raisins, plums, white pepper

Finish: dark fruit and thick smoke lingers

Comments: the smoke adds body, the cooked fruits add character, layers and layers of flavor
Single Cask Nation Undisclosed 28yr
54.3%ABV
Speyside Region, sherry casks
Tasting Notes
Nose: prunes, green leaves, light lemon oils, floral honey

Taste: prunes, pepper, eucalyptus, thick body, cinnamon

Finish: fades to menthol and cooked fruit

Comments: green leaves linger pleasantly with prunes; water tames the heat to raise the prunes, cinnamon, and forest quality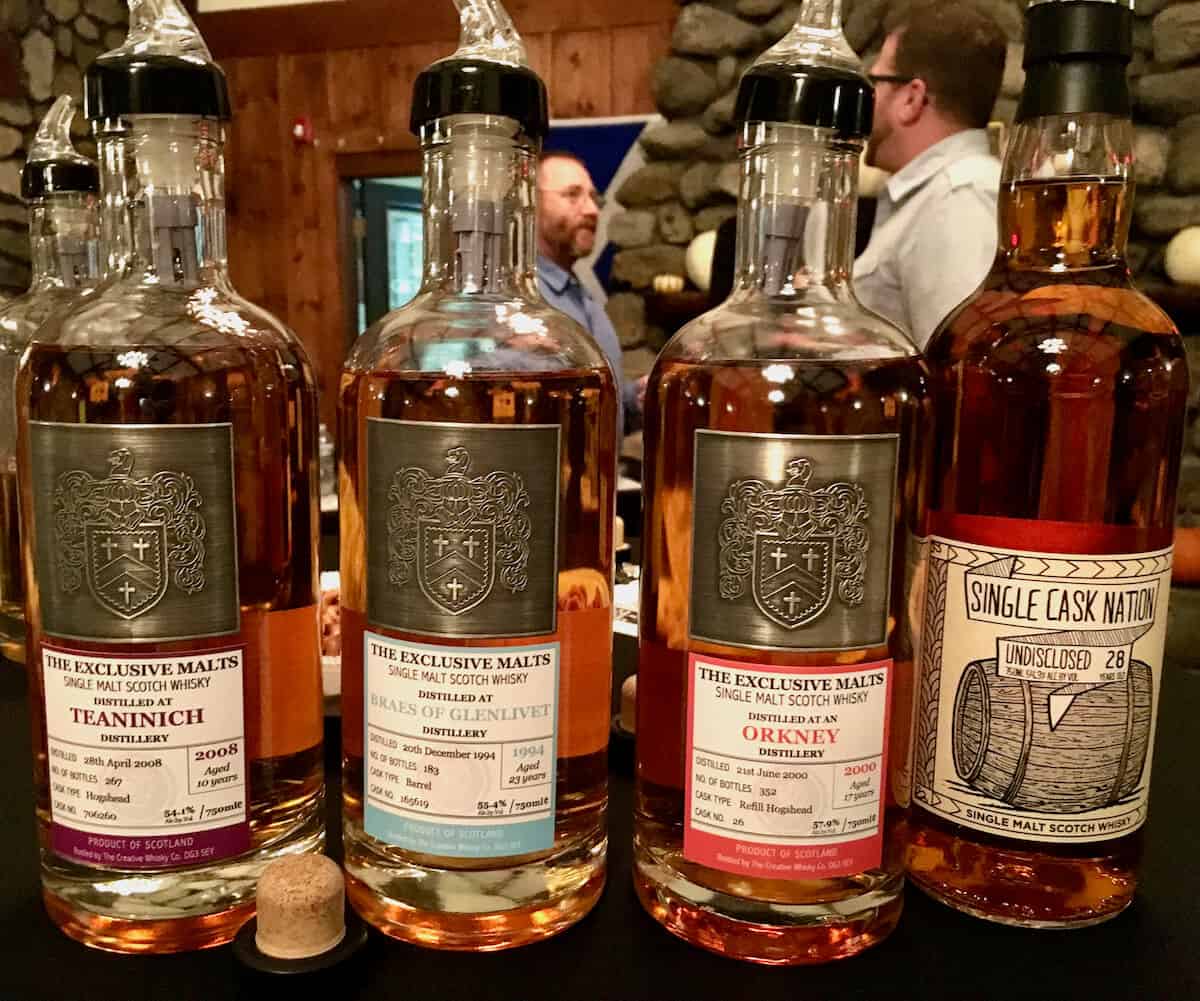 Final thoughts
Exclusive Malt whisky is going to get scarce. Joshua told us that this independent bottling company is going away. Luckily there's Single Cask Nation and others to pick up the slack!
Many thanks to Joshua for giving me his time and advice.
Now I'm heading to the grocery store, but don't judge me if you see me smelling things!
Slainté! L'chaim! Cheers!
Tammy