This easy and delicious shortcrust pastry can serve as the base for many sweet or savory creations, from layered bars to mini tarts. Flaky and sturdy!
What do pies, tarts, quiches, cheesecakes, and bar cookies all have in common?
If you answered they all have a pastry base, you'd be correct! Ok, technically some of those items don't necessarily have to have a crust, but work with me here.
We've discussed making pie crust and using shortbread as a cookie bar base. We've even talked about cookie or graham-cracker crusts. The only topic I haven't covered is how to make shortcrust pastry.
Well that day has come, my friends.
Jump to:
What is shortcrust pastry?
Shortcrust pastry at its core is an enriched pie crust. That is to say pie crust that has an egg whisked into the liquid before adding it to the flour and butter mixture.
If "enriched" sounds familiar, that's because we used the term to describe scones…they're just enriched biscuits. And challah is enriched bread dough. I love parallelisms.
What enriching the pastry dough does is give it sturdiness. That's why a tart can be released from a tart pan and still stand up…a pie crust can't.
Shortcrust pastry can be used for any type of filled item that's going to be free-standing. Think sweet and savory tarts, quiches, and my personal favorite, mini tartlets (they're just so darn cute!).
What you need
Since pie crust and shortcrust pastry are so closely related, the ingredient list shouldn't surprise you. I've adapted my shortcrust pastry recipe from the Outlander Kitchen, the Official Outlander Companion Cookbook, pg 27.
Flour: Where the structure for the pastry comes from. The trick is to not overwork the dough so that you don't develop gluten (and toughen the crust)
Salt: Needed for flavor
Sugar: If you are making a sweet dish, you can sweeten the crust as well if you'd like (but it isn't necessary)
Fat: The fat used in making shortcrust dough could be butter (my choice), vegetable shortening (like Crisco), lard (many people's choice), or something else entirely. I've seen recipes with coconut oil (to make it vegan), and I've used rendered beef or chicken fat on occasion (for savory dishes)
Water: Keep the water as cold as you can because you want the butter to stay cold.
Egg Yolk: This is what makes shortcrust pastry sturdier than basic pie crust. Egg helps bind the dough without sacrificing the flakiness
Lemon juice or Apple cider vinegar: Adding a little bit of apple cider vinegar helps tenderize the dough. You can also use white vinegar or even lemon juice. It's the acid that does the trick
Helpful tips for making shortcrust
The recipe for shortcrust pastry dough exactly mimics that of pie dough (no surprise there). Mix flour and salt (and sugar if you'd like), then cut in butter to form pea-sized clumps.
I like to toss the butter into the flour mixture as I grate it. That way it doesn't turn into a big blob of butter that you then have to cut in.
You can use a standing mixer fitted with the paddle attachment or a food processor to make the dough. Just be mindful to pulse the ingredients quickly and don't overwork it. You want that butter to stay cold and to keep the flour from developing too much gluten so the crust will be flaky.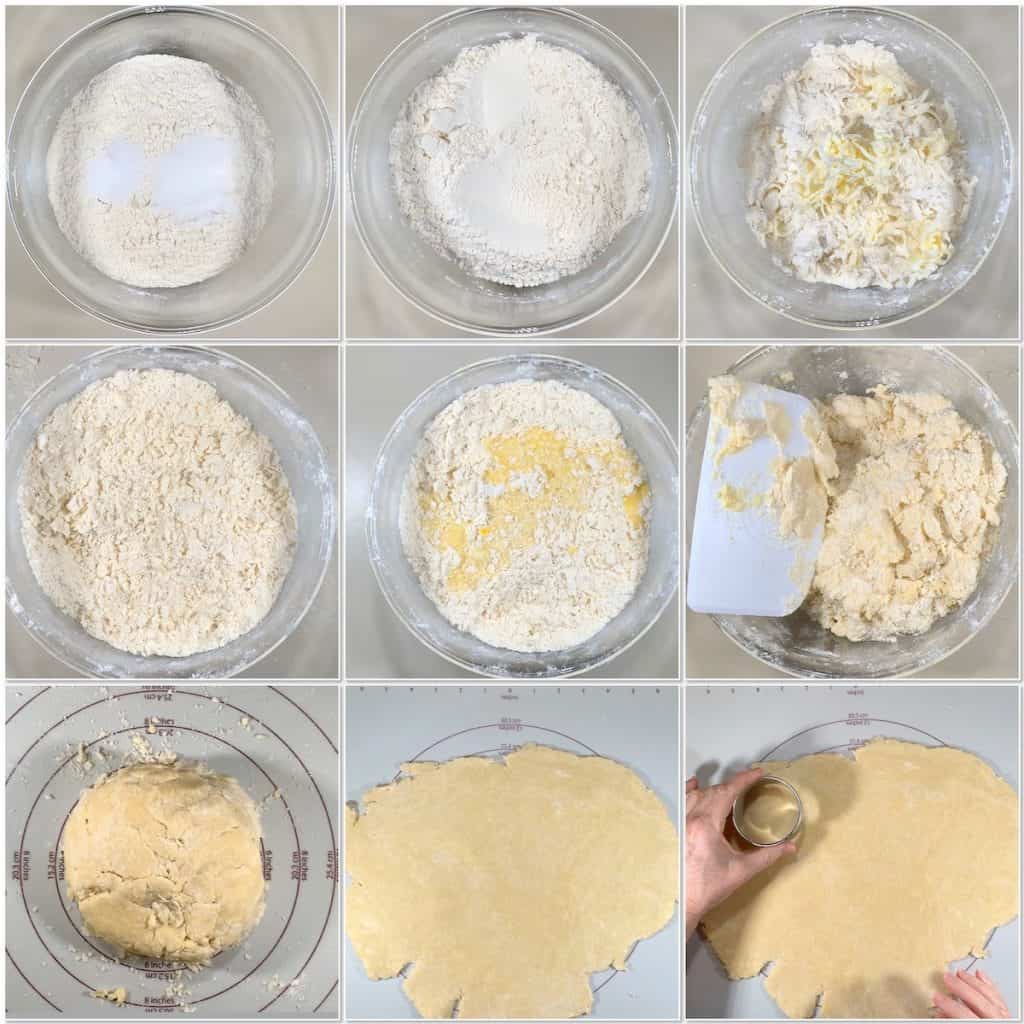 How thick should I roll out the dough?
The best way to roll out shortcrust dough is to use even pressure and roll out from the center in all four compass directions, north, south, east and west. Turn and loosen the dough occasionally as you continue to roll the pastry out into a circle or square shape (unless, like me, you end up with a blob-shape).
A good thickness starting point is approximately 1/4-inch thickness, about the height of two stacked quarters. You can go thicker or thinner based on your recipe.
Par baking or blind baking shortcrust
It's all about the cold, people.
After you roll out your dough, put it into whatever baking pan you plan to use. Just like with pie crusts, be sure to thoroughly chill the dough before baking it.
If you're going to be baking it partially (aka par baking) or totally (aka blind baking) before filling it, prick the dough with a fork and then freeze the dough for 15 minutes.
To keep the shortcrust dough from slumping, either line the pan with aluminum foil and bake or line with parchment paper and bake using pie weights.
Now that you have this easy, delicious recipe at hand, you can go and make a tart or a quiche with confidence. Or maybe mini tartlets? Stay tuned…
Slainté! L'chaim! Cheers!
Tammy
Recipes for pie
Pies can be sweet or savory, and there are so many fillings. From fruits to nuts and custards, there's bound to be a pie that catches your fancy!
Recipes for pie crust & more
Need a base for a recipe? No problem! Here are recipes for pie crusts, graham cracker crusts, tart shells, and shortbread. Plus how to make a lattice pie crust!
📖 Recipe
Basic Shortcrust Pastry
Ingredients
3⅓

cups

all-purpose flour

,

(14 oz, 397g)

1

Tbsp

sugar

,

optional (1/2 oz, 15g)

1½

tsp

kosher salt

1

cup

butter

,

chilled, cut into small cubes (8 oz, 227g, 2 sticks)

½

cup

ice water

,

(4 oz, 113g)

1

large egg yolk

1

tsp

lemon juice

,

white vinegar, or apple cider vinegar
Procedure
Measure your ingredients using a kitchen scale. It's the most accurate and will give the most consistent results.

In a large bowl (or the bowl of a stand mixer or food processor), stir together the flour, sugar (if using), and salt. Toss in the butter and mix using a pastry blender until coarse, pea-sized crumbs appear.

Whisk the ice water, egg yolk, and lemon juice or vinegar together. Add to the dough and mix until the dough just holds together (here you have to be flexible about the amount of water to add as the actual amount will depend on the humidity of the day). Squeeze a small amount of dough between your fingers and if it is very crumbly, add more ice water, 1 tablespoon at a time (2 tablespoons maximum).

Do not over mix the dough (you want to keep that butter cold and separate from the flour). Don't worry if the dough has a slight lemony or vinegary smell...that will dissipate during baking and/or be overwhelmed by the filling.

Turn dough out onto a lightly floured surface and push together into a rough ball. Knead a few times to combine, then divide into two equal balls. Flatten each ball into a disc with smooth edges (no cracks), cover with plastic wrap, and refrigerate at least 1 hour or up to overnight. If you refrigerate the dough for more than 30 minutes, you may have to rest it for a few minutes at room temperature before it will be soft enough to roll out.

Lightly dust the counter with flour. Use even pressure to roll the dough out from the center in all four compass directions, north, south, east and west. Turn and loosen the dough occasionally as you continue to roll the pastry out into a circle or square shape that is an approximately 1/4-inch thickness, about the height of two stacked quarters (unless otherwise directed by your recipe).

Continue with your recipe as directed.
Recipe Notes
If you keep your butter in the freezer (like I do), you can grate it with a box grater and toss it directly into the flour mixture.
Shortcrust pastry dough can be frozen after Step 5. Just defrost the dough overnight in the refrigerator before proceeding with Step 6.
The leftover egg white can be whisked with a teaspoon of water and a pinch of salt for use as an egg wash before par-baking. It won't result in quite as golden a crust as a whole-egg wash, but it's a great way to avoid waste.
Makes one 11-inch crust, two 8-inch crusts, or 48 mini crusts (using a 3-inch round cookie cutter).
Nutrition Facts
Basic Shortcrust Pastry
Amount Per Serving (1 slice)
Calories 200
* Percent daily values are based on a 2,000 cal per day diet.
Did you make this recipe?
Please share your pictures with the world...mention @scotch_scones and tag #scotchandsconesblog on Instagram, Pinterest, or Twitter. I can't wait to see your creations!