Crunchy, buttery toffee topped with a blanket of chocolate & a dusting of almond meal, this is English Toffee at its best. Easy & addicting!
Good English Toffee is one of life's indulgences.
Crunchy, buttery, with a blanket of chocolate and a dusting of almond meal, this is a candy worth its name.
(Hang on, that's not my idea of toffee!)
Well, I'm not surprised. English toffee recipes vary by which side of the Pond you're on, or even the region you're in.
Jump to:
How is English Toffee made?
At its core, English Toffee is just sugar that's been caramelized with butter, then poured quickly onto a tray and allowed to cool.
The consistency of the finished toffee depends on the proportion of sugar to butter and the temperature to which the mixture is heated.
The higher the temperature, the harder the toffee will be. The texture can range from soft and sticky (like taffy) to hard and brittle (aka buttercrunch toffee).
So what's the difference between a recipe for English Toffee in Britain vs. the US? Mainly, British cooks make a brown sugar toffee, resulting in a more pronounced molasses flavor. Americans cooks generally use white granulated sugar in their toffee recipe which gives the butter a more prominent role.
Nuts are also featured more prominently in American English Toffee. Some recipes call for nuts (most often almonds) to be included in the toffee itself, while others use nuts just as a topping.
I'm in that latter camp, so my English Toffee recipe, adapted from Creme de la Crumb & Taste of Home, doesn't include nuts in the candy itself. Using almond meal instead of chopped almonds further lets the toffee itself shine.
Incidentally, the presence of corn syrup is here to stabilize the sugar so it cooks properly and doesn't crystallize, like when we're making Caramel Sauce. It isn't strictly necessary, but I'd rather be successful than sorry.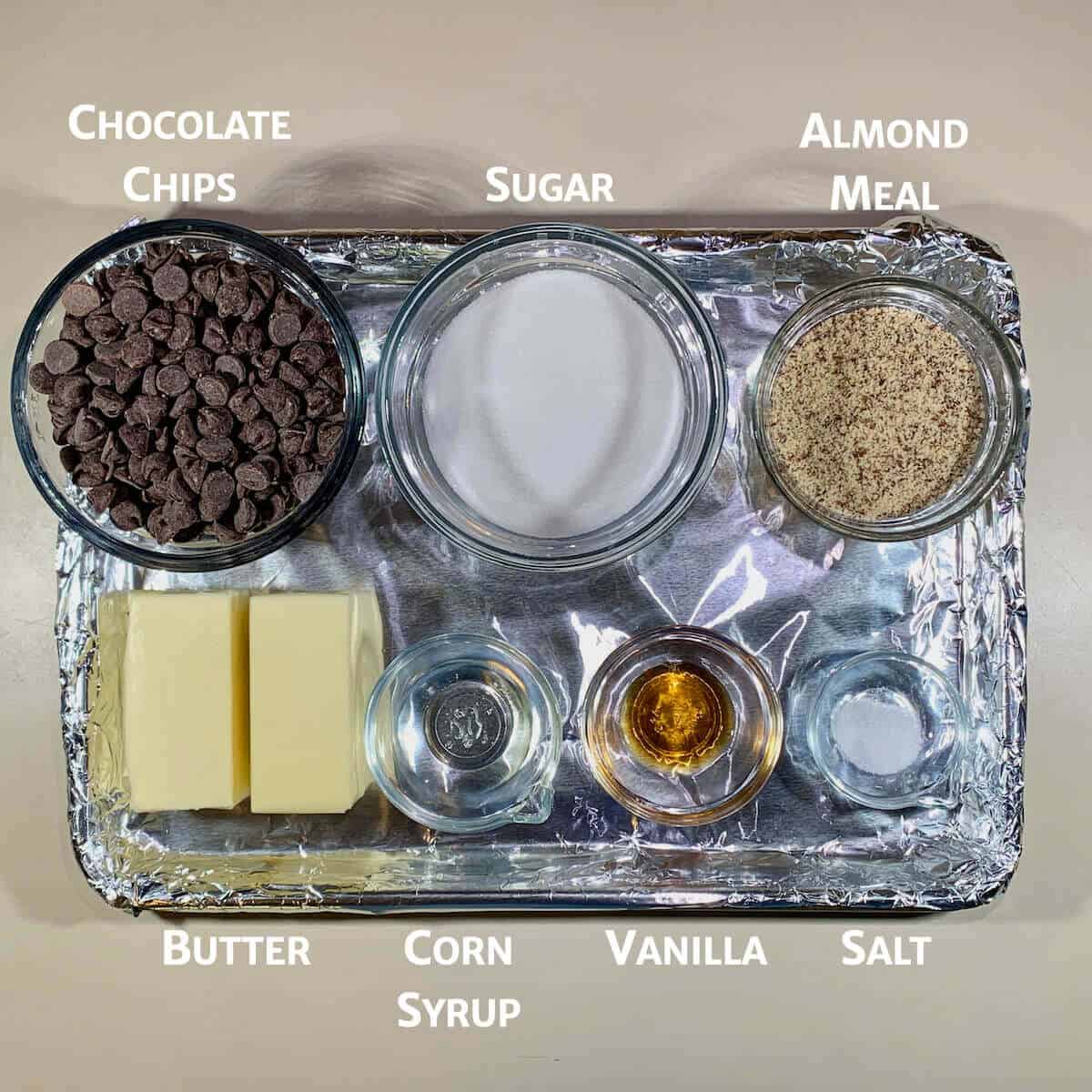 An easy toffee to make
The actual method for making English Toffee really is quite simple. But there are some important points to watch for.
Be attentive while you're making the candy
While you're cooking the sugar and butter, stir, stir, STIR, then stir some more. This serves two purposes, to keep the sugar from burning and to keep you aware on when to stop cooking.
The mixture's temperature rises quickly at first, but slows at the end lulling the inattentive chef into a false sense of timing.
The candy temperature matters
English Toffee recipes use different target temperatures, from as low as 295°F (soft-crack stage) to 310°F (hard-crack stage).
Remember, the higher the temperature, the more brittle your candy will be. Choose wisely.
[Side note, if you're wondering about the different candy making stages, I talked about those definitions when I made Pecan Pralines.]
How to tell when the toffee is ready
Many chefs rely on the toffee's color, from a light tan (like raw almonds) to light golden brown (think peanut butter) to know when to pull it off the heat.
This method is a little too vague for me. I prefer the precision of using a digital thermometer (or a candy thermometer clipped to the side of the pan) to make sure the candy reaches hard-crack stage (at least 300°F).
Work quickly when the toffee is to temperature
Once the toffee has reached the target temperature, it's time to pour it into a greased baking pan. Work quickly, but carefully...that sugar syrup is hot!
After spreading the toffee out, top it with chocolate chips and let them sit for a few minutes to melt. If the toffee has cooled too much, popping the toffee with the chocolate into a low oven (say 200°F) for about five minutes will help melt the chocolate enough to be spreadable.
After the chocolate is spread out, sprinkle on the almond meal (or toasted chopped almonds, if you're so inclined).
Now comes the hardest part of all, waiting one to two hours for the toffee to be cool enough to break apart.
Yes, those small pieces are fair game to munch on while you work!
Easy to make and worth the wait
As I said earlier, this is an easy English Toffee recipe to make. You may have to wait a couple of hours before breaking it apart, but it's certainly worth the wait.
This crunchy toffee features a buttery caramel flavor complemented by creamy chocolate. The almond meal adds a nice earthy counterpoint to keep the candy from being cloying.
English Toffee is naturally gluten-free, making it perfect for those wanting a sweet treat when baked goods are out of reach (Passover comes to mind).
It's also festive and impressive, so it makes a great gift that ships well. Christmas, Hanukkah, Kwanzaa, Hogmanay, or any other holiday will be that much more special if you make a batch of English Toffee.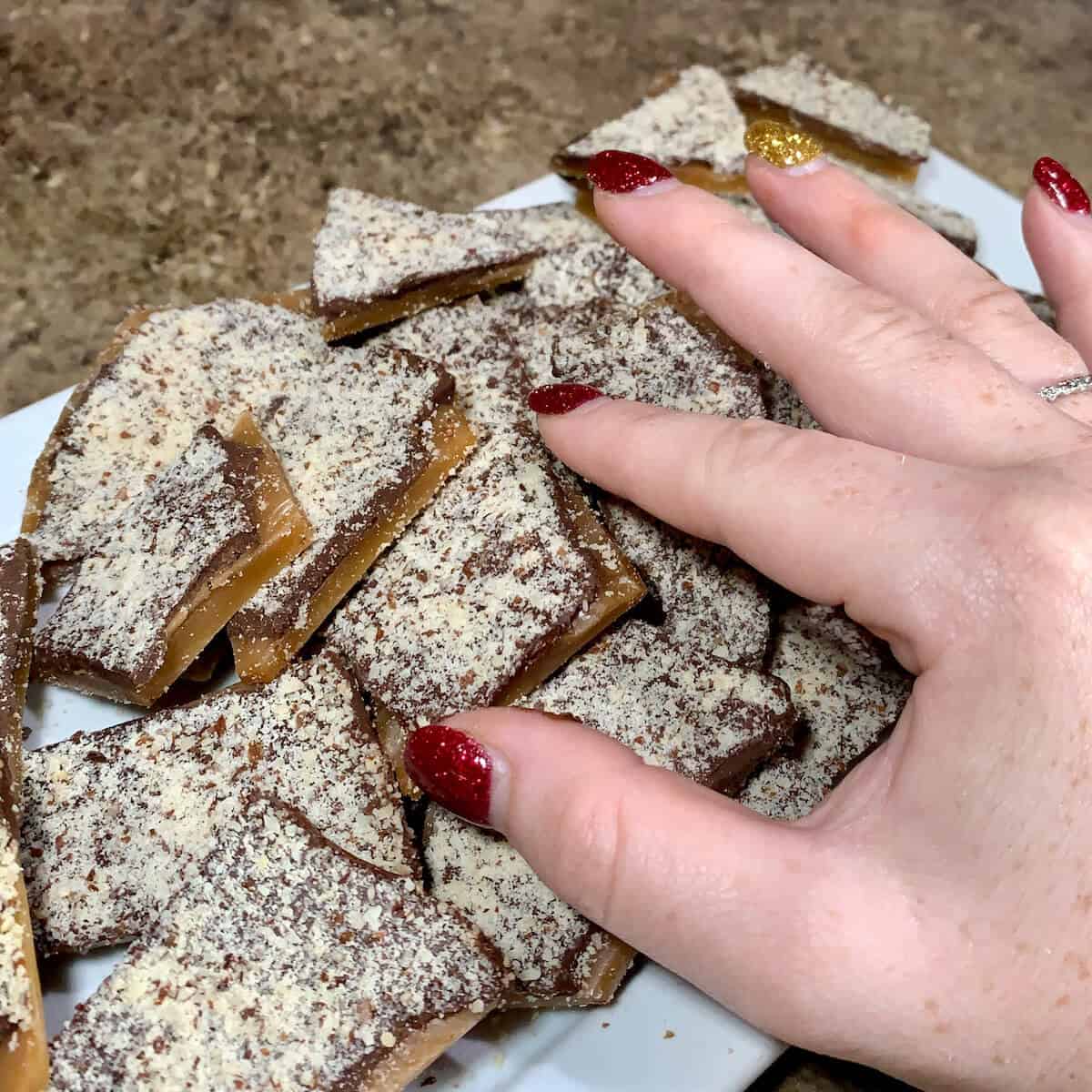 One last warning...this yummy English Toffee is addictive. I'll reach for a piece when I want small bite of something sweet. The harder part is restraining myself from taking more!
Well, it is an indulgence.
Slainté! L'chaim! Cheers!
Tammy
Related Recipes
Candy making doesn't have to be hard, and making fudge definitely isn't. And if you want to try your hand at chocolate dipped treats, here's a guide to temper chocolate for that satisfying snap.
Love this recipe? Please leave a 5-star ⭐️ rating in the recipe card below ⬇️ and/or a comment further down the page.
I'd love to hear from you! Stay in touch on Facebook, Instagram, Pinterest, and please tag me using the hashtag #scotchandsconesblog. You can also sign up for my mailing list. I can't wait to see your creations!
Recipe
Buttery English Toffee Candy (Gluten-Free)
Crunchy, buttery toffee topped with a blanket of chocolate and a dusting of almond meal, This is English Toffee at its best. Easy & addicting!
Adapted from Creme de la Crumb & Taste of Home
Ingredients
1

cup

unsalted butter

1

cup

granulated sugar

1

tablespoon

light corn syrup

1

teaspoon

pure vanilla extract

¼

teaspoon

kosher salt

2

cups

chocolate chips

,

semisweet

¼

cup

almond meal

,

see Recipe Notes
Instructions
Line a quarter sheet baking pan (preferable a 9- x 13-inches) with foil and grease with canola oil spray or butter.

In a 2-qt heavy bottomed saucepan, combine the butter, sugar, corn syrup, vanilla, and salt. Cook over medium heat until the butter is melted and the sugar has dissolved, stirring constantly. The mixture will be bubbling by this point.

When everything is melted, increase the heat to medium-high and cook while continuously stirring until the mixture reaches 300°F (hard-crack stage), about 9 to 15 minutes. The toffee will be golden-brown, but it's best to check with a digital thermometer. If the candy appears to separate (with a layer of melted butter on top) stir vigorously to make it come back together again.

Once the toffee has come to temperature, immediately pour it onto the prepared pan. Use a large offset spatula to spread it out evenly as soon as possible. You don't need to go to the edges of the pan, although you can. Allow to cool for 2 to 3 minutes.

Sprinkle the chocolate chips over the surface of the hot toffee and let sit for 5 minutes or until the chocolate appears glossy. Spread evenly over the surface with the same large offset spatula. Dust the top of the melted chocolate with the almond meal.

Allow the toffee to cool completely in the pan, about 1 to 2 hours.

Once the toffee is cool and the chocolate set, start breaking the toffee into irregular shards with your hands or a butter knife. Store the candy at room temperature in an airtight container.
Notes
For a crunchier nut topping, replace the almond meal with ¼ cup toasted chopped almonds. You can also use chopped pecans or walnuts, whatever you prefer.
Some recipes call for putting 1 cup of whole toasted almonds on the baking pan before adding the toffee. It's a personal preference of course, but I'd focus on the toffee this time (no judgements!).
Experienced candy makers can tell by the toffee's golden-brown color if it's ready, but I prefer the precision of using a digital thermometer (or a candy thermometer clipped to the side of the pan) to make sure the candy reaches hard-crack stage (at least 300°F).
Use a good heavy-bottomed saucepan to avoid having your toffee burn.
This recipe makes about 1¼ lb of toffee, and each piece weights about ⅔ oz (20g).
Nutrition
Serving:
1
piece
Calories:
132
kcal
Carbohydrates:
11
g
Protein:
1
g
Fat:
10
g
Saturated Fat:
6
g
Cholesterol:
24
mg
Sodium:
31
mg
Potassium:
3
mg
Fiber:
1
g
Sugar:
11
g
Vitamin A:
284
IU
Calcium:
6
mg
Iron:
1
mg