Baking gluten-free can be challenging, so Flourless Chocolate Walnut Cookies make for a yummy cookie treat. Perfect for Passover!
The Holiday of Affliction
Growing up, I always anticipated the coming of Passover with a mix of excitement and dread (and a dash of jealousy…I mean, who wouldn't want jelly beans over matzah!).
The excitement was for seeing my extended family (all my aunts, uncles, cousins, and most importantly, my grandparents) at our family Seder (the celebratory meal).
The dread, of course, came from having to give up bread, and rice, and beans, and only eat matzah and things labelled "kosher for Passover" (dreaded words, believe me) for the week.
Now, I won't go into all the dietary restrictions that made up Passover in our house, but suffice it to say that they were not something with which to be overjoyed....matzah isn't called the "bread of affliction" for nothing.
Jump to:
Getting creative for Passover
Passover challenges the creativity of many a baker. The constraints against using flour, or being unable to leaven products with baking powder or baking soda, is especially limiting.
Oh sure, you can substitute matzah cake flour and provide lift with whipped egg whites with reasonable success, but even those tricks are…uhm…tricky.
Clever bakers have come up with all sorts of acceptable items… Chocolate Satin Mousse is perfect for Seder dessert, and Smoffee (aka Salted Matzah Toffee) is quite a treat.
This is the one time of year that I truly appreciate flourless cakes and cookies, so having Flourless Chocolate Walnut Cookies on hand for munching fits the bill nicely.
Handy-Dandy cookie tips
There are many recipes for Flourless Chocolate Walnut Cookies, and I zeroed in on these two from Smitten Kitchen and Mamagourmand simply because I had previously pinned their recipes to my Passover Pinterest board (that's a mouthful!).
One helpful hint that both recipes mention is to let the cookie batter rest for at least 30 minutes before baking, thus allowing the batter to dry a bit and creating more of a lifted cookie (like when making French macarons. If you have the time, don't skip this important step.
In regards to the egg whites, there are many ways to separate eggs. Usually I just dunk my hand into the bowl and fish out the yolks.
When I have a few to catch (and I want to be accurate), I use an egg separator. If you're careful how you break the eggs, this tool makes quick work of keeping the yolk whole.
Then they're ready for another use like lemon curd, pudding, or maybe Boston Cream Pie (although after Passover).
Because you aren't making a meringue with the whites, it's ok if a little bit of the yolk gets in there. But if you are needing to whip up those whites into meringue, like when making chocolate mousse, then you have to be extra careful that no yolks break at all.
Luckily here we're ok.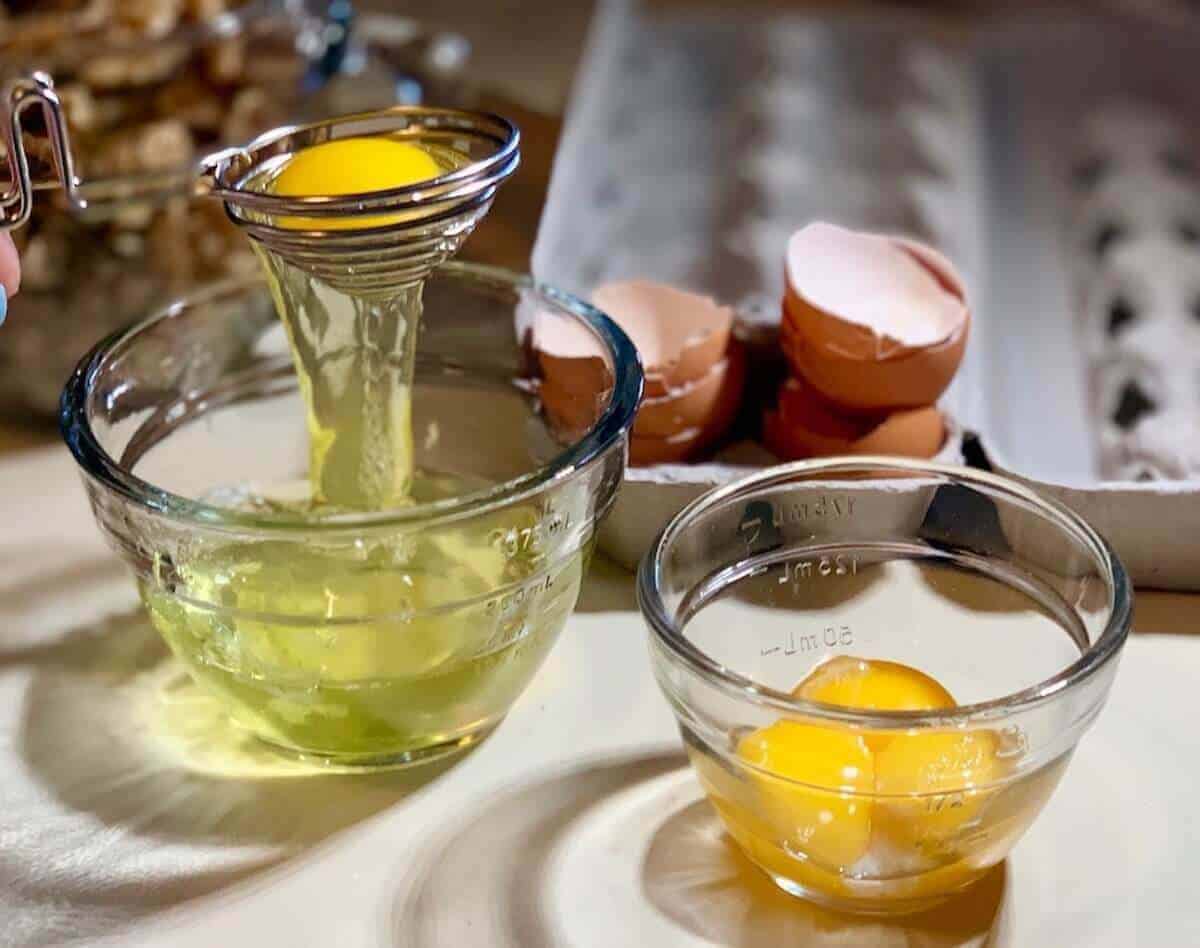 Passover Disclaimer
I keep saying that these cookies can be eaten during Passover because they're flourless, but they do use powdered sugar which contains cornstarch.
Depending on how observant you are, the prohibition against eating rice, beans, and corn has been lifted, so using powdered sugar might be acceptable. If, however, you want to play it safe, use kosher for Passover powdered sugar, or make your own using the method in the recipe notes.
How to make cookies for Passover
The method for making Flourless Chocolate Walnut Cookies is simple, basically one-bowl. You only use egg whites in this recipe (although not as a meringue, so no whipping is required).
Preparing cookies sans flour...just cocoa powder, powdered sugar, and egg whites to give these cookies their unique texture.
Toast and chop the walnuts (not too finely).
Here's that one bowl I mentioned earlier. Mixing the dry ingredients, adding in the walnuts, then the egg whites and vanilla.
Letting the batter dry out a bit really helps to make the cookies tall. Don't skip this step!
Chewy on the outside, soft and fudgy on the inside, with a crunch of nuts and a hint of salt, these Flourless Chocolate Walnut Cookies have a wonderful texture…you'll never know they're gluten-free (although I can't claim them to be guilt-free).
Also, I used my bake some now/freeze some & bake them later method so that I could have fresh cookies when I was ready (probably later this week!).
I've even used them (sans walnuts) to encase vanilla ice cream for gluten-free ice cream sandwiches. Oh, the possibilities…
Happy Passover and Happy Easter to all that celebrate, whether it be with jelly beans or Flourless Chocolate Walnut Cookies!
Slainté! L'chaim! Cheers!
Tammy
Recipes for Passover desserts
Passover is tough on a baker, having to leave off using flour and leavening. But that doesn't mean sweets are off the menu during Passover. Here are some ideas...
📖 Recipe
Flourless Chocolate Walnut Cookies (Gluten-Free)
Baking gluten-free can be challenging, so Flourless Chocolate Walnut Cookies make for a yummy cookie treat. Perfect for Passover!
Adapted from Smitten Kitchen and Mamagourmand
Ingredients
2¾

cups

walnuts

,

(10 oz, 280g)

3

cups

powdered sugar

,

(12 oz, 340g)

⅔

cup

cocoa powder

,

natural or dutch-process (2 oz, 58g)

½

tsp

kosher salt

4

large egg whites

,

at room temperature

1

Tbsp

vanilla extract

sea salt flakes

,

optional
Instructions
Heat oven to 350°F. Spread the walnut halves on a half sheet baking pan and toast in the oven for about 9 minutes, until they are golden and fragrant. Let cool slightly, then transfer the walnut halves to a work surface and coarsely chop them.

Position two racks in the upper and lower thirds of the oven and lower temperature to 325°F. Line two half sheet baking pans with a Silpat slicone mat or parchment paper.
 If you're using parchment paper, spray it with baking spray to insure the cookies don't stick.

In a large bowl, whisk the powdered sugar with the cocoa powder and salt followed by the chopped walnuts. Add the egg whites and vanilla extract and stir with a spatula just until the batter is moistened (do not overmix or it will stiffen; we're not trying to whip these egg whites as we would for a meringue).

Scoop two tablespoons of the batter onto the baking sheets in evenly spaced mounds using a small cookie scoop.If you can spare the time, let the batter rest at room temperature on their trays for 30 to 60 minutes to dry before baking. It's also fine to bake them right away (they'll just flatten out more).

Bake the cookies for 14 to 16 minutes, until the tops are glossy and lightly cracked; shift the pans from front to back and top to bottom halfway through to ensure even baking. Let cookies cool completely before removing from the pan.

Cookies can be stored in an airtight container for up to 3 days.
Notes
If you strictly follow the rules of Passover, you might not use regularly powdered sugar because it has cornstarch in it. If you cannot find kosher for Passover powdered sugar, try making your own (thanks to an old Gourmet recipe): grind 1/3 cup granulated sugar and 1/2 teaspoon potato starch in an electric coffee or spice grinder until powdery. Yield: about 1/2 cup.
I finished the cookies with a sprinkle of sea salt after the cookies came out of the oven because it will stick more before baking (and I didn't want to over-salt them). You can decide whether to add it before or after baking, or even at all.
If you prefer, you can leave out the walnuts and use 1 ½ cups of chocolate chips instead.
The original recipes yielded 24 cookies, but I got 34 using my small cookie scoop. Your results may vary.
Nutrition
Serving:
1
cookie
Calories:
120
kcal