A family favorite, Mocha Chocolate Truffle Cookies have a deep mocha flavor with a crunchy exterior & a soft interior. Rich & chocolatey!
I love cookies. They are portion-controlled bits of food hugs.
Cakes and cupcakes are good, don't get me wrong, but there is such a variety of flavors and textures, mix-ins and toppings that cookies can have so they don't get monotonous.
Cookies don't have to be fancy to be wonderful, and home baked cookies, made with wholesome ingredients and baked with a special someone else. Those are the best.
Jump to:
Why is it called a cookie?
According to What's Cooking America, the word "cookie" is derived from the Dutch word kwoekjes, meaning "little cake" (anglicized to "cookie" by the early 1700s).
The British use the term "biscuit" just to mess up us Americans, who think of biscuits as a flaky Southern bread that's served with butter or sausage gravy.
Actually "biscuit" is derived from Latin's "bis coctus" or "twice baked" referring to a hard cake given to Roman armies in their rations. Hardtack, biscotti, mandelbrot, and zwiebacks are all from this lineage, and later small cakes and delicate wafers were added to this family of biscuits.
The things you learn writing a blog...
Ahem...back to my point...
Our family's favorite cookie
Our favorite cookie recipe that my family loves is not the ubiquitous Nestle Tollhouse Chocolate Chip cookie, although we do like to make those (who doesn't?).
No, it's from Better Homes & Gardens magazine...Mocha Chocolate Truffle Cookies. I found this recipe many moons ago as a new mom.
Cookies for beginners
Mocha Chocolate Truffle Cookies are a great recipe to start with if you don't think you can bake cookies because it's all manual.
There's no fancy mixer needed to cream butter and sugar together. You just need a microwave safe bowl or saucepan, a bowl, a spoon, a small cookie scoop, a half sheet baking pan.
Well, maybe you do need a few things to make them.
Melt chocolate chips and butter together in the microwave or on the stove. Add in some espresso powder (that's what makes it "mocha"), then let the mixture cool.
Next, add in the sugars, eggs, and vanilla and mix well.
Add the flour mixture to the bowl, and the chocolate chip mix in. So simple!
Actually, these cookies are not unlike making brownies, just with more flour.
Baking cookies for now and later
What I like to do is the bake some/freeze some method. I'll bake just enough cookies for immediate consumption (usually 1-2 cookies per person).
The remainder of the dough gets frozen on a wax-paper lined cookie sheet for about 30 minutes. Once they're frozen, store the cookie balls in a ziplock-type bag.
When you want wonderful warm Mocha Chocolate Truffle Cookie goodness, take out however many you want and bake them at 325ºF for 13-16 minutes (there's no need to defrost them first). Yum!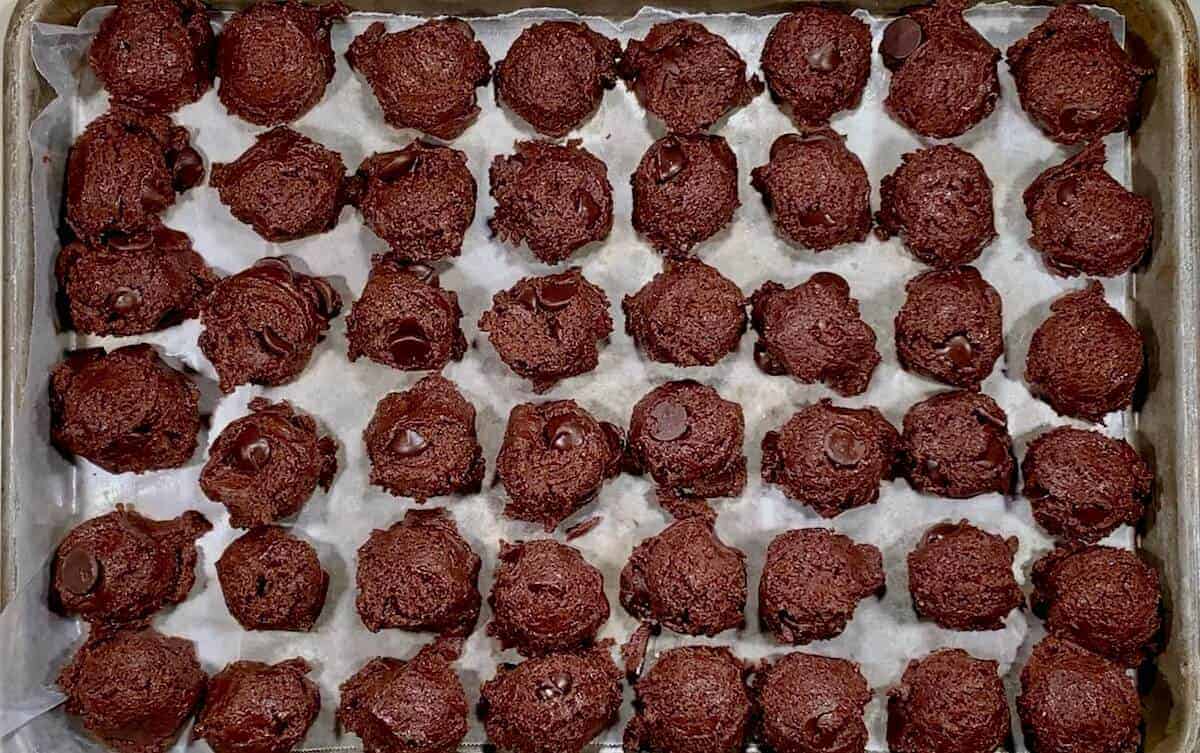 Mocha Chocolate Truffle Cookies bake up with a softly crackly exterior and a soft interior. Fresh out of the oven they're rich and melty, with an intense chocolate flavor underscored with coffee.
It's a cookie worthy of the name.
Share these bits of portion-controlled food hug with someone you love!
Slainté! L'chaim! Cheers!
Tammy
p.s. to my almost-graduate...Happy Birthday! Enjoy your tea and scones, and I'll do the same on the other coast.
Related Recipes
Chocolate chips aren't just for cookies! They can pop up in many different types of recipes. Gotta love versatility!
Love this recipe? Please leave a 5-star ⭐️ rating in the recipe card below ⬇️ and/or a comment further down the page.
I'd love to hear from you! Stay in touch on Facebook, Instagram, Pinterest, and please tag me using the hashtag #scotchandsconesblog. You can also sign up for my mailing list. I can't wait to see your creations!
Recipe
Mocha Chocolate Truffle Cookies
A family favorite, Mocha Chocolate Truffle Cookies have a deep mocha flavor with a crunchy exterior & a soft interior. Rich & chocolatey!
Adapted from Better Homes & Gardens
Ingredients
½

cup

unsalted butter

2

cups

chocolate chips

,

divided

1

tablespoon

espresso powder

¾

cup

granulated sugar

¾

cup

brown sugar

,

packed

2

large eggs

,

beaten

2

teaspoons

pure vanilla extract

2

cups

all-purpose flour

⅓

cup

cocoa powder

½

teaspoon

baking powder

¼

teaspoon

kosher salt
Instructions
Preheat the oven to 350ºF. Line a half sheet baking pan lined with a Silpat silicone mat or parchment paper.

In a large microwave safe bowl, melt the butter and 1 cup of chocolate pieces on HIGH in 30 second bursts. Stir in espresso powder and allow to cool for 5 minutes. Alternatively, melt the butter and chocolate chips together in a large saucepan over low heat. Remove from heat and stir in the espresso powder, then allow to cool.

Stir in the granulated sugar, brown sugar, eggs, and vanilla.

In a medium mixing bowl combine the flour, cocoa powder, baking powder, and salt. Add to the chocolate mixture and mix until combined (it will get hard to stir). Mix in the remaining cup of chocolate chips.

Bake for 8 to 10 minutes for a softer cookie, or up to 12 minutes for a firmer interior.

Let the cookies cool for 1 minute before removing from the baking pan. Transfer cookies to a wire cooling rack to cool completely. Serve and enjoy!
Notes
I get about 54 to 60 portions of cookies using my 1 tablespoon small cookie scoop, but the original recipe said their yield was 30 cookies (they must have made bigger mounds). I find that the 1 tablespoon size is plenty because these cookies are rich. I'll leave it to you to decide which way you'll go, but don't say I didn't warn you!
These cookies freeze well (both raw and baked). To freeze raw, scoop the dough onto a wax paper-lined baking pan and freeze for 30 minutes before transferring to a ziplock bag. Bake the frozen cookie dough at 325ºF for 13 to 16 minutes. There's no need to defrost them first.
Nutrition
Serving:
1
cookie
Calories:
59
kcal
Carbohydrates:
10
g
Protein:
1
g
Fat:
2
g
Saturated Fat:
1
g
Cholesterol:
11
mg
Sodium:
19
mg
Potassium:
23
mg
Fiber:
1
g
Sugar:
6
g
Vitamin A:
61
IU
Calcium:
8
mg
Iron:
1
mg