Treacle Tarts have a lovely buttery flavor with a hint of citrus and a texture similar to Pecan Pie, and these mini tarts are perfect for portion control. Harry Potter loved them, and so will you!
Why this recipe works
The flavor is sweet and citrusy, with lovely golden undertones
These cute little tarts are great for portion control
You can double the recipe for a full-sized tart
I'm in the doldrums of Droughtlander (that is, the time between the last and next season of Outlander, the show that started me on this journey).
My friends, Mary & Blake, are also on a hiatus from their OutlanderCast podcast, but have filled the gap with The Potterverse, a podcast that has reignited my passion for Harry Potter.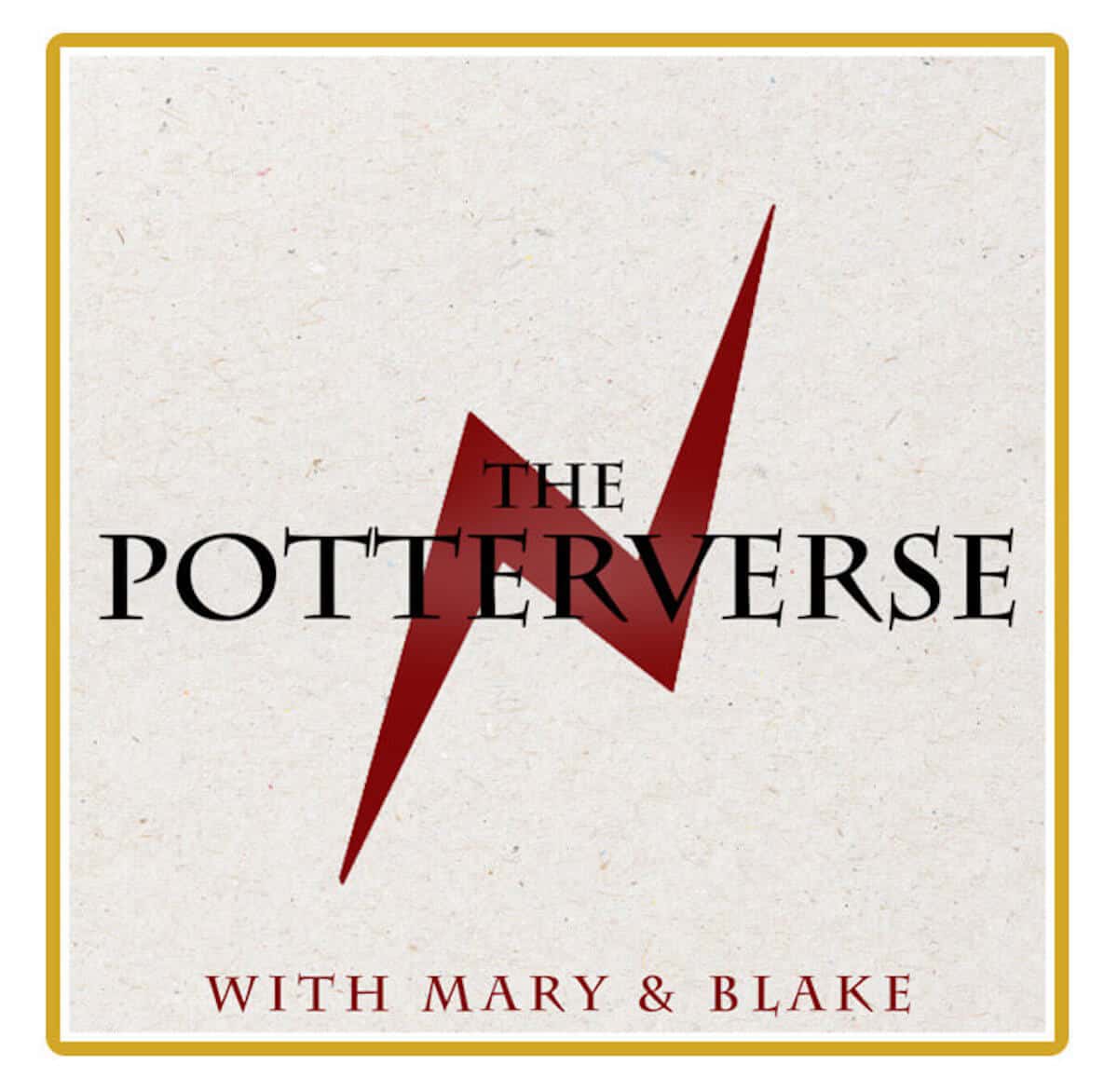 Seriously, if you're a fan of the books and/or movies, and you want to listen to a humorous and thoughtful chapter by chapter discussion of said universe, give this podcast a listen. You'll be engaged and entertained from the first show!
Anyway, it won't surprise you to hear that my rediscovered interest in Harry Potter would inevitably turn to food and drink.
But when you're talking sweet treats, what better place to start than Harry's favorite dessert, Treacle Tarts!
Jump to:
What you need
Treacle Tarts are a quintessential British dessert. The first mention of them came from the late 19th Century cookbooks of Mary Jewry, and they've gained a huge following since. If you're unfamiliar with treacle (aka golden syrup, or light treacle) in this instance), its description is in the Pro Tip below.
There are many Treacle Tart recipes available. These recipes are for a tart made of a shortcrust pastry shell with a thick filling of golden syrup, breadcrumbs, and lemon juice or zest.
The differences between many recipes center on (1) whether or not heavy cream, butter, and egg is included in the filling, and (2) whether the tart is topped with a lattice crust.
The filling is less dense when heavy cream, butter, and egg are included, and the texture is like Pecan Pie or Brown Sugar Pie. That sounds good!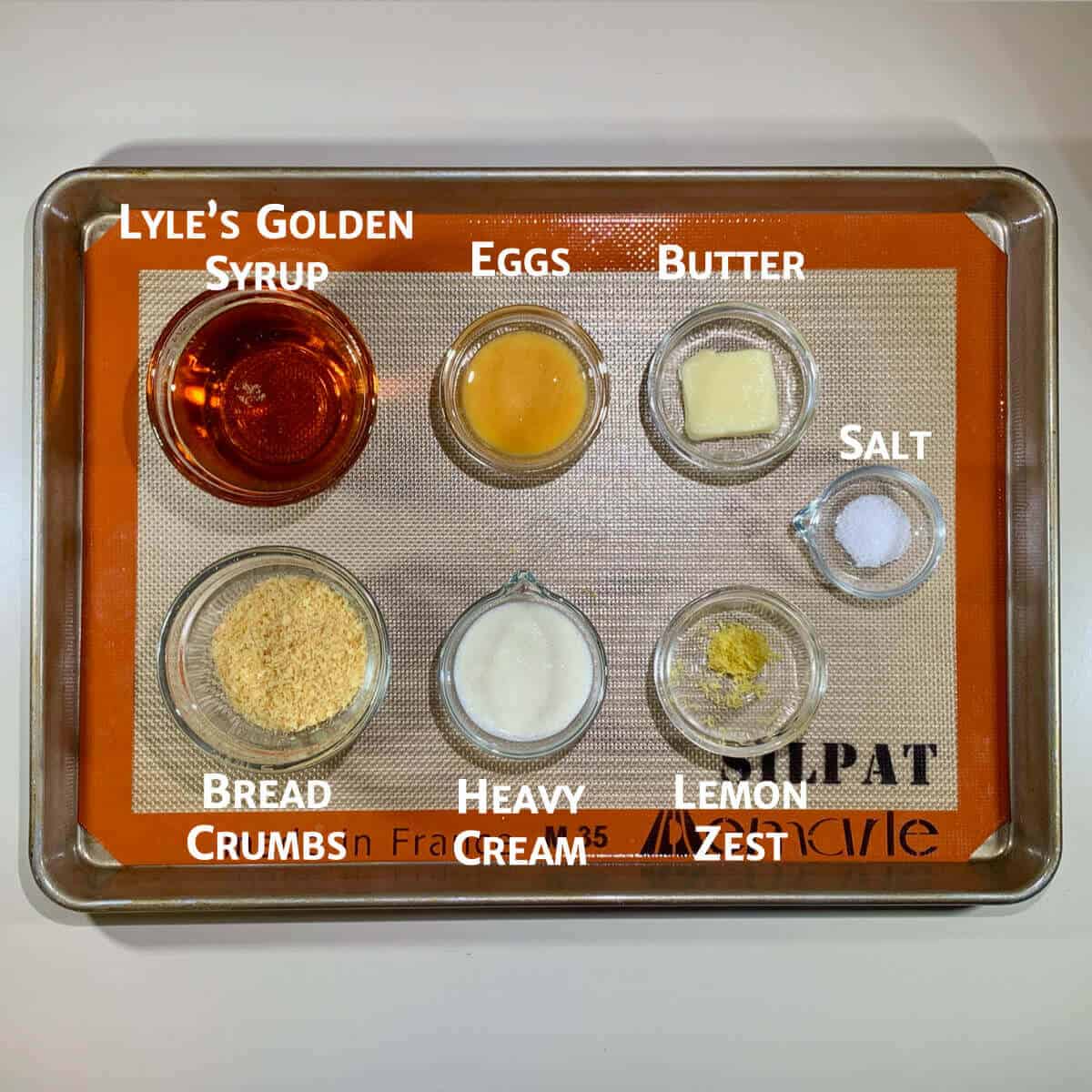 How to make mini tarts
Instead of one large Treacle Tart in a 9-inch tart pan, I'm making four small, sharable-for-two tarts in 4-inch mini tart pans.
It's all about portion control, people. Besides, they're really cute!
Step 1: Make the tart shells
I use a 6-inch round cookie cutter (the same one I used for my Checkerboard Cake) to cut out pastry dough to line the tart pans (photo 1). If that's not handy, tracing a 6-inch plate will work as well.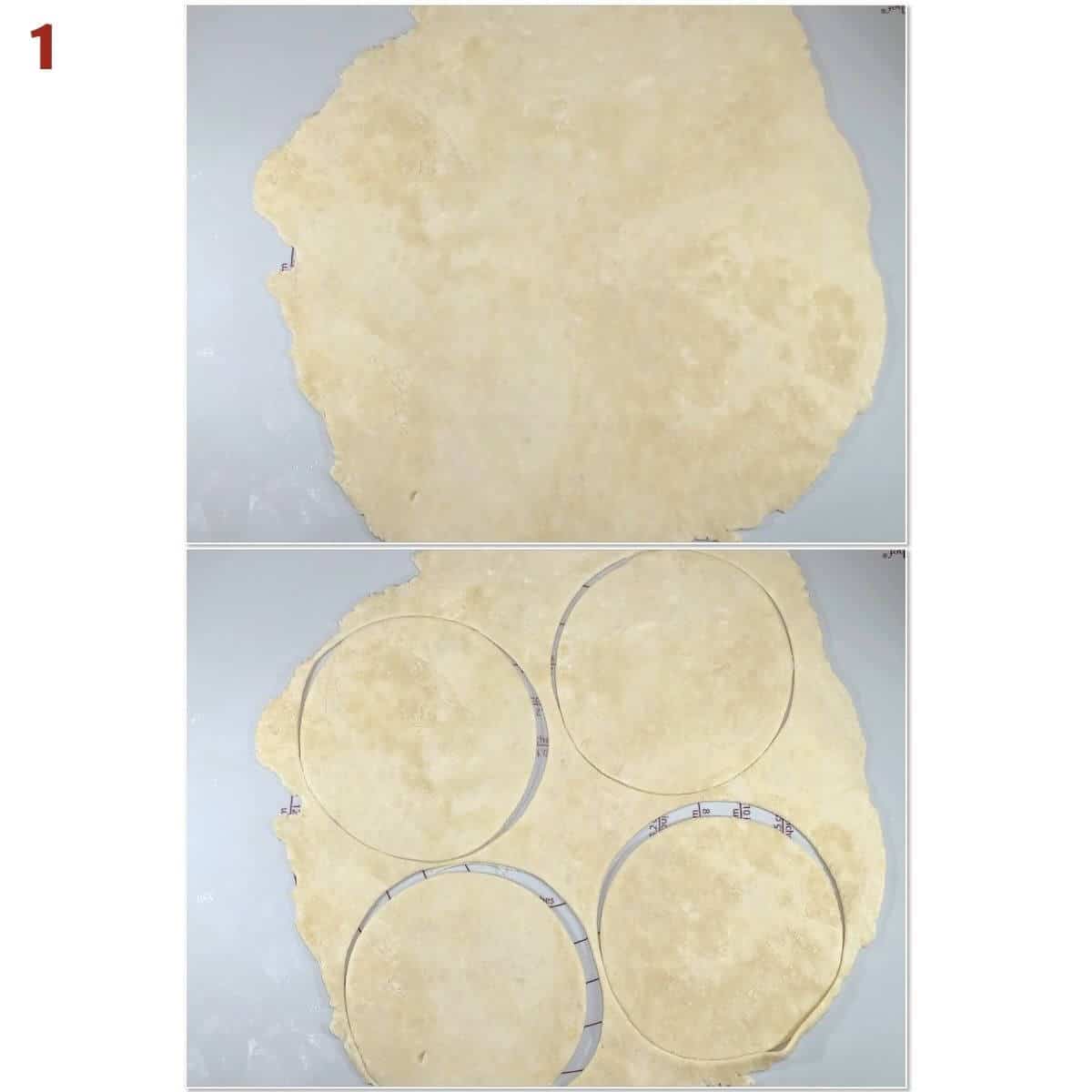 Step 2: Blind bake the tart shells
To blind bake crust (that is, bake it before filling it), the pie or tart pan is usually lined with parchment paper and filled with beans or rice. These help to hold the shell's shape.
Instead, I freeze the tart shells tightly wrapped in aluminum foil before baking them, like I did when making Butterscotch Pie for Two (photo 2). That keeps the dough from slumping and shrinking when it's baked.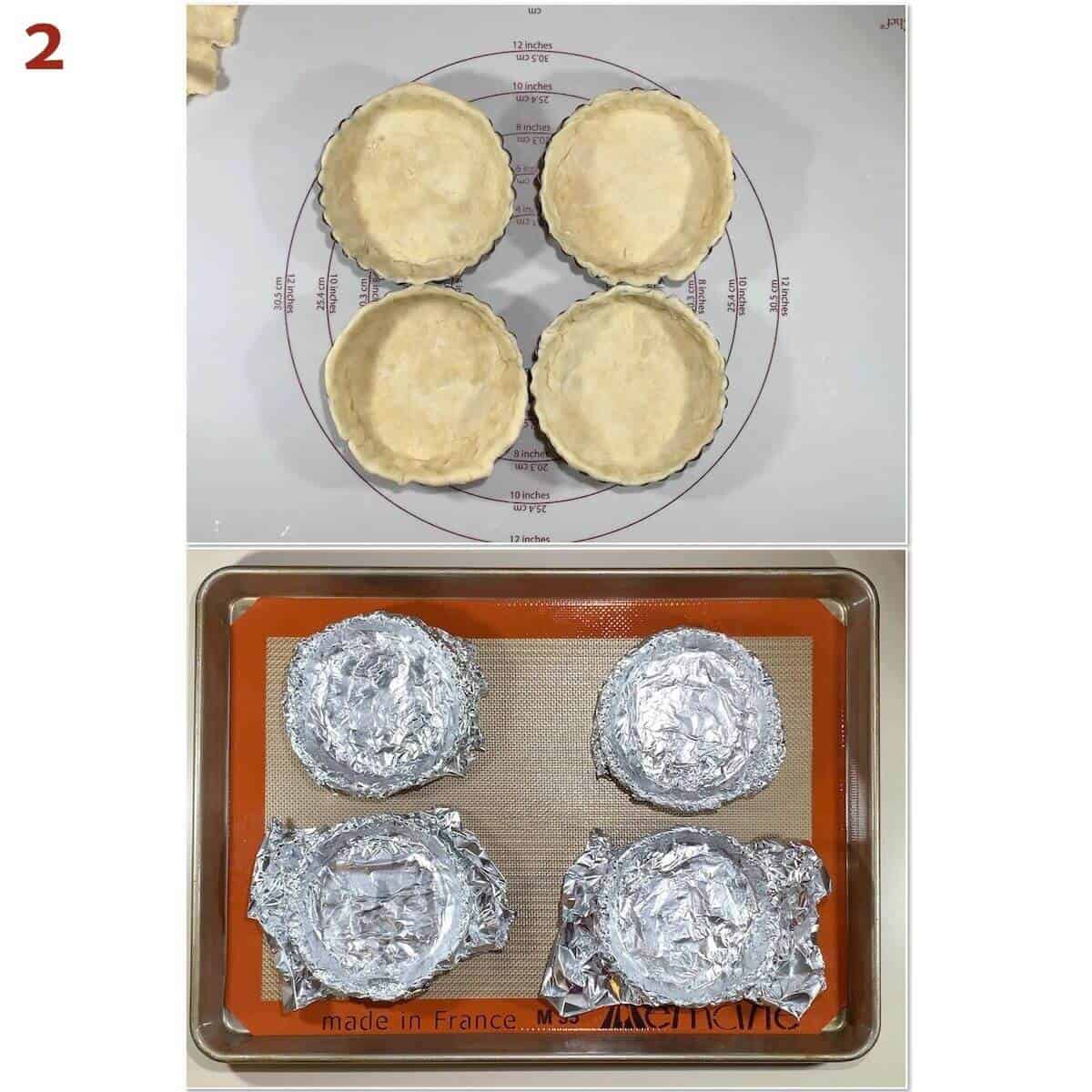 Remove the foil as you would the parchment paper and finish blind baking as normal (photo 3).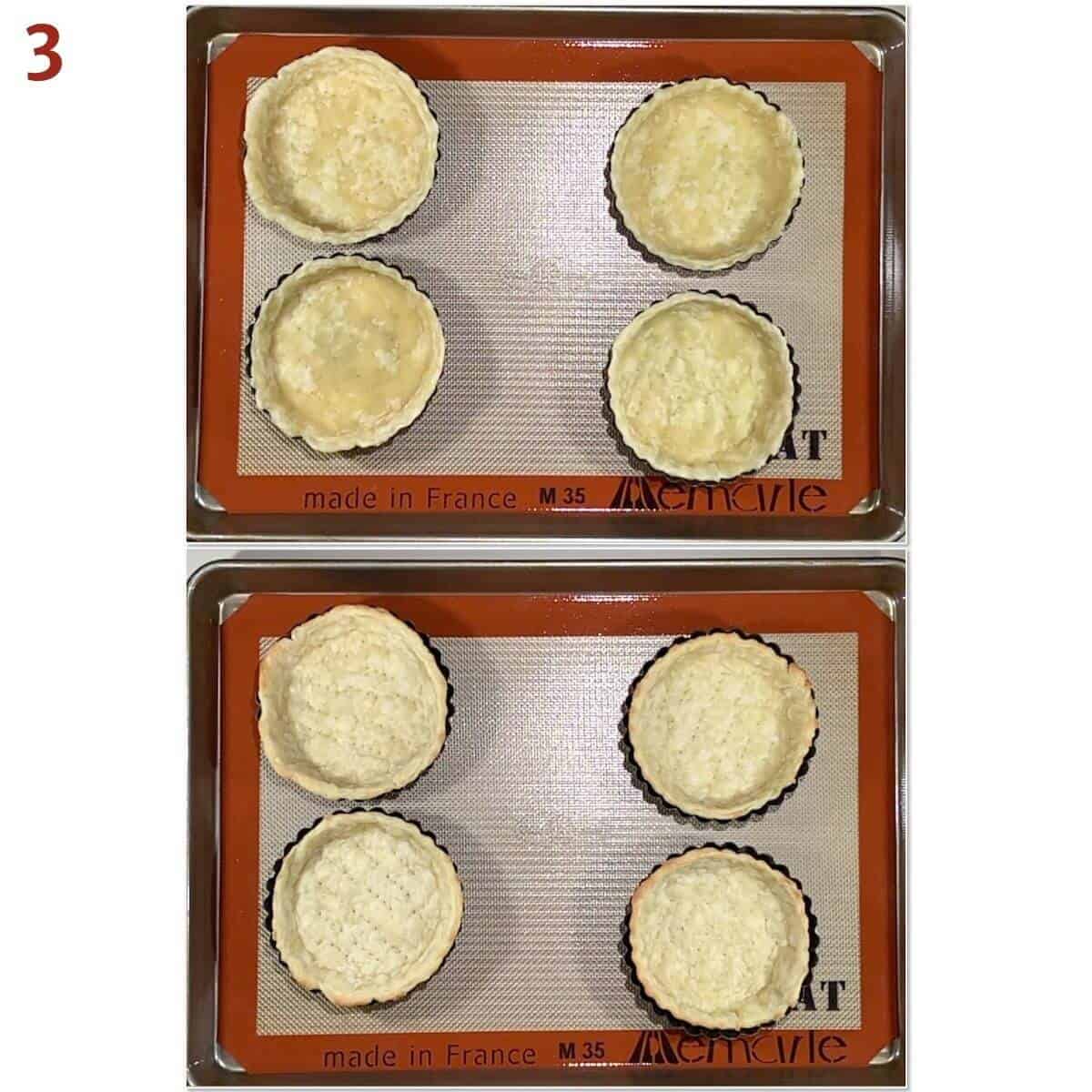 Step 3: Make the filling
While the tart shells are in the oven, you can start the filling. That's just warming the golden syrup and mixing in the rest of the filling ingredients (photo 4). Super simple!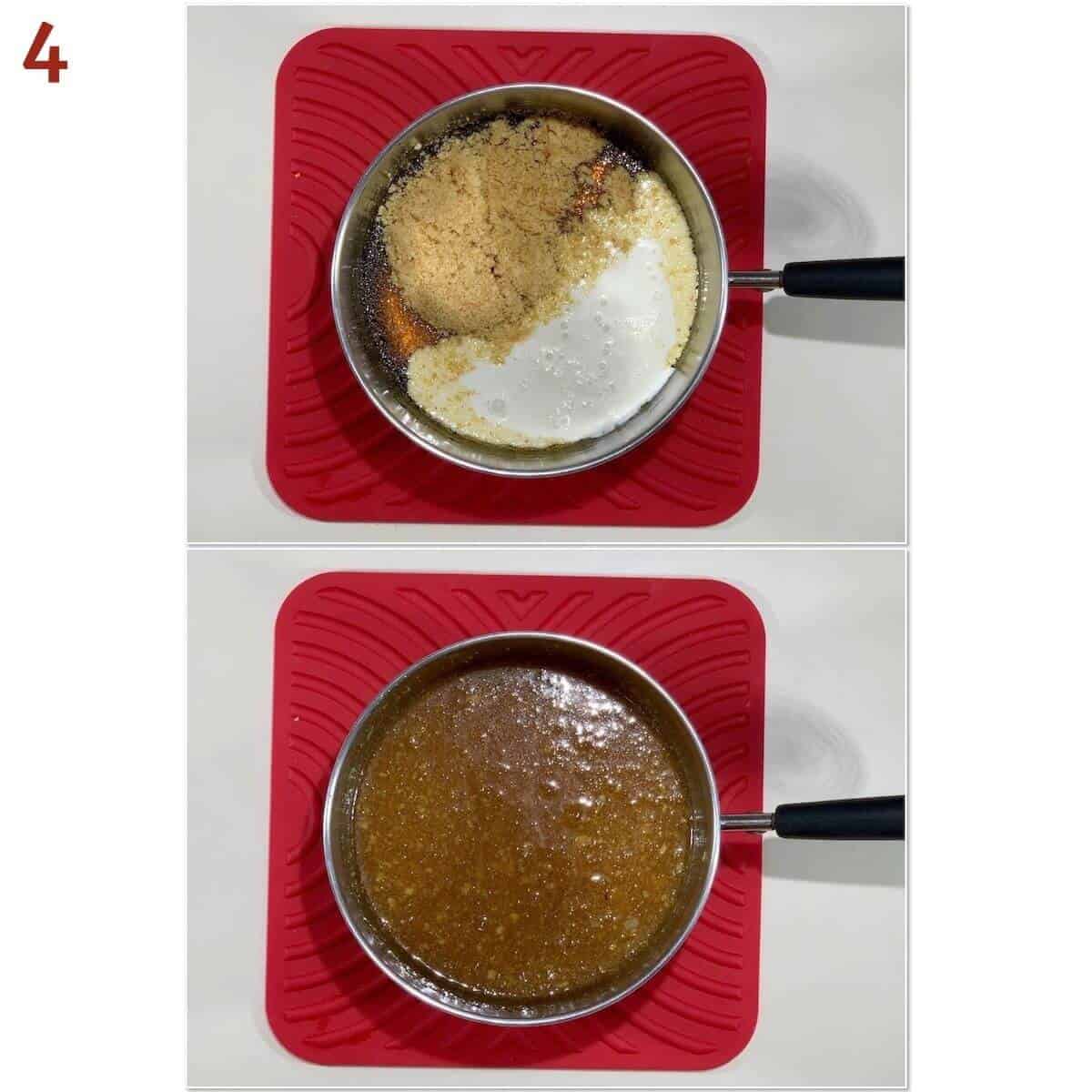 Step 4: Bake the tarts
Like with most custard pies, bake the tarts until the filling is just set. For these mini tarts, 15 to 20 minutes at 375˚F should do it (photo 5).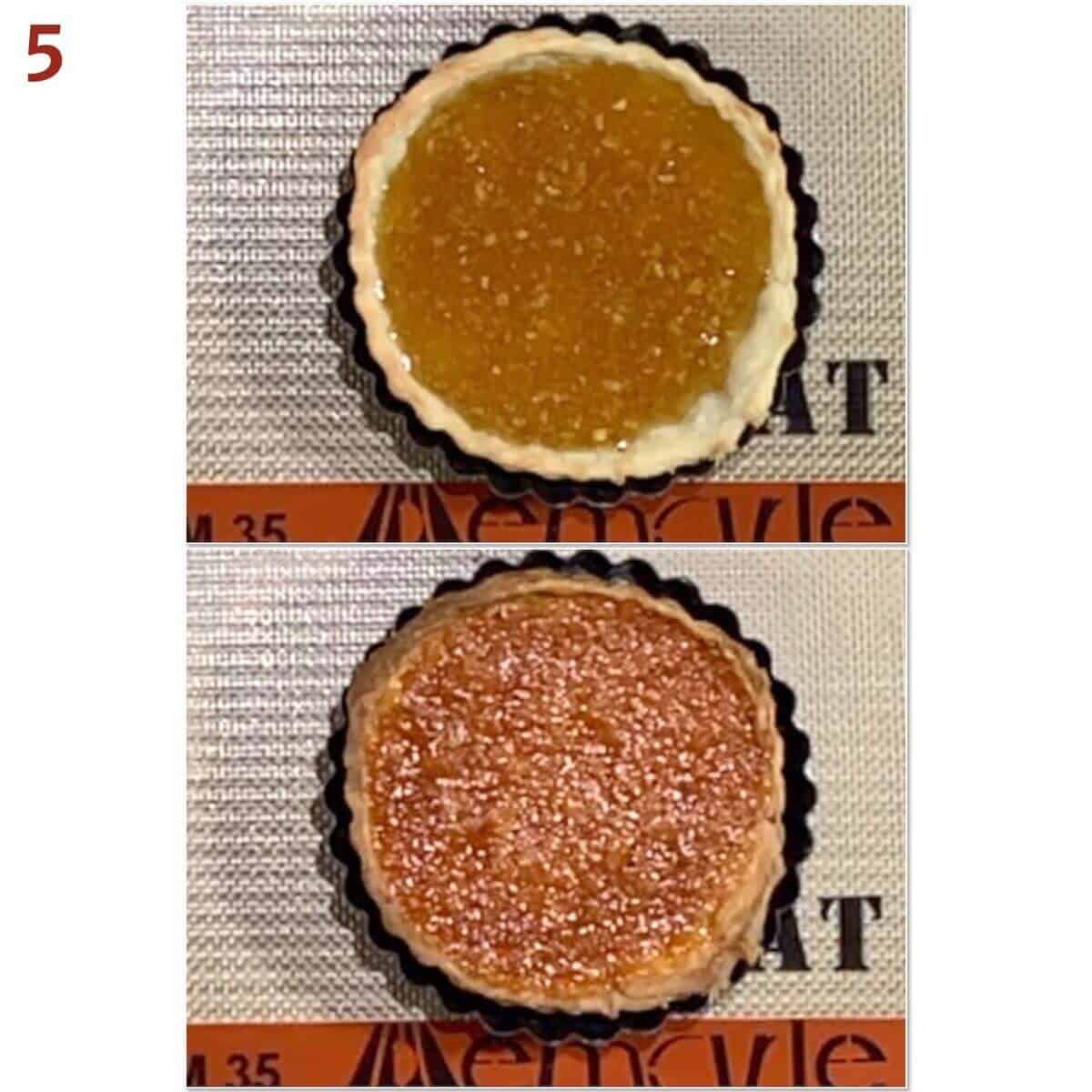 Questions asked and answered
Here are some questions you might have...
What is treacle called in the US?
Light treacle is a golden syrup, similar to honey in texture, though it has a more buttery caramel flavor because it's made from cane sugar. Dark treacle is most similar to molasses.
How would you use treacle?
Treacle is a syrupy by-product of refining cane sugar. We in the US don't have an equivalent for light treacle, so there aren't really recipes for that here. We do frequently use molasses in treats like gingerbread, molasses cookies, and Shoofly Pie.
Where can I buy golden syrup in the US?
Many well-stocked grocery chains have golden syrup in the British section of their international foods aisle. You can also find it online.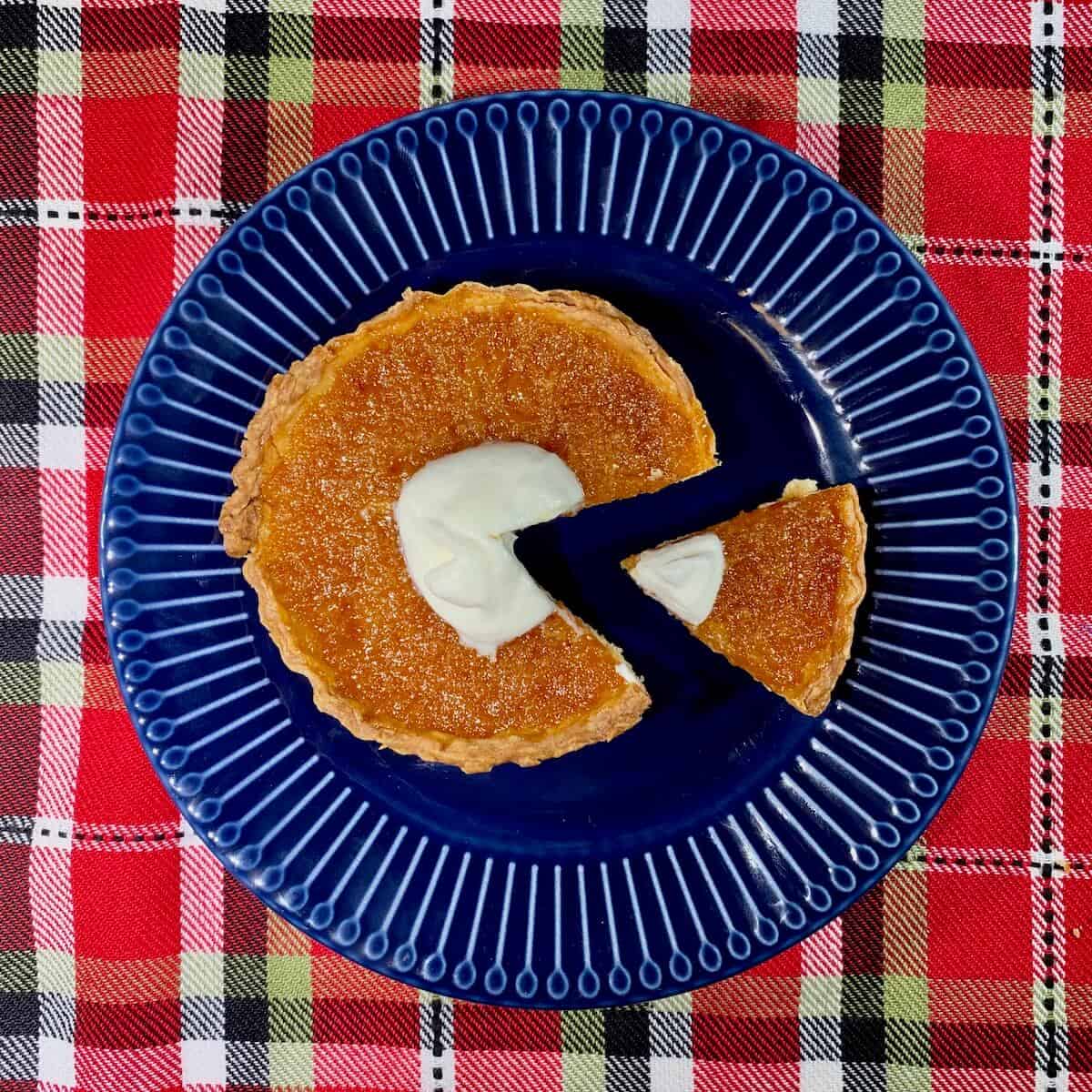 Pro Tip: Defining treacle
What is treacle? It's not too common in the US, so a definition is in order.
Treacle is a British staple, and comes in two forms, light treacle (like Lyle's Golden Syrup), and black treacle (like Lyle's Black Treacle, or what we in the US would call molasses). The word treacle can indicate either the light or dark varieties.
Many recipes for Treacle Tarts state treacle in the ingredients list without defining which one to use. Or worse, saying you could use either one. However, there are major differences in flavor between the two, so it's important to choose wisely.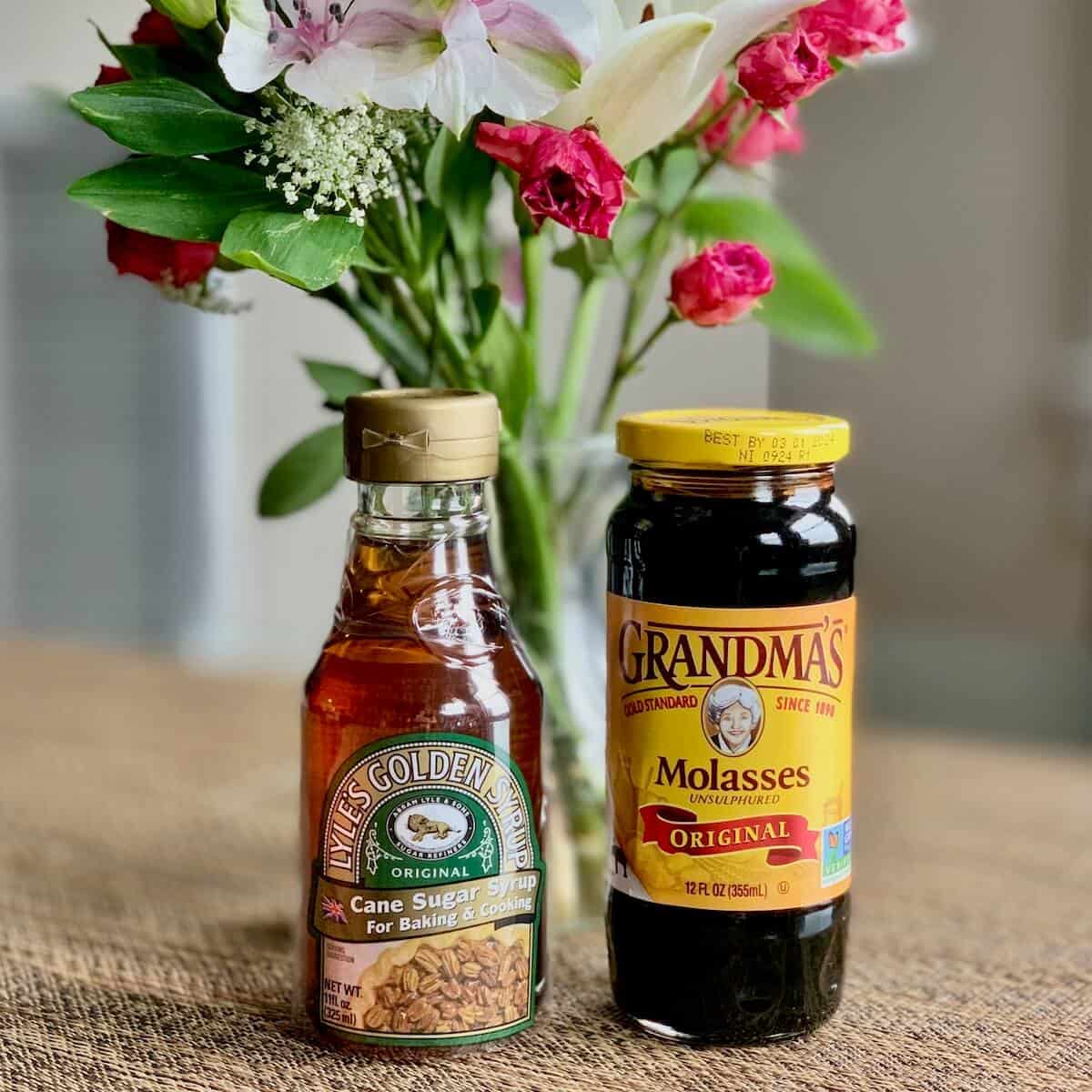 No wonder Harry Potter loved them
Treacle Tarts remind me of the aforementioned Brown Sugar Pie although less caramelly and more buttery from the golden syrup. There's also a lovely citrus note underneath that keeps the sweetness from being too cloying.
In other words, Treacle Tarts are yummy! No wonder they were Harry Potter's favorite dessert at Hogwarts.
And if you want something a little more grown up to serve with them, Boozy Butterbeer is a fun cocktail, with variations for frozen, hot, and even a Butterbeer mocktail.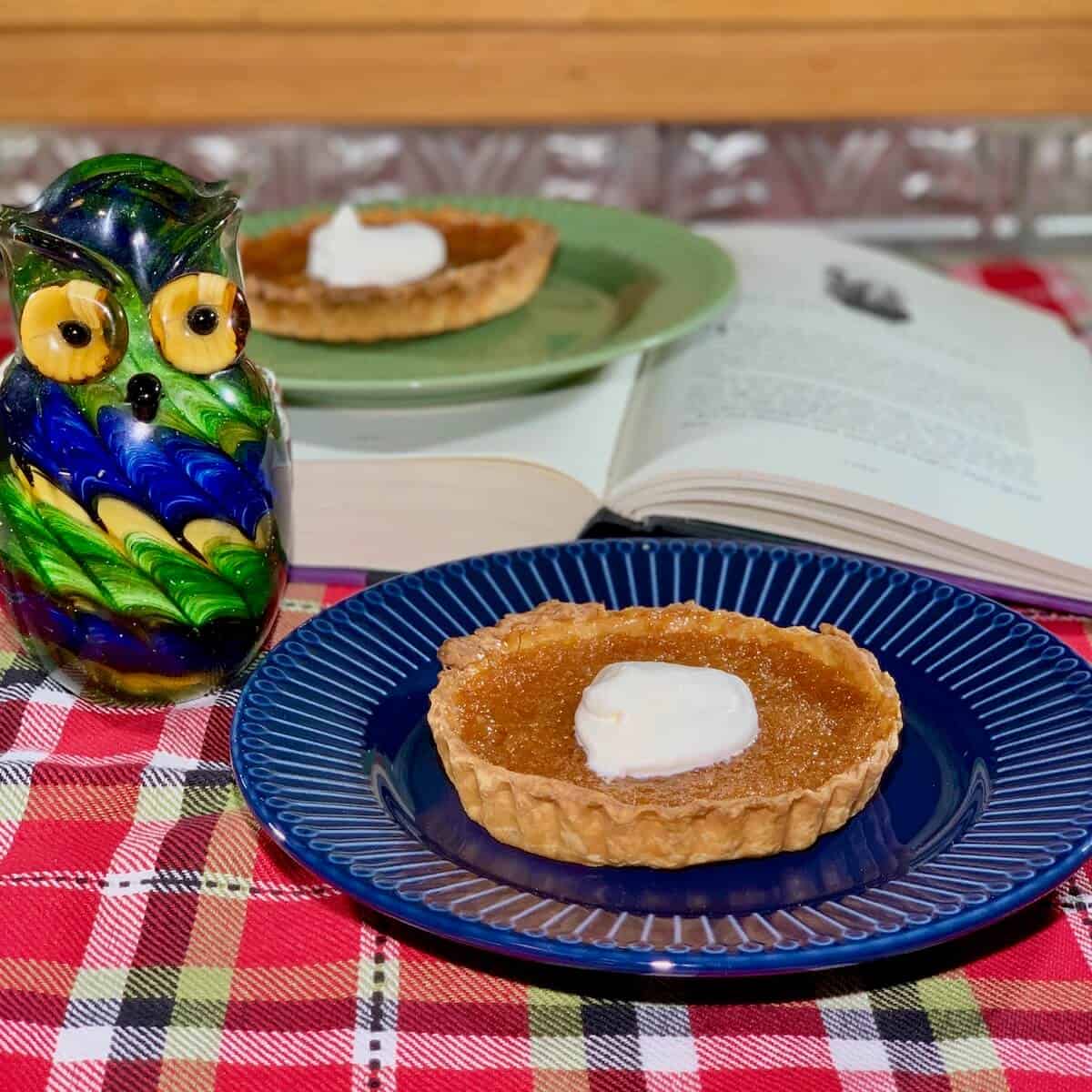 Served with lightly sweetened whipped cream (or clotted cream, or even vanilla ice cream), Treacle Tarts will surprise and delight you. And the mini size is perfect for sharing with a special someone (or maybe not...I won't judge!).
Oh, and what else can you make with that Lyle's Golden Syrup? Make Sticky Toffee Pudding, another wonderful British dessert. Want another example of a classic British tart? Try my Mini British Bakewell Tarts.
I encourage you to try these British desserts, especially those from the world of Harry Potter. I bet Harry would approve!
Slainté! L'chaim! Cheers!
Tammy
More recipes for British desserts
Do you want to continue with our focus on British desserts? How about holding a High Tea?
Related Recipes
Traditional High Tea (or more technically, Cream Tea) calls for Cream Scones with jam and clotted cream. Make your own with these recipes...
Scone & condiment recipes
Love this recipe? Please leave a 5-star ⭐️ rating in the recipe card below ⬇️ and/or a comment further down the page.
I'd love to hear from you! Stay in touch on Facebook, Instagram, Pinterest, and please tag me using the hashtag #scotchandsconesblog. You can also sign up for my mailing list. I can't wait to see your creations!
Recipe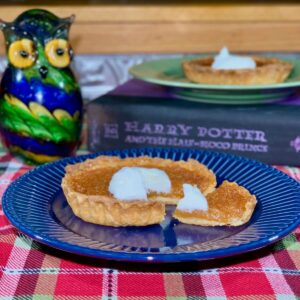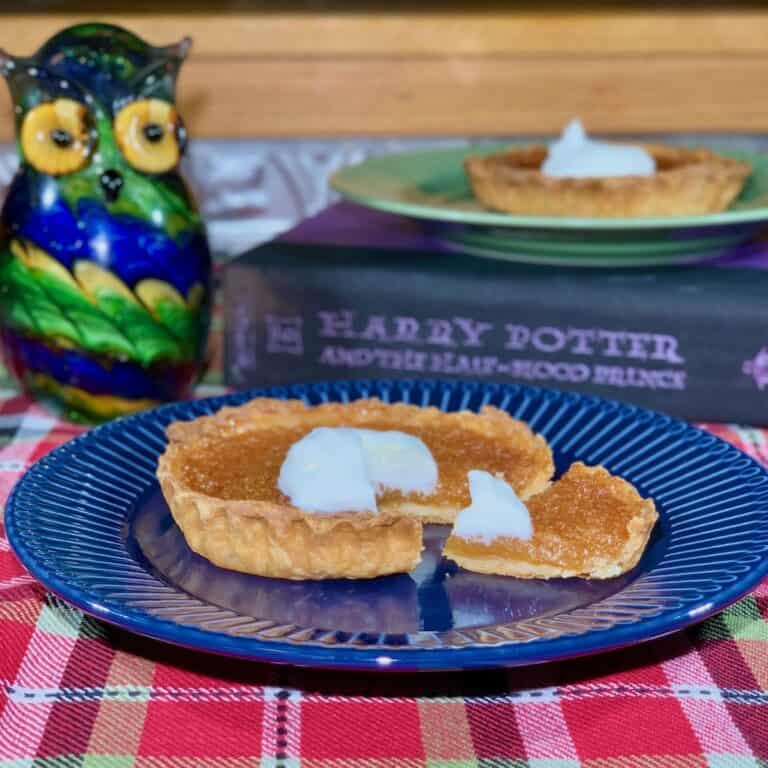 Easy Mini Treacle Tarts, a delightful British dessert
Treacle Tarts have a lovely buttery flavor with a hint of citrus and a texture similar to Pecan Pie, and these mini tarts are perfect for portion control. Harry Potter loved them, and so will you!
Adapted from Saveur
Ingredients  
For the filling
½

cup

golden syrup

3

tablespoons

bread crumbs

,

fresh, see Recipe Notes

1½

tablespoons

heavy cream

½

large egg

,

beaten, see Recipe Notes

1

tablespoon

unsalted butter

½

teaspoon

lemon zest

¼

teaspoon

kosher salt

whipped cream

,

lightly sweetened, for garnish
Instructions 
Using a rolling pin, roll dough into a large circle. Cut four circles with a 6-inch round cookie cutter (or trace the bottom of a small plate). Transfer to four 4-inch mini tart pans with removable bottoms. Trim excess dough, then freeze the tart shells for 20 minutes.

Remove the tart shells from the freezer and prick the bottom of eachwith a fork. Cover with a sheet of aluminum foil, pressing snugly up against the sides of the pan.

Place the tart pans on a half sheet baking pan lined with a Silpat silicone mat or parchment paper (to match drips). Blind bake the tart shells until the crust is just set, about 15 minutes. Remove the foil and bake until the shells are light brown, about 5 minutes more.

Meanwhile, heat syrup in a small saucepan over medium heat until it's warm and loose. Remove pan from heat and stir in the bread crumbs, heavy cream, egg, butter, zest, and salt. Set the filling aside.

Remove the tart shells from the oven. Pour the filling into each tart shells about ¾ full.

Bake until the filling is just set, about 15 to 20 minutes. Cover the tarts with foil if the crusts are getting too brown.

Remove the pan from oven, and transfer tarts to wire rack to cool.

Serve with lightly sweetened whipped cream.
Notes
When making the short crust pastry, measure 1 egg into a small bowl. Use half for making the pastry and the other half to make the tart filling.
Use fresh bread crumbs made from white or egg bread. Avoid wheat bread as it can impart a bitter taste to the filling.
One 4-inch tart serves two in our family. The rest freeze well. Defrost overnight in the refrigerator to thaw.
For one full-sized tart, double the recipe and use a 9-inch tart pan with a removable bottom. Increase the short crust blind baking to a total of 30 minutes, and bake the filling for 30 minutes or until set.
Your Notes
Nutrition
Serving:
1
serving
Calories:
220
kcal
Carbohydrates:
41
g
Protein:
4
g
Fat:
4
g
Saturated Fat:
3
g
Cholesterol:
32
mg
Sodium:
340
mg
Potassium:
55
mg
Fiber:
1
g
Sugar:
19
g
Vitamin A:
142
IU
Vitamin C:
1
mg
Calcium:
33
mg
Iron:
1
mg