Can't choose between pumpkin pie & pecan pie? Praline Pumpkin Pie is pumpkin custard with a pecan praline topping in a graham cracker crust. Yum!
[Side Note: a version of this post first appeared on my OutlanderCast column, November 16, 2018 ]
Some decisions are easy. Some are hard.
Take Thanksgiving pies, for example. Are you a Pecan Pie person or a Pumpkin Pie person? (Whoa, try saying that three times fast!)
I love both Pumpkin Pie and Pecan Pie and have a hard time choosing between the two. What to do then?
Here's my solution...Praline Pumpkin Pie. It's a marriage of pumpkin pie with pecan topping, and it's a hybrid pumpkin pie that works!
Jump to:
Tips and tricks for pie with pumpkin
Let's talk about some of the do's and don'ts I encountered while making this recipe. Specifically, adapting a pumpkin pie recipe for this purpose.
I actually made the recipe for Praline Pumpkin Pie twice, first as a full-sized pie in a flaky pie crust, and second as a mini pie in a graham cracker crust.
The recipe I used from Spend with Pennies pointed out that the pumpkin custard needs to be strong enough to support the praline topping. Cooking out some of the liquid helps to thicken it up. This idea works well.
Also, in an article from Epicurious.com, there was a brief mention of straining the pumpkin purée before using it, presumably to make it smoother. That sounded reasonable, so I tried it.
Frankly, I'm not sure it was really necessary given that I ended up cooking the pumpkin mixture first. The second time I didn't bother straining the pumpkin, and it was fine.
See, isn't it good I test these things out so you don't have to?
You're welcome.
Also, Sally's Baking Addiction mentioned adding a pinch of black pepper to the custard to add a little "zing" of heat. Don't worry, it's subtle but effective.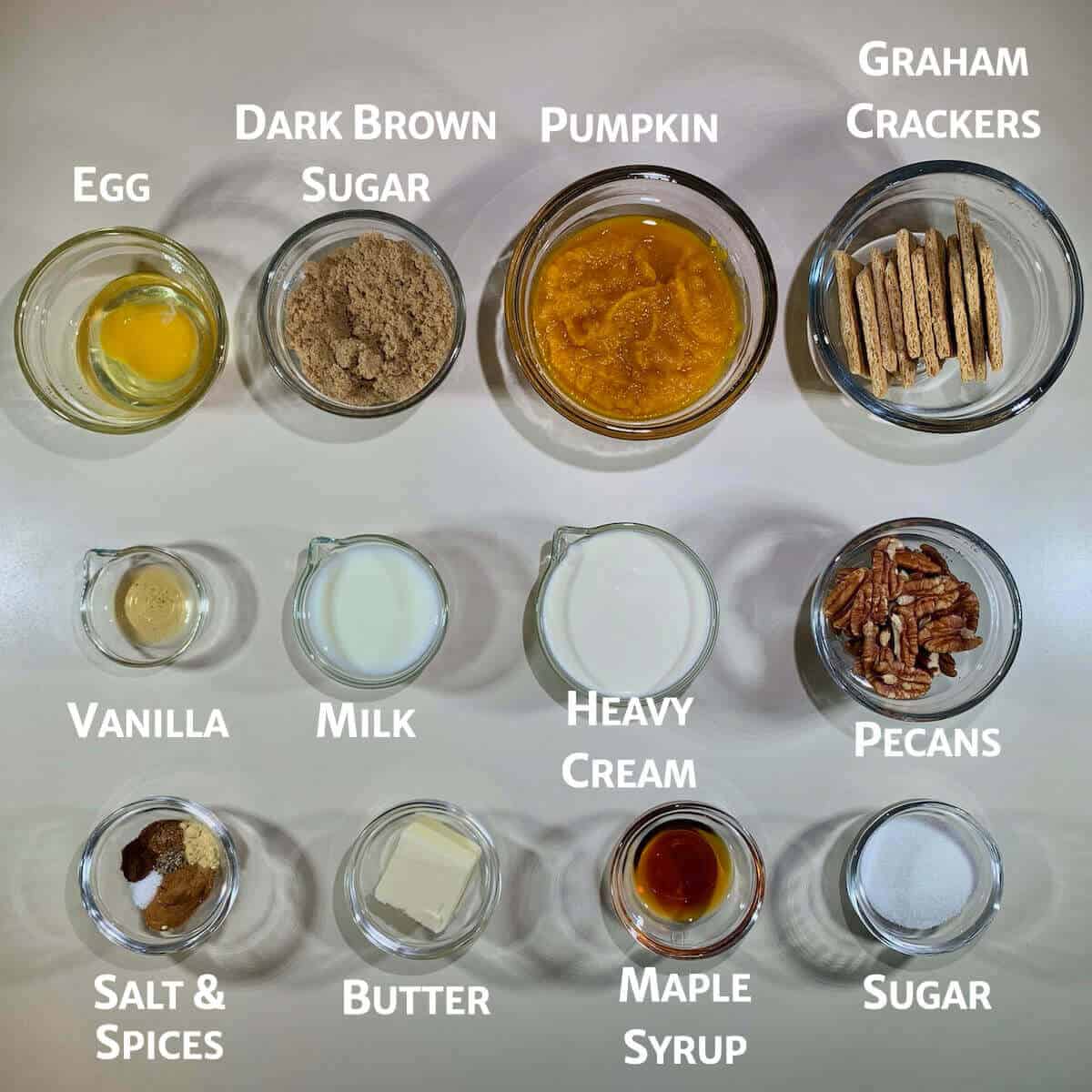 Pie Making Steps
This Praline Pumpkin Pie recipe is made in three basic steps, making the crust, filling, and topping.
Step 1: Make the crust
I prefer a homemade pie crust or a graham cracker crust, but a store-bought crust works well also.
My all-butter No Recipe Pie Crust is based on a 3-2-1 recipe ratio of flour/fat/water (by weight), so for a single pie crust that would be 9 oz of flour, 6 oz of butter, and 3 oz of ice water. I also throw in 1 tablespoon of apple cider vinegar to help tenderize the crust. Chill the crust while you make the filling.
Step 2: Make the pumpkin custard
Cooking the pumpkin filling ensures that it's sturdy enough to support the topping, and also so it's not as wet going into into the chilled pie crust (or graham cracker crust).
It's important to allow the custard to cool for 5 to 10 minutes before you add in the cream and eggs. You don't want little bits of cooked egg in your custard.
I made a mistake the first time by not whisking the beaten eggs in to the cooked pumpkin mixture well enough. This caused bits of cooked egg to be noticeable in the pie before the topping went on. Don't be like me...mix in those eggs!
Step 3: Make the pecan praline topping
Toss the pecan praline topping together while the pie is baking. You can use corn syrup, maple syrup, or golden syrup to moisten the topping. Each will bring subtle flavor to the overall pie.
Let the pumpkin custard bake until the center barely jiggles when you gently shake it. Once it's ready, add the praline topping and finish baking the pie.
The first time, I added a sprinkle of granulated sugar to the topping before baking, and omitted it the second time. I decided it didn't really add anything to the overall flavor, and I wanted to showcase the topping besides.
Praline Pumpkin Pie is a hybrid pie that works!
This praline pumpkin pie was wonderful! Full of spicy pumpkin flavor with crusty bits of sweet praline pecans.
Yummm...
(Pausing to wipe drool off the keyboard)
The flaky pie crust gave a good base to the pie, while the graham cracker crust added its own molasses undertone. You'll have to decide which way to go!
If you're interested in other variations of traditional Thanksgiving desserts in addition to Praline Pumpkin Pie, try Black Bottom Maple Bourbon Pecan Pie, Southern Brown Sugar Pie, or Sourdough Pumpkin Cake.
My father-in-law won't let me in the door at Thanksgiving unless I promise to bring him my Chocolate Chip Pumpkin Bread, and that's upwards of 30 years now!
A Sourdough Spice Cake would also be appropriate. Or dress up your favorite fruit pie with a lattice crust.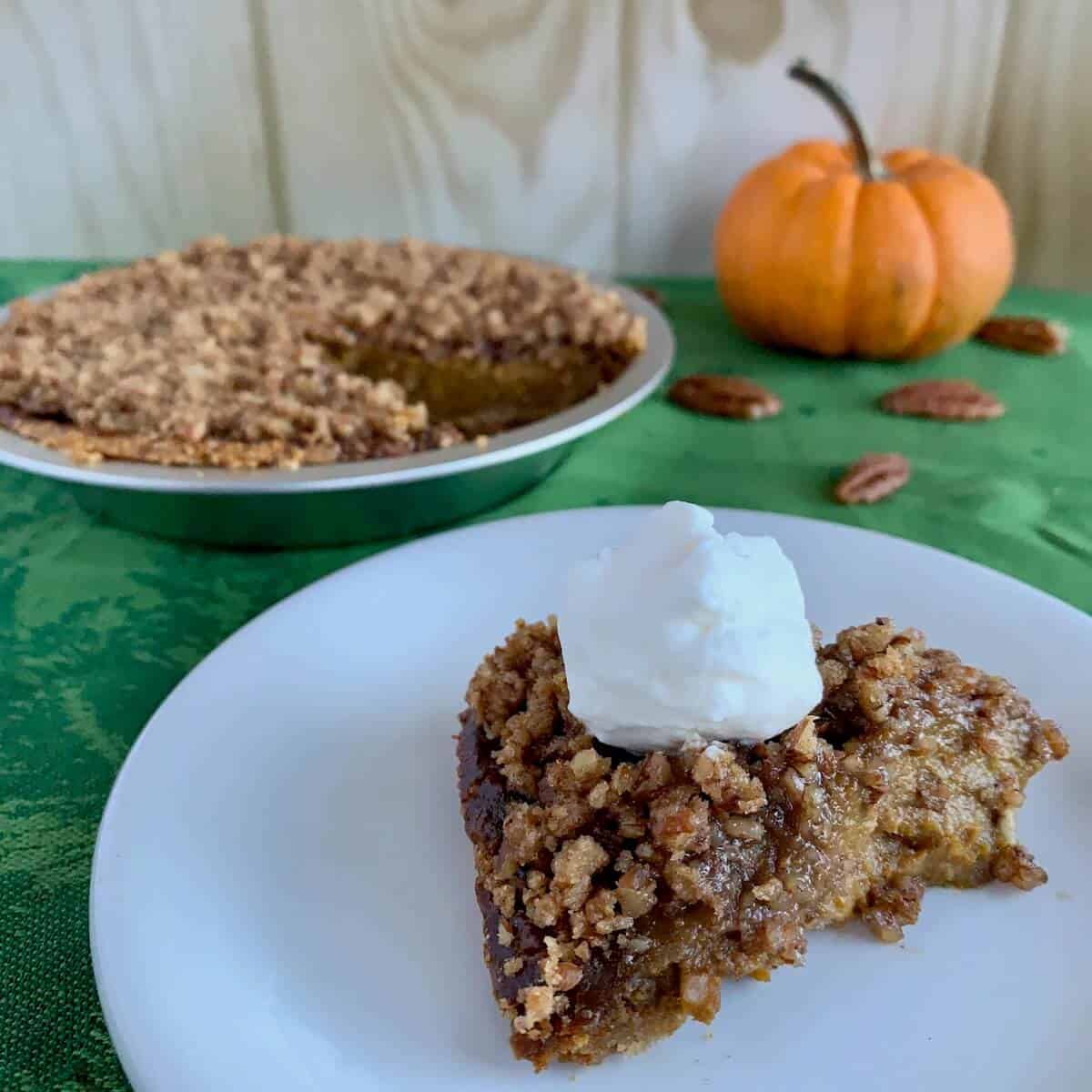 With all the decisions we have to make, let's give ourselves a break. Choose a pie that can satisfy both Pumpkin Pie & Pecan Pie people.
I'm thankful for that.
Happy Thanksgiving to one and all!
Slainté! L'chaim! Cheers!
Tammy
Related Recipes
Pies and tarts can be sweet or savory, and there are so many fillings from which to choose. From fruits to nuts and custards, there's bound to be a pie or tart that catches your fancy! Here are a few choices to try.
Love this recipe? Please leave a 5-star ⭐️ rating in the recipe card below ⬇️ and/or a comment further down the page.
I'd love to hear from you! Stay in touch on Facebook, Instagram, Pinterest, and please tag me using the hashtag #scotchandsconesblog. You can also sign up for my mailing list. I can't wait to see your creations!
Recipe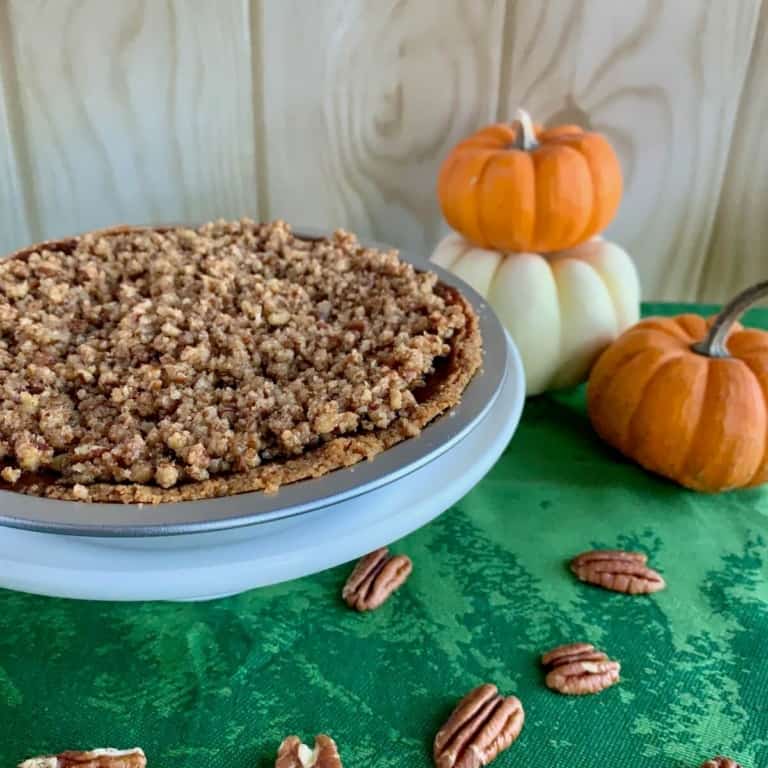 Praline Pumpkin Pie (Pumpkin Pie with Pecan topping)
Can't decide between pumpkin pie and pecan pie? Praline Pumpkin Pie is the answer...a marriage of pumpkin custard and candied pecans in a graham cracker pie crust.
Adapted from Spend with Pennies
Ingredients
For the filling
1

cup

pumpkin purée

,

pure, NOT pumpkin pie filling

⅓

cup

dark brown sugar

,

packed

1

teaspoon

ground cinnamon

½

teaspoon

ground ginger

¼

teaspoon

ground nutmeg

¼

teaspoon

salt

⅙

teaspoon

ground cloves

pinch

black pepper

,

finely ground

⅓

cup

heavy cream

,

at room temperature

2

Tablespoons

milk

,

at room temperature

1

large egg

,

at room temperature

½

teaspoon

vanilla extract
For the praline topping
½

cup

pecans

,

finely chopped

3

Tablespoons

dark brown sugar

,

packed

Pinch

salt

1½

teaspoons

pure maple syrup

,

golden syrup, or corn syrup

½

teaspoon

vanilla extract
To finish
whipped cream

,

lightly sweetened, optional
Instructions
Prepare the pie crust: Prepare a graham cracker crust using half the amount of ingredients and press into a 7-inch pie pan (a pastry dough tart tamper can help this process). Bake it for 8 minutes before adding the filling.

Make the pumpkin layer: In a medium saucepan, combine the pumpkin, brown sugar, cinnamon, ginger, nutmeg, salt, cloves, and pepper. Cook over medium-high heat for 4 minutes, stirring constantly. Remove the pan from heat and allow to cool to for 10 to 15 minutes.

Whisk in the cream and stir well, then whisk in the eggs and vanilla (see Recipe Notes). Make sure eggs are thoroughly whisked into pumpkin mixture. You don't want areas of unincorporated eggs in the custard. Pour the filling into the pie pan.

Bake for 35 to 40 minutes or until the center barely jiggles.

Make the praline topping: While pie is baking, stir together the pecans, brown sugar and salt in a medium bowl. Add the maple syrup, golden syrup, or corn syrup with the vanilla and stir until the mixture is evenly moistened.

Remove the pie from the oven and sprinkle the topping evenly over the filling.

Return the pie to the oven. Bake for an additional 10 to 12 minutes or until a cake tester inserted in the center comes out clean.

Transfer pie to a wire rack and cool to room temperature.

Serve with lightly sweetened whipped cream (if desired), and enjoy!
Notes
If desired, you can replace the graham cracker crust with a standard pastry pie shell. Use my No Recipe Pie Crust using a 6-4-2 recipe ratio for a half a single crust pie and chilling the crust while you prepare the filling. A store bought pie crust will also work.
If the pumpkin mixture is still too warm after stirring in the cream, temper eggs by adding a small amount of pumpkin to the eggs to warm them before adding the eggs back in to the pumpkin. This will ensure there are no bits of scrambled eggs in the pumpkin custard.
This pie can be made and cooled two days ahead of time, then wrapped in plastic and refrigerated. Bring to room temperature before serving.
You can make a full-sized pie by doubling the ingredients and using a 9-inch pie pan. If you want a standard pastry pie shell, use the 9-6-3 recipe ratio for a single crust pie.
If you're not serving the pie right away, cover the cooled pie and store it at room temperature for 1 day or in the refrigerator for up to 2 days. Cover and store any leftover pie in the refrigerator for up to 5 days.
Your Notes
Nutrition
Serving:
1
slice
Calories:
221
kcal
Carbohydrates:
31
g
Protein:
3
g
Fat:
10
g
Saturated Fat:
4
g
Cholesterol:
35
mg
Sodium:
168
mg
Potassium:
154
mg
Fiber:
3
g
Sugar:
23
g
Vitamin A:
4952
IU
Vitamin C:
1
mg
Calcium:
57
mg
Iron:
2
mg