Sourdough Pumpkin Cake is bursting with pumpkin spice flavor, rich chocolate, and topped with pumpkin spice glaze...no one will notice the sourdough starter!
Tinkering with tradition
Every Thanksgiving for the last, oh, 35 years or so, my Father-in-law insists that I bring my Chocolate Chip Pumpkin Bread (he says it's my "ticket to enter"…he's such a kidder...I think).
This recipe is tried-and-true, so why tinker with tradition? Well, if we didn't tinker with recipes, there wouldn't be anything new invented.
Jump to:
In this case, we can play with the garnishing ingredients. Years ago I substituted chocolate chips for the nuts in my original recipe. Or you can use raisins or other dried fruit, or put any combination of nuts, chocolate, and raisins you'd like (but really…chocolate!).
Using sourdough starter discard
What I really wanted to know is if I used unfed sourdough starter in my pumpkin bread, would it be noticed?
Longtime readers know my search for uses for my weekly sourdough starter discard has bordered on obsessive. My search has led me to make bagels, dinner rolls, English muffins, and pretzels, all using the sourdough discard. On the sweet side I've made Sourdough Gingerbread and Sourdough Spice Cake, so Sourdough Pumpkin Cake sounded plausible.
I felt validated when I found this Sourdough Pumpkin Spice Bread recipe on King Arthur Flour. If they say it's ok…well…that's good enough for me.
Like all quick breads, my old reliable pumpkin bread recipe is versatile in its presentation…a full recipe can make 2 breads (baked in standard loaf pans), 8 mini loaves, 12 muffins, or a full-sized bundt cake. Halve the recipe and you have the perfect amount of batter for a mini bundt cake.
That's what I decided to do…convert my Chocolate Chip Pumpkin Bread recipe to a mini Sourdough Chocolate Chunk Pumpkin Cake. And ok, let's dress it up with a Pumpkin Spice glaze. Hell, yeah!
What you need
For the cake
Canola oil: Fat adds richness and flavor
Sugar: Adds sweetness
Dark brown sugar: Adds sweetness and moisture
Eggs: Gives the cake structure
Pumpkin purée: Adds moisture and flavor...it wouldn't be Pumpkin Cake without it
Sourdough starter discard: I have it...I'll use it
Vanilla extract: An important flavoring, vanilla adds a rich base
All-purpose flour: The basic starting point of any cake
Salt: Helps to counterbalance the sweetness and adds a flavor undertone
Cinnamon, cloves, nutmeg, cardamom: All the spices that give pumpkin bread its distinctive flavor
Baking powder & baking soda: These chemical leavening agents lets the cake rise
Semi-sweet chocolate chunks: Garnish...because, chocolate!
For the glaze
Powdered sugar: What gives a glaze its body and sweetness
Cinnamon, cloves, nutmeg: Mimics the flavors in the cake
Milk: Liquid to help the glaze to achieve desired consistency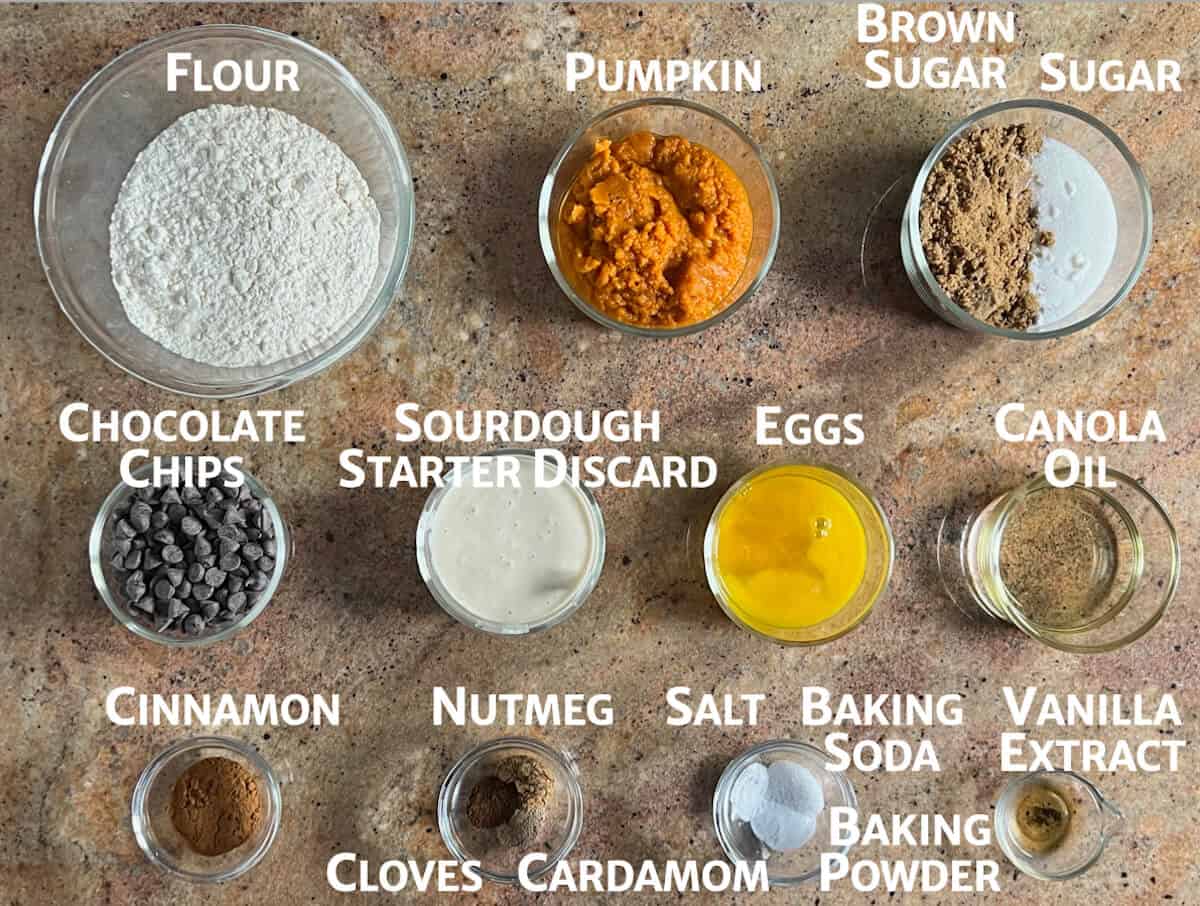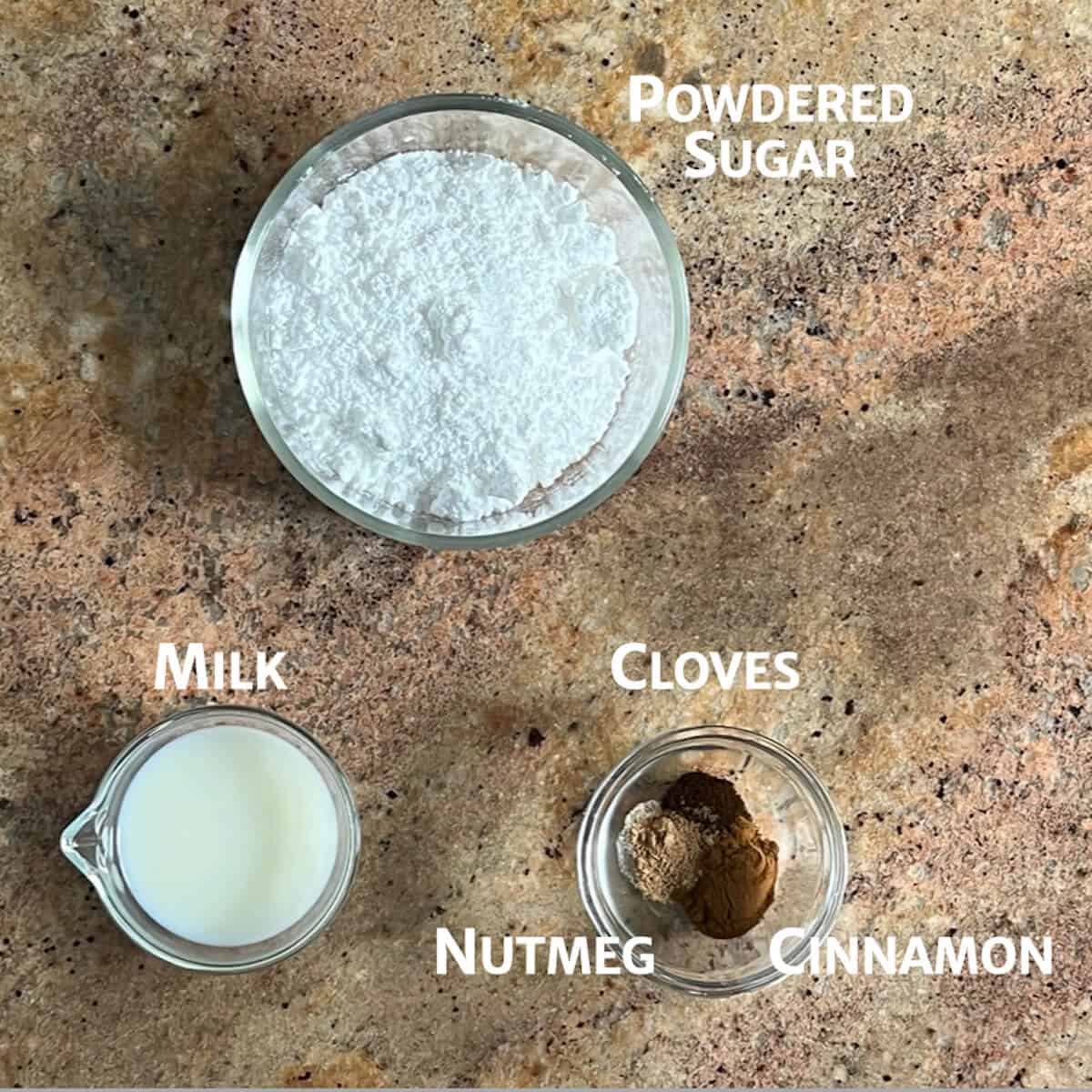 Recipes tips
Like all quick breads, this cake was quick to prepare. Mix the dry ingredients, mix the wet ingredient, and put it in a pan. Easy peasy.
If you'd like a sourdough pumpkin cake with a more robust flavor, try substituting 1/4 cup molasses for the brown sugar and add 1/2 tsp ginger to the batter. Now you've got yourself a Sourdough Pumpkin Gingerbread!
A word of caution…the recipe made a little more batter than I expected, and I overfilled my mini bundt pan to the point that it rose up and covered the central hole. I would suggest to fill the pan about 2/3 full, and use the rest to make a mini pumpkin bread loaf.
Otherwise, do what I did…level the cake with a serrated bread knife before flipping it over. The upside is that you get to enjoy all the trimmings. yummm...
This Sourdough Pumpkin Cake is cute and tasty, bursting with pumpkin spice flavor and rich chocolate chunks. The yummy pumpkin spice glaze takes it to a whole other level, elevating the bread to a pretty cake nice enough to be served at a Thanksgiving table (make it full-sized if you're feeding more than 8 people).
Will my Father-in-law let me in the door if I show up with this pumpkin cake? Time will tell, but my gut feeling is I'm set for the next 35 years!
Slainté! L'chaim! Cheers!
Tammy
Recipes using sourdough starter discard
When you maintain a sourdough starter, you have a dilemma...what to do with your sourdough starter discard? I've got many suggestions for sweet and savory ways to use your fed sourdough starter and sourdough starter discard. Check out these ideas!
And, if you sign up for my mailing list, I'll send you a link for my Extra-Tangy Sourdough Bread recipe! Such tangy goodness...I can't even.
📖 Recipe
Sourdough Pumpkin Cake with Pumpkin Spice Glaze
This pumpkin cake, bursting with pumpkin spice flavor and rich chocolate chunks topped with a yummy pumpkin spice glaze, is a sure-fire hit...and no one will know there's sourdough starter in the batter!
Adapted from King Arthur Flour 
Ingredients
For the cake
⅓

cup

canola oil

,

(2-1/4 oz, 60g)

½

cup

granulated sugar

,

(3-1/2 oz, 100g)

½

cup

dark brown sugar

,

packed (3-1/2 oz, 100g)

2

large eggs

1

cup

pumpkin purée

,

(8 oz, 227g)

¾

cup

sourdough starter discard

,

unfed (6 oz, 170g)

1

tsp

vanilla extract

2

cups

all-purpose flour

,

(8-1/2 oz, 240g)

¾

tsp

kosher salt

2

tsp

ground cinnamon

½

tsp

ground cloves

½

tsp

ground nutmeg

¼

tsp

cardamom

½

tsp

baking powder

½

tsp

baking soda

1

cup

chocolate chunks

,

(6 oz, 170g)
For the glaze
¾

cup

powdered sugar

,

sifted (3oz, 85g)

½

tsp

ground cinnamon

⅛

tsp

ground cloves

⅛

tsp

ground nutmeg

1-2

Tbsp

milk

,

to achieve desired consistency (adjust as necessary)

whipped cream

,

lightly sweetened (optional)
Instructions
In a large bowl, whisk together the oil, sugar, brown sugar, eggs, and pumpkin. Stir in the starter and vanilla.

In a medium bowl, whisk together the flour, salt, spices, baking powder, and baking soda. Stir the dry ingredients into the wet until evenly combined. Stir in the chocolate chunks.

Transfer the batter to the prepared pan and bake for 50 to 60 minutes, until a cake tester inserted in the center comes out clean.

Remove the cake from the oven and cool it in the pan on a rack for 15 minutes before turning it out of the pan back onto the rack. Allow the cake to finish cooling completely.

For the glaze: sift the powdered sugar into a small bowl (this helps prevent lumps in the finished glaze). Add the cinnamon, nutmeg, and cloves and whisk until combined. Add 1 Tbsp of milk, stir to combine. Adjust the consistency by adding 1 tsp of milk or more sifted powdered sugar as needed.

Drizzle the glaze onto the cake. Allow the glaze to set before serving.

Serve the pumpkin cake with lightly sweetened sweet cream (if desired) and enjoy!

Store the cake at room temperature in a sealed container for several days; freeze for longer storage.
Notes
If you'd prefer to make a Pumpkin Bread, use a 9- x 5-inch standard loaf pan and bake for 60-65 minutes. You can also double the recipe and bake it in a full-sized 10-12 cup bundt pan or 2 standard loaf pans (and you use the entire can of pumpkin purée), and bake for 60-70 minutes. 
For a more robust flavor similar to Pumpkin Gingerbread, substitute 1/4 cup (3 oz, 85g) molasses for the brown sugar and add 1/2 tsp ginger. Maybe add some candied gingerbread for good measure!
You can substitute 1/2 cup (2 oz, 57 g) chopped walnuts and 1/2 cup (3 oz, 85g) raisins (or other dried fruit), packed instead of the chocolate chunks (but really, why?)
Don't overfill the bundt pan…instead fill it 2/3 and make a mini bread with remainder. If you do use all the batter, you might need to level the cake before flipping it over (the benefit is that you get to enjoy the trimmings!).
Just to be on the safe side, place the bundt pan on quarter sheet baking pan to catch overflows while baking.
Nutrition
Serving:
1
piece
Calories:
240
kcal