Sourdough Rye Sandwich Bread is a tangy, easy to slice rye bread with a secret ingredient (hint: it's not the sourdough starter discard).

Change is a-comin'
Before we get to our topic for today, I have some news...yes, Dear Reader, I'm shaking things up here at Scotch & Scones. I'm going to focus more on the baking side of things, offering you more recipes than ever.
(Yes, but what about the scotch?) For you that look forward to my scintillating whisky reviews, fear not…I'll still occasionally be bringing you tasting notes of interesting drams I sample.
All this to-do is my way of keeping this site fresh and relevant (that, and I have so many things on my "to-bake" list, it's getting ridiculous).
Always on the lookout for sourdough recipes
I love rye bread.
The standard Jewish rye bread is the one with which I'm most familiar…you know, the one from the deli that's used for pastrami and corned beef sandwiches, and it's the best to have with your eggs, toasted with butter (wiping drool off keyboard now).
I've had some rye flour in my pantry for a while, but I've never made rye bread until now. And not just any ole' rye bread; no, I adapted a recipe from King Arthur Flour's Sandwich Rye Bread to make my very own Sourdough Rye Sandwich Bread (you know me…always on the lookout for sourdough starter discard uses!).
This recipe uses a secret ingredient not normally found in a bread recipe…are you ready?...wait for it…dill pickle juice!
Not only does it add moisture for texture, the pickle juice adds a nice tang to the bread's flavor. It's helped in that regard by including dill and mustard seeds, while caraway seeds add that distinctive anise quality present in rye bread.
A bread any sandwich-eater will love. To the kitchen!
Jump to:
What you'll need
The list of ingredients for this sourdough rye bread is a little longer than most, but it's mainly because of the seasoning ingredients.
Yeast: Make sure your yeast is fresh and active, otherwise you'll end up with a sourdough rye doorstop
Sourdough starter discard: Adds a tangy flavor to the bread, along with giving me a use for my weekly unfed sourdough starter
Water: A basic ingredient that adds moisture to the bread
Canola oil: Adds moisture without affecting the bread's flavor
Dill pickle juice: Here's the secret ingredient!
Salt: Keeps the bread from tasting flat
Sugar: With all this sourness, you need a little sweetness for balance
Caraway, dill, and mustard seeds: All for flavor
Potato flour: A great way to keep a bread soft
Bread flour: Higher in gluten than all-purpose flour, adds strength to the dough
Rye flour: It's where the rye flavor comes from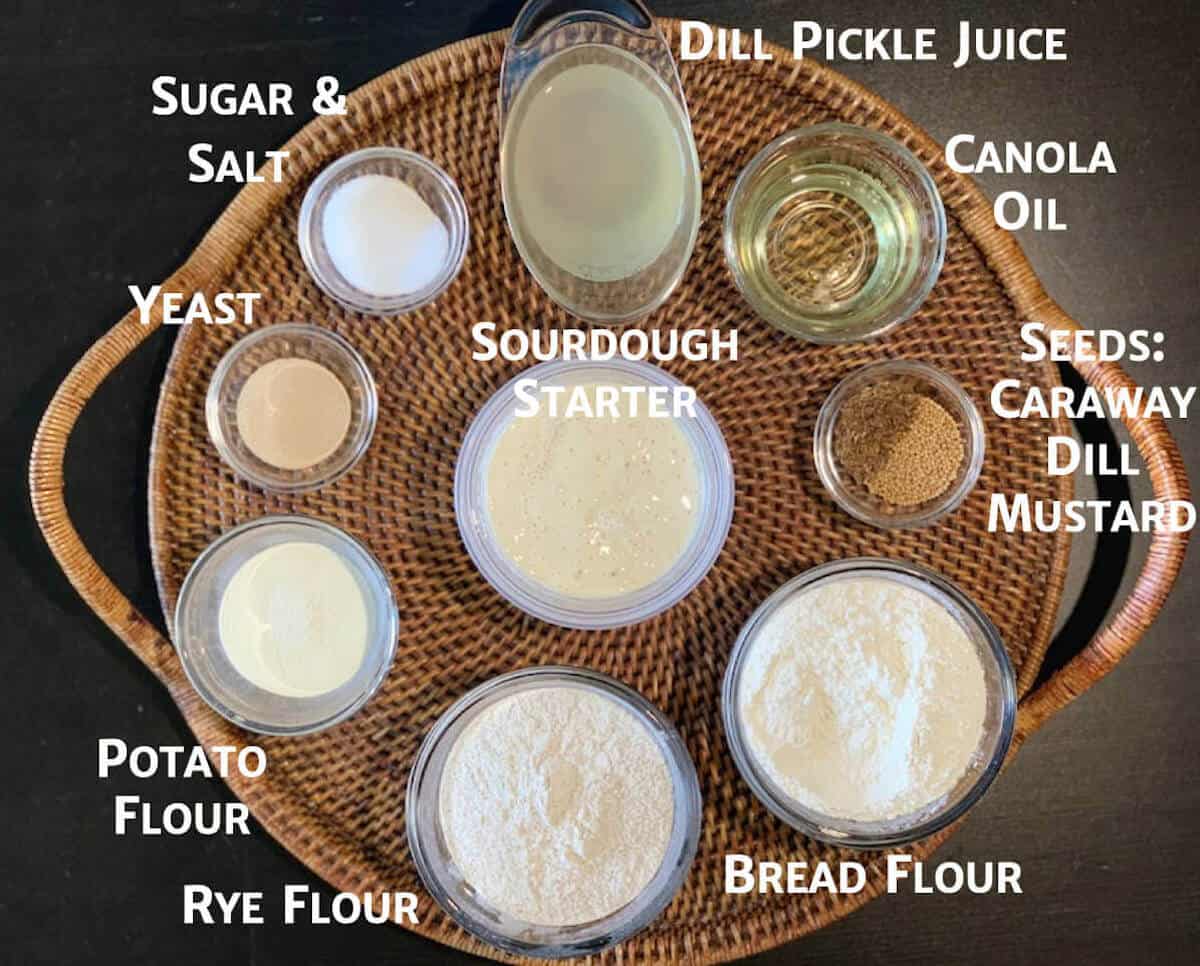 How to make sourdough rye bread
Despite the longer list of ingredients, the basic method is the same for any type of bread making.
Mix and knead the dough
Let it have it's first rise (where the yeast do their magic)
Punch down the dough (no, not literally!) to redistribute the yeast
Shape the bread into a loaf and let rise in a standard loaf pan (more yeast magic)
Bake the bread (thanks, yeast!)
Let the bread cool, then slice and enjoy!
The proper way to shape bread dough
While visiting King Arthur Flour's Visitor's Center in Vermont, I saw a demonstrator use an interesting technique to shape the dough. Here are the steps:
Flatten the dough with your hands into a rectangle about a ½-inch thick
Take the top 2 corners and have them meet in the middle to form a point at the top (like you're folding a paper airplane)
Fold the point over towards you so that it extends a little beyond the bottom edges of the folded corners
Repeat the process with the upper corners, having them meet in the middle again
Fold the point over (it won't be as pointy but that's ok)
At this point the loaf can be rolled over so the seams are at the bottom. Gently roll the loaf back and forth to seal the seams while maintaining the loaf shape
Neat, huh!
It's interesting to see how much that dough rises. Yay for yeast!
Rye bread of a different sort
I mentioned above that I'm most familiar with Jewish rye bread, and I will confess that my Sourdough Rye Sandwich Bread isn't anything like that. It has a different flavor altogether…a slight sourness with echoes of dill pickles (but most people probably won't guess it).
The loaf sliced up nicely, and the texture was terrific. We made patty melts with it that night for dinner, and of course I had buttered rye toast with my eggs for breakfast the next morning.
So not only do I have another use for my weekly sourdough starter discard, I have a deliciously different rye bread for sandwiches and melts.
Pass the corned beef!
Slainté! L'chaim! Cheers!
Tammy
Recipes using sourdough starter discard
When you maintain a sourdough starter, you have a dilemma. What do you do with your unfed sourdough starter discard? I've got lots of suggestions for sweet and savory ways to use your fed sourdough starter and the sourdough starter discard. Here are a few samples...
Sourdough Starter Maintenance
Here's all you need to know about feeding your sourdough starter. Whether you're new to sourdough or just need a refresher, this is the place to start!
Recipe
Sourdough Rye Sandwich Bread
Sourdough Rye Sandwich Bread is a tangy, easy to slice rye bread with a secret ingredient (hint: it's not the sourdough starter discard). Try it with your next deli-style sandwich, or for breakfast with your eggs!
Adapted from King Arthur Flour
Ingredients
1½

cups

bread flour

,

see Recipe Notes

1⅓

cups

rye flour

1

cup

sourdough starter discard

,

unfed, at room temperature, see Recipe Notes

¾

cup

dill pickle juice

,

warmed between 100°F to 110°F

¼

cup

potato flour

,

see Recipe Notes

3

Tbsp

water

,

warmed between 100°F to 110°F, see Recipe Notes

¼

cup

canola oil

1

Tbsp

granulated sugar

1

Tbsp

yellow mustard seeds

,

or prepared Dijon mustard

2½

tsp

yeast,

instant or rapid rise, see Recipe Notes

1½

tsp

kosher salt

1¼

tsp

caraway seeds

1¼

tsp

dill seeds
Instructions
Use a kitchen scale to weigh out the ingredients. This will produce more consistent results, and you can weigh directly into the mixing bowl.

Combine all of the dough ingredients in the bowl of a stand mixer and stir until clumps form; the dough may seem dry at this point. Let it rest for 20 minutes (the resting time allows the flour to start to absorb the liquid…don't skip this step!).

Knead the dough using a stand mixer fitted with the dough hook (or bread machine set on the dough cycle) to make a stiff, but fairly smooth dough, about 7 minutes in a stand mixer. The dough should clean the sides of the bowl; if it seems too wet, sprinkle in all-purpose flour, a little at a time. Remember, the amount of flour and water in bread dough is dependent on the humidity of your environment, so don't be surprised if you have to add more flour to get the dough to the right consistency. See Recipe Notes before for a comment about hand kneading.

Place the dough in a lightly greased bowl, cover the bowl, and let the dough rise in a warm, draft-free place until it's puffy, about 1 to 2 hours. It may or may not have doubled in bulk, but it definitely will have expanded.

Gently deflate the dough, and shape it into a log.

Place the log in a lightly greased standard loaf pan (for a stiffer dough), or 9- x 5-inch loaf pan (for a slacker dough). Press it to the edges of the pan, and flatten the top. Tent the pan with greased plastic wrap, and allow the loaf to rise till it's crowned about 1 inch to 1½ inches over the edge of the pan, about 1 to 1½ hours. Towards the end of the rising time, preheat the oven to 350°F.

Bake the bread for 20 minutes, then cover lightly with foil, and bake for an additional 20 minutes. When done the bread will be golden brown, and its internal temperature will register 190°F on a digital thermometer.

Remove the bread from the oven, cool for 5 minutes, then remove it from the pan and allow it to cool completely on a rack before slicing. Store for up to a week at cool room temperature.
Notes
Using Sourdough Starter in recipes: My sourdough starter is equal parts flour and water, so to incorporate it into a recipe I weigh the amount of starter (in grams), divide by 2, and subtract that amount from the flour and water weight amounts in said recipe. In this case, I had 212g sourdough starter discard that week, so I reduced the flour and water by 106g each (see why it's easier when you can weigh your ingredients?). If you're not using sourdough starter, use 2½ cups (10¼ oz, 298g) flour and ⅔ cup (5½ oz, 152g) water to make your dough.
Using fed sourdough starter can give you a better rise (depending on how vigorous your starter is), but using unfed sourdough starter discard works just fine. If you do use fed starter (and it's active and bubbly), you can omit the yeast, but the rising times can be longer.
If you use Active Dry yeast, then you might want to sprinkle yeast on to the warmed water with a teaspoon of sugar and allow it to sit for a few minutes before proceeding with the recipe. Letting it foam "proves" the yeast is active and ready to go to work.
I didn't have caraway seeds to hand, so I just skipped them. Adding them in would have added that wonderful anise flavor to the bread. There's always next time.
You can substitute ¾ cup (146g) instant mashed potato flakes for the potato flour if you'd like
It's not recommended to knead this dough by hand, as it's hard to develop the gluten sufficiently. If you do knead by hand, realize that the dough will take longer to rise, and won't rise as high.
Nutrition
Serving:
1
slice
Calories:
139
kcal
Carbohydrates:
22
g
Protein:
3
g
Fat:
4
g
Saturated Fat:
1
g
Sodium:
387
mg
Potassium:
80
mg
Fiber:
2
g
Sugar:
1
g
Vitamin C:
1
mg
Calcium:
11
mg
Iron:
1
mg