Ready to try a new way to sip rye whiskey? Hochstadter's Slow & Low Straight Rye Whiskey and Rock & Rye Whiskey are the expressions you need to try!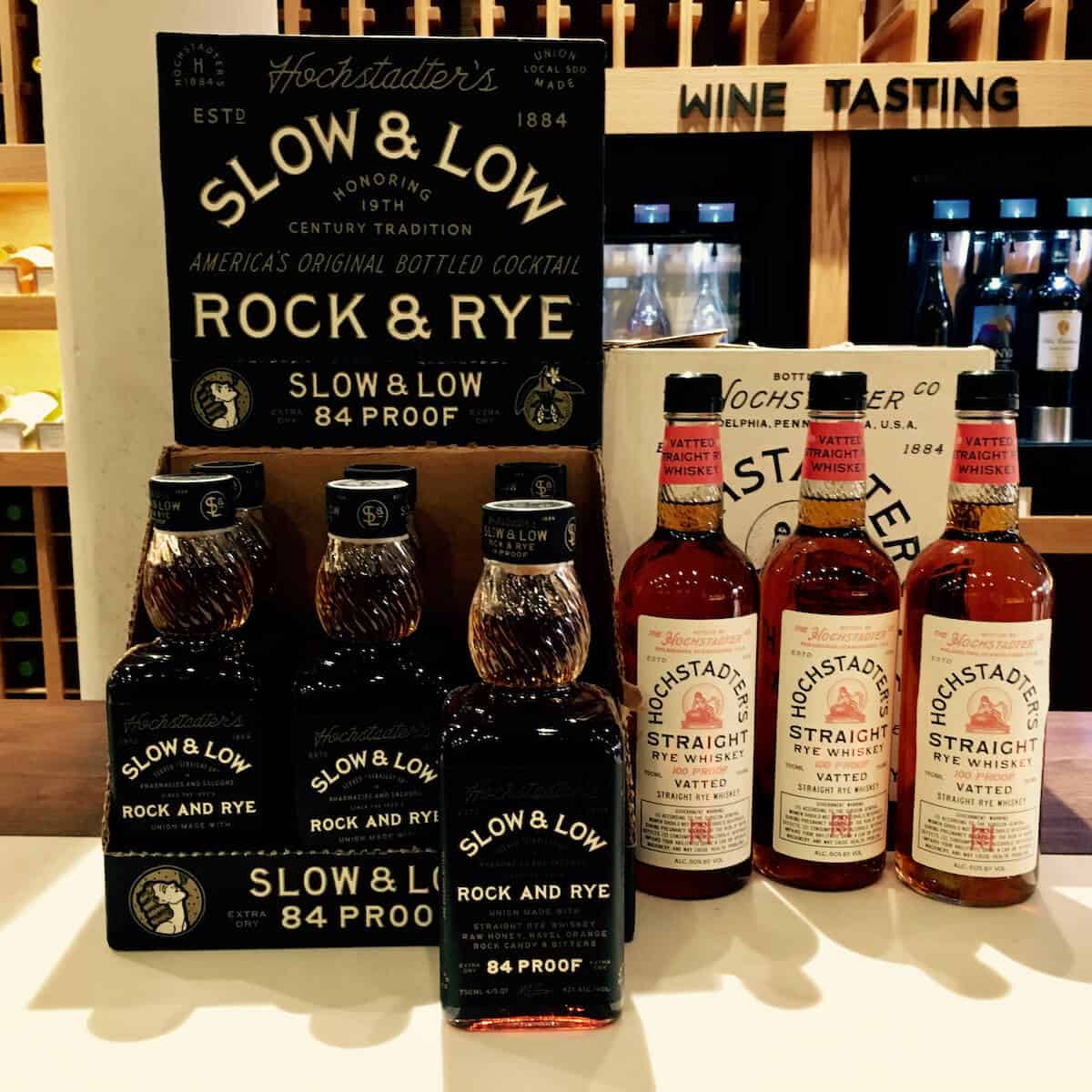 I like to think I'm open minded about tasting different brands and spirits.
Some I like immediately (I'm looking at you, Arran Malts!). Others take me a little more time to appreciate. Rye whiskey is one such example.
Going the Hochstadter's Rye Party at Gordon's DTX. I had my trepidations about tasting these rye expressions, but I told myself to be open-minded. And just like with my Irish whiskey experience, I was surprised.
This rye whiskey is really quite delicious.
Rye whiskey definitions
Before I get to my tasting notes, let's talk a little bit about rye whiskey in general.
(oh boy, here we go…)
According to that most respected of Internet sources, Wikipedia, in the United States "rye whiskey" is, by law:
Made from a mash of at least 51 percent rye (the other ingredients are usually corn and malted barley)
Distilled to no more than 160 U.S. proof (80% ABV)
Aged in charred, new oak barrels, and put into barrels at not more than 125 proof (62.5% ABV)
Can be called "straight rye whiskey" if it has been aged for at least two years and has not been blended with other spirits
In Canada:
Canadian whisky is often referred to as "rye whisky" since historically much of the content was from rye
There is no requirement for rye to be used to make whiskies with the legally identical labels "Canadian Whisky", "Canadian Rye Whisky" or "Rye Whisky" provided they "possess the aroma, taste and character generally attributed to Canadian whisky"
Most Canadian whiskies are blended from a mash primarily consisting of a high-proof base whisky typically made from corn or wheat and aged in used barrels, together with a small amount of whisky made from a rye mash and distilled to a lower proof.
Commonality in rye whiskey brands
So far, so good. Next, I got a quick education about rye whiskey from Augie DeHainaut, one of our Whisky Wednesday crew at Gordon's DTX and a good blogger, too.
Many of the big-name brands of US-made rye whiskey are actually distilled by one company, MGP (Midwest Grain Products) out of Indiana, then blended and bottled under various brand names (such as Angel's Envy, Bulleit Rye, and George Dickel Rye).
What's remarkable about this fact is that MGP's mash bill is made of 95% rye (and 5% barley), so if you see MGP somewhere on a label, you know the taste will be predominantly rye.
In contrast, The Canadian firm Alberta Distillers produces 100% rye grain whiskies that have a distinct grassy rye flavor, so you'll have a much stronger rye flavor than the general Canadian whisky.
By the way, check out Augie's blog Do not operate heavy machinery...random notes on alcoholic experiments for some very interesting reading!
Hochstadter's Slow and Low Rye Whiskey Party
At Gordon's DTX, June 7, 2017
Hochstadter's Straight Rye Whiskey 100 Proof 
50% ABV
A blend of 4 finished whiskies 4-15 year olds sourced from Pennsylvania, Indiana, Kentucky, Indiana, and Alberta (provides the heavier spice and finish)
Tasting Notes
Nose: cream, rye rises, light caraway

Taste: oily, grass notes, rye picks up in the middle, sharpens up to anise

Finish: white pepper rises, rye lingers in a soft way

Comments: Surprisingly good! Has bourbon notes (vanilla, carameso rye isn't overpowering, but do have those green flavors from the Alberta rye, well balanced
Hochstadter's Rock and Rye Slow & Low Straight Rye Whiskey
42%ABV
It's a cocktail in a bottle (rye whiskey, oranges, honey, rock candy, and Angostora bitters), 7% sugar by volume, no rye visible
Tasting Notes
Nose: Strong orange, strong honey

Taste: orange candy slices, creamy body, caramel underneath

Finish: lemon at the end, sweet & sugary

Comments: This so reminds me of the orange fruit gel slices that my late grandmother used to give me. Very sweet, but you can lessen the sweetness with a little ice.
Final thoughts
Both of these expressions really changed my mind about rye! The Straight Rye Whiskey's anise-nuttiness-spiciness wasn't overpowering, letting the bourbon flavor shine (and I do like bourbon spiciness).
The Rock and Rye Whiskey was very good and I did buy it, especially for my husband who has quite the sweet tooth. The orange is so predominant that I really don't notice the rest of the flavors. Also, the sugar tasted soft and natural, not the artificial sweetness of some flavored whiskies.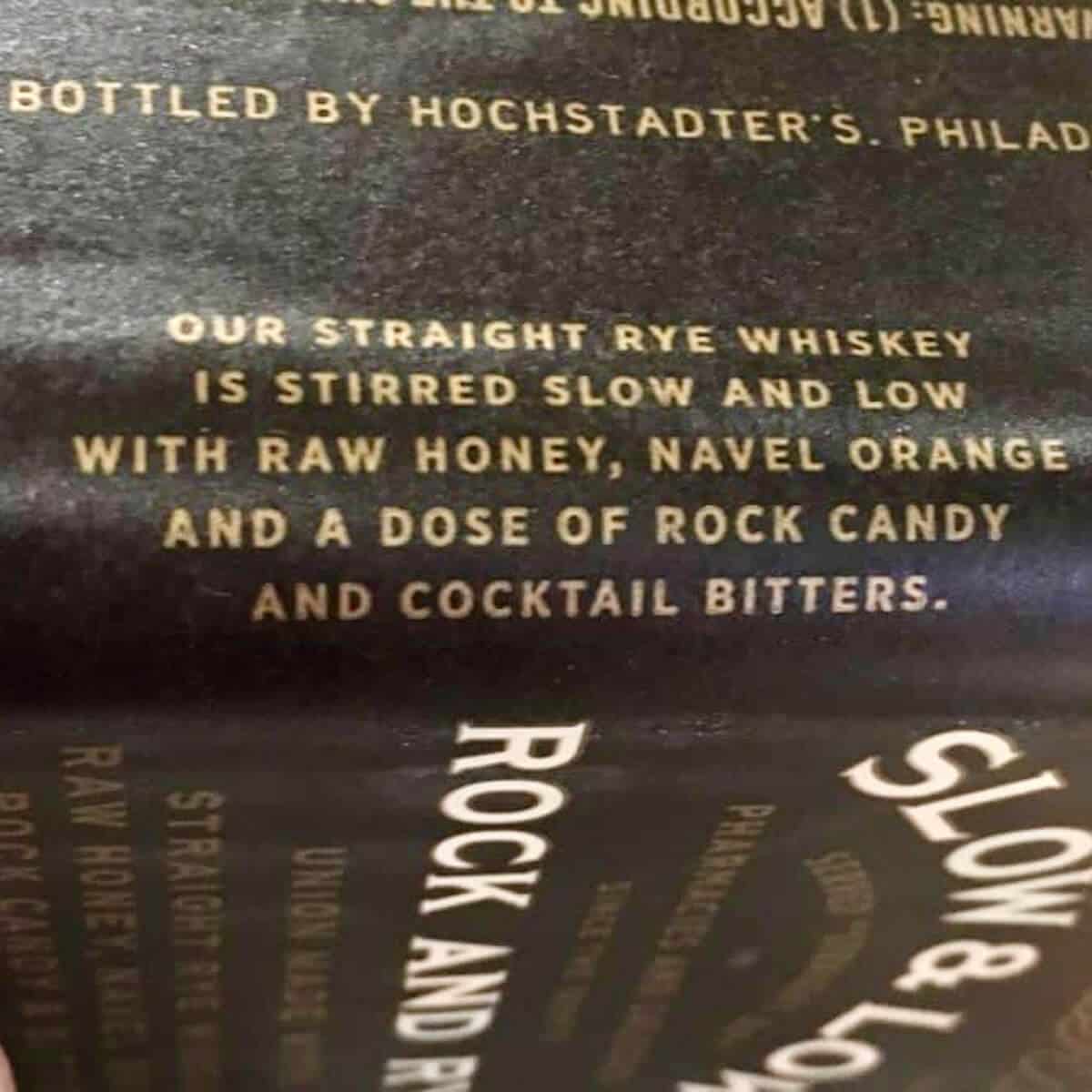 I like to be surprised, and I like that I can be adventurous and open-minded about trying new brands.
And broadening my palate is just the beginning!
Slainté! L'chaim! Cheers!
Tammy
Related Tasting Notes
Whiskey comes in many different styles. There's bourbon, rye whiskey, blended whiskey, and peated whiskey. Here's where you can find a rye whiskey I've reviewed in a lineup.