Pecan Snowball cookies (Mexican Wedding cookies, Russian Tea cakes) almost melt in your mouth with their butter soft and crumbly texture. It's a food hug!
Pecan Snowballs = memories of my Grandmother
I think most everyone can relate to a recipe that reminds them of a cherished relative. For my husband, his late grandmother's Mandelbrot (a Jewish version of almond biscotti) was a cherished favorite.
For me, it's my late Sapta's Russian Tea Cakes that bring me back to her home and her hugs. (Interestingly, my sister, who is 5-1/2 years younger than me, doesn't have that same memory...for her it's the candy bars that my grandparents used to bring us. They owned a coffee shop, so, yeah, candy!)
Cookies are portioned-controlled bits of food hugs.
These cookies have many names...Mexican Wedding Cookies, Christmas Pecan Balls, or Pecan Snowballs, just to name a few. I like the idea of a snowball cookie (it's the closest I ever got to snow as a kid growing up in Southern California), so let's use that name for now.
Whatever you call them, Pecan Snowballs are easy to make and yummy to eat.
Jump to:
Shortbread cookies with a twist
Essentially, Pecan Snowballs are a variation of shortbread ...just butter, sugar, flour. The difference here is the addition of toasted pecans and vanilla, and the use of powdered sugar instead of granulated sugar in the batter.
Oh, and let's not forget the double coating of powdered sugar these babies get after baking.
You can substitute other nuts (walnuts, hazelnuts, or almonds) if you want, or even leave them out altogether (although then you really just have powdered sugar-dusted shortbread).
I've adapted this recipe from Sally's Baking Addiction, but there are many other websites that have versions of these cookies. Actually, the idea to make Pecan Snowballs came from a Youtube video from Jenny Can Cook that I came across one day...it's a short watch and very cute.
Let's head to the kitchen!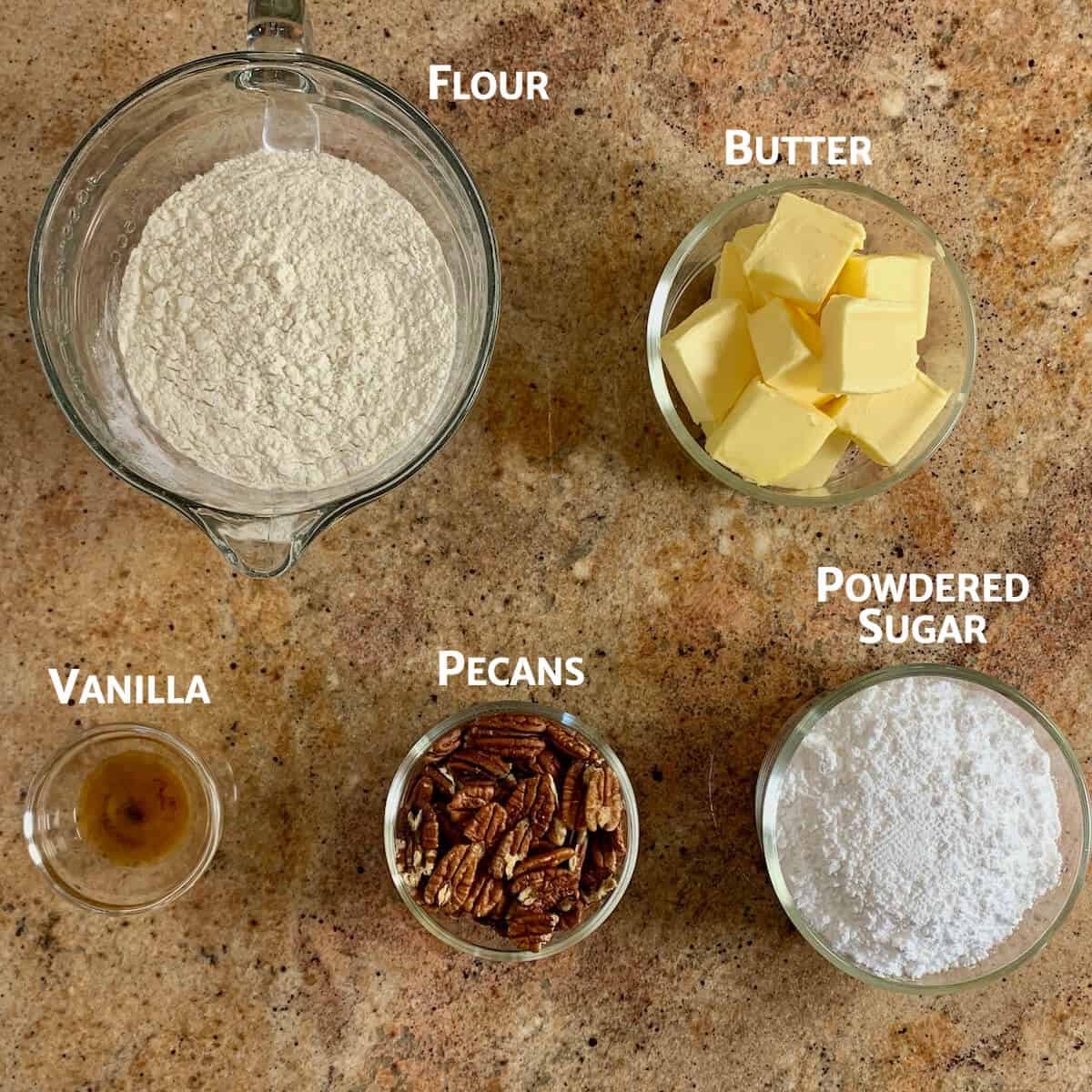 A quick and easy cookie to make
Because there are so few ingredients going into Pecan Snowballs, it's important to make sure you use the best quality you can. For me that meant using Kerrygold butter, i.e. a rich butter from Ireland.
(Side note: If you want to see the difference between that and regular grocery store butter, check out the Great Butter Battle Bake-Off I conducted for a blog post I wrote for OutlanderCast.com about shortbread).
Toasting the pecans before you chop them up enhances their flavor, adding extra...uhmm...oomph to the cookie. All these details add up, and you'll really notice the difference.
Then it's just a matter of whipping up the cookie dough...
...and shaping them into balls. This small cookie scoop helps to make them all even.
After they come out of the oven, immediately roll them in powdered sugar (it acts like a base coating). Then once cooled, roll them again in powdered sugar so they're completely dusted.
They're delectable
Pecan Snowballs almost melt in your mouth...the powdered sugar (inside and out) keeps the texture soft and crumbly. Meanwhile, pecans add a pleasant contrast and crunch to the rich buttery flavor.
Just know that if you're wearing dark colors when eating them, you might look like you've been caught in a snowstorm!
Biting into Pecan Snowballs transport me to simpler times, when my grandmother would pinch my cheeks and tell me, "Eyza shayna punim" (meaning "such a pretty face"), and I didn't worry about calories.
These cookies also showed that the fuss my grandmother made over her grandkids didn't extend to fussing in the kitchen (with this recipe, at least).
I'm glad that Pecan Snowballs are easy to make, so I can bake a batch and conjure up a food hug. I love you, Sapta!
Slainté! L'chaim! Cheers!
Tammy
Recipes for butter cookies
If you like your cookies to be rich and buttery, here's a list of butter cookie recipes for you. Butter cookies galore!
📖 Recipe
Pecan Snowball Cookies
Pecan Snowball cookies (Mexican Wedding cookies, Russian Tea cakes) almost melt in your mouth with their butter soft and crumbly texture. It's a food hug!
Adapted from Sally's Baking Addiction
Ingredients
1

cup

butter

,

unsalted, room temperature (8 oz, 227g)

2

cups

powdered sugar

,

divided (8oz, 240g)

2

tsp

vanilla extract

2¼

cups

all-purpose flour

,

(10 oz, 280g)

1

cup

pecans

,

finely chopped and toasted, see Recipe Notes (4-1/2 oz, 125g)
Instructions
In a large bowl, beat the butter using a stand mixer fitted with a paddle attachment or hand mixer for 1 minute on medium speed until completely smooth and creamy. Add 3/4 cup (3oz, 85g) powdered sugar and beat on medium high speed until combined and creamy-looking. Scrape down the sides and bottom of the bowl as needed.

Add in the vanilla extract at beat on medium-high speed until combined. Switch to low speed and slowly add the flour. The dough will look dry and you may not think the flour will fully combine. Once all of the flour is added, turn the mixer up to high speed (the dough will come together). Finally, beat in the pecans. 

Cover the cookie dough tightly and chill in the refrigerator for at least 30 minutes and up to 3 days (see Recipe Notes)

Using a small cookie scoop, roll one tablespoon of cookie dough per cookie. Roll into a ball and place on the baking sheets, at least two inches apart. Bake the cookies until golden brown on the bottom edges and just barely browned on top, about 15 minutes. 

Allow the cookies to cool for five minutes on the baking sheet, then very gently roll them in the powdered sugar to coat completely. Place the cookies on wire racks to cool completely. Once completely cooled, roll in powdered sugar again (this is when the sugar will really stick).
Notes
To toast the pecans, bake them for 8-10 minutes at 350°F. Let them slightly cool, then put into a food processor and pulse a few times to really chop them up fine (you'll want small pieces of nuts).
If you'll be chilling for more than 3 hours, the cookie dough will be very stiff after being in the fridge that long. Just let the cookie dough sit at room temperature for at least 30 minutes before rolling into balls. 
I've become a big believer in using Silpat silicone baking mats to line my baking mats. Nothing sticks, yet their tacky enough to prevent cookies from spreading too much, and they clean up easily. Really, I highly recommend them.
I also like to use Cookie Scoops to portion out even sized balls of dough. Usually I'll make the balls, then bake half the dough and freeze the rest...that way I can have fresh cookies anytime. Speaking of...
Cookies stay fresh covered at room temperature for up to 1 week. Baked cookies freeze well - up to three months. Unbaked cookie dough freezes well - up to three months. Thaw overnight in the refrigerator then allow to come to room temperature and continue with step 3.
Nutrition
Serving:
1
cookie
Calories:
100
kcal