Sampling whiskey and bourbon expressions from a reverse Oregon Trail Whiskey Tour, from the West Coast to Kentucky, with a quick stop in Canada.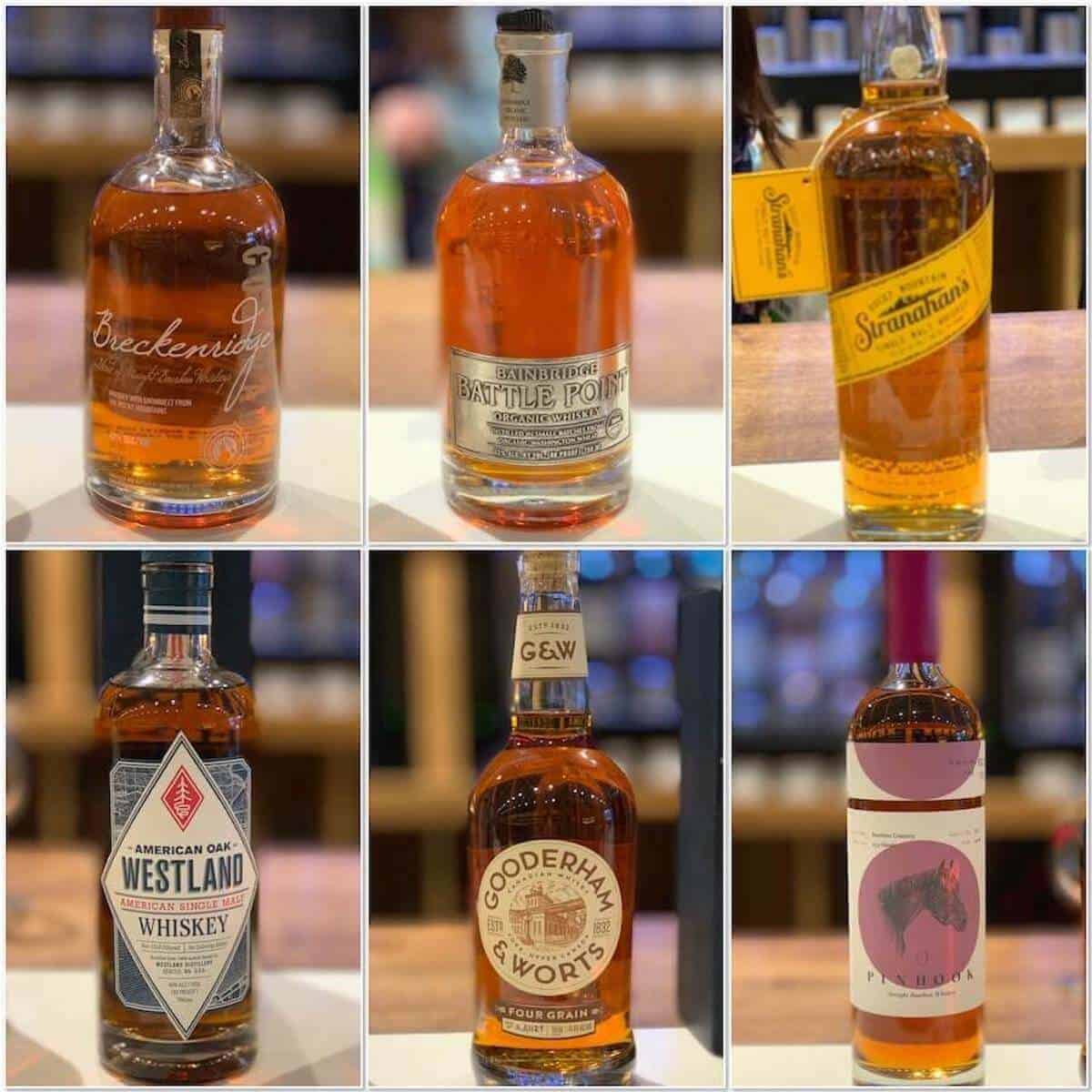 I did not come up with the tasting lineup order from Gordon's DTX's Whisky Wednesday, butI really appreciated its symbolism.
The brands consisted of American whisky samples from west to east, with a hook north into Canada before plunging south into Kentucky. A sort of reverse Oregon Trail Whiskey Tour, if you will.
Cleverly arranged, to be sure.
Some new expressions, some repeats
Of the whiskey expressions below, I've reviewed the Westland American Oak and the Pinhook Straight Rye (although not their Straight Bourbon Whiskey).
The rest were new to me which made for a nice discovery of whiskey. On to it, then!
North American Whiskey & Bourbon
Hosted by Gordon's DTX, May 22, 2019
Breckinridge Straight Bourbon
Tasting Notes
Nose: caramel corn, light baking spices, very light citrus

Taste: soft entry, light body, sweet caramel corn, then baking spices slowly rise a dryness

Finish: long finish of cinnamon sugar, some astringent dryness

Comments: very approachable
Bainbridge Battle Point Organic Whiskey
Tasting Notes
Nose: butter toffee, brown sugar

Taste: starts sweet, but leather enters, toasted grains and herbs

Finish: doesn't linger, brown sugar coats the tongue

Comments: nose different from taste, interesting flavor that veers away from what I expected from the nose
Stranahan's Single Malt Whiskey
Tasting Notes
Nose: ferns, lime, forest after a rain, barbecue sauce

Taste: barbecue sauce, brown sugar candy, black pepper

Finish: long finish with black pepper, brown sugar cinnamon

Comments: great nose, great flavor; really caught me off guard, unique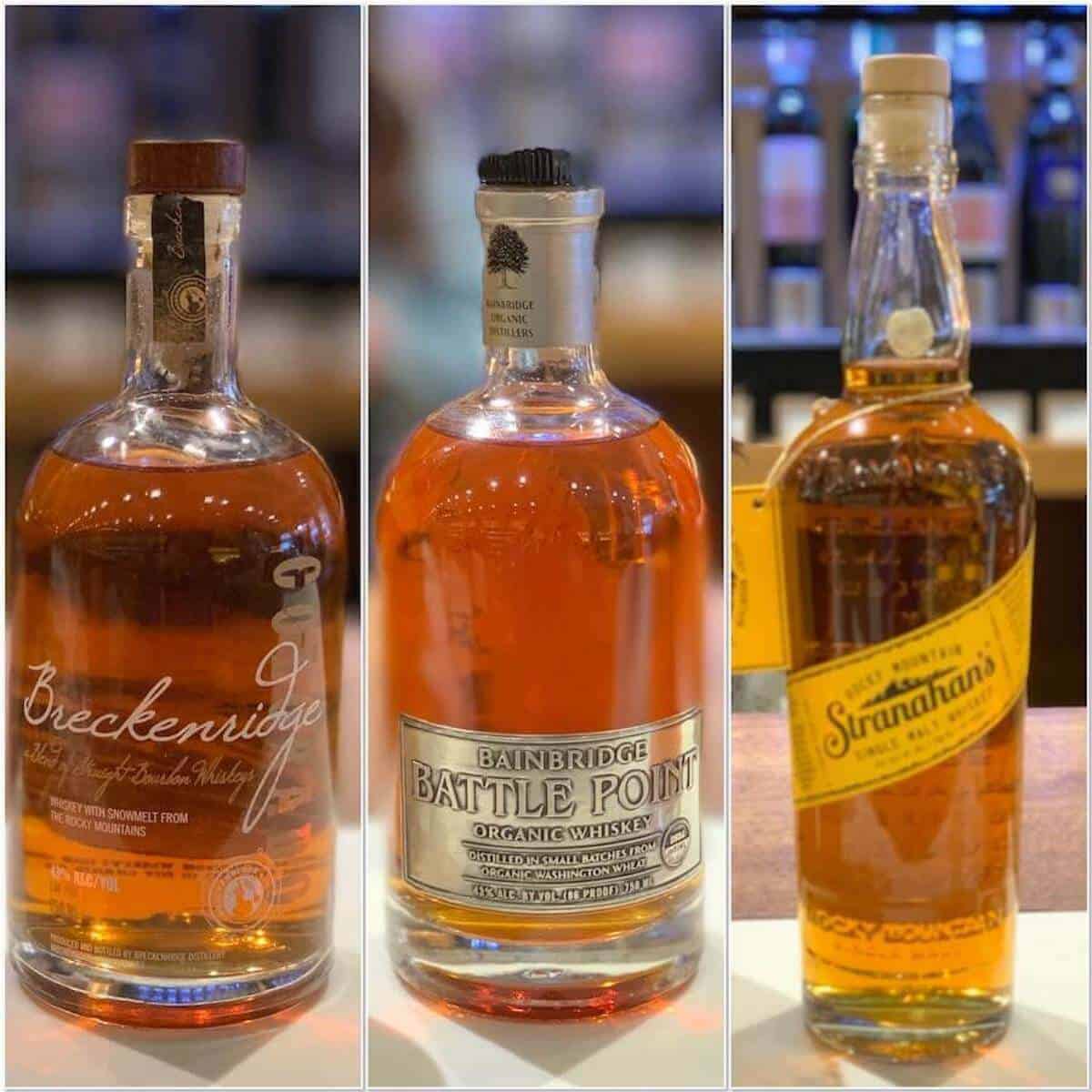 Westland American Oak
Tasting Notes
Nose: evergreens, brown sugar, cedar shavings

Taste: cedar, cinnamon, pine

Finish: lingers on pine and caramel

Comments: consistent quality for me, tastes like it's from Seattle (evergreen)
Gooderham & Wort Four Grain
44.4%ABV
Toronto, consisting of rye, corn, wheat, barley; distilled separately, aged separately, then blended; how almost all Canadian whiskey was made
Tasting Notes
Nose: light nose, rye dominant, caraway

Taste: rye, brown sugar, cinnamon red hots

Finish: doesn't linger, spice donates, sweetness fills in

Comments: spicy and sweet, nicely balanced
Pinhook Straight Bourbon Whiskey
Tasting Notes
Nose: corn sugar all the way

Taste: starts soft then rises quickly into cinnamon spice and white pepper

Finish: lemon peel peeks out at the end

Comments: alcohol really takes over; with water, lemon, cloves, ends with menthol..much better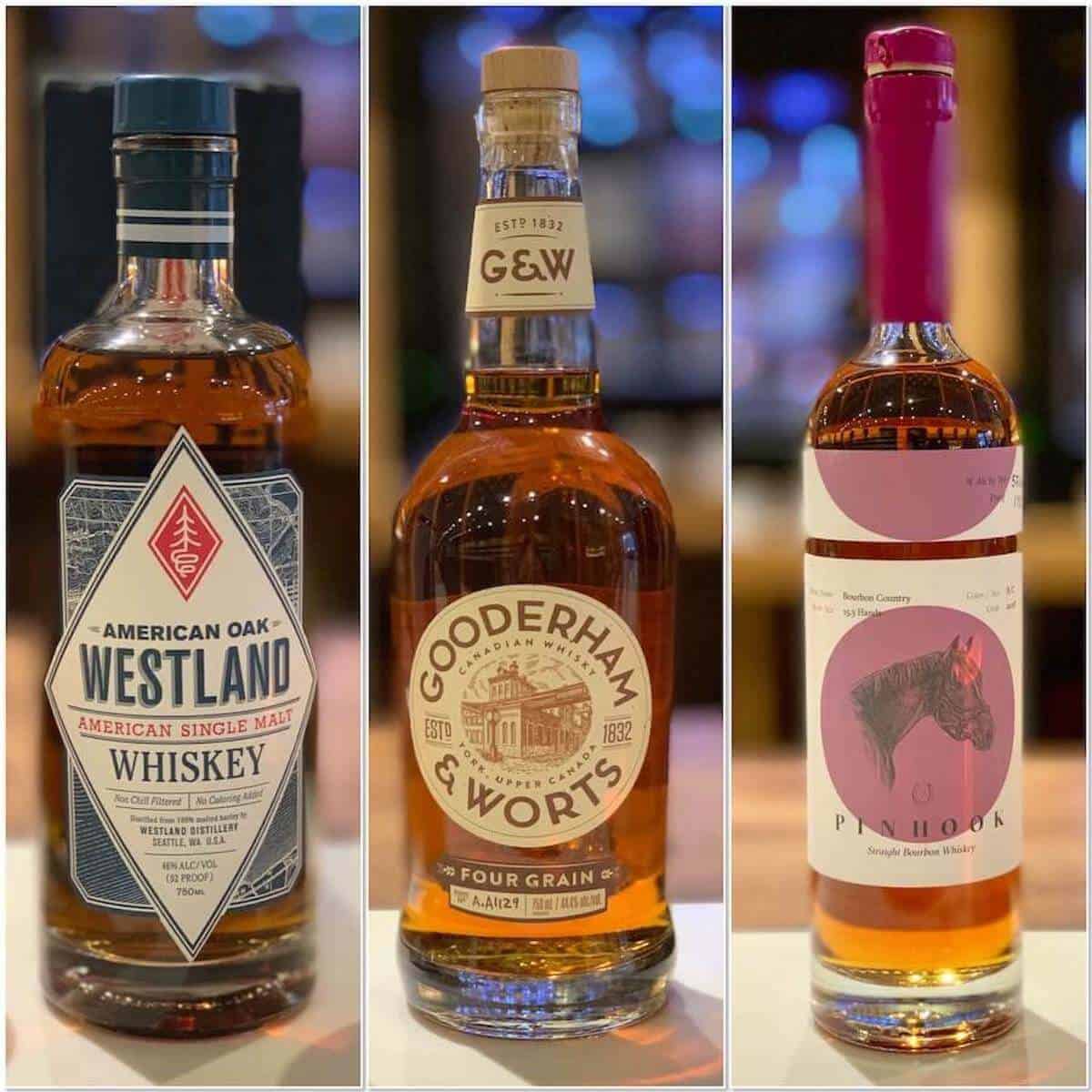 Final Thoughts
This west-to-east lineup of whiskey and bourbon was fun to sample, and all offered something a little different. I encourage you to take the tour yourself!
Slainté! L'chaim! Cheers!
Tammy
Related Tasting Notes
Whiskey can be found all over the world, and it has such a rich and diverse array of flavor profiles and distinct characteristics from which to choose. Here's where you can find a whiskey or bourbon I've reviewed from America. Cheers!