Fiori di Sicilia adds a hint of orange & vanilla to this buttery pound cake. Orange Vanilla Pound Cake is great solo or with berries & whipped cream. Yum!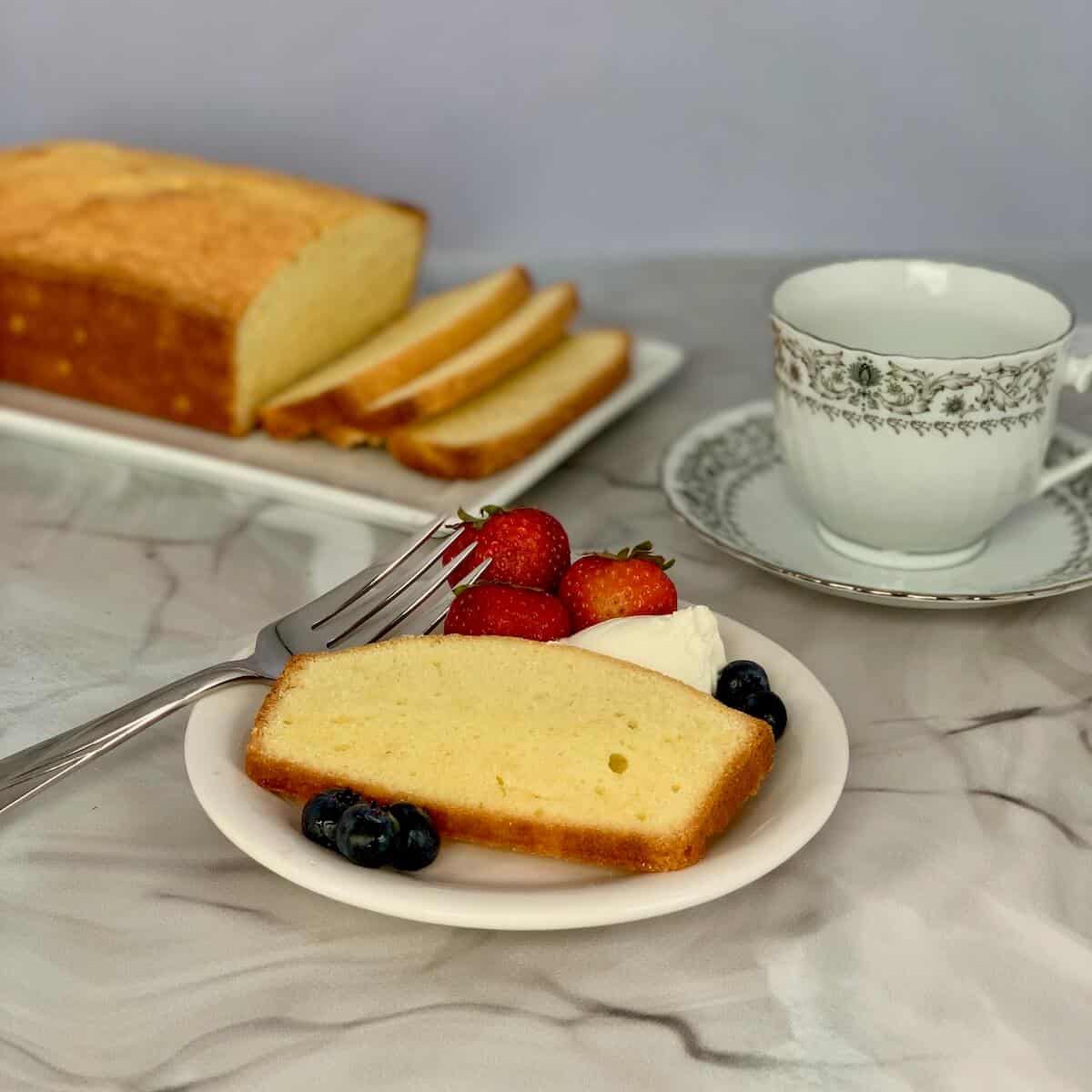 Sometimes it's the simple things that can make a big impact.
A smile from a stranger when you're feeling blue, or discovering a quarter in your pocket.
Sometimes an unexpected flavor can surprise and delight. Take Orange Vanilla Pound Cake, for example.
A hint of orange and vanilla perfume lifts this ordinary-looking pound cake into something unique and special. And it's all because of a simple ingredient...Fiori di Sicilia.
(Nope, I hadn't heard of it either)
Jump to:
A something-special flavor
So what is Fiori di Sicilia anyway?
Literally translated to "Flowers of Sicily," Fiori di Sicilia is an extract of orange and vanilla with some floral notes in the background.
Think of Orange Creamsicles, and you have the general flavor profile.
When used sparingly, Fiori di Sicilia adds a little extra oomph to items that don't have too many flavors going on, like a buttery shortbread cookie.
The same principle applies to recipes for pound cake, which basically uses butter as the predominate flavor.
And note that I said sparingly...like almond extract, Fiori di Sicilia can overpower an item to the point of bitterness. Figure if you'd use one teaspoon of vanilla extract, use ¼ teaspoon of Fiori di Sicilia.
Consider yourself warned.
Pound Cake = what the name implies
Let's get back to the pound cake recipe. Would you believe the name gives away the recipe?
This quick bread recipe ratio is probably the easiest one yet, 1-1-1-1, or one part each butter, sugar, eggs, and flour by weight.
Yup, it's even easier than the 3-2-1 No-Recipe Pie Crust. You're welcome.
Now, if you were to follow that simple recipe ratio for pound cake, you'd actually get two loaves when baked in a standard loaf pan. So my recipe is actual a Orange Vanilla Half-Pound Cake, but that didn't sound as inviting.
This pound cake recipe ratio is by weight, like all the recipe ratios I discuss, so a kitchen scale is really helpful. I've also given the volume measures, but they're just not as memorable.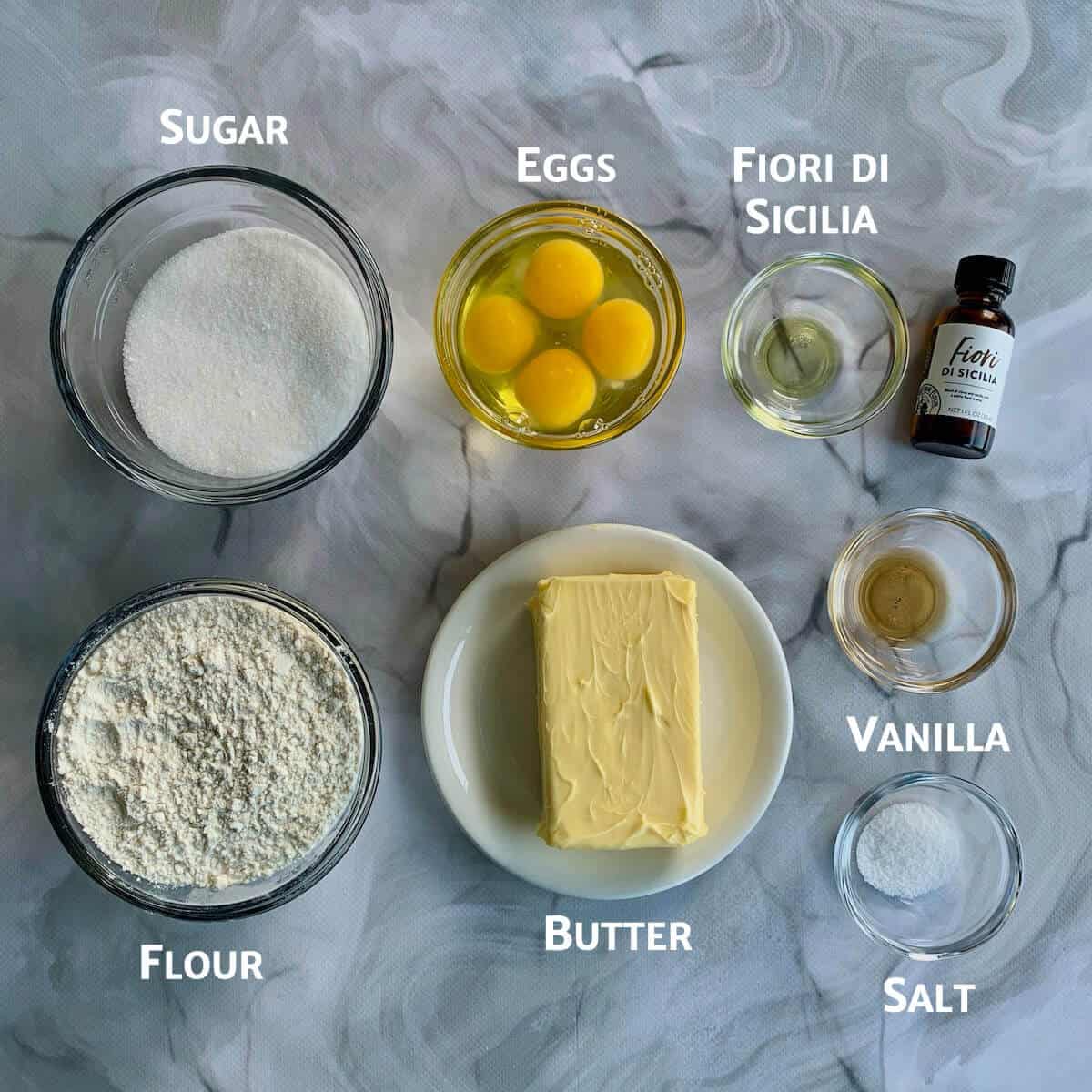 How to lift pound cake
Old-fashioned pound cake recipes lack chemical leavening, but that's not a mistake.
Beating the butter and sugar together insures that the sugar is fully distributed in the butter and gets air trapped in the mixture. As the butter evaporates, that air forms bubbles and lifts the cake.
This gives traditional pound cakes that dense, tight crumb they're known for.
You will find pound cakes with leavening (usually baking soda with some sort of acid like buttermilk or sour cream), but that makes the cake lighter with a texture more like a sponge cake.
I'm going old-school here.
Oh, and the salt and extracts? Just for flavor. Butter still predominates, as it should.
A really simple quick bread
The actual method of making Orange Vanilla Pound Cake is quite straightforward.
The most important thing to remember is to really cream the butter and sugar together well before moving on to the eggs. You'll know you're ready when the mixture has increased in volume and is a pale yellow.
As you're adding the rest of the ingredients (the eggs, flavorings, and flour), go easy on the beating so you don't lose that volume you created in the butter.
Pound Cake Perfection
Look at this pretty Orange Vanilla Pound Cake!
It has a wonderful, buttery flavor with a dense texture that's perfect for strawberries and cream. Or how about lightly toasted to have with a cup of coffee at breakfast?
I won't tell.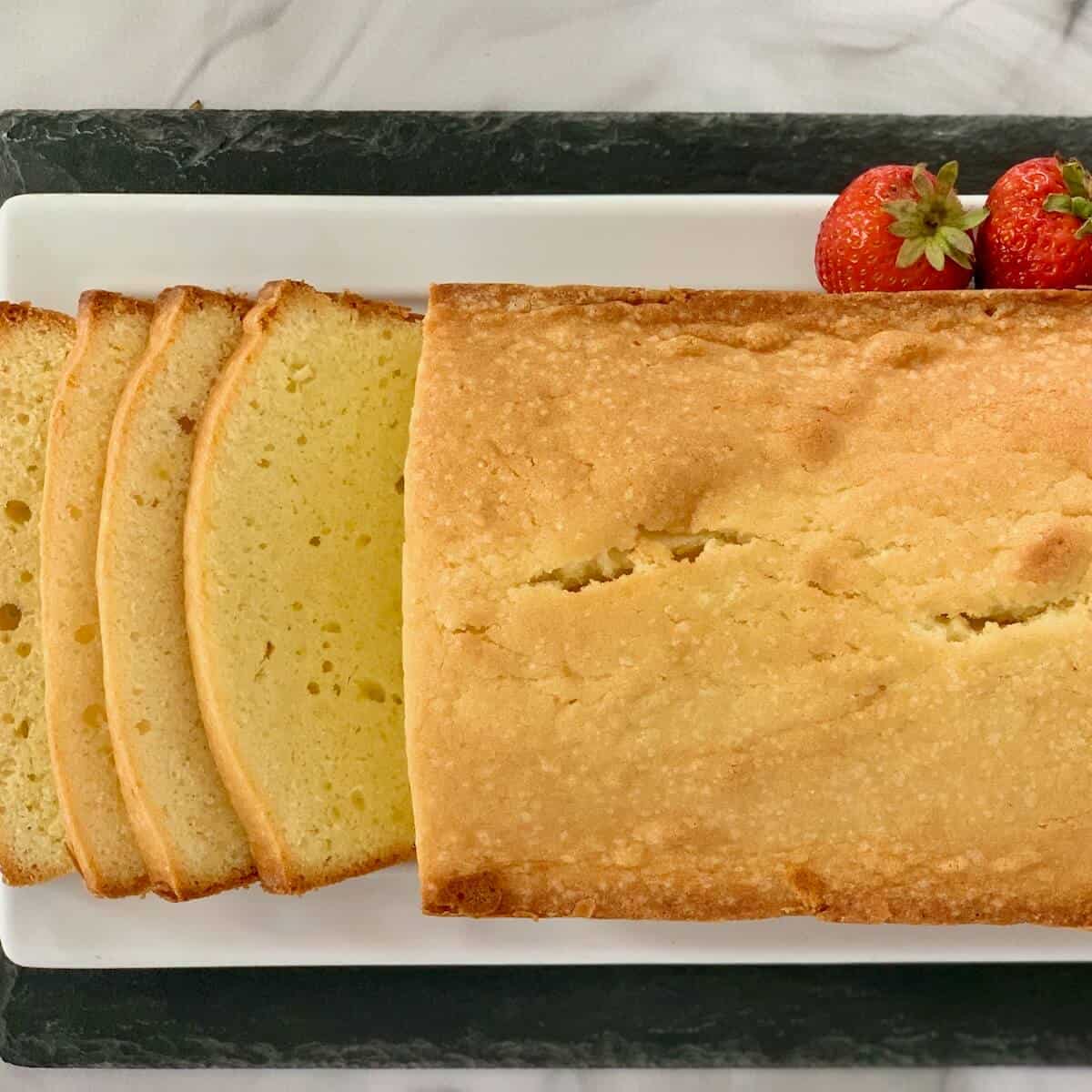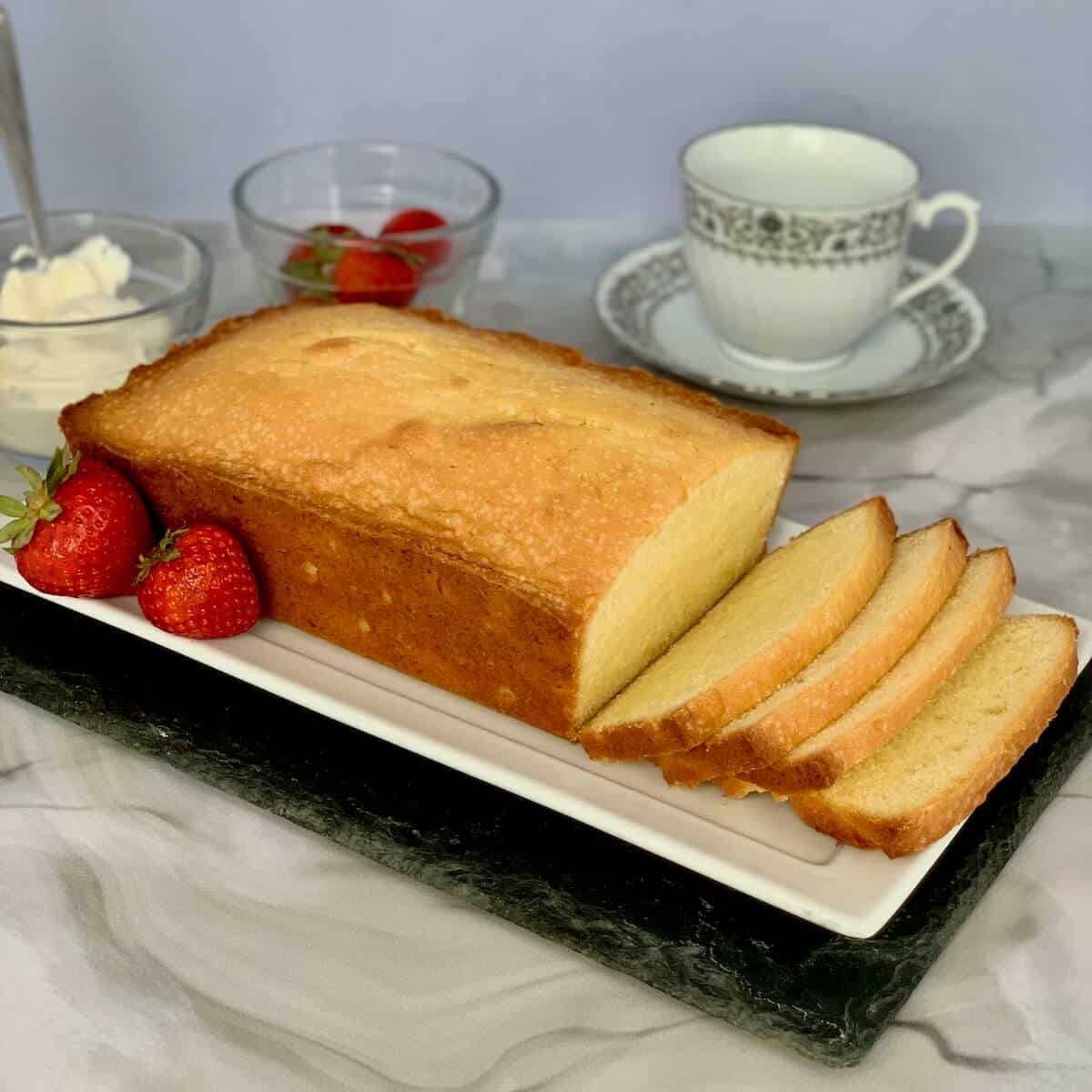 Another way to enjoy Orange Vanilla Pound Cake is in a traditional English trifle, that lovely layered dessert with pudding, whipped cream, and jam.
However you enjoy this Orange Vanilla Pound Cake, it is sure to surprise and delight. After all, it's a simple thing!
Slainté! L'chaim! Cheers!
Tammy
Recipes for Trifle cakes
Traditional English Trifle calls for pound cake, but other tea cakes work well also. Here are some ideas to try!
Recipe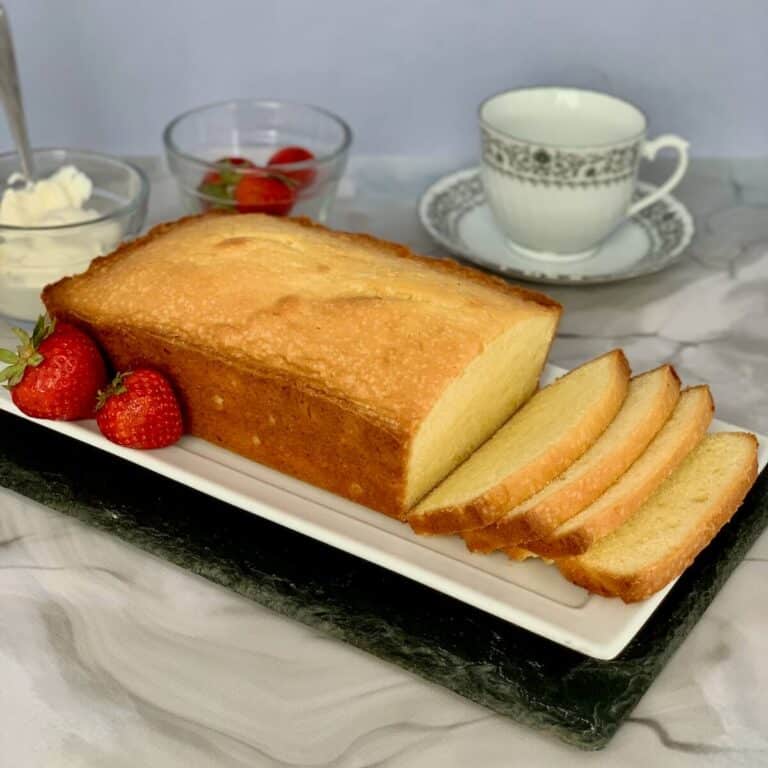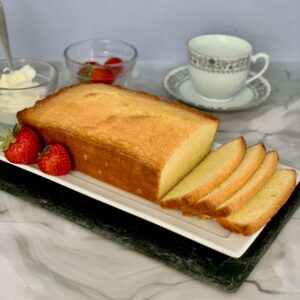 Orange Vanilla Pound Cake
Fiori di Sicilia adds a hint of orange & vanilla to this buttery pound cake. Orange Vanilla Pound Cake is great solo or with berries & whipped cream. Yum!
Adapted from Ratios, Old Fashioned Pound Cake (pg. 61) & King Arthur Flour
Ingredients
1

cup

unsalted butter

,

at room temperature (8 oz, 227g)

1

cup

granulated sugar

,

(7 oz, 200g)

1

tsp

kosher salt

4

large eggs

,

at room temperature

1

tsp

pure vanilla extract

½

tsp

Fiori di Sicilia

2

cups

all-purpose flour

,

(8½ oz, 240g)
Instructions
Preheat the oven to 325°F. Spray a standard loaf pan with baking spray. For added insurance, line the pan with parchment paper leaving a two-inch overhang on the long sides, then spray the parchment.

Place butter to the bowl of a stand mixer fitted with a paddle attachment and beat for 1 minute at medium speed. Add the sugar and salt, then beat on medium-high speed until the sugar is fully incorporated and the butter is pale yellow, about 2 to 3 minutes.

Add the eggs, one at a time, and beat until combined. Mix in the vanilla and Fiori di Silicia. Reduce the speed to medium-low and add the flour, beating just until the flour is mixed in.

Pour the batter into the prepared pan. Bake for 50 to 60 minutes, or until the cake is a light golden brown and a cake tester or toothpick inserted in the center of the cake comes out clean.

Place the pan on a wire rack and cool for 15 minutes. Turn the cake out onto the rack to cool completely.
Notes
If you don't have Fiori di Sicilia, you can use one tablespoon of orange zest and increase the vanilla to two teaspoons.
For more intense orange flavor, you can use ⅓ cup (85g) of frozen orange juice concentrate (thawed to room temperature) mixed with two tablespoons (28g) of freshly squeezed lemon juice (at room temperature). When it's time to add the flour to the batter, instead add about ⅓ of the flour to the batter, stirring to combine. Stir in about half the orange juice mixture, then another third of the flour, the remaining orange juice, and the remaining flour.
Nutrition
Serving:
1
slice
Calories:
223
kcal
Carbohydrates:
25
g
Protein:
3
g
Fat:
13
g
Saturated Fat:
8
g
Cholesterol:
71
mg
Sodium:
163
mg
Potassium:
35
mg
Fiber:
1
g
Sugar:
13
g
Vitamin A:
414
IU
Calcium:
12
mg
Iron:
1
mg